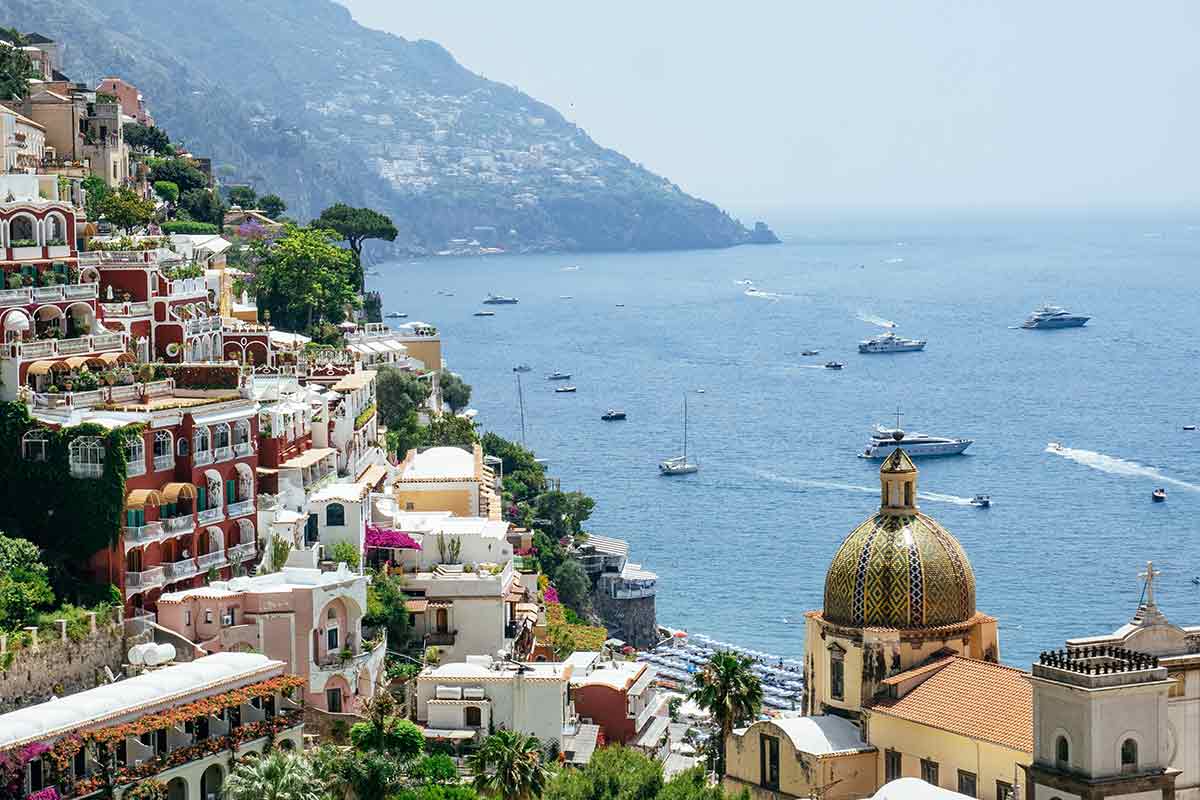 Welcome to this guide on how to get from Venice to the Amalfi Coast.
It's no secret that the Amalfi Coast is one of the most intriguing parts of Italy that you could choose to visit when it comes to enjoying sand, sea and sun.
Located in the Campania region, the Amalfi Coast is known for its rocky landscapes and its lush foliage which populates some of Italy's finest vineyards.
The Amalfi Coast became a UNESCO World Heritage site in 1997, and with its countless beaches and quaint villages scattered over the coastline, it's not hard to see why so many people want to travel here and sample it for themselves.
Venice to Amalfi Coast
This page will explain how to get to the Amalfi Coast from Venice so if you've already spent a few days in the city of canals and bridges and are now ready for some sun, then keep reading this page for the most up to date travel information.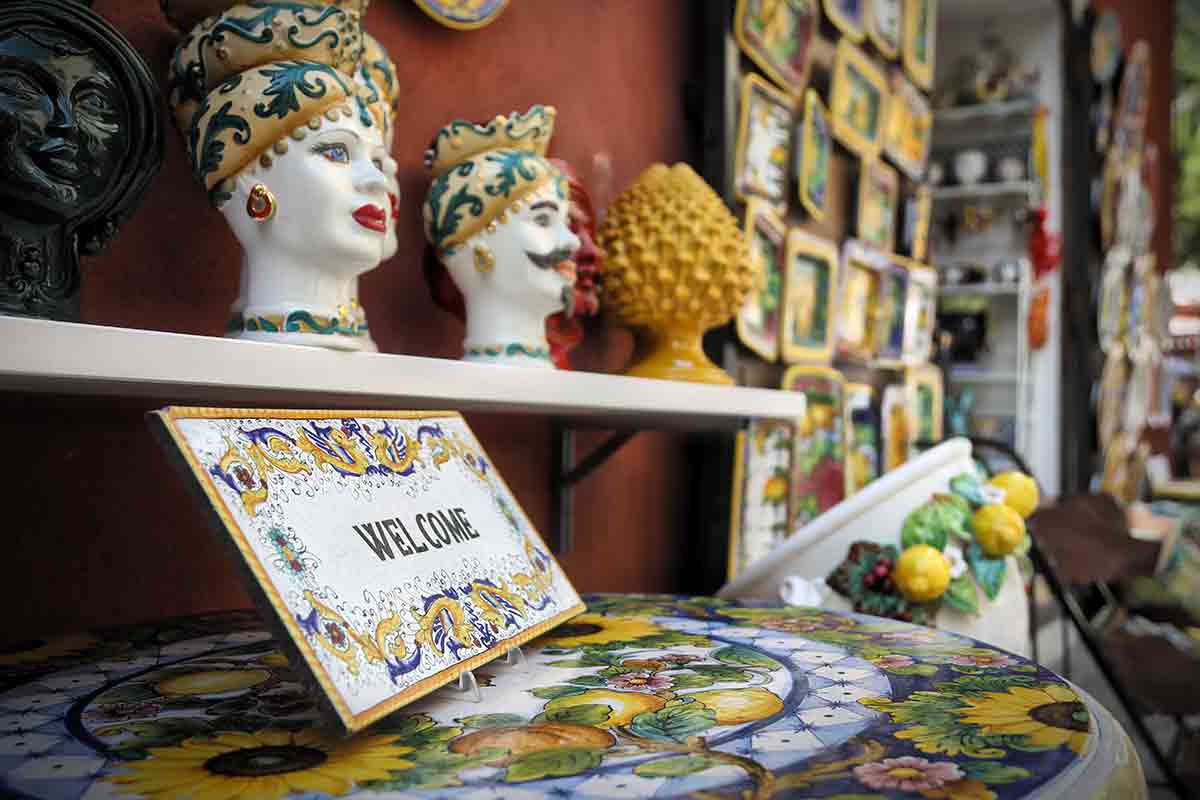 We'll show you how to get to different towns on the Amalfi coast by train, bus and by car. But first, if you're not sure how many days in Venice you'll have, or how long to stay on the Amalfi coast, let's look at our reasons that'll help you to decide.
Is the Amalfi Coast worth visiting?
Yes, definitely! However, no matter whether you are in Venice already or at home planning your trip, it's important to understand whether visiting the Amalfi Coast is actually worth your time or not, so you know what to expect before arriving here.
Below are 3 reasons why we think the Amalfi Coast is worth visiting:
Italy's Amalfi coastline offers some of the most incredible views and landscapes. Due to its beauty and natural diversity, this specific part of the region has been awarded the UNESCO World Heritage Site status.
With so many things to do on the Amalfi Coast, you'll be occupied for weeks. With historic villages such as Positano, Amalfi and Ravello you'll likely find 'your favorite'. You'll have chance to hike the Path of God's trail. Then, you have the local cuisine to sample which will take you days to go through. Look out for things such as 'pasta with colatura di alici'.
The weather is pleasant all year round. This means, whether you visit in December, March or July you can expect nice weather. Winters on the Amalfi Coast are colder and there is a higher chance of rain, but it remains pleasant compared to the north. Spring is the best times to visit and when you'll see fewer tourists that the months of July and August.
Now you have a better idea why this special part of the Campania region is worth visiting, let's get into the details of how to get from Venice to the Amalfi Coast.
How far is Venice from the Amalfi Coast?
Venice is situated around 774 kilometers from the Amalfi Coast. By all means, it is a long way to go if you'll be spending just one day in Venice but totally worth it if that's the maximum amount of time that you can afford to spend on any one visit.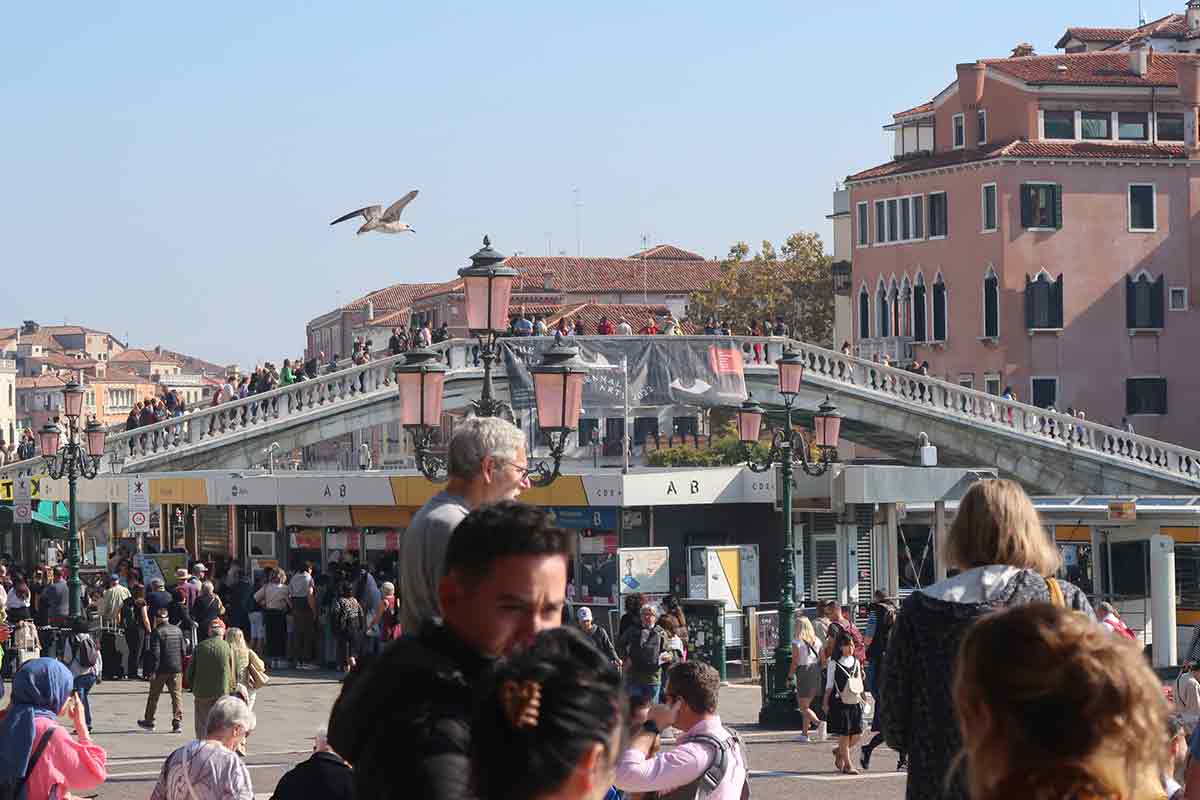 The great news is that they are both well-connected, and if traveling by land (which we recommend that you do), you only need to take one bus and two trains.
If you prefer, you can rent a car which is popular with those who like to travel in their own private space and have the chance to make pit stops along the way.
Where to stay on the Amalfi Coast?
When booking your stay, we recommend towns such as Positano and Amalfi, but if you like the idea of being in a town with fewer tourists, check out Ravello:
Hotel Marincanto – this 4-star property is the perfect romantic retreat. You can enjoy amazing views of the Tyrrhenian Sea and walk to both the beach and Positano's historic center with ease.
Hotel Luna Convento – Elegantly set in a former 12th-century convent, this 4-star hotel features two restaurants where you can enjoy lunch or dinner. The center of Amalfi is literally a few minutes walk from your room.
Hotel Villa Maria – Set in the resort town of Ravello, this hotel features Art Deco-style rooms and gives guests a welcoming reception with Vietri tiles and Murano glass on display. Here you'll be 10 minutes from the beach.
How to get from Venice to the Amalfi Coast
Now you have some info on what to expect after traveling here. Let's now look at this step by step guide on how you can get to the South of Italy from Venice.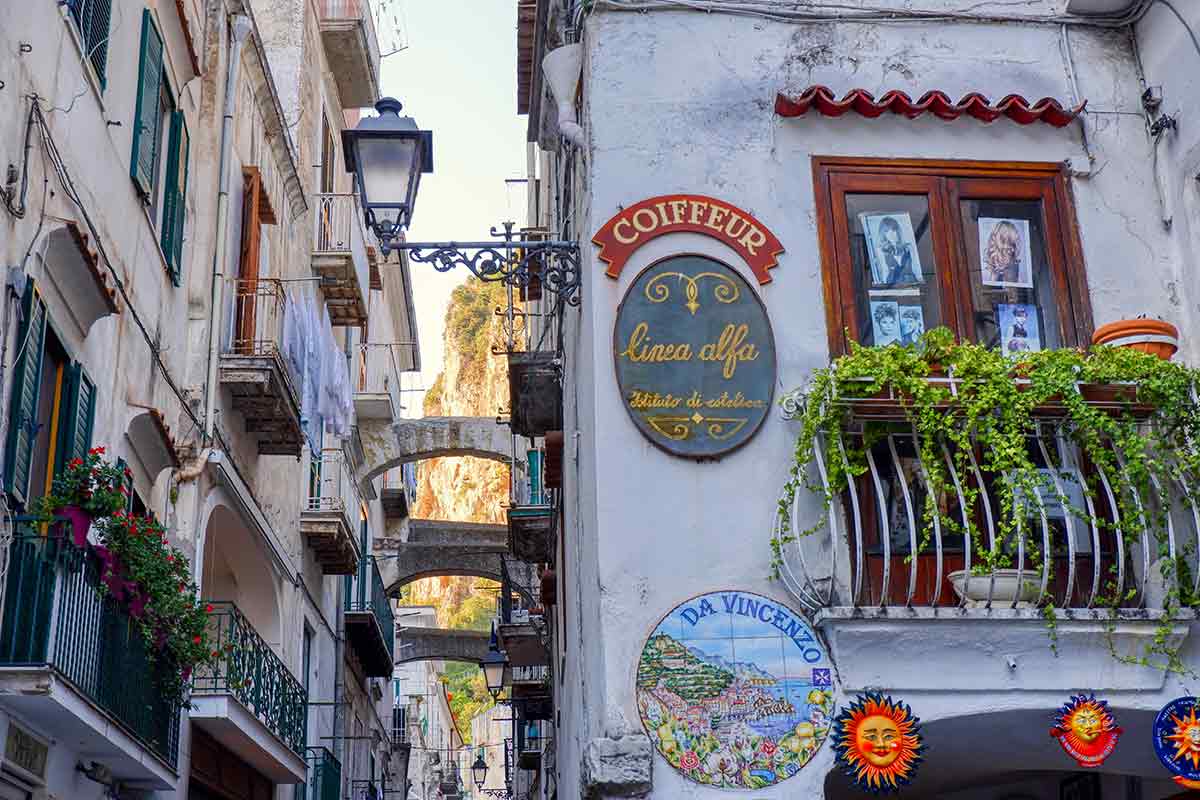 Train from Venice to Amalfi Coast
While planning your route, it is important to note that there are no trains that stop in the towns and villages along the Amalfi Coast.
So for this guide, we suggest you take the train to Sorrento from Naples and then from the Sorrento train station you'll get a bus or taxi to the main towns of interest such as Amalfi or Positano.
From Venice, you'll head to the Santa Lucia Train Station and book a ticket to get to Napoli Centrale. You can either do this online or get your ticket at one of the ticket booths at the station. Look out for direct trains with Trenitalia or Italo.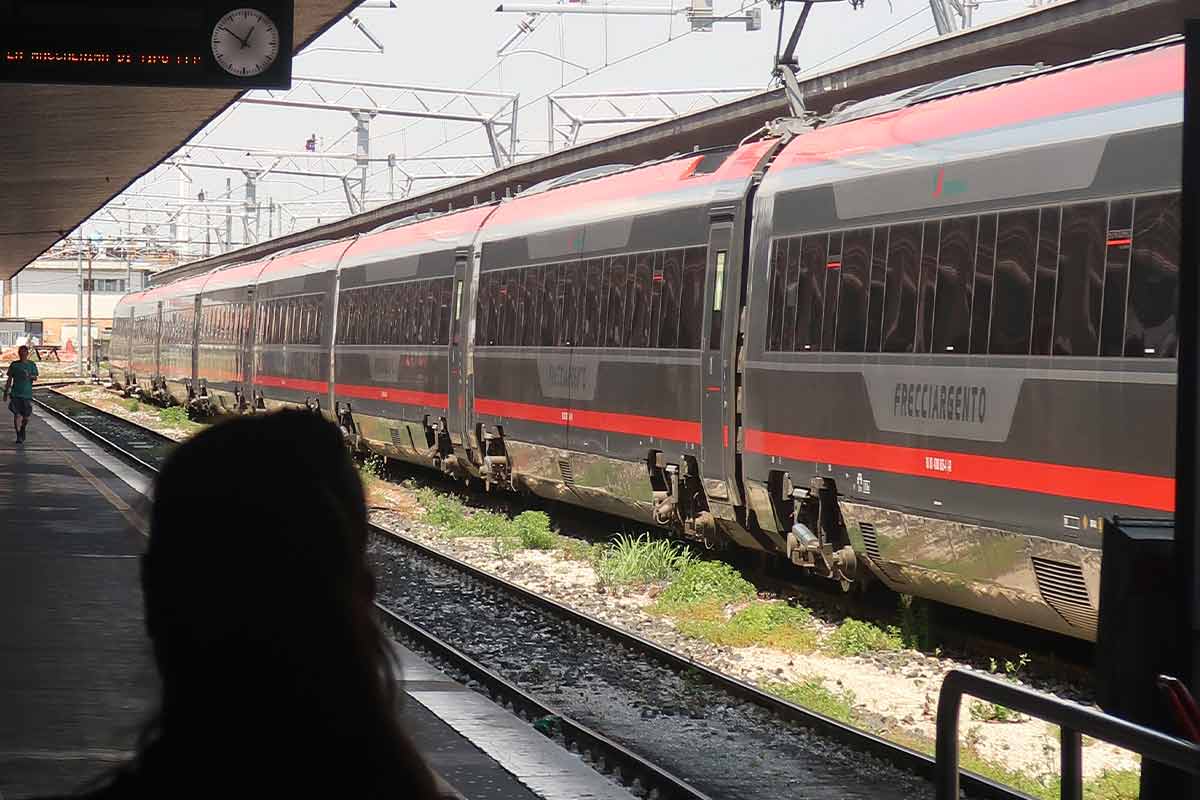 Once you've arrived in Naples you'll need to walk over to the Piazza Garibaldi Station which is around a 4 minutes walk. From Piazza Garibaldi, you'll get the Circumvesuviana train which takes around 1 hour to get to Sorrento.
You also have the option to travel from Venice to Salerno directly which takes 5 hours and 35 minutes with Trenitalia. With Italo, there is 1 stop/change in Rome which makes your total journey time 6 hours and 12 minutes.
Once in Sorrento, depending on where you want to stay on the Amalfi Cost, you can then get the SITA 5070 bus which will take you towards Positano (the bus stops to get off the bus at are called Chiesa Nuova or Sponda.)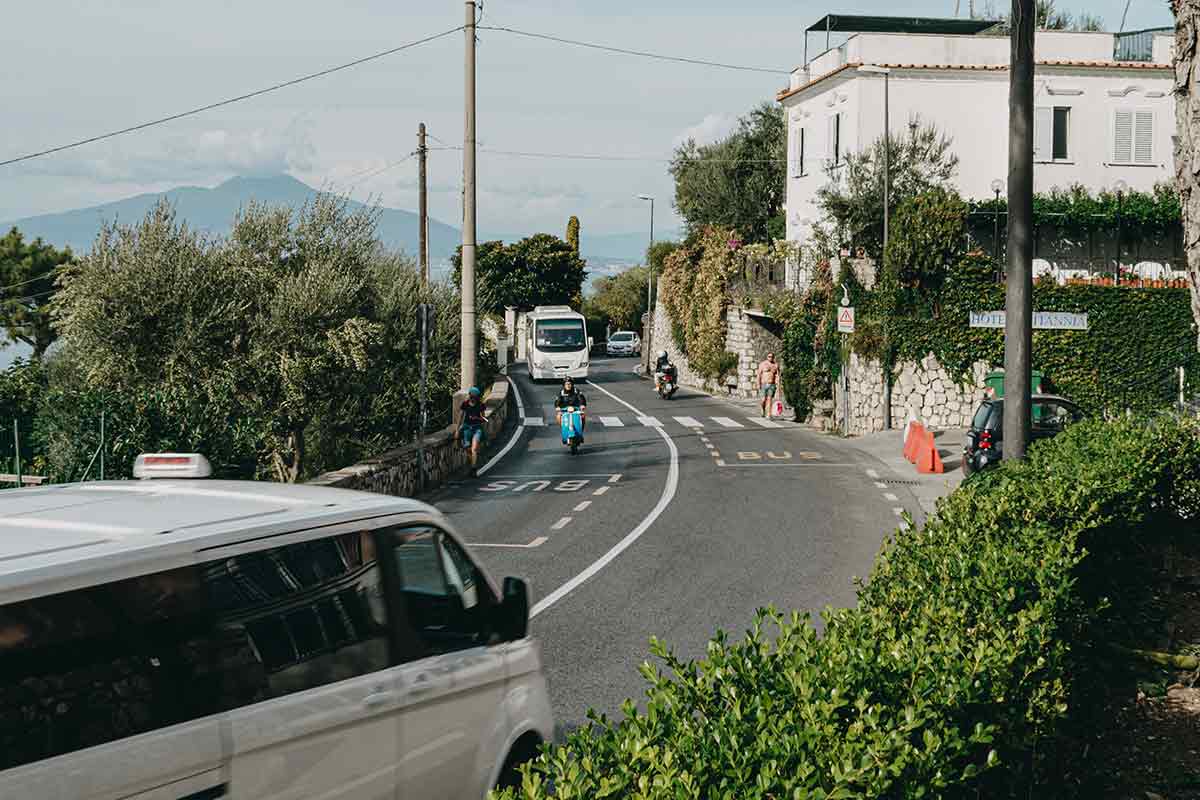 If you have time to stop in Naples then our above recommended option is simply the best. Why not see our 2 days in Naples itinerary for ideas on what to do?
However, if you are short on time or want to get to Venice by train as fast as possible, we suggest you travel directly from Venice to Salerno.
Driving from Venice to Amalfi Coast
Driving from Venice to the Amalfi Coast is a good idea if you want the freedom to stop along the way, visit more places in Italy and see things at your own pace.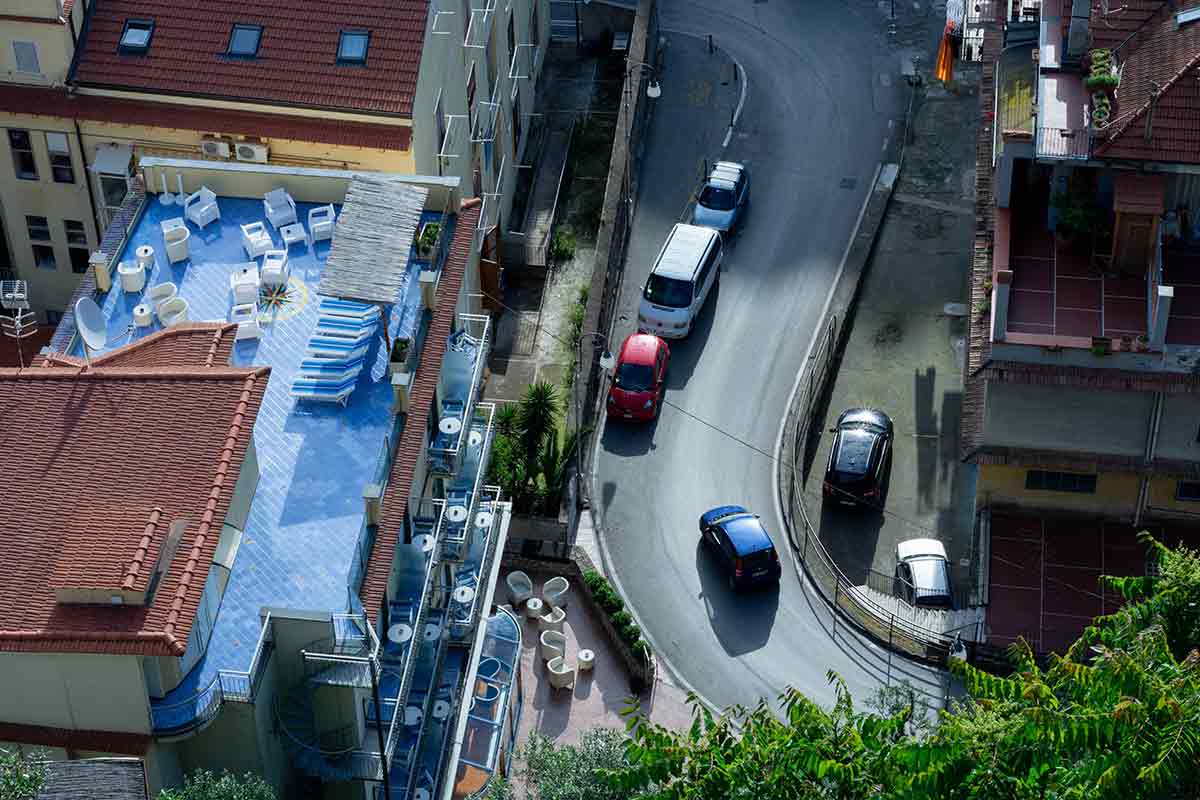 This way, you don't need to think about public transport and schedules. You can plan your time as you wish. We suggest hiring a car at Marco Polo or Treviso airport (depending on where you land), as hiring a car at the airport is cheaper.
Check with the car hire company, and ask for a car with a sat nav as it's a long drive to the Amalfi Coast. It's always best to have extra support. From Venice or one of the airports near Venice you'll need to get to Liberty Bridge and reach Mestre and then the road signposted Tangenziale di Mestre/A57.
Then take the exit towards Milano/Bologna, which is the A13 motorway once you get to Padua and then the A1 from Bologna to Naples. Once you get to Naples, take the road E45 and then SS145 once you get to Pompeii.
Continue on this road until Piano di Sorrento where you'll continue on to the SS163 road that will take you on to the Amalfi Coast.
Bus from Venice to Amalfi Coast
This is a great option for budget travelers. There are three main coach companies and options to travel by bus from Venice to the Amalfi Coast:
The first two are much cheaper options than MarinoBus, but it's worth mentioning it too. All the coaches leave from Venice Tronchetto or Venice Mestre station.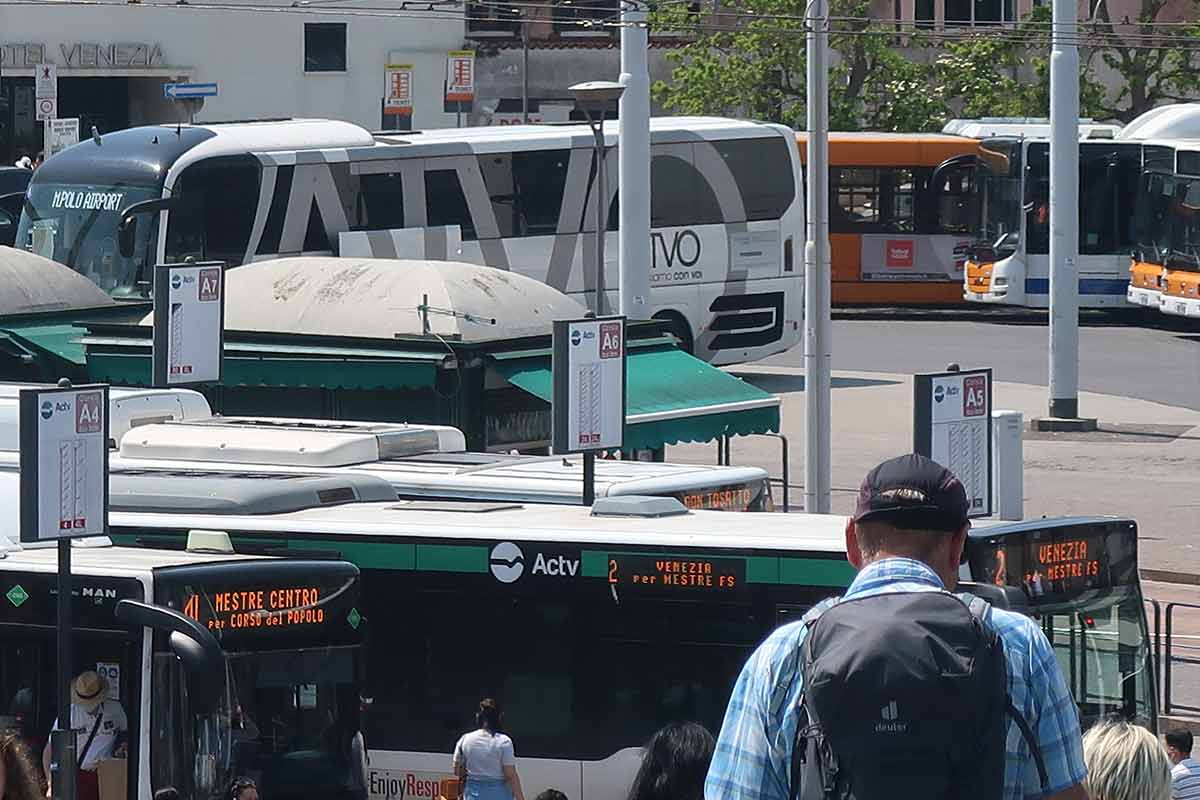 You can arrive in Naples (Corso Arnaldo Lucci 156, 80142) or Salerno (Piazza delle Concordia, 84123). Only Flixbus and MarinoBus arrive in Salerno. From Naples or Salerno you will then take a bus along to the Amalfi Coast.
For more detailed information, check out this post to learn how to get from Naples to the Amalfi Coast by bus. From Salerno, you can get the Sita bus 5120 that stops in Vietri sul Mare, Cetara, Maiori, Minori, Atrani and Amalfi.
Venice to Amalfi Coast
After reading this guide, you should have the information you need to be able to get from Venice to the Amalfi Coast without any issues.
Yes the journey is long but 100% worth the effort, and the difference between the two regions can make you feel as if you were in an entirely different country.
Also, remember that there is always the option of going to the airport and getting a flight from Naples Capodichino airport which is the best way to get to Venice from the Amalfi Coast if you're not a fan of traveling overland by train.
Are you planning on traveling to this region soon? Be sure to read our 4 days in Amalfi coast itinerary for ideas on what to do once you get here.
---
Dear responsible traveler: This post may contain affiliate links, which means, if you click through and make a purchase, book a tour or a hotel, we may earn a small commission. This is at no additional cost to you. Your support means a lot and helps us to maintain the quality of this site.