2 days in Naples itinerary
If you are planning a trip to Italy or you're traveling in Italy and soon to land in Naples by car or by train, this guide is designed especially for you.
Naples is the city where you will taste the best pizza in the world and enjoy milder temperatures! It's a city just waiting to be explored.
Everyone knows Italy is famous for Pizza and now you're headed further south, let's start to look at the landmarks in Naples to visit too.
Is Naples worth visiting?
Naples is known as the 'City of the Sun' or the 'Capital of the Mediterranean' and is a fascinating city nestled beautifully in the homonymous gulf. It has an immense historical, cultural, and artistic heritage and the historical center of Naples is a UNESCO World Heritage Site and one of Europe's most well-preserved ancient cities.
As you may already know, Naples is where pizza was born! Meaning that you can sample the best and most authentic Pizza in Naples. The Neapolitan pizza has a characteristic round shape. Its texture is soft and thin with high edges, called 'cornicione'.
How many days in Naples?
We suggest spending at least 2 days in Naples, but 3 days is an ideal length for your stay in this city as it allows you ample time to be able to visit the most remarkable attractions + sample local food and drinks.
Just know that Naples is a grand city and there's quite a lot to see and do.
We understand that many people visit Naples and also spend time exploring other places around this region as part of a wider itinerary.
Are you a fan of convenience and saving time? Get a room at the B&B Vicoli di Napoli for a pleasant stay in the heart of the historical center, close to the Umberto I Gallery, San Carlo Theatre and Piazza Plebiscito.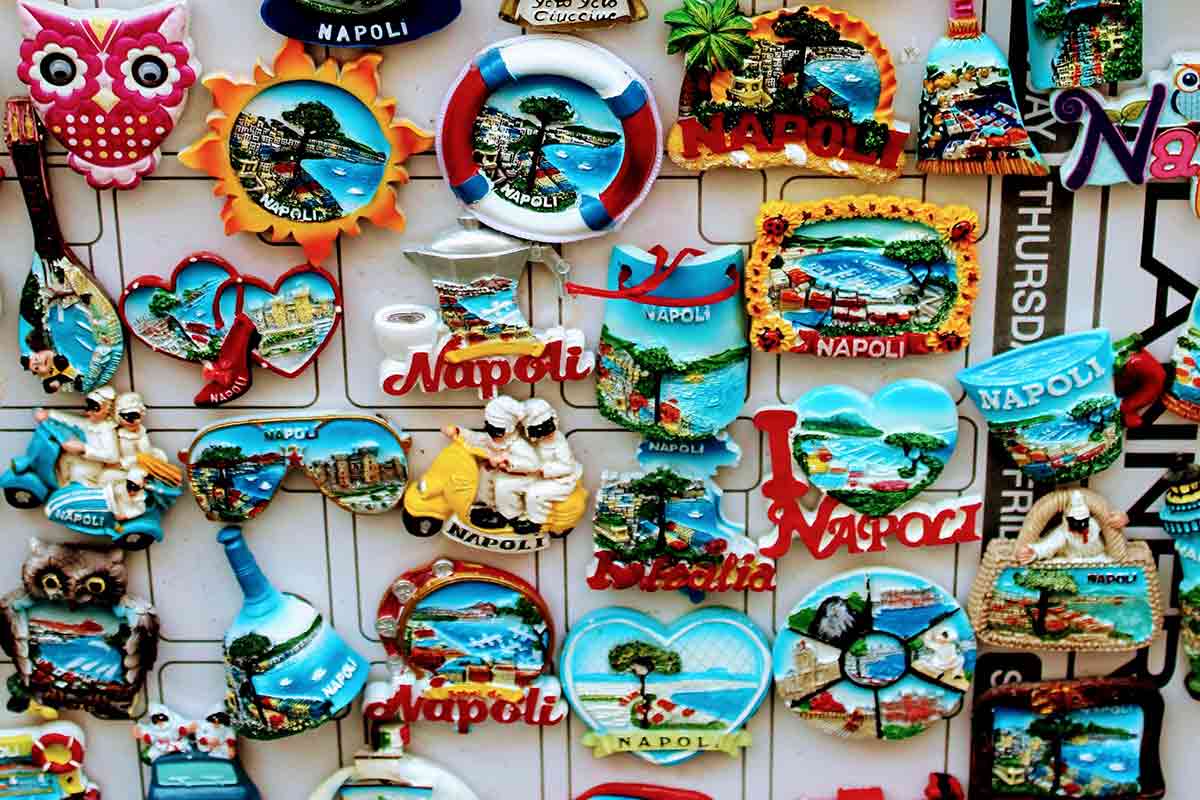 To find some inspiration, read our 2 weeks in Italy itinerary and learn how to get to Naples when traveling from other important Italian cities and which stops you can add to your trip to make it more complete.
If you end up spending more than 3 days in Naples, then you'll have time to take and enjoy the sites as well as arrange a few day trips too.
From Napoli Centrale railway station, you can take trains to Pompeii and Ercolano archaeological sites, go for a hike to the Vesuvio volcano or reach Sorrento and other costal spots for a relaxing day at the beach.
We also advise planning beforehand an island-hopping tour, leaving from the port of Naples, to visit Procida, Ischia, Capri, and the lesser-known but as beautiful as the most popular islands, Palmarola island.
Is Naples safe?
Naples is considered a medium-risk destination for tourists. Organized crime is a problem, but it doesn't affect visitors in any way.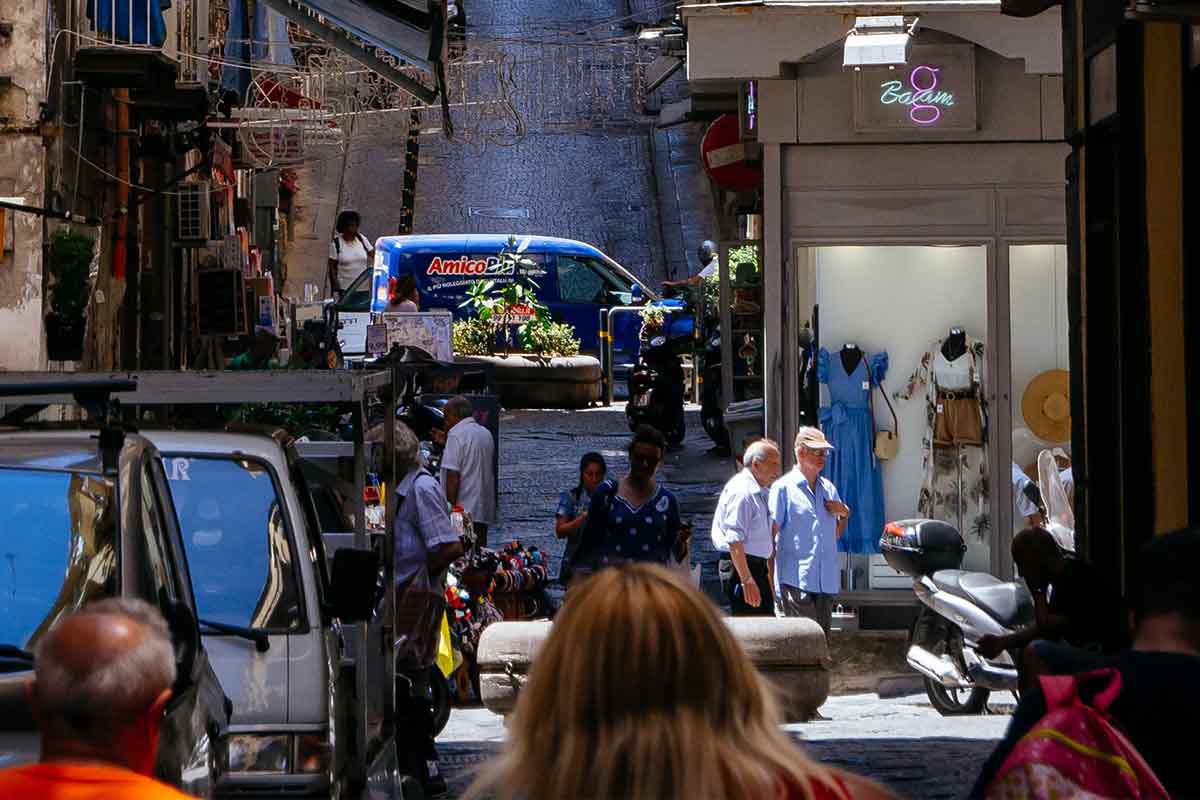 Today, the historic city center of Naples can be considered safe, and you shouldn't be concerned about this aspect when visiting this city.
Just use your common sense, avoid suspicious places and areas where you don't see other tourists walking around and outside the city center.
Always keep an eye on your belongings when walking in crowded streets and public squares to avoid bag-snatchers and petty thieves episodes.
For this reason, always take out travel insurance and avoid wearing valuable items such as watches, and if possible, leave them at home.
Some of the most central but dangerous places of Naples are Piazza Garibaldi, near the railway station, and the Spanish Quarters.
We also recommend being quite watchful when crossing the streets in Naples. The rules of the road are not really followed here.
Naples is (unfortunately) well-known for its careless drivers, the heavy traffic, and the general chaos you encounter on the road.
Read more on safety in Naples as we have wrote a guide for first timers.
Day 1 in Naples
Let's now see what you should include in your 2 days in Naples itinerary.
Plebiscito Square
Our first stop in Naples is Piazza Plebiscito, one of the most photographed locations that can be found in the city center.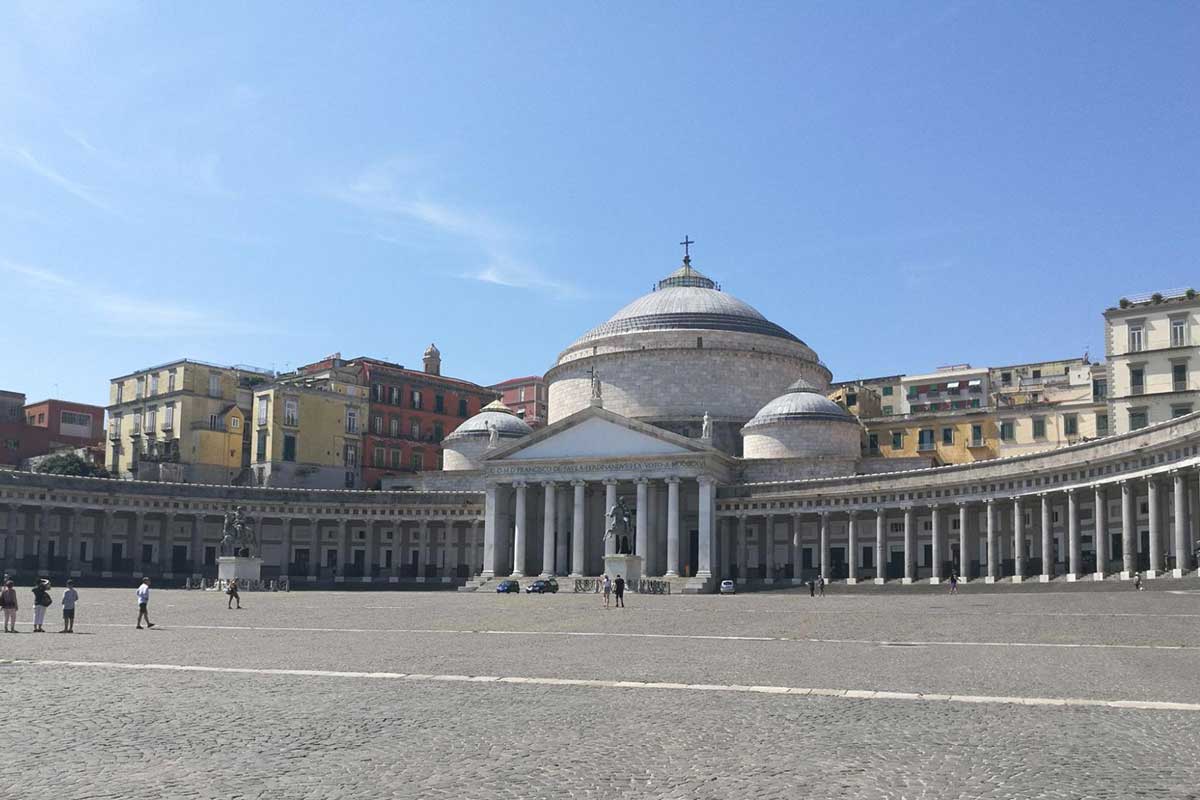 The large square is enclosed by the Royal Palace and the church of San Francesco di Paola.
National Archeological Museum
This museum is one of the most ancient museum institutions in the world. The aim of this museum is to house the relics from the Vesuvius Roman towns destroyed from the lava in 79 AD and the Farnese collection.
Among the different collections, it's worth mentioning: the Egyptian and epigraphic collections, the Campania in the Roman age collection, and the daily life objects in the Vesuvius area.
Umberto I Gallery
This is the best place in town to go shopping, similar to the Vittorio Emanuele II Galleries in Milan.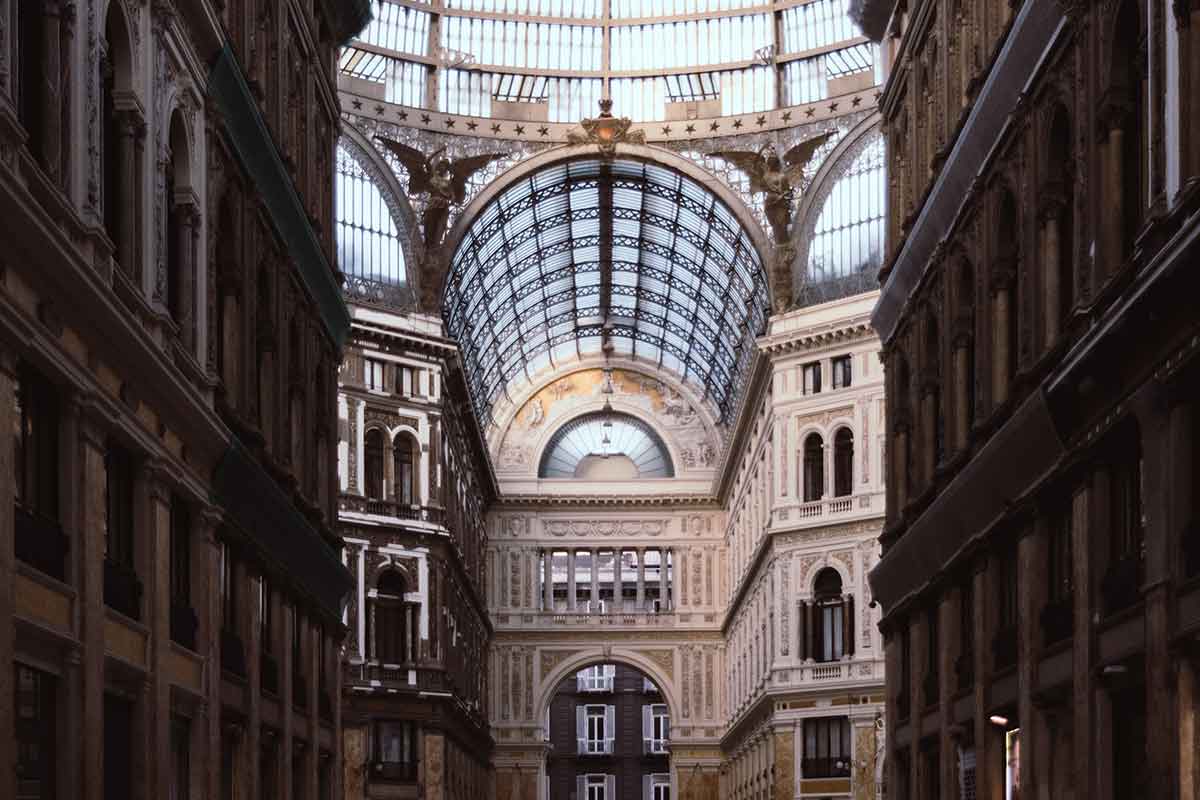 Here you'll find clothing shops and cafés where you can try a real espresso coffee along with 'sfogliatella', a typical delicious ricotta and cinnamon pastry.
Just take a stroll down the arcades to admire its Renaissance revival architecture.
Via Caracciolo and Naples Lungomare
Time to walk along this seaside promenade, feel the lovely sea breeze whilst enjoying the view on the Neapolitan Gulf!
Caracciolo street is a long pedestrian street, full of bars and restaurants serving the best seafood dishes in the city
Castel dell'Ovo
Whilst walking the seaside promenade, stop for a couple of minutes to enjoy the incredible view of Naples and the Gulf, from Castel dell'Ovo.
A former fortress and castle on the sea. There's a bizarre legend about it, according to which the poet Virgil put a magical egg ('ovo' in dialect means egg) on the castle foundations to support it!
Spaccanapoli
It's dinner time! You must be hungry by now and there's no better place to taste (in Neapolitan) 'cuoppo', fried fish in a cone, 'pizza a portafoglio' or wallet pizza and fried pizza than in this street!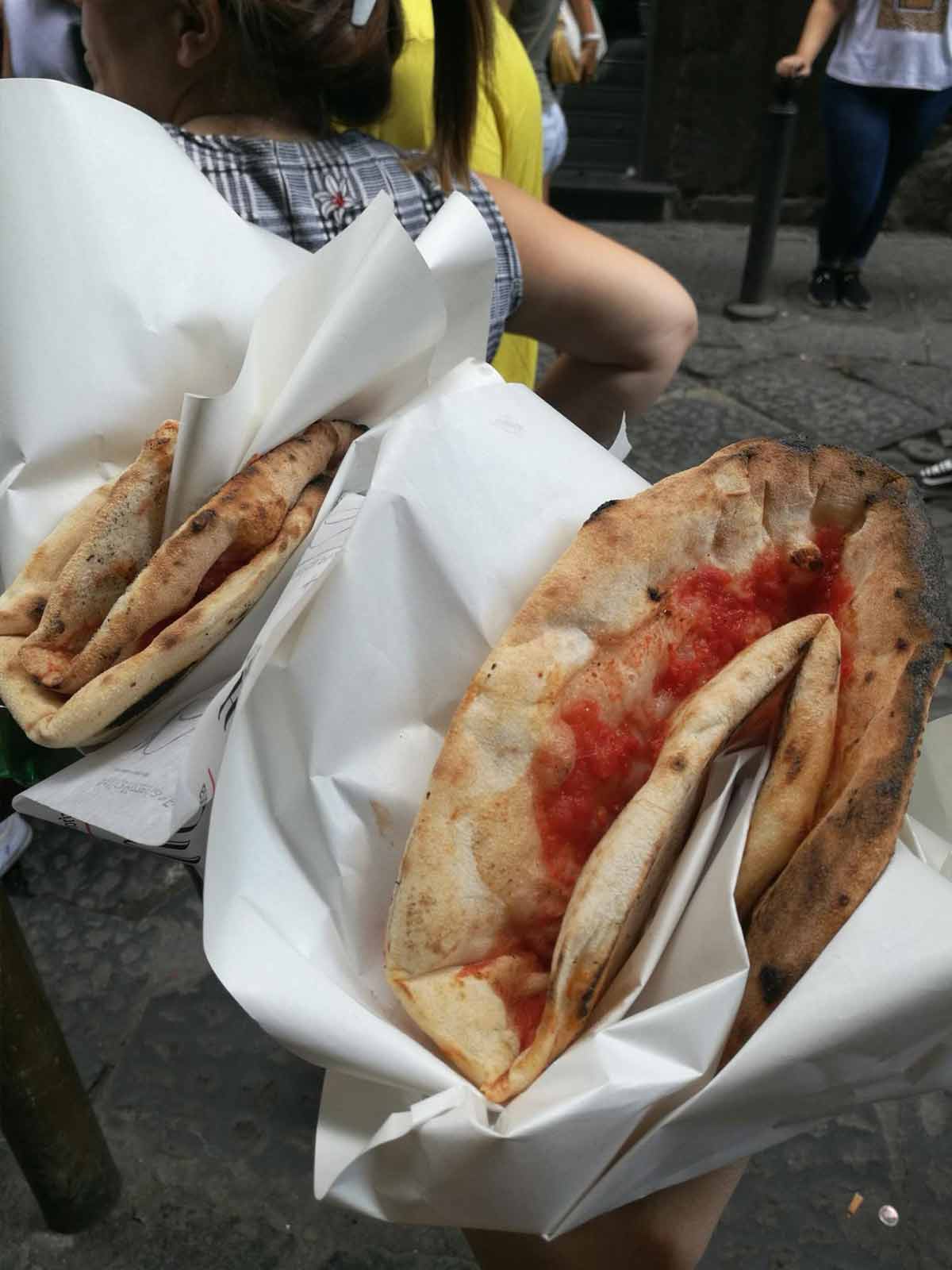 The word, Spaccanapoli meaning 'split Naples' is a popular street that divides the historical city center of Naples, (leading to the train station) and the Spanish Quarters into two.
Day 2 in Naples
Below are the next set of landmarks in Naples that we suggest you visit on your second day after visiting all of the above.
Cappella San Severo
The chapel is a real architectural and artistic landmark in the heart of Naples. An expression of the splendor of the Rococo artistic style, it was built as a private chapel.
The highlight is the 'Veiled Christ' by Giuseppe Sanmartino and dating back to the year 1753.
Santa Chiara complex and Majolica Cloister
On the right side of Piazza del Gesù Nuovo, stands the Basilica of Saint Chiara, with its Gothic facade and interior chapels.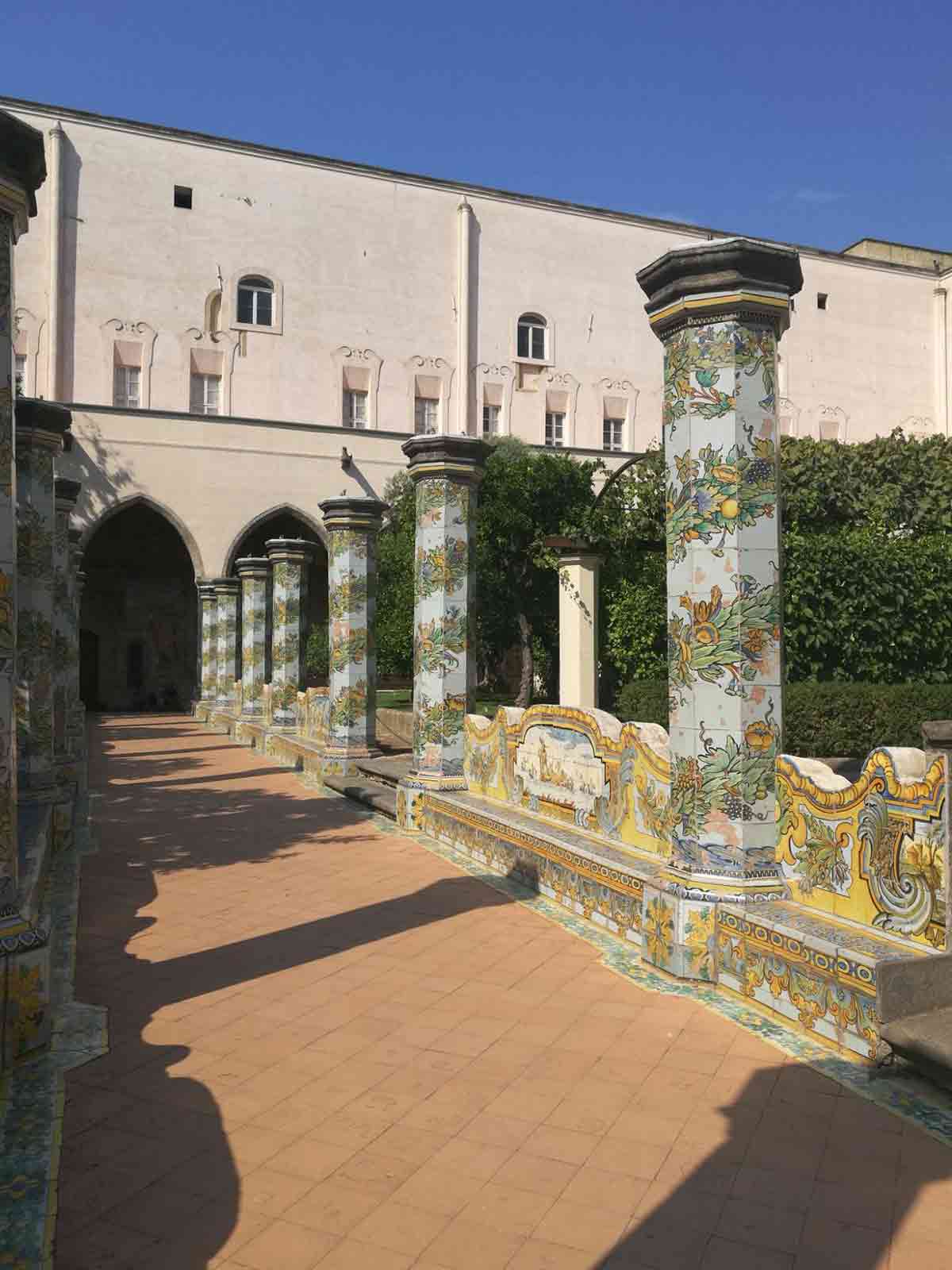 The best part of this monastery complex is the cloister. The cloister is beautifully decorated with majolica tiles in Rococo style, representing scenes of daily life at the time.
Underground Naples
It's one of the most fascinating places in Naples. The functions of these undergrounds have changed over the centuries to meet the different needs of the inhabitants of Naples.
For example, in the ancient Greek era, it served as a quarry to extract the tuff to be able to build walls and temples of Neapolis (the old Greek name of Naples).
In the Roman period, it served as an aqueduct, while during the Second World War as an air-raid shelter.
Castel Sant'Elmo
This castle is located in the Vomero area, far from the buzzing and crowded streets of the city center.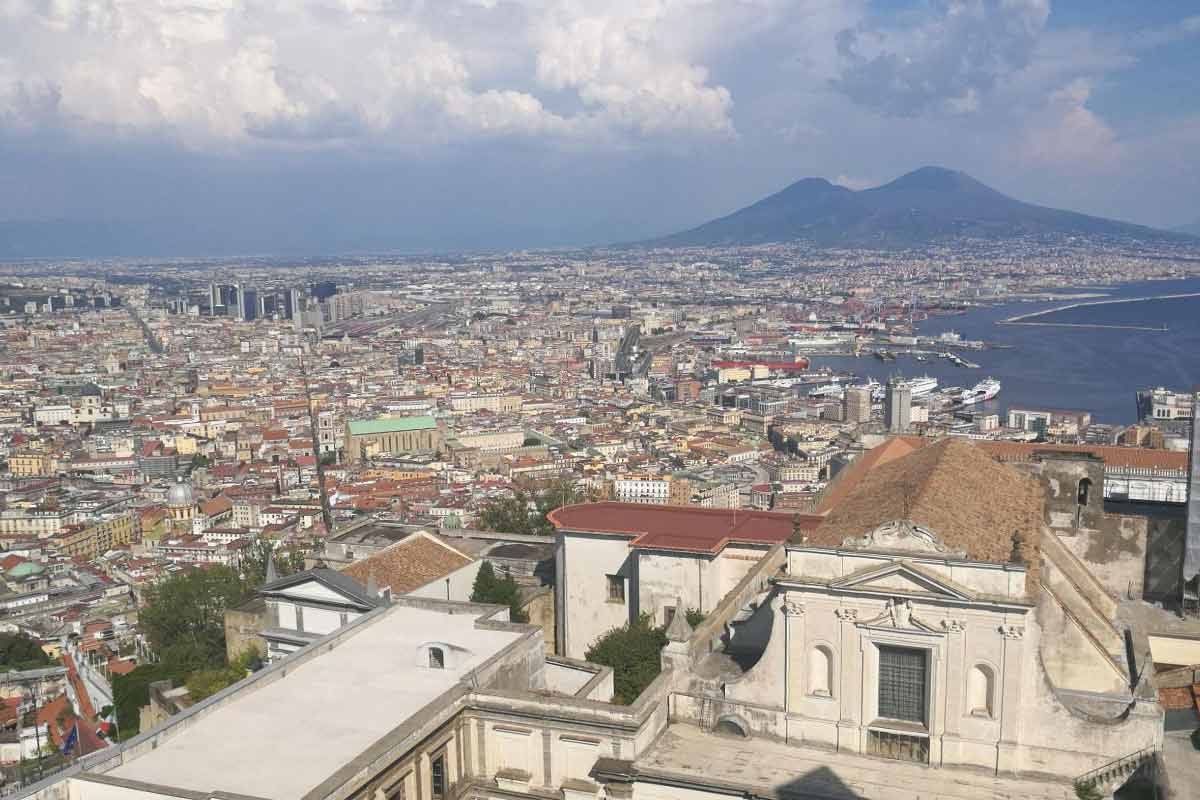 Its functions changed over time, and today you can walk along its walkway and admire some of the most beautiful views not only of the city but also of the entire Gulf of Naples up to Vesuvius.
Naples Travel Tips
See our list of travel tips to take with you:
There is more to Naples than Pizza, you can literally find Roman walls, four castles, catacombs, and medieval churches.
Remember to get your FREE travel insurance quote from SafetyWing to receive fully comprehensive support when it comes to unforeseen travel complications.
See this guide on getting from Naples to Positano if you're thinking of heading over to the Amalfi coast after here.
In Naples city center, there's a wide selection of 'pizzerie' where you can taste authentic pizza. One of the best is the one you eat at Pizzeria da Michele, near Napoli Centrale railway station.
As you take in the monuments of Naples historic center, you can do a street food tour sightseeing tour to sample foods that originated in the city.
If you are traveling alone, be sure to 'always' carry your cell phone along with you, if you have one that is. Even if you are just popping out of your hotel to go to the main square.
Check out the Trenitalia website to see how all of the train stations are connected if you'll be using public transport as suggested.
From Naples take a train called 'Circumvesuviana' and stop at the Pompeii archaeological site from where you can visit the Vesuvio volcano or Sorrento. There you'll taste the original Limoncello liquor.
Try to carry cash and items of value with you at all time in a front or inside pocket, you'll find Pacsafe make some great bags/backpacks for traveling around with valuables.
Although you shouldn't need to abide by any specific rules for safety in Naples, never let your guard down. The city reports very little crime towards tourists, so imagine yourself in a safe space whilst here.
2 day in Naples
Now you have some ideas of which places to visit in Naples!
The landmarks noted in this itinerary are some of the most popular with people visiting the city for the very first time.
So what are you waiting for?
Why not start booking your trip to Naples today (accommodation gets booked up fast) and aim to follow some of our sustainable travel tips to ensure that your trip has a positive impact on the local environment.
---
This post contains affiliate links, meaning, if you click through and make a purchase or sign up for a program, we may earn a commission. This is at no additional cost to you.