Is Athens safe for new or curious travelers?
Athens, also known as the ancient Greek city cradle of democracy, continues to attract tourists from all over the world eager to visit Acropolis and the Parthenon.
In a city that counts more than 3 million inhabitants, we can say that Athens is safe and a peaceful city to visit for those looking for a historical city break.
Like any other capital city in the world, there are some areas to avoid, mainly located in the suburbs, away from the popular tourist areas… but is that all?
Is Athens safe?
For most people, knowing whether Athens is safe to visit or not is imperative, especially for those planning a visit to the city, now, or at any time in the future.
We have covered a list of the safest cities in Europe to visit on this blog for you to compare, however, keep reading this specific page to learn more about common crimes, areas and neighborhoods to avoid as well as how to stay safe in Athens.
How safe is Athens?
After the economic crisis and the recent migrant emergency, the situation is tense and as a result, the phenomenon of pickpocketing is steadily on the rise.
Apart from those types of petty crimes, Athens is safe to visit and there's no reason why you should be concerned about this safety aspect during your trip.
As always, be cautious when walking around the most popular tourist areas and public transport, and always remember to keep an eye on your valuables.
As long as you stick to the central neighborhoods of Athens and use your common sense, you can stay reassured that you'll have a great time in Athens.
Is Athens safe for tourists?
Yes, Athens is safe for tourists. Visitors should be alert when walking around popular monuments and on public transport just like in any other big city.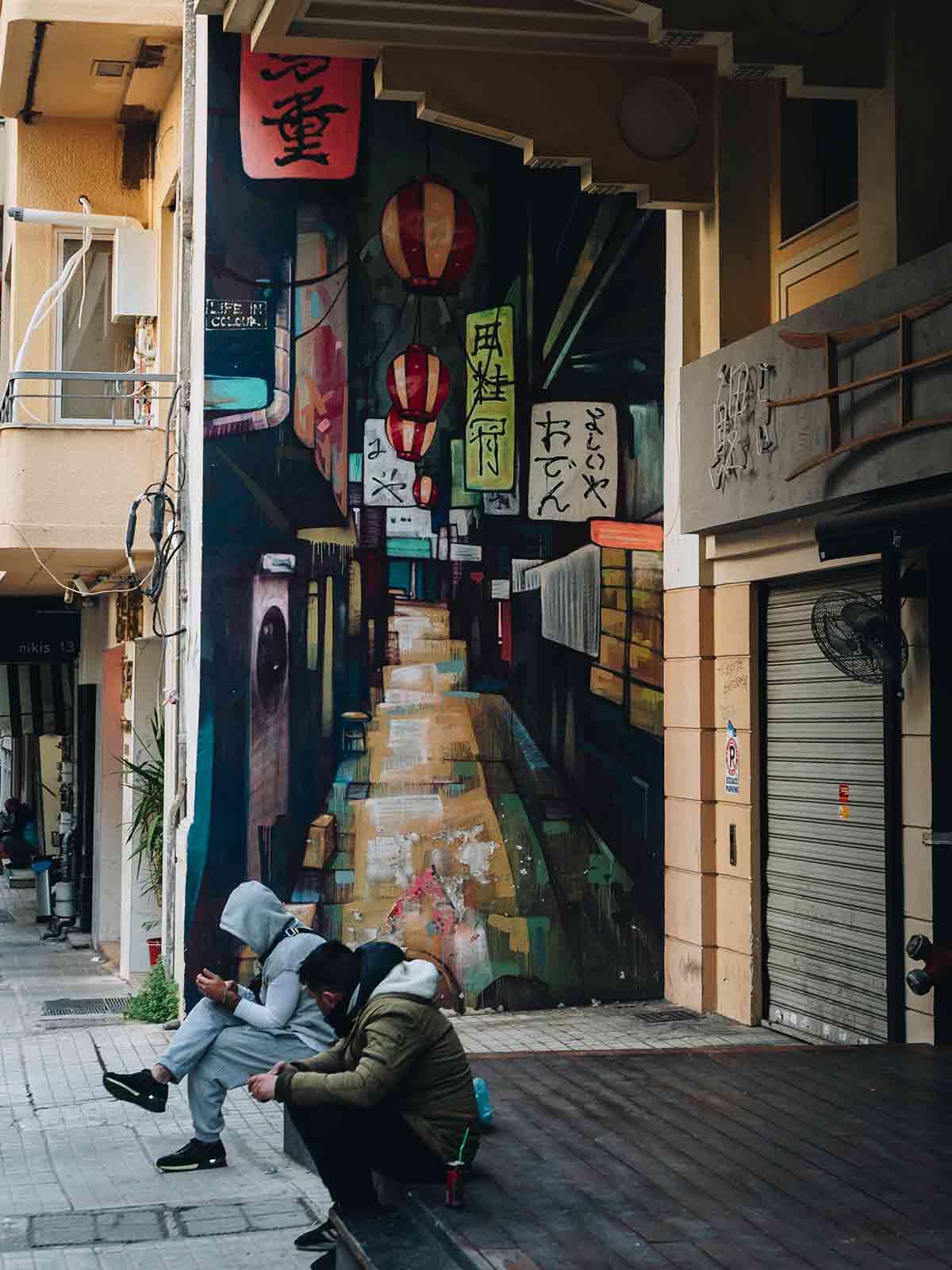 Tourists should avoid visiting the outskirts of Athens and don't stay in Omonia Square (and the surrounding area, up to Keramikos), Metaxourghio station and Exarchia. Try somewhere like Planka instead which is great for first-time visitors to Athens or if you even Syntagma if you want to be close to the central square.
As mentioned earlier, the most common crimes affecting tourists in Athens are pickpocketing and bag snatching which can happen around the most popular attractions, crowded places and on public transport. Carrying a money stash is a great idea if you prefer to conceal your belongings while exploring the streets.
Finally, when transporting yourself to different parts of the city, make sure you use licensed taxis and stay away from demonstrations and clashes.
Athens crime rate
According to Numbeo.com, the level of crime in Athens is moderate.
It has been reported an increase in crimes in the past 3 years. The higher risk is having problems with people using or dealing drugs and property crimes like vandalism and theft.
Previous travelers feel completely safe walking around Athens in the daytime, but feel it's riskier at night. Athenians are welcoming people and that explains the limited worries of previous visitors of being subject to a physical attack because of their skin color, ethnic origin or religion.
Most crimes in Athens don't affect tourists, but everyone is advised to be aware of its surroundings at all times.
Is Athens safe for solo female travelers?
Yes, Athens is a safe city for solo female travelers, however, don't let your guard down when exploring the nightlife in Athens, more so when meeting new friends.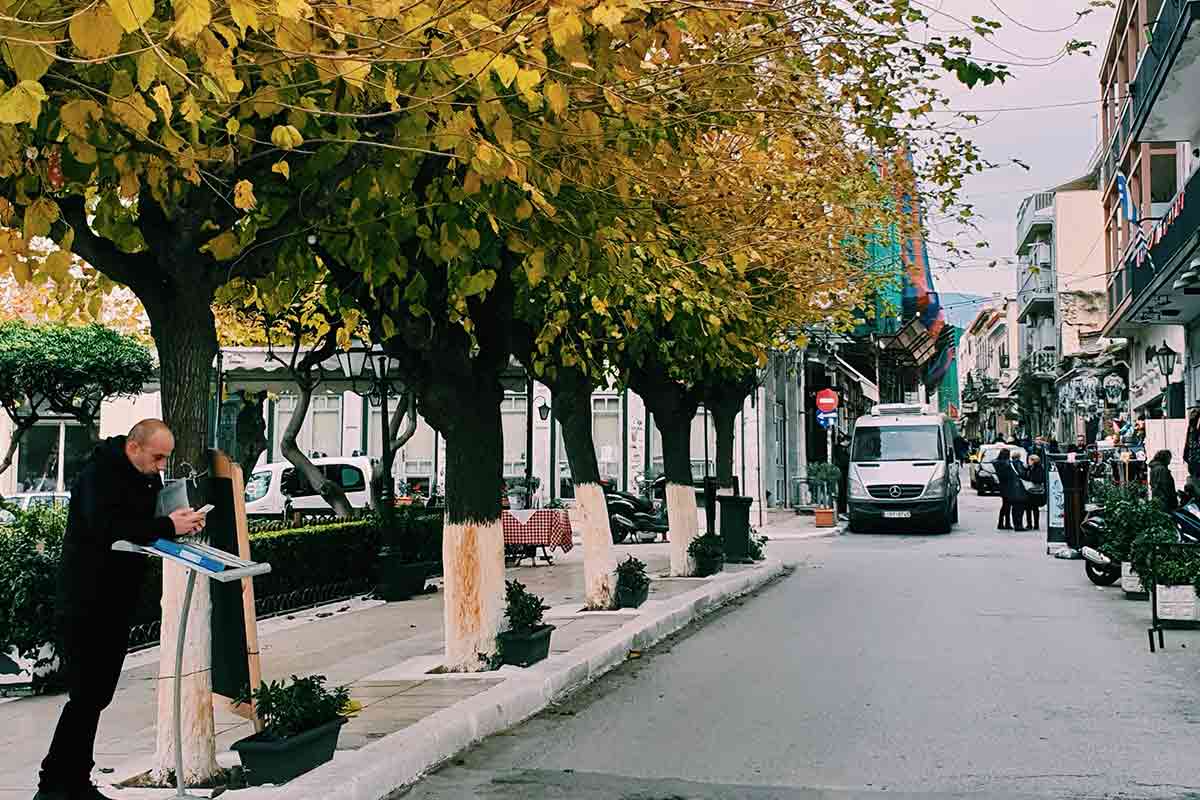 The good news is that you can walk around the city by yourself without getting worried about being harassed, but make sure to get on a licensed taxi, keep an eye on your personal items, and don't carry with you large amounts of cash.
Remember to leave your important travel documents in a safe deposit box at your hotel, if provided. Be aware of possible pickpockets and aim to carry a bag like this one even when you're visiting the most touristic landmarks in Athens.
Avoid the party districts of Monastiraki, Omonia, Psyrri and Mextaxourghio late at night and stay clear of deserted or dark streets on your way back home.
Is Athens safe at night?
Athens is safe at night for the most part, as long as you remember to stick to the tourist neighborhoods around the city center and don't enter the red-light district.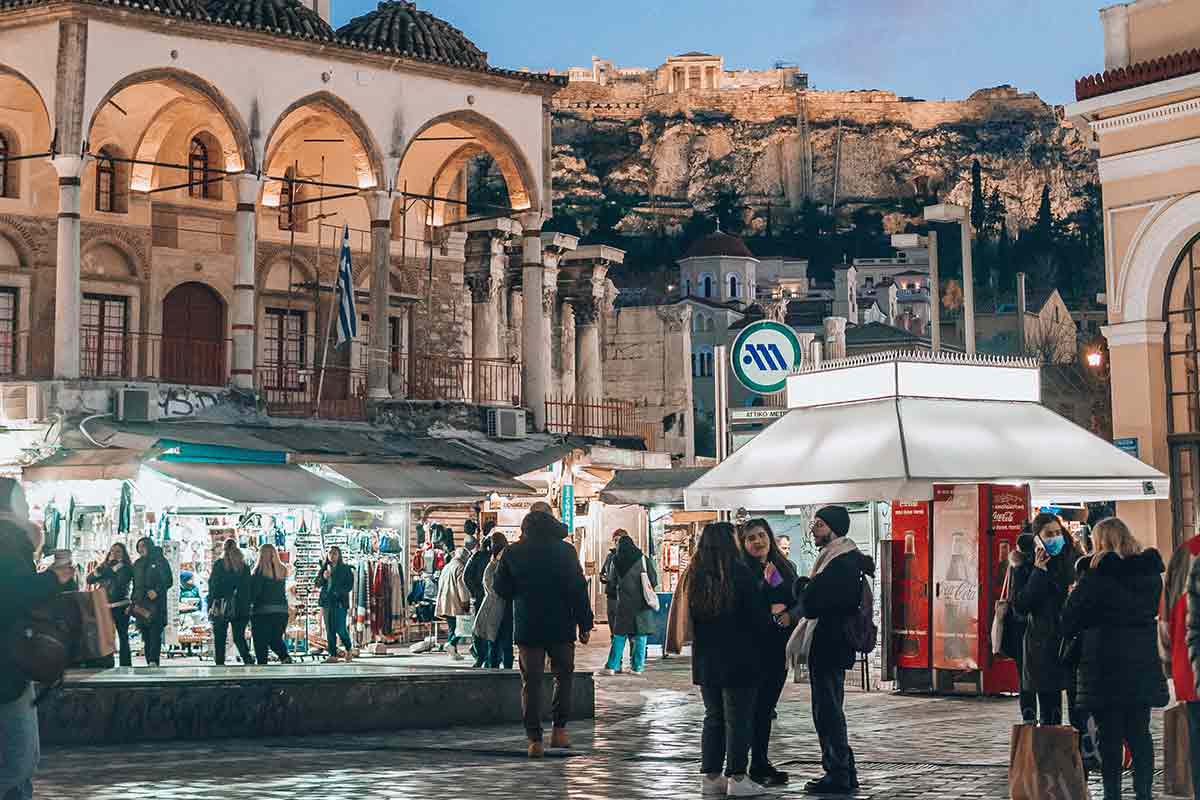 The neighborhoods to avoid are Omonia Square and Metaxourghio station, where there have been reported drug dealing and prostitution crimes.
Also, avoid going to nightclubs or bars where you have been invited by some random girls (or guys) as you may find yourself paying 100 euros for a drink.
There are a number of different scams happening during the night some of which are set up to trap tourists in unfavorable situations, so keep this in mind.
In general, avoid walking alone anywhere in a big city like Athens so you won't attract the attention of potential thieves and drug dealers.
Where to stay in Athens
The good news is, Athens counts on a wide choice of neighborhoods and areas in and around the city center where you can stay without worrying about safety.
The best places to stay in Athens are:
Kolonáki, the richest district of the city, with the most beautiful hotels, boutique shops and a great selection of restaurants.
Pláka is one of the oldest and most picturesque neighborhoods. It's close to the Acropolis and in a strategic position, ideal to visit the rest of the city.
Monastiraki is one of the most touristic districts of Athens, full of cool bars and restaurants.
One of the best hotels in Athens for its central position and unique features is the 5 star COCO-MAT Athens Jumelle, overlooking the hilltop Acropolis.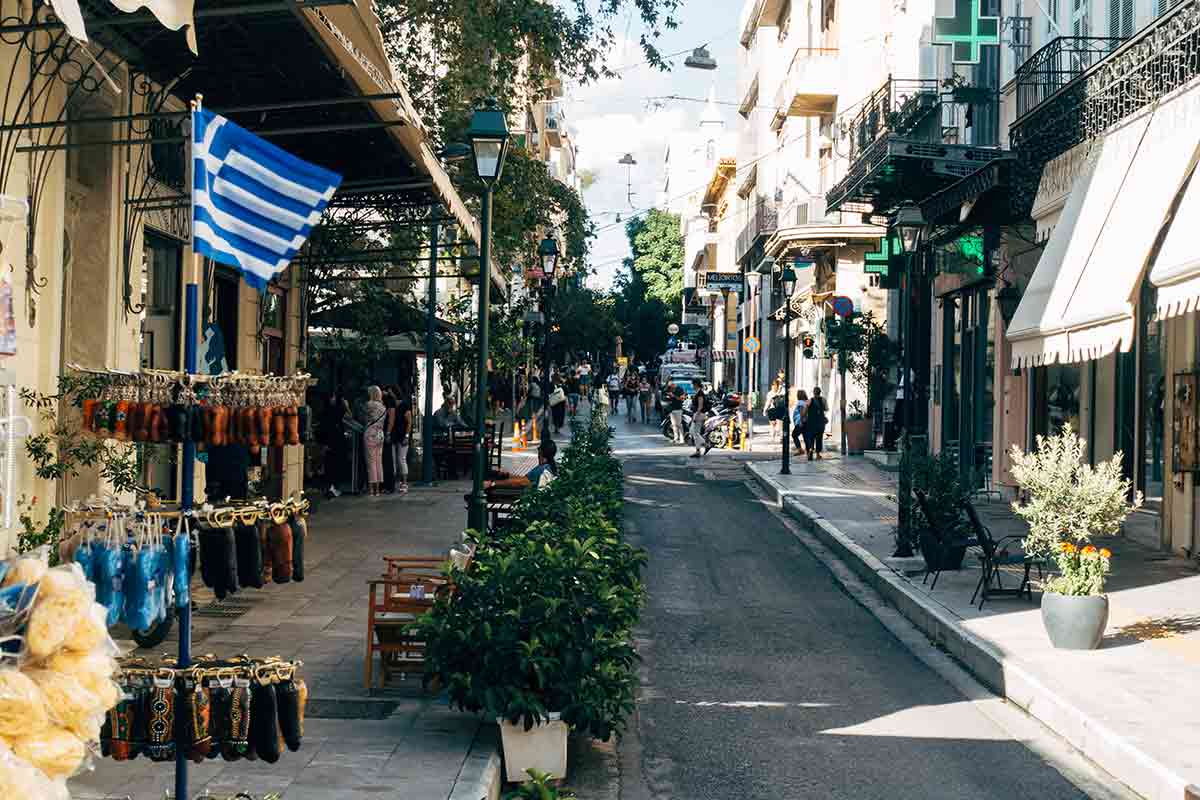 The neighborhoods we recommend avoiding are: Omonia, Colonus for drug misuse and drug dealing crimes, Agio Panteleimomas and Exarcheia, considered the 'out of control areas of the city by local authorities.
Athens: Travel safety tips
Athens is the capital city of Greece and one of the biggest cities in Europe. Even if it's considered as safe for tourists, we still suggest taking safety precautions.
By following our simple Athens safety tips you'll have a great stay in this city.
Avoid going out with large amounts of cash and do not show money off. If possible, put your money in different places (pockets or bags). This money belt is ideal to use whilst traveling and guarantees extra safety.
When you're in a restaurant or sitting at a coffee table, don't hang your bag on the chair and don't put your phone and wallet on the table.
Bring a photocopy of your passport or any other ID and leave your original copies back at your hotel or hostel in Athens.
Do not get into taxis that are not authorized (the yellow ones). Check which are the official taxi companies before getting on one.
If you decide to hire a car in Athens, make sure doors and windows are closed and don't leave any valuables inside it.
There are no dangerous neighborhoods but avoid the following places at night time: Omonia Square (and surrounding area, up to Keramikos), Metaxourghio station and Exarchia.
Keep an eye on your bags and belongings in touristic areas and public transport, as it's where pickpockets and bag snatchers hang around.
In case of manifestation or clashes, avoid Syntagma square (in front of the Parliament), Omonia square and adjacent areas (Panepistimiou area and Akademias street) as well as Exarchia neighborhood and around the Polytechnic University.
When you're walking around, be careful when you're crossing the road: many drivers do not respect the red light and other road safety rules.
You can call the police at this number 112. In Athens there's also the Tourist Police with the task of repressing crimes against tourists. You can dial 171 and they answer in English, German and French.
Athens is safe but it's always better to use your common sense, avoid walking around the neighbourhoods we mentioned at night and keep an eye on your personal belongings, and you'll have a fantastic time here.
Also, depending on how many days in Athens you are planning to stay, you may find it worth while to stay in different areas to enrichen your experience of the city.
Best time to visit Athens
Athens can be visited all year round thanks to its Mediterranean climate. Temperatures aren't rigid, even in the coldest months, and don't go below 5°C.
For us, the best time to visit the Greek capital is definitely during spring because it's not too hot and it is more of less always sunny, these are the ideal weather conditions to visit the main attractions and go on day trips or boat tours.
Be sure to carry some sunscreen if you know you'll be arriving during the summer as its easy to get sunburn while exploring streets here.
Autumn is a good time, the month of September and the beginning of October. After the second half of October, rains start to be more frequent.
Early spring and late autumn are good times to find pleasant temperatures and fewer crowds. The price of flights and accommodation tend to be affordable too.
Got travel insurance for Athens?
World Nomads offers simple and flexible travel insurance. Buy at home or while traveling and claim online from anywhere in the world.
Is Athens safe? Final words
Now you should have a better idea of how safe Athens is. There's no reason to be worried about safety during your trip to the Greek capital.
As long as you're cautious of your surroundings and possible pickpockets in the most touristic places, you'll be completely fine in Athens.
While you're still here, be sure to read our sustainable travel tips to make sure your trip has the most positive effect on the local environment here in Athens.
---
Dear responsible traveler: This post may contain affiliate links, which means, if you click through and make a purchase, book a tour or a hotel, we may earn a small commission. This is at no additional cost to you. Your support means a lot and helps us to maintain the quality of this site.