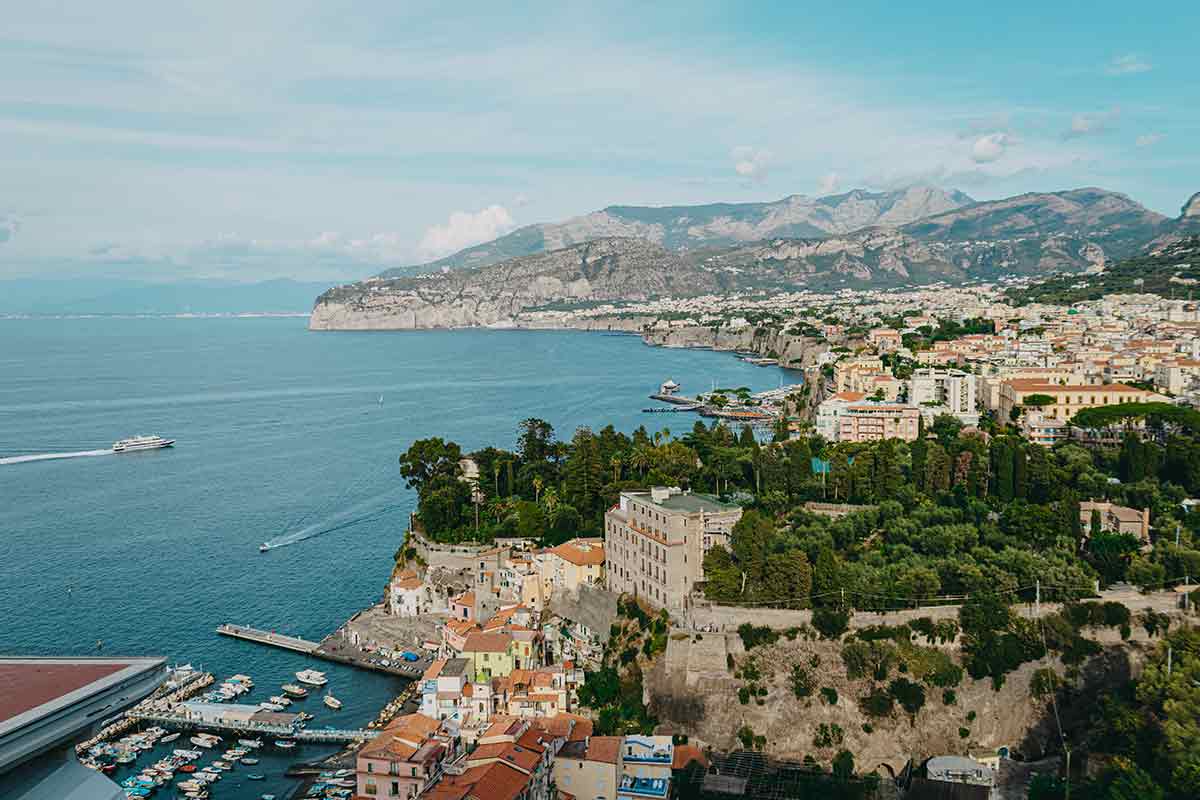 Welcome to this guide on getting from Naples to Sorrento.
Sorrento is the most famous town on the Sorrento coast, beautifully located on a tufaceous terrace overlooking the Gulf of Naples.
Since ancient times, it has been a very popular holiday resort, and Sorrento keeps fascinating tourists and visitors from all over the world.
Thanks to its breathtaking views, gardens and citrus groves facing the Tyrrhenian Sea, the marinas and the picturesque historical center, Sorrento embodies the finest of any Mediterranean destination.
Naples to Sorrento
If you'll be traveling soon, you'll be glad to know there are many ways to reach Sorrento from the capital city of the Campania Region, Naples.
With this article, we're going to explain how to get from Naples to Sorrento by train, by bus, by car and by private transfer.
Is Sorrento worth visiting?
The lovely town facing the Gulf of Naples attracts visitors every single year for its rich historical, cultural and culinary heritage.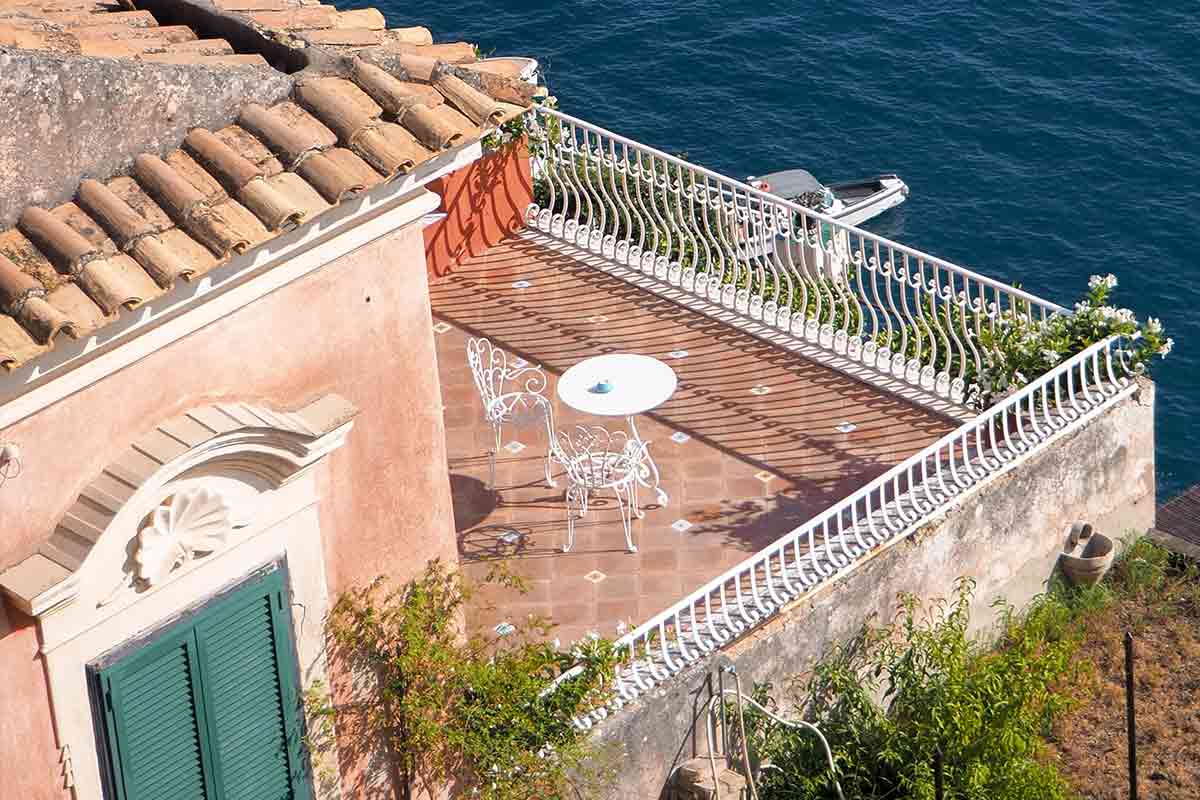 To help you understand why this trip from Naples to Sorrento is worth your time, we've listed three reasons to visit this coastal destination.
You can spend your time visiting the historical center and beaches. Sorrento boasts sunny beaches and a clear sea. The beaches in Sorrento are Marina Grande and Marina Piccola. Marina Grande has the charm of a fishing village with its colorful houses. Marina Piccola is the port of Sorrento, where ferries and hydrofoils arrive, which is not far from Piazza Tasso. From this public square, you can stroll around the narrow streets of Sorrento, and visit beautiful churches such as the Duomo of Sorrento and the Correale Museum.
In Sorrento, you can both find Michelin-starred restaurants and traditional trattorie. Sorrento's gastronomy has a long history and you can find both sea and land produces that make up its dishes. Among the most famous ones, there are the 'gnocchi alla sorrentina', the ricotta cannelloni, boiled lobster and the 'polpo in casseruola' (octopus in a saucepan).
As mentioned in our Italy itinerary, Sorrento is a great starting point for day trips and boat excursions. We recommend the boat trip from Sorrento to the breathtaking island of Capri and around the Amalfi Coast. If you're interested in getting to know the history of limoncello, then the lemon tour in Sorrento's countryside gives you chance to learn everything about these delicious lemons.
These are just a few reasons that sum up why Sorrento is unique. If you're not convinced see our reasons on why Sorrento is worth visiting for reassurance.
Now, depending on the type of traveler you consider yourself, here you'll most certainly find something to satisfy your desires and needs.
How far is Sorrento from Naples?
Sorrento is 48 kilometers south of Naples. It takes less than an hour to get from Naples to Sorrento by car.
It's easy to reach Sorrento from Naples even by public transport.
In fact, you can get there by train, by bus and even by ferry. It's also possible to book a private transfer from Naples city center or from the airport Capodichino.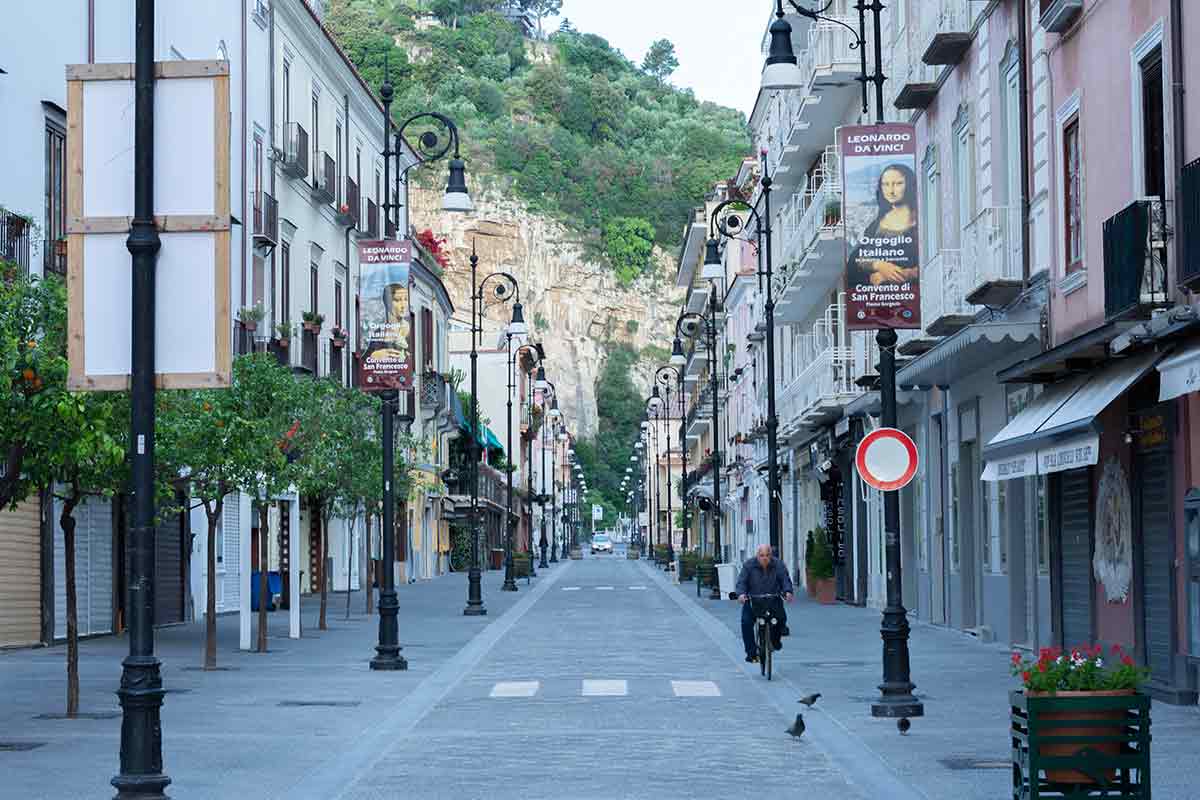 Sorrento is a great day trip you can take from Naples thanks to its direct train and bus connections.
There are many interesting sights along the way you may want to visit!
Archaeological sites: Pompeii and Herculaneum, or, beach destinations like Castellammare di Stabia, Vico Equense and Piana di Sorrento.
You can stop by these landmarks traveling by car, by train, or by bus.
Where to Stay in Sorrento
If you want to spend more than a day in Sorrento, we recommend you try one of these 3 hotels for the best experience:
Luxury – Palazzo Spasiano Rooms a luxurious hotel, only 9 minutes from the beach and located in the heart of Sorrento. The best place to not miss a thing going on in town, and from the ideal location to explore Sorrento's best landmarks. All rooms have all the possible comforts you might think about to make your stay one to remember.
Mid range – The Casa Dominova Deluxe is a mid-range hotel in Sorrento, for those looking for a wonderful stay in town without spending too much. It's only a 2-minute walk from the beach and is based in the historical center of Sorrento. In the morning, you can enjoy breakfast from the orange and lemon tree in the garden and what we like more about this hotel are the colorful and bright rooms.
Budget – The Ulisse Deluxe Hostel is the best place to stay on a budget for solo travelers visiting Sorrento and the Amalfi Coast. The hostel is 8 minutes from the beach and 10 minutes from the main square, Piazza Tasso. There are double or twin bedrooms as well as dormitory rooms with air-conditioning and private bathrooms.
How to get from Naples to Sorrento
Now that you know a bit more about Sorrento, where to stay and what the famous coastal destination offers.
Let's now find out how to get from Naples to Sorrento by public transport, by car or private transfer.
Train from Naples to Sorrento
There are two ways to get from Naples to Sorrento.
The first way is to get the Circumvesuviana train from Napoli Centrale railway station.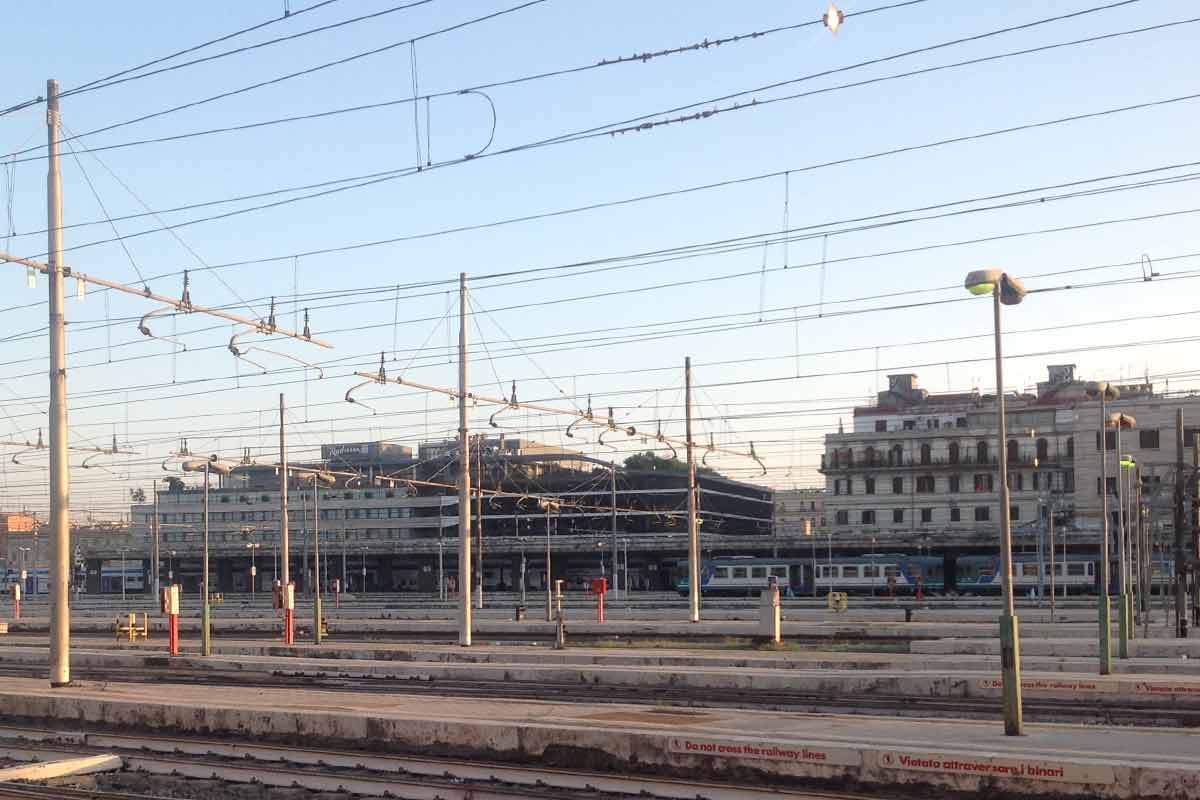 This is the cheapest way to get to Sorrento, but expect to board on crowded trains (no seat guaranteed), where there's no luggage storage and air-conditioning during the high season.
The Circumvesuviana trains leave from the lower level of the railway station, below the high-speed train platforms.
Yours is the last stop and all Sorrento trains leave from platform 3.
It takes approximately an hour to reach the coastal town. Trains leave every half an hour during the high season, from 6 am to 9 pm, and the ticket cost is 3.60 euro.
The second option is to take the Campania Express train. As the Circumvesuviana trains can't be booked in advance and if you're traveling with luggage and wish to take a seat, the express trains are the best.
During the high season, we recommend these trains even if the ticket cost is double.
A one-way ticket to Sorrento costs 8 euros, but the good news is that these trains are a bit faster than the Circumvesuviana ones, and in 45 minutes you'll be at your destination.
Tickets can be purchased online through the EAV Campania website.
Driving from Naples to Sorrento
To get from Naples to Sorrento by car, take the A3 motorway 'Napoli – Pompei – Sorrento' in Naples towards 'Salerno – Reggio Calabria'.
After more or less 22 kilometers drive, take the Castellammare di Stabia exit towards Castellammare di Stabia, and continue on the road SS145 towards Sorrento.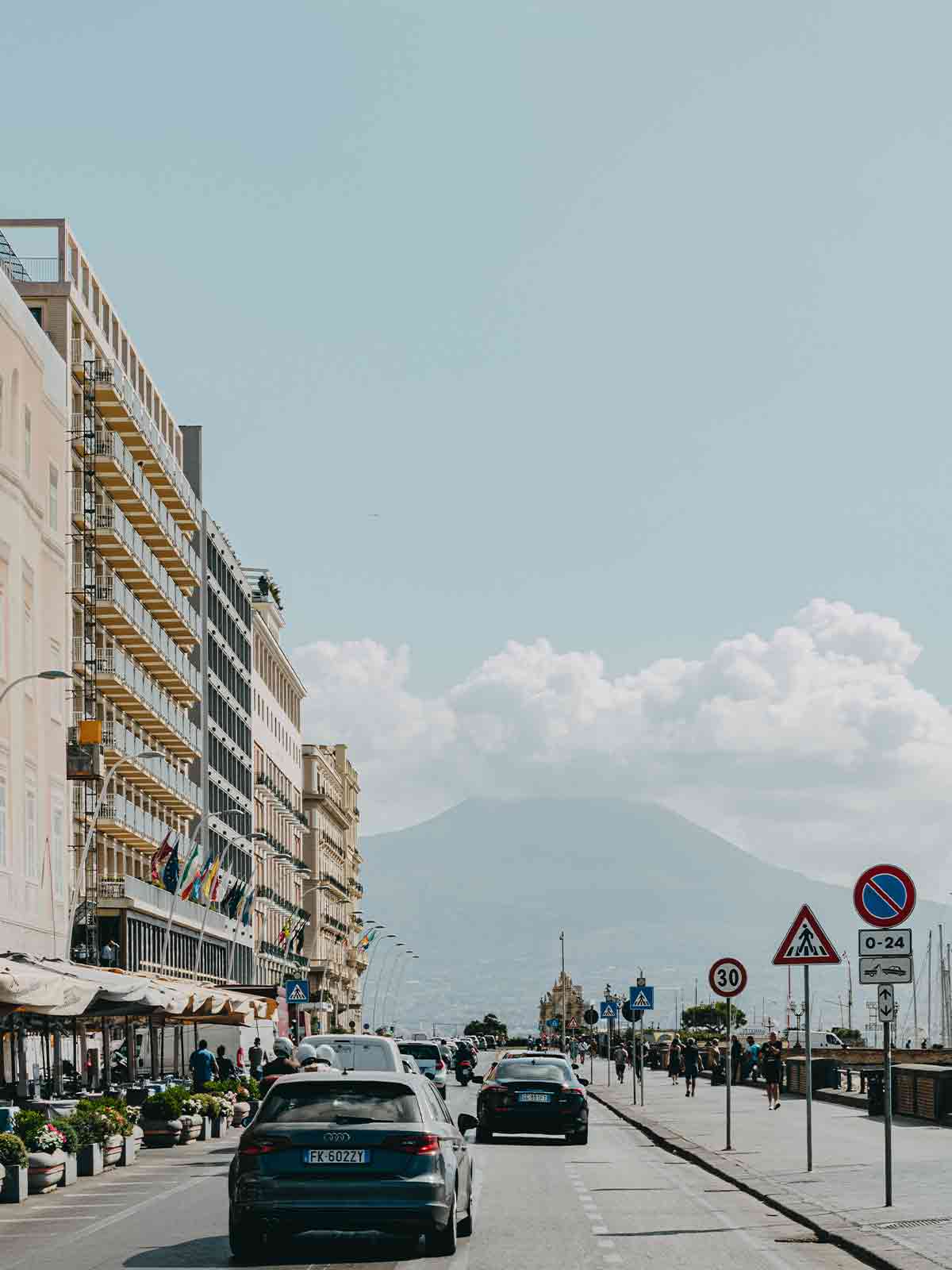 Getting to Sorrento is easy if traveling by car, but the traffic jams during the high season can get you stuck on the road for hours.
If renting a car and want to have the freedom to move around as you please, plan to drive in the early hours of the day or later in the evening.
When driving along the SS145, you'll have the chance to enjoy scenic views of the Vesuvius and the Gulf of Naples.
You pass through the towns: Meta, Vico Equense and Piano di Sorrento.
Stop by if you fancy a dip in the sea and relax at the beach for some time.
Bus from Naples to Sorrento
If you want to get from Naples to Sorrento by bus you should look for the bus company SITA. Check the timetable here.
The bus leaves from the station of Napoli called Porta Nolana or from Napoli Garibaldi bus stop and arrives in Sorrento.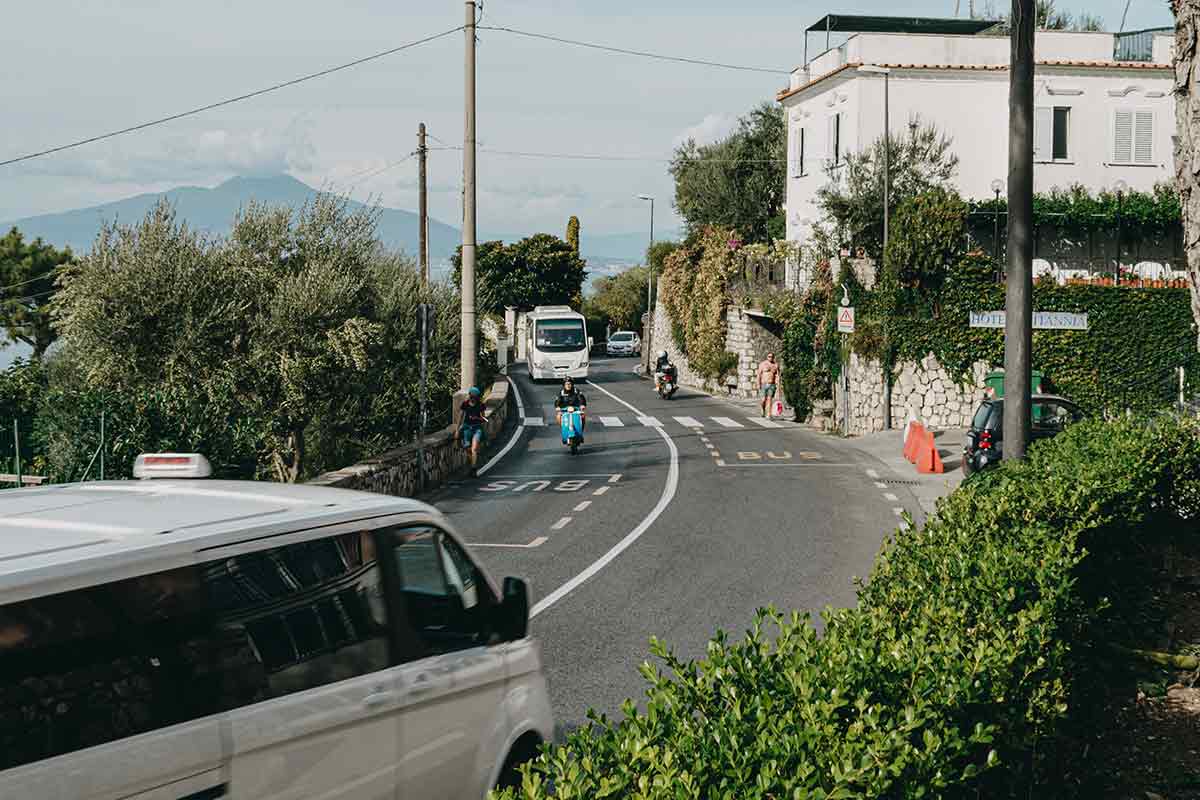 It takes around 1 hour and 10 minutes to get there. There's also a bus service from Naples airport to Sorrento called Curreri bus.
These buses leave outside terminal 1 and the ticket cost is 10 euros to pay to the bus driver.
This bus takes 1 hour and 15 minutes to get to Sorrento, and it's the best option if you want to get there without stopping in Naples.
If you prefer to get to Naples first, then get to the Alibus bus with the directions city center, leaving from terminal 1.
This bus will get you to Napoli Centrale station and the ticket cost is 5 euros. You can either book the ticket online or onboard.
From here, you can choose to get another bus to Sorrento or take the Circumvesuviana or Campania express train.
Private Transfer
If you're looking for a hassle-free and easy solution to get from Naples to Sorrento from Capodichino airport, then a private transfer is the best.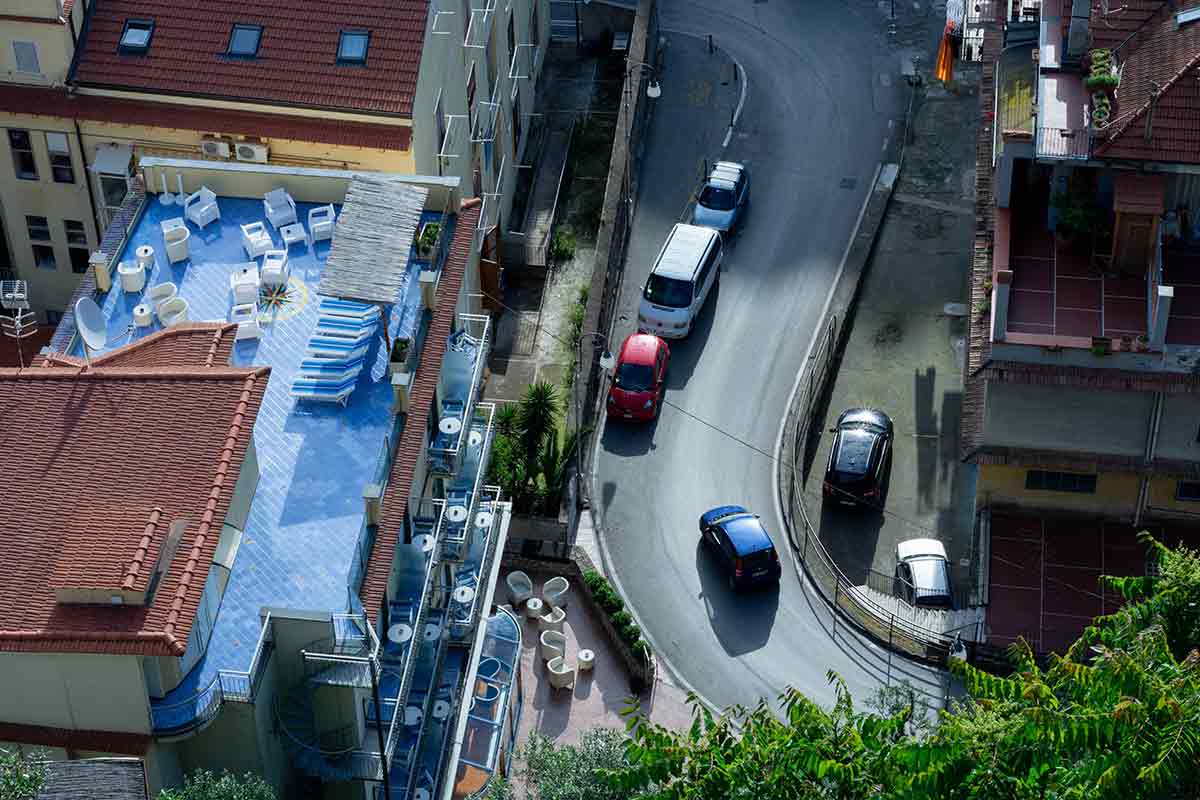 This is not a cheap option but the most comfortable one. If you're traveling with a small group of 3 people, you can also share the drive cost of this Sorrento Private Transfer from Naples airport.
With a private transfer like this one, you don't have to think about train or bus tickets to purchase or to get on the right bus or train in the chaotic stations of Naples.
You just have to enjoy the ride and get to your hotel in Sorrento. Your driver will wait for you at the airport arrivals with a sign with your name.
Also, you can ask as much as you want to drive about the city and get useful insights about Naples and the region.
Day trip from Naples to Sorrento
You are spending some days in Naples and currently looking for day trips to Sorrento or to the fascinating Amalfi Coast.
This Full-Day Tour Sorrento, Positano and Amalfi from Naples will not only give you the opportunity to visit Sorrento and spend some time there but also to stop in Positano and Amalfi.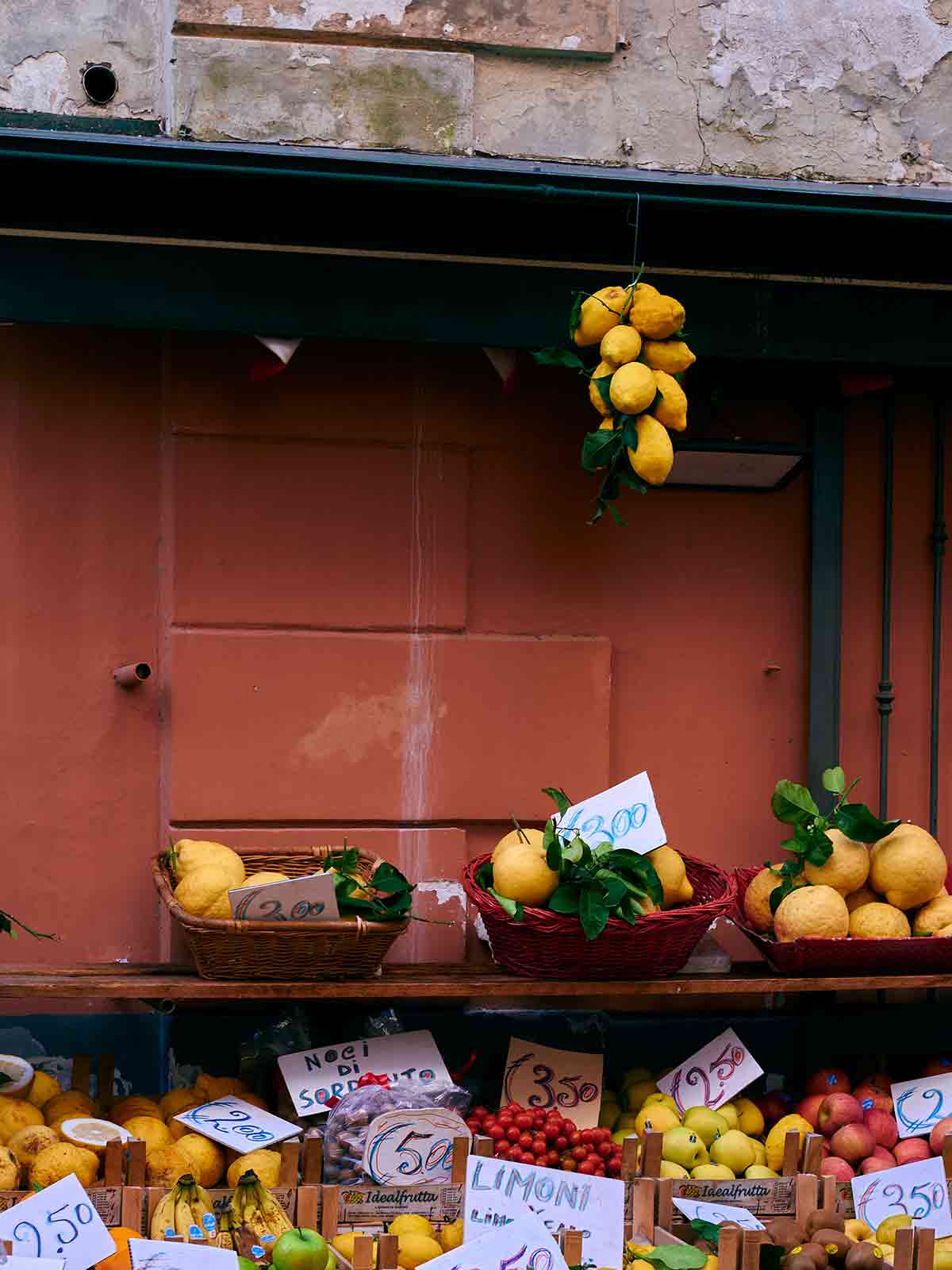 Stroll around the lovely narrow streets and small piazzas of the three towns and admire the wonderful landscape of the Sorrentine peninsula and Amalfi Coast without having to arrange any transport by yourself.
You'll also stop to sip some delicious limoncello in Sorrento and then go to Positano for some clothes shopping at the Moda Positano.
Included in your tour are all transfers with pick up and drop off at your hotel, a light lunch and live commentary on board.
Sorrento from Naples FAQs
Getting from Naples to Sorrento
As you can see, there are different ways to get from Naples to Sorrento.
It's up to you to decide the most suitable option based on your needs and the time you have available.
If you're spending more than two days in Naples, we really suggest going to Sorrento for a day and learning about its history, trying the fresh and tasty cuisine, and getting to know the local products of this land.
Check out our Sorrento and Amalfi Coast itinerary for more inspiration for your next trip around the Sorrento peninsula and the Amalfi Coast.
---
This post contains affiliate links, meaning, if you click through and make a purchase or sign up for a program, we may earn a commission. This is at no additional cost to you.