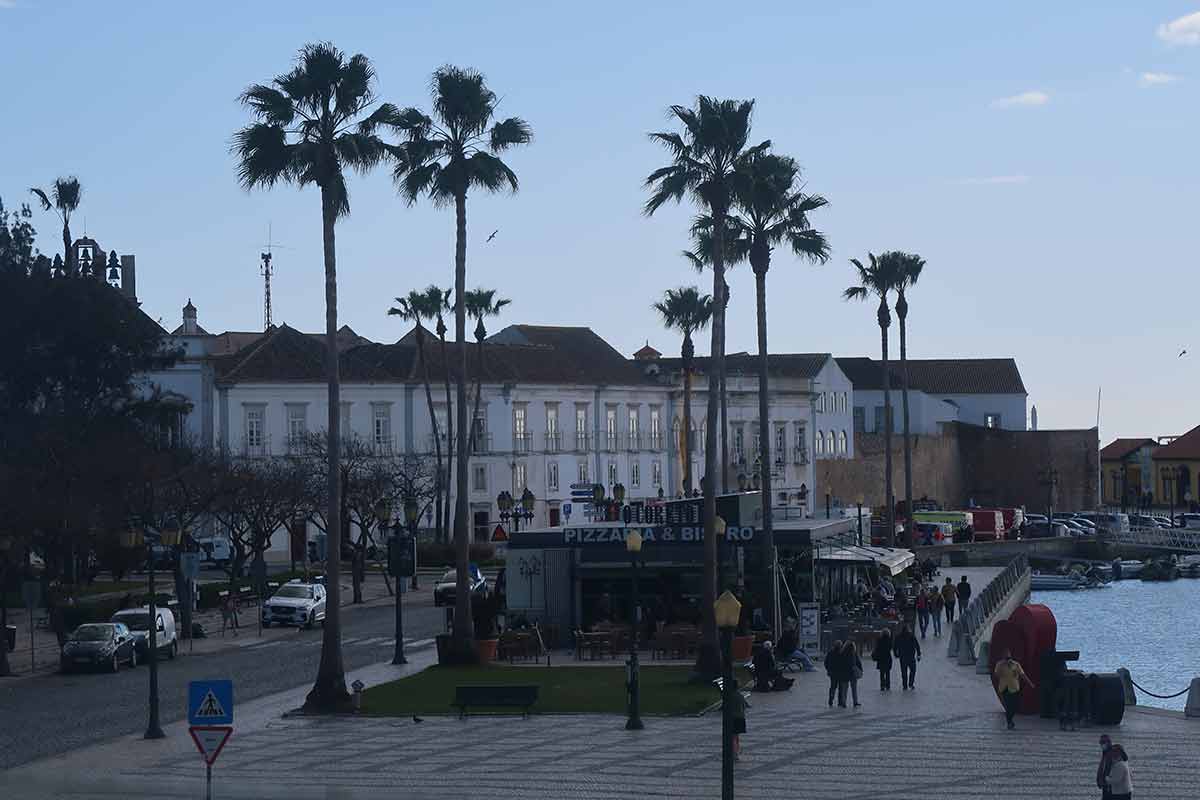 If you are taking the time to spend 3 days in Faro then this travel itinerary will give you some inspiration on what to do and see.
Located in the popular Portuguese region of the Algarve, for many new visitors to south Portugal, Faro is the main hub for entering the region.
3 days in Faro
With many places to see in the Algarve, Faro can be seen as a launchpad destination for visitors due to its nearby airport, but the whitewashed buildings and red-tiled roofs offer much more than meets the eye.
How many days to spend in Faro?
We recommend a total of 3 days to see everything, which includes both times exploring within the city as well as some day trips into the region.
With sustainable travel ideology in mind, the itinerary covered below factors in enough time to relax on some of the best beaches in Portugal, whilst also visiting some of the best historical cities nearby, too.
Best time to visit Faro?
Known primarily as a summer break destination, Faro has its best and hottest weather during the summer months. However, there are also good alternative times to visit, which we'll explore below.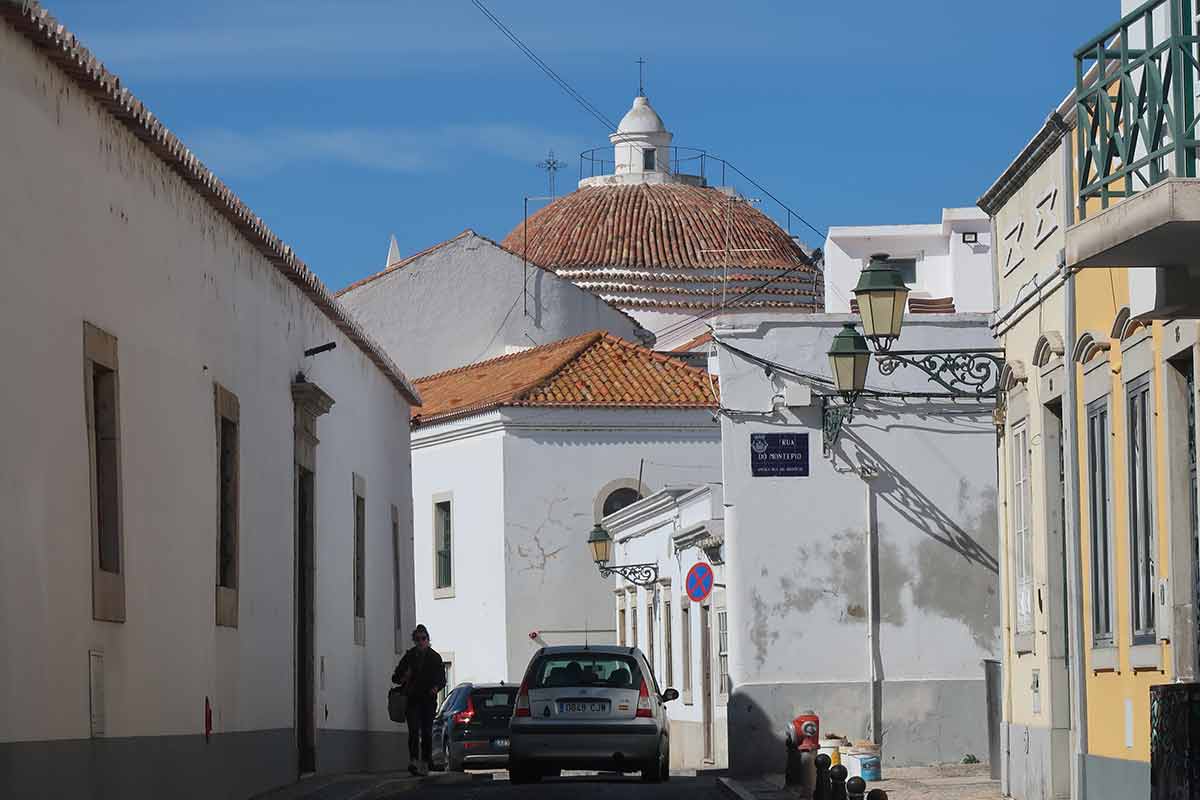 The summer, which runs from June until September, is the overall hottest time to visit Faro. Average daily temperatures range from 72-76°F, with highs of 83°F and evening lows of 64°F.
On average, July and August are the hottest months of the year.
This season also marks the least amount of rain, with between 0-0.5 inches falling throughout each. July is the driest of the year, sometimes with no rainfall at all.
The shoulder months of April, May, and October are also great times to visit. Not only is the weather still warm, but with that, the boutique hotel prices will be less expensive as they are outside the touristy season.
Average temperatures range from 63-67°F, with highs of up to 73°F and lows of 55°F. Rainfall can range from 0.5-1.5 inches in these months.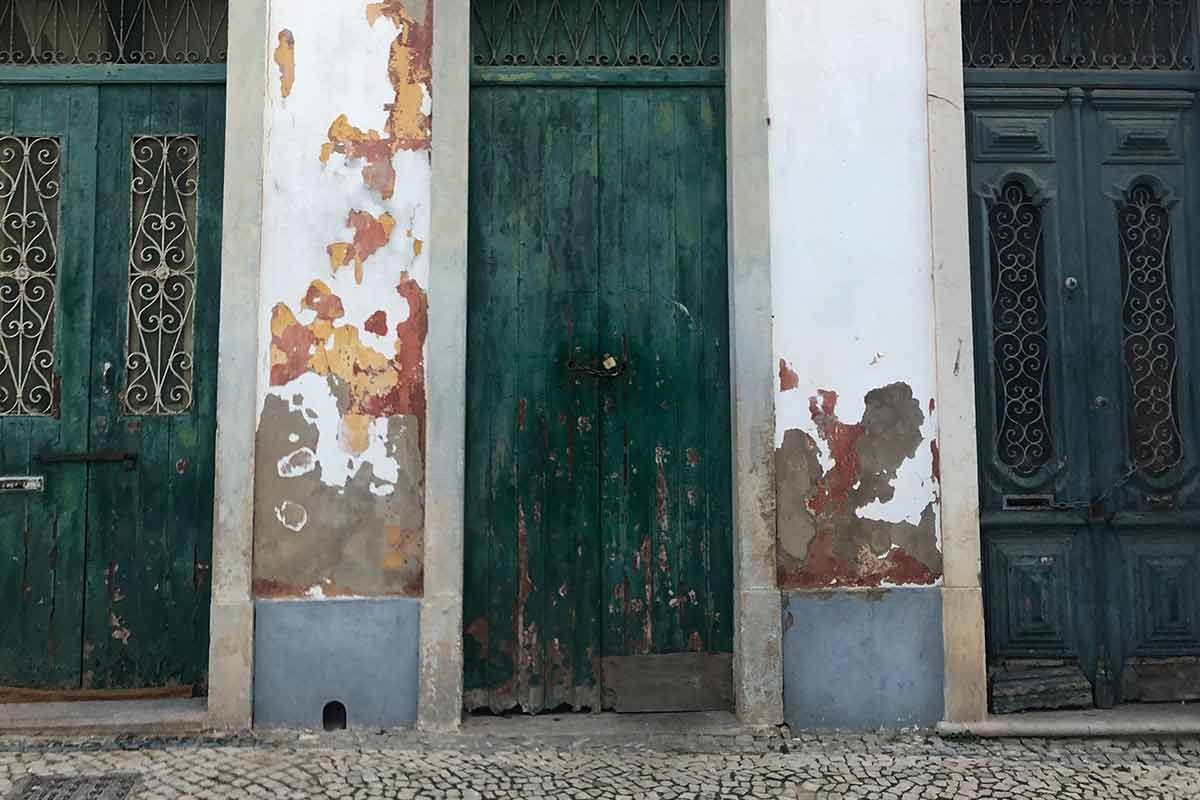 Lastly, the winter season runs from November until February. Average temperatures range from 55-60°F, with highs of 67°F and lows of 47°F.
January is usually the coldest month to visit Faro. Rainfall is at its highest this time of year, with between 2-3 inches falling throughout each month. With 3.2 inches, November is the wettest month of the year.
Faro Itinerary (3 days)
If you're traveling to the Algarve from Lisbon get ready to relax, as we'll cover our 3-day itinerary which we feel gives the best experience of Faro.
Whilst it covers mostly everything, it's also flexible meaning there will be a few hours free here and there.
Day 1 in Faro
Arriving for the first day in Faro, today will be about exploring the very best sights of the town. Check out Demo House for an convenient stay.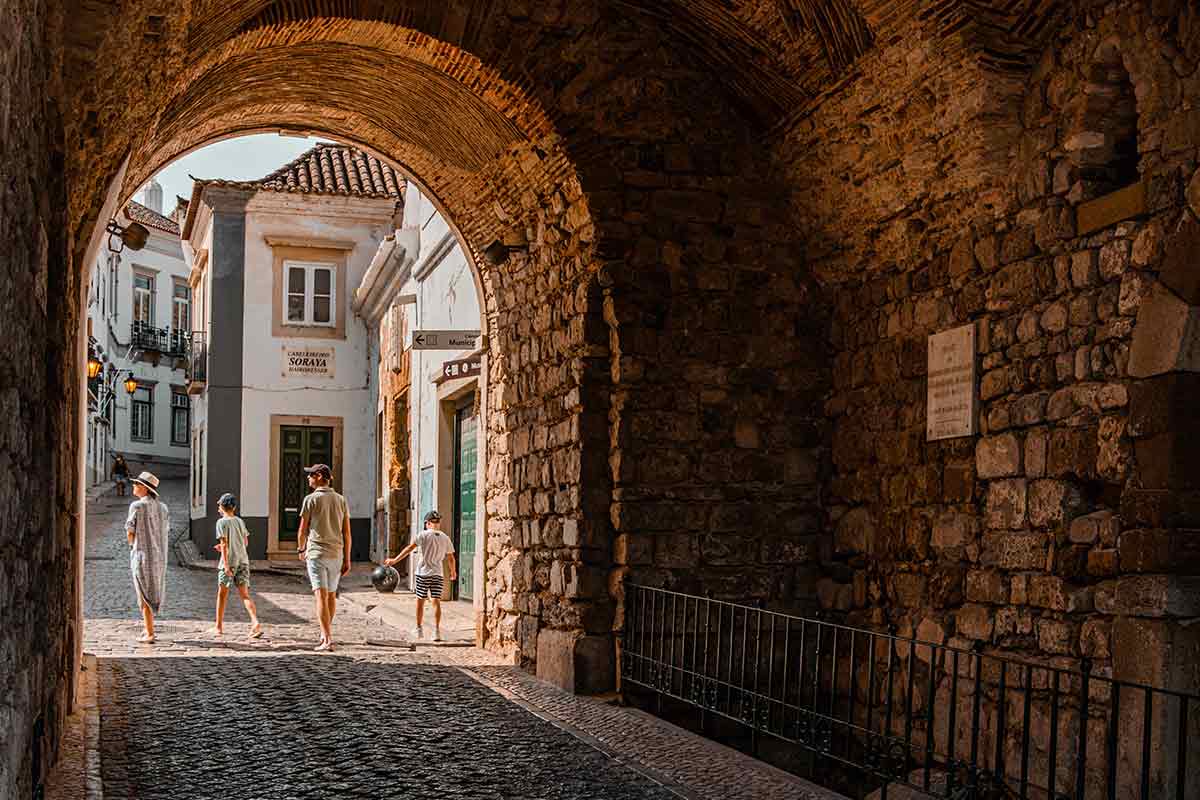 After dropping luggage off at the accommodation, head straight to Cidade Velha for some breakfast (or early lunch). To save you time just head to Chelsea Coffee and Brunch because it's the best place for both.
This area is full of medieval streets and impressive architecture. After a stroll, head to the Arco da Vila which is located in the old district.
It marks the entrance of the old quarters and is also close to the giant Moorish walls that engulf the old town.
After, take a bus to the north of Faro where we'll explore the Igreja do Carmo church.
With a chapel made out of bones and skulls of the former monk inhabitants, you can spend some time at this stunning church and really take in its unique architectural style.
After, go out for an evening meal at one of the restaurants (Se7e Pedras is popular), then the night is then yours to enjoy as you please.
Day 2 in Faro
Waking up early, we'll be leaving early to catch the bus to Lagos.
Around 2.5 hours from Faro, this beautiful coastal town is home to some of the most stunning beaches in the Algarve.
Upon arrival, we'll head straight to Batata beach to enjoy the mid-day sun, and also for a chance to surf if you want.
After lounging for a few hours, be sure to grab some lunch at the close-by Mar Restaurante e Bar for some well-presented and tasty food.
The next stop is the Fort of Ponta da Badeira.
Built in the 17th century, this waterfront fort was extremely important for fending off potential attacks from nearby Spain and pirates.
Whilst less likely today, instead you can enjoy great coastal views from the fort. Whenever you're ready, you can then take the bus back to Faro.
Day 3 in Faro
On the last day, you have two options.
If you're in the mood for culture, then head on a bus to nearby Loule.
Visiting Loule you can explore its brilliant market (best on Saturdays if possible to head then), as well as the impressive Moorish fortress with its unique architecture and imposing towers.
The other option is to spend the day lounging on the beach of Ilha Deserta which stretches for about 7 kilometers and is known for it's unspoiled nature.
This stunning island is close to Faro and offers a more remote experience with stunning views. After, it's time to head back to the accommodation and grab your luggage.
Day Trips From Faro
Like with many cities and towns in Portugal, providing you have the time you can look to do a day trip.
Lagos
This historical town is located around 2.5 hours on the bus from Faro.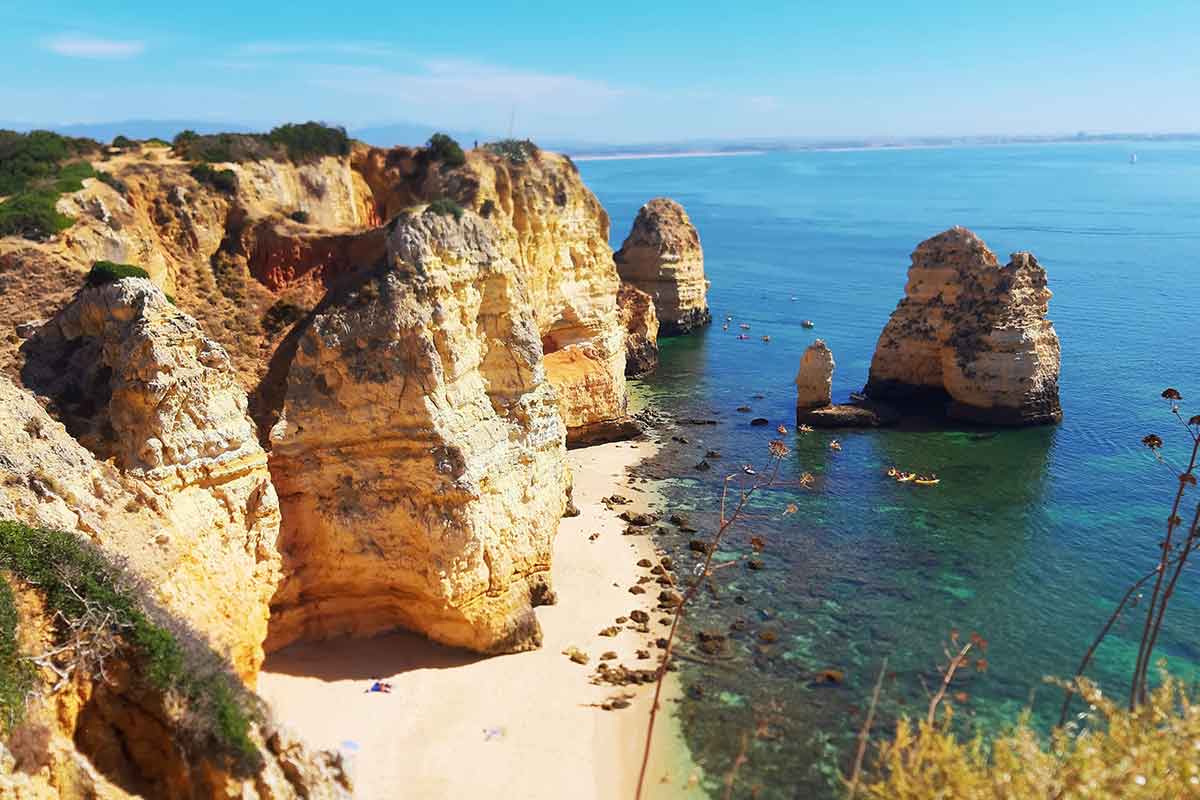 There are lots of interesting sights to see here that including Saint Antonio Church, The Lagos Marina as well as the Fort of Ponta da Badeira. You can also take a boat cruise to Ponta da Piedade.
It's also home to a former slave market, which is good to explore too. Lagos has some great beaches to relax on such as Batata and Pinhão (arguably more attractive than those in Faro).
Loule
Only 10 miles from Faro, it's very easy to reach this small town.
Whilst less known about, Loule is a great place to learn about Portuguese history and explore its markets.
It's home to a Moorish castle and has many winding medieval streets which are perfect for snapping photos. You can do a rock salt mine tour to learn all the history and appreciate the ancient rock formations.
There's also an authentic market which is great for souvenir shopping and is best explored on a Saturday morning.
Things to do in Faro
With a long list of things to do in Faro let's start by taking looking at the most popular landmarks that you wouldn't want to miss during your stay:
Arco da Vila
This beautiful archway marks the entrance into the Cidade Velha, which is the historical part of Faro.
With a typical neo-classical architectural style, this early 19th-century gateway is surrounded by Moorish walls that engulf the old city.
This interesting clash of styles makes for some very good photos.
Igreja do Carmo
Located in the north of Faro, this stunning church is one of the best to visit in the Algarve region.
Whilst its baroque style and twin bell towers are pretty, it's most known for its small chapel that was built out of the skulls and bones of the monks that once lived here.
Whilst pretty eerie, it's definitely a unique attraction and a must visit when in Faro. You can stay in one of the groovy hotels just minutes away.
Beaches in Faro
The Algarve is well known for its picture-perfect beaches, and Faro itself has many great options to choose from.
Praia da Ilha de Faro and Praia da Garrao are the top city-beach options, with both being easy to get to with lots of amenities nearby.
Faro Travel Tips
The overall best time to travel to Faro is in the summer, where temperatures are at their hottest and rains their lowest. The shoulder months of the summer are also a good alternative.
Remember to get your FREE travel insurance quote from SafetyWing to receive fully comprehensive support when it comes to unforeseen travel complications.
We recommend staying in the neighborhood of Cidade Velha. Known as the old historical centre, here there's lots of Moorish influence and interesting landmarks close by such as the Arc of Repouso.
If you're on a budget or traveling to Faro solo: check out Casa D Alagoa for some traditional style lodgings for a modest price.
Getting around Faro is easy as it's very small, and can be done on foot. For those feeling a little more relaxed, taking taxis around town are very safe and not so expensive.
There are many great beaches to explore from Faro, however, the Praia do Garrao is the best close-by option, and the Ilha Deserta is perfect for a more remote and secluded experience.
Read these books about Portugal to get more insight into the customs and culture of this beautiful country.
3 days in Faro: Final Words
Now, you should have some idea of how to spend your days in time in this medieval city.
Be sure to follow some of our sustainable travel tips to ensure that your trip has a positive impact on the local environment.
---
This post contains affiliate links, meaning, if you click through and make a purchase or sign up for a program, we may earn a commission. This is at no additional cost to you.