Is Guadalajara safe for new and unexpected travelers?
Located in the western state of Jalisco, the historic Guadalajara is known as Mexico's second biggest city known for its historical sites such as Zona Centro, Colonia Americana and its nightlife scene.
Known for its tequila and mariachi music. This emblematic city is often overlooked when it comes to tourism but in recent years has had an influx of visitors looking to dig deeper into Mexican culture.
But what about the safety situation in Guadalajara? Many travelers passing through are quick to say it is safe but what do we need to be aware of?
Is Guadalajara safe?
In this post, we'll cover travel safety in Guadalajara so you can begin to learn about some of the most common crimes to ensure your trip here is a safe one.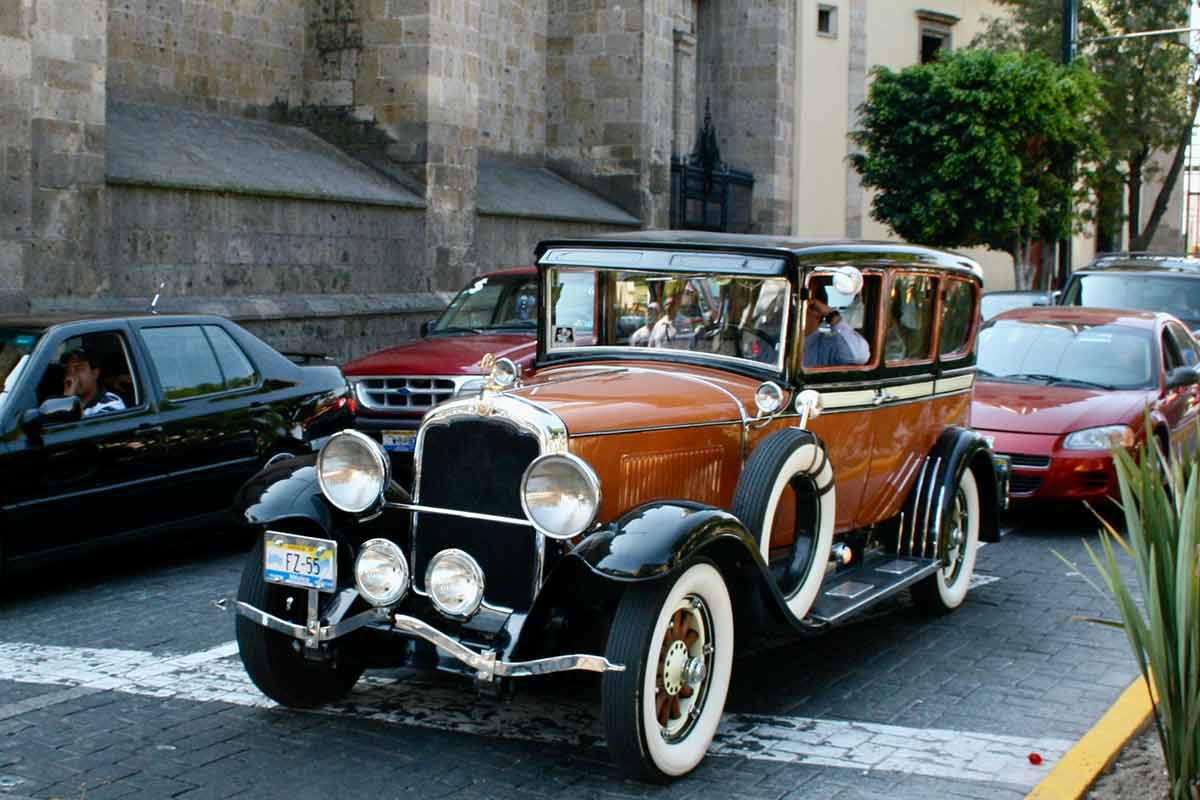 Like anywhere we travel, making sure we know the immediate risks is key. In a country such as Mexico, there are many travel advisories, so we want to share some of our personal experiences, as well as take a close look at Guadalajara.
How safe is Guadalajara right now?
When compared to major cities in Mexico such as Mexico City, Guadalajara is seen as a slightly safer city to visit. And yes, we are aware that there are some dangerous places in Mexico along the way, but you can quite easily avoid them.
This means to say, as long as you stick to the right areas, some of which we mention in this guide, you should have no trouble when it comes to safety.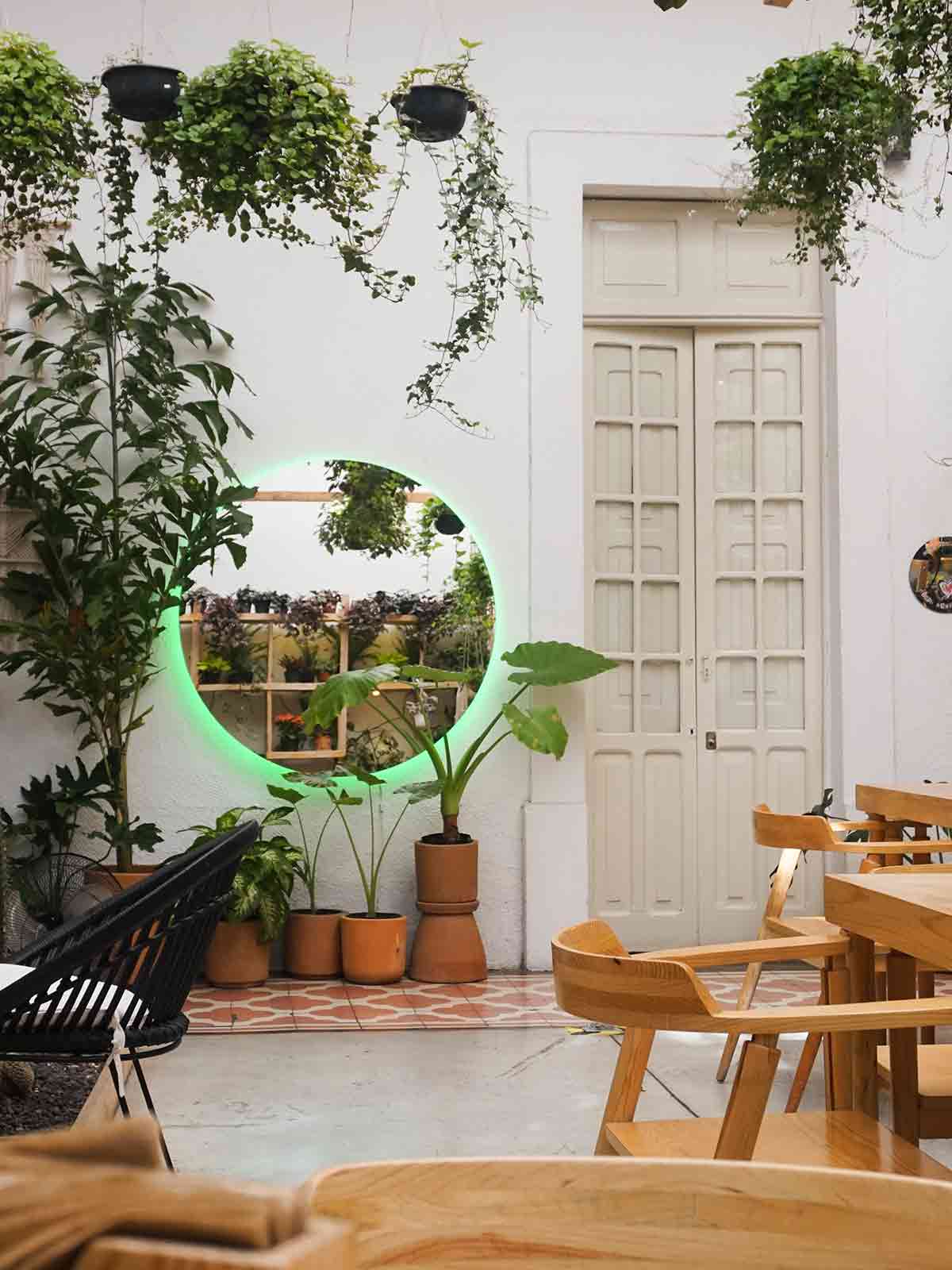 Not only that, you can feel confident spending time in this city. Attractions such as the Guadalajara Cathedral, the MUSA and day trips to Tequila Trail and are waiting to be explored and have welcomed thousands of tourists in the last year.
Those who tend to hang around bus terminals or continually put themselves in a position to be approached during the evenings are the ones that usually pose a greater risk of being a victim of petty crime while in Mexico.
This means that if you are frequenting more built-up urban areas of the city you will want to take some kind of safety precautions (especially at night) to protect yourself and your belongings.
Carrying a money stash like this one with you is a great idea as it allows you conceal your belongings effectively while exploring the streets. We will give more tips on how you can reduce the risk of petty crime throughout this guide.
Is Guadalajara safe for tourists?
We believe so yes! However, safety is never guaranteed in such as large city but if you stick to the designated tourist areas in Guadalajara such as the Historic Center or Colonia Americana you should be absolutely fine.
Mexico was ranked as the sixth most visited country for tourism and Guadalajara is filled to the brim with history and traditions.
Whether it's spending the morning around the cathedral and learning the stories behind its architecture or taking photos of the colorful colonial houses, there is always something to do in this city.
For those who want a more rural experience and to learn about the region's emblematic product, head out to the Jose Cuervo Distillery to learn all about the production process of blue agave before trying some of the local Tequila.
When it comes to safety, we have found that showing an interest in learning Spanish or a developing interest in learning about Mexican culture can lead you to a much safer trip overall. Also, invaluable when using taxis when in larger cities. Check out this book on learning Spanish for some dedicated language help.
Crime Rate in Guadalajara
We looked at statistics on numbeo.com and found that Guadalajara scored (62.29) on their crime index. When compared with Mexico's capital (68.16) it shows that the crime rate in Guadalajara is lower but only by a hair.
Some of the moderate crimes we could see were those related to the worries of attacks, robbery, and theft. Things such as drug dealing and stolen cars, none of which are directly related to tourists are high risk. Also, the increasing crime rate is directly correlated.
Although safer by only a small score, compared with other dangerous cities in Mexico, Guadalajara is safe to walk around during the day but you should exercise extra caution when exploring the city at night.
When considering the cartel activity in the region, note that the inherent danger lies outside of the city in the rural areas, so the historic quarters are popular as a result.
It is worth noting that when moving about this region of Mexico to consider more sustainable ways of travel as it can help the planet and have a positive effect on the local environment.
Is Guadalajara safe for solo travelers?
Since many of the main tourist's attraction in Guadalajara are located within walking distance of each other, it makes it safe for solo travelers.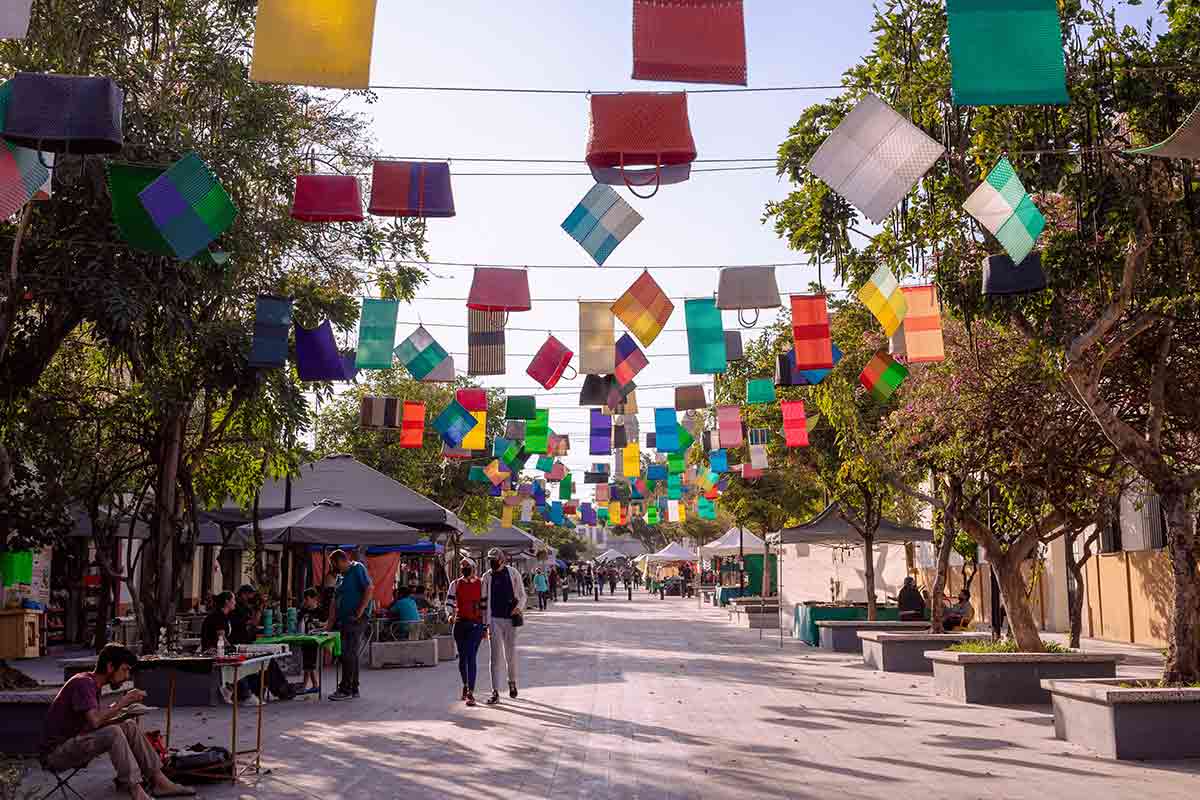 For example, Guadalajara's cathedral is located in the center of the city and from there you can walk to other neighborhoods. However, moving around Guadalajara without a car may be more challenging.
We highly suggest talking to trusted locals to get more insight on what places to visit and suggest avoiding walking around the streets following Google Maps since there can be bad neighborhoods in and around the downtown area.
We suggest you look to stay in the Plaza del Sol area for the best experience as a solo traveler as you'll have plenty of amenities close by including access to one of the largest shopping malls in Guadalajara.
From there you can get to the downtown area within 20 minutes and use Uber (or a licensed cab) to navigate back and forth during the evenings.
Is Guadalajara safe at night?
Yes, Guadalajara can be safe at night but only in certain areas. As you can imagine, major cities in Mexico come with many surprises both good and bad.
You'll find that the famous Avenida Chapultepec which is located in the upscale Colonia Americana tourist neighbourhood is lined with restaurants and bars which makes it safe for exploring at night.
Events such as robbery and assault do happen in Guadalajara but by sticking to the most frequented area you can reduce the risk of being a victim of such crime.
Being weary of your current location along with concealing your valuables and not flaunting your wealth will help you deter the attention of most street dwellers.
If you decide to carry a money belt like this one along with you, be sure to only have it on display when you are in a private space.
Where to Stay in Guadalajara
The places to stay in Guadalajara noted below allow you as a visitor to connect with the city's main attractions without going too far out of your comfort zone.
Colonia Americana
Zapopan
Fininacial District
Chapalita
Zona Chapultepec
There are many great hotels in Guadalajara and two of the most popular neighborhoods to stay in are Colonia Americana and Zona Chapultepec as they offer much in the way of things to see and do.
If you prefer downtown, be sure to check out these budget hostels or even the Hotel Dali Plaza if you want a high-quality stay that will not break the bank.
Places to Avoid in Guadalajara
Like with many cities in Mexico, there are some bad neighborhoods in Guadalajara that you will want to avoid during your stay here.
Calzada, Oblatos and Colonia Jalisco are some of the notorious places but as a tourist, it is highly likely you will find yourself in any of them. However, it is important to be aware of the names in case you end up on the wrong bus or somebody asks you for directions or something regarding the areas.
Also, visitors must remember not to let their guard down in some of the most prominent neighborhoods such as Zona Chapultepec where cell phone theft and pickpocketing does happen unexpectedly to some tourists.
While sightseeing, aim to always be aware of your surroundings and have a plan for what you are going to do in each part of the city you visit.
Guadalajara Travel Safety Tips
As mentioned earlier Guadalajara is seen as a dangerous city in Mexico, but in fact, it is not when as a visitor you stick to the areas which are designed for tourists and do your best not to venture into unknown residential areas.
See some of our best Guadalajara safety tips below:
Always keep a few pesos handy on you in person for when you decide to get an impromptu taxi, or, when you need to get out of a precarious situation where someone may be demanding money from you.
Aim to use trusted accredited hotels in Guadalajara then once you've booked you can get more detailed information about where to go to eat (the best street food) and places to avoid in the area.
When ordering street food, make sure the food is heated all the way through and be sure to ask what you're eating if you're unsure.
If you'll be carrying expensive items such as smartphones, cameras or laptops aim to keep them hidden or locked away as you walk around the city. Especially when you're out on the streets.
If you love food then this Market food tour will give you the opportunity to learn about Guadalajara rich food heritage and try local specialities such as barbacoa, tortas ahogadas, tacos and birria.
If you think you may be getting overcharged with taxis, always ask the price of the fair to get an idea before you get in the car. You can then compare this with Uber.
Avoid fast talkers and beggars on the street as persistence can often lead to physical or verbal harassment. If you're sat down, simply move on.
Avoid walking around areas where there are very few people in the vicinity. Look out for places where you can see families or romantic couples as this is an indication of a tranquil spot to sit and take a break in between walking or exploring the city.
Carry some sunscreen like this one with you as dry, warm winters and hot summers can be enough to burn your skin, even as you walk around the urban areas that are often shaded in some parts.
Never accept drug offers. Not only is it illegal to buy drugs in Mexico, but it's dangerous and you're aiding the industry that the Mexican government is currently working to try and stop.
Best time to visit Guadalajara
In Guadalajara, the dry season runs from November until April and the daily average temperature ranges from 57-57°F with highs of 87°F.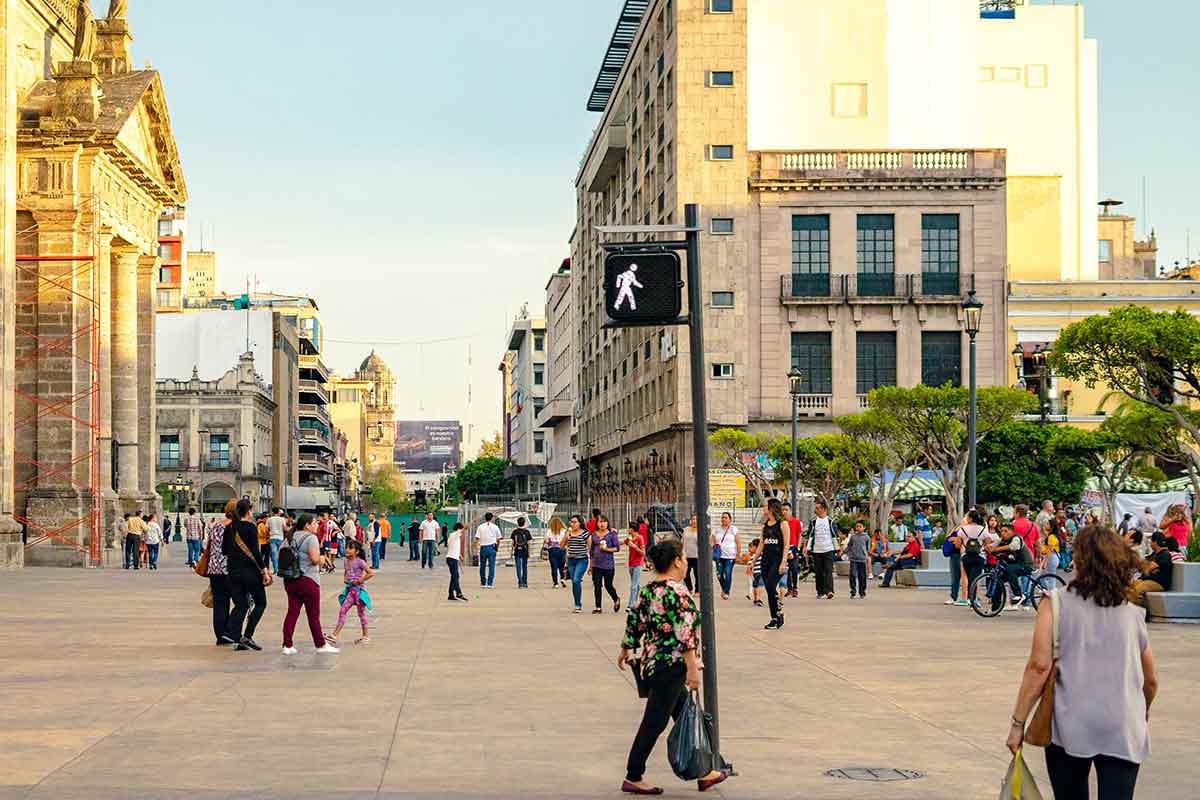 You will find that April is usually the driest month and doing cultural day trips to places such as Chapala during this time of year are popular with tourists.
The wet season starts around May until early November and daily temperatures range from 61-73°F with highs of 88. As you can see during the wet season you can still expect warm temperates. Note that July is historically the wettest month to visit Guadalajara.
Is Guadalajara safe?
With the tips shared in this guide, you get a clear idea of what to look out for in terms of safety when it comes to visiting Guadalajara.
The city of Guadalajara is not seen as one of Mexico's safest cities and is often compared with the lights of Mexico City when it comes to crime rates. However, sticking to the main tourist areas and being aware of your surroundings can be enough to avoid petty crime.
We believe that if you adopt the tips mentioned in this guide and follow the recommended travel precautions, just like you would in other Latin American cities you should have a wonderful time with minimal complications here.
To make your trip a more eco-friendly experience, be sure to see our list of eco travel tips to get some great ideas on how you can travel more sustainably.
---
Dear responsible traveler: This post may contain affiliate links, which means, if you click through and make a purchase, book a tour or a hotel, we may earn a small commission. This is at no additional cost to you. Your support means a lot and helps us to maintain the quality of this site.