Welcome to Tatacoa Desert!
If you fancy getting off the beaten track in Colombia, a trip to the Tatacoa Desert may be just what the doctor ordered.
Located in a remote part of the country in the Huila region lies Colombia's second-largest desert after La Guajira.
As part of our sustainable travel destinations series, this practical travel guide will share tips on what to expect on a trip to the Tatacoa Desert in Colombia and how to get here from the Capital city of Bogota.
On the first impression, the desert looks like a planet from outer space but as you delve deeper into the desert you'll learn more about the lust of life that inhabits this one-of-a-kind lucid landscape.
Get your desert boots ready and let's make a start.
Tatacoa Desert, Colombia
If you are traveling to this Colombian desert via public transport you will need to get to Villavieja first.
From Villavieja you'll then get a moto-taxi that will transport you into the desert.
Arriving in the desert by moto-taxi, you'll want to have your accommodation reserved before you arrive. Or you could run the risk of not finding a room on arrival. Especially during the holiday season.
Since lodgings are quite limited here the last thing you want to do is arrive and get trapped with nowhere to stay.
You can stay the night in Villavieja, however, for the full stargazing experience, it's recommended you stay within the desert.
Red Desert Adventure
Try to find a place close to Red Desert as from here you can begin a hike. The Tatacoa observatory is also worth a visit. Even if it is not open you can walk up to it and have a look around.
It is recommended you do a hike with a local guide so you don't get lost.
Although the desert seems like a huge open space from above, as soon as you get into the labyrinth you begin to lose your sense of direction.
Filled with spiders, snakes, and scorpions this is place is not a deserted as it looks. Many of the animal and plant life have adapted to the low humidity and high temperatures.
Things get very cool at night so be sure to carry a sweater or woolen jumper. During the day the median temperature is around 28° C but can reach up to 40° C very quickly.
As extraterrestrial as this place is and how inviting it looks to explore. It is also the last place on earth you'd want to be lost.
Be sure to carry some water with you – no matter how long you plan on walking for. Since you'll be drinking lots of water, those collapsible water bottles are a great sustainable option for a trip here.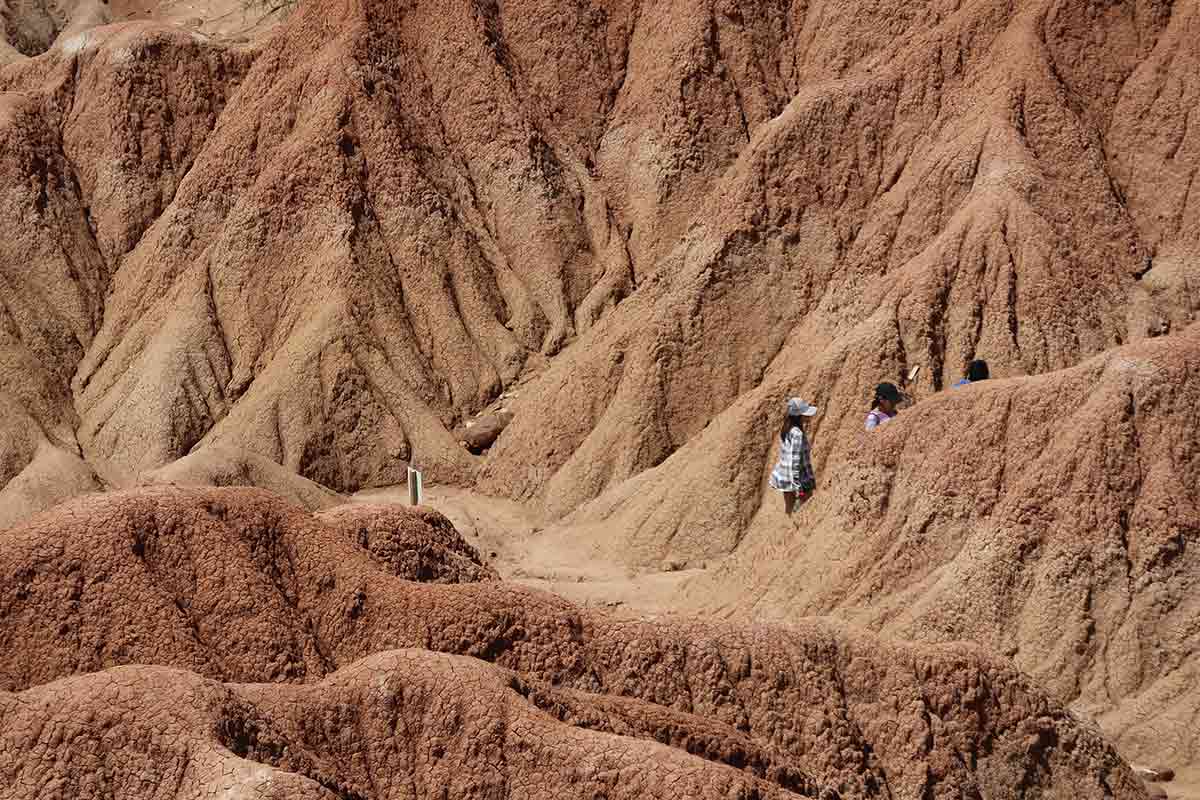 Along with over 70 different bird species, you can find cacti here that have grown up to five meters high.
Los Hoyos
From the red desert, you can get get a moto-taxi to Los Hoyos which is a must-visit for anyone visiting Tatacoa.
Los Hoyos is an outdoor swimming pool formed by natural spring water. Just as your driver to drop you off at the Piscina and you'll pay a small entry fee on arrival.
You can get a shower as well as buy drinks and snacks at the venue. Grab yourself a drink and climb up to the viewpoint looking down over the pool to see how beautiful of a spot it is to take a swim.
Where to Stay in Tatacoa Desert
One thing to keep in mind while in Tatacoa Desert is that resources are extremely limited.
Many of the accommodation options are somewhat frugal when comparing to those of the city but at the same time true to their surroundings.
Here are 2 hotel recommendations:
We highly suggest you check out Qji Glamping Biohotel a great budget option just a stones' throw away from the Astronomical Observatory.
For a sustainable stay try Alojamiento Casa de campo los Cactus which is located half way between the gray desert and the red desert.
Tatacoa Desert Tips
The three main travel tips you will want to keep in mind for traveling to Tatacoa Desert are as follows:
Carry a sun hat: Since the temperatures can get up to 40°C you must keep yourself well-protected. Some UV skin lotion is a must but wearing a hat at all times will prevent you from getting headaches.
You can swerve the hottest part of the day by avoiding touring the desert during the midday hours.
Bug spray is a must: Carry a decent insect repellent that you can use, especially during the evenings. The mosquitos here can get pretty aggressive during the evening so be sure to stay covered.
Limited power supply: Most of the accommodation in the Tatacoa Desert has limited access to power so the light will go off. Or in some cases may not even have any electricity. Be sure to carry a torch and a power bank for all your electronic devices.
If you're backpacking South America these tools will come in handy when traveling to other attractions so aim to pack before traveling.
Getting to Tatacoa Desert Colombia
As mentioned earlier, there are numerous different ways you can get to the Tatacoa Desert. However, they all lead to the same nearby town of Villavieja.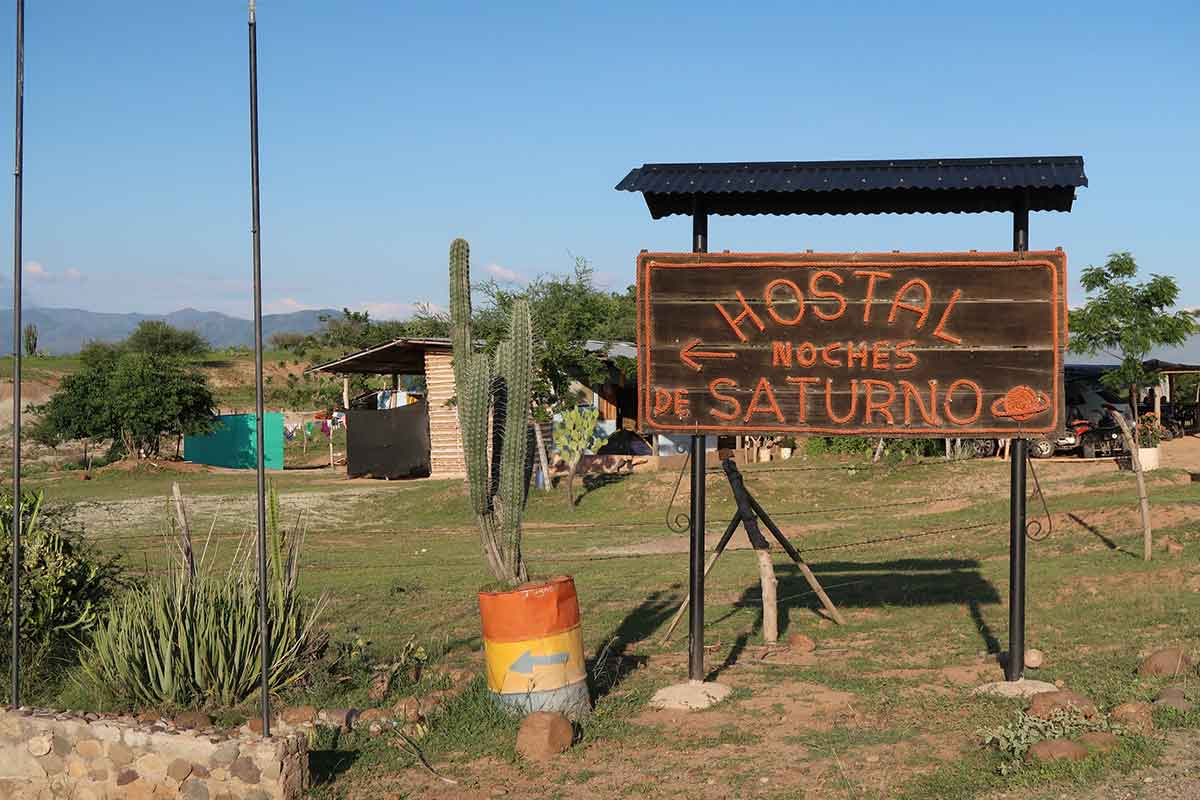 From there you take the mototaxi that will transport you and your luggage to the actual desert. This is also a great opportunity to get any last-minute provisions you may need at standard prices.
How to get to Tatacoa Desert from Bogota
If traveling to Tatacoa Desert from Bogota you may find it is best to get to Neiva first. From Neiva, you can get to Villavieja. Then from Villavieja, you take a small moto-taxi as mentioned earlier into the desert.
How to get to Tatacoa Desert from Salento
Getting from Salento to Tatacoa Desert is also quite starting forward considering the pit stops involved.
You can take a bus from Salento to Armenia. Then from Armenia's main terminal, you can get the bus to Neiva.
Then from Villavieja, you take a small moto-taxi as mentioned earlier into the desert.
Tatacoa Desert Colombia
So, whether it's the hiking, the stargazing, or just the excitement of feeling like you're on Mars that attracts you here just remember that this is a must-see place in South America.
As well as getting off the beaten track in Colombia, this location also gives you a chance to practice some of the sustainable travel tips we have listed on this blog.