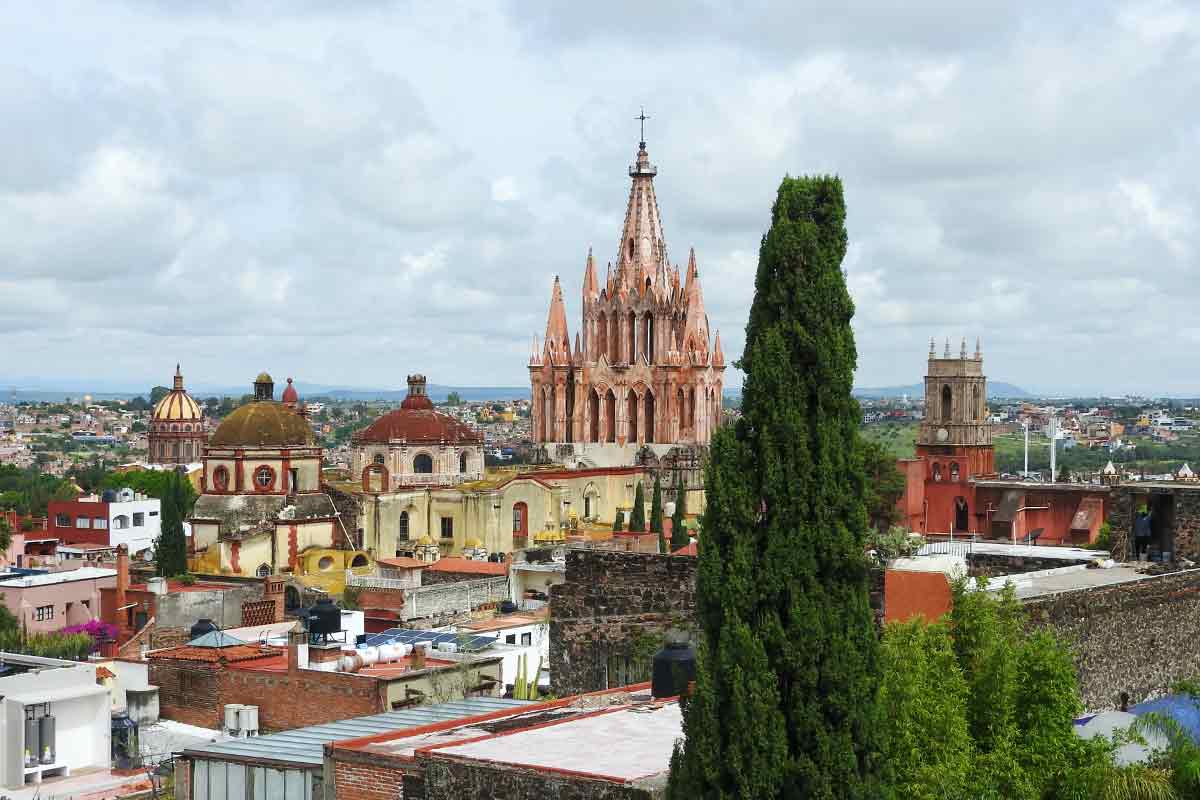 Is San Miguel de Allende safe for new or first time travelers?
This charming colonial-style city founded in 1542 and located in the east part of Guanajuato state is known for its colorful buildings and its welcoming vibe.
Made up of narrow streets and some of the country's best gastronomy, it is here you can find everything from artisan wine to chocolate making workshops.
With so many new tourists and expats visiting this Mexican UNESCO Cultural Heritage city each day, what is there to be worried about in terms of safety?
Is San Miguel de Allende safe?
In this guide, we'll cover travel safety in San Miguel de Allende so you can learn about some of the most common crimes to ensure your trip here is a safe one.
With all the advice and travel safety tips from this page, you should be able to visit San Miguel de Allende and avoid the common pitfalls that can/do happen to some first-time or unsophisticated travelers who visit this enchanting city.
We have already spoken about some of the most dangerous places in Mexico so be sure to make yourself aware of those if you'll be traveling around the country.
How safe is San Miguel de Allende right now?
Yes! When compared to other cities in Mexico such as Mexico City, Guadalajara, and Playa del Carmen, San Miguel de Allende is actually considered a much safer city to visit for new tourists right now.
This means that as a visitor to San Miguel de Allende, your personal safety should not present any major concern and you can enjoy what the city has to offer.
During your time in the city, you can see your way around its neighborhoods and even visit nearby archaeological wonders such as Canada de la Virgen without having to think about what may be waiting for you around the next corner.
However, hanging around the bus station or being stood outside a tienda for too long, as well as putting yourself in a position to be approached during the evening, will pose a greater risk than being an immediate victim of crime here.
In other words, you'll need to take precautions in built-up areas (especially at night) but aside from that, you will feel safer than in other parts of Mexico.
Is San Miguel de Allende safe for tourists?
We believe so yes! San Miguel de Allende is not only known for being a tourist-friendly city but you can also find a thriving expat scene that creates that home away from home vibe. It is this which attracts more and more people each year.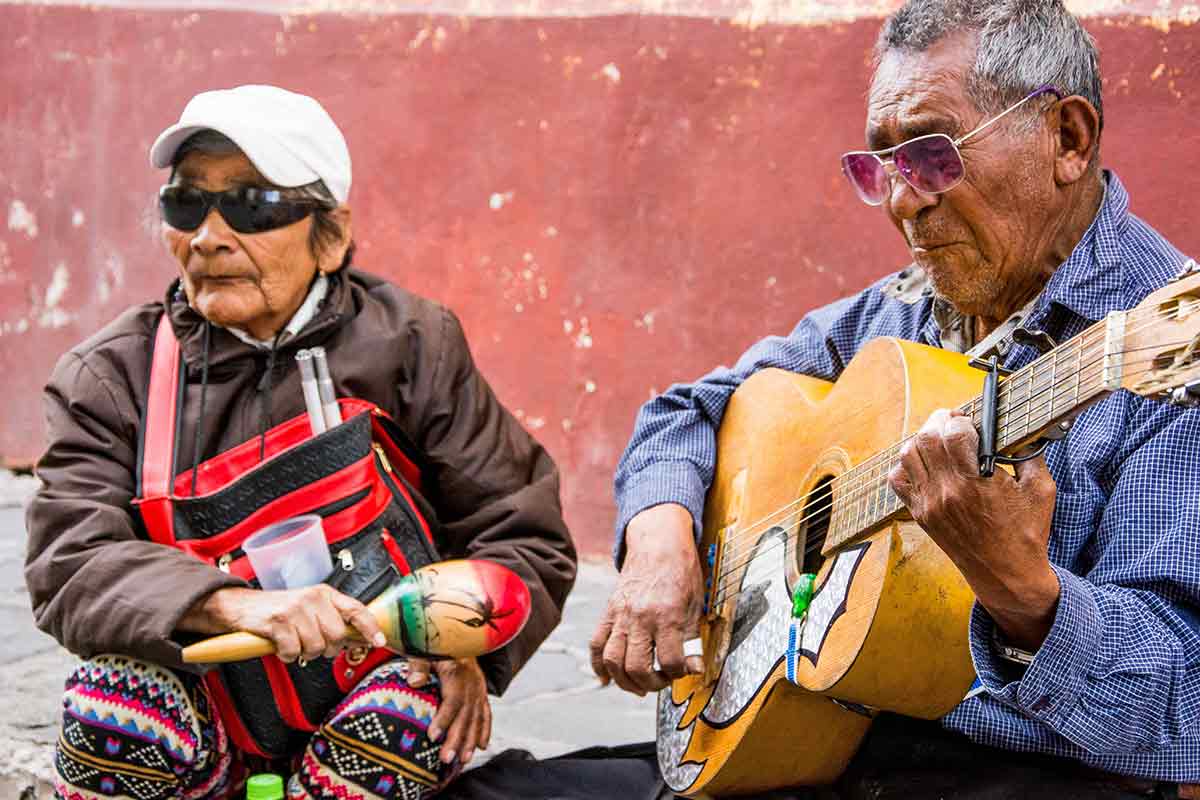 Not only that, San Miguel de Allende is safe for families with kids and even people who are traveling solo in Mexico. Whether you're interested in doing Yoga classes, cheese and wine tasting tours or even doing a day trip to Guanajuato City with a group of familiar faces, you can find a thriving travel community here.
You may well be surprised how open some of the local residents in San Miguel de Allende are when it comes down to giving tourists or people looking to settle down here a hand.
This is especially true with those visitors who show an interest in learning Spanish or are interested in learning more about the history of Mexican culture.
With the local expat scene growing, all we ask is that you try your best to respect the local culture and aim to support the local people where you can.
Crime Rate in San Miguel de Allende
We looked at statistics on numbeo.com and found that San Miguel de Allende scored (51.76) on their crime index. When compared with Mexico's capital (68.16) it shows that the crime rate in San Miguel de Allende is low.
Some of the moderate crimes we could see were those related to robbery and theft, property crimes, drug dealing and stolen cars. None of which are directly related to tourists.
Compared with other cities in Mexico, San Miguel de Allende is safe to walk around during both the day and night.
San Miguel de Allende is often noted as one of the safest Mexican cities for tourists which is usually backed up by its low crime rate score.
We have talked a lot about sustainable travel on this website and we hope you can do your bit for the local environment on your trip to San Miguel de Allende.
Is San Miguel de Allende safe for solo travelers?
When it comes to solo travel in San Miguel de Allende you have the freedom to wander around the streets and let your hair down in the areas around El Jardin (which is the central square) without constantly looking over your shoulder.
The narrow streets may be intimidating at first but once you have walked up and down you begin to get a feel for the city and how to move around.
Always be aware that you are much more likely to run into (unknowingly of course) pickpockets when in and around the busiest areas and landmarks in the city.
Usually, this is where pickpockets go unnoticed since they blend in like a chameleon among larger crowds. Nothing a sturdy Anti-Theft backpack won't deter though because pickpockets are often on the lookout for an easy target.
Is San Miguel de Allende safe at night?
Yes, San Miguel de Allende is safe at night in a moderately speaking. One thing that reinforces this is the police presence which creates a true sense of security among the people.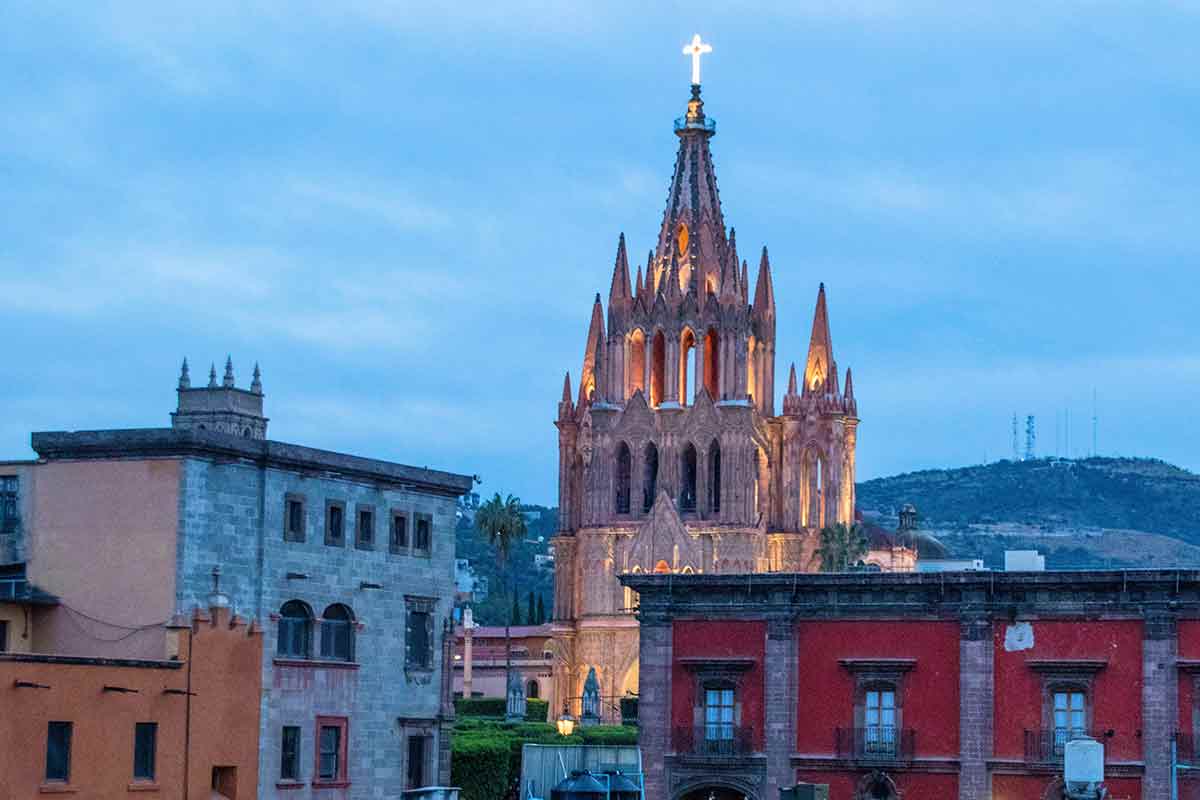 Especially those who are traveling alone. If you are into the nightlife scene past the usual bedtime hours then you will want to ramp up your own security and the way that you interact with others while out.
San Miguel de Allende is known for its rooftop bars and party vibes which are open for you to enjoy but when it comes to hometime you'll need to remember to avoid walking long distances at night and use a local taxi service.
If you're staying in a hotel such as Casa 1810 Parque Hotel which is within close proximity of El Jardin then you should be able to use your own discretion.
Where to Stay in San Miguel de Allende
Below is a list of places to stay in San Miguel de Allende where you'll be able to connect with some of the main attractions in the city without going far.
Historic Centro
Los Frailes
Colonia Independencia
Guadiana
There are many great hotels in San Miguel de Allende and some of the most popular neighborhoods to stay in are Historic Centro and Los Frailes.
This is mainly because those neighborhoods are where you'll find it easy to access sought-after tourist attractions and are already popular with visitors.
The good news is that no matter which neighborhood you decide to stay in San Miguel de Allende you can find accommodation no matter what your budget is.
There are even places such as Lool Beh Hostel Boutique which offer private rooms that will make you feel as if you were staying in a lush 4-star hotel.
Places to Avoid in San Miguel de Allende
Some places to avoid in San Miguel de Allende include San Rafael, Las Cuevitas, Independencia, and Olimpo which are all close to the downtown area of the city.
As noted in the Crime Rate in San Miguel de Allende section above, robbery is moderate and can happen to anyone although not especially aimed at tourists.
Like with most cities in Mexico, being on the edges of the historical center or further out in the city (without a specific purpose or plan) is not a good idea.
In San Miguel de Allende violent crimes can include weapons usually between rival criminals or drug dealers but who is to say that as an innocent bystander, you won't get involved by default? This is why you still need to be aware of your surrounding, despite the perceived safe haven in other touristy parts of the city
San Miguel de Allende Travel Safety Tips
To give you an overview of some of the points on safety in San Miguel de Allende we have listed some quick tips to help you out.
See some of our best SMA safety tips below:
Why not get acquainted with the best food in the city with this downtown food tour which will help you learn all about the city's culinary delights?
When sampling street foods in and around the city always be aware of what you are eating and don't hesitate to ask the vendor if you are unsure.
Be careful leaving the door and window open at night as the risk for mosquito activity is extremely high. We suggest carrying mosquito repellent coupled with wearing long-sleeved shirts while spending outdoors to prevent getting bitten.
Make an effort to avoid bad neighborhoods (Las Cuevitas, San Rafael and Independencia) and always pay attention to your surroundings at all times.
Don't show off your possessions while on the streets and never leave your valuables (such as bags or electronic devices) unattended on tables.
When walking around at night aim to stay with the crowd and avoid poorly lit areas on the outskirts.
Best time to visit San Miguel de Allende
Although this is a city that expects 320 days of sunshine. Most weather channels suggest visiting between November and April to experience the best climate.
However, when it comes to activities there are events happening all year round and the rain season San Miguel de Allende happens between June and October.
But if you like the scorching dry heat, then May will be perfect for you, where daytime temperatures can reach to 90°F/35°C on a hot day.
There are lots of places to find shade however, we suggest you carry a sunscreen like this one if you will be walking around a lot during the day.
Is San Miguel de Allende safe?
With the tips in this guide, you now have a clearer idea of the safety situation in San Miguel de Allende as well as some of the risks to look out for as a visitor.
The Guanajuato state itself is not seen as one of the safest states in Mexico but San Miguel de Allende offers a great introduction to the state and will give you the confidence to explore other parts of this beautiful state.
No matter whether you'll traveling with friends, family, or as a lone rider… aim to follow our tips, and be conscious of the same universal travel safety precautions you'd take in other places you'd visit in the world and you'll have a great time.
Also, please take the time to read some of our sustainable travel tips to get some ideas on how you can make your next trip to Mexico a more eco-friendly one.
---
Dear responsible traveler: This post may contain affiliate links, which means, if you click through and make a purchase, book a tour or a hotel, we may earn a small commission. This is at no additional cost to you. Your support means a lot and helps us to maintain the quality of this site.