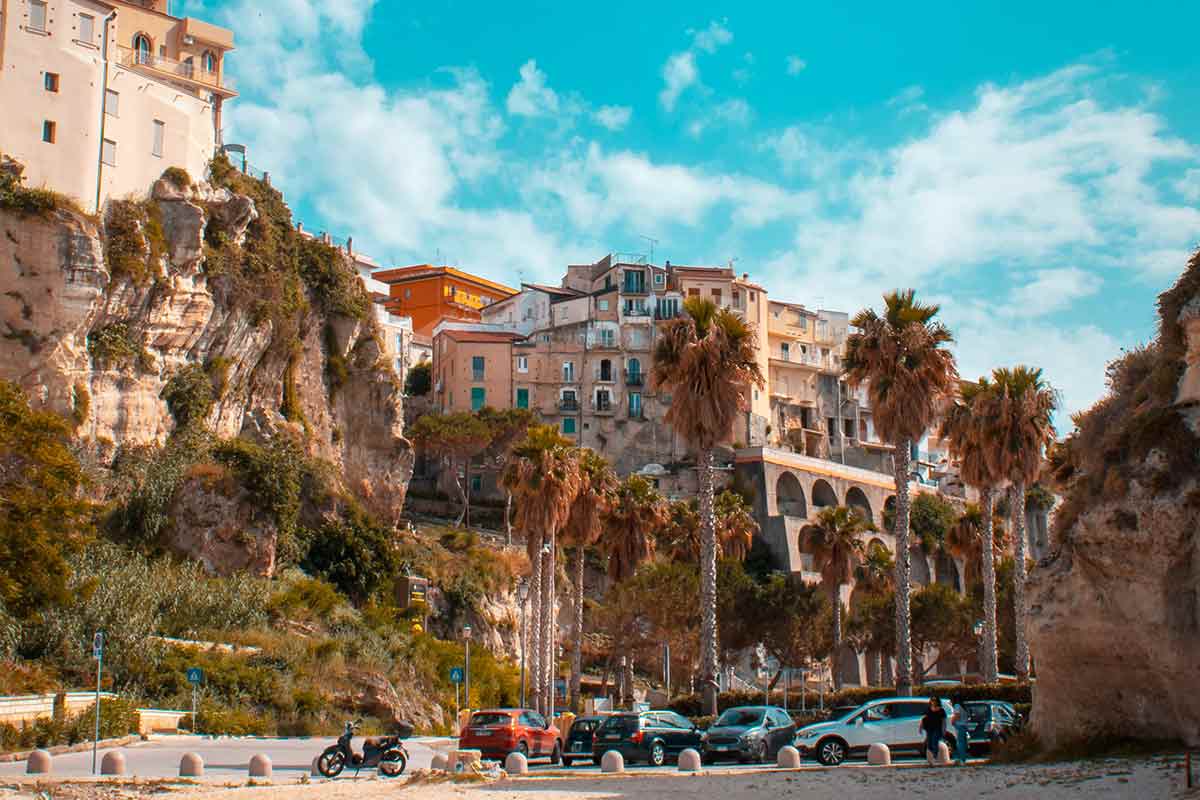 This region is on the 'toe' of the Italian boot, close to Campania, Basilicata, and Sicily, located just across the Messina Strait.
Calabria is surrounded by both the Tyrrhenian and the Ionian Sea. Both coasts hold some hidden gems, especially when it comes to unspoiled beaches and lush mountains with villages facing the sea.
Here you'll live nothing less than the ultimate authentic Italian escape.
Calabria is the perfect destination for the visitor looking to discover a lesser-known region of Italy, but don't want to miss out on the opportunity to make the most of the dolce vita vibe!
As a part of Italy that has it all, with this Calabria itinerary you'll learn how to get here as well as how to spend 7 days on the Coast of the Gods.
Calabria Italy Itinerary
Calabria has nothing to envy of the more tourist-oriented destinations of South Italy such as Sicily, Sardinia, Campania, and Puglia.
Instead, you can spend time visiting historical villages and relaxing at the beach without being stressed by the presence of too many tourists.
Where is Calabria Italy?
Calabria is a region based in the south of Italy and, more precisely, at the toe of the Italian boot. Its capital city is Catanzaro and other important cities are: Lamezia Terme, Cosenza, Crotone and Reggio Calabria.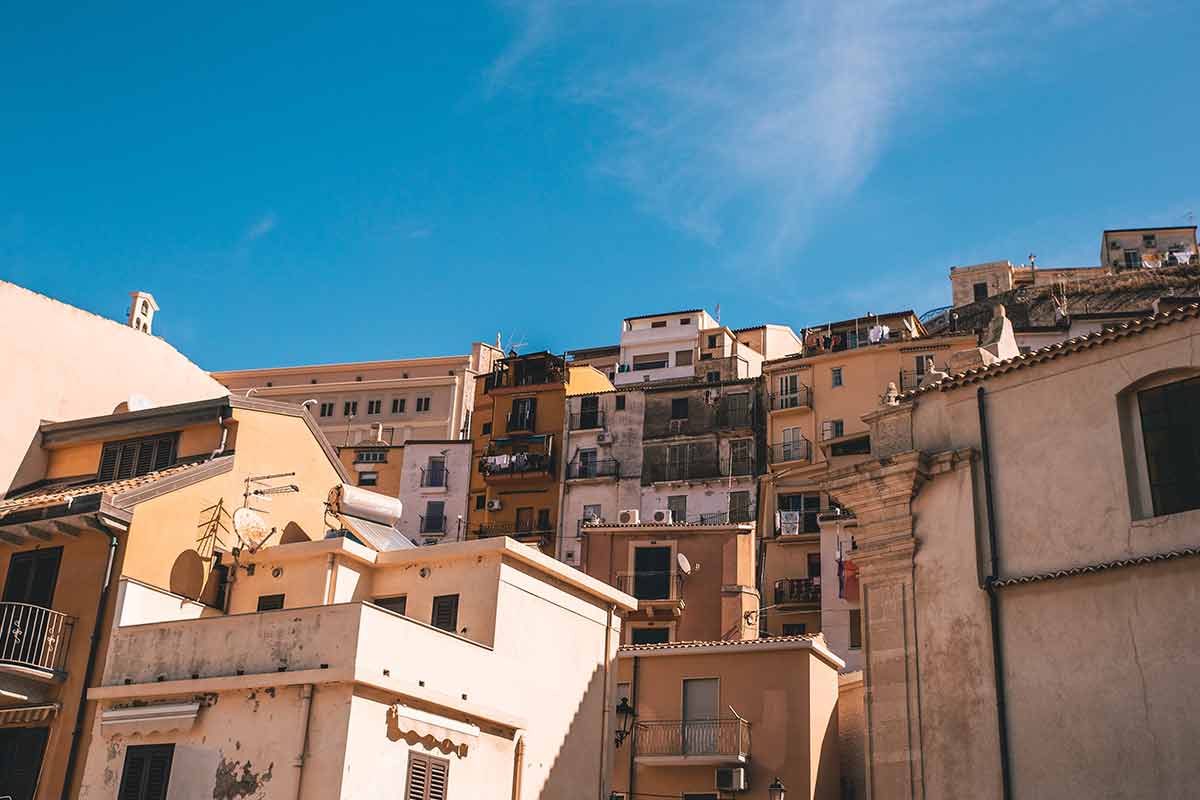 This region is bathed by the Tyrrhenian and Ionic Seas and bordered by the Basilicata region. The strait of Messina is separating Calabria from Sicily.
Thousands of visitors visit Calabria every year for its stunning beaches, its rustic yet delicious cuisine, and archaeological sites dating back to the Magna Graecia period.
What is Calabria known for?
Calabria is famous for its 500 kilometers of coastline with pristine turquoise waters and sandy or rocky beaches.
The coasts are dotted by lovely fishing villages nestled between the Appennini mountains and facing the Tyrrhenian or Ionic Sea.
The Coast of the Gods with the popular Tropea attracts most of the national and international region's tourism.
Calabria is also known for its spicy and robust cuisine, with local products known all over the world such as the 'nduja and the red Tropea onion.
The region also boasts a very long history and back in the day, ancient Greeks and Romans built incredible temples and entire cities on this land.
Similar to Pompeii or Rome, you can still visit the ruins and admire its remains, such as the Riace bronzes. It is a truly spectacular region!
Is Calabria worth visiting?
Calabria is an underrated region in Southern Italy, but definitely worth visiting. Especially when looking for an off-the-beaten-path experience.
Read our reasons to turn Calabria into your next Italian escapade:
The main reason to visit Calabria is for its crystalline waters and the great selection of sandy and rocky beaches. Some of the best beaches in the region are the ones in Scilla, Tropea (check out La Bussola for cheap stays), and Pizzo. The good news is that Calabria, compared to other regions such as Sicily and Campania, is still little known and if traveling in early or late summer (avoid August), you can find half-empty beaches and make the most of your time here.
In Calabria, you can find some of the most beautiful villages in Italy. Scilla and the old fishing villages called Chianalea, Pizzo, and Gerace are picturesque places where traditions of the past are still alive. Walk around its narrow streets, peek inside family-owned shops and take your time to enjoy the sea views from different angles.
Calabrian cuisine is extremely rich in flavors. Calabrese gastronomy is appreciated all over the country and beyond its borders. The region is famous for homemade pasta, fresh fish, and seafood as well as pork and lamb dishes. When in Calabria, you can't miss the chance to taste any type of dish made using the spicy and creamy 'nduja and the sweet Tropea onion. The huge selection of traditional dishes includes desserts, such as the 'pitta 'mpigliata' and 'tartufo di Pizzo'.
There are hundreds more reasons to visit Calabria, but before we get into our itinerary let's look at some information on safety in Calabria.
Is Calabria safe?
The crime rate is low in Calabria, and for this reason, is a safe place to visit. We even wrote a guide on safety in Calabria to clarify this.
You shouldn't feel concerned about safety during your trip at any time. Even though Calabria is still affected by 'ndrangheta (local mafia) crimes, the crime rate has dramatically decreased over the past years.
Additionally, their operations have nothing to do with tourists.
We suggest being particularly careful when driving around the region. Also, be extra careful and remember not to leave any valuables in the car.
🔒 Why not get a FREE travel insurance quote from
SafetyWing
to get timely support when it comes to protecting yourself in Calabria?
How to Get to Calabria?
In Calabria there are two small airports: Lamezia Terme airport and Reggio Calabria airport.
Lamezia Terme is the most important one and is not only serving flights from many cities around Italy like Rome, Milan, and Venice Treviso but also from other parts of Europe.
In fact, there are flights arriving from big cities like London and Frankfurt. The Reggio Calabria airport is only serving domestic flights.
Depending on where you plan to start your Calabria itinerary, you can decide to choose either one or the other.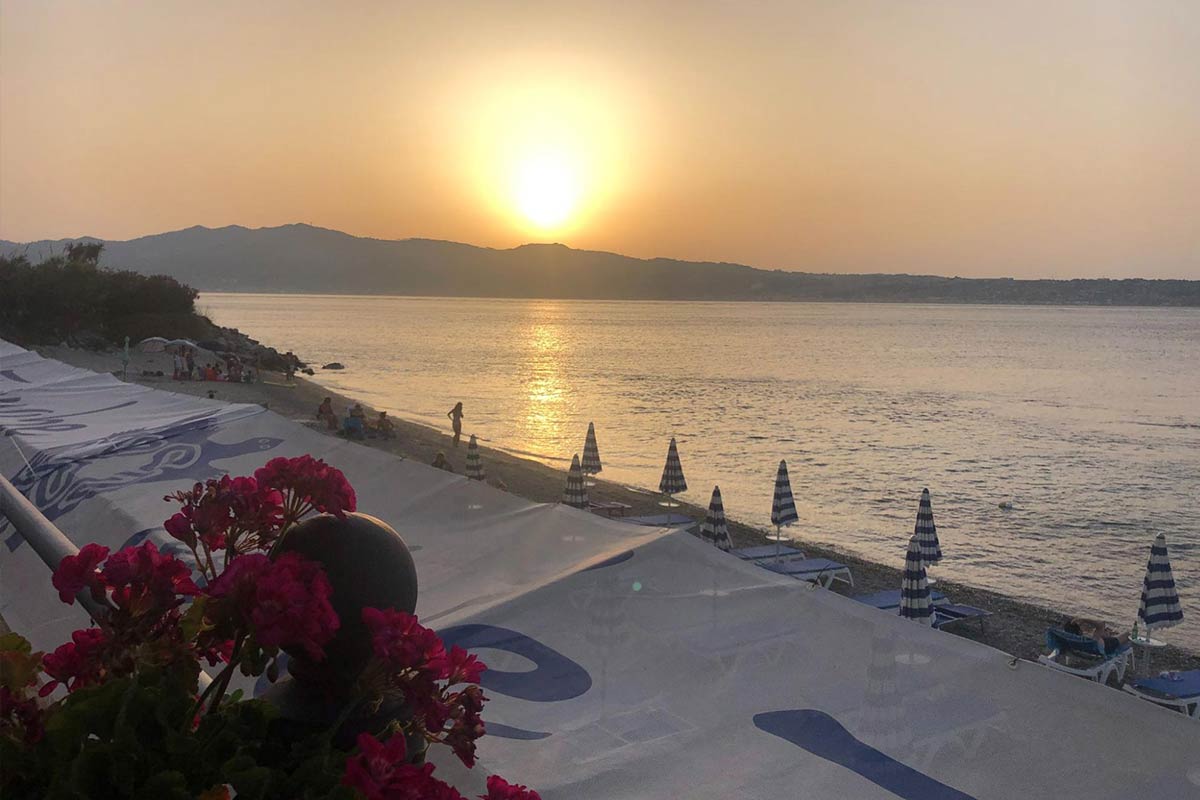 Maybe you are in a place like Venice already and want to start there?
Then arriving at Reggio Calabria airport would definitely be the best choice for you. But if you want to start from the north of Calabria, just opt for Lamezia Terme International Airport instead.
See these airport transfers for helping you get to and from Tropea.
You can arrive via other airports in the nearby regions like Naples Capodichino airport in Campania or Bari airport in Puglia.
Those airports are better connected with European cities. From there you can rent a car, and drive down to Calabria which is an option for the adventurous ones who prefer to do road trips in Italy.
You'll find better car rental prices from bigger airports like the one in Naples instead of Lamezia Terme, so take into consideration picking up your car here and driving to your desired places in Calabria.
Just so you know, the Naples-Reggio Calabria (Autostrada A3) motorway is the only motorway in the Italian peninsula completely free of charge.
Can you travel around Calabria without renting a car?
The answer is yes! You can quite easily get to (almost) all the destinations we are going to mention in this Calabria itinerary by train.
7 Days in Calabria Italy
This itinerary features the best Calabria destinations to visit and you'll learn how to visit them with a suggested amount of time in each place:
Scilla (3 days)
Bagnara Calabra > Chianalea
Scilla is one of the most popular beach destinations in Calabria and a traditional fishing village tucked in the mountains.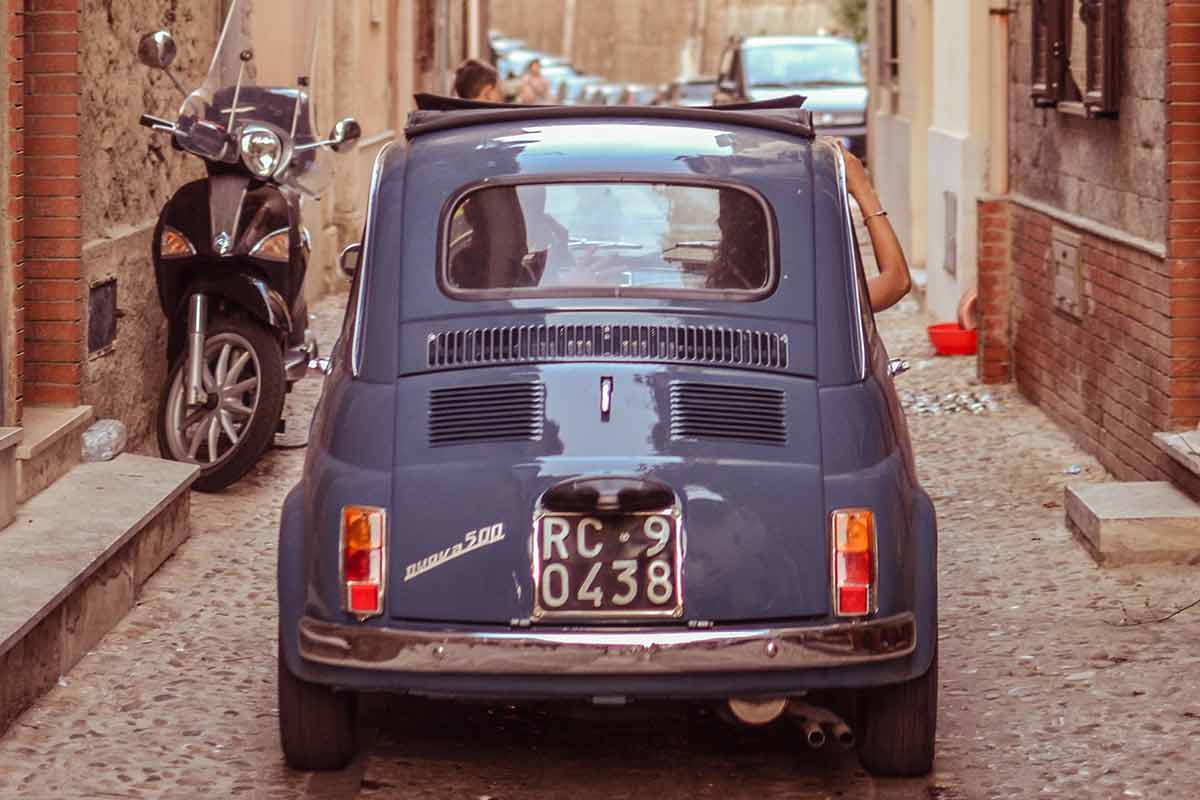 The Calabrian town is divided into three areas:
Marina Grande beach.
San Giorgio (which is the heart of Scilla).
Chianalea (listed as one of the most beautiful villages in Italy).

The story of Scilla is connected to the ancient Greek myth of Scylla and Charybdis, a story full of passion and love.

Scylla was a beautiful nymph transformed by the sorceress Circe into a monster with six dog heads living in the Messina Strait waters, scaring fisherman and sailors.

Together with Charybdis, a tremendous (and dangerous) whirlpool, it was (almost) impossible for Ulysses and his men to cross safely the strait.

Marina Grande is a beach where you get to see the crystal clear waters in Calabria and the south of Italy. Local people and tourists spend their day relaxing and snorkeling for hours here.

This is considered one of the best beaches in Calabria, and you should definitely include it in your Calabria itinerary.

There are many bars and restaurants near the beach where we suggest having for lunch the traditional and tasty swordfish sandwich!

Marina Grande beach

San Giorgio is the real center of Scilla and where the Ruffo Castle is located. By paying an admission fee, you can visit the castle, which is literally on the edge of a roughed cliff, facing the Tyrrhenian Sea.

There's no need to say that from here you can enjoy an incredible view, and on the clearest days, see the Aeolian Islands.

Chianalea is the old fisherman's village of Scilla. It's located on the other side of the mountain (a walkable distance from the Marina Grande).

In the past, Chianalea was an important harbor and the heart of many Mediterranean trade routes.

It is no secret that italy is known for its quaint towns. Whilst strolling around the narrow streets of Chianalea, you'll see lovely independent shops and well-renowned restaurants, serving the best swordfish dishes.

Enjoy the unique 'stepped back in time' surrounding and chilled vibe here.

Fishermen's Boats in Chianalea

Close to Scilla, there is another popular beach destination and a fishing village called Bagnara Calabra. This is a great location in Calabria to book your stay and where you can find much cheaper hotel and B&B deals.

Landmarks worth visiting in Bagnara Calabra:

Madonna del Carmelo Church
Bourbon fountain
Maria SS del Rosario Church

During the summer, the town center becomes a pedestrian area and there are many events taking place on the main square.

Don't forget to try the 'Swordfish alla Bagnarota', this main dish is prepared with simple ingredients like cherry tomatoes, olives, capers, and fresh swordfish (the popular catch of the day for this village).

You can reach both Scilla and Bagnara Calabra by train, from Reggio Calabria, if you end up traveling around Calabria without renting a car.

Tropea (3 days)

Tropea Beach > Zambrone and Paradiso dei Sub > Michelino Beach > Riaci Bay

Know that Tropea is the most popular beach destination in Calabria. Thanks to the wide choice of accommodation, restaurants, and activities to do, the Tropea area is a must to include in your Calabria itinerary.

Exploring the town in Tropea

It's located north of Scilla and on the Tyrrhenian coastline called 'Costa degli Dei' and has a very laid-back vibe typical of southern Italian cities.

The historical city center is a maze of narrow streets and squares, where to get lost and fully enjoy the Mediterranean atmosphere you can find only in a few places in Italy.

Plus, with the chance to go snorkeling in Capo Vaticano you'll easily see the reason why Tropea has been named the 'Pearl of the Mediterranean'.

The historical buildings date back to the Renaissance and Baroque periods, some hotels (see Hotel Villa Antica Tropea) and streets are just on the edge of the high cliff, and the city itself is nothing less than a romantic 'terrazzo' (terrace) facing the turquoise sea.

Not to be missed: the 'vista' (view) from the little sanctuary of St. Mary of the Island and the Tropea beaches just down the cliff.

The dish Fileja alla Tropeana is a must!

By night, Tropea becomes a vibrant town with a lot of shops open till late, cafés, restaurants serving the traditional Tropean dishes, and bars where to taste the Calabrian Amaro del Capo liqueur.

Among the most important landmarks to not miss visiting, there's the cathedral Maria Santissima di Romania, which protects from earthquakes and wars, and the main street, Corso Vittorio Emanuele.

There are some regional Italian dishes to try here, so when you're out for a meal in Tropea, try anything made with the sweet red Tropea onion, like the pasta dish called 'fileja alla tropeana' or the 'frittata di cipolla'.

Other local dishes to try are:

'Pasta ca' muddica' made with breadcrumbs and anchovies
'Parmigiana di melanzane' made with fried aubergines, provola cheese, cured ham and tomato sauce.
'Turdilli' a typical Christmas dessert.

Now, let's talk beaches! Tropea has many beaches you can choose from and is close to the town center.

Zambrone beach

Most of them are equipped with sunbeds and sun umbrellas, but there are some options free of charge and where you should bring your own umbrella and towel to lay on the beach.

Here are some of the best beaches of Tropea:

Spiaggia della Rotonda
Spiaggia A' Linguata
Spiaggia Marina dell'Isola
Spiaggia del Palombaro
Spiaggia del Cannone

With a 20 mins drive from Tropea, be sure to include at least half a day at the Zambrone Beach and half a day at the Michelino Beach in your Calabria itinerary.

Both beaches are characterized by stretches of white sand alternated by more rocky ones.

These are among the list of beaches with the most emerald waters seen in Calabria. To reach them, you'll have to park the car and walk down a path surrounded by the Mediterranean maquis.

Michelino beach

Riaci Bay is another beach destination included in our Calabria itinerary!

It is one of the most celebrated Calabrian beaches, for the landscape is dominated by high limestone walls and by the Scoglio Grande, which emerges from the waters very close to the shore.

Riaci Beach is all about white sand and crystalline sea to explore with fins and a mask.

Pizzo Calabro (1 day)

Piedigrotta Beach > Piedigrotta cave church

Pizzo Calabro is the last stop on our Calabria itinerary.

This village (located near the sea), is dotted with old palaces, squares, steep stairs, and white-painted houses from where it's common to see old 'nonne' (grandmas) curiously looking at passing by tourists.

Exploring Pizzo Calabro in Calabria

The history of Pizzo is very old and goes back to 1300 when was just one of the many fishing villages of the Coast of Gods.

Today, there are thousands of visitors arriving here from all over the country and the rest of Europe to try the famous chocolate truffle ice cream called 'tartufo di Pizzo'.

This 'gelato' was invented to honor the visit of Prince Umberto I of Savoy in 1943. And of course, only some Pizzitani (Pizzo inhabitants) know the secret recipe!

Visitors take this tour from Tropea that includes the truffle ice cream.

Another reason people come to Pizzo is to visit the Piedigrotta cave church. A small church 15 mins (walk) from the city center and close to the beach. The story of the church is an intertwining of legend and reality.

During a storm, the painting of Madonna di Piedigrotta managed to arrive safely on shore with the captain's crew carrying it on the ship.

Inside the Piedigrotta cave church

That's one of the reasons why fishermen and stonemasons decided to work on a place where to store and protect the painting that saved the sailors' life.

This is a beautiful cave church with statues down carved in the rock.

Among the statues appear:

St. George (Patron Saint of Pizzo)
St. Francesco of Paola, the representation of some of Jesus' parables as well as a beautiful example of Nativity.

There is a small admission fee to pay.

ℹ️ Visiting hours:

November to March: Monday-Sunday 9 am-1 pm and 3 pm-5 pm.
April to June September, and October: Monday-Sunday 9 am-1 pm and 3 pm-6 pm.
July to August: Monday-Sunday 9 am-1 pm and 3 pm-7.30 pm.

Calabria (Coast of the Gods) Itinerary Map

Below we'll share a map to accompany this Calabria itinerary:

Calabria Travel Tips

See our list of travel tips to take with you:

These destinations in Calabria are not just for beach lovers the region is great for nature lovers and outdoor adventurers!
To make the most of your stay: avoid the month of August (when most Italian holidaymakers head to the southern regions).
Remember to get your FREE travel insurance quote from SafetyWing to receive fully comprehensive support when it comes to unforeseen travel complications.
If you are traveling alone, be sure to 'always' carry your cell phone along with you, if you have one that is. Even if just going to the beach.
Check out the Trenitalia website to see how all of the train stations are connected if you'll be using public transport.
In Calabria, you can visit old perched villages on the top of Apennines mountains, snorkel the turquoise waters in Scilla and Tropea, explore the vestiges of the ancient Greek temples and ruins and eat delicious dishes. You'll find some of the best traditional Italian fish and seafood dishes made with local fresh ingredients.
Try to carry cash and items of value with you at all time in a front or inside pocket, you'll find Pacsafe make some great bags/backpacks for traveling around with valuables.
Calabria is the least known Southern region of Italy among international travelers, but that doesn't mean it has less to offer.
Pollino National Park is the largest national park in Italy and the one where you can get to see the last remaining wolves in the country.

Overall, you shouldn't need to abide by any specific rules or advice for safety in Calabria. The region has hardly any crime towards tourists, so imagine yourself in a safe space whilst here.

Calabria Italy Itinerary

Now you have some ideas of which Calabria destinations to visit in Italy.

Some of these landmarks are popular with people who are visiting the region for the first time.

Book your trip to the south of Italy today and see our sustainable travel tips to ensure that your trip has a positive impact on the local environment.

---

This post contains affiliate links, meaning, if you click through and make a purchase or sign up for a program, we may earn a commission. This is at no additional cost to you.