Are you looking for things to do in Cagliari, Italy?
When looking at Italy's boot on the map, out of all the places that you could choose to come and visit, one place that is an absolute must is a visit to Cagliari.
Cagliari in Italy is one of the best places in the world to come and visit – a spectacular location filled with some very interesting things to do.
A trip to Cagliari is a fun thing to do because aside from the thousands of years of history, it offers such a change from the normal experience you may get in Italy.
What, though, are the best things to do in Cagliari for first-time visitors and what exactly awaits you in this spectacular Sardinian location if you travel here today?
Things to do in Cagliari, Italy
If you choose to come to this special Sardinian masterpiece of a city, then you should absolutely look to see the below places first and foremost.
Cagliari is a spectacular city, and with it, you have much to go and see. However, with so much else to do on the island of Sardinia working out exactly what you want to do and where you want to go and do it can be tough work indeed!
Is Cagliari worth visiting?
Cagliari in Sardinia is worth visiting for many reasons.
There's a variety of historical landmarks to visit, monuments and beaches, the local food is delicious, and much more.
Here are a few of our most compelling reasons to visit:
History: Cagliari was founded by the Phoenicians, colonized by the Carthaginians, disputed by the Pisans and Spanish people. The geographical position of the city made it a crossroads for Mediterranean people. Over the centuries, they influenced the architectural style of palaces and castles, cuisine, and cultural traditions. If you're traveling to Sardinia, this is a destination that you should definitely include in your trip.
Beaches: Emerald green water and white sand beach: welcome to Poetto beach! Another reason to visit Cagliari is for its beaches, which have nothing to envy compared with the ones found on other islands (and archipelagos) of Sardinia. It's an eight-kilometer stretch of white sand, that extends from the Sella del Diavolo promontory to the coast of Quartu Sant'Elena. With some much sand and sea on offer, it can be a tough decision for those choosing between Sardinia and Sicily for example.
Culture: Explore the vibrant and picturesque neighbourhoods of the historic centre. Among the unmissable: a visit to the Castello neighborhood, where you can spot old palaces, churches, and historic buildings (overlooking narrow streets). The views are fascinating! Another is the Marina neighborhood, as the name says it's all around the Cagliari's port. Take a stroll by the old fishermen's houses and enjoy the multicultural vibe of this part of the city.
So as you can see, whether you're into history, culture or the beaches there are many reasons to visit Cagliari, a charming city full of wonder and excitement.
Before we get into some of our favorite things to do in Cagliari, let's look at the number of days we recommend spending in Cagliari.
How many days in Cagliari?
We suggest spending at least 2 or 3 days in Cagliari to have enough time to explore all its beautiful neighborhoods and the city's best museums.
If you stay for a couple of days, you can visit nearby beaches and small villages. A great way to fully immerse yourself in the Sardinian culture.
Just as it is for many travelers on the island of Sardinia, renting a car in Cagliari is the best way to have complete freedom to move around and in your own time.
Unfortunately, the public transport in Sardinia doesn't connect to the remote places but is still close to major city centers, which are definitely worth visiting.
Best Things to do in Cagliari
In a bid to help you save some time and effort, here are some of the top things to do in Cagliari.
Italy is known for its beautiful and timeless cities and if you make time to explore, you'll understand why Cagliari is a hotspot for people of all ages.
Bastione Saint Remy
The Bastione Saint Remy (named after the baron of Saint Remy, the first viceroy from Piedmont in Cagliari) was built between 1896 and 1902.
Built on the ancient Spanish bastions of the Zecca and Sperone to connect the castle to the lower part of the city.
The scenic belvedere was built in a classic style and made of granite and limestone. It includes a semicircular staircase formed by two ramps that join to a point that leads to the covered walk (Passeggiata Coperta).
Another staircase covered by an arch leads to Terrazza Umberto I, once the favorite promenade for locals, and offers a splendid view of Cagliari and the Gulf of Angels. This is by far one of our favorite landmarks here.
Santuario & Basilica di Nostra Signora di Bonario
Few places in the city can feel quite as welcome to come and visit as the stunning religious complex.
It's a popular place for pilgrimages to come to, and it's also the kind of location that helps us to understand why 14th Century Gothic churches are still such a major part of the modern architecture of the city.
It's a tremendous place to come and visit and is probably the best church in Cagliari. If you are here for a religious tour, add this to the list!
San Benedetto Market
The San Benedetto Market is a spectacular location in the city and a fine way for you to sample amazing local items, goods, and produce.
It's a great way for you to sample the local life, too, putting yourself right amongst the 'rank and file' and thus getting to enjoy the true art of what makes this part of Italy so tremendously beautiful.
Come along and see it for yourself – it's a true example of what makes Sardinia so special. It's also a fine place to come to visit for seafood, fresh food, and produce among the most affordable in town.
Cattedrale di Santa Maria
This amazing 13th Century church is a fine rival to the above. This beautiful cathedral sits on the Piazza Palazzo and is a tremendous location to come and visit.
You'll find this an inspiring location to visit, with the beautiful nature of its remaining architecture from the old Gothic days a highlight.
If you are a fan of old-school architecture, then there are few parts of the city worth visiting as this. Inside and outside, it's the kind of location that takes your breath away.
There are some great hotel options nearby, as well as Arcipelago 37 too, which is perfect if you're looking for a more independent stay in Cagliari.
The Poetto Beach
This spectacular beach is one of the best in the country to visit, and you can get to it from the city without much issue at all.
It's a great place to relax for families and for individuals. It's got a 7km stretch of beach so finding some peace and quiet should b pretty easy.
Add to the fact that it's got some great private beach clubs and bars, and it's a great place to mingle and socialize with the locals.
Il Castello
This amazing hilltop citadel is one of the city's most enduring images. It's a view that allows you to see more or less everything within the city, too.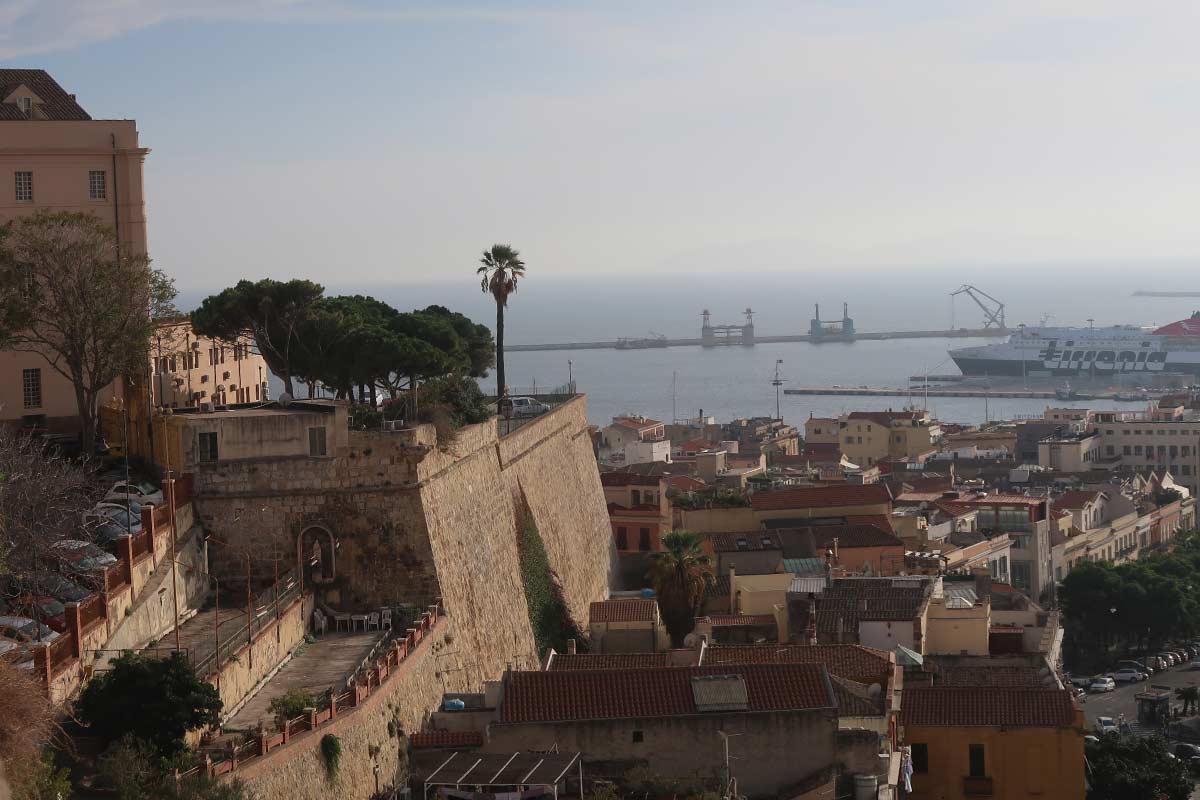 It was once home to the rich and famous of the city, and today it still stands as a significant image of the opulence and grandeur that makes this such a special, unique location.
For that reason, we recommend anyone intending to visit this special city does so by coming here. It's the kind of location that simply takes your breath away, showcasing everything that makes Cagliari so special.
Try Local Foods
Cagliari's cuisine is emblematic for its strong and rich flavours, the deep connection to old traditions and the quality of the local produces.
Sardinian cuisine is popular for the Catalan and Ligurian influences. When in Cagliari, you can't miss the chance to try all the best local foods.
One must-eat food in Cagliari is the 'pane carasau', the typical crunchy flatbread that's on every Sardinian's table! Among the delicious traditional pasta dishes, try the malloreddus, the fregula and the culingionis.
Learn how to make some of these pasta types, by joining this Sardinia Cooking Class to make some fresh handmade Pasta.
The Sardinian and Cagliari cuisine is also well-known for some fish and pork main dishes, as well as for its Moscato and Malvasia wines.
Roman Amphitheatre of Cagliari
The Roman Amphitheatre of Cagliari is located between the neighbourhoods of Castello and Stampace.
It's a majestic Roman building, a real architectural masterpiece that can host ten thousand spectators.
During the Roman Empire era, it was the cultural and social center of ancient Carales (the Greek name of Cagliari) and the place where to watch gladiator fights.
Not far from the amphitheater, you can also visit private Roman buildings such as the villa of Tigellio.
Head towards the Botanical Garden, a green oasis in the heart of the city, that has some remains from the Roman era, and the Citadel of Museums, the largest museum complex in Sardinia.
Try Gelato @ Gocce di Gelato e Cioccolato
After all the walking around the center of Cagliari, don't miss the chance to taste a lovely and artisanal gelato! We suggest trying gelato from Gocce di Gelato e Cioccolato located in Piazza del Carmine, 21.
This 'gelateria' is one of the most popular with locals, and you can choose among a vast selection of gelato flavors! Definitely, it's worth sampling the pistachio and the chocolate one.
Not just a delicious gelato, but you can also find great desserts, perfect sweet treats to have for a quick snack during the day. The locals' favorites are the millefeuille and semifreddi.
Chia beach
Renting a car in Cagliari is a smart choice that will allow you to drive around all the south Sardinian coast and visit stunning, unspoiled beaches.
One of the best is Chia beach. The ancient village of Chia was a key Phoenician and Roman center, and its ancient name was Bithia.
From the tower, which dominates the coast, get access to a long strip of sand lapped by the emerald green sea, a natural spectacle that remains forever etched in the heart of any visitor.
If you don't want to rent a car, we advise joining this West Beaches Tour during which you'll get the chance to visit the most beautiful west coast beaches and villages in Sardinia (led by an expert local guide).
Where to stay in Cagliari
One thing to note about this amazing location is that you have quite a few historic style locations that you can stay in.
See the following locations for great places to stay:
Hotel Calamosca: This beautiful hotel is near the beach, offers some very affordable prices, and should ensure that you get a much more satisfying experience overall. A great place to stay if you are looking for a hotel that looks after you.
Hotel Nautilus: While a touch more expensive than some other venues, this comes with all of the indoor facilities that you need. the excellent beach location ensures that you can easily get some chill time after seeing the city it in all of its glory.
Miramare Cagliari: While it's easily the most expensive of the trio listed, it offers the best experience overall. It comes with a spa and easy access to things like free Wi-Fi. It's smart location also makes it one of the best places to visit when you're traveling around the city.
With so many things to do in Cagliari, these hotels all offer great places to begin and each day so you can remain close to the action during your trip.
Best Time to visit Cagliari
The best time of the year to visit Cagliari is the summer (from the end of May to September). Cagliari has pleasant temperatures during the year, but in these months you can enjoy the beach, go for boat trips and plan outdoor activities.
During the summer, temperatures can go up to 31° degrees, but thanks to the sea breeze and dry weather, even the hottest hours of the day are enjoyable. This time of the year is perfect to join local festivals, such as the Wine Festival (mid-July) and the Beer Festival (beginning of August).
As most people visit Cagliari during the summer, if you want to save money on your accommodation, flights and avoid tourists; spring and early autumn can be great alternatives.
Bear in mind, that it's very likely that you won't be able to enjoy the beaches and plan outdoor activities.
Got travel insurance for Cagliari?
World Nomads offers simple and flexible travel insurance. Buy at home or while traveling and claim online from anywhere in the world.
Best Things to do in Cagliari
Now that you can understand the best things to do in Cagliari, we think it's time that you step out and see the city for yourself.
This is a truly special location; the kind of place that offers something truly different from the norm.
If you are interested in putting together a spectacular and satisfying experience abroad, be sure to make time to come here.
With so many things to do in Cagliari, we hope that you have found some sustainable ways to enjoy the city and everything that surrounds it.
Remember to enjoy yourself & Benvenuti a Cagliari!
Also, while you're still here, if you're looking for more ideas on places to visit in Italy, see our 2 weeks in Italy itinerary that features other popular cities.
📌 Like this article? Pin it…
---
Dear responsible traveler: This post may contain affiliate links, which means, if you click through and make a purchase, book a tour or a hotel, we may earn a small commission. This is at no additional cost to you. Your support means a lot and helps us to maintain the quality of this site.