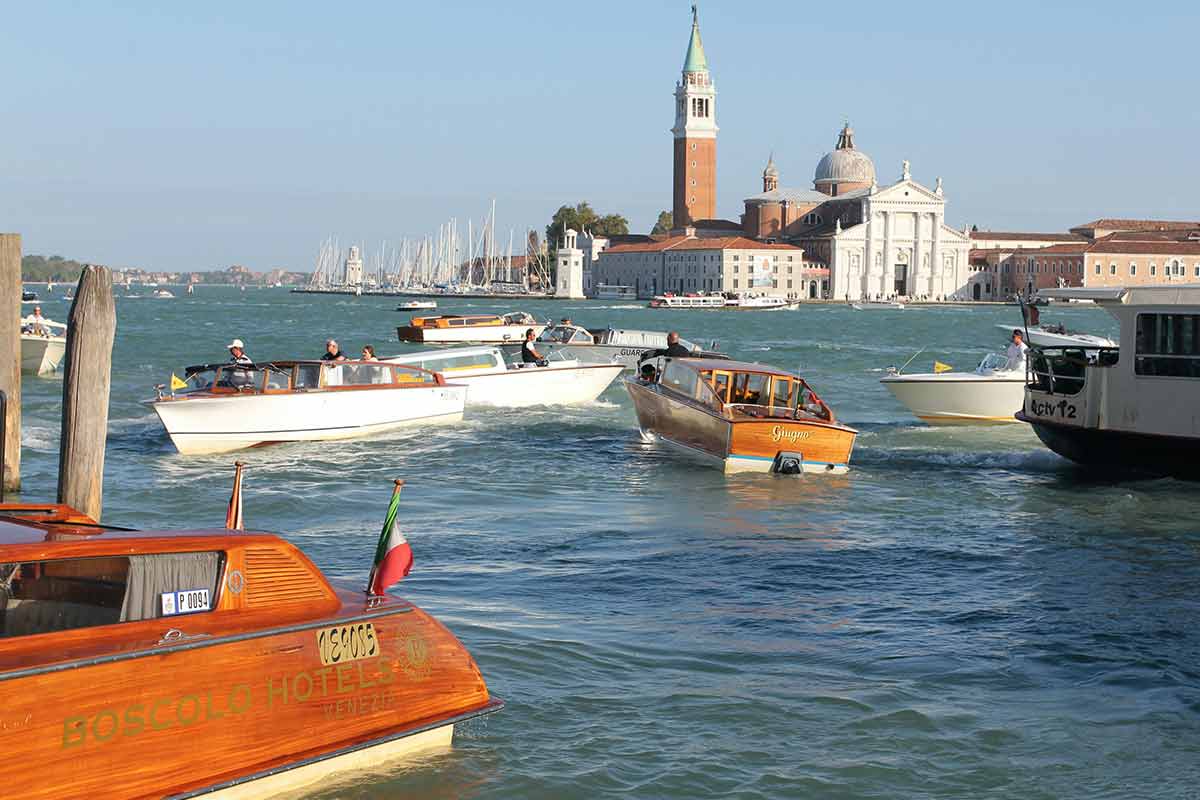 It's no secret that Venice is the most romantic destination in Europe with its endless canals and bridges scattered around making it so unique.
Venice is known for being a maze of narrow streets, public squares, and 'sestieri' (neighborhoods) interspersed with thousands of canals.
So, the question you may be asking now is… how to get around in Venice?
How to get around in Venice?
Easy! On foot or by boat.
There are different options available when traveling in the Venetian lagoon, so let's take a look at all of them in this guide below.
Can you walk everywhere in Venice?
The simple answer is yes!
You can walk pretty much everywhere in Venice, and this can also be the quickest way to reach your destination without paying any money to boatmen and 'gondolieri' (gondola men).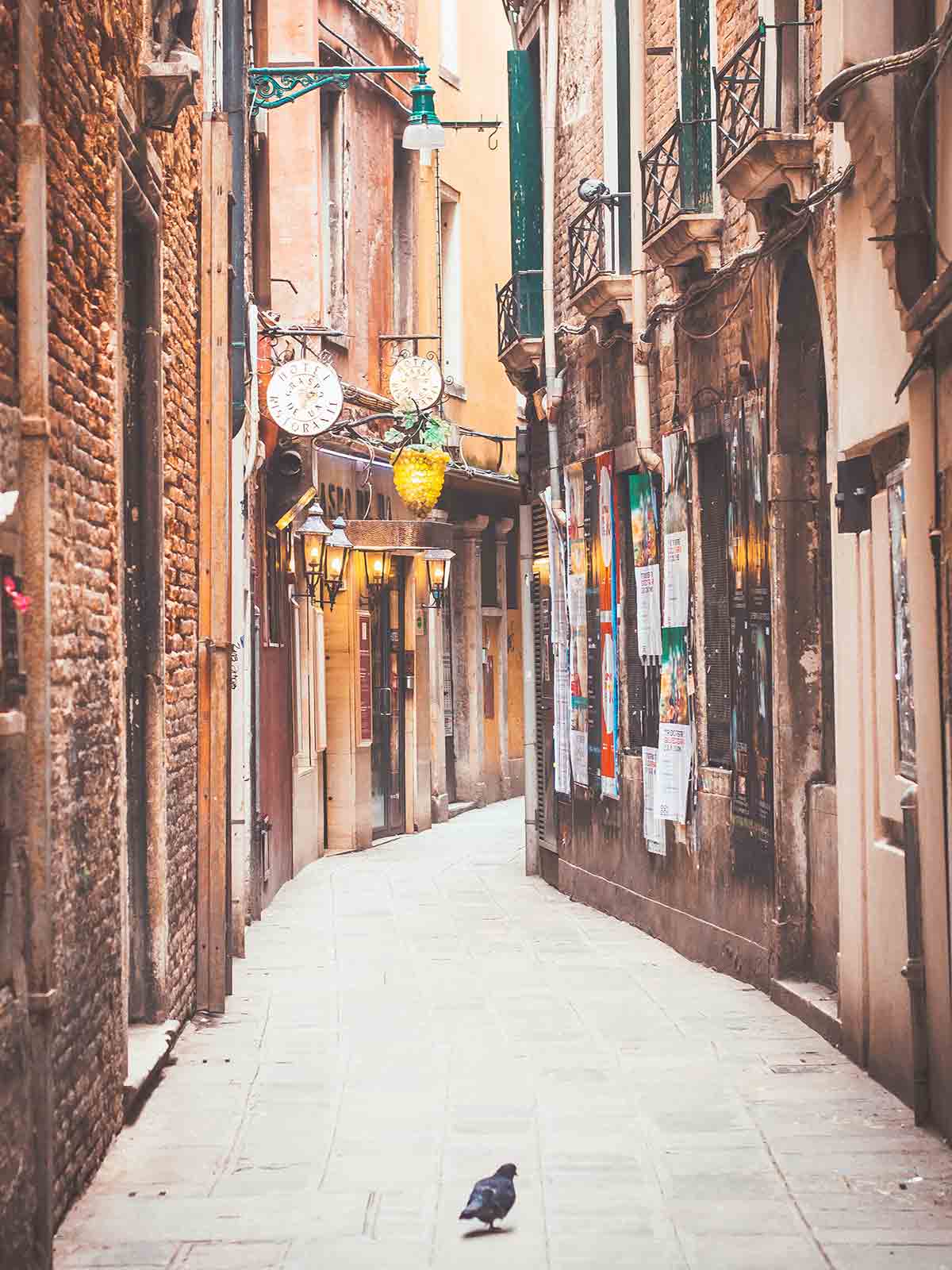 Even if you only have 1 day in Venice, if you want to feel like a local, then the best way to experience the city is by walking around it.
Exploring this city on foot is the best way to not miss some hidden gems that you wouldn't be able to discover if you were moving only by boat.
We suggest getting to the Venetian landmarks mainly by walking.
Whenever the attractions you have included in your Venice itinerary can not be reached on foot, then it's time to take a vaporetto or water taxi.
Transport in Venice
Before arriving in Venice, it's important to know the differences between transport and how to get around in Venice with all of them.
Airport Bus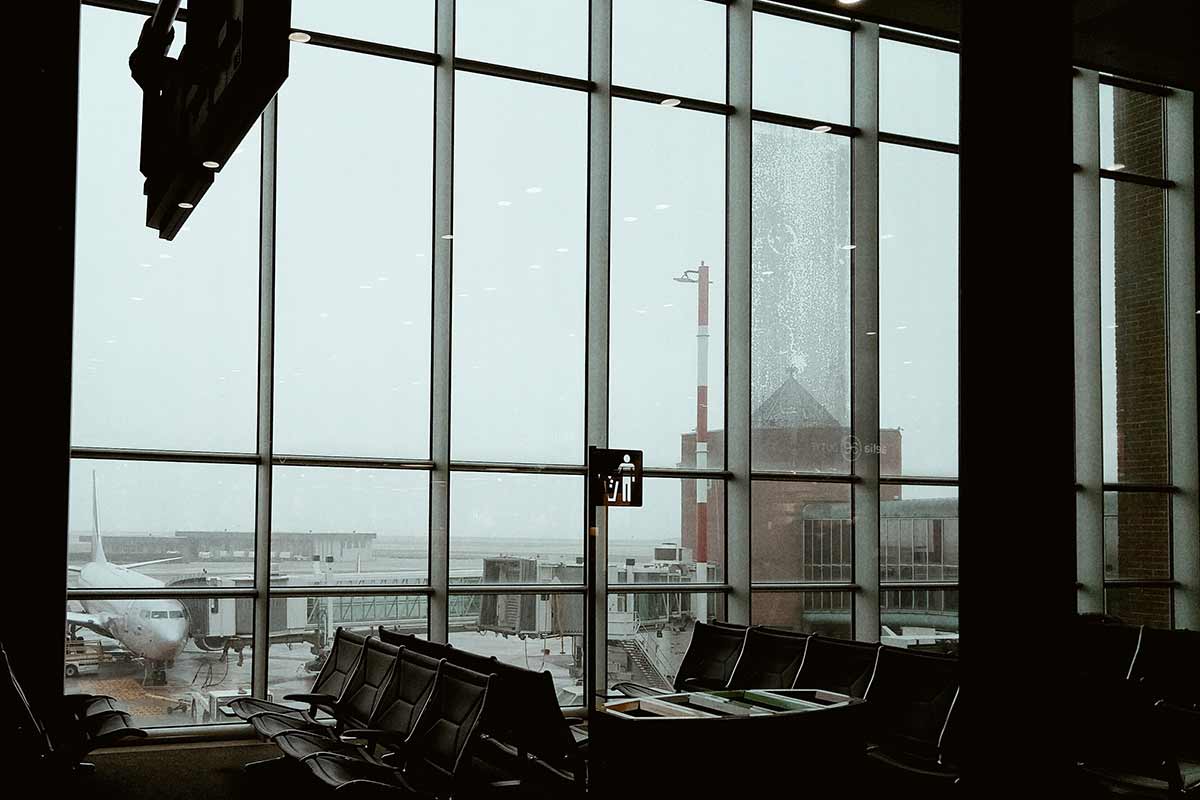 There are two bus options available for getting from Venice Marco Polo airport to Venice city center.
The quickest option is the ATVO Express Bus which is the direct shuttle bus with free Wi-Fi on board.
The ride lasts 20 minutes, and you'll get to Piazzale Roma.
The ticket price is 8 euros (one way) and 15 euros (return). There are 2 buses every hour (one luggage included).
A cheap option is the linea 5 ACTV bus. This is a normal public bus, which means that it will make more stops from the airport to Piazzale Roma.
Expect the ride to last more than 30 minutes. There are 2 rides per hour.
Venice on Foot
Narrow streets are what Venice is known for and like most of the locals and tourists will tell you, the best way to move around Venice is on foot.
By visiting the city on foot, not only will you get the chance to discover incredible secret corners, but it's good for your health too.
This is the reason why Venetian residents look so good and healthy. Walking around its 'calli' (narrow streets) and 'sestieri' (neighborhoods) is a way to get a glimpse into the Venetian lifestyle and meet locals.
Additionally, when you walk you can organize your itinerary as you wish and change it last minute, if necessary. This way, you won't depend on boats' timetables, queues and long waits in tourist spots.
Taking the Waterbus in Venice
Another good option to see Venice is by water bus also called vaporetto.
The water bus is popular among workers and university students that need to reach their destination efficiently on a daily basis.
This is considered the best option because it's the cheapest one to get to the main Venetian sights, but also to reach other islands of the lagoon.
This is a public service available 24/7.
The water bus stops in Grand Canal every 10 minutes during the daytime, whilst at night every 20 minutes.
Check the timetables as the waiting time to every destination changes.
Single tickets cost 7.50 euros (lasting 75 minutes).
24-hour tickets = 20 euros
2 day tickets = 30 euros
3 day tickets = 40 euros
7 day tickets = 60 euros
You can purchase these tickets at the vending machines in front of the stops, at the ticket offices, and in some tobacco + newspapers kiosks.
To avoid long queues, you can also buy them online on the Venezia Unica services website.
Moving around Venice by water taxi
The water taxi is a normal taxi as we know it, the only difference is that it's moving around canals and in the lagoon.
It's a private motorboat and the most comfortable option to get where you want in Venice fast.
Getting where you want by water taxi means no waiting time, no crowds and walking around to reach a water bus, but this comes to a price.
The water taxi fees are quite high. So it might be the case to split the cost with other people that are traveling with you, or just be aware that it could increase your trip budget considerably!
Venice by Boat
Is this a complete list of ways to get around Venice by boat?
No, it's not. There are other ways to get around!
It's clear the importance of providing locals and visitors with means of transport to move on the water in Venice.
That's why over the centuries, Venetian people improved old and modern ways to move in the lagoon.
Different Kinds of Boats in Venice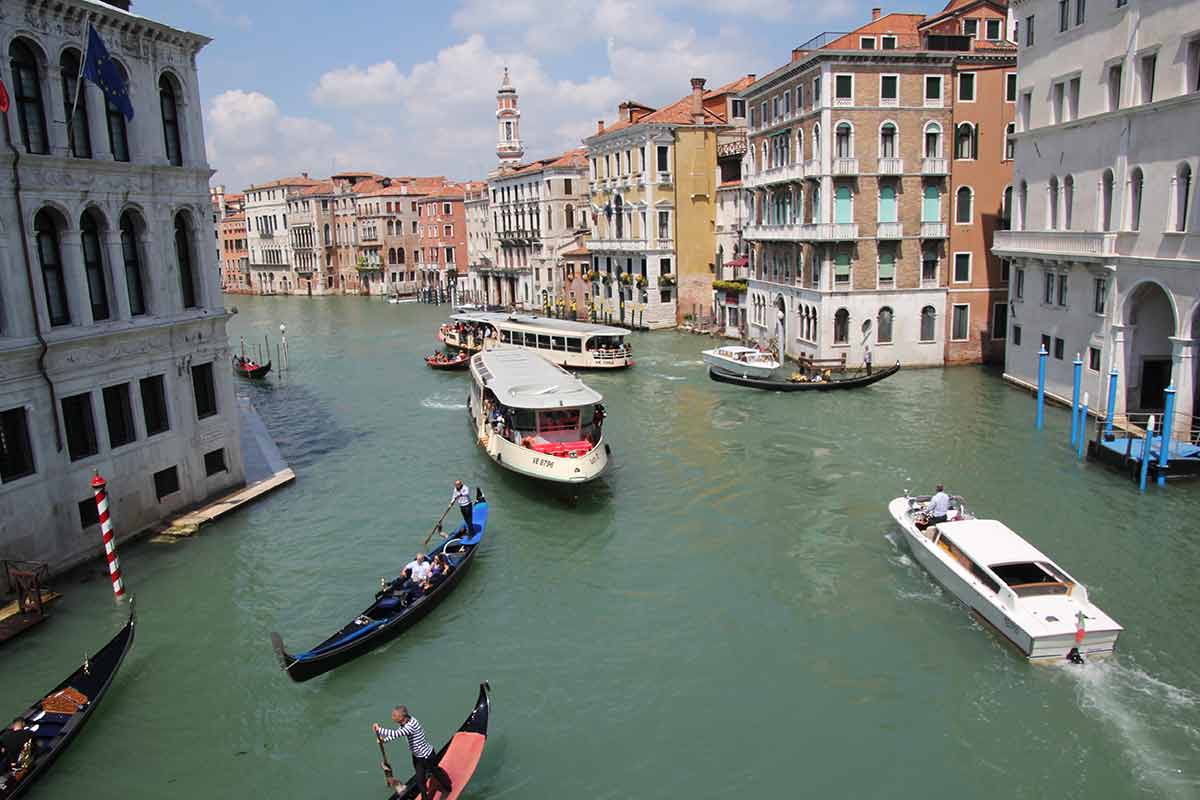 Let's look at the different types of boats you can find when in Venice.
Vaporetto
The vaporetto is the water bus of Venice. This is the quickest and cheapest option to move around Venice, after the walking option.
Quite used by locals and workers, remember that a single ticket lasts 75 minutes, and you can use it as many times as you want.
We suggest getting the ticket and validating it before boarding the vaporetto. The 'imbarcaderi' are the city docks where to wait and board this boat. You can find them almost all around the city.
Gondola
The gondola is the most famous boat in Venice!
This is one of the oldest ways used by Venetians to move around Venice canals, and today a private sightseeing boat.
There are only a few artisans left that know how to build and repair a gondola. The last 'squero' left in Venice is called San Trovaso.
The fixed price for a 30 minutes gondola ride cost is 80 euros daytime for maximum 5 people. The night ride is available from 7 pm to 8 am and the cost is 100 euros. You can book your gondola ride in advance here.
Sandolo
Together with the gondola, sandolo is the other traditional boat of Venice. You can choose to go for a sandolo tour, and it works in the same way as the gondola.
Sandolo is a flat-bottomed rowing boat and the main difference from gondola is that this one is just less ornated and of more basic construction.
Traghetto
The traghetto is a gondola that used to move from one side to the other of the Grand Canal. There are only 3 traghetto services in Venice, in those points where there are no bridges.
If a gondola ride is too expensive, then consider taking a traghetto to cross the Grand Canal. The ride should cost 2 euros per person.
It's less romantic compared to the gondola experience but still a valid option!
Alilaguna
Alilaguna is the company providing the most comfortable way to travel from the airport to Venice by boat. There are 4 lines available, 3 fixed ones and a seasonal one.
These boats not only stop at different points of the historical city center but also in other islands of the lagoon such as Murano, Lido, Giudecca, and Tronchetto, where the car parking area is located.
Best way to get around Venice
As you can see, there are plenty of options to explore the canals and streets of the city. Depending on where you want to go and the time you have available, you can choose one or the other.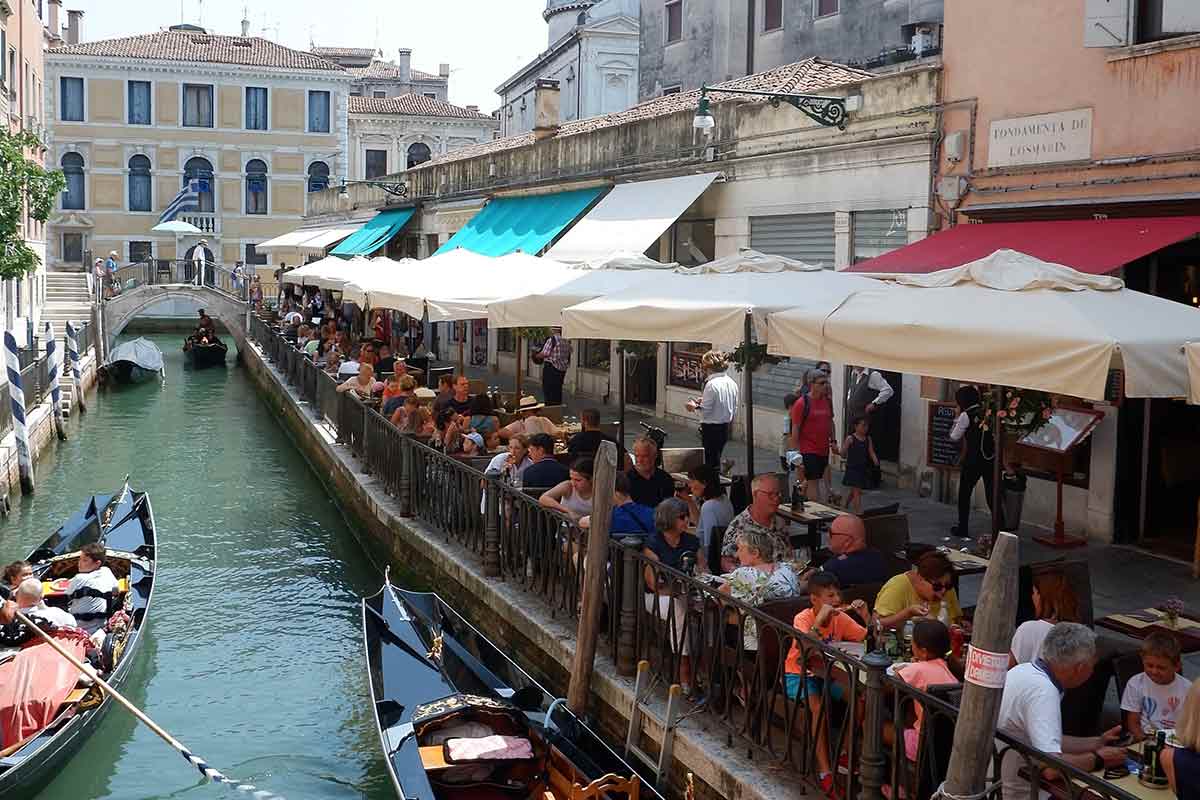 The best way to get around Venice is still on foot because you can reach every part of Venice and, at the same time, protect the environment!
We understand you might want to reach islands like the popular Murano and Burano or the lesser-known Giudecca and San Giorgio island, then you need to take a vaporetto or a water taxi.
Remember to check the timetables and ticket options to make the most of the public transport of Venice.
If it's your first time in Venice, and you're traveling with some friends or your partner, then you can't miss a gondola or sandolo ride.
Are you traveling alone?
You can also opt for the traghetto ride, this boat connects one side of the Grand Canal to the other. It's quick, but it's the same as riding a gondola, for only 2 euros!
How to get around in Venice
Now you should have a clear idea of how to get around in Venice.
The classic and most efficient way is on foot, but in some cases, you really need to travel by boat, in particular, if exploring other parts of the lagoon.
For extra inspiration see how how many days in Venice you will need to be able to take advantage of your stay by making use of the transport.
---
This post contains affiliate links, meaning, if you click through and make a purchase or sign up for a program, we may earn a commission. This is at no additional cost to you.