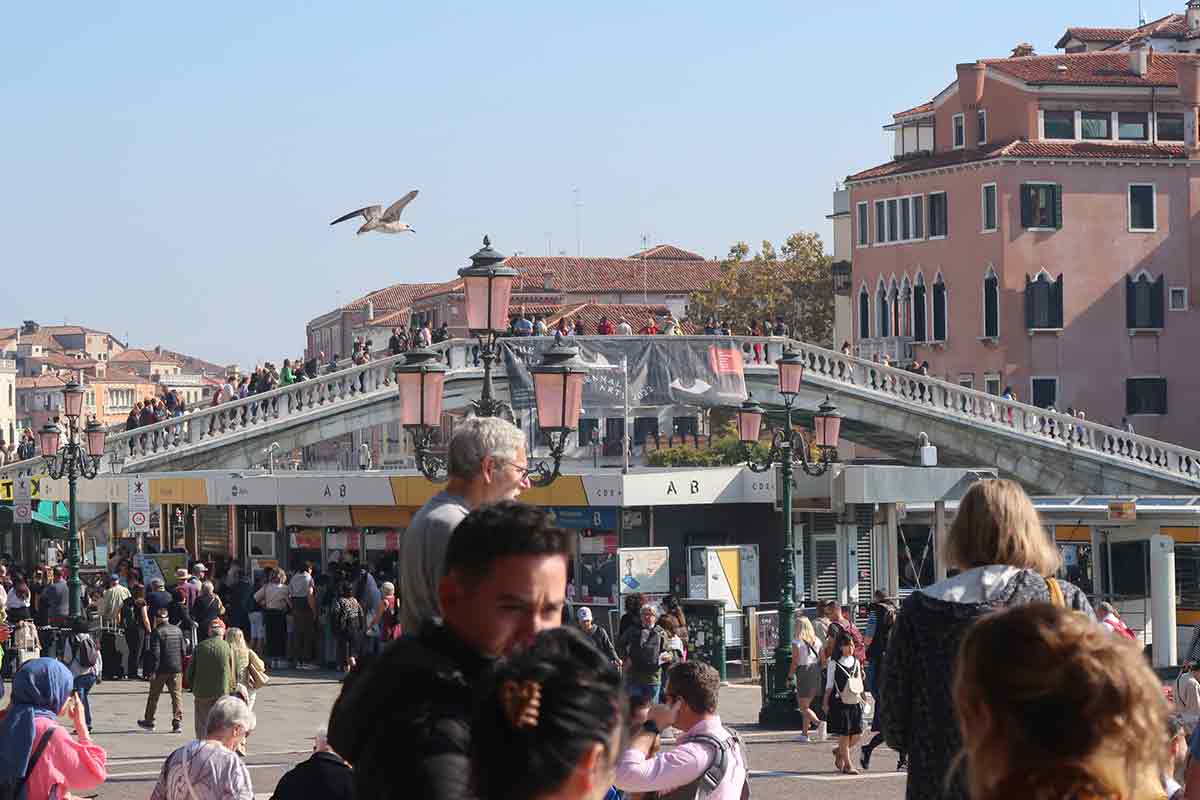 With this 2 week Italy itinerary, you can see Italy's essential landmarks.
The suggested road trip will combine the timeless beauty of cities such as Rome and Florence an experience from north to south the ever-changing landscape of this country.
The itinerary is 2 weeks long (14 days) starting with 2 days in Venice and then moving towards the south.
You will stop for: 1, 2 or 3 days in Bologna, Florence, Rome and Naples!
Then, to top it all off, your Italian escape will end with a couple of days of beach and sun, sipping homemade limoncello on the Amalfi Coast.
You can either rent a car or just take the trains (or buses on some occasions) to move around.
All these stops mentioned are very well-connected by public transport, but we'll explain more in the next paragraphs.
2 Week Italy itinerary
Italy has a fascinating Mediterranean vibe that neighboring countries in Europe (and not only in Europe) simply don't have!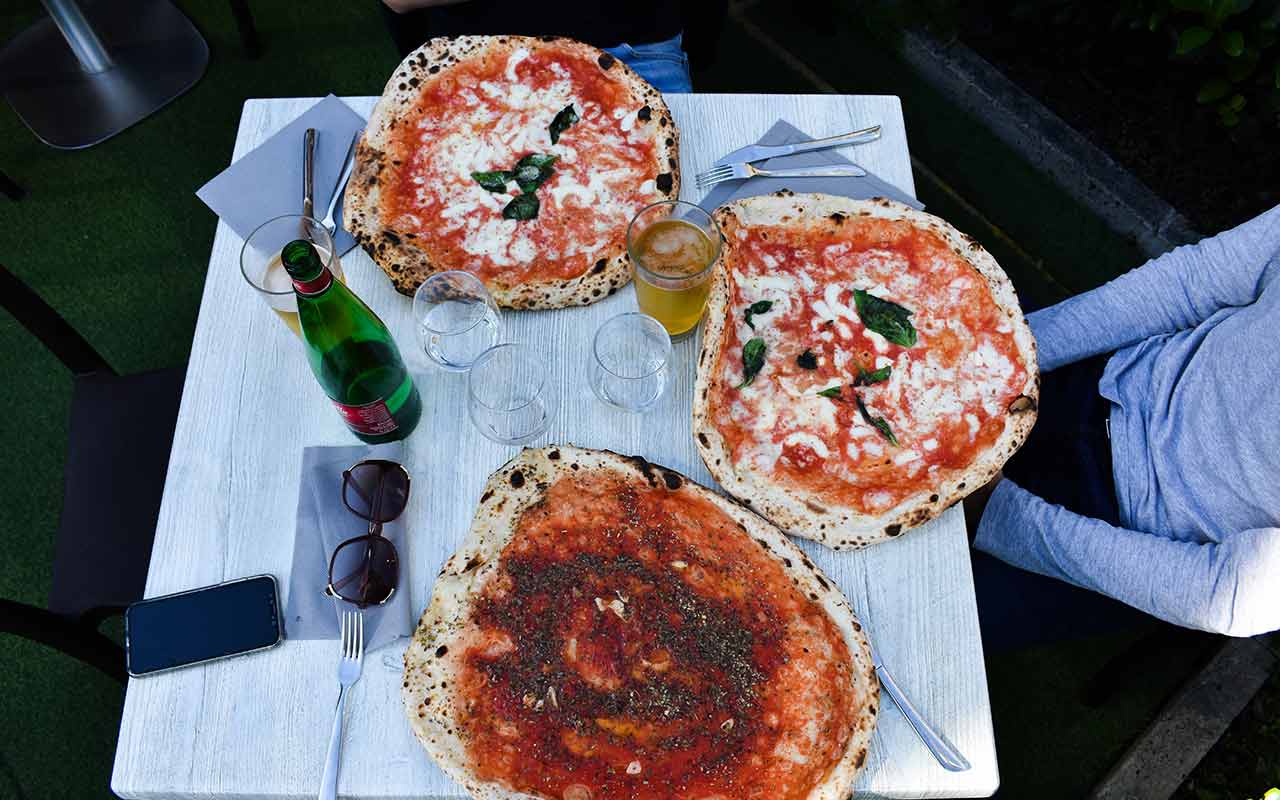 This could be related to the happy geographical position of the peninsula, which made Italy a meeting point of tens of old civilizations.
For this reason, we can get to see:
Magnificent architecture
Palaces and churches all around the country
A diverse urban and natural landscape
The most authentic Italian dishes

With this 2 week Italy itinerary, we want you to see and experience all of it and get the chance to breathe the 'dolce vita' Italian vibe whilst visiting some of the most beautiful cities of the world!

But first, you may be asking yourself…

Is 2 weeks enough for Italy?

In reality, spending 2 weeks in Italy is an ideal length of time to be able to enjoy the best of some popular and iconic spots.

You can easily spend a couple of days in cities such as:

Rome
Naples
Florence
Venice (our favorite)

Then, if you're feeling adventurous, you could even add some more off-the-beaten-path stops like Bologna or Verona to your itinerary.

You can easily move around the country by train or even hire a car (for ultimate freedom) as all these cities are well-connected one to the other.

Is Italy Safe?

Italy is a safe country to visit and there's no reason why you should be concerned by this aspect during your time in the Bel Paese.

According to the Global Peace Index, Italy is the 32nd safest country in the world.

In fact, the crime levels are generally low with moderate rates in some big cities like Naples, Reggio Calabria, Palermo and Catania in Sicily, where the crime episodes happen in confines areas or neighbourhoods.

Are you ready to experience the best of Italy?

2 weeks in Italy Itinerary Map

Below we'll share a map of Italy to use as part of your trip planning:

Planning A Trip to Italy

Also, read some of our travel tips below to help you with planning your trip.

You can get around Italy by train as there are good train connections from major cities like Rome, Florence, Naples, Venice, and Milan.
You'll find renting a car in Italy is effective for getting to secluded towns and villages but you can always consult the Trenitalia website for timetables and connections between cities before you leave.
Check the attractions websites included in this 2 weeks in Italy itinerary. Not only to be sure they are open the days you're planning to visit them but also for museum pass deals that allow you to access more monuments and sites and save some money.
A 24h ticket for Colosseum, Roman Forum, and Palatine can cost 16,00euro in Rome or the Museum Pass in Venice to get access to the Doge's Palace and 10 more museums scattered around the lagoon city with 6 months validity costs 36,00euro.
One insider tip is don't stop for a meal on the main touristic streets of these cities. The quality of food is always not the best, and by exploring a few meters away from the main landmarks, you can have a more authentic gastronomic experience!
If you feel comfortable asking locals for suggestions, go for it! If not, you can read TripAdvisor reviews before making your decision.
Alternatively, you can join a small group tour like with this Naples: Street Food Tour with Local Guide where you can combine a walking tour of the city with a food tasting experience led by a local expert.
Unless you really want to be in Italy for a festivity or big event, avoid the weeks when these are happening because the flight costs will be higher (as well as the accommodation).
Aim to book your stay in Italy at least 2 months before leaving to get better deals on your accommodations and trains. We advise booking trains tickets that allow changes and cancellations.
We recommend carrying a Pacsafe (or an equivalent backpack) when exploring Italy to help conceal any valuables you may want to carry.

Italy itinerary (14 Days)

Now, without further ado, let's get into this 2 weeks Italy itinerary!

2 days in Venice

Is there a better place to start your 2 weeks in Italy than Venice?

Venice is known for its unique position on the Venetian lagoon, in the Adriatic Sea, and for being built on hundreds of small islands, connected by fascinating bridges.

It's common to get around by foot but you can't miss a gondola ride or take a ferry to the other islands of the lagoon such as Murano and Burano.

Among the most beautiful landmarks, do not forget to pay a visit to the S. Marco Basilica, Doge's Palace, and S. Mark's Square!

If you have the chance, get to the top of the Campanile too, to get breathtaking eye-bird views of Venice and the lagoon and to Rialto Bridge for an unforgettable sunset on the Grand Canal.

Since there are many spots to visit in Venice, one of the popular highlight tours are a great activity to take on – you can see the city's major highlights with pre-reserved tickets to avoid any hassle.

Venice is much more than these popular places though, and we invite to literally get lost in its narrow streets and 'piazzas' (you will find that your GPS won't work properly on these streets anyway!).

It's here that you'll find the best 'bacaro' or 'trattoria' and experience proper Italian style aperitivo and a meal with fresh and local ingredients!

See all the stops in our Venice itinerary which you can read here:

Accademia Galleries and Bridge
St. Mark's Square + Basilica + Campanile
Doge's Palace + Bridge of Sighs
Grand Canal sunset view from Rialto Bridge
Acqua Alta Book Shop
Basilica Santa Maria della Salute
Campo San Polo
Cannaregio District
Jewish Ghetto

Stay at Duodo Palace, an elegant historical palace near St. Mark's Square and La Fenice theatre, to enjoy the best of the San Marco neighborhood.

How to get from other destinations to Venice

Venice Marco Polo airport is an international airport that offers 76 flight connections within Europe and with the rest of the world.

There are daily flights from London, Amsterdam, Paris, Berlin, and Frankfurt, just to mention a few cities in Europe.

There are weekly international flights from and to Dubai, Marrakesh, Istanbul and New York City.

There are different options to get from the airport to Venice. By bus with the ATVO express bus that leaves the airport every 30 minutes or the ACTV bus that leaves the airport every 15 minutes (line n.5).

Both of them land in Piazzale Roma. More expensive options include the water bus called Alilaguna and the water taxi.

See our guide on how to get around in Venice for more insider tips!

1 day in Bologna

Bologna is the regional capital of Emilia Romagna and the first stop of your 2 weeks in Italy itinerary.

It's known for its towers that you can spot all around the historic center.

The incredible porticoes were recently added to the UNESCO World Heritage List and it's the motherland of tortellini and bolognese sauce.

Bologna can be explored on foot and there are some attractions we advise not missing.

First, the Asinelli and Garisenda towers, the first one is the tallest medieval tower in the world and, you can actually walk to the top.

The Maggiore Square, the heart of the city for the Bolognese people and the 38 kilometers-long porticoes.

For a look at the authentic side of Bologna walk around the market and small shops of the Quadrilatero neighborhood.

Stop by Neptune's fountain and enjoy a Venetian canal-style view from the small window in Via Piella.

See all the stops in our Bologna itinerary which you can read here:

Bologna towers: Asinelli and Garisenda
Piazza Maggiore
Bologna porticoes
Quadrilatero neighbourhood
The Neptune's Fountain
Window in Via Piella

If you'll to stay more than a day in Bologna, why not stay at the Albergo Rossini 1936, situated in the heart of Bologna? Near the famous towers.

How to get from Venice to bologna

From S. Lucia railway station in Venice, there are daily trains leaving for Bologna Centrale.

Cheaper options include one change whilst for a direct train, just select the Frecciarossa ticket if buying the online ticket, or ask to book a Frecciarossa train when you're at the counter.

2 days in Florence

Florence is the Italian destination offering the perfect mix of art, culture, and food to the visitors.

The Renaissance city is a must-see in your 2 weeks in Italy itinerary, and one or two days are never enough to find out all the best of Florence.

The heart of Florence is the architectural complex of the Florence Cathedral, one of the largest in the world.

Explore the inside and out part of this cathedral before moving to the Uffizi Museum. A real museum institution attracting visitors from all around the world for its collections.

You can also visit this museum with a skip-the-line small group tour for a convenient and informative visit that will save your precious time.

Proceed by walking around the beautiful Duomo and Signoria Squares, and cross the Ponte Vecchio, the medieval bridge on the Arno river.

Just to mention a few more landmarks you can include in your Florence stop, we suggest the Pitti Palace, the Boboli Gardens, the Church of Santa Maria Novella, and the Church of Santa Croce.

Florence Cathedral
Uffizi Museum
Duomo and Signoria Square
Ponte Vecchio
Pitti Palace
The Boboli Gardens
Church of Santa Maria Novella
Church of Santa Croce

Stay at the B&B La Terrazza Sul Duomo, (a few steps from the Santa Maria del Fiore Cathedral) for fabulous city views from the terrace!

How to get from Bologna to Florence

Bologna Centrale station and Florence S. Maria Novella are well-connected too, with tens of train options all day long.

For faster connections, choose Frecciarossa trains, if you want to save some money and you're not bothered about changing trains, then select any other regional train option.

2 days in Rome

Rome is the capital of Italy and must stop in your 2 weeks in Italy itinerary. Rome is called the Eternal city and the reason why is for its unique blend of ancient and modern architecture.

From the Colosseum and Roman Forum archaeological sites to the St. Peter's Basilica in Vatican City and the lively atmosphere of Trastevere neighborhood.

These architectures will make you fall in love with Rome and even more when you try a street food tour with a guide – a perfect way to cap a day filled with visits on tourist spots.

Try to spend at least 3 days in Rome to have enough time to visit both the most important attractions and lesser-known but worth a visit places.

Apart from the above-mentioned landmarks, you can also visit the Navona Square and the Square of Spain with the Spanish steps, the Trevi fountain, the Pantheon, and People's Square.

See all the stops in our Rome itinerary which you can read here:

Colosseum
The Roman Forum
Pantheon
Navona Square
Trevi Fountain
Square of Spain
Vatican City
Mausoleum of Hadrian
Mouth of Truth
Trastevere neighbourhood
People's Square
Pyramid of Caius Cestius
The non-Catholic cemetery of Rome
The Orange Trees Garden and the Small Keyhole
The Catacombs

Dreaming of a stay close to the world's most famous fountain? Stay at Trevi Chic House to stay seconds away from the top attractions in Rome.

How to get from Florence to Rome

Most of the trains leaving Florence S. Maria Novella station are arriving at Roma Termini station.

So that's the station to look for when checking your train choices. You can select Frecciarossa and Frecciargento train routes for direct trains.

2 days in Naples

It is no secret that Naples is the ultimate pizza lover's destination!

But is that all? We don't think so…

In Naples, there's much more than pizza, rum babà, and sfogliatelle, all delicious food to taste at least once in life.

Spend at least 2 days in the city to admire the beauty of Plebiscito Square and the nearby Neoclassical-style S. Carlo Theatre.

You can also walk down the fabulous architecture of the Umberto I Gallery and visit the National Archaeological Museum to get an idea of how was life in the Vesuvius area around 79 AD.

There are some fascinating corners and places in the city to not miss, first: Spaccanapoli, the street which divides Naples into two and where you'll find the best street food.

Be sure to check out Underground Naples with this guided tour, the S. Chiara monastery and cloister plus the San Severo chapel.

Finish one of your days with a romantic walk along Caracciolo promenade to enjoy a stunning view of the Gulf of Naples.

See all the stops in our Naples itinerary which you can read here:

Plebiscito Square
Umberto I Gallery
National Archeological Museum
Via Caracciolo and Naples Lungomare
Castel dell'Ovo
Spaccanapoli
Cappella San Severo
Santa Chiara complex and Majolica Cloister
Underground Naples
Castel Sant'Elmo

Book a stay at Le Mummarelle, to admire the Gulf of Naples from your room (only) 400 meters away from Piazza Plebiscito and Castel dell'Ovo.

How to get from Rome to Naples

From Roma Termini there are tens of different train routes you can choose from.

Always consult the Trenitalia.it website to get the most convenient one.

The station you'll arrive at is called Napoli Centrale. Again the Frecciarossa trains are always the best option but also the most expensive one.

You can find direct trains selecting some Intercity train (IC) routes too, although the ride might be one hour long.

3 days in Sorrento and Amalfi Coast

This 2 week Italy itinerary includes stunning beach destinations like Sorrento and the Amalfi Coast! This is where your Italian escape will end.

A full day tour of Sorrento, Positano and Amalfi is the perfect package to cap off your Italian escapade with comfort and convenience.

Sorrento is a historic coastal town facing the Tyrrhenian Sea and the place where the popular limoncello liquor comes from too.

Stroll around Piazza Tasso (it's packed with restaurants), visit the Church of San Francesco and admire a sunset over the Gulf of Naples from the Villa Comunale Park.

Sorrento is also well-connected by ferry to Capri if you are already thinking of doing a day trip.

The last stop is the Amalfi Coast. Don't miss a visit to Positano and Amalfi. Both wedged between high coastal cliffs, they offer a dramatic view over the Mediterranean Sea.

See our Sorrento and Amalfi Coast itinerary for details on the below:

Day 1 in Sorrento
Day 2 & 3 in Amalfi Coast

The quaint town is dotted with independent shops, cafés, seafood restaurants, and churches. The best panoramic spot in Positano is near Le Sirenuse Hotel and in Amalfi the Belvedere Cimitero Monumentale.

How to get from Naples to Sorrento

Read our Naples to Sorrento here. From Napoli Centrale station take the Circumvesuviana train to get to Sorrento station. It's a direct train that takes 50 minutes (express) or an hour and 10 minutes to get to Sorrento.

There are some interesting stops along with the ways such as Pompeii and Ercolano, archeological sites as well as Meta and Vico Equense if you want to spend a day at the beach.

Italy Travel Tips

See our list of travel tips to take with you:

All the citys and towns we have suggested above are designed for you to be able see some of the Italy's most popular landmarks.
Remember to get your FREE travel insurance quote from SafetyWing to receive fully comprehensive support when it comes to unforeseen travel complications.
If you are traveling alone, be sure to 'always' carry your cell phone along with you, if you have one that is. Even if you are just popping out of your hotel to go to the main square.
Check out the Trenitalia website to see how all of the train stations are connected if you'll be using public transport.
Check out all the amazing tours in Italy that you can do whilst exploring the stops suggested in this 2 week itinerary.
Try to carry cash and items of value with you at all time in a front or inside pocket, you'll find Pacsafe make some great bags/backpacks for traveling around with valuables.

What to Pack for Italy

If you're wondering what to pack before leaving for your 2 weeks in Italy, check out this list of items to add to your bag/luggage:

Passport and visa – The passport is the most important document that you should never forget to carry with you when travelling. If you need a visa in advance depends on the country where you're coming from, remember to check well in advance.
European Travel adaptor – These are essential to charge your phone and camera, if you're arriving from another European country or from elsewhere.
Euros – We recommend exchanging some money before leaving, they can be quite handy in a country like Italy where it's still widespread the use of cash.
Italian phrase book – This can be quite handy to carry with you all the times, if you need to ask for directions or help in Italian.
International driving permit – If you're planning to rent a car in Italy, and you come from outside Europe, you need to get an international driving permit before leaving your country.
Eco water bottle – A refillable water bottle that can keep your water fresh is a great item to put in your bag. There are many cities where you can find fountains with drinking water such as Rome or Venice!

Best time to visit Italy

The best time of the year to visit Italy is between April and October to enjoy pleasant and mild temperatures. For us, Italy in April is the perfect time.

Bear in mind that summer in Italy (July and August) can be very hot, so ideally avoid these two months.

We recommend avoiding August more than any other month because most of the Italian (and European) people are on holiday.

This means higher prices of flights, trains, accommodations, and in general busier streets and attractions.

The cities can be visited all year round but avoid cities in the north of Italy during wintertime if you're looking for mild temperatures.

Here, winter can be quite cold, with a higher chance of rain and foggy days. Avoid visiting Venice during the months of November and December because of the high tide (which can be up to 1.5 meters).

2 Week Italy itinerary

Now you should have a solid idea of how to spend 2 weeks in Italy and get fully acquainted with this beautiful country.

Got some time to learn more about Italy before you embark on your travels? See these books about Italy that should give you a deeper insight into the culture and customs of life in Italy.

---

This post contains affiliate links, meaning, if you click through and make a purchase or sign up for a program, we may earn a commission. This is at no additional cost to you.