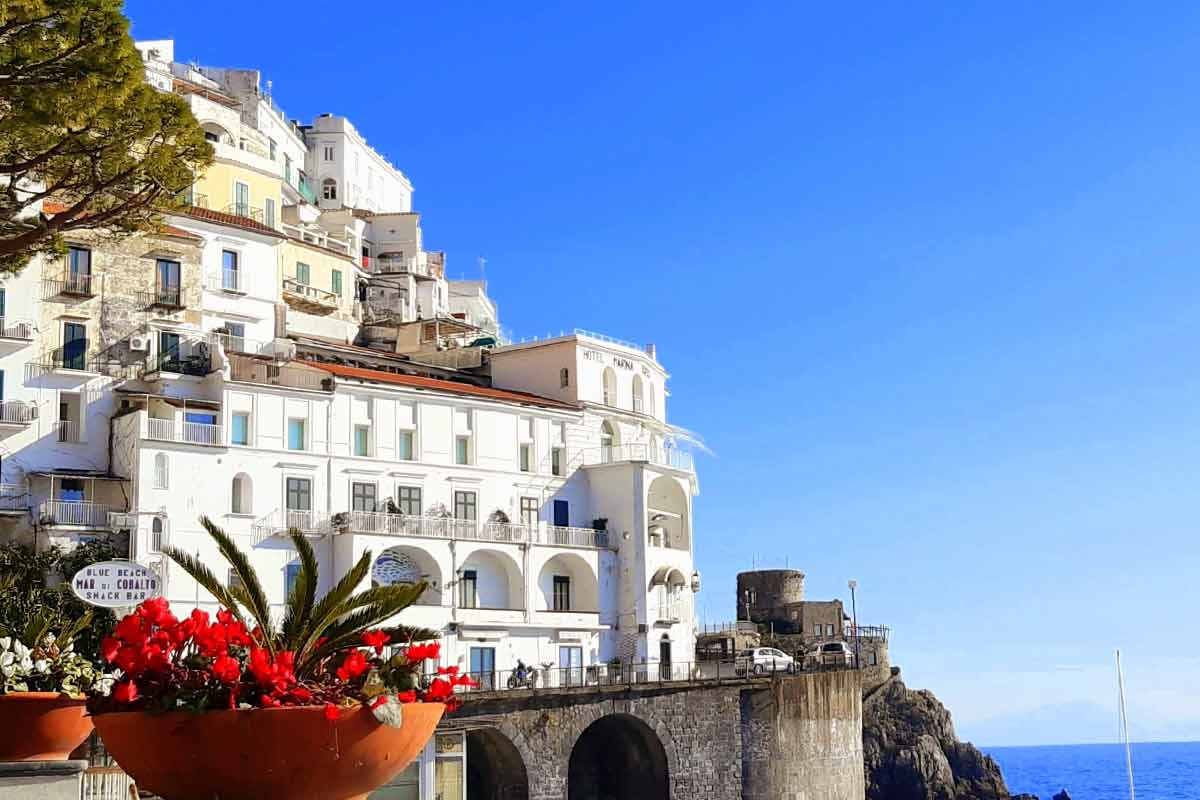 Welcome to our practical guide on how to get from Naples to the Amalfi Coast.
The Amalfi Coast is a geographical area that extends for 50 kilometers on the coastline, in the province of Salerno.
Known by many as one of Italy's most sought-after vacation spots, the Amalfi Coast is located in the Campania region of southern Italy.
The beautiful coastline is bathed by the blue waters of the Tyrrhenian Sea, dotted by lemon groves and picturesque small fishing villages.
Naples to Amalfi Coast
The famous coast is not far from Naples and with this post we'll explain how to get from Naples to the Amalfi Coast by train, bus, car and private transfer.
Is Amalfi Coast worth visiting?
Before we get into all the finer details when it comes to transport, we would like to look at whether traveling to the Amalfi coast is actually worth your time or not.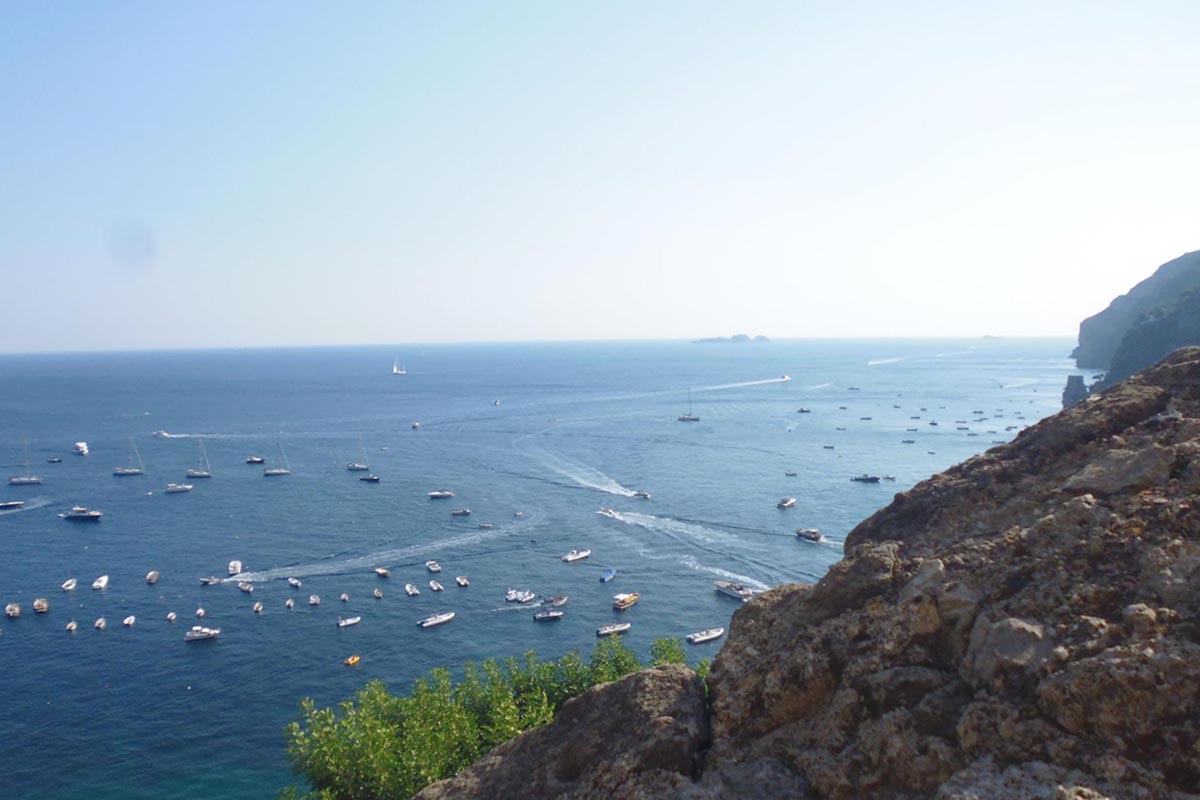 We believe, no matter how much time you have, whether it be a week or less, the Amalfi Coast is a place worth visiting and below are just some reasons why:
The Amalfi Coast offers incredible views and landscapes that you can only admire here. In fact, this part of the region has been declared a UNESCO World Heritage Site for its physical beauty and natural diversity. Therefore, if you're currently in Naples, don't miss the chance to visit the coast which is more or less only an hour's drive away.
The Amalfi Coast weather is pleasant all year long. Winters are definitely colder with a higher chance of rain, but the sea is mitigating the temperatures and making this region a great one to visit whenever you wish. The best time of the year to be here is spring as well September/early October when there are fewer tourists.
This part of the region offers a wide range of things to see and do! First, take time to stroll around the lovely villages of Positano, Amalfi and Ravello or the lesser-known Maiori, Vietri sul Mare and Atrani. Go hiking on the Path of the Gods to enjoy incredible views of the landscapes. Taste the delicious products and dishes of this land, on top of the list the famous limoncello and the pasta with colatura di alici.
Most travelers planning their Naples itinerary make this coastal destination a highlight and we think 3-4 days is perfect for an all-encompassing trip here.
So, now that you have a better idea of why this part of the region is worth visiting, let's start to get into how to can get from Naples to the Amalfi Coast. But first…
How far is Amalfi Coast from Naples?
The Amalfi Coast is 58 kilometers away from Naples. It takes 1 hour and 15 minutes to get there by car, depending on the road and traffic conditions.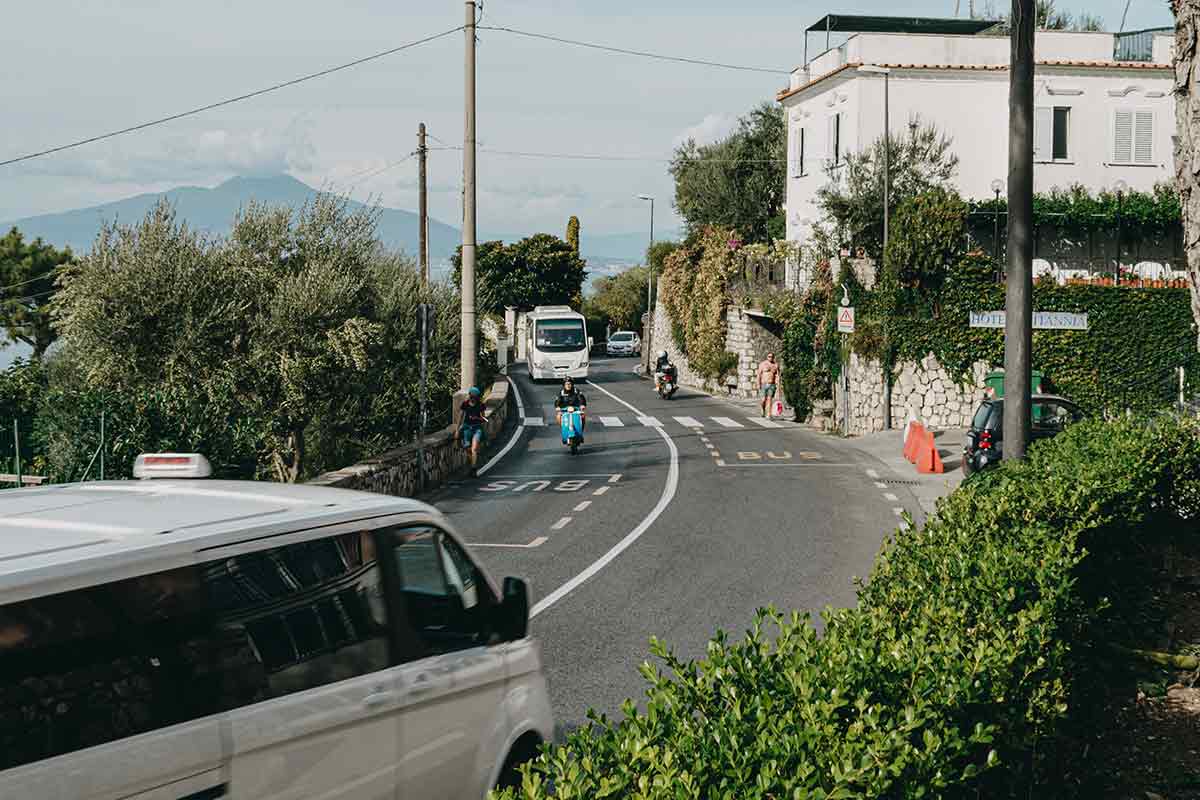 From Naples, you can choose to rent a car and drive to the Amalfi Coast. Or, if you prefer, get a train or bus, especially if you're traveling on a budget. The scenic road where all the villages and towns are located is the SS163.
Positano is the first village you can stop at if arriving from Naples, followed by Praiano, Amalfi, Atrani and Ravello. If you're looking for lesser tourist places to visit, just keep driving further up to Maiori, Minori, Cetara or Vietri sul Mare.
Where to Stay in Amalfi Coast
Below are some of our favorite recommendations on where to stay: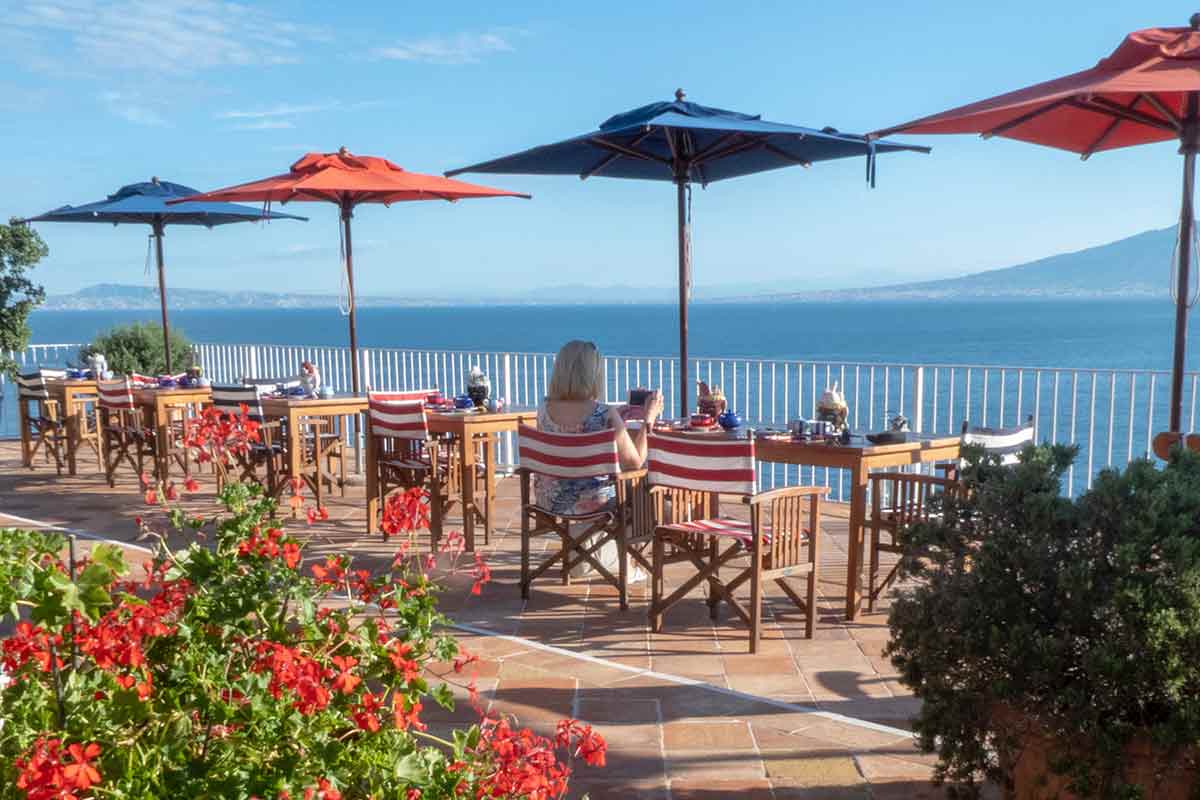 If you're a first time visitor, you could stay in towns like Positano and Amalfi, but we also understand you maybe looking for a more secluded experience, far away from the crowds, and for this reason, take a look at the latter option.
Hotel Marincanto – a stunning 4-star property facing the blue Tyrrhenian Sea, close to the beach and Positano city center. It's the perfect place for a romantic retreat and to enjoy amazing views of the town and the sea from its panoramic terraces. You can also have access to its wellness area, the infinity pool and private beach.
Hotel Luna Convento – the 4-star hotel is a former 12th century convent with a romantic central courtyard. At the Hotel Luna Convento you can relax by the lounge area of the swimming pool and have lunch or dinner at the 2 restaurants of the property. The center of Amalfi is only a few minute's walk from here.
Hotel Villa Maria – this hotel is based in Ravello, only 10 minutes walk to the nearest beach. Located on a former's nobleman retreat, it features Liberty and Art Deco-style guest rooms and spaces with lovely Vietri tiles and Murano glasses.
How to get from Naples to Amalfi Coast
Now that you know exactly where the Amalfi Coast is (in relation to Naples) and why it's worth planning a trip, or an overnight stay, let's look at how you can get from Naples to the Amalfi Coast by train, car, bus and private transfer.
Train from Naples to Amalfi Coast
If you want to travel by train from Naples to the Amalfi Coast, the first thing you should know is that there are no railway stations in the Amalfi Coast. The best way to get here is to travel by train to Sorrento and from Sorrento get the bus.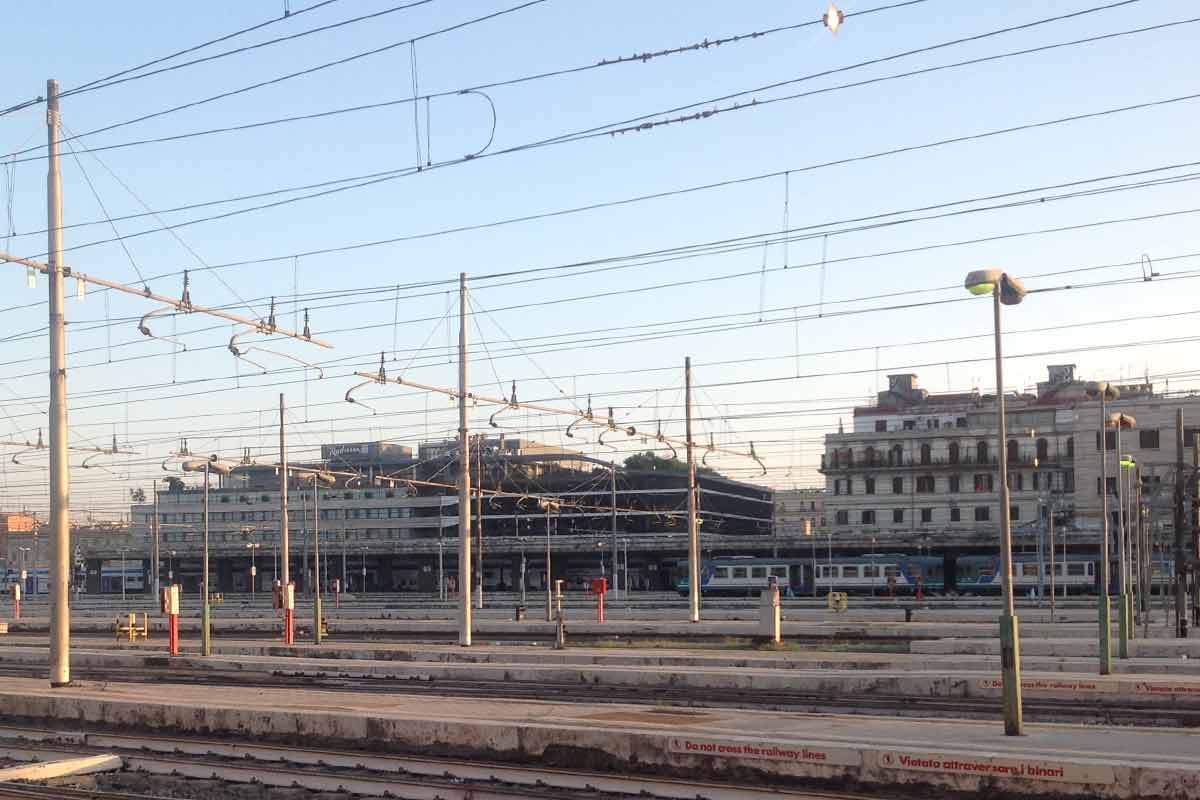 See the two different options and steps to take to get there below:
Via Circumvesuviana train: leaving from (platform 3) the lower level of Napoli Centrale station, right below where the high-speed train platforms are. Sorrento is the last train stop and it takes around an hour to reach the coastal town.
Trains leave every half an hour during the high season, from 6 am to 9 pm, and the ticket cost is 3.60 euros. Once you get to Sorrento railway station, you can get the SITA bus 5070 to get to Positano and Amalfi.
Via Campania Express train: which is a better option compared to the Circumvesuviana train as it's faster. You can also get luggage storage and guaranteed seat with the express train.
The ticket cost is 8 euros and you can expect to get to Sorrento in 45 minutes. Once again, once you'll get to Sorrento, you can hop on a SITA bus 5070 to reach the Amalfi Coast in less than an hour.
If you want to get to other towns or villages of the Amalfi Coast, then you can get other buses from Positano or Amalfi. For example, the bus 5110 from Positano or Amalfi goes to Ravello and the 5120 stops in Minori and Maiori.
Driving from Naples to Amalfi Coast
If you decide to hire a car to get from Naples to the Amalfi Coast, then the fastest route to get there is via A3 and SS145. The A3 is the motorway and the SS145 is a statal road.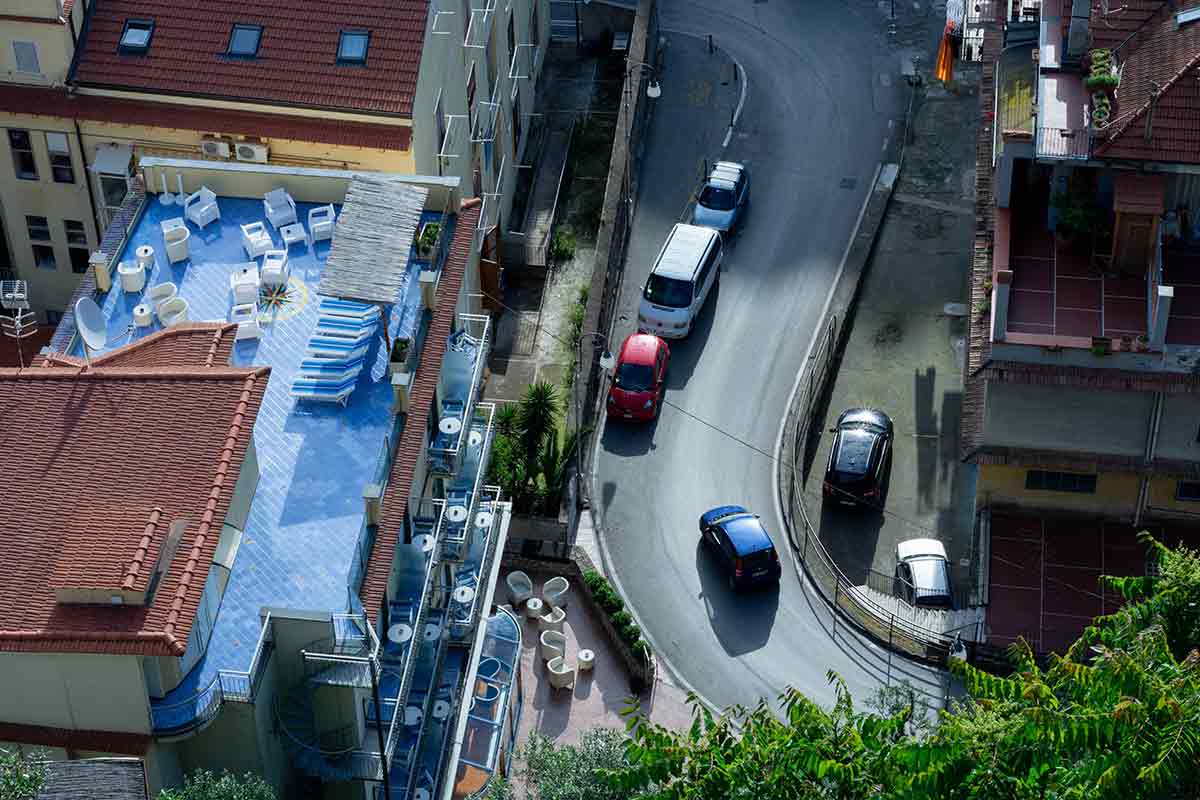 It takes one hour and 20 minutes to get to Positano from Naples (58 kilometres). There will be a toll to pay to access the motorway of around 2 euros. Once you'll get to Piano di Sorrento, get to the road SS163 with direction Positano.
This is a scenic windy road that runs along the whole Amalfi Coast and allows you to get to all the villages and towns. It's a wonderful drive but also a bit dangerous as the roads are quite narrow with many hairpin bends along the way.
Take your time to make a pit stop along the way to your final destination so you can enjoy the view! Expect to find traffic at peak time, avoid them if possible and travel early in the morning or in the night.
🇮🇹 Since you'll be traveling around the region, we recommend you carry an
Italian phrase book
so you can familiarize yourself with the language.
Bus from Naples to Amalfi Coast
You can also get the bus from Naples to the Amalfi Coast if you want to. This is the cheapest way to get to the famous coast, but one that will take a bit longer.
In this case, the two buses on this service won't stop in Positano but in other coastal towns such as Amalfi, Furore, Cetara, Maiori, Minori and Vietri sul Mare.
The two bus options are:
SITA bus 5020 – this bus will take 2 hours and 15 minutes to get to Amalfi, unless you decide to stop before. In fact, this bus option will you give you the chance to stop in Vietri sul Mare, Cetara, Maiori, Minori and Atrani. The bus leaves from Napoli Varco Immacolatella.
SITA bus 5080 – this bus is a good option if you want to visit the famous beach of Furore or Agerola. The bus leaves from Via Depretis (near the Maschio Angioino and Molo Beverello) near the port in Naples.
If you want to get to Positano, then we recommend getting to Sorrento by train or by bus. The best company providing the service is Flixbus, leaving from the Metropark Centrale in Naples. Once you get to Sorrento, get the SITA bus 5070 with direction Positano.
Private Transfer
In case you don't want to deal with public transport or rent a car, then you can rely on this shared transfer from Naples airport to Sorrento and Positano.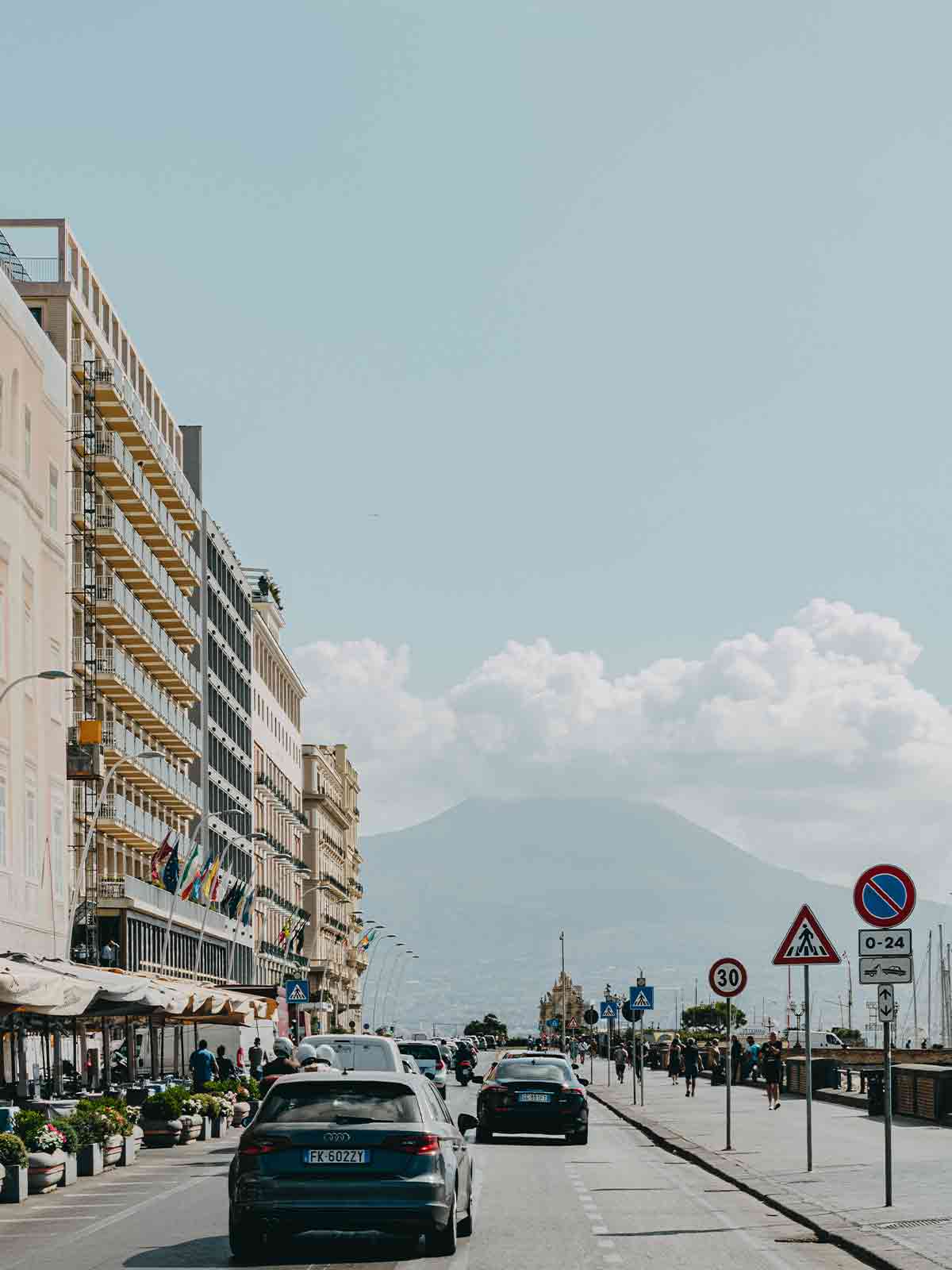 A private minibus will pick you up from Naples International airport and take you to your accommodation in Positano, in the Amalfi Coast. Instead of the usual taxi service, this option is a lot cheaper because you'll share the journey with other people.
A great alternative, in particular, if you're traveling with lots of luggage as there's space for one large suitcase and one carry-on baggage per person.
You can meet your driver at the Info Point inside the arrival hall of the airport that will take you straight to your final destination.
Day trip from Naples to Amalfi Coast
Let's say that you're visiting Naples and have enough time to squeeze in a day trip to Amalfi Coast in your itinerary! Everybody knows that the Amalfi Coast is one of those places you have to see at least once in your lifetime.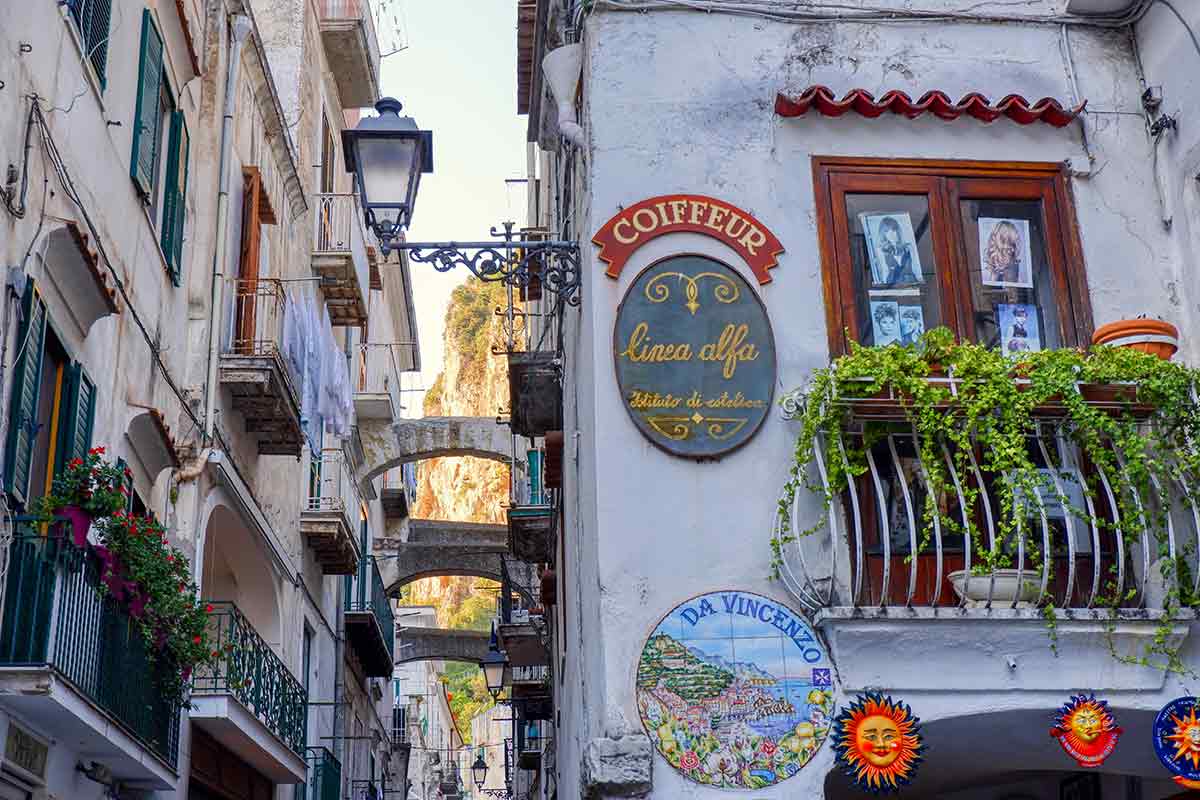 Check out this Sorrento, Positano and Amalfi day tour, if you want to visit towns like Positano and Amalfi in one day, without thinking about how to get there.
A driver will pick you up at selected hotels or from other pick-up points in Naples and stop in Sorrento, Positano and Amalfi where you'll have some free time to visit the city centers and beaches of each town.
All you have to think about is enjoying the ride, learn about the Amalfi Coast through the live commentary on board and explore the villages once you arrive.
Getting from Naples to Amalfi Coast
As you can see, getting from Naples to the Amalfi Coast is easy and there are many different options available for you in the way of getting there.
Like always, depending on your budget, time and style of travel, you can pick and choose the option that resonates more with you and your specific needs.
What we can say is, don't think twice about visiting the Amalfi Coast, which we believe is one of Italy's most beautiful coastslines if not, the world's!
Also, if you're looking for more tips and ideas on what to do once you get there, check out this EPIC 4 days in Amalfi Coast itinerary for more travel inspiration.
---
Dear responsible traveler: This post may contain affiliate links, which means, if you click through and make a purchase, book a tour or a hotel, we may earn a small commission. This is at no additional cost to you. Your support means a lot and helps us to maintain the quality of this site.