This guide on how many days to spend in Venice is for you if you have a couple of days available and are currently deciding where to go next.
Or, you looked at some pictures and videos of Venice and are now asking yourself, how many days in Venice should I spend?
How Many days in Venice
Below we'll explain the reasons why you should visit Venice and how much time to spend exploring the most beautiful city on the water.
Is Venice Worth Visiting?
Venice, it's just one of a kind! There's no other place in the world where mankind found the perfect way to live on tens of different small islands and kept improving their way to be here over the centuries. Consider that you can easily reach every place of Venice on foot or by taking a local ferry and gondolas!
Being in Venice is not that different from the experience you live when visiting an art gallery or museum's hallways and rooms. Venice is nothing less than an open-air museum! Whether you are on the top of the St. Mark's Campanile admiring the spectacular view of the Venetian lagoon or on a gondola ride in a hidden canal far from the crowds, you'll still be able to fill your eyes of great beauty, wherever you are or go in Venice!
During some times of the year there are too many tourists in Venice. Despite this, there are still thousands off-the-beaten-track spots where you can experience the most authentic side of the city! That this means eating a traditional Venetian dish suggested by a local person or exploring the lesser-known 'sestieri' of the city, it's up to you to find your own way to live in Venice.
With this in mind you'll see some of the feats Venice is famous for and how your visit can have a positive or negative impact on the environment.
Impacts of tourism in Venice
The negative impact of tourism in Venice is quite consolidated and there are many reasons why it's becoming a growing threat for the city.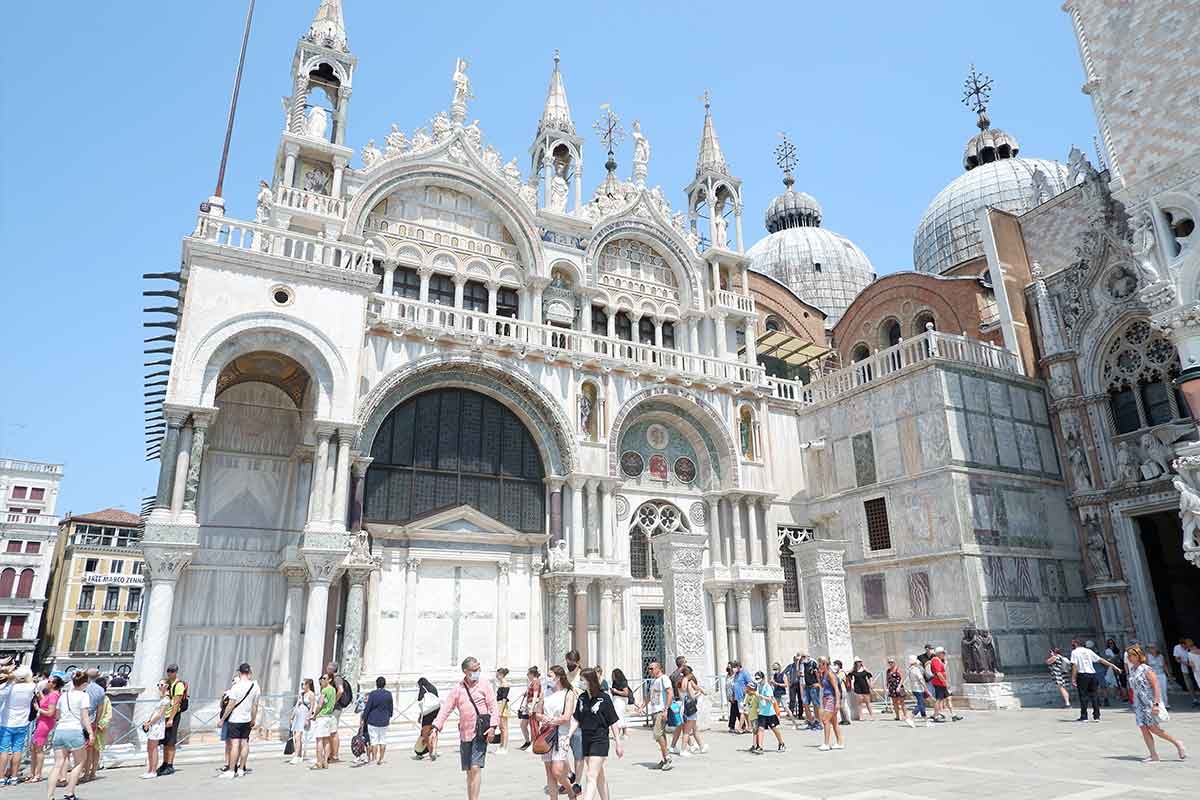 One of the main reasons is the sheer (and unsustainable) amount of tourists during certain times of the year (e.g the Venice Carnival).
The first reason why this considered unsustainable, it's connected to environmental degradation caused by tourists.
One of the most damaging impact is caused by the cruises getting too close to the St. Mark's square area and the day trippers, spending a few hours only and overcrowding the main streets and attractions.
From a social point of view, tourism also has a negative impact on Venice!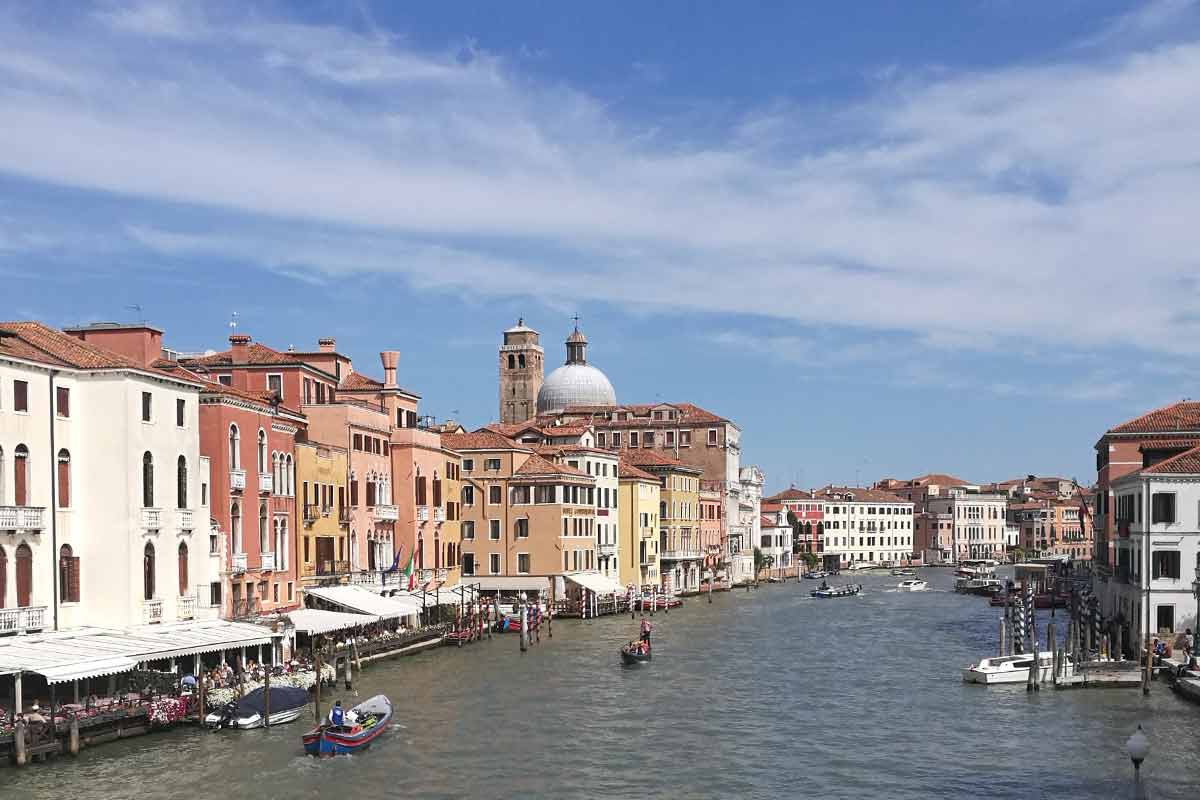 The rising number of tourists is affecting the life of local people who are seeing a real 'invasion' of their spaces with frequent incivility episodes.
As a consequence, residents leave the city and move to the mainland.
By choosing to spend more than a day in Venice, you're making a smarter choice as a tourist in this city.
The impact of visitors is better if spread over more days and during different times of the year, even better during the off-season or the shoulder seasons.
You can also see our sustainable travel tips to ensure your trip has a more positive impact on the local environment.
How Many days in Venice is Enough?
For visitors to Venice who don't have much time and want to explore the city at their own place, we'd recommend a minimum of 2 days in Venice.
Is one day enough for Venice?
Whether you're adding Venice as a stop in your more elaborate 2 week Italy itinerary and think that one day in Venice is enough, from our point of view is definitely not the best choice to spend just a day in the city.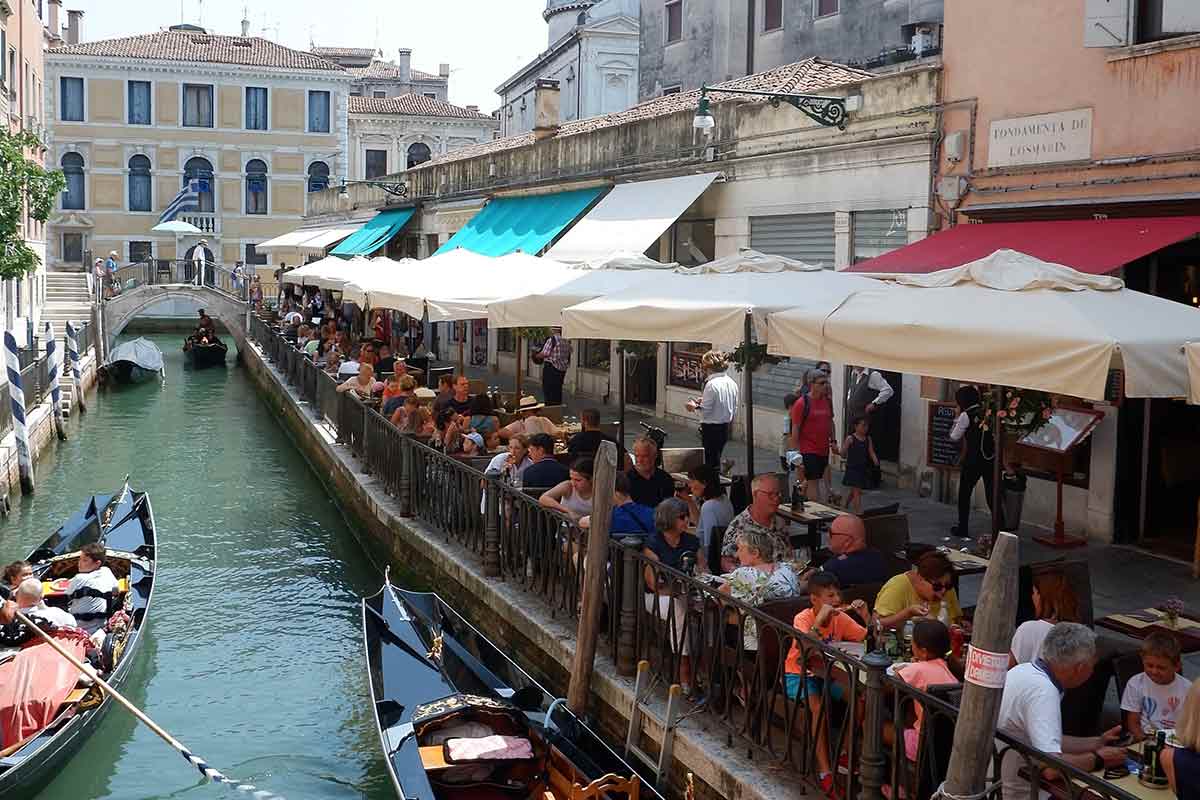 Spending one day in Venice means wanting to put a tick on the box on the most famous landmarks such as the St. Mark's Square, St. Mark's Basilica, the Doge Palace, and Bridge of Sighs.
We're not saying that this is not possible, but remember that these are also the most crowded places of the city.
You'll have just (and less) than 24 hours to get around Venice on foot or by ferry means that you'll meet all these crowds at every landmark.
You can get skip-the-line access to museums and palaces, but you're going to be surrounded by thousand of other people anyway.
If you have the opportunity to stay for longer in Venice, then go for it! This is the best decision you can take to make the most of your trip here.
Is 2 Days in Venice enough?
We shortly outlined why spending only one day in Venice could turn out to be a nightmare. But is it 2 days, a good amount of time to visit the city?
It's definitely a lot better!
With the different modes of transport in Venice, spending 2 days means having more time to spread your time out and see more iconic landmarks.
If you end up planning your time wisely, you can also avoid most of the crowds.
We still suggest buying the skip-the-line access to get inside them, this guided tour will allow you to visit both the Doge Palace and St. Mark's Basilica, without wasting time waiting on the queue.
Moreover, you can add to the list other amazing places located in different and less visited districts of the city, like Canareggio or Dorsoduro, that are not that far from San Marco.
Why not try reading our 2 days in Venice article to understand where else you can spend your time on the floating city?
We advise taking time to freely stroll around the narrow streets called 'calli' and the 'piazzas' (squares) without having a 'pre-fixed destination'.
Getting lost in Venice may prove to be a real blessing! For sure, it's during these times that you'll get to experience its authentic and real side.
Is a week in Venice too long?
Staying for a week in Venice, means having all the necessary time to explore the important tourist attractions scattered in the different districts of Venice and add some hidden gems to your itineraries too.
In a week's time, you can plan, first a visit to other islands in the lagoon such as Murano, Burano or lesser known ones like San Giorgio Maggiore.
You'll still have time to arrange a couple of day trips from Venice too, if you want.
Other great ideas for Venice include:
Take the train to Treviso
Explore Padua or Verona for a day
Visit the dreamy Prosecco Hills

These are great day trips to get a real taste of the Veneto region!

If you're wondering, is a week only in Venice too much? Even after a month, you'll be surprised by the number of things to do in Venice!

Also, discovering other places in the lagoon and the region is a great way to take a break from all the walking you do on a daily basis in Venice.

Our recommended amount of days in Venice

We recommend spending 3 days in Venice and add another day to visit nearby islands or the Lido where you can relax at the beach and organize a day trip to a different Veneto city.

Venetian masks

So, how many days in Venice should you spend? 4 days in Venice is a good compromise time-wise.

In four days you can visit the popular landmark:

Explore the San Marco district
The Rialto Bridge
Take a gondola ride on the Grand Canal

and take time to see less-touristic places like the Jewish Ghetto or admire the sunset from the romantic Riva degli Schiavoni.

In four days, you'll have enough time to eat the traditional Venetian dishes and know more about the city's lifestyle like how you can get around and all the possible alternative ways to visit Venice.

For a lovely stay in the historical center, we suggest the hotel La Finestra sulle Beccarie, only 400 meters away from St. Mark's Square, in the San Polo district.

Canal views in Venice

This way, your visit to Venice will have a lower impact on the environment and local population, in particular, if you arrive here informed about the issues that this city is facing.

Remember, a responsible choice is not to travel during big events and during the summer.

You can follow the 12 good rules of the responsible visitor to #EnjoyRespectVenezia.

Where to Stay in Venice

Below are some hotels in Venice we recommend that you stay at:

UNAHOTELS Ala Venezia – Just 10 minutes walk from St. Mark's Square this hotel has rooms overlooking both canals and squares, so you can get a real taste of Venetian life. This hotel is located inside an 18th-century palace that features Venetian furniture in its double rooms. This hotel is perfect for couples looking for a romantic and relaxing stay.
Palazzo Veneziano – This 4-star hotel based in the Dorsoduro district, is off the beaten path and has economy, classic and superior double rooms. In some rooms you'll find parquet floors and marble bathrooms, plus some of them have spa baths.
Hotel L'Orologio – Situated close to the Rialto Bridge and Campo San Polo in the lively San Polo neighborhood, this makes the ideal location for visiting Venice's main attractions and to get immediate access to some of best bacari in Venice as well as restaurants.

Best Guided Tours in Venice

Like with most European cities doing a guided day tour or a day trip can give you the perfect chance to see more than what you'd usually see within a much shorter time frame.

Doing tours in Venice

One of the best ways to explore Venice is by joining a tour.

When you decide to join one of the many tours, you'll get the chance to have a local guide that can explain the history, traditions, and Venetian culture in-depth, and you can ask questions too!

Bridge in Venice

Most of the time is a Venetian guide speaking your language that will take you to the best places where to have a traditional meal.

They'll also give you:

Extra tips to get around the city
Unmissable secret spots to take the best pictures

Also, your guides can take you to independent souvenir shops where to buy a Venetian souvenir that supports local people instead of giving money to big shop chains or buying non-authentic products.

Doge's Palace & St. Mark's Basilica with Terrace Access Tour

This Doge's Palace and St. Mark's Basilica (with Terrace Access Tour) includes a visit to two of the most iconic landmarks of Venice, with priority entrance to the Doge's Palace.

You'll be guided by a local and expert guide that during your tour will share interesting facts about the history of Venice.

Additionally, to enjoy a great view of the square and the city, you'll have complete access to the Basilica's terrace on the first floor.

Venice Highlights Tour

Take a look at this Venice: Highlights Tour, during which you'll spend 3 hours visiting the city with a local guide.

You don't need to worry about purchasing the tickets to the attractions as they'll be pre-reserved. You'll be exploring Venice with a small group of people for a more personalized and intimate experience.

Don't be afraid of asking questions to your guide that can share useful information to get around the city with confidence.

Boat Trip to Murano, Torcello & Burano Islands

It's time to explore other islands of the lagoon but you're not sure how to get there and make the most of your time during your trip?

A day in Burano

Then the Glimpse of Murano, Torcello, and Burano Islands is the best choice! You can leave from St. Mark's Square or Santa Lucia railway station by ferry and visit these 3 islands.

Your transport will be provided for the whole time. There'll be an onboard tour guide giving you a few information about each island.

During this trip you'll watch a master glass blowers class at a glass factory in Murano, visit the small Torcello island and admire the colorful houses and streets of Burano!

Prosecco Wine and Tastings Tour from Venice

If you're looking for tours to discover what else this region has to offer, then we recommend the Prosecco Wine and Tastings Tour from Venice. This tour is 8 hours long and start from Venice.

It's the best tour for visiting the heart of the Prosecco DOCG producing area.

You'll have access to 2 wineries and to a tasting experience during which you can try different varieties or Prosecco with a local guide.

You'll also have lunch at a traditional and rustic trattoria on the hills.

How Many days in Venice

Now you should have a better idea of what to expect from this city if visited in one day and what to take into account when deciding how many days in Venice to spend.

To enjoy every single moment in this incredible and unique floating city take your time and, if possible, stay for at least four days.

You can add day trips around the lagoon and learn more about other beautiful Veneto cities.

To visit the city on foot and get the most of your first day in Venice, don't forget to read our one day in Venice itinerary for invaluable tips.

---

This post contains affiliate links, meaning, if you click through and make a purchase or sign up for a program, we may earn a commission. This is at no additional cost to you.