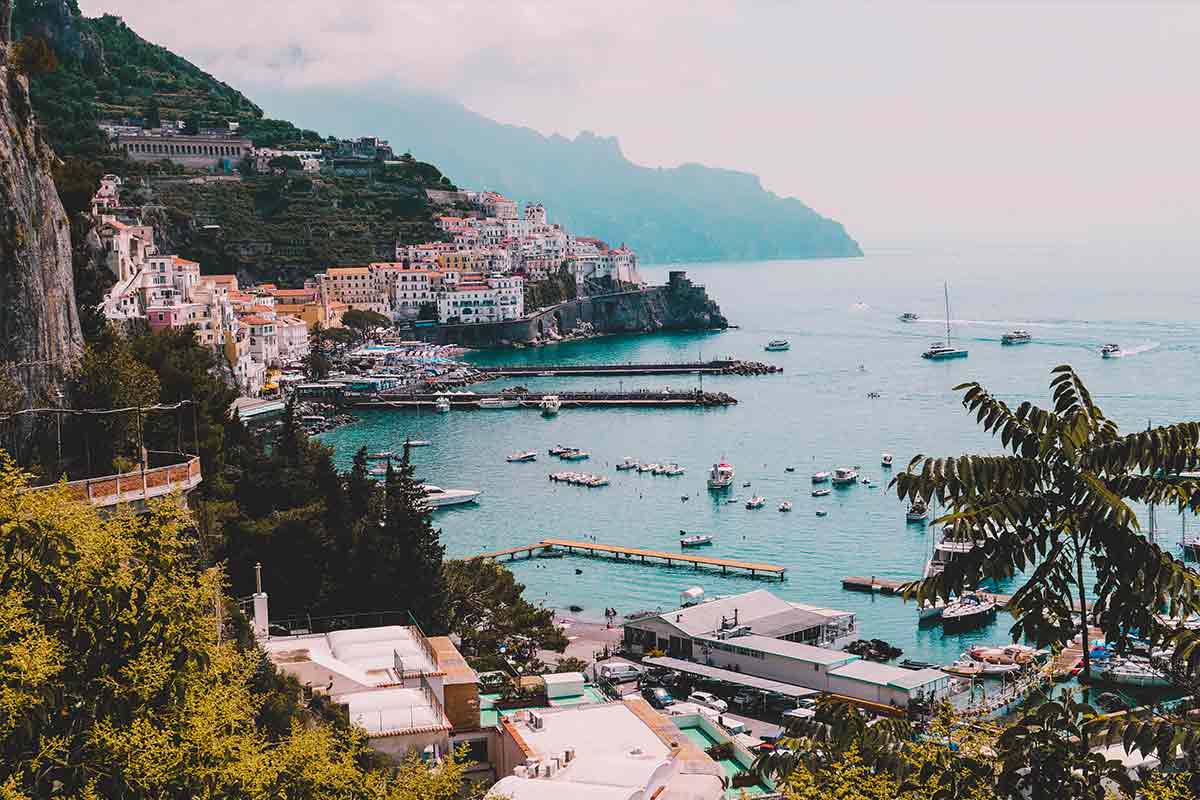 Welcome to this 4 Days in Amalfi Coast itinerary.
Stretching roughly 50km along the Tyrrhenian coastline in Southern Italy, The Amalfi Coast is one of the most popular places to visit in Europe.
With sprawling cliffs, charming port towns, and a variety of beautiful islands to visit, The Amalfi Coast has it all. With visitors spending many days or even weeks discovering the region and its nearby destinations.
4 days in Amalfi Coast
We recommend a minimum of four days to be able to properly explore The Amalfi Coast, which includes many of the popular destinations, as well as a couple of close-by experiences that simply cannot be missed.
If you read our 2 weeks in Italy itinerary you'll find a shorter more compact itinerary covering the Amalfi Coast and Sorrento in just 3 days.
Best Time to Visit The Amalfi Coast
The weather in The Amalfi Coast is best described as typical Mediterranean weather, and follows a similar annual pattern to the rest of Southern Europe.
The summer season, which runs from June until September, is the best time to visit this beautiful region of Italy.
During summer, you can take this full-day trip to the Amalfi coast to see the best examples of Mediterranean beauty and culture.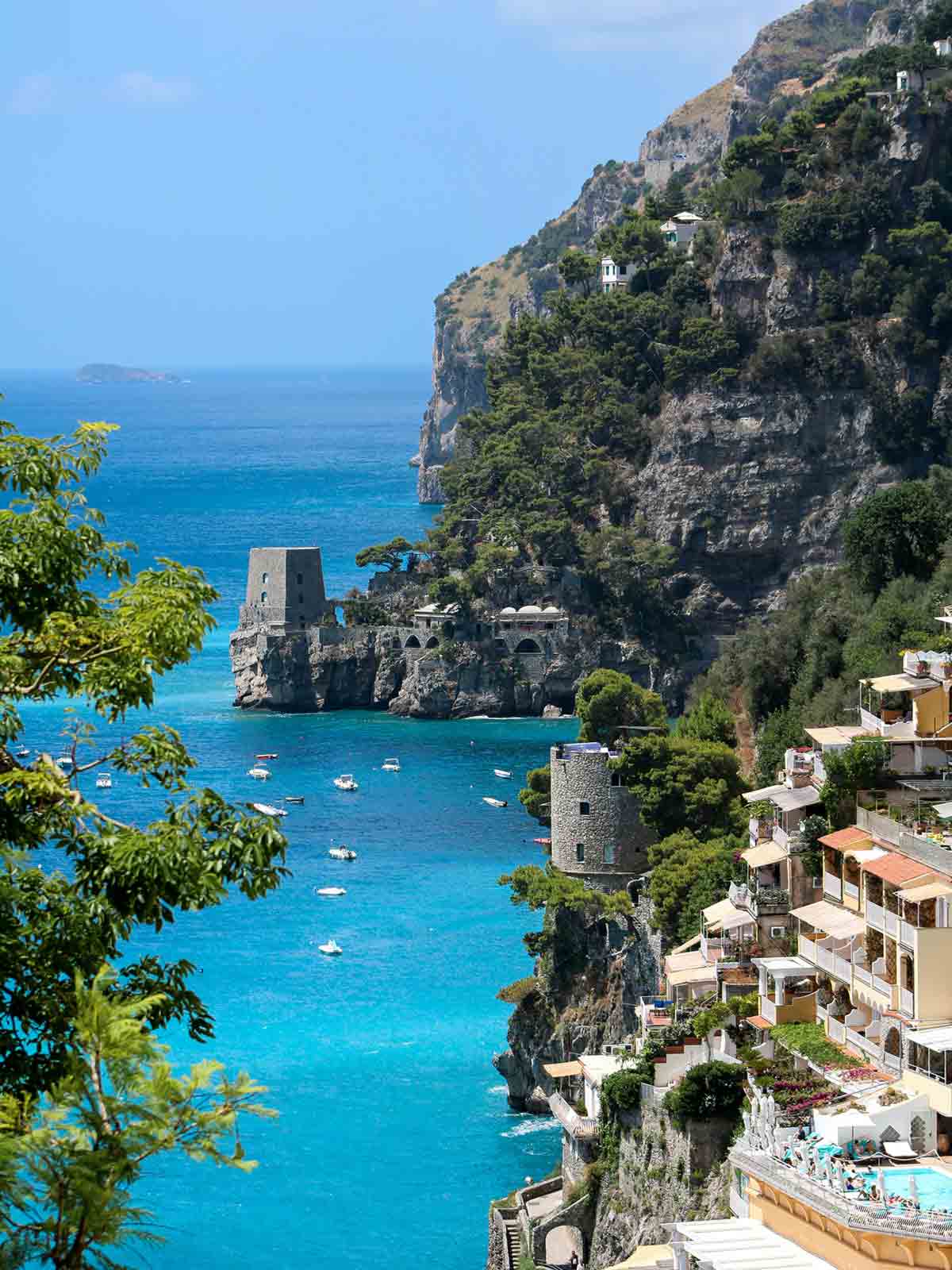 You'll be glad to know that the average temperatures range from 70-75°F, with highs of up to 84°F, and lows of a comfortable 59-64°F. July and August are historically the hottest months to visit The Amalfi Coast.
The winter season is much cooler, however still a nice time to explore the region. Especially so, if you'll be renting a car to travel the region?
With average temperatures ranging from 47-55°F, it's a lot chillier, although highs can reach up to 63°F on a good day. Lows can drop as far as 37°F, so make sure you bring warm layers and a coat.
Rainfall is fairly consistent throughout the year, which ranges from 25-45mm for each month. December is the exception, with around 65mm falling on an average of 16 rainy days.
The driest month to visit The Amalfi Coast is in July, with an average of 5 days of rainfall from previous years.
Amalfi Coast Itinerary
Below is our Amalfi Coast itinerary which we feel covers some of the most popular destinations which you can visit in a short space of time.
Although we aim to make this feasible, it's worth noting that this itinerary isn't extreme on-time efficiency – meaning there will be a few hours free here and there. This leaves time for you to 'get lost' on the Amalfi Coast.
Day 1:
On our first day on the Amalfi Coast, we'll spend relaxing and taking in the picturesque views, at a very slow and comfortable pace.
First, we'll head to the stunning town of Positano, where you can walk around the steep inclines and take in the coastline panoramas.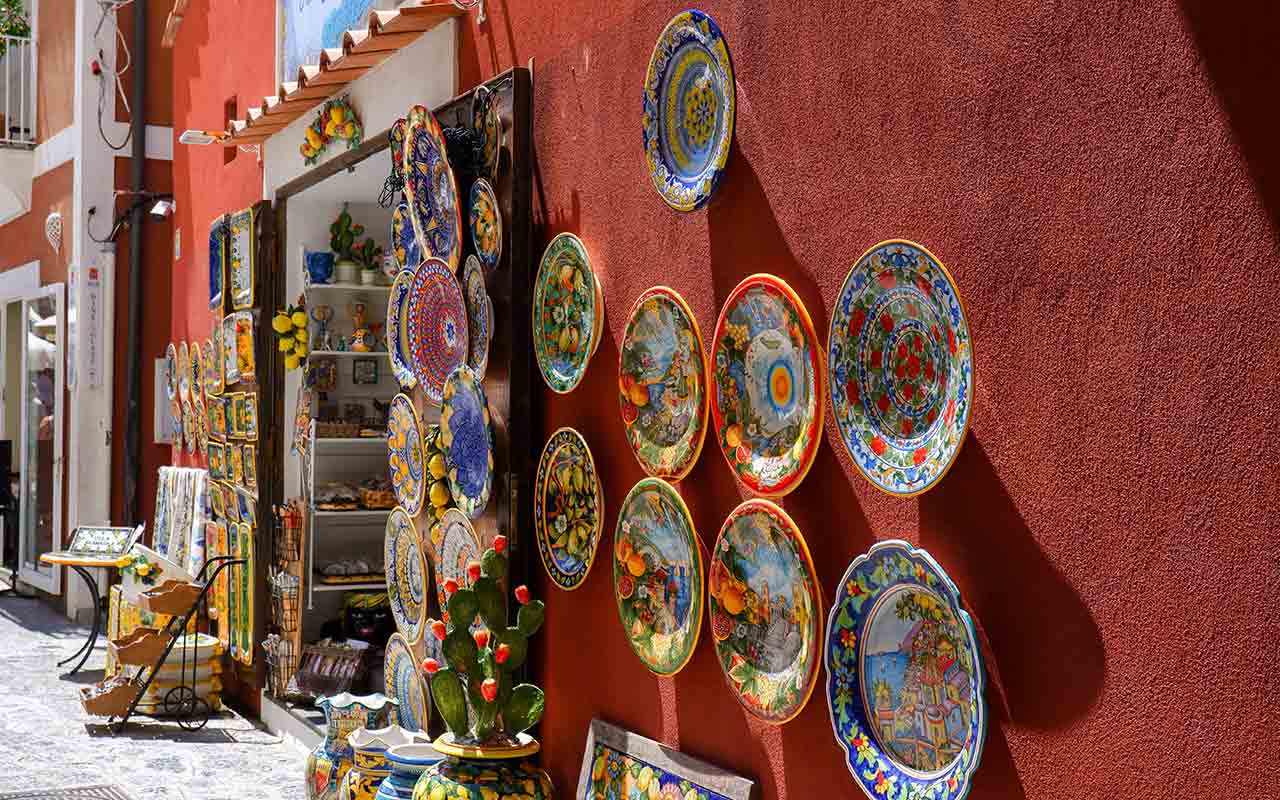 If you can't wait to get into the ocean, from Positano, you can enjoy a day trip by boat and marvel at the coastal area of Sorrentine peninsula.
There are a couple of nice beaches, such as Positano Beach as well as Fornillo Beach which you can relax on and take in the Mediterranean Sun.
We highly recommend you plan to check out the serene spots near Le Sirenuse Hotel for some of the best panoramic views in Positano.
To end your perfect day, why not enjoy a beach-side dinner here at one of a range of many restaurants lining the coastal town?
Day 2:
Today we'll pick up the pace and wake up early. We'll head back to Positano (if you're not staying here) and begin the Path of Gods Hike.
Depending on the time of year, it can get very hot so make sure to wear comfortable clothing, and to stock up on lots of water beforehand.
The hike usually takes between 3-4 hours, however, we recommend taking your time to explore some of the beautiful towns like Nocello, taking in the views as well as stopping to have a picnic.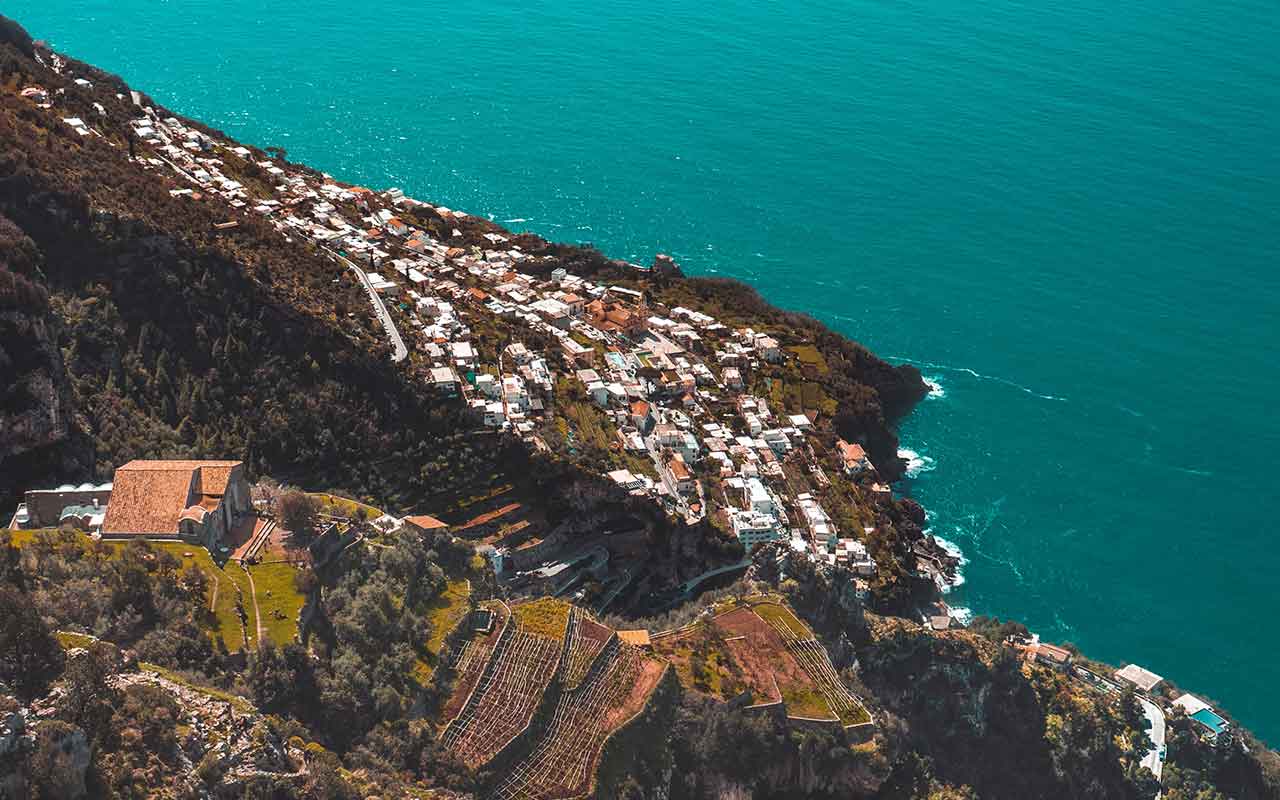 The trail ends in Bomerano, a small town in the mountains. Here you can catch a ride back to where you're staying, and have dinner. The rest of the night is then yours to enjoy as you wish.
Day 3:
Our third day will be used to explore Amalfi, which can be reached easily by bus or by driving.
The Amalfi Cathedral is one of the highlights here, so make sure to explore this picturesque site as well as stroll around the plaza.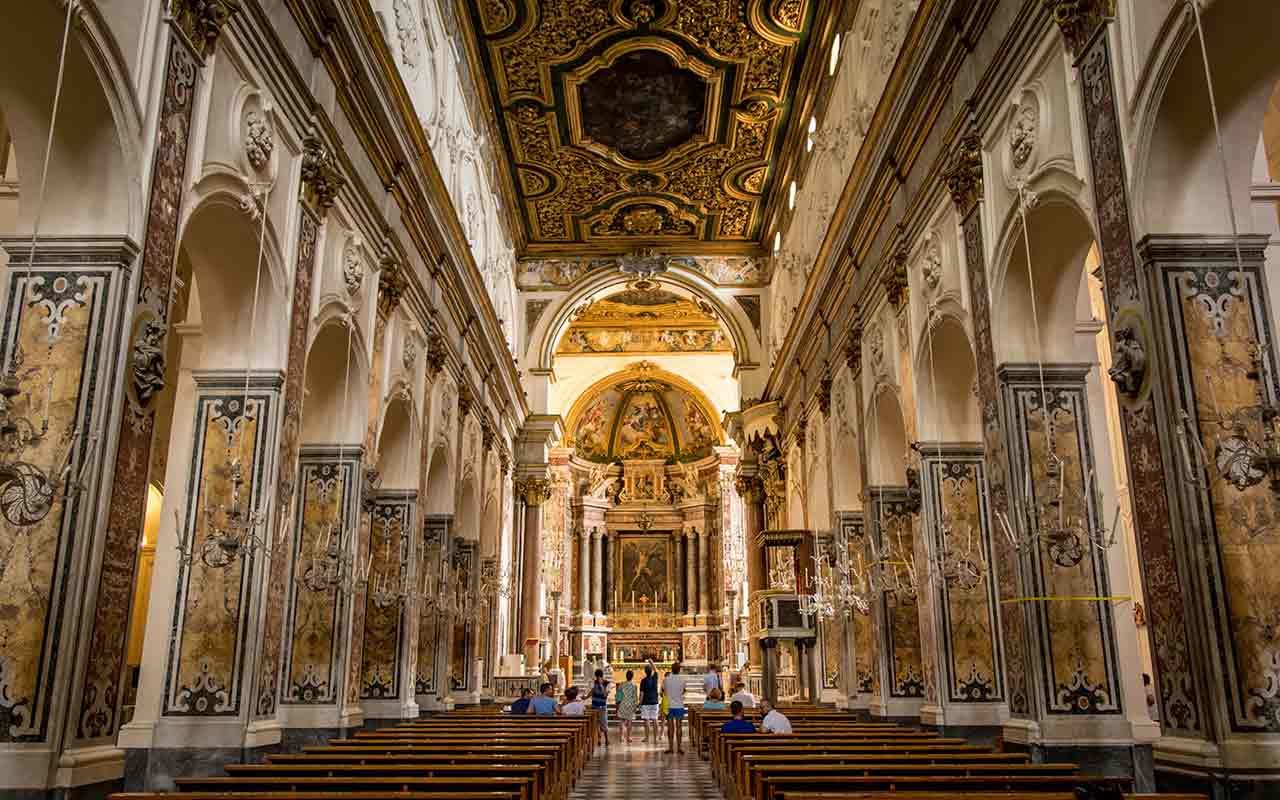 The Museum of Paper is another interesting site to see here, which is situated in a small cave-style grotto.
After having lunch, head up to Torre dello Ziro, which is a watchtower with some seriously impressive views.
Day 4:
Our last day is a lot freer, and really depends on what you want to do! We recommend visiting Furore beach, which is one of the most stunning in the region with its dramatic setting between two steep cliffs.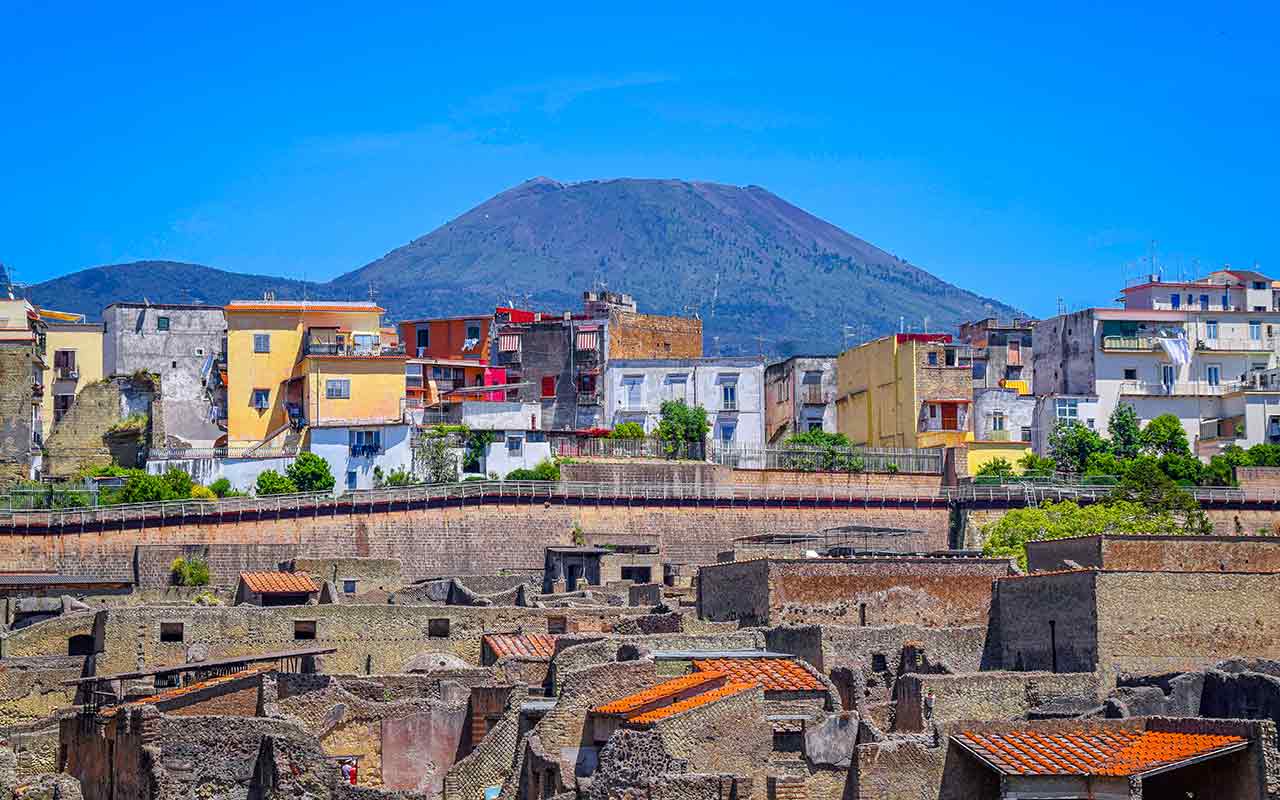 You can head up to Naples and explore the city with ease and even get a Naples 3-Day Pass which includes the use of public transport around the city and access to 3 attractions of your choice.
Another popular option is to go to the markets or explore the ancient site of Herculaneum which was famously buried during the eruption of Vesuvius in AD 79.
Then we'll head back to your apartment to gather your luggage, and then head off to the airport to catch your flight.
Things to Do in The Amalfi Coast
Knowing how to spend your time and deciding what to do on the Amalfi Coast can be tricky when you have so little time.
See some of the most popular destinations below:
Amalfi
A UNESCO Heritage Site, Amalfi was a very important historical site, and once the capital of the Duchy of Amalfi, which is one of the biggest trading powers of the Mediterranean between the 9th and 13th Centuries.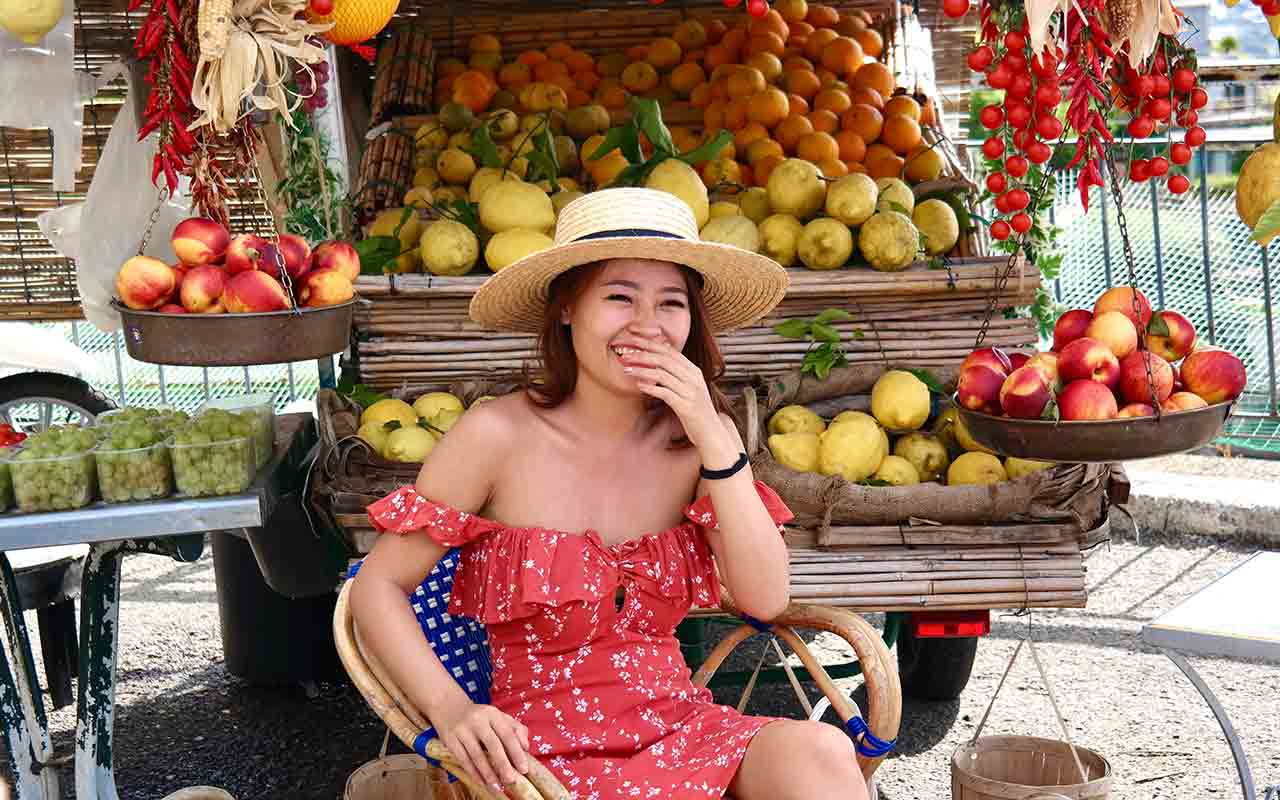 This town is great for getting to know the history of the Amalfi Coast. For a fabulous stay in Amalfi with 360° views of the Amalfi Coast, check out the Hotel Luna Convento, a former 13th-century convent converted into a hotel, situated only a short 3 minutes walk away from the beach.
The stunning Amalfi Cathedral is one of the highlights, with a variety of architectural styles being implemented from Arab-Norman to Gothic and Renaissance.
Positano
Positano is the ultimate destination to visit along The Amalfi Coast. With this beautiful fishing village climbing steeply up into the surrounding mountains, it's one of the best photo spots in all of Italy, and perhaps Southern Europe. A stay at the Marincanto hotel is an absolute must!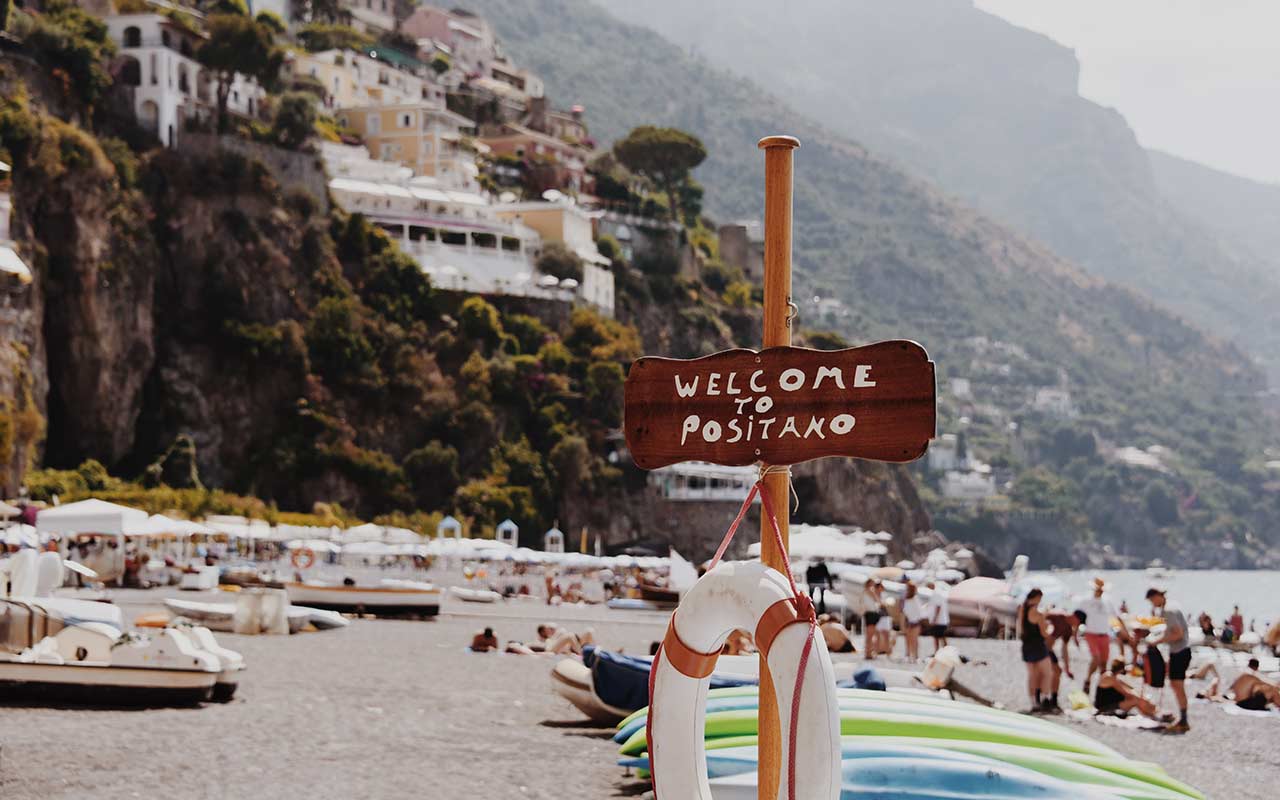 Some of the best things to do here include a visit to the Santa Maria Assunta Church, and relaxing on the Fornillo and Positano beaches.
Not to mention, hiking to the epic view spot of the Amalfi Drive – which features the winding bridge road slipping into a mountain with the blue hues of the Mediterranean setting the backdrop.
The Path of Gods
For those who love getting outdoors, then this hike is something you'll need to add to your itinerary when in The Amalfi Coast.
For beginner hikers, take the Path of the Gods Hike guided tour to see magnificent views and across the Amalfi coast.
Roughly 7.5km long, here you'll begin in Positano and make your way east across sprawling hills and some sets of steep stairs. The trail ends in Bomerano, which is a small town in the mountains.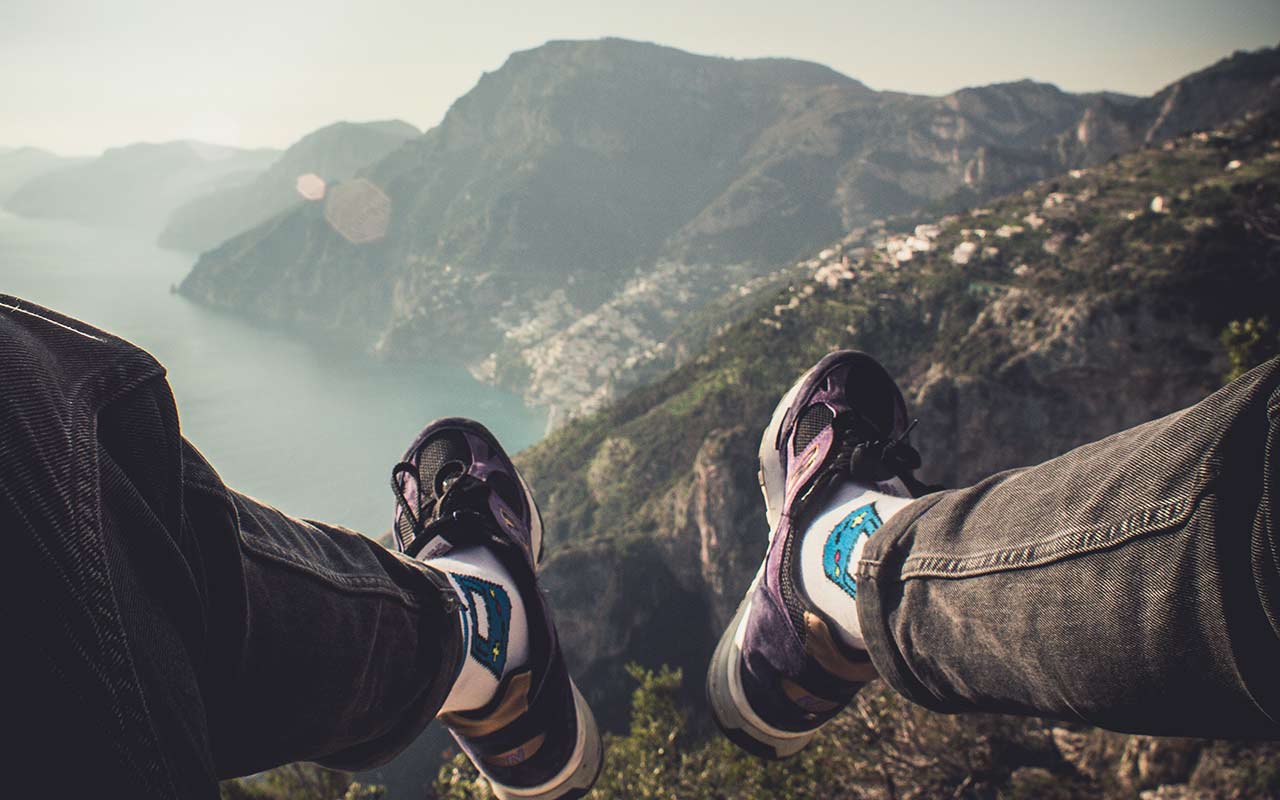 During this hike, you'll get unrivaled views of the coastline, and there are also lots of small gems worth visiting along the route, such as local vineyards as well as the cute town of Nocello.
Furore Beach
Of course, as located along the Mediterranean, many come to The Amalfi Coast to enjoy the sun and to spend a few days relaxing by the waves.
There are many great beaches here, however, our top pick is the stunning Furore Beach. Planted between two giant cliffs, this relatively narrow beach is one of the most picturesque in Italy.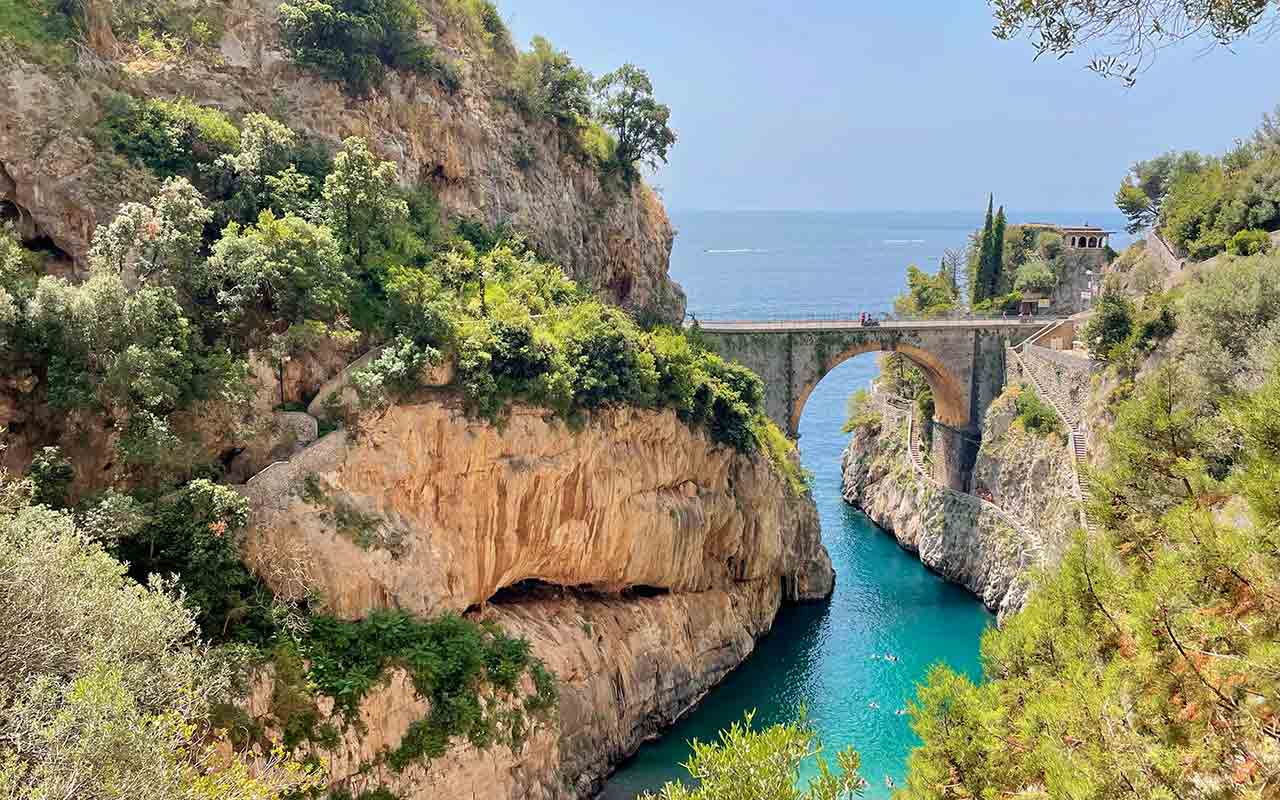 To get here, you'll need to walk down a series of steps from the town of Furore that's located above the mountains.
You can also take a boat here from one of the numerous towns scattered along the Amalfi Coast.
Amalfi Coast Itinerary Map
Below we'll share a map for this 4 days in Amalfi Coast itinerary:
The Amalfi Coast Travel Tips
The travel tips below will help you make the most out of your trip.
The best time to visit The Amalfi Coast is during the Summer, and in particular July which promises both hot temperatures as well as the least rainfall of any month of the year.
Remember to get your FREE travel insurance quote from SafetyWing to receive fully comprehensive support when it comes to unforeseen travel complications.
If you find yourself backpacking Italy, or perhaps you're traveling on a more modest budget… why not check out one of the Top Rated Hostels here to save those hard-earned Euros for other activities?
You can stay at many of the picturesque towns along the Amalfi Coast, however, we recommend Positano, both for its beautiful landscapes and ease of getting around.
One of our best tips is booking your accommodation well in advance, as this region can be very popular which drives up prices closer to the time of your visit.
Make use of public transport, which not only is cheap, however, is also a lot safer as a lot of the roads are situated on steep mountain edges as well as having immediate bends.

4 Days on the Amalfi Coast: Final Words

On the whole, you should now have a decent amount of ideas and know exactly how to spend a few days on the Amalfi coast whilst making the most of your time.

Book your trip today! Also, follow our sustainable travel tips if you're not familiar with them, and of course, be sure to pack extra sunscreen!

---

This post contains affiliate links, meaning, if you click through and make a purchase or sign up for a program, we may earn a commission. This is at no additional cost to you.