Welcome to this post on how to get from Verona to Lake Garda.
As you may already know, Lake Garda is a sought-after destination not just for international tourists, but a popular destination for domestic travelers, too.
However, if you find yourself in Verona and looking to get away from the hustle and bustle of city life for a day or two, Lake Garda is the perfect destination.
This is a lake dotted with quaint towns and historical monuments, some of which have a completely unique offering when it comes to outdoor activities.
All this means, no matter whether you desire a romantic getaway with your loved one, or you want to break up your trip between Verona, you're covered!
Verona to Lake Garda
In this transport guide, we will share all the info you need to be able to get from Verona to Lake Garda including travel by train, bus, car and group tours.
You may want to bookmark this page as you'll find all the information you need to be able to get to Lake Garda from Verona so you can travel with confidence.
How to Get from Verona to Lake Garda
At the end of the day, no matter which mode of transport you choose, the purpose of this guide is to help you choose the most suitable mode of transport for you based on your budget and more importantly, the time you have available.
But first, let's take a look at the actual distance between Lake Garda and Verona so you can get a real world visual of what to expect from this journey.
Where is Lake Garda?
Based in northeast Italy, Lake Garda and its shorelines span over three different regions. Veneto, Trentino Alto Adige and Lombardy.
The lake which is approximately 370 square kilometers is located halfway between Brescia and Verona literally on the foot of the Dolomite mountain range.
Lake Garda is sounded by woodland and many olive and lemon groves which are fortunate to grow here due to the favorable Mediterranean climate.
Is Lake Garda worth visting?
If you find yourself in an Itialian city such as Rome or Venice and wondering whether Lake Garda is worth visiting or not, consider a few the points below.
The first one is the fact that Lake Garda is very well connected to the rest of Italy via public transport. This makes it easier to add onto your existing itinerary.
If you are driving or thinking of hiring a car in Italy then you can get to Peschiera del Garda from Verona for example in just 30 minutes. Traveling by train from Verona to Lake Garda takes just 13 minutes.
The second reason to consider is the fact that the lake offers a mild and pleasant climate throughout the year which makes visiting the picturesque villages and towns overlooking the lake a pleasurable experience.
Not to mention a great opportunity to get photos of the local historic sights which include castles and fortresses with the Castle of Sirmione being a must-see.
Lastly, if you're not still not convinced what about the fact that while here it is not unusual to spend your days sunbathing and topping up your tan?
If you don't like the idea of laying in the horizontal position all day… Then why don't you choose to spend the afternoon hiking or windsurfing instead?
Be sure to carry the correct attire with you, as you'll want to be equipped for what it is you feel like doing on the day. If you like hiking then definitely carry (or wear) some sturdy hiking boots, we recommend you take a look at these boots for men and/or these boots for women) so you can make the most of your time here.
Where to stay in Lake Garda?
Once you have decided on traveling to Lake Garda the next most important thing to do is to get your accommodation and the sooner the better in most cases.
We have listed some of our favorite hotels in Lake Garda below:
Palace Hotel: Located in Desenzano del Garda this 4-star hotel offers double rooms and access to a spa as well as an impressive lake view. This is the ultimate place to rest and relax.
The Ziba Hotel & Spa: Located just 1km away from Lake Garda this 4-star hotel offers its guests a wellness center and a host of amenities such as bar and wellness center.
Hotel Flaminia: Based in Sirmione this hotel offers one of the most splendid views of the lake and gives guests ample space to enjoy the unique lake from the sun terrace.
How far is the Lake Garda from Verona?
Lake Garda is located just 30 minutes away from Verona and the best and more efficient way to get there is by train.
That way, you can get from Verona to Lake Garda in just 13 minutes and with peace of mind knowing you don't have to think about parking once you arrive.
However, if you do decide to rent a car while here you can get to Lake Garda from Verona in the space of 30 minutes by taking the A4 motorway.
To get the bus to Lake Garda from Verona all you need to do is head to Piazza Brà to get the Arriva bus or you can also get a local bus (number 164) which both take around 45 minutes to reach Peschiera del Garda.
Taking the bus is a valid option since there are other towns in Lake Garda you can stop at with the train to Lake Garda. It is worth weighing up both options.
We do suggest that you brush up on your Italian for this trip! See this this handy Italian phrase book to help you can converse with locals along the way.
Verona to Lake Garda
You should now have a good idea of what to expect but there are still a couple more options for getting to Lake Garda which we will share below.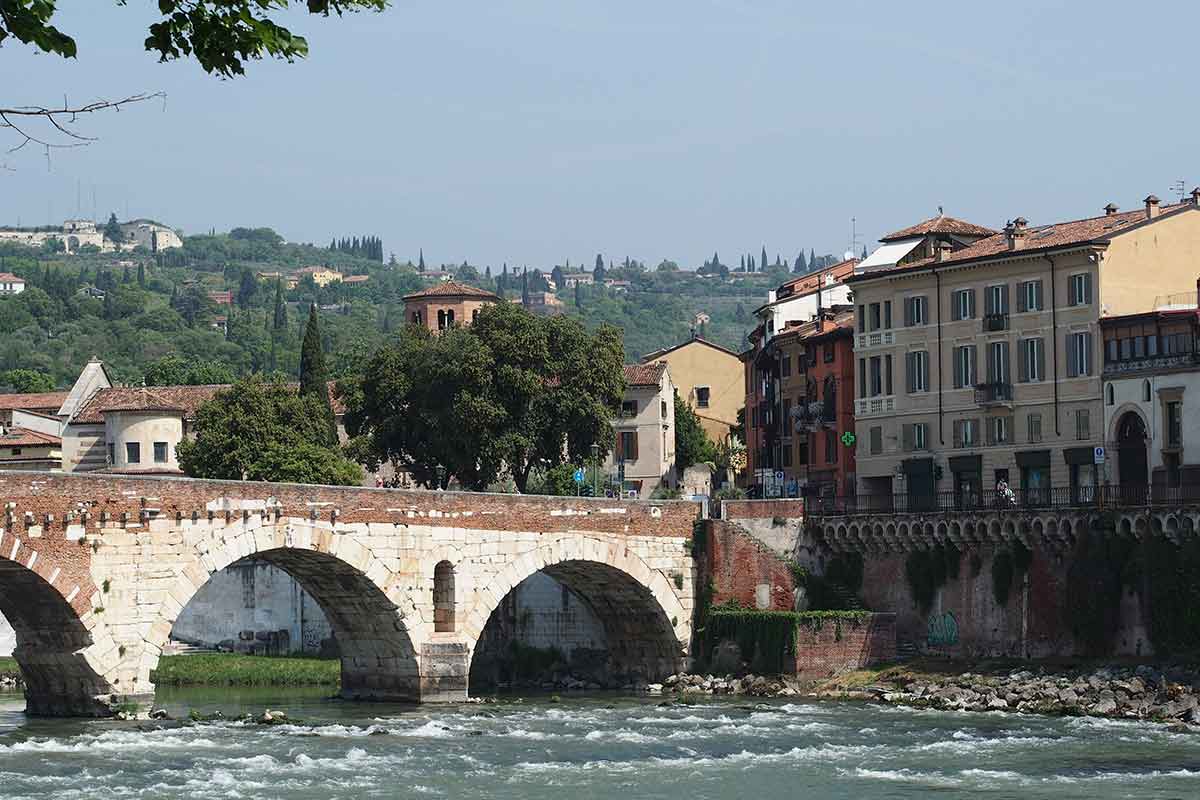 We will also go over the best way of getting to Lake from Verona again in more detail so you can make a final decision considering all the options.
Verona to Lake Garda by Train
As mentioned earlier, getting the train to Lake Garda from Verona is the fastest and most effective way. You can get either the Italo or Frecciarossa high-speed train or get a regional train.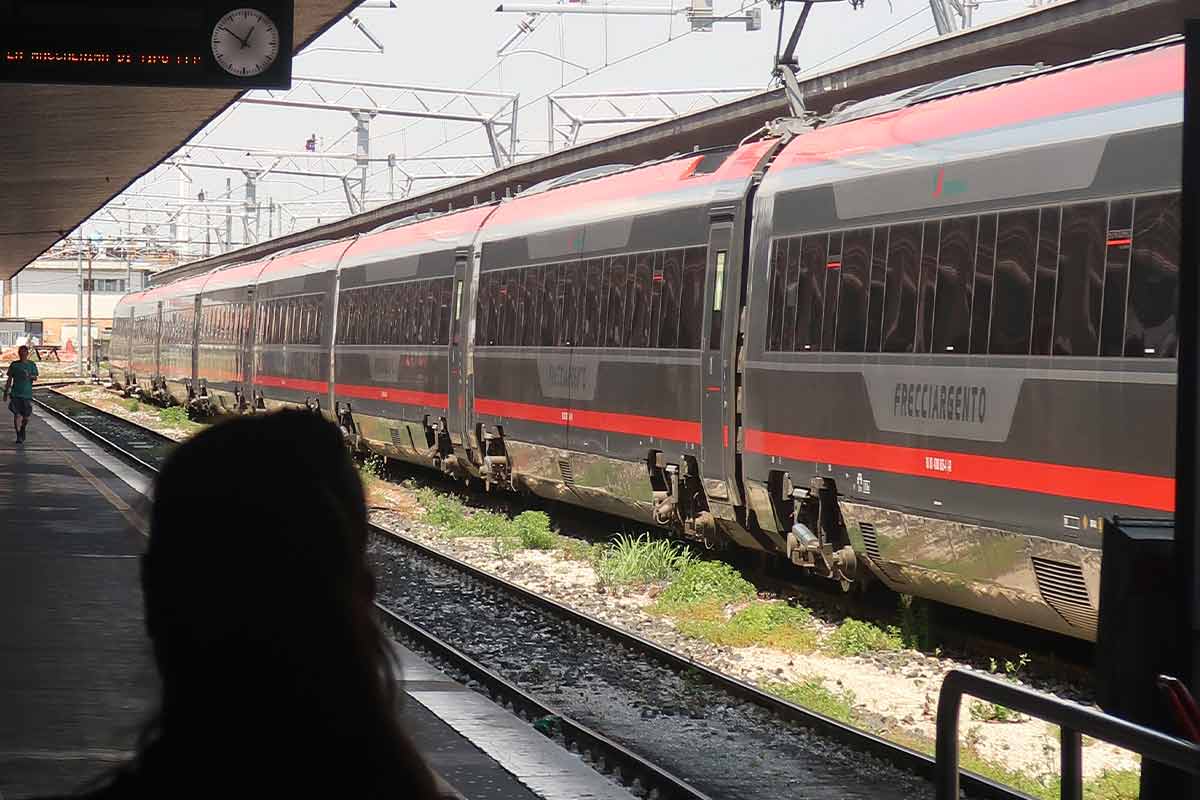 To get the high-speed train you will pay more but with the regional train (called Trenord) taking only 13 minutes to get to Peschiera del Garda, we recommend you go for that one.
If you'll be staying in Sirmione, you'll want to get the train to Desenzano del Garda which takes slightly longer (23 minutes).
To get either train just head to Verona Porta Nuova train station. You can either get a taxi from your hotel or walk (20 minutes) from the center of Verona.
If your Lake Garda itinerary permits you to stay more days/nights and you plan to visit different towns, you can get another regional train from either town (Peschiera del Garda/ Desenzano del Garda) and connect to each one from the other in the space of 7 minutes.
Verona to Lake Garda by Car
Getting to Lake Garda from Verona by car is another popular way of visiting this lakeside destination. Travelers who want the ultimate comfort on the road choose to hire a car and make the journey independent of public transport.
Driving not only offer the possibility to be able to explore the Lake at your own pace but to also be able to reach some of the fewer known sights that you will encounter along the way.
Traveling from the center of Verona, you can expect to arrive at Peschiera del Garda in around 30 minutes if you take the A4 motorway. However, it is worth considering the cost of the tolls you will have to pay along the way to access the motorway.
We suggest that you check out Autostrade.it before you start planning to see the cost of the toll you'll be required to pay and to work out, despite the added cost, whether driving is still a valid option for you.
A solid tip for when it comes to driving to Lake Garda is to avoid the rush hour traffic and also aim to start your journey as early as you can, before the morning rush hour (if traveling on a weekday) for example.
An alternative would be to travel during the evening (between 7 / 8 pm) where you're find fewer people on the road, meaning much less traffic along the way.
If you're in no rush to get there or you don't mind the drive you can take an alternative route that passed by the southern side of Lake Garda from Verona by joining the regional road SR11. This route is longer but evades paying the toll charges.
Providing you have the time/budget, it is worth visiting some of the other small towns around Lake Garda for example you can drive along the Gardesana Occidentale where you have the chance to stop off at some of the towns on the west side. Or, Gardesana Orientale where you have the towns on the east side.
All in all, both of these roads cover the coasts of shorelines of Lake Garda, and traveling to Lake Garda by car is by far the most rewarding way when it comes to seeing off-the-beaten-path sights.
Verona to Lake Garda by Bus
Like with many places in Italy, when time is not an issue and you're looking for the cheapest way to get to Lake Garda from Verona, the bus is the way to go.
As you can imagine it takes longer than the train if you were to drive but is unique in the sense that if you like the idea of stopping at different towns along the way, the bus makes various stops. The bus from Verona to Lake Garda is called ATV.
The ATV bus (numbers) you will need to look out for are:
It is easy to catch the bus as well since all you have to do is get yourself to Piazza Bra' or Verona Porta Nuova train station and get on the bus from there.
If you are not yet in Verona and will be arriving via plane you can get to Lake Garda from Verona Airport by bus also.
All you need to do is get the Aeroline bus 199 to Verona Porta Nuova (Platform 3) once you arrive at the bus station change to one of the buses' noted above.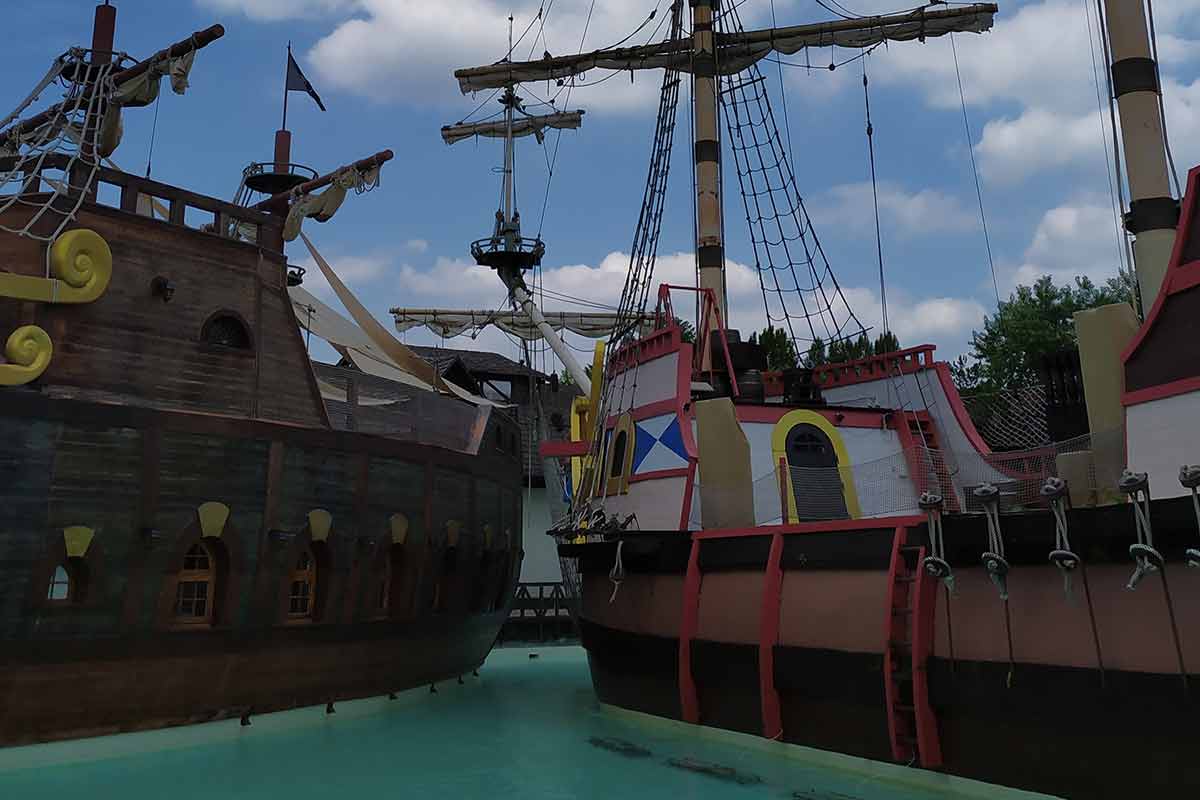 Depending on what time of year you visit Verona there is a seasonal bus that travels direcly from Verona Airport to Lake Garda.
This summer bus service (number 482) is a great option if you're arriving at the airport and you can check the timetable here for more detailed information.
You'll see that the bus stops at popular places such as:
Peschiera del Garda
Gardaland amusement park
Parco Natura Viva
Lazise sul Garda
Bardolino and Garda
There are other buses such as the 484 bus line which stop in:
Torri del Benaco
Brenzone sul Garda
Malcesine
Riva del Garda
These towns are all accessible from Lake Garda so once you're accustomed to taking the bus it should be a breeze to hop on and off while you're in Lake Garda.
You can get all the information you need from the ATV bus (official website) and even download the timetables so you can view them as and when you need them without an internet connection.
Verona to Lake Garda day trip tour
There are many visitors to northern Italy who don't want to have to think about public transport, or reading timetables, and even detest the idea of having to wait around. This is where doing a small group tour becomes an attractive proposition.
In fact, for some going on a guided tour of Lake Garda from Verona is the preferred way because not only is everything done for you, but you also get to ask questions and learn along the way.
For example, this group tour of Lake Garda gives you ample opportunity to visit the popular town of Sirmione as well. You leave Verona with a small dedicated group and reach the lake in an air-conditioned minivan.
Then from the Medieval town of Sirmione, you'll go on a lake cruise to explore the peninsula and spend time at Scaligero Castle.
This is the perfect way to be able to fully appreciate the historic sights as you go around getting relevant information and facts from your local guide.
Given that tours can often be somewhat restricting in terms of what you can do, with this small group tour you'll get the opportunity to explore the street of the town at your own pace. Just be sure to carry sunscreen if visiting in the summer.
After spending the day, having some lunch and picking up some souvenirs, you'll make your way back to Verona with the rest of the tour group.
Got travel insurance for Lake Garda?
World Nomads offers simple and flexible travel insurance. Buy at home or while traveling and claim online from anywhere in the world.
Getting from Verona to Lake Garda
With these transport options in mind, you now have a much better idea of how to get to Lake Garda from Verona and can start to weigh up all the options.
Whether you decide to travel by car, train, or bus, or visit as part of a guided tour, you can do so with confidence knowing that you made the right choice for you.
If you'll be visiting places such as Venice or other cities in Italy, read our Italy itinerary which gives you ideas on what to see and do while traveling around.
---
Dear responsible traveler: This post may contain affiliate links, which means, if you click through and make a purchase, book a tour or a hotel, we may earn a small commission. This is at no additional cost to you. Your support means a lot and helps us to maintain the quality of this site.