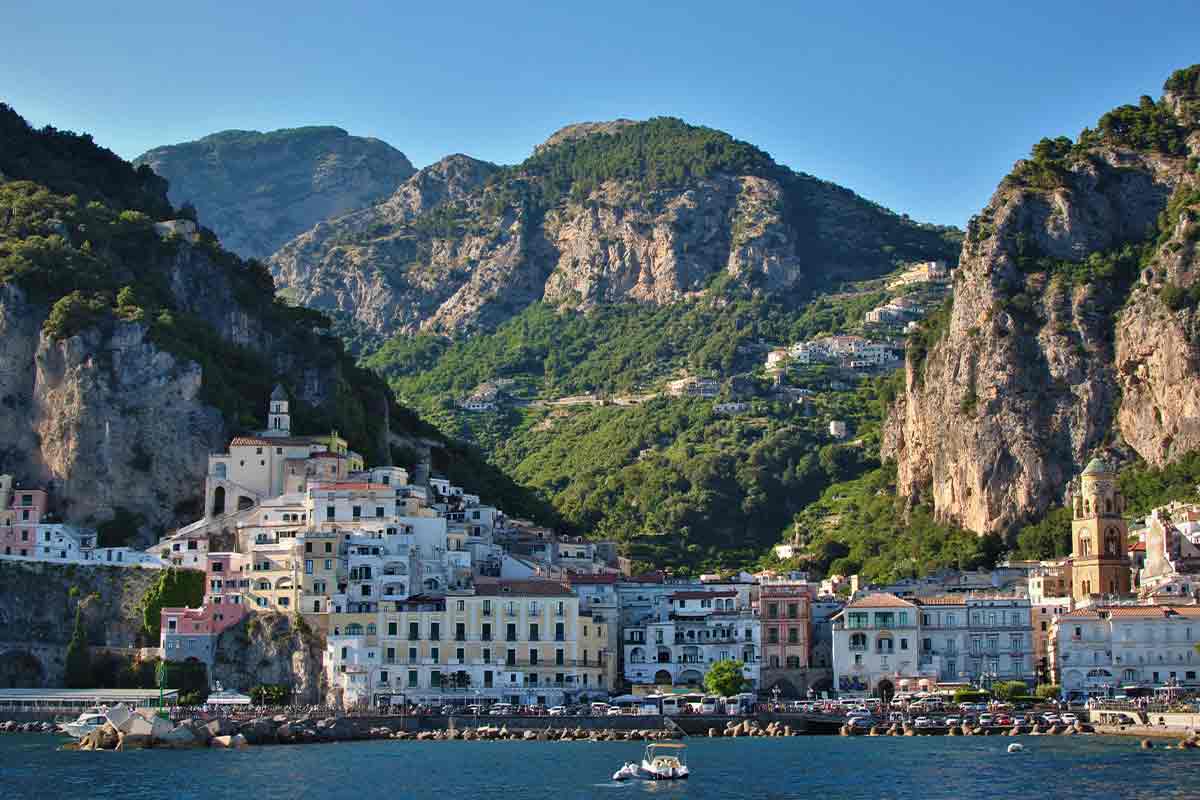 When comparing Positano vs Amalfi which do you visit?
Are you planning a trip to the Amalfi Coast and undecided on where exactly to go? More specifically you don't know whether to stay in Positano or Amalfi?
Well, you're in the right place! With this post, we're going to give you all the information you need to help you decide where to stay on the Amalfi Coast.
Determining which is better is not easy since it depends on your expectations as well as the kind of experience you're looking to have on the Amalfi Coast.
Both of the Italian destinations are full of charm, but there are some pros and cons worth getting to know during the planning stages of your trip.
Positano vs Amalfi: Which is better?
So when looking at Positano vs Amalfi, which one is better? Unfortunately, there's no easy answer to this question, but you can understand whether one is better than the other for you, by comparing them as we have in this guide.
If you have already read our popular Amalfi Coast itinerary you will know that we mention how both of these towns can be visited on a 4 day trip (or even less).
Best time to visit Positano vs Amalfi
Positano and Amalfi are a short drive (or bus ride) away from one another. This means that the best time of the year to visit them is the same: spring or autumn.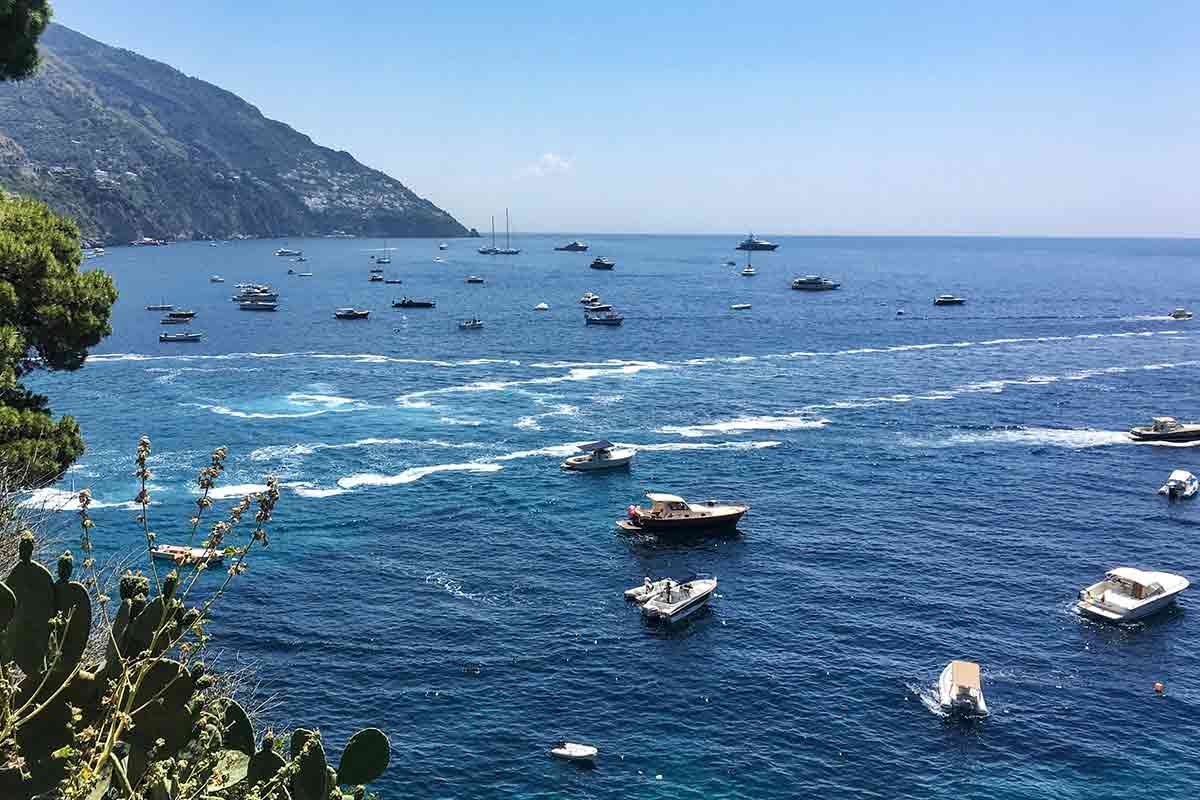 During these times of the year, it's sunny and temperatures are not too high, between 15 °C (early April and October) and 23 °C (June and early September).
Spring and autumn are therefore the best seasons to go sightseeing, go on excursions and move around the Amalfi Coast. But if you're here to go to the beach, then it's much better to book your stay in July and August.
Bear in mind that these months are also the most touristic times to visit, accommodation prices are sky-high, and the overall vibe is compromised by the presence of too many visitors. Most of which are visiting for the same purpose.
A good time to be in Amalfi is around the 1st of September when the Byzantine New Year takes place when a historical re-enactment is held every year.
In Positano, on the 15th of August the legendary Landing of the Saracens is celebrated. The event is celebrated at Marina Grande beach. The same day the feast of Santa Maria Assunta is celebrated too.
🏆 Winner: Draw
The Vibe in Positano vs Amalfi
This factor can be very subjective, but we think that Positano's vibe is a step ahead of Amalfi. Positano is an ancient fishing village with breathtaking views and landscapes. It's considered the most exclusive, romantic and trendy place on the Amalfi Coast.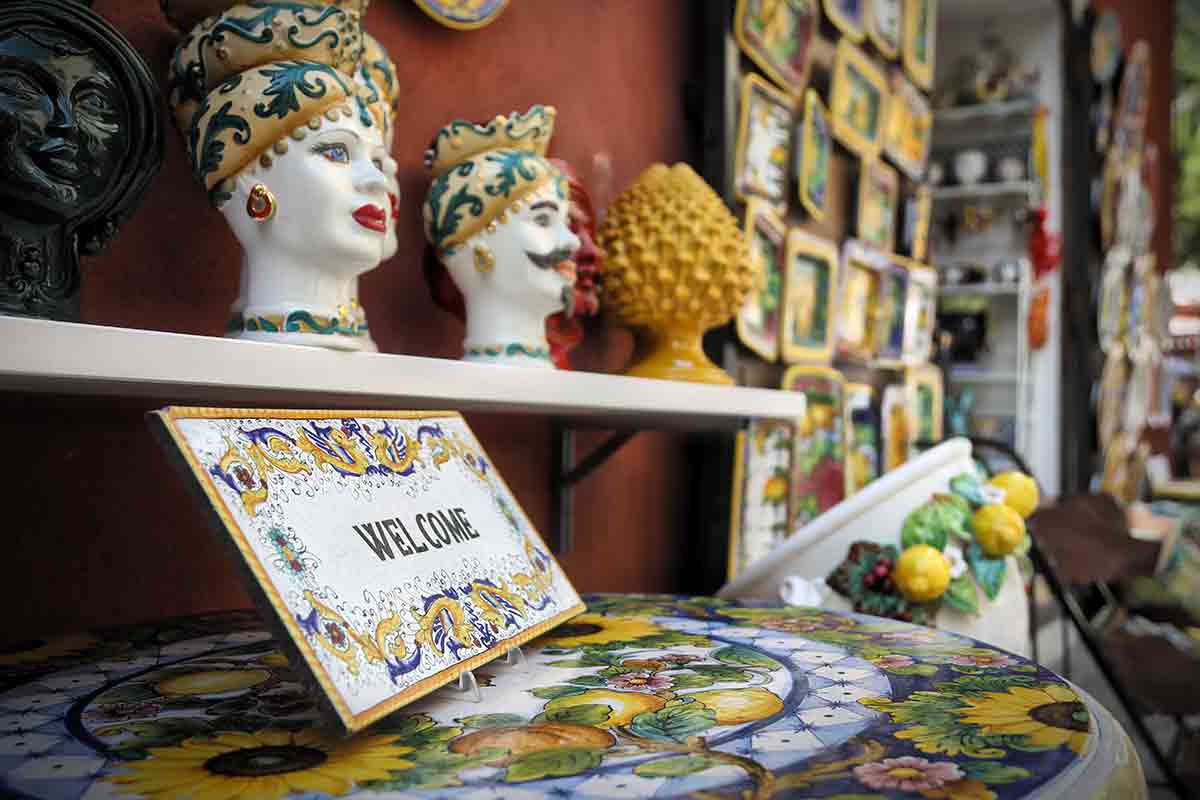 There's a wide selection of restaurants with breathtaking views of the sea and splendid beaches, such as the famous Marina Grande, Fornillo and Laurito. It's also very much appreciated for it's local craftsmanship, in particular for the fashion trends that became famous in the '60s.
On the other hand, Amalfi is interesting from the historical point of view since it was one of the wealthiest maritime republics in the Mediterranean basin.
In the center, you can find boutique shops, trendy bars and historical buildings to visit. For some reason, Positano attracts a larger number of tourists because its nightlife scene is slightly more interesting compared to that of Amalfi.
🏆 Winner: Positano
Food in Positano vs Amalfi
The Costiera Amalfitana is not only famous for its landscapes and landmarks, but also for its cuisine. If you go to any restaurant in Positano and Amalfi you'll find similar dishes, but you'll find that Amalfi is the town where most of the traditional dishes are from.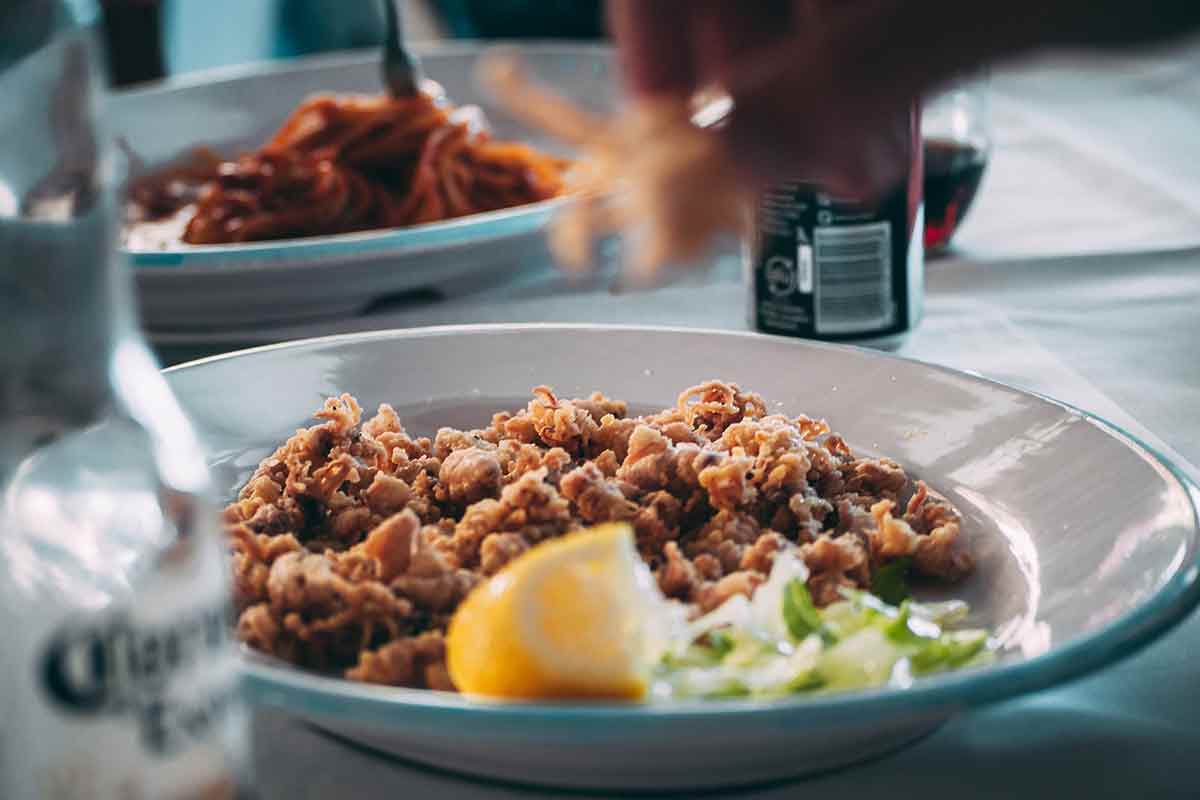 It is here where you can taste the best Minestra marinata (marinated broth), a winter recipe prepared with vegetables boiled with chicken broth, onion and pezzenta, a local cured ham.
Make sure you try the scialatelli with mussels and clams invented by the chef Enrico Cosentino and the pastarelle amalfitane, biscuits filled with lemon cream from the coast.
Another sweet treat from Amalfi are the aubergines with chocolate (locally called 'mulugnane c'a ciucculata') which is a sweet flan made with fried aubergines, breaded and then dipped in chocolate.
Why don't you see this as a once in a lifetime opportunity to join a local cooking class like this one and learn more about Amalfi's traditional food?
While you are in Positano, take the opportunity to taste of one of the most simple yet delicious pasta dishes named vermicelli di Positano, prepared with fresh tomato, oregano, basil and parsley. While you're here, you should also try seafood salad with lemon juice and the lemon spaghetti! The list goes on.
🏆 Winner: Amalfi
Cost of Travel in Positano vs Amalfi
Positano is the most expensive place to stay on the Amalfi Coast. For this reason, whether you're traveling on a low or medium budget or just don't want to overspend during your trip, we suggest booking your hotel in Amalfi.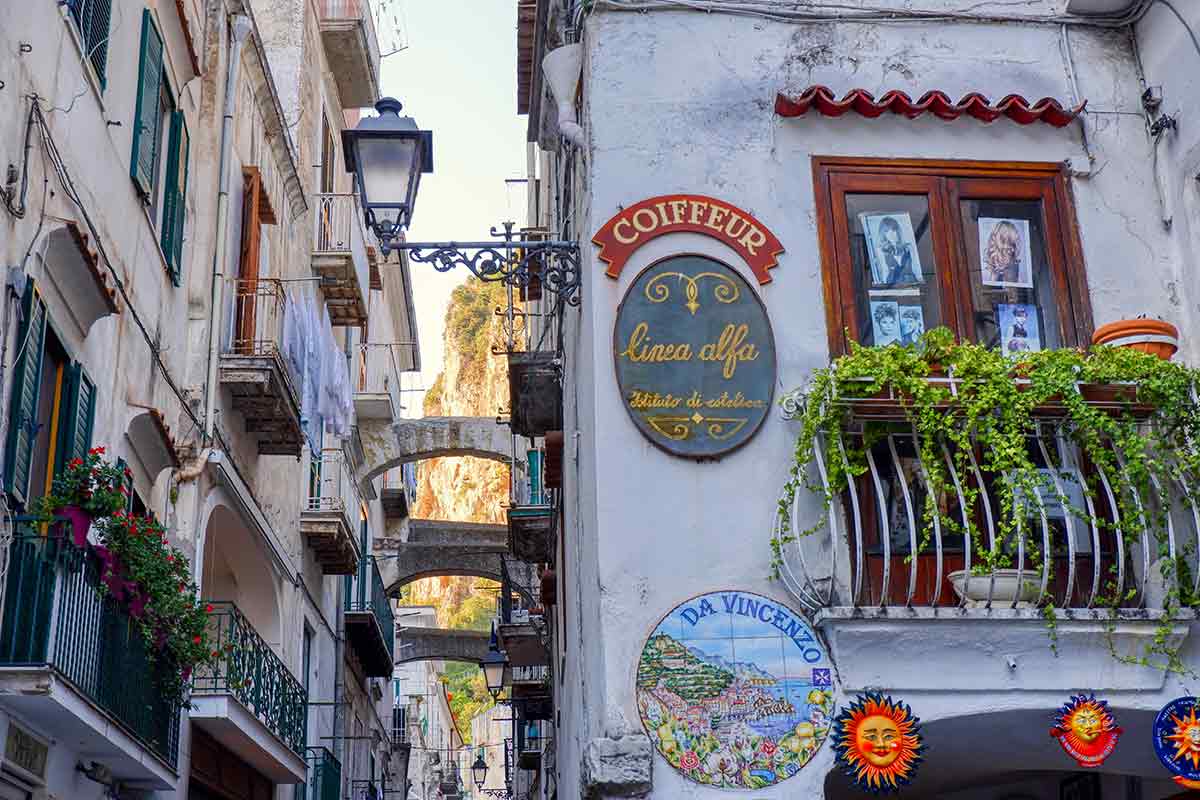 You can always get from Amalfi to Positano and spend your days there. If you're looking for some inspiration on where to stay in both towns, check out our selection of the best hotels and guest houses in Amalfi and Positano too.
You can even find some pretty good hostels in Amalfi if you are on a shoestring budget. In Amalfi, there's a wider choice of budget accommodation compared to Positano, and if you stay in other towns of the Amalfi Coast such as Maiori, Minori, Cetara and Vietri sul Mare you'll find even cheaper hotels.
If you're traveling from Naples to the Amalfi Coast by the way of public transport, then you'll first get a train and then a bus to get to both Positano and Amalfi.
It doesn't cost much traveling by land (around 6 euros one way), but if you want to get to Positano or Amalfi by ferry, expect to pay around 25 euros (if leaving from Naples) and around 16 euros when traveling from Sorrento. Overall, the cost of getting to the two towns is similar, but the stay in Positano will cost you more.
🏆 Winner: Amalfi
Things to do in Positano vs Amalfi
Both locations count on a great amount of things to do, so you can be reassured that you won't get bored here! For example, in Amalfi, there's a larger amount of historical sights compared to Positano, and can still spend some time at the beach and explore the surrounding region.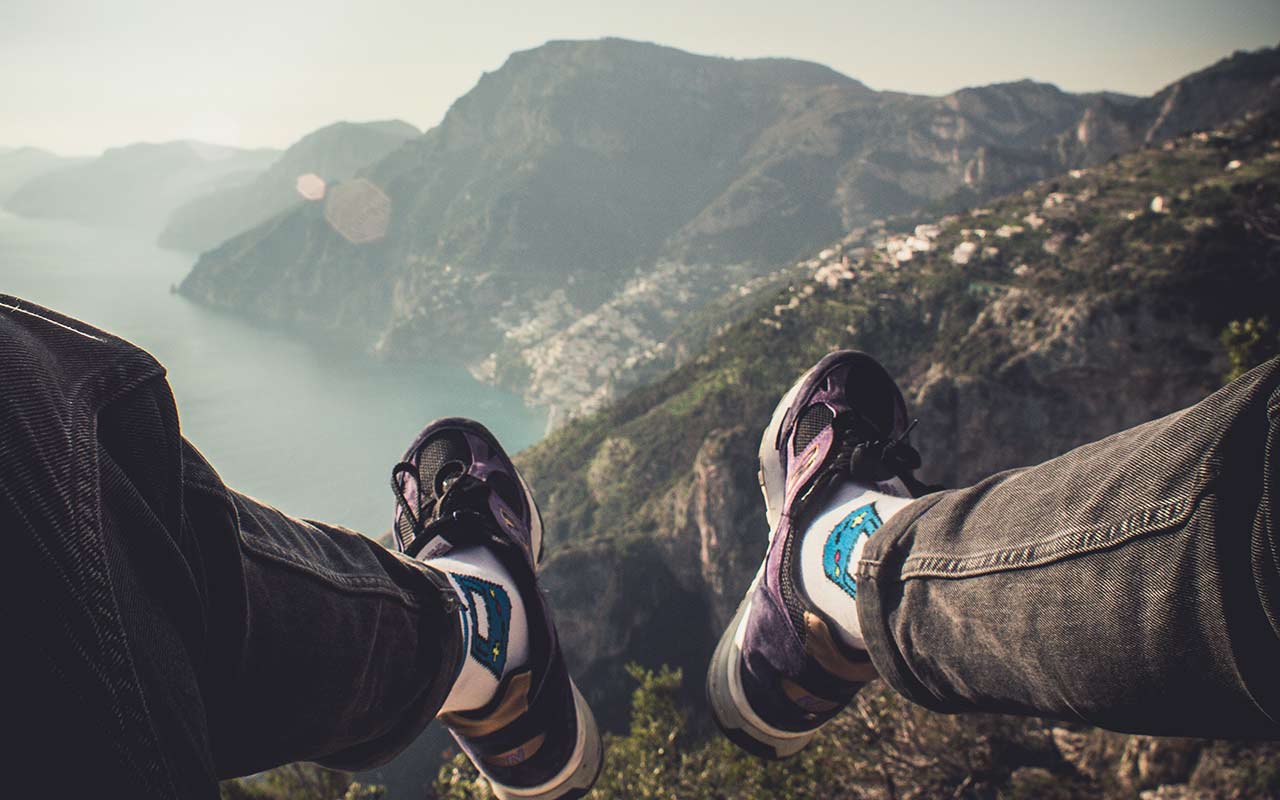 Amalfi has a millenary history and there's lots worth learning about from its past as a maritime republic. Today, the center it's considered an outdoor museum where you can visit churches, a shipyard and museums. In Positano, you can go sunbathing at the Marina Grande beach and go for lovely walks around the historic center.
It's worth spending time taking a look at the artisan shops and get gifts and souvenirs you might want to take home with you. The most important landmark in Positano is the Church of Santa Maria Assunta.
From Positano, you can visit nearby beaches such as the Fornillo and Laurito beach. Not far from Laurito beach, where the Path of the Gods starts. This is one of the most beautiful and scenic hikes in Italy.
Whether you're in Positano or Amalfi, you can always join a boat excursion to go snorkeling, and there are also boat trips that leave from Positano and head towards the island of Capri and the Sorrento coast that you can do.
🏆 Winner: Positano
Tourist attractions in Positano vs Amalfi
There are many different tourist attractions worth visiting in both Positano and Amalfi. In Positano, tourists are most attracted to it's beautiful beach Marina Grande and the nearby Fornillo beach.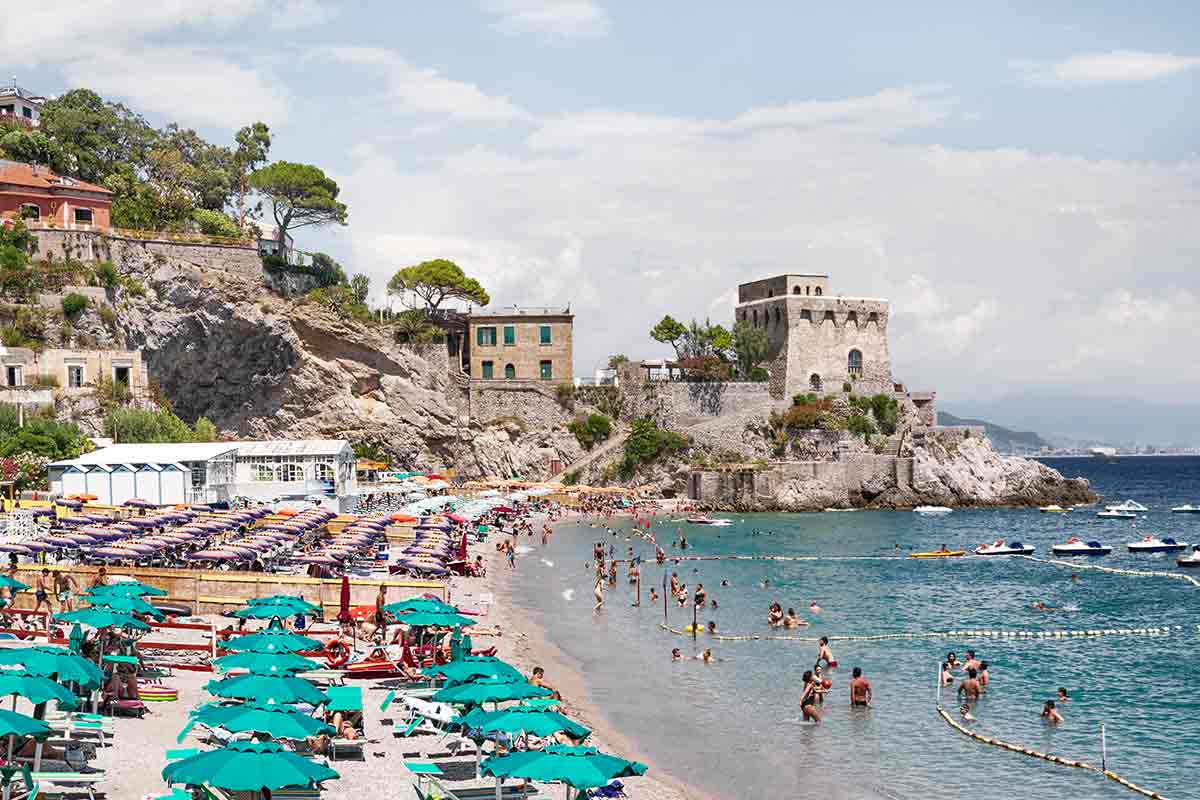 The Church of Santa Maria Assunta is a must-see landmark in the heart of Positano as well as the Torri Saracene, which are the defensive towers from where you can also enjoy spectacular views of the Tyrrhenian Sea.
From here you can get to the Emerald Grotto, situated in Conca dei Marini, a natural unspoilt gem on the Amalfi Coast. It is worth noting that in Amalfi there's quite a lot to explore when it comes to historical and artistic sights.
You can visit the Cathedral of Sant'Andrea, the Cloister of Paradise, the Ancient Arsenal (where ships used to get built during the maritime republic era), the Paper Museum and the Torre dello Ziro.
Even Amalfi attracts visitors from all over the world for its beaches: Spiaggia del Duoglio, just one kilometer after Amalfi towards Vietri sul Mare, and Marina Grande beach (like in Positano!).
🏆 Winner: Draw
Getting Around Positano vs Amalfi
Positano and Amalfi are perfect places to be able to get around on foot. They're quite small and easy to move around, and even if you get lost, that won't be much of a problem thanks to their limited areas!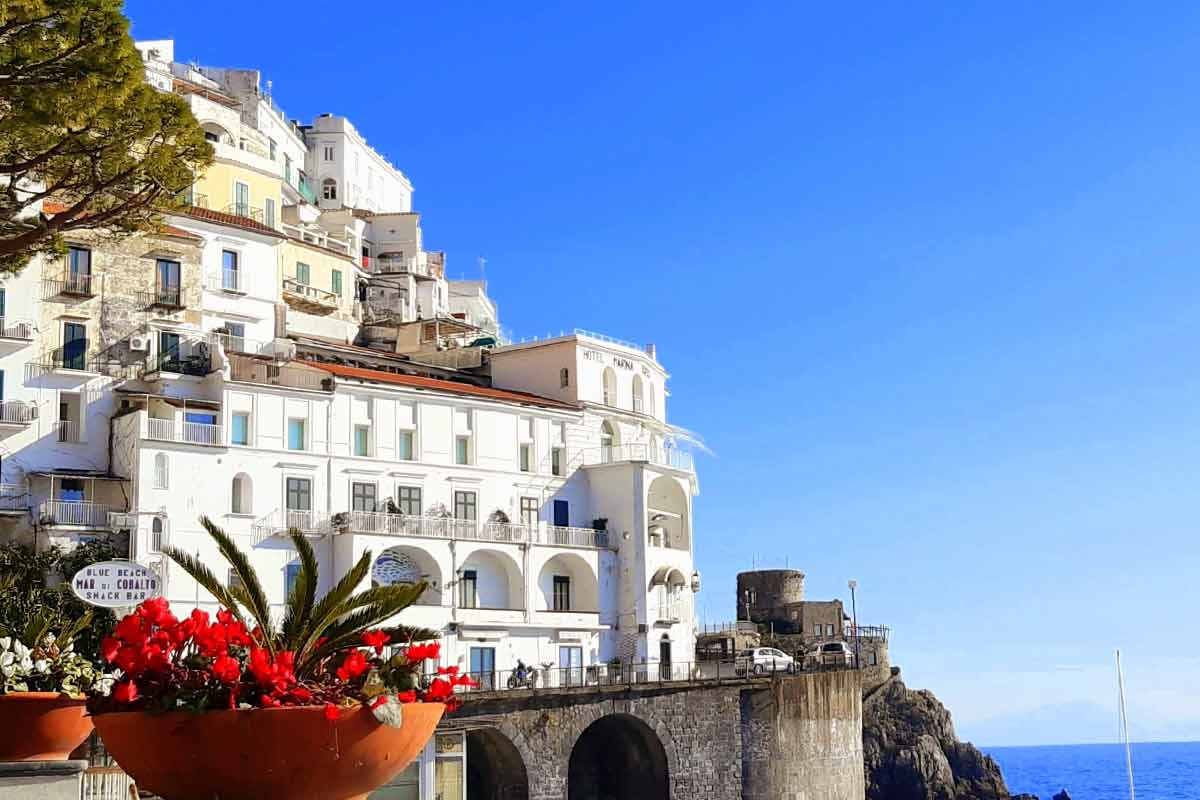 It's important to know that the difference between Positano and Amalfi is that the first one has much more climbs and descents compared to the second one. In fact, the whole historical city centre has steep stairs and narrow streets that go up and down.
For this reason, Positano is not recommended for families with small children or for disabled people. In this case, Amalfi is much better as everyone can move around easily. From both towns there are daily buses that you can take to visit nearby villages along the Amalfi Coast.
The closest airport to Positano and Amalfi is Napoli Capodichino. From there, you can either get a private transfer from the airport or independently travel to Naples city center first, then from there get a train to Sorrento and catch the bus Sita 5070 going to Positano and Amalfi.
🏆 Winner: Amalfi
So, these are the factors that we have decided to compare to help you to decide whether Positano is better than Amalfi, or the other way around. A lot will depend on you and what type of trip you're looking to take on the Amalfi Coast.
Positano vs Amalfi: Which will you visit?
You should now have a better idea of Positano vs Amalfi and hopefully, this guide can support you in choosing where to stay on the Amalfi Coast.
It's your turn to decide which of these elements are important to you. In any case, since they're pretty close one to each other, during your trip you can visit both and get a taste of some of the most beautiful locations in this region.
Why not see our 2 weeks in Italy itinerary for more places to visit while here?
---
Dear responsible traveler: This post may contain affiliate links, which means, if you click through and make a purchase, book a tour or a hotel, we may earn a small commission. This is at no additional cost to you. Your support means a lot and helps us to maintain the quality of this site.