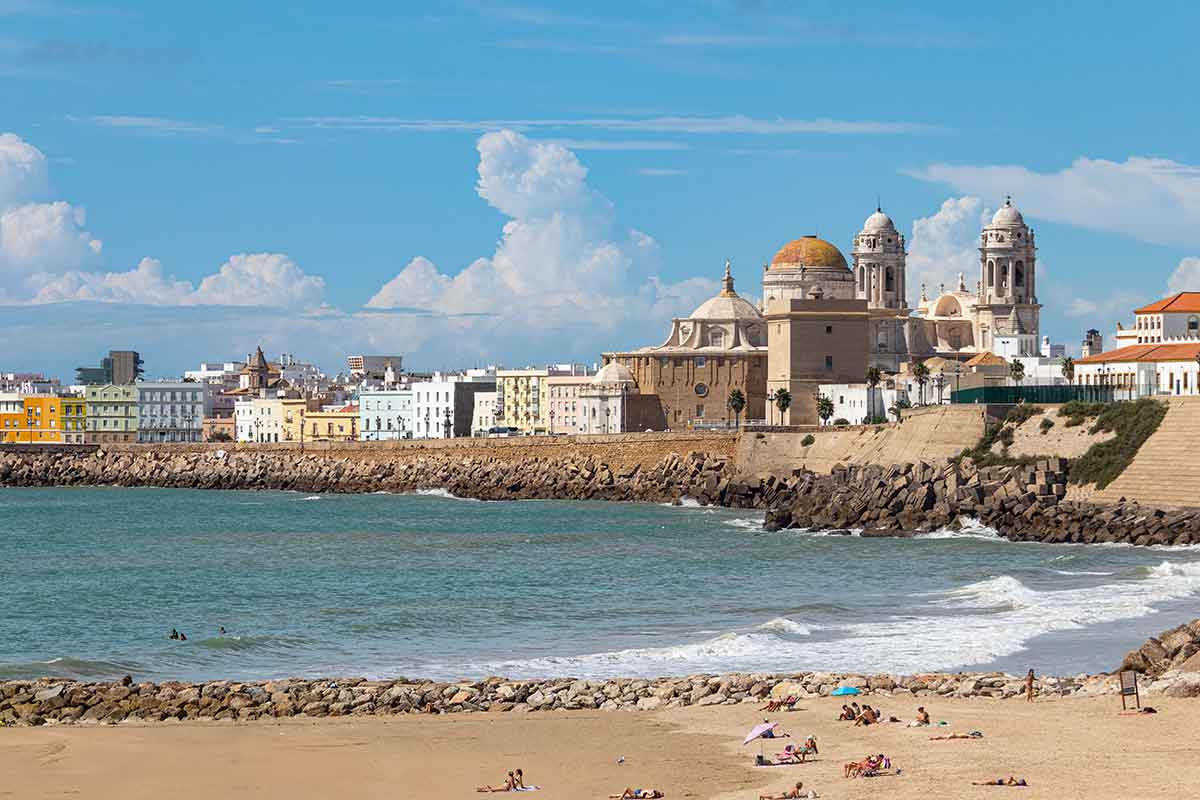 With all the places to visit in Andalucia, is Cádiz worth visiting?
Cádiz is a lovely Spanish city perched on a promontory overlooking the Atlantic Ocean, and belongs to the Andalusia region.
They say that it is the oldest inhabited city in Europe and its origins date back to 1100 BC by the Phoenicians, a civilization of great navigators who established their control around the Mediterranean Sea and the Atlantic Ocean.
Cádiz is worth visiting for its sprawling beaches, its charming historic center and to sample its mouthwatering cuisine. But keep reading below to understand why you should absolutely visit Cádiz on your next visit to Southern Spain.
Is Cádiz worth visiting?
Yes, Cádiz is worth visiting. No matter whether you're planning a road trip around Andalusia or you're just looking for a quintessentially Spanish city to spend a short weekend in, Cádiz is the perfect destination to include in your itinerary.
Where is Cádiz?
Cádiz is a provincial city located along the west coast of Andalusia, the region that occupies almost the entire southern part of Spain.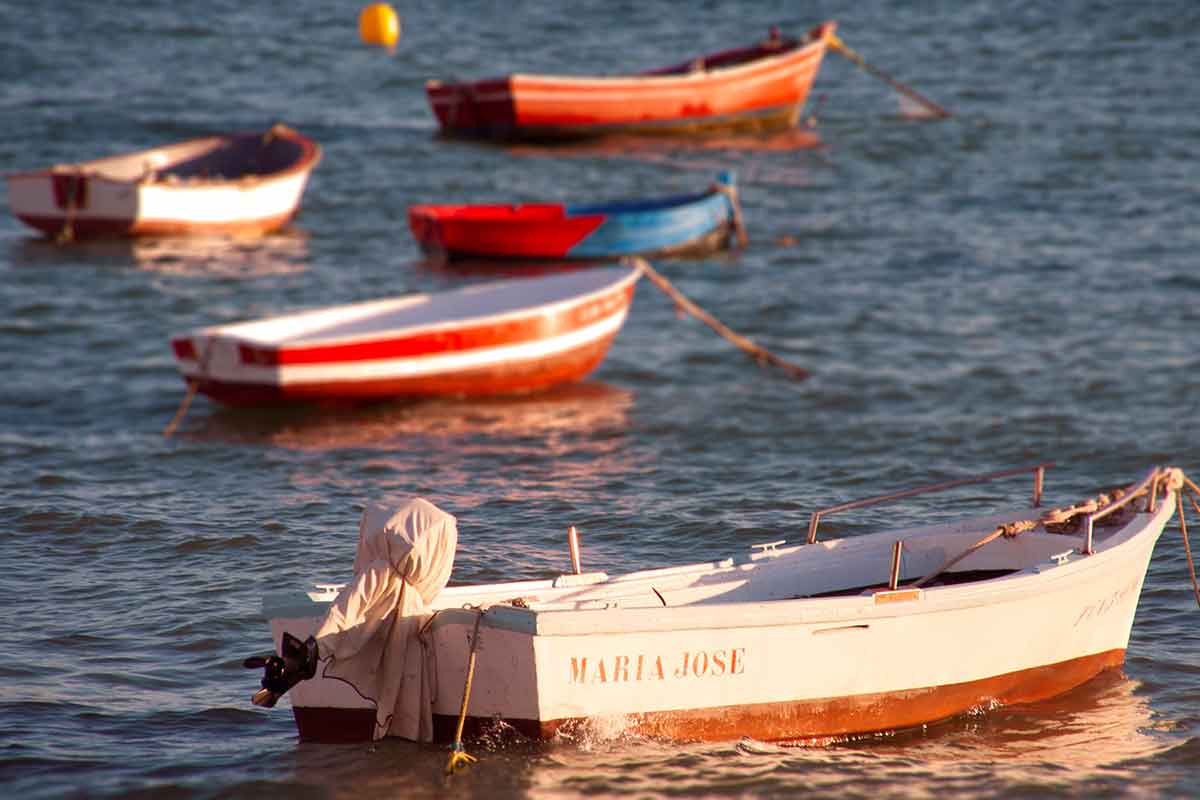 It's 120 kilometers from Seville, 230 kilometers from Malaga and 210 kilometers from Huelva. The capital city of Spain, Madrid, is more than 600 kilometers away.
The heart of the city is located on the central part of a long and narrow peninsula, connected to the mainland by bridges and a strip of sand.
How far is Cádiz from Sevilla?
Cádiz is 120 kilometers away from Seville and it takes an hour and 20 minutes by car to get from one city to the other.
If traveling by train (Renfe), it takes one hour and 30 minutes and by bus (Comes or Alsa coach companies) you can expect a one hour and 45-minute journey.
Those who are planning to visit Cadiz for a day could try this special tour that includes transport so there is no real need to take any public transport.
7 Reasons to Visit Cádiz
If we've not yet convinced you with the introduction and you're eager to know what else Cádiz is worth visiting for, then keep reading our 7 reasons below:
For its Sandy Beaches
Cádiz is a coastal city located in the so-called Costa de la Luz and it's no coincidence why! During the daytime, the omnipresent sun here creates a magical effect with the colors of the sand and the blue hues of the ocean.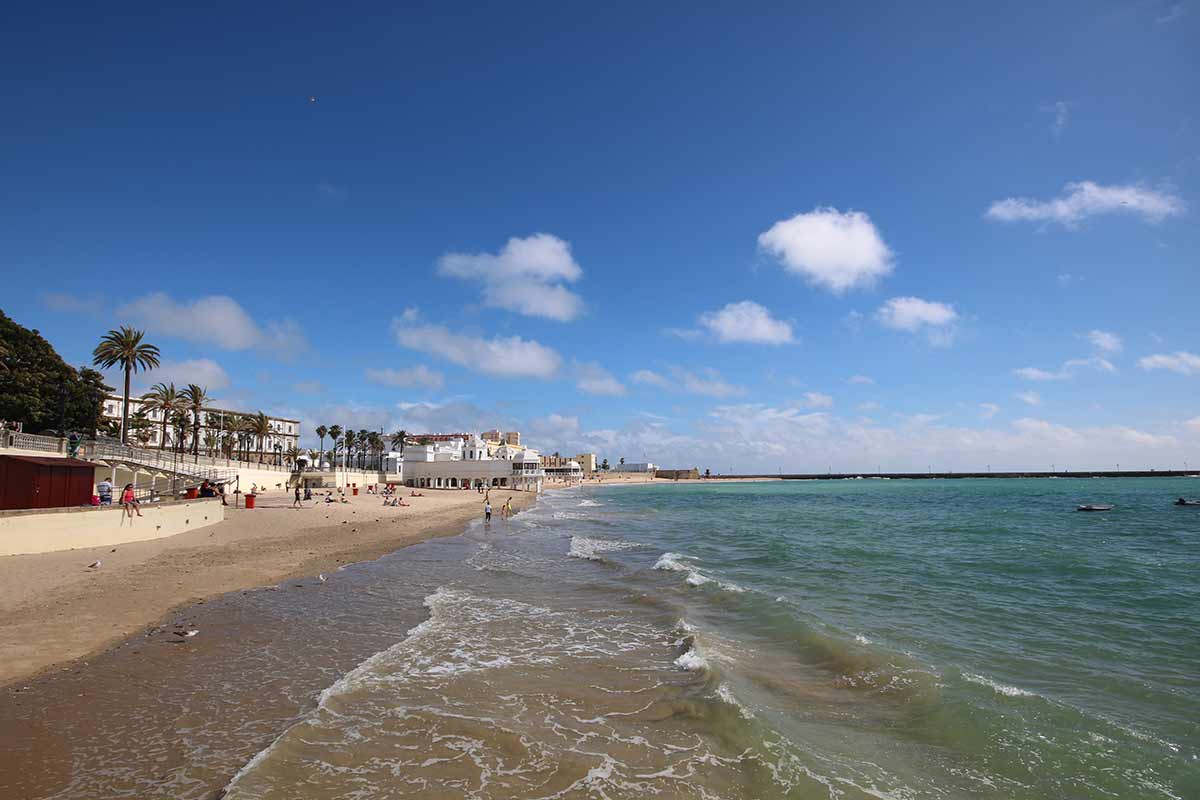 It is worth noting that there are 3 main beaches near the historic center (old town): La Caleta (the city's smallest beach), Santa María del Mar and Cortadura.
To be sure you are being well looked after while in Cádiz, be sure to check out this list of hotels in the old town which can offer you the most comfortable stay.
If you move towards the south, you can find more beaches worth visiting. The beaches where we recommend spending a day, sunbathing and relaxing are:
Tarifa
Zahara de los Atunes
Caños de Meca
Conil de la Frontera
El Palmar
Zahora
These areas are similar to the likes of Faro in the Algarve region which is a coastal city in Portugal. The ocean's waters are cold. The water is crystalline, and the beaches count on fine and golden sand because they extend for kilometers.
The sunset is the perfect time of the day to take in all the beauty of Cádiz's beaches and take pictures. If you don't want to travel to the beach, then you can go to La Caleta where most of the tourists normally spend their time.
During the day, especially close to the midday hours, be sure to carry some water-resistant sunscreen along with you to protect yourself while sunbathing.
To Taste Local Cuisine
Cádiz's cuisine is rustic and rich in flavor. As a respectable Spanish coastal city, fish and seafood-based dishes are protagonists.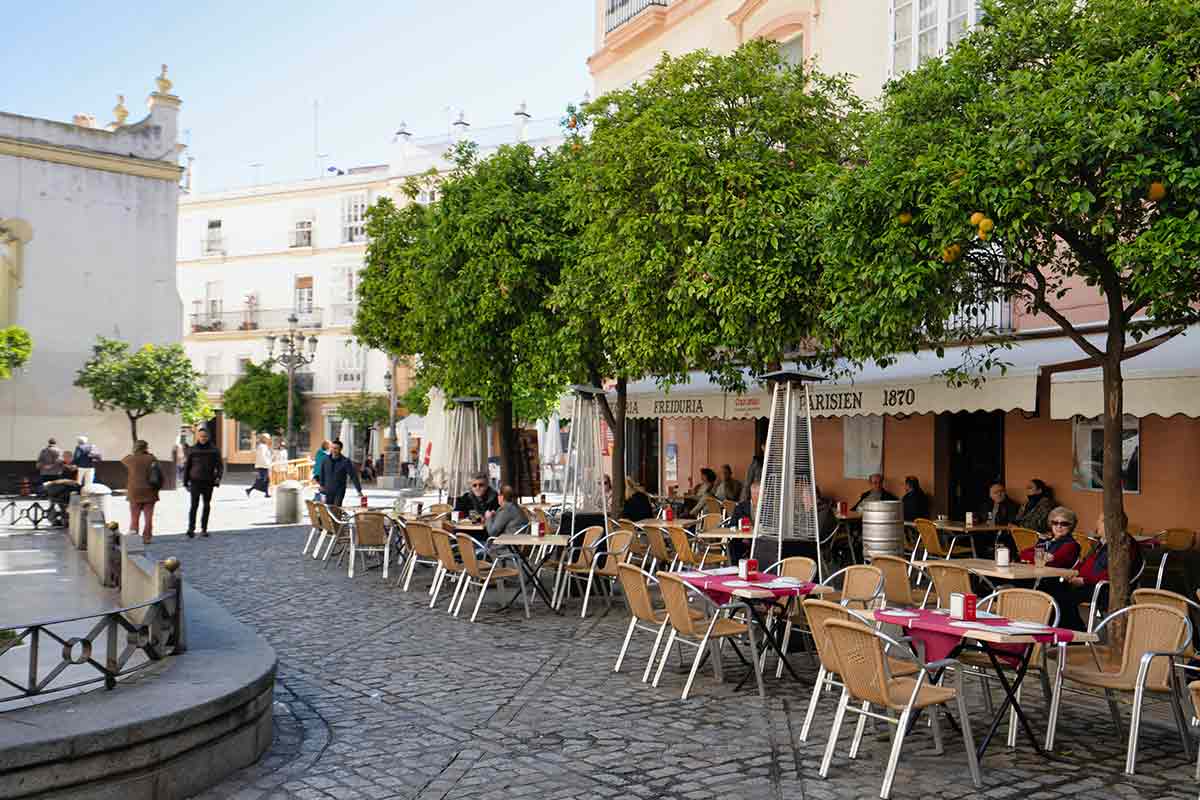 Among the best fresh produces that you can try there are: bluefin tuna from Almadraba, sea urchins (quite popular in Cádiz) and langoustines de Sanlúcar.
But the variety of this cuisine doesn't end with fish and seafood! The Retinto beef has a spectacular taste and it's just perfect straight from the barbecue, whilst the local Sierra de Cadiz cheeses are a great addition to any table, in particular the Payoyo. You can eat well without spending too much basically everywhere in Cádiz. This Epic Cadiz Food Tour will allow you to try everything you imagined.
For example, you can eat delicious chicharrón (fried pork rind), at the outdoor tables of the Mercado Central de Abastos, the local market. You can also have a great meal in a chiringuito near the beach or at local small bars. Don't forget to accompany your meal with a nice glass of local wine.
Perfect for a Short Stay
Cádiz is worth visiting because it's an ideal city to explore for a short weekend or if you're looking to include the perfect pit-stop in your Andalusia itinerary.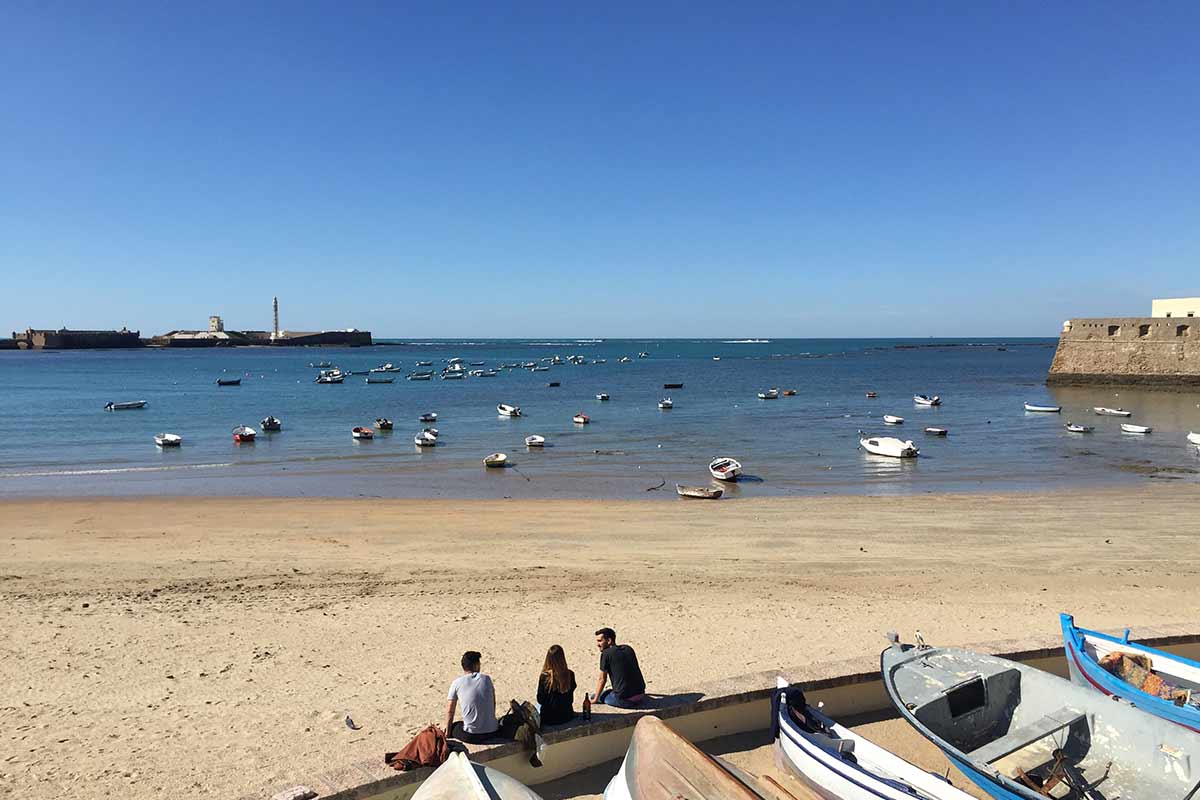 The most popular cities in Andalusia that travelers love to visit are places such as Seville, Cordoba and Granada, but if you don't want to miss out on a real gem like Cádiz, make sure to stop by! See these top-rated hostels if you're on a budget!
The city is well-connected by car (E-5 motorway) and public transport to Seville where there's also the main closest airport.
If you decide to rent a car while in Spain you won't find it difficult to get here. If you're traveling from London, the closest airport is Jerez de la Frontera.
You can get the Renfe train from Seville or a bus and get to Cádiz in an hour and a half, making of it a great day trip from Seville too. In one or two days you can visit the main attractions based in the historic center without rushing too much.
For the Carnival
'Los Carnavales de Cádiz' is one of the most anticipated events of the year because here in Cádiz, the Carnival is taken very seriously.
People prepare all year round for 11 days of street celebrations (between February and March). People dress up, you can find parades of floats around the streets of the city center, and everyone heads to the 'Teatro Falla'.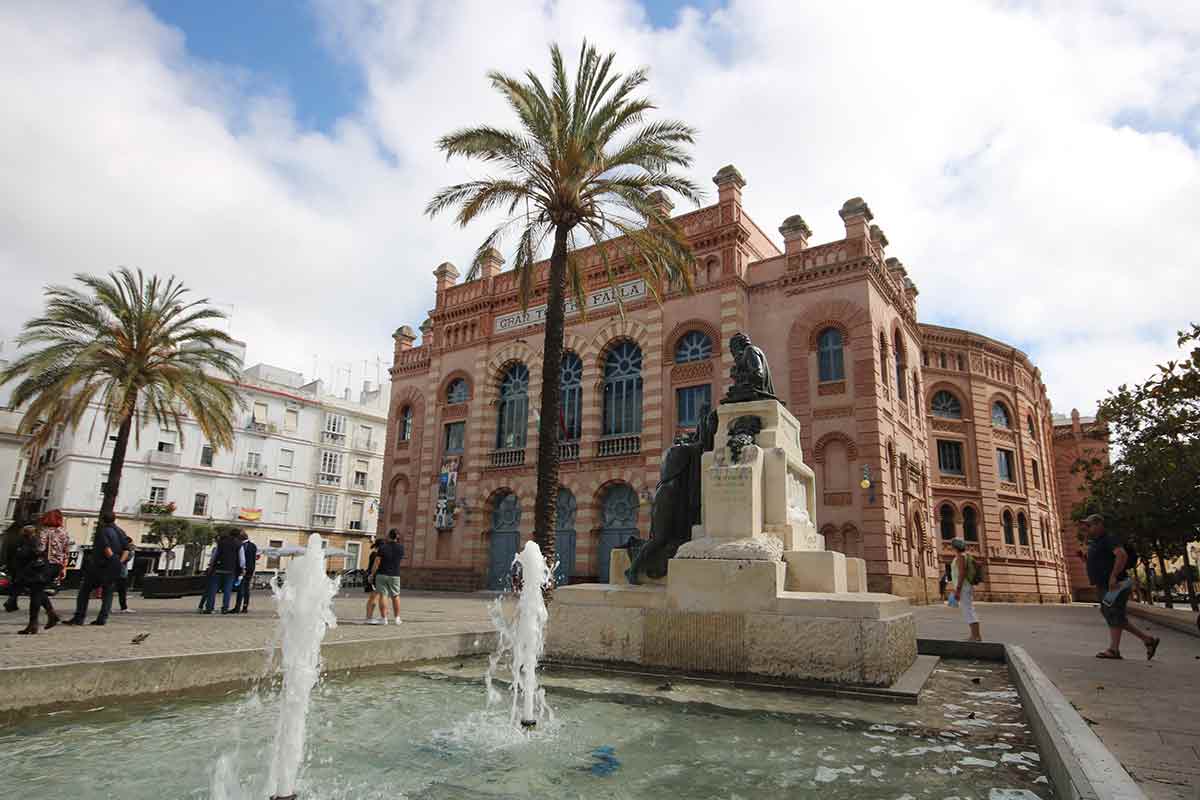 It is here locals attend a show during which artists sing and dance in honor of all the good things that have happened during the year. This is a great time to rent a bike in Cádiz and make the most of the Carnival atmosphere. Here you can also partake in the celebrations with local people during this time.
Of course, this is a great occasion to taste local Carnival products like Tortillitas de Camarones, sea urchins from the Atlantic and Pestiños, a sweet treat. You can check out this website if you want to learn more about the Carnival in Cádiz.
The Oldest City in Europe
Another reason Cádiz is worth visiting is that it's the oldest city in the West. With more than 3,000 years of history, the Spanish city has always played an important role as a port in the Mediterranean Sea.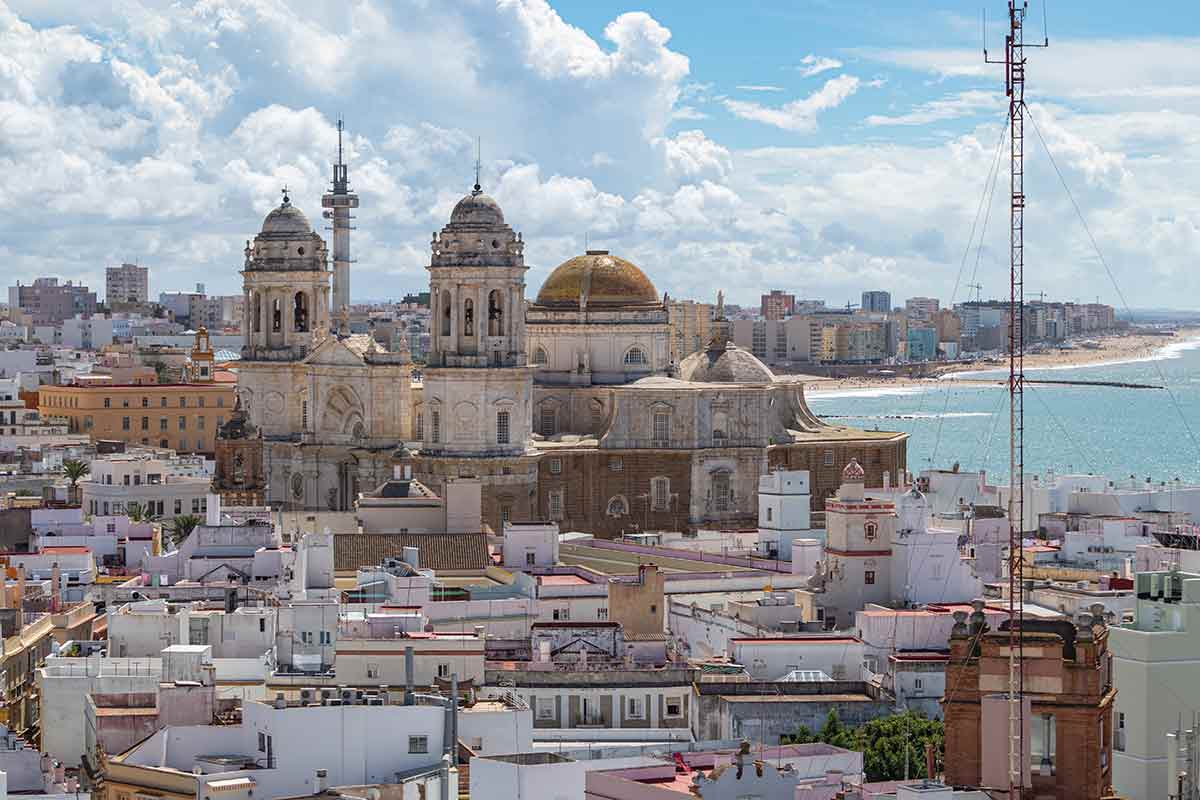 More precisely from the year 1100 BC when the Phoenicians' civilization was controlling the flourishing town. It was after the second journey to America when Christopher Columbus started from here on September 24, 1493, that Cádiz's port became more powerful than the port in Seville.
The intense trading activity with the New World (America) enriched the city and lived a period of great splendor. During this time, new Baroque palaces were built that can still be visited today. If you're in Cádiz you should visit one of the symbols of the city, the Cádiz Cathedral, a Baroque-Neoclassical style church.
Plaza de San Juan de Dios, the main square, Torre Tavira are places you can enjoy views of the whole city, as well as Castillo San Sebastián and Parque Genovés. See this medieval walking tour with which you'll have the chance to walk around with a local guide and learn more about the city's medieval past.
Day trips to explore Andalusia
If you're spending more than 1 day in Cádiz or maybe even two or three nights, it makes sense to try and visit more of the region. Apart from more beaches, you can reach by car or by bus, you can explore the close by Parque Nacional de Doñana, one of the most important national parks in the whole country.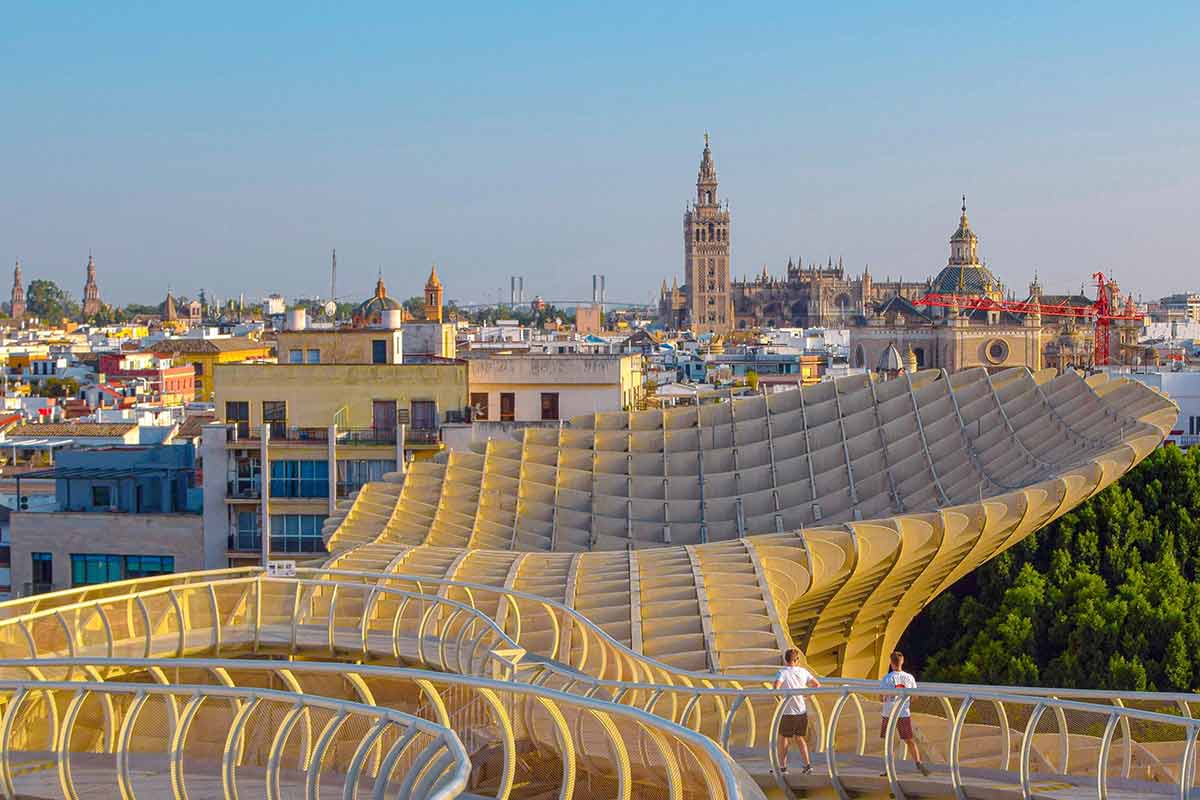 If you prefer to visit more towns or villages, we recommend going to Jerez or Vejer de la Frontera which are only 30 minutes away from Cádiz. You can also visit the capital city of Andalusia, Seville, and spend a day there.
If you're here during the summer months then try a sunset catamaran cruise to be able to enjoy the beauty of this location, visit the bay and have a drink on board.
Have you ever heard of Ronda? The mountain top city can be visited from Cádiz by joining this private tour for the day. Whilst Gibraltar, the Upper Rock and Nature Reserve can all be visited with this full-day trip if you're feeling adventurous.
For its Pleasant Climate
The climate in Cádiz is typically Mediterranean with hot summers and fairly mild winters. Thanks to the presence of the sea and the strong winds, summers are less hot than in other Andalusian cities such as Seville and Malaga.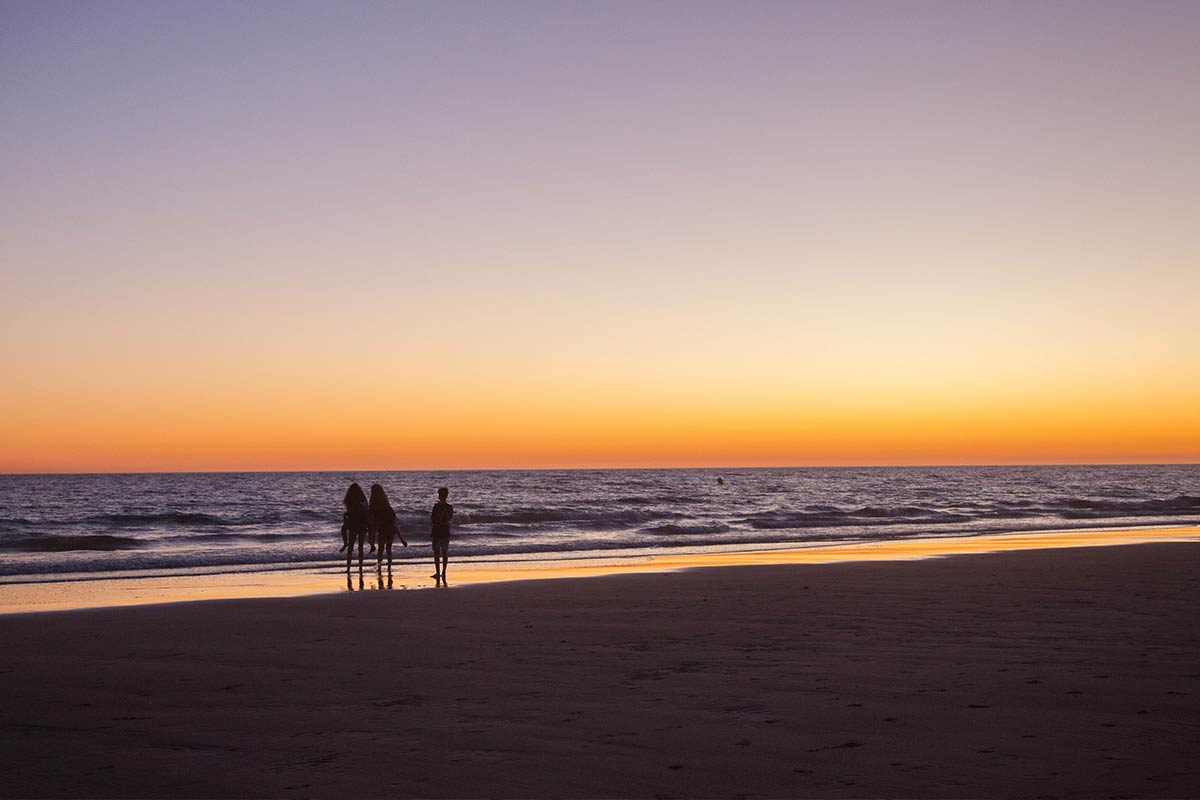 Average temperatures during summer are between 22 (early June) and 28 °C (August), when it's also a good time to spend time at the beach, even if it's still not too hot to go sightseeing, avoiding the warmest hours of the day.
Summer is also the time of the year when most tourists visit Cádiz and other Andalusian coastal locations. For this reason, we suggest traveling during spring or autumn. Temperatures are between 19 and 23 °C, so still pleasant and warm, even if not ideal to go to the beach. Winters are also a good time to visit Cádiz, in particular, if during the Carnival celebrations in February/March.
Is Cádiz worth visiting?
If you ask us, is Cádiz worth visiting? We'd say absolutely yes! Even if the city has fewer attractions and things to do than in the super popular Andalusian capital city, Seville, Cádiz is still a great place to visit in southern Spain.
Whether you prefer to include it in a larger itinerary or looking for a Spanish city to visit during the short space of a weekend, Cádiz won't let you down.
For even more ideas on what to do and see here, why not check out our Andalusia itinerary that also details more exclusive places to visit in the region?
---
Dear responsible traveler: This post may contain affiliate links, which means, if you click through and make a purchase, book a tour or a hotel, we may earn a small commission. This is at no additional cost to you. Your support means a lot and helps us to maintain the quality of this site.