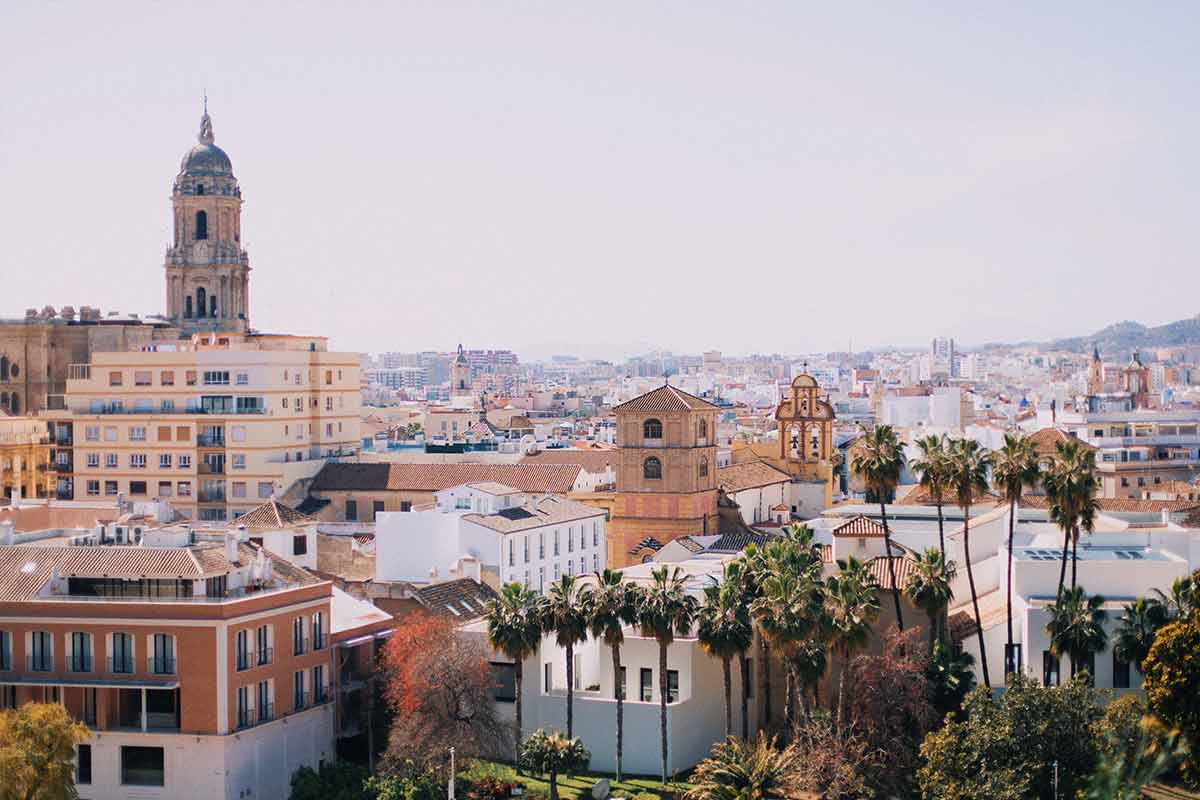 Are you looking for a useful Malaga itinerary to help you plan your trip?
The popular beachside hub of Malaga draws a large number of tourists from all over the world.
Tourists love Malaga not only for the variety of experiences and rich history it offers but for the easy access to the Andalusian coastline.
1 Day in Malaga itinerary
Below, we'll share some of the best spots to visit during any 1 or 2 days in Malaga! That way, you can be sure your precious time is well spent.
By all means, you can customize this Malaga itinerary, and depending on how many days you plan to stay in the city you can add more attractions.
Is Malaga Worth Visiting?
With so many reasons to visit Malaga and its endless variety of wonderful places, you have plenty in the way of historic monuments and landmarks here, not to mention, the long list of local delicacies on offer.
However, here are a few of the most compelling reasons to visit:
Art and culture: Malaga is a fantastic destination for art and culture lovers! It's worth knowing that this city is the birthplace of the famous painter Pablo Picasso, and there's a museum dedicated to him: the Picasso Museum. You can also visit the Centre Pompidou and Carmen Thyseen Museum, as well as a few art galleries, the new modern port area, and the artistic district called Soho.
Costa del Sol's beaches: Malaga tops the list of places in Andalusia for its beaches! The sandy Costa del Sol's beaches are the dream for thousands of visitors, and from Malaga, you can easily get to some beautiful ones. The city's beach is called Malagueta beach, which is easy to reach on foot for anyone staying in Malaga. In a short walk, you can also visit Playa de Padregalejo and Playas del Palo.
History: the historical city center is full of artistic and architectural treasures. Through its charming cobbled streets, you can spot the Moorish fortress of Alcazaba with a splendid view of the city and the Gibralfaro Castle. The Cathedral of Malaga is a fascinating Renaissance-style church, also knowns as La Manquita, "one-armed woman", because one of its towers was never completed.
Nightlife: Malaga is the capital of the Costa del Sol, and for this reason, the beach bar scene is quite established! Bars are open both during the day and nighttime, and the best district of the city to enjoy it is without any doubt La Malagueta.
Of course, there are 100's more reasons to visit Malaga, since it is known to many as the central hub of Andalucia and southern Spain.
But before we get into some of these top things to do in Malaga, let's look at the number of days we recommend spending in Malaga.
How many days in Malaga?
Malaga is the perfect city and beach destination for a short holiday, but at the same time is a great starting point for any Andalusia itinerary.
Most of the popular European low-cost airlines serve this destination with flights all year round.
In order to have time to visit places such as Seville and Granada, we suggest spending one day in Malaga: take your time to visit the Gibralfaro Castle and relax at the beach before moving to your next destination.
Things to do in Malaga (itinerary)
As we mentioned above…
Malaga is a key addition to any Andalusia itinerary and well-known for its position along the Costa del Sol and its incredible stretch of beaches.
So now, let's look in more detail at what things do in Malaga below:
The Alcazaba
One great thing to do here is to visit the historic center where you can see many important landmarks and sights including the Alcazaba, Teatro Romano, and the Cathedral of Malaga.
The Alcazaba is one of the most popular to visit, with the ancient fortress being built during the 11th century, and is a great place for taking photos.
Here there are plenty of accommodation options of all budgets and lots of restaurants and bars. You will find that the best places to stay are near the Malagueta Beach and also the historic center.
Gibalfaro Castle
One of the best things to do in Malaga is to hike up to Gibalfaro Castle. This spectacular castle is situated at the top of a very steep hill!
From here you'll learn about the ancient fortress, its importance for the city as well as get some stunning views over the city and bay of Malaga.
The castle (built in 929AD) overlooks the city. Although there's not much left you'll find the old castle walls and the remains of the original buildings.
There is the Gibralfaro Castle Interpretation Centre which gives you chance to look deeper at the life of the castle in its heyday.
Tickets to visit the Gibralfaro Castle cost just €2.2 and if you visit on a Sunday after 2 pm the entrance is free.
Centre Pompidou Malaga
This area is a must-see, especially for art lovers who wish to see an eclectic mix of art movements.
Whilst in downtown Malaga you can easily miss this underground museum and with a quick look at exhibits, you get a grasp of Impressionism, Cubism, and Surrealism all in one place.
With works from Picasso, Dali, Miro it is well worth a visit. If you find yourself looking for things to do in Malaga on Sunday then come here because the entry is free.
Mercado Central de Atarazanas
For any visitor interested in food tours or, who is fond of new tastes and specialties, this market is located in the historic center of Malaga this is one of the best places to buy fresh produce try new food.
The city's most Colorful fruit and vegetable stands lure your attention from a distance with locals and tourists alike shopping here.
This market's attractive atmosphere is the perfect place to sample some tapas, wine, and paella which is on offer all at reasonable prices.
Just be sure to arrive early if you want to beat the lunchtime crowds.
Caminito del Rey
The name Caminito del Rey which derives from the original name 'Camino del Rey' translates to The King's Little Path in English.
The length is around 3 km and it is one of the most incredible hikes in Malaga you can do if you wish to escape the city.
Known as Spain's most popular hike, it is best to start in the morning, however, expect queues and waiting long times.
The hike can be done in around 2 hours but if you are scared of heights you may wish to reconsider. Also, with such high demand, tickets can sell out quite fast if you are planning to do this walk as part of a guided tour.
Malaga Travel Tips
See our list of travel tips to take with you:
Remember to get your FREE travel insurance quote from SafetyWing to receive fully comprehensive support when it comes to unforeseen travel complications.
At Mercado Central de Atarazanas you'll find that fish stalls are usually closed on Mondays because of the no fishing on Sunday rule. If you can't stand the fishy smell then Monday is your day.
You'll find that Playa de la Malagueta is the beach with closest proximity to the Malaga's downtown area.
See the Málaga Arte Urbano Soho for a map of some the city best art work and street art murals. You can also find a printed version of the map at most tourist inforamtion centres.
For a unmissbel local food experience why not visit Mercado El Carmen for lots of variety at very reasonable prices.
Note that a taxi from Malaga airport to the downtown area can cost around 20 euros (there is a minimum charge) and if you're on a budget why not try the bus as it only costs 3 euros per ticket.
Try to carry cash and items of value with you at all time in a front or inside pocket, you'll find Pacsafe make some great bags/backpacks for traveling around with valuables.
If you are traveling alone, be sure to 'always' carry your cell phone along with you, if you have one that is. Even if you are just popping out of your hotel to go to the main square.
As you take in the monuments of Malaga and it's historic center, you can do a market and winery tour with tapas to sample foods and drink that originate from the city.
Although you shouldn't need to abide by any specific rules for safety in Malaga, never let your guard down. The city reports very little crime towards tourists, so imagine yourself in a safe space whilst here.
Malaga itinerary (1 Day)
Now you have some ideas of which places to visit in Malaga!
Malaga is usually the starting point of any trip to Andalusia as it has a very well-connected airport.
The landmarks noted in this itinerary are some of the popular with people visiting the city for the very first time.
So what are you waiting for?
Book your trip to Malaga today and aim to follow some of our sustainable travel tips to ensure that your trip has a positive impact on the local environment.
---
This post contains affiliate links, meaning, if you click through and make a purchase or sign up for a program, we may earn a commission. This is at no additional cost to you.