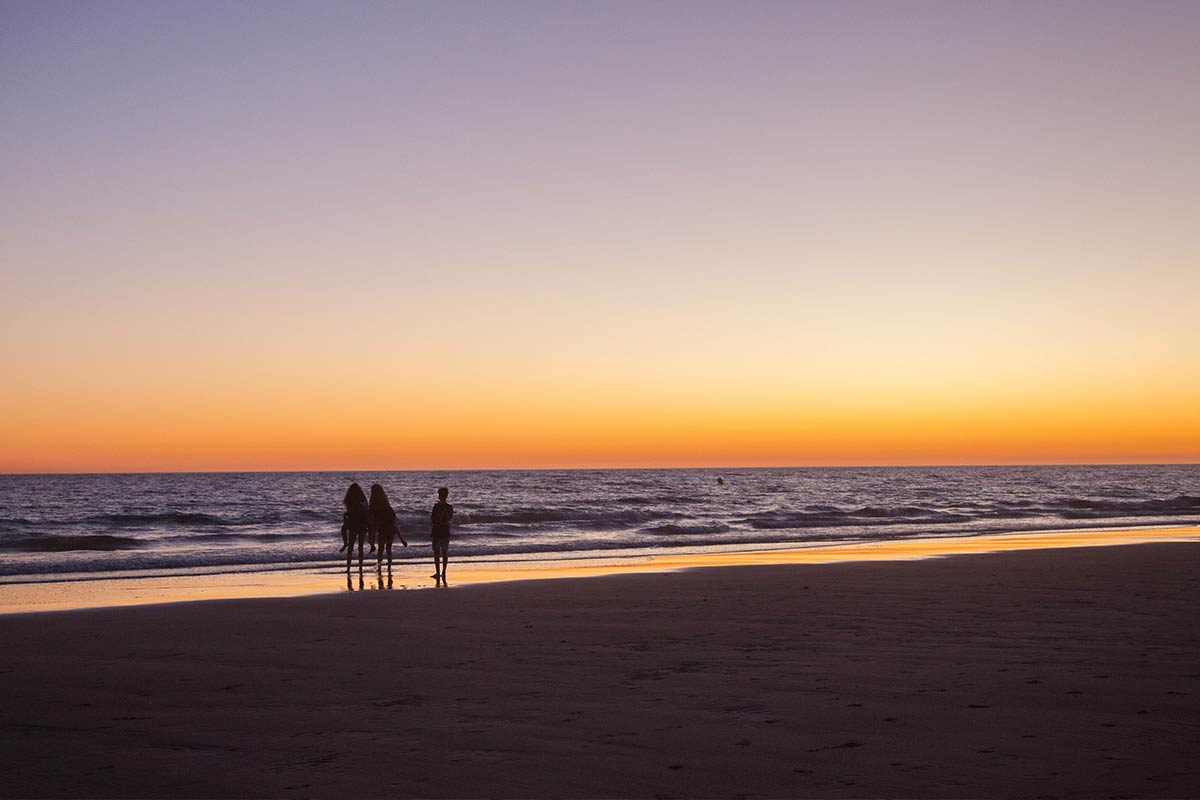 Are you looking for a Cadiz itinerary to get some ideas for your trip?
If you're planning a summer trip, what better place to visit than Cadiz?
This amazing city is packed with adventure; whether you want to focus on landmarks, spend your time outdoors, or enjoy the exciting nightlife, Cádiz is the perfect destination for travelers from all walks of life.
1 Day in Cadiz itinerary
We understand your reasons for traveling to Cádiz may differ, however, we're confident the reasons below will inspire you to extend your stay.
Is Cadiz Worth Visiting?
The short answer is yes!
Aside from its age-old architecture and vibrant food scene, Cádiz is one of the oldest cities in Europe, so imagine all the things it has to offer.
Here are a few compelling reasons to visit:
Historic streets: One of Cádiz's biggest appeals is the historic old town streets that will take you back in time. It's easy to imagine history taking place here!
Unique landmarks: If you love sightseeing, visiting Cádiz will be a delight. We'll explore some noteworthy landmarks in this itinerary.
Perfect for short trips: Though slow traveling is great, you don't always have that luxury. But whether you're spending a month or just one day in Cádiz, you will be able to enjoy this place to the fullest.
How Many Days Should I Spend in Cadiz?
Though you can visit Cádiz for a 1-day trip, as we suggest here today based on our 1 week Andalusia itinerary, you can easily stay for 2 days or more. It all depends on your possibilities.
Whether you're staying in Andalusia for one week or three, you should spend at least 1 or 2 days in Cádiz. This special city is well worth your time and you can do a lot in that timeframe.
To give you an idea, let's see what you can do in Cadiz in just 1 day!
Best time to visit Cadiz?
Like much of Southern Spain, rainfall doesn't really mark much of a difference anytime of the year.
Overall precipitation throughout each month of the year range from 0-2 inches, with July being the driest and November being the wettest.
The warm season to visit Cadiz is between June and September, where average temperatures range between 72-76°F, with highs of 83°F and lows of 65°F.
The cooler season is between October until May, where average temperatures range from 53-67°F, with highs of up to 74°F and lows of down to 47°F.
Things to Do in Cadiz
Though Cadiz is full of wonder, there's a lot you can do in a day.
For this itinerary, we will focus on the most iconic places so you can make the most of your limited time in the city.
Catedral de Cádiz
The Catedral de Cádiz is one of the main attractions in the city. It's an 18th-century building and it took 116 years to build, which is astounding.
The ticket price is only €5 and you'll gain access to the entire place. Including the Levante Tower, which offers breathtaking views of the city.
You'll find the cathedral in the Plaza de la Catedral, which is full of restaurants where you can have delicious tapas and other local dishes.
For one of the best stays in Cadilz be sure to check out the hotel Catedral Cadiz which is located right next door to this popular landmark.
Torre Tavira
Tavira Tower is the second most visited attraction, after the Cathedral.
There are 133 watchtowers still standing in the city, but this is the tallest one since it's 45 meters above sea level.
This means that the tower offers the best panoramic views of Cadiz!
The tower's main attraction is the Camera Obscura, which provides a unique experience. There are only a dozen of these chambers left in the world, so this is a must-visit.
La Caleta Beach
Though there are many beautiful and accessible beaches to visit in Cadiz, Playa de la Caleta boasts the most central location.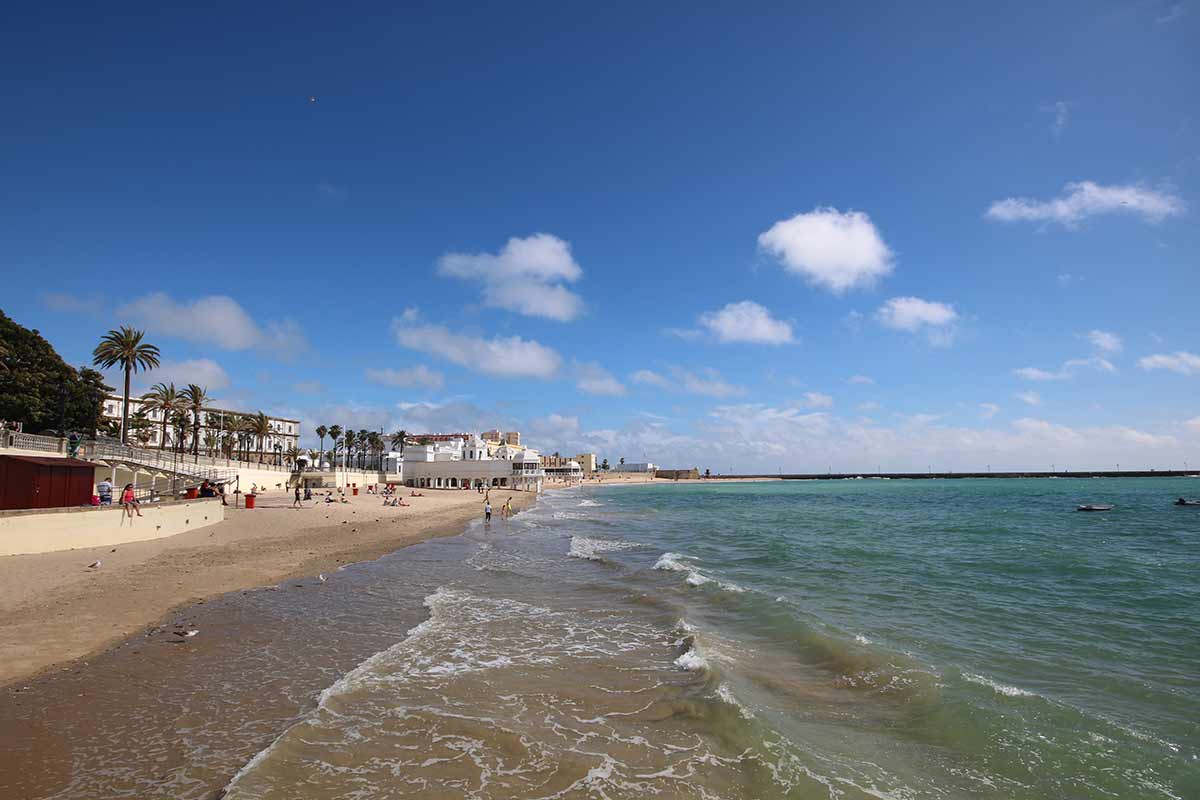 It's not a large beach, but it's very popular because it's very close to the historic center. So, if you only have one day, there's a lot to do in this area besides enjoying the sea and sun.
The beach is right between two castles and there are plenty of amenities for you to enjoy. It's a great spot to watch the sunset!
Castillo de Santa Catalina
The Santa Catalina castle is a fortress located at one end of La Caleta beach. It is an Asset of Cultural Interest and it's the oldest military structure in the city.
The structure is magnificent and it's shaped like a star with multiple defensive bastions.
The castle also hosts art exhibitions and you walk on the ramparts to enjoy amazing views of the Atlantic Ocean.
Teatro Romano
The Roman Theater of Cádiz dates from the end of the 1st century BC, making it the oldest one in the Iberian peninsula.
It's free to visit both the theater and the museum inside, so we highly recommend you go. If you can, consider taking a tour if you want to see the wonderful underground hall in the area known as the Pópulo.
You'll have a great time taking in all the archaic features and structure of this place which is the second-largest Roman theater in Spain.
Museo de Cadiz
Whenever you visit a new place, it's important to get a bit of culture. That's why you should make time to visit the Museum of Cadiz.
It's at the end of the Alameda Apocada walk and you'll find three floors of art and culture. They are divided into three periods; it's one floor for Phoenician and Roman archaeological remains, one for 16th to 20th-century Spanish painters, and one for local folk customs.
Cadiz Travel Tips
If you want to make the most of your trip to Cadiz there are a few things you should look out for to make your stay a more memorable one.
⤵️ Below are some of the best things to add to your list:
Try to carry cash and items of value with you at all time in a front or inside pocket, you'll find Pacsafe make some great bags/backpacks for traveling around with valuables.
Visit Marama which is a famous bar where you can have a nice tinto de verano and be close to locals.
If you can, schedule your trip to enjoy the Carnival. This week-long celebration offers amazing performances and endless partying.
If you decide to rent a car in Andalusia you'll find it easier to travel outside of the city and visit other towns in Andalusia.
Flamenco performances are also a must. Go to the tablaos and peñas to enjoy the best shows.
Remember to get your FREE travel insurance quote from SafetyWing to receive fully comprehensive support when it comes to unforeseen travel complications.
Visit the Cádiz market to see all the fresh produce and taste some freshly-cooked seafood. There is a guided food tour that gives you chance to explore the local Tapas in Cádiz with wine as you learn more about the local culture.
For some of the best tapas you'll ever have in your life, head to Taberna Casa Manteca. The place is decorated with old photos and it's a great way to get a peek into Cádiz's past.
Though there's a lot more where that came from, these tips provide a great starting point for anyone thing of spending 1 day in Cadiz.
1 day in Cadiz Itinerary
In just one day, you can see a big chunk of the landmarks and amazing places Cádiz has to offer.
Additionally, you'll taste some of the local cuisine and see the tight-knit community go about their daily lives.
Overall, this city is a great place to visit during the summer and it has something for everyone.
Before traveling to Cadiz, please take a look at our sustainable travel tips to ensure that your trip has a positive impact on the local environment.
---
This post contains affiliate links, meaning, if you click through and make a purchase or sign up for a program, we may earn a commission. This is at no additional cost to you.