Let's take a look below at famous things Venice is known for.
Venice, Italy has to be one of the most uniquely magical places on earth.
Known as "The Floating City" and the "City of Canals", this is a place you must visit at least once in your life.
It's a picturesque city and there are many things Venice is known for, such as gorgeous bridges, breathtaking architecture, and more.
Famous Things in Venice
This magical lagoon city is one of the most popular tourist destinations in Italy, and there are plenty of good reasons for it to be, too.
We've given advice on what to do for one day in Venice and today, we'll discuss some of the most famous things in Venice so you know what to expect and you learn a few interesting things about this wonderful city.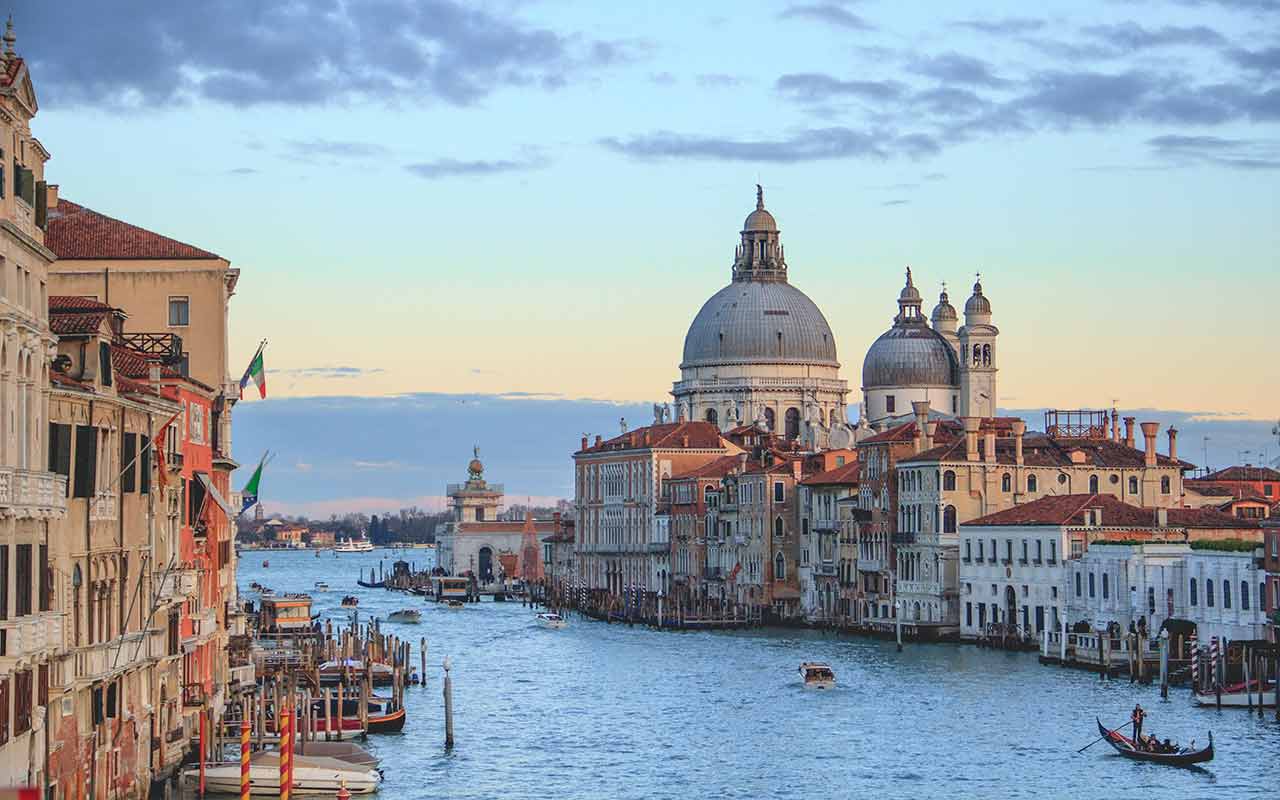 Venice Canals
Venice is made up of 118 different islands, which are separated by canals and linked by bridges. There are 117 Venice canals and the largest one is the Grand Canal, which splits the city in two.
You can't swim in the canals and you will be fined if you do, but they are one of the most Venetian things you can think of.
Venice Film Festival
The Venice Film Festival is one of the three largest and most important events in European cinema along with the Berlin and Cannes film festivals.
This event takes place every year and the first one was held in 1932. Directors from all over the world dream of the Golden Lion, which is the highest prize, and it's one of the most luxurious and exclusive events in cinema.
The Venetian Ghetto
Jewish people who settled in Venice were segregated into one neighborhood, something that happened all over Europe.
That is how the Venetian Ghetto came to be and it flourished between 1516 and 1797. However, it was dissolved along with the Republic.
However, there's still a Jewish community at the heart of the city and it's one of the must sees in Venice.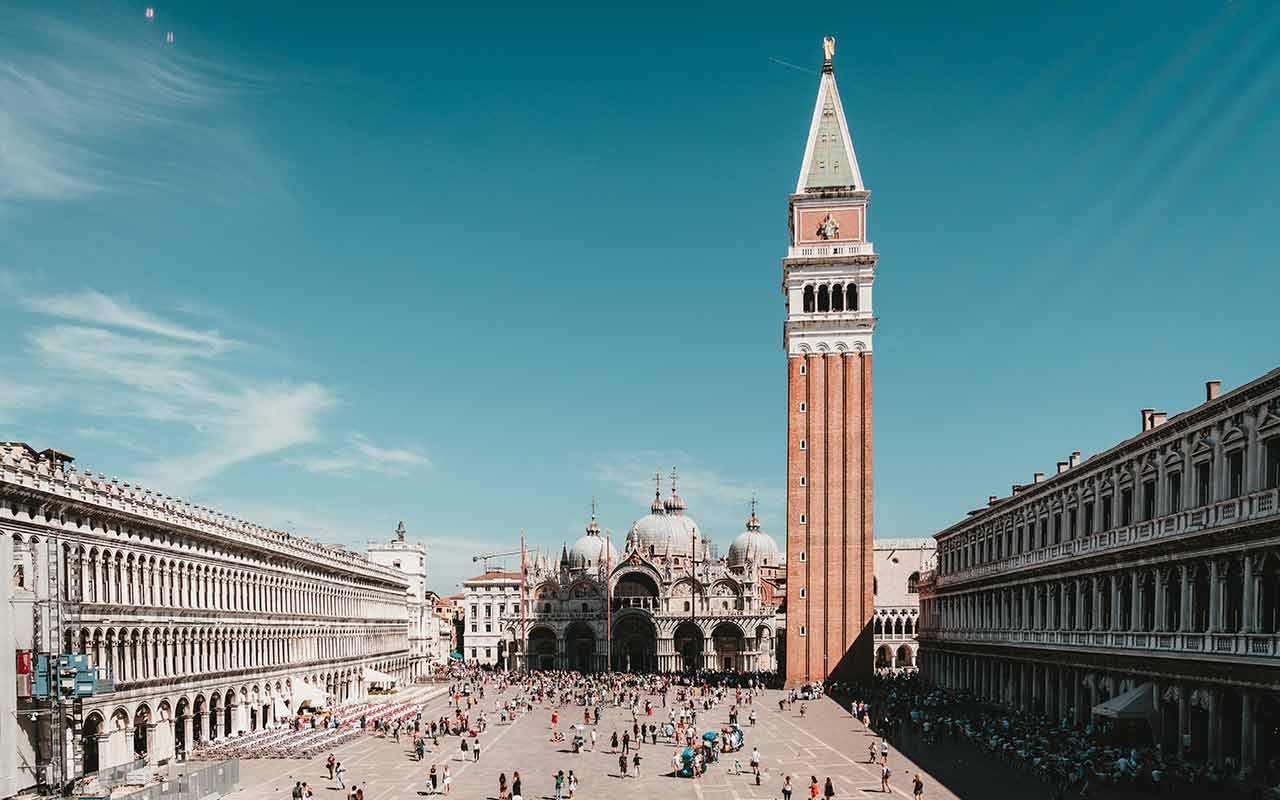 St. Mark's Square
Saint Mark's Square or the Piazza San Marco is the main public square, so it's one of the most popular tourist destinations in Venice.
As listed in our 2 days in Venice itinerary, here you'll find the St. Mark's Basilica, which is the most famous church in the city. You'll also find the Palazzo Ducale, which used to be the seat of the Venetian government.
Overall, St. Mark's Square is very active and it's a good place to get a coffee at an outdoor table and sit to absorb the unique atmosphere.
Gondola Rides
Gondola rides are one of the most famous things in Venice and you can't say you've visited if you don't enjoy one.
They are the main means of transportation in Venice for navigating the canals and it has been that way since the 11th century.
All the gondolas are black, but if you pay attention, you'll notice they all have different details, upholstery, and trims. Plus, they are romantic if you're traveling with a partner!
Libreria Acqua Alta
Forget the bookstores in Rome for a minute. The Libreria Acqua Alta is one of the most incredible bookstores on earth and a must-see in Venice.
This bookstore is periodically flooded but the books are kept safe, stacked up against walls, on a staircase, and even onto bathtubs, so you can imagine the chaotic yet charming vibes.
Without a doubt, this is one of the most unique bookstores you can visit.
Bridge of Sighs
The Bridge of Sighs is one of the must-sees in Venice and it's a gorgeous bridge made of white limestone that features windows with stone bars.
It's not big, but it's incredibly charming.
Though it has become a romantic spot, the story of its name is quite sad because it was the last glimpse of Venice prisoners got from the windows before they started their sentence or were executed.
Venice Carnival
One of the many things Venice is known for is its Carnival, which happens three weeks before Ash Wednesday and Lent.
The Venice Carnival is characterized by masks, which were used to protect people's identity back in the day so everyone could socialize without being judged based on social status.
There are 10 different kinds of masks, but the most popular ones are bauta, arlechino, gnaga, colombina, and pantalone.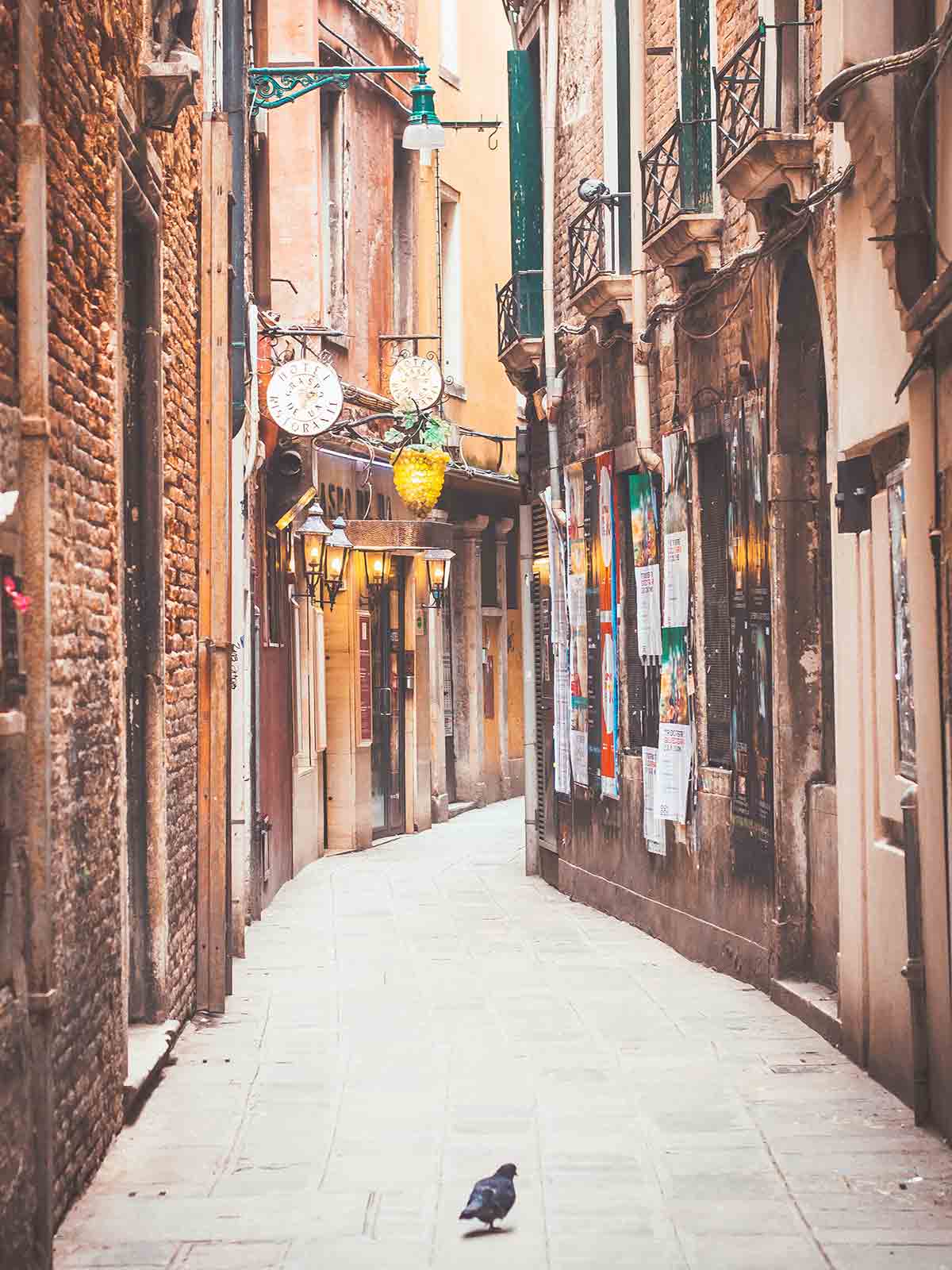 Narrow Streets
Venice is worth visiting for this alone! Narrow streets are as Venetian as it gets. The city is known for being a labyrinth of narrow streets, alleys, and laneways, so it's very cramped and it's easy to get lost in the maze.
If you're claustrophobic, you may have a bit of an issue exploring certain parts of the city, such as Calle Varisco, the narrowest street in the city. But if you're not, it's definitely worth a visit.
Burano
Burano is a bright and colorful area that's well worth a visit. Though Murano is more popular, Burano makes for a lovely day trip and you'll enjoy the boat ride.
It's a beautiful place, too beautiful to ignore and it's one of the most colorful villages on the planet.
You can take a tour, which is recommended because you'll learn a lot about the village and have more fun exploring.
Marco Polo
Marco Polo was born in Venice and he's a well-known merchant, explorer, and writer.
He traveled along the Silk Road and recorded everything in a book that became popular in Europe because it provided insight into the mysterious culture of the East.
This way, he helped bridge the technological gap in the West, so he is an important historical figure.
Venetian Spritz
Last but not least, we have the Venetian Spritz, one of the most famous things in Venice. This is a delicious cocktail made with Italian wine and it's a common aperitif in Northeast Italy.
It's made with soda, prosecco, and digestive bitters. The real deal is made with Select, a traditional Venetian spirit, but there are many versions of this wine-based cocktail.
What Is Venice Famous For? Final Words
These are only some of the many wonderful things Venice is known for, but they will provide an authentic experience.
Make sure you add them to the list so you can have the best possible time while you're visiting this uniquely charming city with so much to offer.
If you are traveling to Italy soon, see our 2 week Italy itinerary which features Venice, as well as other, must-visit places in Italy.
---
This post contains affiliate links, meaning, if you click through and make a purchase or sign up for a program, we may earn a commission. This is at no additional cost to you.