Will you be traveling from Venice to Lake Como and looking for some tips?
Located close to the border with Switzerland, Lake Como is the third-largest lake in Italy that is noted as one of the most beautiful lakes in the world.
It is a lake that is not only loved by Italian from all over the country but popular with tourists from all over Europe and even travelers from North America.
Venice to Lake Como
In this practical transportation guide, we are going to show you how to get from the city of bridges and canals, Venice to Lake Como.
Because no matter how magnificent Venice is, if you're in looking to spend some time away from the hustle and bustle, this is the perfect opportunity to do so.
Where is Lake Como?
Like Venice, Lake Como is also situated in the north of Italy but in the Lombardy region. This alpine lake is divided by both the Como and Lecco provinces.
From Milan, you can get to Lake Como in 1 hour and 50 minutes (83 kilometers) by car and in a 2 hours and 40 minutes (200 kilometers) drive from Turin, which are the two closest Italian cities to the lake.
As mentioned earlier, this lake is close to the Swiss border and is surrounded by majestic mountains and lush woodland.
Lake Como makes the ideal location for a relaxing vacation, and if you're into hiking in and around mountain villages then you'll love places such as Como, Bellagio and Varenna which can be visited in the space of one day.
Is Lake Como worth visiting?
Depending on how many days in Venice you've spent, the sound of a relaxing lakeside vacation may sound appealing, but is it really worth the trip?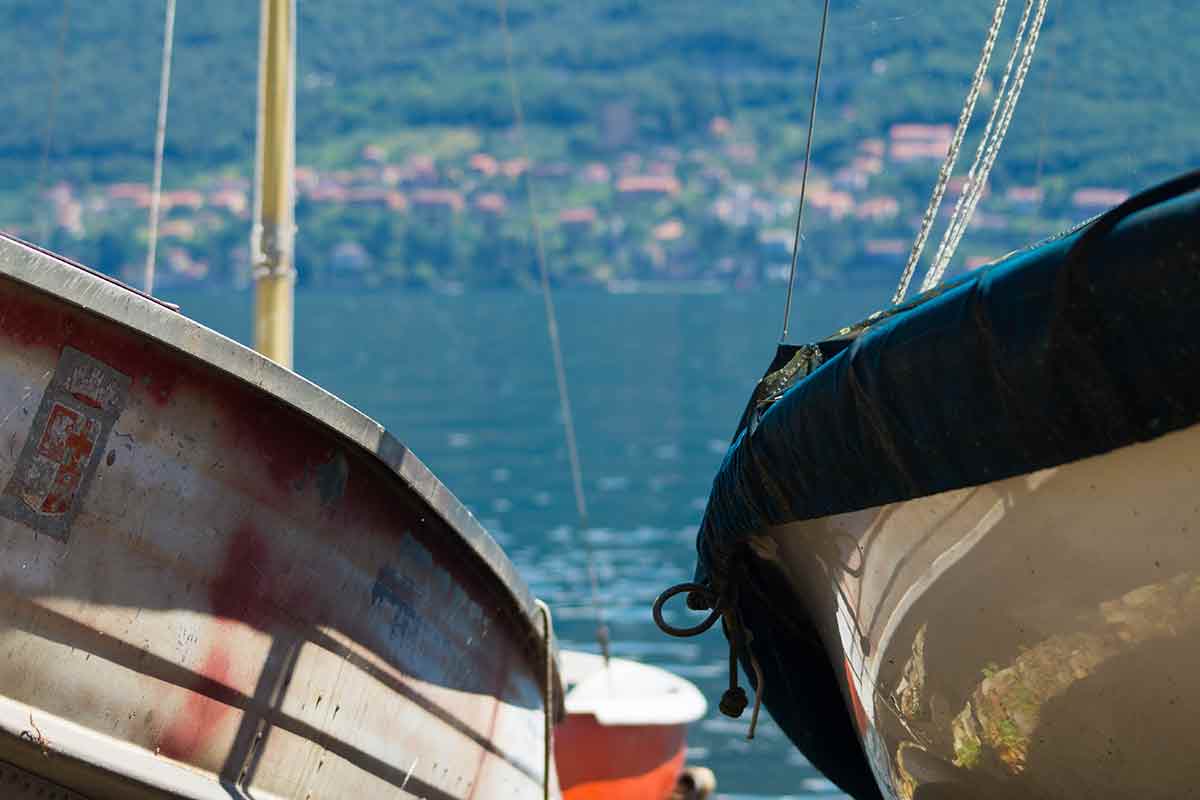 Especially when you could travel to Lake Garda from Venice instead, which is closer. Or visit other towns in Veneto, not to mention the Prosecco Hills.
Having said that, we 100% think that it is! Below we'll list 3 reasons why we believe that a trip from Venice to Lake Garda is worth your time.
If you want to experience stunning landscape views Lake Como offers some of the best country's best from more or less any place you position yourself around the lake.
There are lots of things to do in Lake Como such as everything from hiking, boat trips to shopping and exploring the local villas and gardens.
There is a beautiful town here call Varenna which was originally founded by local fishermen. It is here you can stay in the popular Hotel Olivedo where you'll be just a 2-minute walk from the pier in Varenna.
Famous for its villas and gardens, Varenna is one of the most popular villages to visit in Lake Como however you also have Bellagio which holds a treasure trove of history not to be missed.
Many famous people have either bought a property in Varenna or love staying there. Think Madonna, George Clooney, Donatella Versace and many more.
See this list of hotels in Lake Como to get an idea of what to expect while here and if you're visiting during the summer months book your room in advance.
How far is Lake Como from Venice?
Lake Como is 344 Kilometers from Venice which is around a 4 hours drive and the best way to get to Lake Como is by car. Why not take a look at the prices for renting a car in Italy so you can work out if it is a more viable option for you?
Many people who arrive in Italy have no intention of renting a car or driving and therefore choose to get from Venice to Lake Como by train or bus. It's a great way to be able to relax without having to think about what's happening on the road.
How to get from Venice to Lake Como?
Below we'll share in more detail how you can use public transport to get to Lake Como from Venice so you can hopefully choose the best option for you.
Getting the train from Venice to Lake Como
We'd say that the train is the best option because it gets you to your destination quicker than the bus. The train to Lake Como from Venice makes 2 stops along the way so you can sit back and enjoy the view for the rest of the journey.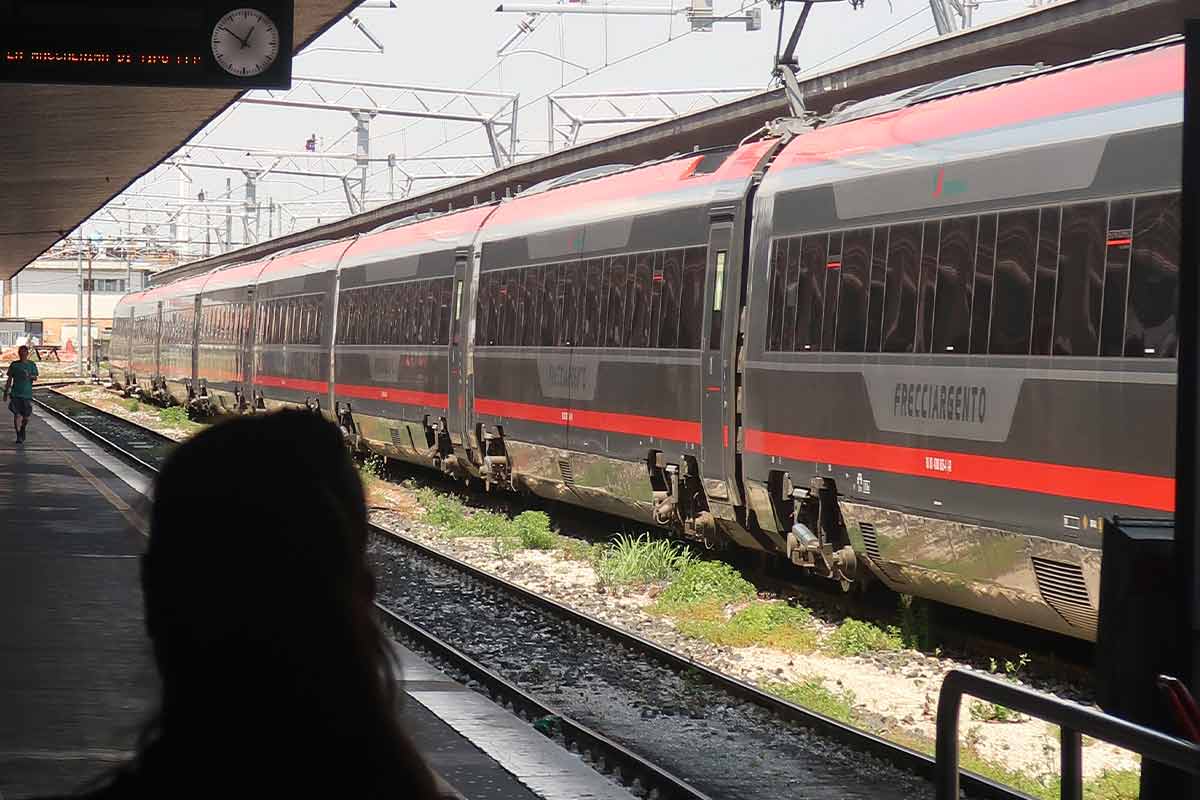 After arriving at the Venice Santa Lucia Train Station you'll need to look out for the Freccia Argento train. The first train will take you to Milano Centrale once in Milan, you'll get another train (Trenord) which will take you on to Saronno.
From Saronno, you'll take the train (Trenord) to Como di Lago. Believe it or not, this is the fastest way to get to Lake Como from Venice using public transport.
The duration of the trip should take 3 hours and 56 minutes and although the ticker prices do vary you can expect to pay 20/30 Euros each way.
If you're looking for the cheapest way to get from Venice to Lake Como then you'll need to get the Freccia Rossa train from Venice to Milano Porta Garibaldi.
Then from that station get a (Trenord) train to Saronno then another train to Como di Lago. The difference in time is about an hour and you'll save around 10 euros. Check both routes to see which is best for you and your travel budget.
If you're not so confident with Italian now is your time to practice. Why not carry a phrase book like this one to give yourself a chance to speak some Italian?
It's worth noting that the train from Venice is equipped with Wi-Fi and plug sockets so you can charge up your devices or browse the internet as you travel.
Driving from Venice to Lake Como
If you decide to rent a car in Italy or you have a car with you while in Italy, then driving to Lake Como from Venice is the ultimate way to travel.
To get to Lake Como you'll first need to head to Mestre Tangenziale motorway which can be accessed once you have crossed the Liberty Bridge in Venice.
After following the motorway you'll get on the A4 motorway (for 200 kilometers) then you'll need to look out for signs to Bergamo and exit there.
Once you get to the roundabout be prepared to turn off at the 4th exit which should be signposted Varenna/Lierna/Mandella/Abbadia L/Lago and head towards Varenna. It is from there that you take the ferry to be able to get to the towns and villages around Lake Como.
Bus from Venice to Lake Como
Getting the bus to Lake Como from Venice is a great option for solo travelers because it offer the chance to explore Italy at a much slower pace. It's also the best option for those who are traveling on a modest budget.
Flixbus is the company you'll use to get to Lake Como from Venice and you'll get the bus from Venice Tronchetto and arrive to Como in 8 hours and 30 minutes.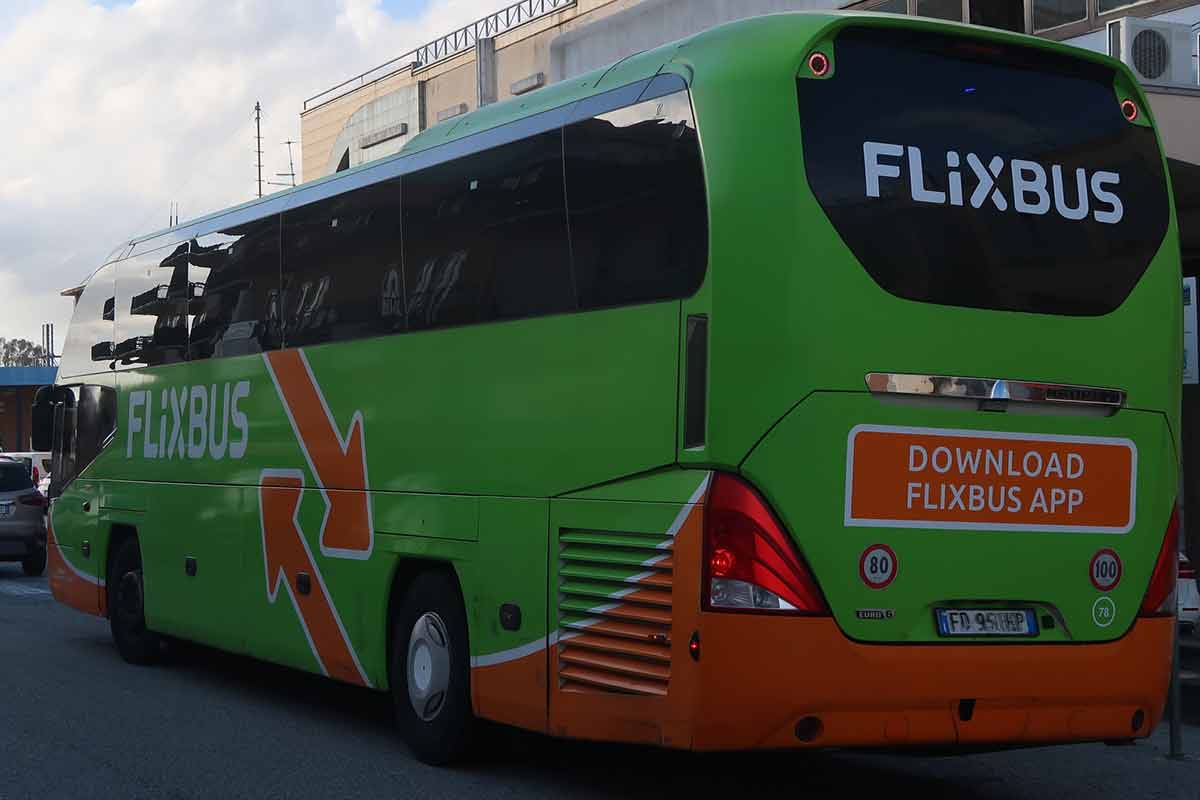 The only thing is that there is a stop in either Milan or Bologna. However, since the bus leaves Venice at 9:35 am, you can travel with confidence knowing that the bus will arrive in Como at around 6 pm.
Regarding the pit stop in Milan or Bologna (which is usually around 2-3 hours), you can use this opportunity to do a quick tour of either one of the cities you're lucky enough to stop in. See this one day in Bologna guide for some ideas.
We think that the best option though is the bus that leaves during the evening time so you can arrive to Como in the morning. You'll get the bus at 1 am from Venice Tronchetto or at 1:15 am from Mestre and the bus arrives in Como at 7:25 am.
For the budget travelers out there, this is a great way to save money on a night's accommodation. This bus has a shorter transfer time at the Milan Lampugnano station with a wait time of just one hour.
The great thing about the Flixbus buses is that they are equipped with Wi-Fi and plug sockets so you can charge your devices along the way.
You can expect a one-way ticket to set you back anything from 14/22 euros but check the Flixbus website to get the latest price. Also, we recommend checking out these hostels in Lake Como if you're looking for a budget stay.
Getting From Venice to Lake Como
As you can see, getting from Venice to Lake Como is not difficult and there are a few different options when it comes to traveling between the two.
Depending on the amount of time you have, your budget, and your preferred style of travel, you can pick and choose an option that is suited to your personal needs.
If you're in Italy for the first time then don't think twice about visiting Lake Como!
Also, if you're looking for extra travel tips on what to do in Venice be sure to see this 1 day Venice itinerary to see just how much you could see in just one day.
---
Dear responsible traveler: This post may contain affiliate links, which means, if you click through and make a purchase, book a tour or a hotel, we may earn a small commission. This is at no additional cost to you. Your support means a lot and helps us to maintain the quality of this site.