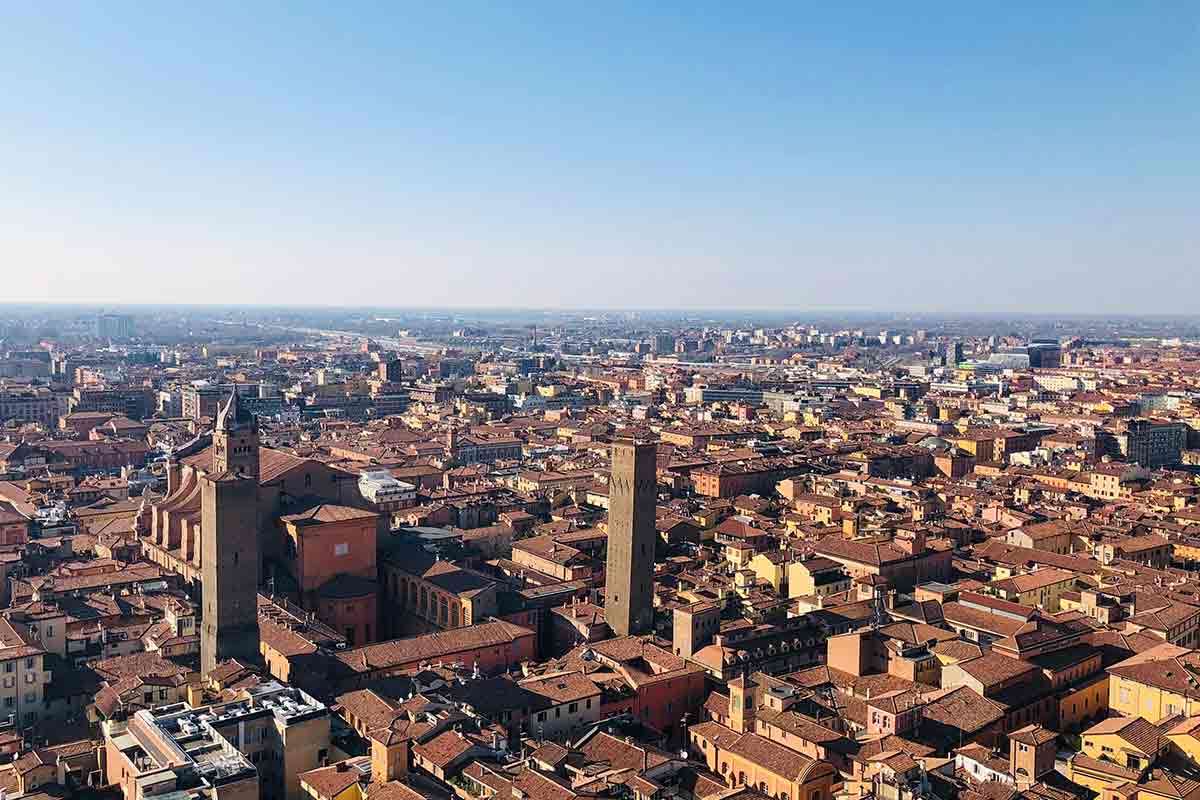 Bologna is the most important city in the Emilia Romagna region and the one we suggest adding to any more elaborate Italy travel itinerary, especially when you know you want a more secluded Italian pit stop.
Bologna Itinerary
In Bologna, you can taste some must-try Italian dishes like tortellini, and this… should be a valid reason to make you want to stop in here!
You could spend more time here exploring some of Bologna's more off the beaten path landmarks but see our suggestions for 1 day below first.
Is Bologna worth visiting?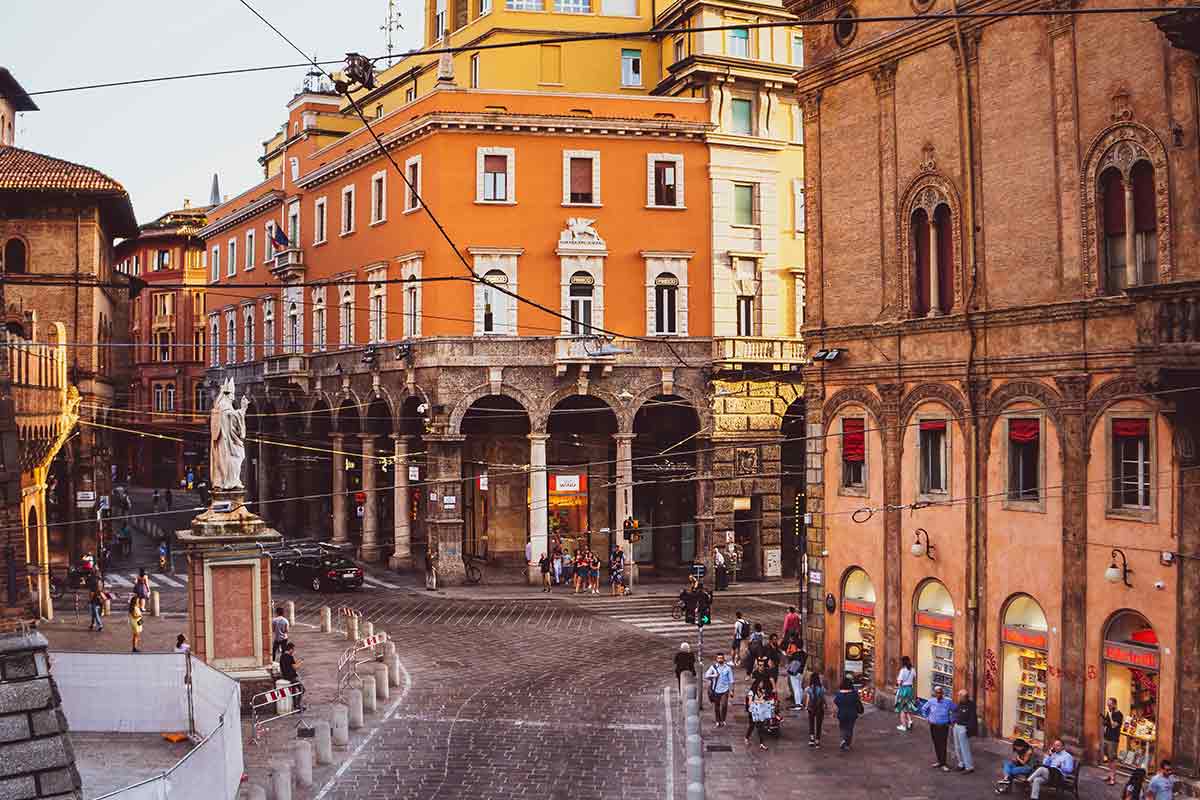 Bologna is an underrated city in Italy for tourists, and this is one of the reasons why it's worth visiting it! This means you'll be heading to a place that is still authentic, far from the crowds and that has nothing less than other Italian popular destinations.
Its nicknames explain the reason why Bologna is worth a visit. Bologna is called, in Italian, 'la Grassa, la Dotta e la Rossa'. 'La Grassa' means 'the Fatty one' explains the fact that here you can sample the most traditional Italian dishes (worth a mention is the tagliatelle alla bolognese). 'La Dotta' means 'the Wise one' and is connected to the fact that Bologna is the city where the oldest European university was born and the word 'la Rossa' is connected to a unique city's feature: the red color of the medieval city's terracotta buildings!
Bologna is well-connected by train from other major touristic cities. In fact, it's located halfway from Venice and Florence and you can find daily trains, at different times.
With all these facts in mind, do you not think that all these are good reasons to add Bologna to the list of places to visit in Italy already?
We surely do hope so! Let's now consider the number of days needed to enjoy the landmarks and suggestions in this Bologna itinerary.
How many days to spend in Bologna?
Like most big cities in Italy, the longer you spend the better you'll get to know the city (and its secret spots) as well as the surrounding areas.
That said, we suggest spending one or two days in Bologna to have enough time to explore the most important attractions.
In Bologna, landmarks are all located at a walkable distance but don't forget to take your time to enjoy the sights this beautiful city offers, instead of rushing into visiting as much as possible.
Why not stay at the Albergo alle Drapperie, a 19th-century building based in the heart of Bologna? The hotel is close to Piazza Maggiore and the Neptune's Fountain and only a 20-minute walk to the railway station.
Bologna is a great 24 hours stop to add to any Italian itinerary, in particular, if already included cities like Rome, Venice, and Florence.
If you have enough time, we advise including Bologna too, and you'll understand the reason why we say that after reading this guide.
You can always read our 2 week Italy itinerary for more inspiration too.
Is Bologna safe?
In one word: Yes! Bologna can be considered a safe city.
Just keep an extra eye on your personal belongings when you're in tourist and crowded places, because there may be a risk of pickpocketing.
Apart from that, as many Bolognese people say, there's no reason, from a safety point of view, that should stop you from visiting Bologna.
We assure you that in Bologna you'll feel in a safe place the whole time.
Bologna is a university city and for this reason, the safety aspect is a number one concern and taken seriously into account.
There are only a few areas of the city center you should avoid at night, whilst the Pilastro and Bolognina quarters had a bad reputation many years ago, now they are not considered as 'dangerous' anymore.
Still always take out travel insurance but overall, the city is a safe place, and there's no reason to be concerned about this aspect during your visit.
Things to do in Bologna (in 1 day)
One of the things Italy is known for is its beautiful architecture and it is worth noting that here in Bologna you can visit many landmarks on foot.
This city is known for its beautifully decorated porticoes and towers. Apparently, there are at least 24 scattered around the historical center!
Bologna towers: Asinelli and Garisenda
These two towers are easy to spot when you walk around the historical city center of Bologna. They are considered the symbol of the city.
The Asinelli tower is the tallest medieval tower in the whole world. It's 97.02 meters high and there are 498 steps to walk up to reach the top!
From the top, you can enjoy the best view of Bologna. There is even a private tour you can do from which you'll learn its history too.
Piazza Maggiore
This square is the heart of Bologna. It dates back to the 13th century and was meant to be the place where important activities and events were taking place, like the markets and the enunciation of new laws.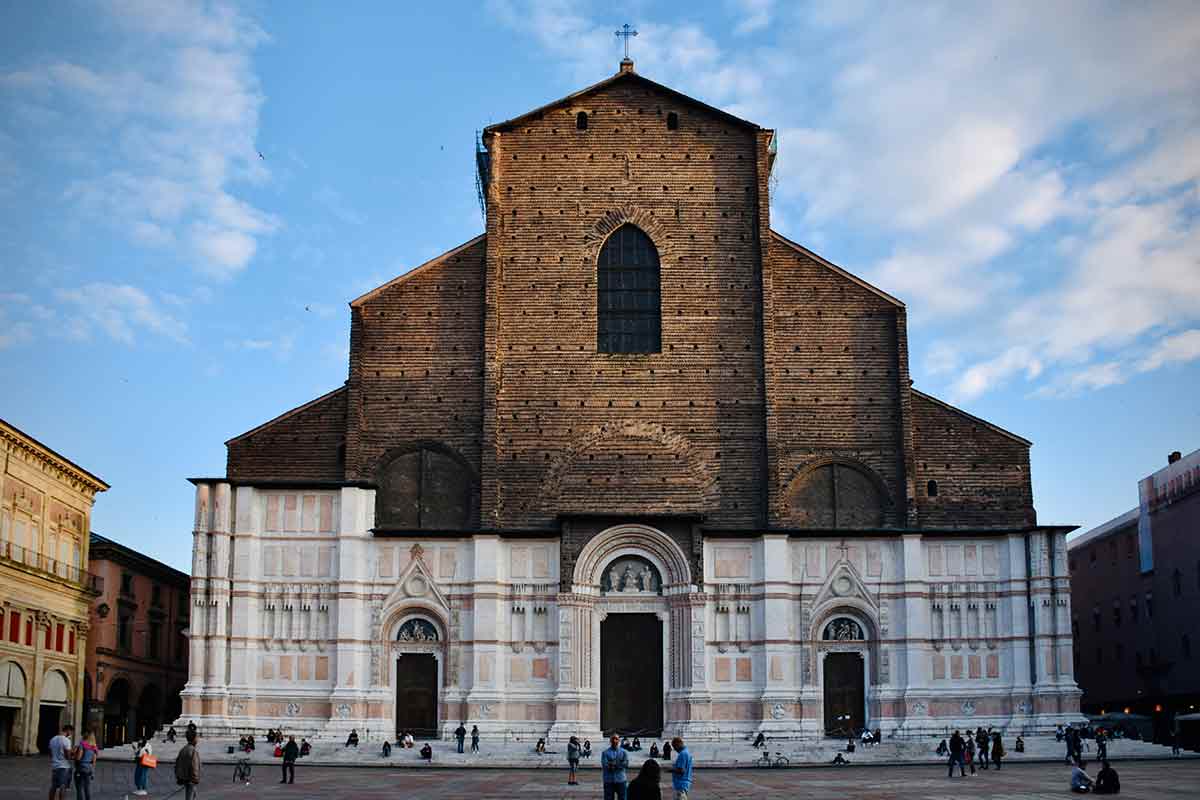 It's one of the oldest town squares in Italy and is surrounded by civic and religious buildings such as Palazzo dei Notai (former notaries' guild), Basilica of San Petronio, Palazzo del Podestà, and Palazzo dei Banchi.
Archiginnasio and Anatomical Theatre
Archiginnasio Palace is one of the most important buildings in Bologna.
It was once the main building of the University of Bologna, but now you'll find the Archiginnasio municipal library and the Anatomical Theatre.
The room also called Theatre for its characteristic amphitheater shape, was designed in 1637 to conduct anatomical classes by the Bolognese architect Antonio Paolucci.
The room was partly destroyed by a bomb during WWII and was reconstructed following the original wooden carvings.
It was built in fir wood and decorated with two orders of statues depicting twelve famous doctors. Hippocrates and twenty of the most famous anatomists of the Bologna studio also appear.
The coffered ceiling, built-in 1645 by Antonio Levanti, is decorated with symbolic figures representing fourteen constellations and in the center Apollo, the Greek god of medicine.
Bologna porticoes
There's no better way to feel like a real Bolognese resident, than walking down porticoes!
They cover more than 38 kilometers only in the historical city center. This architectural gem has been declared UNESCO World Heritage in 2021, one of the latest Italian sites to enter the list.
Quadrilatero neighbourhood
For a taste of how it feels to live in Bologna, do not miss a stroll around the Quadrilatero neighborhood. It is where the old market of medieval origins was held and still takes place.
This is the right place where to stop for a meal and where to try a couple of local dishes like the tagliatelle al ragù and tortellini with handmade pasta, it's just a matter of deciding which filling is more of your taste!
The Neptune's Fountain
The giant fountain is located in the eponymous Neptune's square which is a popular meeting point for locals.
When crossing the city don't forget to stop by and take your time to look at all the incredible Mannerist style details.
It dates back to the mid-sixteenth century and was built to glorify the papal government in the city during those years.
The long porticoes walk to San Luca sanctuary
The sanctuary of San Luca was a popular destination of religious pilgrimages devoted to the Blessed Virgin Mary.
There are two ways to reach it: the short one through the Bolognese porticoes or the longer and naturalistic way through Talon Park.
If you're short on time, we suggest choosing the shorter one that allows you to see the longest porticoes of the world (3.5 Km) starting from Porta Saragozza and leading to the famous sanctuary.
These porticoes are also a site, part of the UNESCO World Heritage List, together with the other ones scattered around the historical center.
It's quite common for Bolognese people that have a spare morning or afternoon, to walk to the sanctuary from the city center and admire the enchanting beauty of the porticoes as well as the view over Bologna.
Window in Via Piella
To get a peek at the lost canals we believe that every Bologna itinerary must include a stop at the window in Piella street.
This place is also called "the little Venice" because the view you enjoy from here, really reminds Venice and its canals.
From the small window on the Moline Canal, you can enjoy the lovely views of old palaces which is a popular romantic spot for visitors.
MAMbo: the Museum of Modern Art
MAMbo is the Bologna Museum of Modern Art, situated in the heart of Manifattura delle Arti Culturali district.
This art space is an institution and its focus is on research and innovation. It's also located in a vibrant cultural part of the city where to find the Bologna Cineteca, the DMS workshop spaces, and the Communication Sciences Faculty, among many other artistic spots.
To enjoy all the best bits of this artistic and cultural hub in Bologna, stay at the B&B Second Floor Centro Storico Bologna, it includes breakfast and is situated only a 10 minutes walk from the MAMbo museum.
Its collections range from the second post-war period until today. The GAM (Gallery of Modern Art) is the main collection and its focus is on contemporary art experimentation and the evolution of visual culture.
Since 2012, part of the museum hosts the Museo Morandi, an artist who had a great influence on the contemporary Bolognese art scene.
At the moment, the exhibition itinerary develops around nine thematic areas highlighting the art in the years the '60s and '70s, the Last Naturalists, and the new artistic creativity of the years 1988-2008.
Bologna Itinerary Map
See the map below to accompany our 1 day in Bologna itinerary:
Bologna Travel Tips
See our list of travel tips to take with you:
The landmarks in Bologna suggested above are designed for you to see some of the city's most popular sights!
Remember to get your FREE travel insurance quote from SafetyWing to receive fully comprehensive support when it comes to unforeseen travel complications.
When traveling on a tight budget you may want to check out places such as Dopa Hostel in Bologna's downtown area for cheap stays.
If you are traveling alone, be sure to 'always' carry your cell phone along with you, if you have one that is. Even if you are just popping out of your hotel to go to the main square.
Check out the Trenitalia website to see how all of the train stations are connected if you'll be using public transport.
From Bologna you can visit San Luca by doing a Food Tasting tour where you can enjoy tasting typical products from Bologna.
Try to carry cash and items of value with you at all time in a front or inside pocket, you'll find Pacsafe make some great bags/backpacks for traveling around with valuables.
Although you shouldn't need to abide by any specific rules for safety in Bologna, never let your guard down. The city has hardly any crime towards tourists, so imagine yourself in a safe space whilst here.
Bologna Italy itinerary
Now you have some ideas of which places to visit in Bologna!
Most of the landmarks we have mentioned in this guide are popular with people who are visiting Bologna for the very first time.
So what are you waiting for? Be sure to start planning your trip to Italy today and aim to follow some of our sustainable travel tips to ensure that your trip has a positive impact on the local environment.
---
This post contains affiliate links, meaning, if you click through and make a purchase or sign up for a program, we may earn a commission. This is at no additional cost to you.