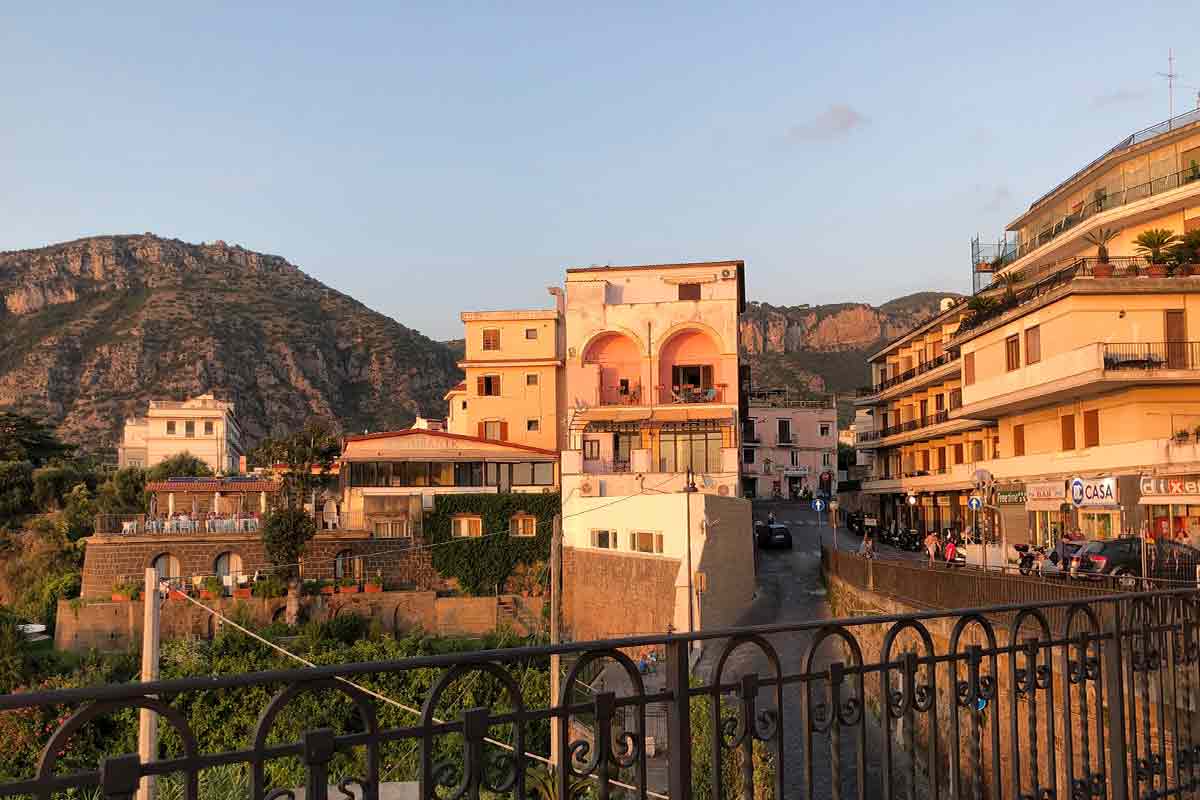 With all the places to visit in Italy, is Sorrento worth visiting?
The charming Sorrento Peninsula attracts thousands of visitors every single year.
Try to project this image in your mind: mountains that sheer into the crystal clear water, terraces with breathtaking views, a picturesque old town, excellent cuisine and a strategic place to reach many more places around the region.
These are just some of the many reasons why the city of Sorrento is one of the most popular and dreamed about destinations that you can visit in Italy.
Is Sorrento worth visiting?
Yes! Sorrento is certainly worth visiting. With its picture-postcard views of the Gulf of Naples (aka. the Bay of Naples), just imagine, on a clear day you can even spot Mount Vesuvius in all its magnificence as well as the island of Capri.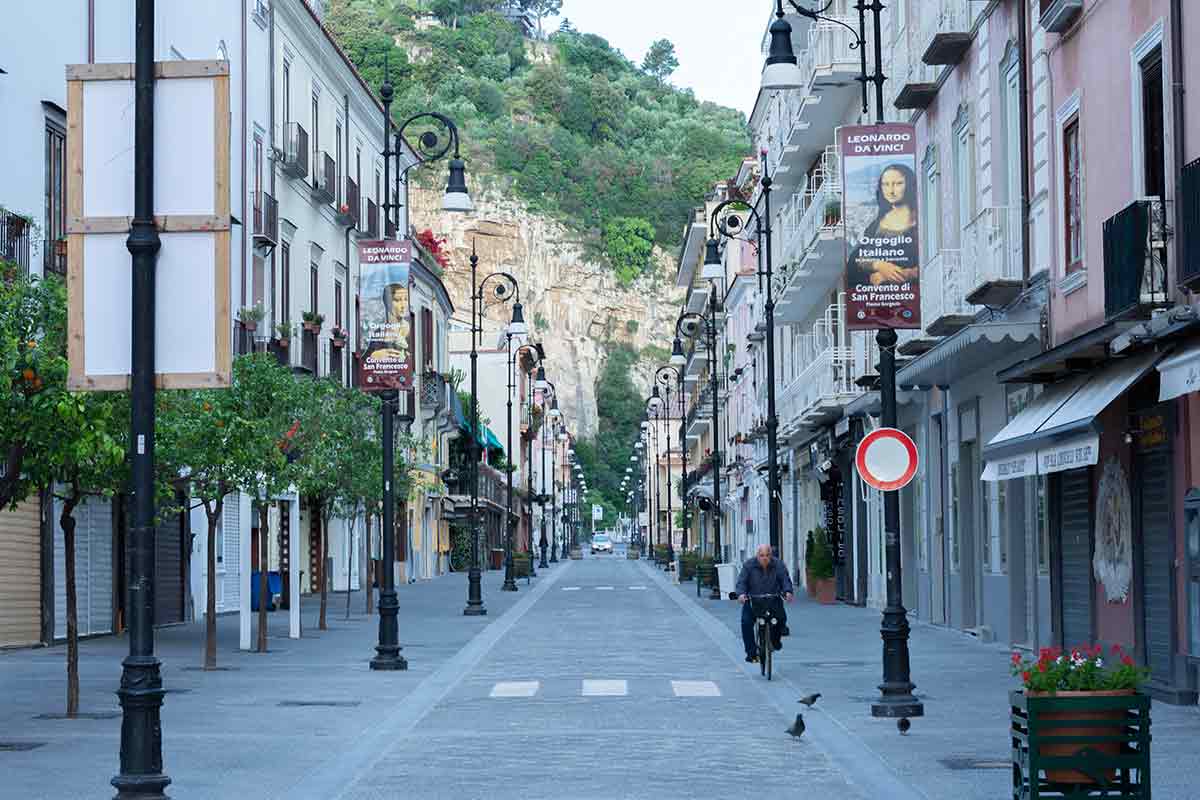 But keep reading below because this guide is designed to give you a host of reasons why Sorrento is worth exploring and share ideas on what you can do.
Let's first look at some information on exactly how to get to Sorrento.
Where is Sorrento?
Sorrento is located in the Sorrentine Peninsula, it belongs to the Campania region, in southern Italy. The city is located in a strategic position close to the Amalfi Coast, which is only 50 minutes away by bus, and even less by car.
If you arrive at the airport Napoli Capodichino, the buses to Sorrento leave every hour. From Naples city center, you can get the direct Circumvesuviana train that arrives in Sorrento in an hour and 10 minutes (last stop).
How far is Sorrento from Naples?
Sorrento is 50 kilometres away from Naples, more or less an hour drive. You can get to Sorrento following the A3 motorway and then the road SS145.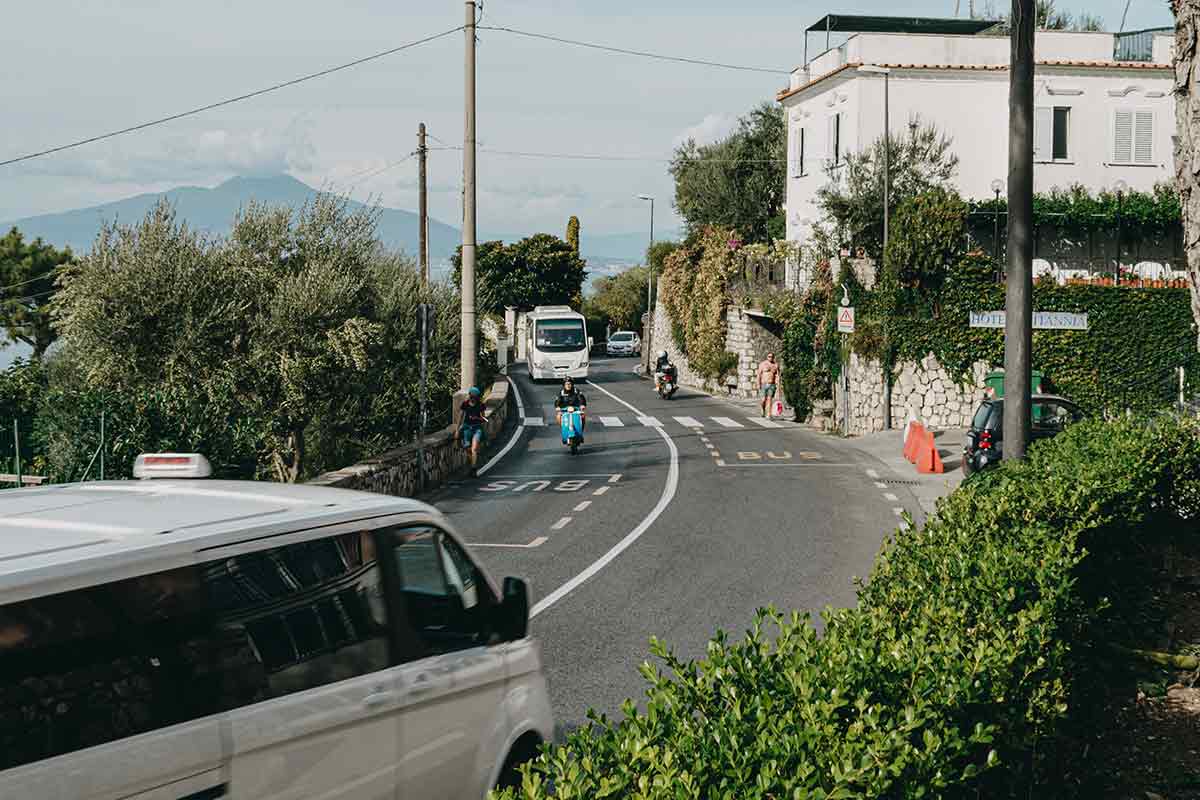 If you're not planning on hiring a car in Italy, then it's easy to hop on a train from Piazza Garibaldi station in Naples and get to Sorrento in more or less an hour.
Will you be doing this trip soon? Check out our complete guide on how to get from Naples to Sorrento for more detailed information on how to get here.
7 Reasons to Visit Sorrento
When visiting the south of Italy and looking for those Mediterranean vibes, Sorrento is absolutely the place for you.
But if you're still not convinced about visiting this city, read below 7 amazing reasons why Sorrento is worth visiting.
To relax at the beach
Without a doubt, Sorrento is a great place to spend time at the beach and relax.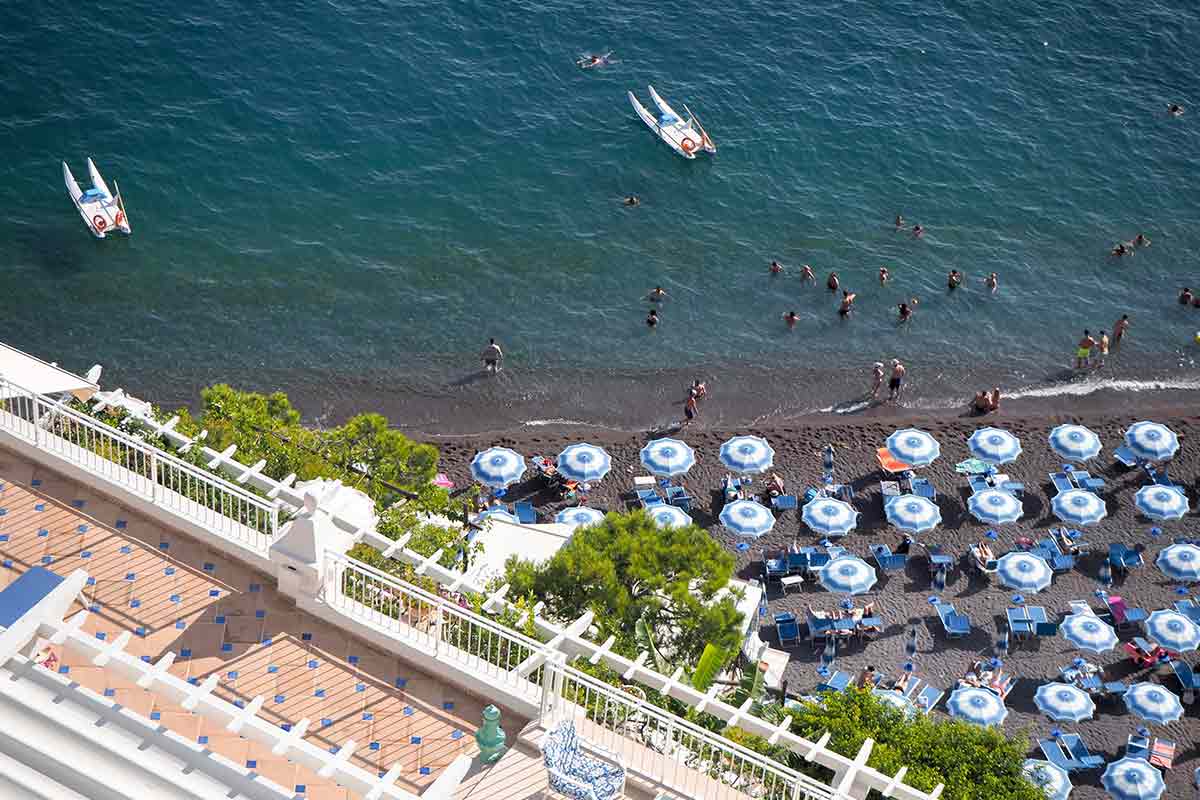 But what you really need to know, is that these popular beaches are quite small, and unless you'll go there early in the morning, you won't be able to find space.
For a day at the beach in Sorrento, we recommend going to these locations:
Marina Grande has the unique charm of a quaint fishing village, with colorful houses, along with the boats and nets by the sea. It was the set of the Italian film 'Pane, Amore e …' with the beautiful actress Sophia Loren.
Marina Piccola where the ferries and boats leave from. This is where you should go if you want to join one of these boat excursions and get to the Amalfi Coast, Capri and other islands around the Bay of Naples by sea. This beach is quite close to Piazza Tasso and very touristic. An ideal location for families, with both free and private access.
Bagni della Regina Giovanna which is just outside the center of Sorrento, more precisely in Punta Capo di Sorrento. It's a natural pool where, according to some traditions, Queen Giovanna used to meet her lovers. Be sure to carry a decent natural sunscreen like this one along with you here as there is nowhere to shelter from the sun!
Spiaggia della Pignatella where locals prefer going to as it's less busy than the first two beaches mentioned above. You can reach it by bus 5070 (the same bus going to Positano) and it's less than 20 minutes away.
You can also get to the beaches of Meta and Vico Equense by car or by bus if you prefer to lounge on some of the larger beaches with free access.
For the mouthwatering cuisine
When you first arrive in Sorrento, one of the first things you have to do after you have arrived is go sample the local produce and the most traditional dishes.
There are so many restaurants where you can sit and enjoy the authentic flavors of Sorrento or you can also you can take in part in cooking classes with locals, pizza making courses and if you are feeling adventurous, do oil, cheese and limoncello tours as well. When it comes to food here, you'll be spoilt by choice!
Try the fabulous gnocchi alla Sorrentina, which are potato gnocchi topped with fresh tomato sauce and melted mozzarella fior di latte. Try the spaghetti alla Nerano prepared with fresh courgettes and provola cheese. Thanks to the direct access to the Tyrrhenian Sea, you can also taste incredible fish and seafood dishes, even better when in a restaurant with a terrace overlooking the bay.
Here in Sorrento, it's tradition to end a meal with a small glass of limoncello. This is a liqueur produced by local lemons, fresh and absolutely difficult to resist!
To explore the historic city centre
On arrival, you'll quickly start to learn that Sorrento is worth visiting not only for its beaches, boat excursions, sun and relaxation but also to go sightseeing as well.
The historic center is a real gem, during the day it's nice to go souvenir shopping or sneak into artisanal workshops to see the creations crafted by locals.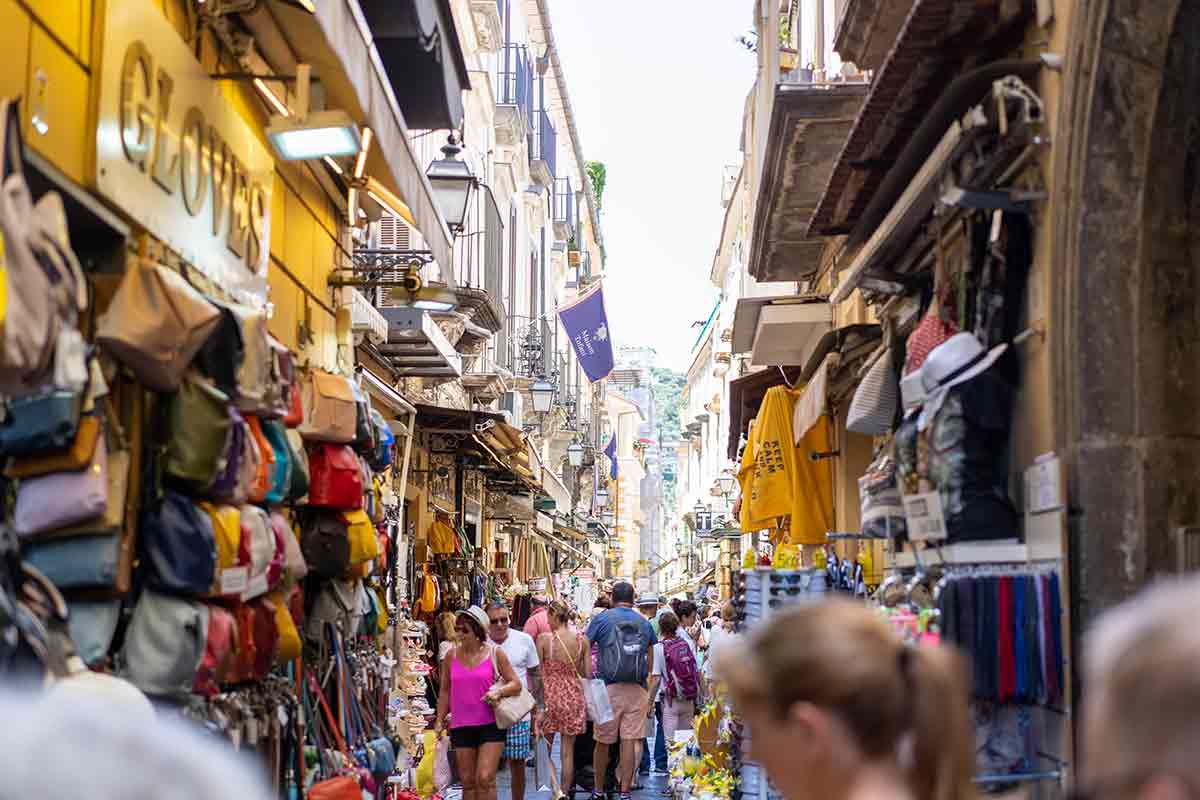 The evening time is undeniably romantic and when the streets lighten up, you go and enjoy the panoramic views of the Neapolitan Gulf. A day in Sorrento should absolutely start from Piazza Tasso, then move towards the Correale Palace to visit the museum filled with 17th and 18th-century paintings and other artifacts.
You can then visit the Vallone dei Mulini, the Sorrento Cathedral and the Basilica di Sant'Antonino, built around the year 1000, here the saint Antonino's remains are kept. Stay at Casa Sorrentina if you prefer to wake with the city vibes.
Finally, visit the church and cloister of San Francis dating back to the Middle Ages. Since Sorrento has a long history of the art of wood inlay, we highly recommend you visit the Muta Museum, famous for wood craftsmanship.
Go on a day trip and boat excursions
To arrange day trips to the Amalfi Coast or Pompeii and go on of the many boat excursions are just more good reasons why Sorrento is worth visiting.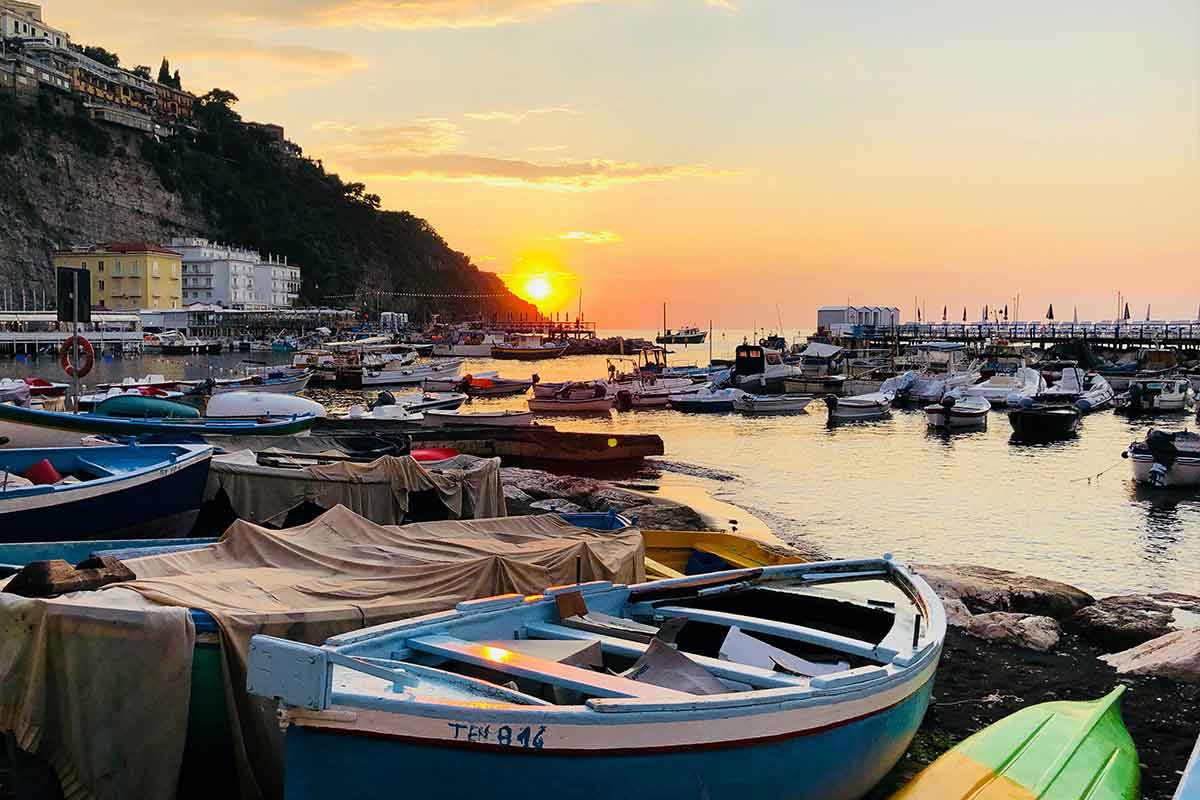 In fact, this city is the perfect place for it's visitor to start to explore other well known towns and islands located in the Campania region.
During your stay in Sorrento, take advantage of your strategic position to plan a boat tour to Capri, where you can also visit the wonderful Blue Grotto.
You can cover more attractions if you decide to visit Naples in a day, and of course, try some of the best pizza in the world. Pizzeria da Michele is our favorite!
You can also visit the excavations of Pompeii and Herculaneum, some of the world's oldest Roman archaeological sites which attract visitors from everywhere.
If you like hiking and are inspired by the idea of climbing a volcano, then you can join this Vesuvius tour with lunch and wine tasting for the best experience.
It doesn't end here! Two beautiful islands worth visiting are Ischia and Procida, and you can visit them from Sorrento by joining this Ischia and Procida boat tour.
Finally, it's worth knowing that right in front of the Sorrento railway station, you can catch the bus heading to Positano, which is only 40 minutes away.
Getaway to the Amalfi Coast
As I have just mentioned, Sorrento is the perfect place for you to be able to access the wonderful Amalfi Coast. The SITA bus 5070 leaves every hour just in front of the Sorrento railway station with Positano as it's final destination.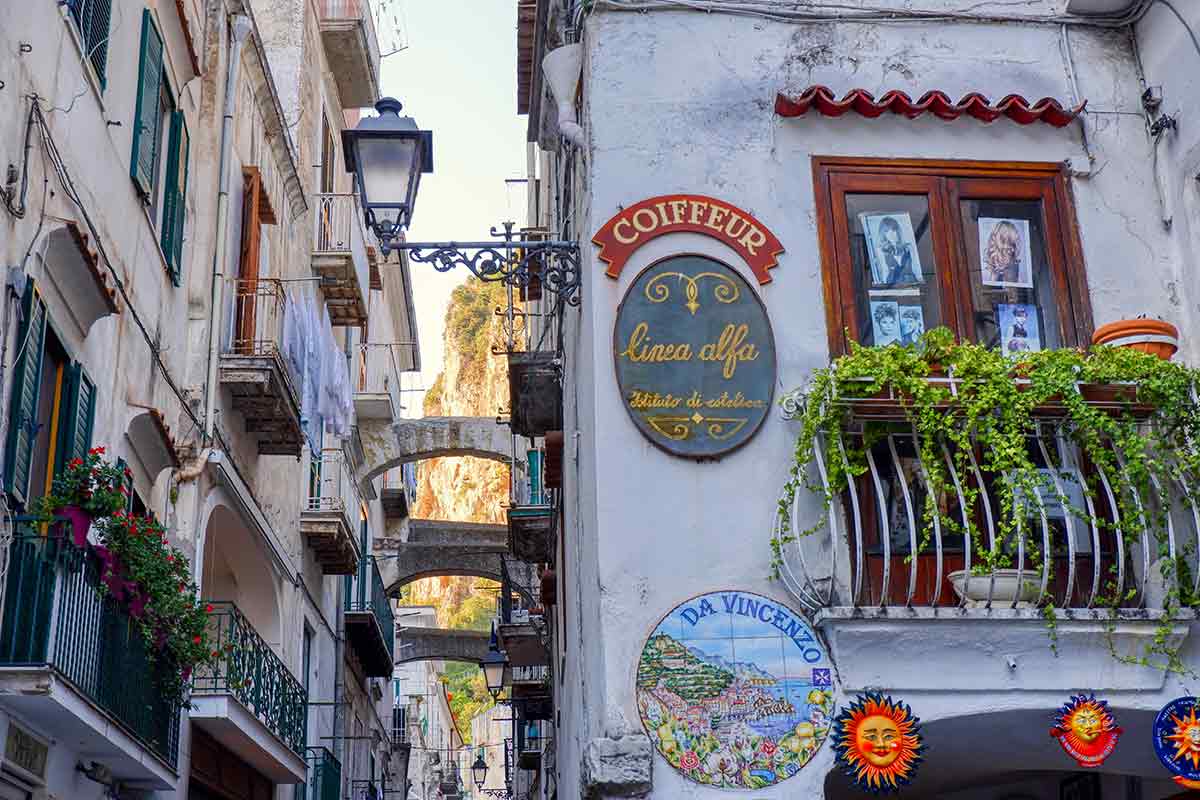 The same bus also stops in Praiano, a lesser-known town in the famous Costiera, and Amalfi. You can stretch a visit to at least one or two towns in the Amalfi Coast in one day from Sorrento, but we would not more trying to see more than that!
If you're interested in spending more time here, then read our 4 days itinerary in the Amalfi Coast and understand what you can see, do and exactly where to stay.
You can also visit the Amalfi Coast by boat, we recommend booking the ferry trip online or at the desk offices at the Marina Piccola port in Sorrento.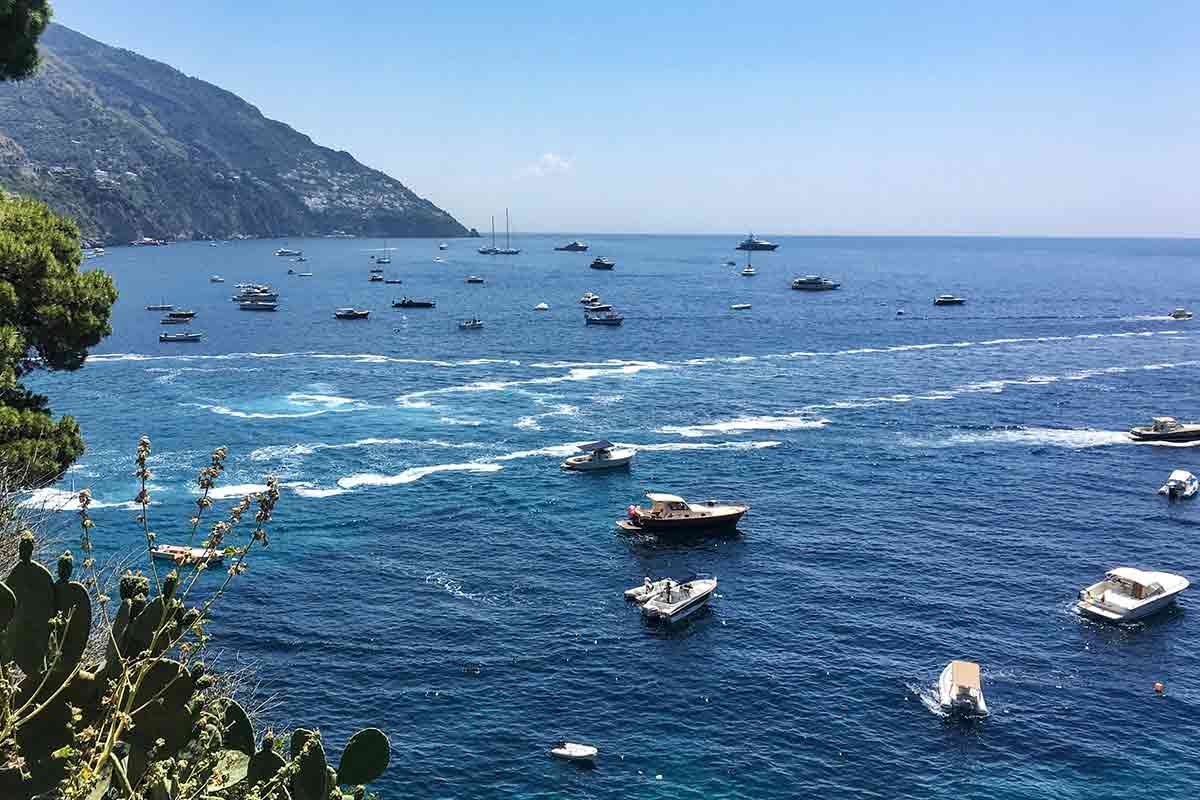 If you prefer to not think about local transport, then you can join this Positano, Amalfi and Ravello tour with hotel pick up service included.
Or, the boat tour version. They are both perfect if you want to spend a full day exploring the Amalfi Coast and be accompanied by a local guide.
Access from Naples, Rome and Florence
Sorrento is easily accessible from Rome, Florence and Naples. If you're traveling from major cities, it's good to know that Sorrento is well connected and easier to reach than the Amalfi Coast. There are luxury hotels you can stay at too!
If you arrive by plane into Naples airport, there are coaches traveling to Sorrento or you can book a shared transfer to save both time and money.
If you're already in Naples you can hop on a regional train any time from Piazza Garibaldi railway station and get to Sorrento in around 1 hour and 10 minutes!
If you're already in either Rome or Florence, you should first get to Naples via high-speed train and then get another train. There are frequent trains connecting all these cities, but we recommend booking the ticket in advance as the prices can increase the closer you book to the departure date.
Check Trenitalia and Italo and find the best deal by looking at both websites. The high-speed train from Florence to Naples takes 3 hours, and the one from Rome to Naples takes around an hour and 15 minutes.
If you're traveling from the popular Italian cities we have just mentioned, we suggest spending a few days in Sorrento to make the most of your time here.
Why not stay at this hotel with amazing sea views for the ultimate experience?
Go trekking and diving
The beautiful landscape of the Sorrentine Peninsula is worth discovering and there's no better way than explore than to go trekking while here.
There are different footpaths we recommend testing. The most beautiful one the Nerano-Ieranto, where you'll walk inside a Marine Protected Area.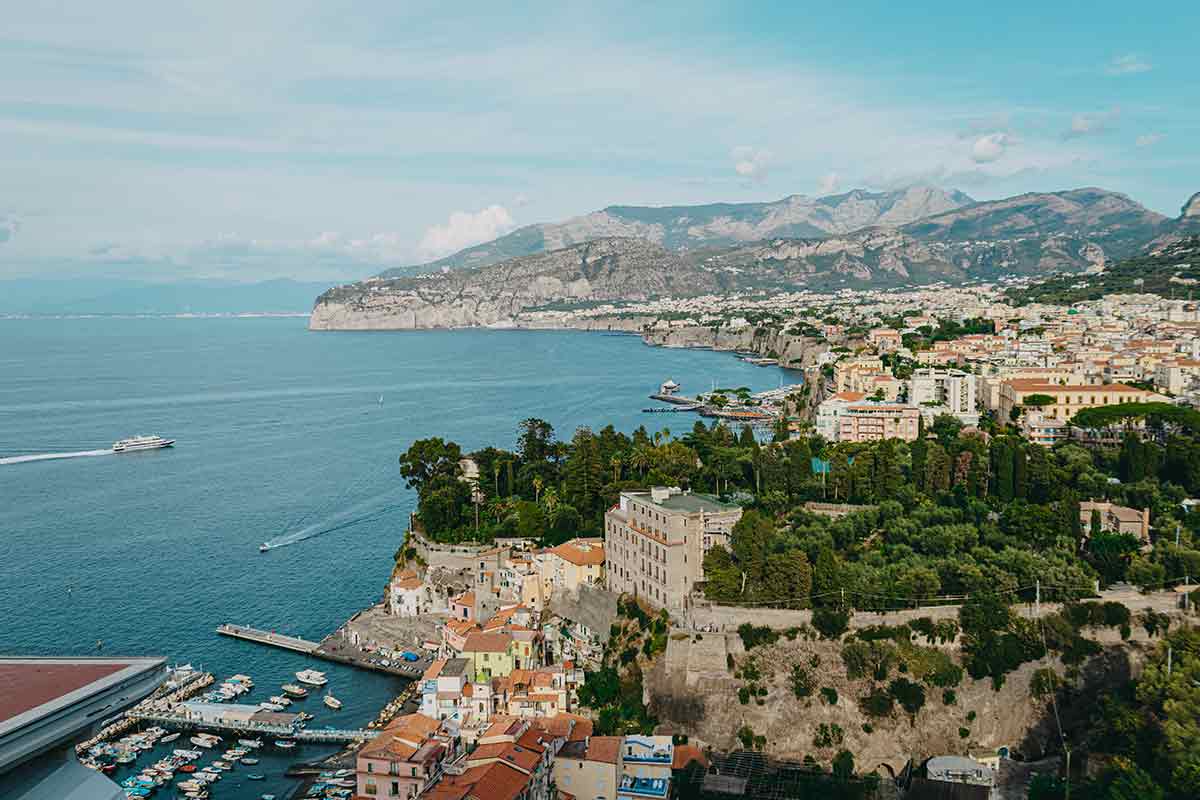 At the end of the walk, you should reach a beach named Ieranto, from there you can admire Punta Campanella and the Faraglioni of Capri. Pure bliss!
You can also follow the path CAI 343 and reach Massa Lubrense. During your walk make sure you stop at the Belvedere dell'Annunziata, and enjoy the breathtaking view of Capri and the entire Gulf of Naples.
Not too far from Sorrento, there's also the Path of Gods which is considered one of the best hiking trails in Italy. Also, if you are into diving, then explore what lies beneath the deep crystalline waters of the Vervece Island dive site. In the depths there's a submerged statue of St. Mery, protector of the divers.
Is Sorrento worth visiting?
As you can see, there are so many reasons why Sorrento is worth visiting.
It is easy to see why this popular coastal city that overlooks the blue waters of the Tyrrhenian Sea and the Bay of Naples attracts so many visitors each year.
With it being so easy to reach and with a wide offer of things to see and activities to do, make Sorrento one of your next places to visit in southern Italy.
Read our Sorrento and Amalfi Coast itinerary for more inspiration before you go.
---
Dear responsible traveler: This post may contain affiliate links, which means, if you click through and make a purchase, book a tour or a hotel, we may earn a small commission. This is at no additional cost to you. Your support means a lot and helps us to maintain the quality of this site.