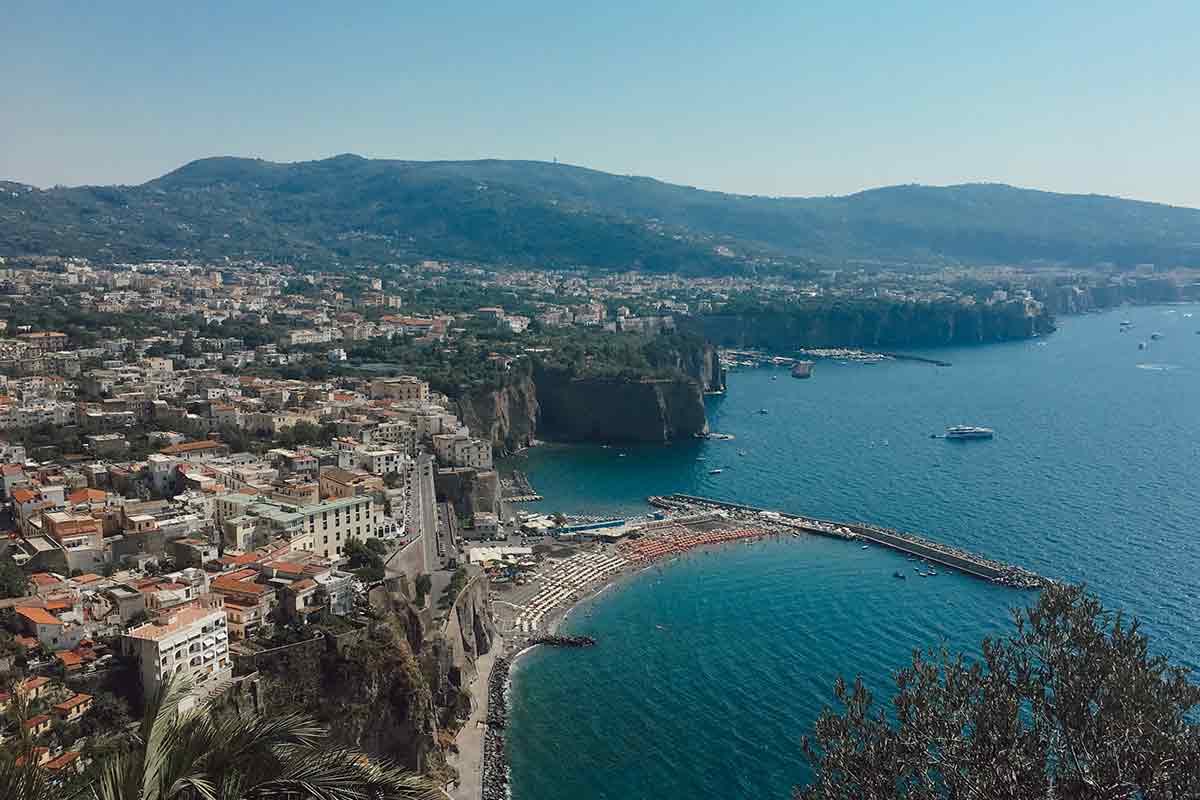 Welcome to Sorrento and Amalfi Coast! One of Italy's most popular tourist stops famous for its architecture and its rugged coastline encompassing many small beaches and brightly colored fishing villages.
If you're planning a trip or you've already followed the advice from our Italy 2 week itinerary and have been exploring the historic centers of Italy's most beautiful cities, it's time to chill and relax at the beach.
In this guide, we'll take a look at both Sorrento and the Amalfi Coast.
Sorrento and Amalfi Coast Itinerary
Sorrento and Amalfi Coast are two distinct locations but many consider Sorrento part of The Amalfi Coast when planning a trip to southern Italy.
Let's clear up this common misinterpration:
Is Sorrento on the Amalfi Coast?
Sorrento is not part of the Amalfi Coast, but it's a good base to reach the important villages located on the Amalfi Coast like Positano and Amalfi.
Since Sorrento is a great starting point you may want to rent a car or if you prefer to take public transport you have various options too.
Once at the railway station in Sorrento, take the bus Sita number 5070. It's also well-connected by train to Naples, Pompeii, and Herculaneum.
Additionally, from Sorrento, you can take a ferry to islands such as Capri.
Is the Amalfi Coast worth visiting?
Even though the Amalfi Coast is a real trend on social media and one of the most visited places in Italy, it's absolutely worth visiting it.
There's no other place like the Amalfi Coast. The unique position of the fishing villages with their pastel-colored houses edged between the mountains facing the Tyrrhenian Sea is simply mind-blowing.
The Amalfi Coast is not just about exploring historical city centers and spending the day at the beach. You can go hiking to the Path of the God, book a boat tour and discover other villages on the Amalfi Coast as well as marine caves, and islands.
Amalfi Coast is the land of ancient traditions and from our point of view, where the fascinating and most authentic side of this coastline lies. While you are here you can also learn more about the ceramic art in Vietri sul Mare or Positano.
Let's not forget about all the mouthwatering traditional dishes you can taste at most of the restaurants! At the end of a meal, give the 'sfusato amalfitano' a try, it is very similar to limoncello.
How many days in Amalfi Coast?
You can easily spend one day on the Amalfi Coast and have time to visit two villages (Positano and Amalfi), both can be reached directly by bus.
But if you wish to fully soak up the Mediterranean vibe and get lost in its colorful streets and small public squares, then we suggest 2 or 3 days.
If you're including Sorrento in your itinerary, then spend one day there and then move to the Amalfi Coast to spend the rest of your time.
Why not stay at the Palazzo Spasiano Rooms to enjoy the best of Sorrento's nightlife and be ready to leave the next day for the coast?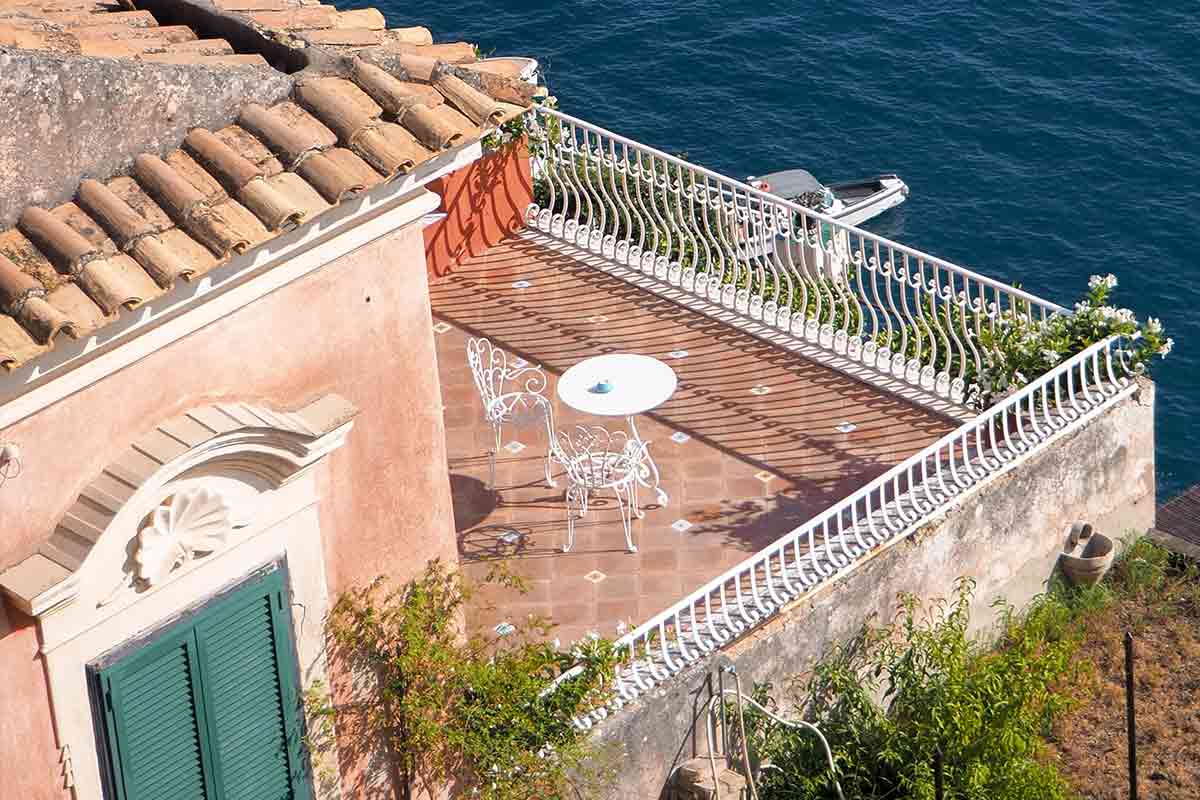 When visiting this part of Italy, it's a matter of planning the activities you want to do ahead of your visit to be able to make the most of your time.
If you are keen on spending a week or more on the Amalfi Coast, then great! It's impossible to get tired here, as there are many different ways to explore the area.
Staying a week or more allows visits to lesser-known villages such as:
Praiano
Vietri sul Mare

You can even spend a day at one of the nearby islands such as Capri.

Sorrento and Amalfi Coast (3 days)

See our suggetions for this 3 day Amalfi Coast itinerary so you can plan:

Day 1 in Sorrento

Sorrento is a coastal town in the southwest of the country and one of Italy's popular beach destinations. Whilst you are here you can't miss the opportunity to sip one of the star products of the region: limoncello!

The Grand Marin Sorrento

Not only is Sorrento a small town that overlooks the Bay of Naples, but it is also the best place where to buy souvenirs made by locals from a wide choice of ceramics, lacework, and marquetry shops.

The closest beach to the town center is San Francesco beach, a very small beach that gets very little sun (in the afternoon) that you can easily reach on foot or public transport.

If you want to take the train or bus, then we suggest spending half a day in Vico Equense or Meta beach.

Day 2 & 3 in Amalfi Coast

The Amalfi Coast can be reached by bus or ferry from Sorrento. Look for the Sita buses leaving from the Sorrento train station.

The first stop is Positano and the second one is Amalfi. If you want to get to Ravello, then you should change bus in Amalfi.

Amalfi Coast is on thousands of travelers' bucket lists and the best place to end any 2 weeks Italy itinerary according to our suggested route.

Santa Maria Assunta Church in the center of Positano

We recommend spending a day in Positano and the second day in Amalfi, to get the most of both villages of the coast.

Positano is well-known for the scenic position of houses, streets, churches, and shops on the cliff and facing the turquoise waters of the Mediterranean Sea.

Strolling up and down its narrow streets is a unique experience. Take your towel and head to the beach for some time before going back to the small square in front of the church of Santa Maria Assunta.

Try to find the best place outside the town center, to admire the panoramic view or if you can book far enough in advance, stay in a hotel such as Hotel Marincanto which has ocean view room balconies.

Amalfi is surrounded by dramatic cliffs and bathed by the Tyrrhenian Sea waters. In the past, Amalfi was a maritime republic and an important trading port in the Mediterranean basin.

Mediterranea Ocean views from the town

Today, it's a romantic seaside village with white-painted houses and buildings and Piazza del Duomo is the focal point of the village.

From here, you can admire a breathtaking view of the sea and start to look at some of the best restaurants for you to dine in on the Amalfi Coast.

Amalfi Coast Travel Tips

See our list of travel tips to take with you:

The landmarks in suggested above are designed for you to see some of the most popular destinaitons on the Amalfi coast!
Remember to get your FREE travel insurance quote from SafetyWing to receive fully comprehensive support when it comes to unforeseen travel complications.
If you are traveling alone, be sure to 'always' carry your cell phone along with you, if you have one that is. Even if you are just popping out of your hotel to go to the main square.
Check out the Trenitalia website to see how all of the train stations are connected if you'll be using public transport.
From Sorrento you can do a full-day drive experience that connects you with the scenic beauty Positano, Amalfi and Ravello.
Try to carry cash and items of value with you at all time in a front or inside pocket, you'll find Pacsafe make some great bags/backpacks for traveling around during the day/night with valuables.

Although you shouldn't need to abide by any specific rules for safety on Amalfi coast, never let your guard down. The region has very little threat towards tourists, so imagine yourself in a safe space whilst here.

Where to stay in Sorrento?

The best areas to stay in Sorrento are in the historical center or just a few minutes' walk from it. Sorrento is not a big place, so spending your stay in the city is the best way to enjoy all its best bits!

Accommodation around Piazza Tasso, Corso Italia, and Leonelli's Beach are ideal locations for your stay.

If you're looking for a luxurious stay, we recommend Grand Hotel La Favorita, in the heart of Sorrento and only 2 minute walk from the beach.

For a mid-range hotel, check out Il Palazzetto, a 16th-century building with spacious rooms in the center of Sorrento.

If looking for a budget stay, the hotel Ulisse Deluxe has both private and dorms rooms and is just 500 meters away from Sorrento's main square.

Day Trips from Sorrento

Sorrento is your gateway to beautiful places such as Capri, the Amalfi Coast and the Romain ruins of Pompeii and Herculaneum.

In fact, from Sorrento you can take a train towards Naples that also stops at a few beach locations around the Sorrento area (as well as in Pompeii).

If you're thinking about visiting the archaeological site of Pompeii, then take a look at this Day Tour to Pompeii Ruins & Mount Vesuvius.

During this day trip, you'll walk around the ancient Roman city ruins and enjoy a walk on top of the Vesuvius volcano.

If you're looking into exploring the Amalfi Coast, then there are several buses leaving the Sorrento bus station towards Positano and Amalfi.

Another day trip from Sorrento is definitely Capri- To get there, you only need to take a ferry from the Sorrento's port.

The ticket costs between 17/25 euro (one way) for 20/30 minutes ride.

Instead of booking online and heading to the port, check out this Coast and Capri Boat Trip (with Limoncello). Join this boat tour and explore the island of Capri for 5 hours with a final sip of delicious limoncello!

Sorrento and Amalfi Coast itinerary

Now you have some ideas of which places to visit on the Amalfi Coast!

The picturesque towns of Positano, Amalfi, and Ravello are popular with people who are visiting the region for the first time.

So what are you waiting for? Be sure to start booking your trip to Italy today and aim to follow some of our sustainable travel tips to ensure that your trip has a positive impact on the local environment.

---

This post contains affiliate links, meaning, if you click through and make a purchase or sign up for a program, we may earn a commission. This is at no additional cost to you.