Welcome to this post on how many days in Lisbon to spend.
As you may well already know, Lisbon is the capital city of Portugal and one of the most fascinating places to visit in Europe.
For many years Lisbon has been underestimated, but its charm couldn't stay hidden for much longer, and today, tons of tourists arrive in the city.
How Many days in Lisbon
You can expect to see a multicultural and lively city, with a Bohemian soul and a slightly decadent atmosphere.
Actually, it is no secret that Lisbon can make you fall in love and want to see more and more of it, but how many days in Lisbon are enough?
In this post, we'll look at how much time you should spend on a visit.
Is Lisbon Worth Visiting?
Before moving to how many days in Lisbon are right for your trip, let's find out a few reasons why this city is worth visiting.
Lisbon will captivate you with its charm and its romantic yet decadent atmosphere. Walking the streets of Lisbon might make you feel a sense of 'saudade', this is what the locals call it. It means a feeling of melancholy characterizing the Portuguese and Brazilian people. To admire the best views in Lisbon, stop at the miradouros and enjoy a warm breeze while sipping a drink from a nearby kiosk. Get lost in the narrow streets of Alfama, the oldest neighborhood, or stroll around Chiado, one of the coolest districts in the city.
Lisbon is a city packed with history that's definitely worth getting to know. You'll see both old castles, palaces and historic houses and more modern and contemporary museums and houses. Different architectural styles mixed together, such as the Baroque, Neoclassical, Medieval and Gothic. You can't miss the chance to visit the São Jorge Castle overlooking the entire city, and the 25th of April Bridge that stretches along the Tagus river.
Lisbon has a pleasant climate all year round. Summers are hot but not torrid because the ocean breeze gently caresses the coasts and helps to mitigate even the hottest days. Winters are mild and hardly have temperatures below zero. These are the perfect temperatures to spend both time at Lisbon's beaches and visiting the city center.
If you still feel quite unfamiliar with the country, why not see this page on things Portgual is known for to get a better idea on what to expect?
Impacts of tourism in Lisbon
Since 2017 Lisbon has seen a huge rise of tourist arrivals and helped the country to overcome the terrible economic crisis that started in 2008.
It's no secret that tourism brought a lot of money to the country and it's a driving economical sector. Tourism provides jobs, raises the standard of living, and improves infrastructures and public transport.
But there are also negative impacts. The growing demand for alojamento local, local accommodation, is having a negative impact on residents living in the older parts of the city.
Some of them had to leave their houses so that can be rented by tourists, others couldn't bear the huge increase in cost of living and rent.
Additionally, a lot of traditional Portuguese shops have been replaced by tourist shops leading to a lack of authenticity in some parts of the city.
In order to counteract this phenomenon, as a tourist you can choose to spend more days in Lisbon to spread your impact in more days and travel in the low or shoulder season.
You can also choose to stay in local hotels and accommodation types that belong to and are managed by Portuguese people, and avoid using platforms like Airbnb, the cause of locals' eviction.
How Many days in Lisbon is Enough?
Now that we explained the reasons why Lisbon is worth visiting and what are some positive and negative impacts of tourism in the city, let's understand how many days in Lisbon is enough.
Is one day enough for Lisbon?
A day in Lisbon is not enough. There's too much to see and do in the Portuguese capital. Spending just a day means not experiencing enough of its history, cultural traditions, quaint neighborhoods, delicious food and lively nightlife.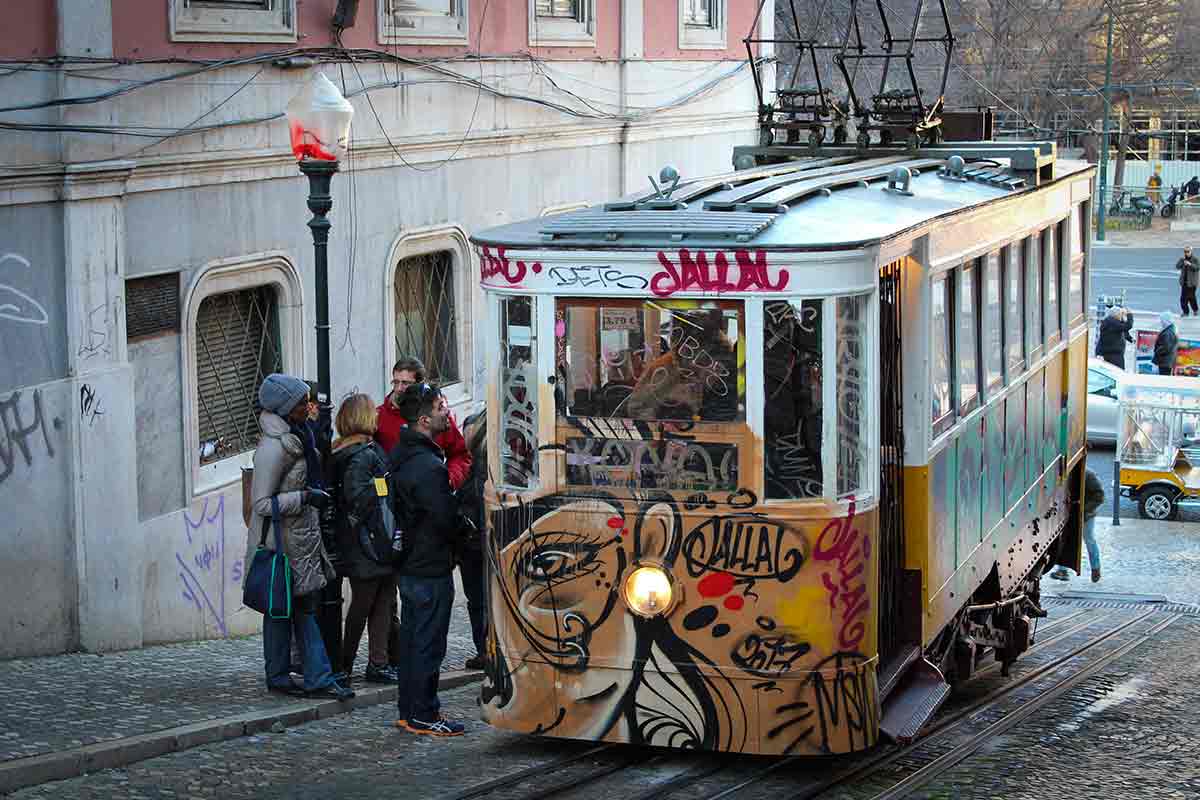 However, if Lisbon is just a pit stop on your trip and you only have 24 hours to discover it, you can still see some top attractions in a short time.
Walk around its main neighborhoods, such as Alfama, Baixa, Chiado and Cais do Sodre, enjoying a nice walk around the city.
The Alfama district was one of the only neighborhoods in Lisbon that wasn't completely demolished by the Lisbon Earthquake in 1755.
If you are tired or short on time, take a tour on Lisbon's famous historic yellow 28 tram. This tram passes through the famous neighborhoods of Graça, Alfama, Baixa and Estrela.
Don't miss the chance to visit the Praça do Comércio, São Jorge Castle, Elevador Santa Justa and Convento do Carmo. Enjoy a fabulous view over the city and the Tagus river from the miradouro of Santa Luzia.
Also, be sure to see our list of sustainable travel tips before you travel!
Is 2 Days in Lisbon enough?
Two days in Lisbon is better than just one day. It's still not enough time to visit the city in a relaxed way without missing the best attractions and a few off-the-beaten-path sights.
If you have 48 hours available, it means that you can spend a night in Lisbon and see how vibrant is the nightlife scene.
Instead of visiting the neighborhoods of Alfama, Baixa and Graça in one day, rushing into moving fast, you can take a bit more time to soak into the unique decadent Lisbon atmosphere.
Get lost around their streets and small squares and have a traditional lunch. During your 2 days in Lisbon, you can also include places such as Belém and Alcântara and spend a night out in Bairro Alto.
Or you can combine a sight day in Lisbon with a day trip to the surrounding area, for example to Sintra, on the second day.
We believe that 2 days is a short time to spend in the capital city, so we suggest making the most of your time here.
Is a week in Lisbon too long?
A week in Lisbon is not too long but after 3 or 4 days in the city, you might start feeling the urgency to explore the surrounding areas or other parts of the country.
If you have a week to spend in Lisbon, we recommend visiting the city for at least 3 days and then organizing day trips to Sintra, Cascais or Évora.
Sintra is only 40 minutes by train from Lisbon and it's the most popular destination for a day trip.
Cascais on the other hand, is a picturesque fishing village on the Atlantic Ocean, the perfect place to relax and enjoy a pleasant sea breeze.
Having 7 days to spend here, you can also reach Porto, a perfect two-day excursion and a stunning city famous for the Ribeira facing the Douro river, which is also a UNESCO World Heritage Site.
The journey from Lisbon by train, bus or car takes between 2.5 and 4 hours depending on the route and means of transport.
Our recommended amount of days in Lisbon
We believe that 3 or 4 days is the ideal length of time you'll need to fully discover Lisbon in a sustainable way.
If you have at least 3 days to spend here, you can definitely visit all the main tourist attractions, experience the vibrant nightlife, savor delicious regional dishes and leave with indelible memories of this wonderful city.
That way you won't need to do everything in a rush: you can have more breaks, stop for a coffee and a soft and crispy pastel de nata in a bar and explore less touristy corners you come across during your walks.
We suggest visiting the Parque de Nações, located on the eastern side of Lisbon. You can also carve out a day for the beach if you're traveling during the summer, or, take a trip out of town to Sintra, Cascais or Évora.
If you're looking for a place to stay in Lisbon, we highly recommend the newly refurbished hotel Solar dos Poetas, located in Praça Luís de Camões. Every floor is dedicated to Portuguese writers and poets.
The hotel is conveniently located a walkable distance from many popular attractions in Lisbon, such as Commerce Square and Ribeira Market.
Best Guided Tours in Lisbon
With a limited amount of time, we recommend booking in advance tours that will allow you to save time, in particular, if you don't have much of it.
Doing tours in Lisbon
Joining a tour in Lisbon is a way to save time and support locals. The guide is generally a local that has a strong passion for all things Lisbon related and knows the city better than anyone else.
After years of traveling around ourselves, we can say that locals can suggest the best-hidden gems to discover and where to eat authentic food to really immerse yourself in Portuguese culture.
Having a guide with you, it's an opportunity to ask questions and advice.
Whether it's buying Portuguese gifts or something more personal. A guide is always happy to share his/her knowledge with someone genuinely interested in the city.
Finally, with a guide, you'll learn so much more about the city and its history, whilst giving back to locals. There are plenty of tours and ways to visit a city like Lisbon (without breaking the bank too).
History, Stories and Lifestyle Walking Tour
It's your first time in Lisbon and looking to get to know about its history?
This history, stories and lifestyle (walking tour) is the ideal way to explore Lisbon's streets and iconic neighborhoods whilst learning all its secrets thanks to a live guide.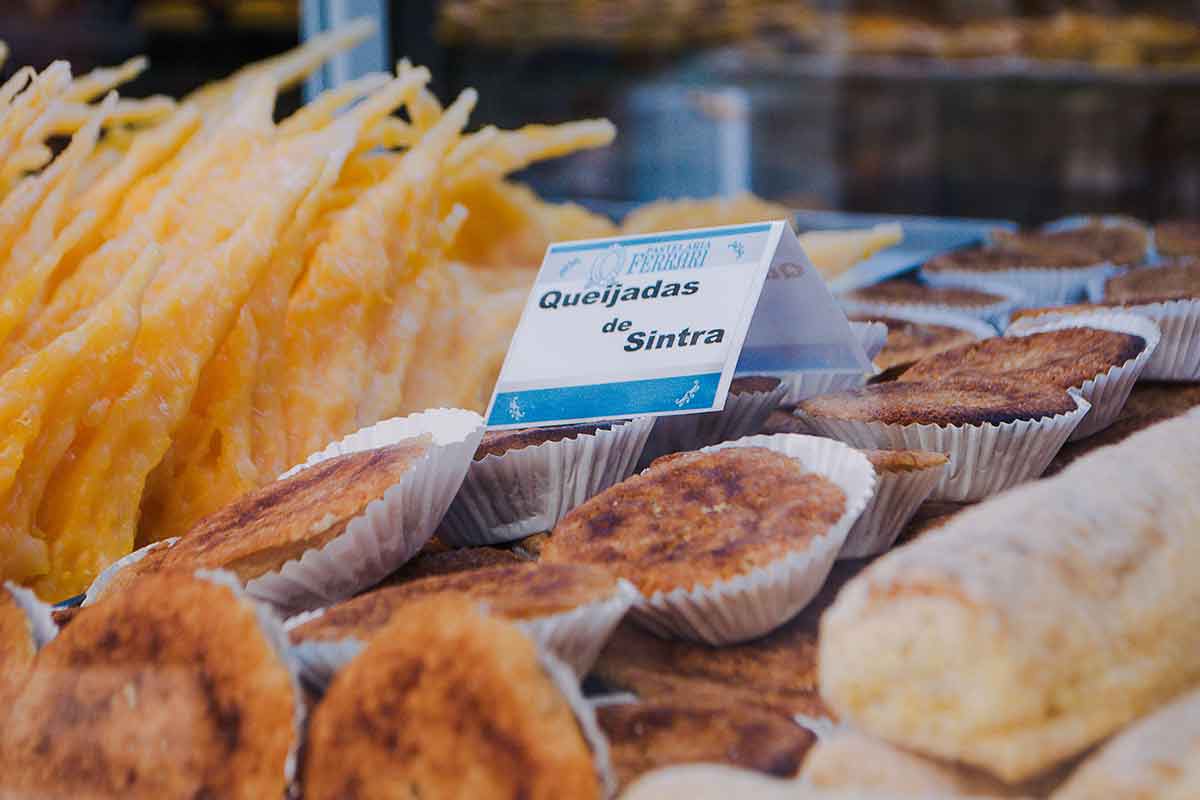 During this walking tour, you'll visit Bairro Alto and Alfama, the oldest and most picturesque districts of the city. You'll also admire a lovely view of the city from the Miradouro São Pedro de Alcântara and ride the famous tram.
Food and Wine Walking Tour
For all the food lovers out there, this is the perfect tour to have in Lisbon!
Like most other tours of this kind in Europe, this food and wine walking tour is a culinary journey through only the best Local flavours.
During a 3 hours tour you'll stop in different traditional Lisbon eateries and get insider tips about petiscos, food and wines.
You'll have the chance to try the traditional bifana, a pork sandwich with a beer, sip some Porto wine and much more!
'Fado in Chiado' Live Show Tickets
If you spend a few days and nights in Lisbon, you should definitely spend one to join a fado show. Fado is a type of music characterized by melancholic lyrics.
Fado is a very powerful experience and a way to immerse yourself in the soul of Lisbon. We recommend getting your ticket in advance of this 'Fado in Chiado' live show, featuring 2 singers and 2 guitarists.
Pena Palace and Park Entrance Ticket
Looking for day trip from Lisbon? Sintra is on the top list of many tourists and attracts thousands of people for its colorful Palacio da Pena.
How about trying out this Sintra: Pena Palace (+ park entrance) for the day? It includes the entrance to the beautiful 19th century castle and the surrounding park, the Chalet of the Countess of Edla.
How Many days in Lisbon
Now you should have a better idea of how many days in Lisbon is enough.
To really enjoy its atmosphere, people and the food you should spend a minimum of 3 days, even better if 4.
If you are lucky enough to have 4+ days in Lisbon, then you can also add one or two-day trips to your itinerary.
Are you looking for more ideas on what to see and do in the city? Before you go be sure to check out our 3 days in Lisbon travel guide.
---
Dear responsible traveler: This post may contain affiliate links, which means, if you click through and make a purchase, book a tour or a hotel, we may earn a small commission. This is at no additional cost to you. Your support means a lot and helps us to maintain the quality of this site.