When comparing Amsterdam vs Paris which do you choose?
You're looking for the perfect spot in Europe, and you've narrowed it down to two of the most iconic cities in the world. Amsterdam and Paris.
Both have similar climates, both are the capital cities of their historic countries and both have iconic architecture.
The big question to ask though, is which one is better?
Amsterdam vs Paris
Surely one must have better gastronomy, better art, a better cost of living or even better transport?
We're here to give you the low down as to which of the two are better when it comes to just visiting as tourists or residing there permanently.
Amsterdam
The capital city of The Netherlands and the most populous city in the whole country, Amsterdam is Holland's beating heart.
Van Gogh, Rembrandt and Anne Frank are some of the iconic former residents of the historic city, which has remnants of the 9th century still standing if you go looking for them.
You've heard of UK and US residents visiting here for budget city breaks, so why would you want to come here instead of somewhere like Paris?
Why visit Amsterdam?
Quite simply, it isn't what the media may portray it as. Amsterdam is a city of perpetual canals, iconic architecture and a knack for history.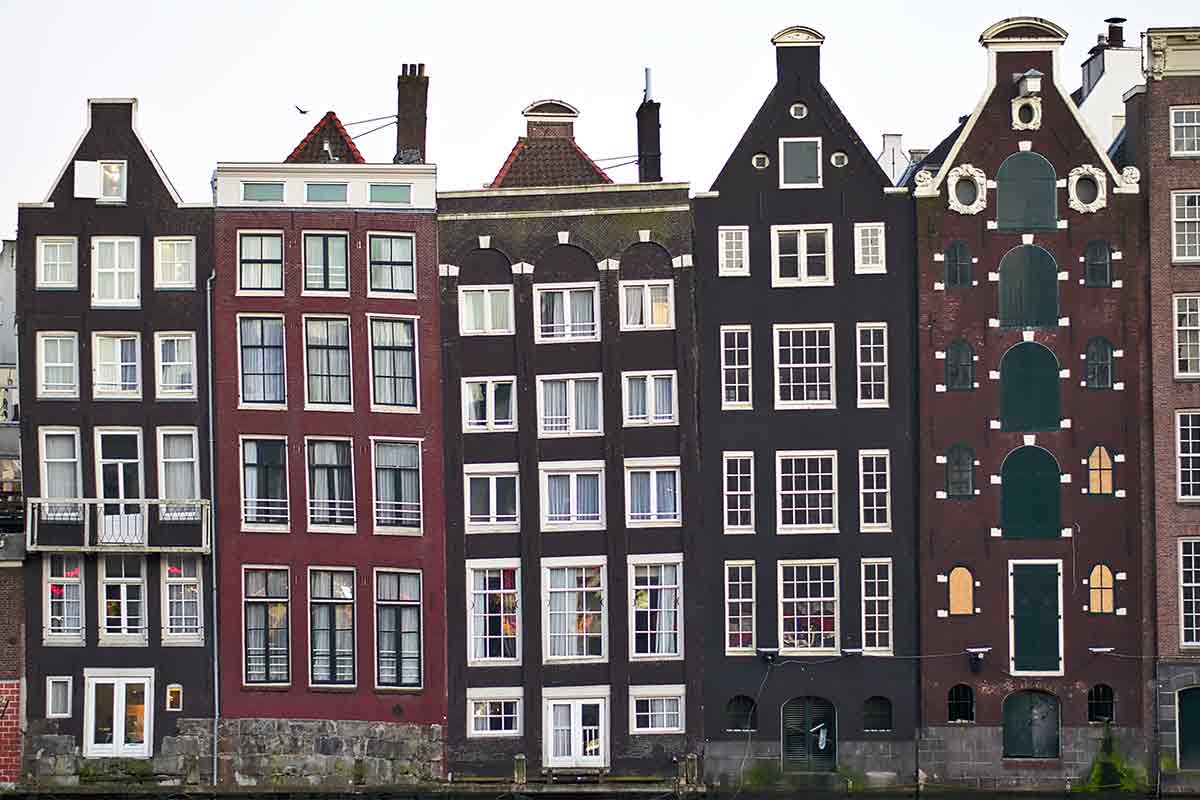 Amsterdam's contemporary art scene is an exhilarating thrill ride, but with an international twinge.
The city has some of the best museums including the Stedelijk, which may look like a giant bathtub from outside, but its temporary exhibitions are avant-garde and highly rated by locals and visitors alike.
Unknown to many, Amsterdam was actually an early adopter of the smart city concept in Europe.
There is no getting away from it – Amsterdam is a lowland metropolis with very flat ground. This is why it makes it a perfect city for cycling everywhere. This is what thousands of natives do every day.
One of Amsterdam's biggest draws by far is that city has completely dodged the soaring skyscrapers that have scarred so many cities in Europe.
Forget the Heineken Experience for a minute, it is those Amsterdam townhouses that are the symbols of the city, and the canals make it unique.
Cost of Living Amsterdam
According to numbeo.com, the average living costs in Amsterdam are lower than you'd expect for a city. In terms of overall costs, it's a cheaper capital city to live in than London.
The day-to-day stuff such as groceries and auto costs are slightly higher, but the rent and house prices are considerably lower.
Here are some of the numbers:
Family of four estimated monthly costs are 2,951.44£ (3,287.77€) without rent (using our estimator).
A single person estimated monthly costs are 825.72£ (919.81€) without rent.
Cost of living index in Amsterdam is 1.57% higher than in London.
Rent in Amsterdam is, on average, 16.71% lower than in London.
Also according to numbeo.com, Amsterdam has the 7th Most Expensive Gasoline per liter in the World.
This just shows how important it is for the new residents or visitors to Amsterdam to figure out they need to invest in a bicycle.
Best time to visit Amsterdam
The best time to visit the city is late spring or early fall.
To avoid crazy crowds while still enjoying good weather, we recommend visiting Amsterdam in April, May, September, or even as late in the year as October.
Although you have to be lucky with the weather, crowds in Amsterdam are much more bearable outside peak season.
If you want to avoid the cold, wet and windy weather avoid the Winter and Autumn period from November to February.
May is arguably the best month to visit Amsterdam in 2021 because of the relaxed COVID laws and the best weather. There are some days in May where it can be busy.
For example, on May 1 when most of Europe, including neighbouring Europe, celebrate Labor Day.
We recommend to completely avoid peak season in the Dutch capital since the crowds become completely unbearable.
No matter when you arrive, be sure to pick up one of these Public transport tickets that will allow you to use buses, trams and ferries.
Is Amsterdam Safe?
Amsterdam can be rife with pickpocketing and other petty crime. This is due to the tourist targeting and the exploitation of tourists that make the most of the recreational drug-taking scene in the city.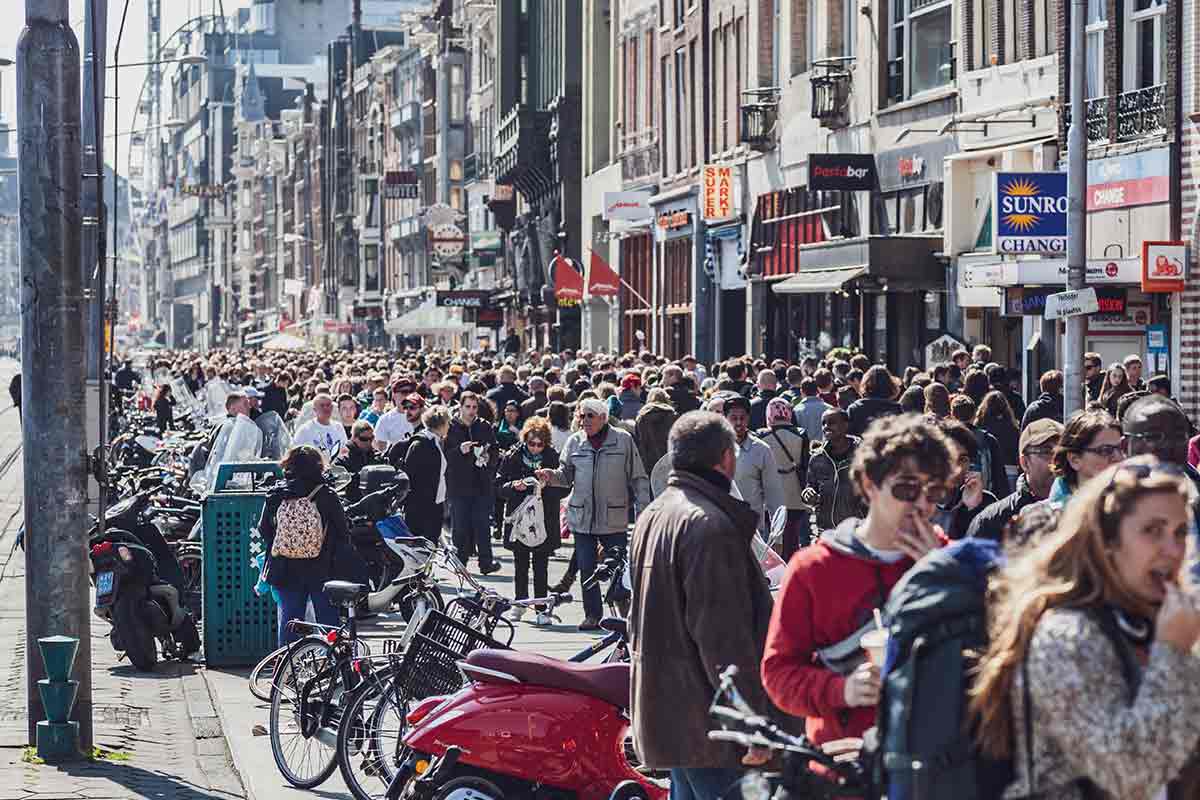 Most notably, magic mushrooms were declared illegal a number of years ago due to incidents relating to tourists not taking necessary precautions and making life-threatening mistakes.
Some parts of the city such as the Red Light District are pretty dangerous at night due to the gang activity and the control of legal prostitution.
Police have a hard time controlling criminal elements due to the immensely crazy nature of the Red Light District itself.
We would recommend steering clear of the Red Light District at night, but it can be a useful shortcut to the tourist spots during the daytime.
See this guide to safety in Amsterdam for more useful tips on staying safe and how to maneuver around the city in a safe manner.
Paris
Oui, monsieur et madame! Paris is a beautiful city. It has some incredible restaurants and iconic landmarks that have stood the test of time.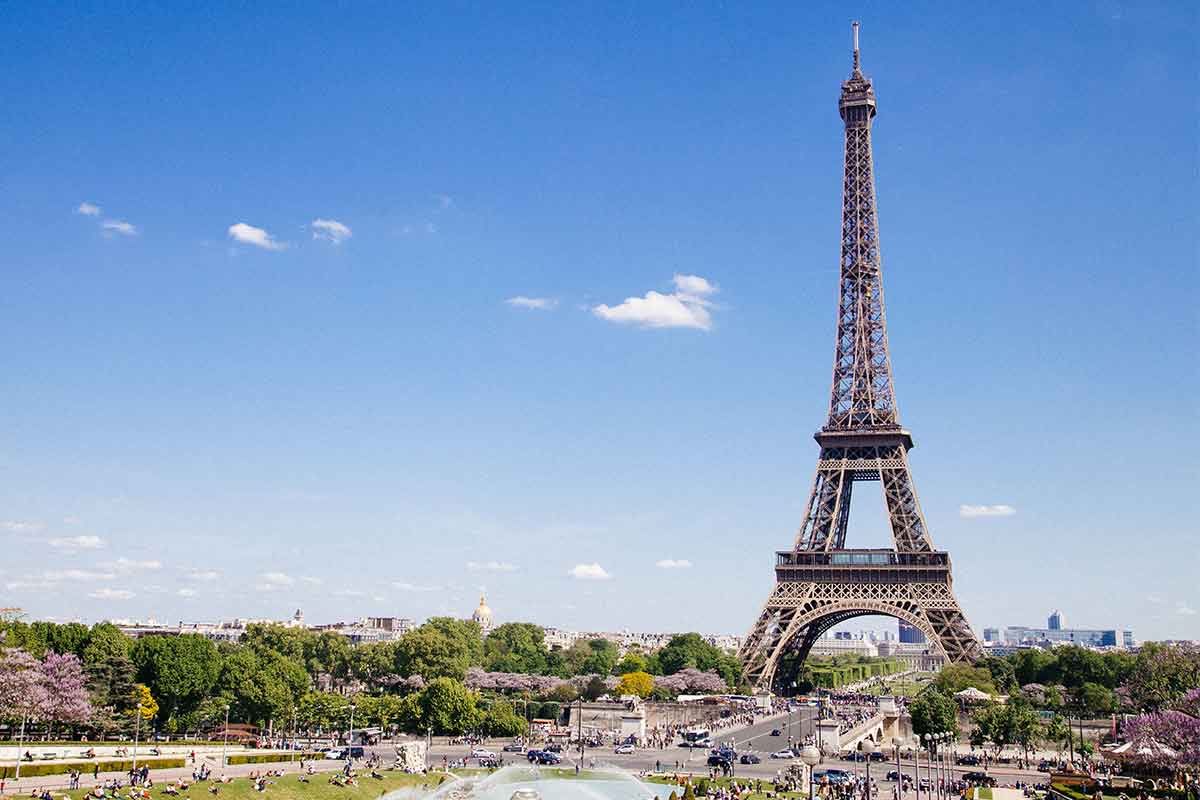 The home of the Mona Lisa, Disneyland and Escargots, there are all things for all people here. There is no one reason for visiting, there are always many reasons.
Is Paris worth visiting?
If you are planning a visit or becoming a resident of Paris, you will find everything you need in this charming city.
The fashion capital of the world, the city has a long history of art and a rich culture full of historical figures such as Napoleon and Charles de Gaulle.
From museums to restaurants, cafés, and parks, the city offers endless activities to experience Parisien culture, which many say differs from the typical French sensibility.
You may have heard rumours and clichés, about how the city is filled with rats and the men are verbally abusive to women.
See these tips on safety in Paris and you'll soon realize that this isn't the case for most visitors to Paris, although we won't deny that it doesn't happen.
The multiple neighbourhoods of Paris makes tourism tricky, but there's always something to visit in every corner of the city.
The Latin Quarter, for example, has an increased amount of museums, hotels, restaurants and other places of interest.
Another example is the Jewish Quarter that is more cultural than touristy but still retains some popularity. However, one can simply not miss a trip to the Picasso Museum while here
Cost of living in Paris?
When it comes to living in Paris, the prices may seem a bit scary. However, it's quite normal for someone to decide that moving to an outer suburb is the best for them.
When it comes to a family of four, the estimated monthly costs are 3,115.52£ (3,495.93€) without rent.
That would mean that before even looking at the cost of the pricey apartments in the safe inner city areas, you need to consider the fact that you need to set aside around £36,000 per year before rent.
When it comes to a single person, estimated monthly costs are 861.32£ (966.49€) without rent.
This makes the idea of living in Paris slightly less scary, which is why most cities such as Paris have flat shares or multiple people living in one apartment to share costs.
The cost of living index in Paris is 9.76% higher than in London, and the rent in Paris is, on average, 27.85% lower than the cost of living in London for example. This makes Paris cheaper than London but not Amsterdam.
Best time to visit Paris
The best time to visit Paris is from June to August and September to October. Both summer and fall have its ups and downs. From June to August the weather in Paris is just about parfait.
Average highs are in the high 70s (Fahrenheit) and there are long days of sunshine.
Unfortunately, summer is also the most crowded time – and the most expensive. For lower travel rates and significantly shorter lines at attractions, plan a visit in Autumnal months.
The seasonal foliage is known to flourish, though the city's spring blooms are pretty famous too. If a travel deal is all that you're after, a visit during the winter will surely shave off travel expenses.
Keep in mind though that Paris is one of the most visited cities in the world, seeing upward of 30 million travellers yearly. So no matter what time you visit, there will always be tourists and some crowds.
How far is Paris from Amsterdam
The average journey time by train between Paris and Amsterdam is 4 hours and 15 minutes, with around 26 trains per day.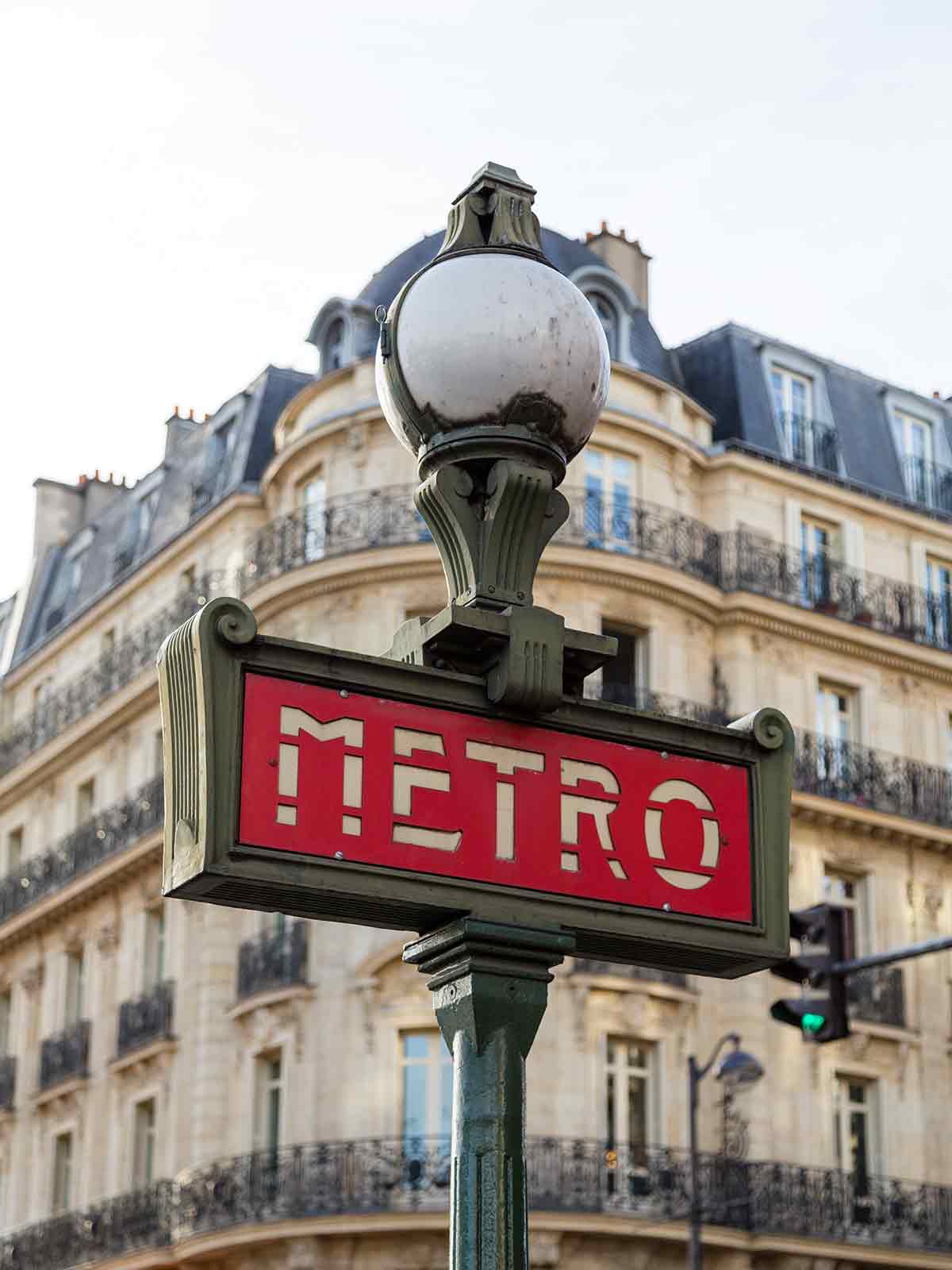 The journey time may be longer on weekends and holidays, so you should be booking a specific travel date in advance.
All trains depart from Paris Gare du Nord station and arrive into Amsterdam Centraal (Central) station.
While it's possible to travel from Paris to Amsterdam by train, plane and automobile – taking the train is by far the quickest option when planning city centre to city centre travel.
Not only that, it's much kinder on the environment, and you can arrive and depart from both city centres – so you'll be swapping croissants for canals in just over three hours.
Amsterdam vs Paris: Final Words
Both are affordable places to visit or live, but they both have completely different infrastructures.
If you're the business type that loves ingenuity in engineering and the marks of technology, Paris is your spot. However, if you are more into history and heritage, Amsterdam is your spot.
If we were forced to pick one, it would probably be Paris. With Paris, there's always something you haven't seen or done yet.
We don't mind crowds though, whereas you may find 30 million visitors a year daunting. Follow some of our sustainable travel tips and be sure to book your flights and trains today!