If you are planning a trip to Spain and want to include Seville in your itinerary, you may be asking yourself how many days in Seville are enough?
Seville is the capital city of the Andalusia region, in southern Spain. Together with Córdoba and Granada, it is one of the most visited cities in the country.
Andalusian cities continue to fascinate thousands of visitors who arrive from all over the world. Arab's architecture, flamenco, ancient traditions and festivals (aka 'ferias'), are on the top of the list of things to see and do in Seville.
How many days in Seville?
In this guide, we'll take a closer look at Seville with the first-time visitor in mind to show you how to make the most of your time here.
If you're not sure how long you should spend, keep reading below to find out how many days in Seville are enough for you to get a real taste of its authentic side.
Is Seville worth visiting?
Seville is one of those cities in Spain that everybody should visit at least once in their lives. Below are 3 reasons why we believe it is absolutely worth visiting.
Immerse yourself in Seville's ancient history. There's no better way to do that than visiting at least 3 of its top attractions: Seville's Cathedral, La Giralda and the Real Alcázar. The complex is also a UNESCO World Heritage Site and all together they represent the civilization of the Almohads and are a testimony of Christian Andalusia.
The food scene is another reason why Seville is worth visiting. The Andalusian capital city is the best place to taste the region's dishes. The list of food to try is rather long, but, aim to try the tapas, the gazpacho (cold tomato soup), the serranito (sandwich with pork, vegetables and ham), huevos a la flamenca (baked eggs) and cocido andaluz (soup).
Seville counts on a sunny and warm climate most of the year. The best season to visit the city is spring although you can also explore it in winter or autumn. We don't recommend summer because it's scorching (40 °C+).
How Many days in Seville is Enough?
As you can see there are plenty of reasons to travel to Seville, but the biggest question mark is, how many days in Seville is enough?
That depends on a few factors like your travel style, activities you want to do and budget. Keep reading to understand what's the right amount of days for you.
Is one day enough for Seville?
One day in Seville is absolutely not enough to get a sense of the city's unique vibe. However, if you do only have a day, the good news is that you can still see a few of the most important attractions by planning your time wisely.
With 24 hours in Seville, you can visit the Alcázar of Seville, which is the city's essential attraction and the Cathedral of Seville, the world's largest with a Gothic style. With such limited time, get a guided tour with fast-track entry in advance.
During this tour, you'll also access the Giralda, the Moorish tower, which is almost 100 meters high and was once the tallest in the world.
You can also go for a walk in Parque Maria Luisa, the most important park in Seville and admire the majestic Plaza de España. Then keep exploring the city, make sure you cross the Paseo de Cristobal Colon and admire the Torre del Oro in all its beauty.
At this point, you should definitely stop to eat some tapas in one of the many tapas bars in the historic center of Seville.
After dinner, attend a flamenco show for some traditional entertainment. The famous dance was born in Seville, an expression of the 'cultura gitana' (gypsy) dating back to the 18th century.
Is 2 Days in Seville enough?
If you have 2 days to spend in Seville, then it's definitely better. You can visit the city with more time and add a few more places to your itinerary. We've already talked about how to spend 2 days in Seville, so you don't have to think about it!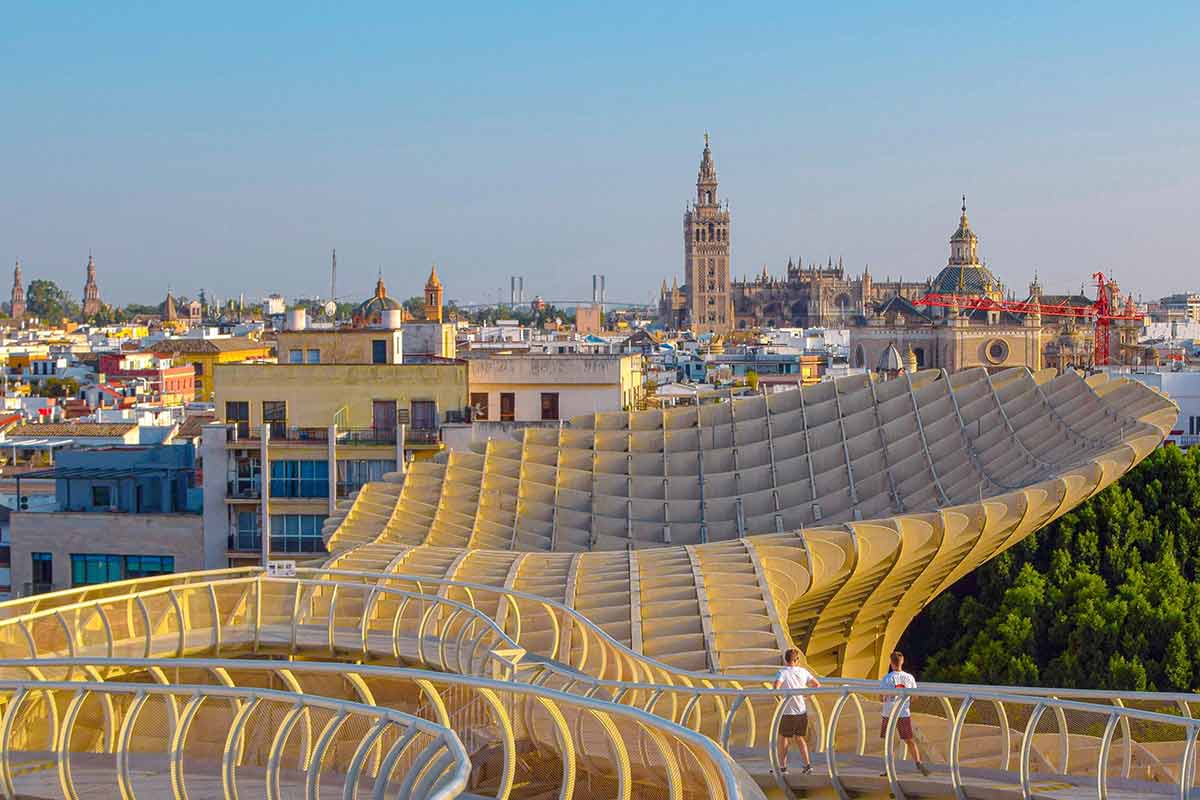 Even if, 48 hours are still not enough (in our opinion) to fully enjoy the 'maravilla' that Seville has to offer, you can still do many things in that time.
In addition to the attractions already mentioned above, you can visit the Archivio General de Indias, which houses 80 million pages of documents testifying to the greatness that the Spanish empire achieved during its golden years.
The attraction has been declared a World Heritage Site by UNESCO together with the Cathedral and the Alcazar. The Palacio de las Dueñas is a palace house converted into a museum and a perfect example of 'casa andaluz' worth visiting.
You can take time to admire the artistic heritage which it encloses and walk around its well-pruned gardens. Move towards the Macarena neighbourhood, where you can find vintage shops and the food market Mercado de la Feria.
You can't leave Seville, without dropping by the huge wooden monument (the largest in the world) known as Las Setas or Metropol Parasol. Then, why not get a taste of Seville's nightlife by going to the Alameda de Hercules, the historic square dedicated to Hercules, the founder of the city?
Is a week in Seville too long?
Spending a week in Seville could potentially be a bit too long. The positive side of spending 4 days or more is that you can spread the visit to the main sights of the city in more days and be more relaxed.
Another advantage of having 7 days in Seville is that you can visit lesser-known parts of Seville which normally tourists wouldn't get to.
For you, like many others, there is a chance that a week in Seville may be too much. There are day trips you can plan yourself from here or you can go with local tour operators, that way you can learn more about the Andalusia region.
Below are some of the tours we recommend considering:
Our recommended amount of days in Seville
We think that 3 days in Seville is enough to get a real taste of the city. In 3 days you can visit the main attractions while taking your time (Sevillian style)!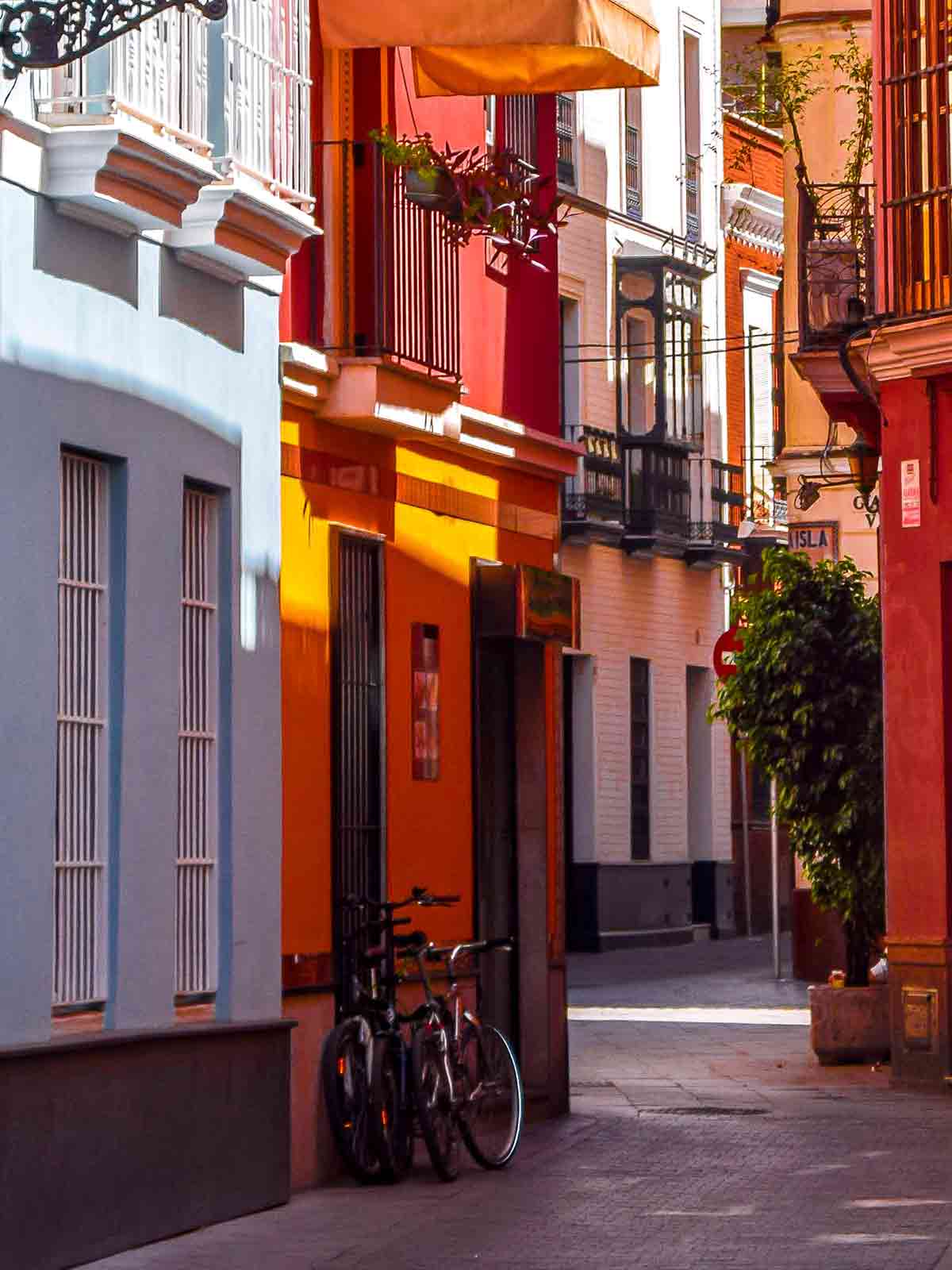 In addition to the landmarks we have suggested above, you can: visit the wonderful neighborhood of Triana, located on the other side of the Guadalquivir river, which you could easily dedicate half a day to.
When visiting the recommended neighborhoods, take the opportunity to look for and purchase some Spanish gifts or souvenirs and other precious items that you'd like to take back home with you from small locally-owned shops.
You can then continue your itinerary by visiting Isla de la Cartuja, the monastery/museum and the pavilions of Expo '92.
Around this area of the city, you can go to the Isla Mágica (open from April 15th), a theme and water park and go on a river yacht cruise on the Guadalquivir. It's an alternative way to see the city and relax after all the walking around.
Where to stay in Seville?
See our selection of accommodation options for Seville below:
Budget – Petit Palace Vargas is a 2 star hotel located in the center of Seville, the perfect place to stay on a budget without giving up on style and comfort. Every room has private bathroom, flat screen TV and Wi-Fi.
Boutique – Hotel Amadeus Sevilla is not far from the beautiful Seville Cathedral. The buildings are classical music themed and all guests will be welcomed with a drink. Some rooms have a hydro massage bath or shower.
Luxury – Hotel Unuk is a 5 star hotel, just a few minutes walk away from La Giralda and the Cathedral. Some rooms have balconies and offer incredible views over the city. Buffet breakfast is included for all guests.
Best Guided Tours in Seville
Seville really does have so much to offer and its artistic and historical heritage is outstanding. For this reason, we recommend being accompanied by a guide to be able to dive deep into the city's history and make the most of your time.
Doing tours in Seville
If you don't have many days to spend in Seville, joining a tour accompanied by a local guide is another great way to optimize your time, learn about the city and see everything through the eyes of a local.
If you are happy to move around by yourself without the knowledge of a guide, booking skip-the-line tickets in advance is a great way to save you time.
Apart from supporting a local guide, by joining a tour (or a guided day trip) you'll learn invaluable things about the city, attractions or locations visited, as well as get to experience the local transport, and, enjoy an authentic meal.
This is a good time to ask your guide questions to be able to find an answer to all your curiosities about this charming Spanish city.
Check out this list with some of the guided tours we recommend booking:
Royal Alcázar Entry Ticket
You can't leave Seville without visiting the Royal Alcázar. This is nothing less than a royal palace built for the king of Castilla Peter, where there was an ancient site of a Muslim residential fortress.
During your visit, you can admire both Moorish and Christian architecture blending uniquely. The palace was also the set of some scenes of the popular series Game of Thrones.
Guadalquivir River City Cruise
Why don't you take the opportunity to see Seville from a different perspective? This Guadalquivir River City Cruise is perfect to enjoy lovely views of the city and see the iconic landmarks from the river.
During the cruise, you'll see the Torre del Oro, the Triana neighborhood, the Seville '92 Expo, the beautiful Plaza de España and the Triana bridge.
Spanish Cooking Class & Triana Market Tour
Maybe you like cooking and want to take the opportunity of been here to learn more about the local cuisine? Then join this Spanish cooking class!
Not only will you get to cook a 3-course meal with a chef, but you'll also explore the local Triana Market. During your tour of the market, you'll learn about local products and specialties.
Pure Flamenco Seville
Did you know that flamenco has been declared an Intangible Cultural Heritage of Humanity? During your time in Seville, you should absolutely learn more about the famous dance, its history and watch a live performance.
Get your admission ticket to Pure Flamenco Seville to be able to experience the art form and get to know more about the local culture.
How Many days in Seville?
Now you should have a better idea of how many days in Seville is enough for you.
As we said, 3 days in Seville should be enough to get a rough idea of the city, visit the main attractions and include a couple of off-the-beaten-track sights.
Alternatively, if time permits, you could always dedicate half day or even a full one to explore even more places around the Andalusia region. You won't regret it.
Remember to read our Seville itinerary for more ideas on what to see and do.
---
Dear responsible traveler: This post may contain affiliate links, which means, if you click through and make a purchase, book a tour or a hotel, we may earn a small commission. This is at no additional cost to you. Your support means a lot and helps us to maintain the quality of this site.