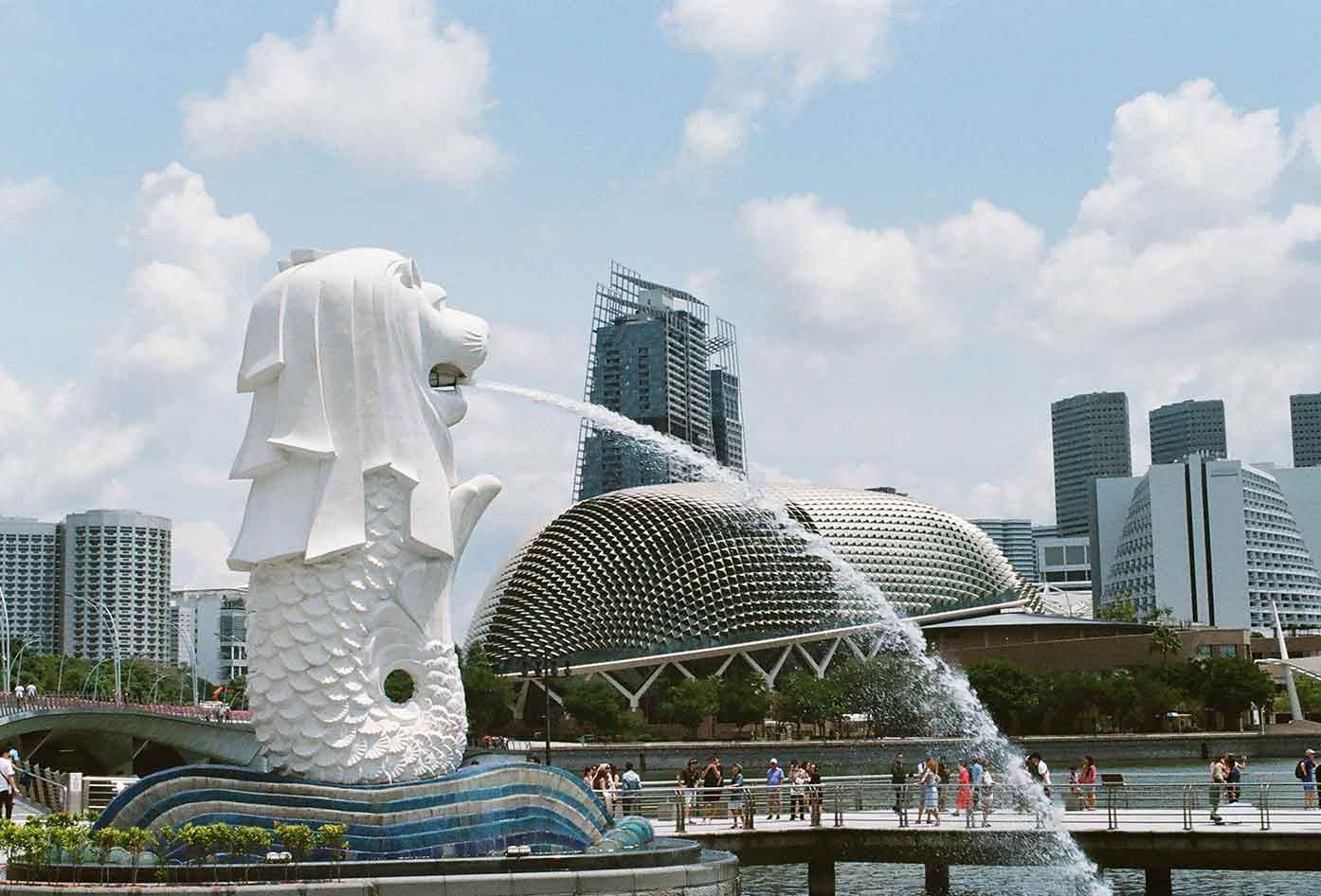 Singapore is that fascinating city known all over the world for its sparkling skyscrapers and impeccable cleanliness.
These are the first things you notice on arrival to the city, and the ones that make Singapore a unique place in South East Asia.
There are things to know before visiting Singapore but this guide will help you discover more of what it has to offer. Even if the Lion City is an ultra-modern cosmopolitan city, its unique identity is still tied to the past.
Learn more by reading our guide on 10 things to do in Singapore below.
Things to do in Singapore
This list of must-see places and experiences to live in Singapore will work fine both for first-time visitors and if you stop here for a couple of days only, before heading to new destinations around the rest of Asia.
Singapore is a city state and an incredible melting pot of different people coming from all around South-East Asia.
More than a century ago, Chinese, Indian and Malaysian moved and, at a later stage, settled down in Singapore with their flourishing businesses that thrived thanks to the old trade routes.
Singapore was (and is still) a great spot for new businesses to grow big.
As a consequence of this trend, different religions, cultures, and traditions have contributed to enriching Singapore's culinary, cultural, and artistic heritage.
Additionally, because of its diverse culture, there are so many things to see in Singapore, with an all-inclusive pass in Singapore you can visit many attractions without any problems.
Let's look at these unique things to do in Singapore during your stay:
Visit the Asian Civilisation Museum
The Asian Civilisation Museum is a real dive into the discovery of Asian civilizations. Over the centuries, ancient civilizations contributed to creating Singapore's identity.
As far as we are concerned, the Asian Civilisation Museum is a must-see museum in Singapore, and it's definitely worth including it in your 10 things to do in Singapore list.
The museum is housed in a historical building that flanks the Singapore River, in the heart of the city. The collections are dedicated to the history of Asian civilizations.
The art galleries are organized in a way that the visitor can literally walk through time and history and recreate the history of Singapore through art in all its forms.
There are numerous collections to visit: from the Christian and Islamic religious art ones to the one dedicated to Chinese ceramic processing.
The first galleries, near the entrance, display a few artifacts which date back to the 5th-7th century B.C., first testimonies of the most ancient religions that spread in this geographical area: Buddhism, Hinduism, and Jainism.
ℹ️ Useful Information:
Ticket price: $20 adults, children (under 6) free.
Opening times: Monday to Thursday, Saturday & Sunday 10am-7pm, Friday 10am-9pm.
Explore Gardens by the Bay
On the list of 10 things to do in Singapore, it was imperative to add Gardens by the Bay which are located in the Marina Bay Waterfront.
The bay waterfront is easy to reach on foot from the city center, meaning you don't need to take the MRT (underground) to get here.

These idyllic and future-oriented gardens are a real oasis of peace for the city, but what makes this attraction a must-see place in Singapore?
Gardens by the Bay is nothing less than a temple for nature and gardening lovers. With an extension of 100 hectares, this place hosts thousands of species of trees and flowers of different climate zones.
The gardens are divided into three areas: Bay Central, Bay East, and Bay South. The latter is the largest area, which was opened in 2012.
The highest part of the trees is equipped with solar panels that capture solar energy, saved by each tree and used, later on, to illuminate themselves in the evening.
All you can do here is to get lost and explore the different areas of the gardens. There's quite a lot of effort and care curators put to create these gardens, considered among the most beautiful in the world.
There's no entry fee for Gardens by the Bay unless you decide to visit the nearby greenhouses and conservatories. This VIP ticket gives you access to all the paid areas of the attraction.
Watch the sunset from the Marina Bay Sands
Easy to spot from wherever you get to be in Singapore, getting to the top of the Marina Bay Sands is one of the 10 things to do in Singapore, and for many is considered one of the best experiences to live in Singapore!
The Marina Bay Sands is a luxurious hotel with many bars and restaurants and the largest infinity pool of the world.
It is also a great spot to enjoy a spectacular 360° view of the Singapore skyline. If you want, you can access the bar and restaurant area as well as the infinity pool paying extra money.
When you arrive here, get to the elevator by booking online or paying at the counter your ticket to access the SkyPark Observation Deck.
We suggest getting to the hotel just before sunset time, to enjoy the view both with daylight and during the sunset.
ℹ️ Useful Information:
Cost: $23 adults, $17 children between 2 and 12.
Opening times: Daily from 11am – 9pm (The SkyPark Observation Deck will be closed from 6pm to 7.30pm on Wednesdays and Thursdays except for Public Holidays).
Get to the top of the Cloud Forest and wander around the Flower Dome
Don't visit Gardens by the Bay without including the Cloud Forest in your tour. This huge greenhouse hosts a vertical garden that's 30 meters high!
It develops on several levels, and during your walk, you get to see multiple orchid species with the most incredible colors and shapes, as well as many other plants and creepers that grow in humid habitats.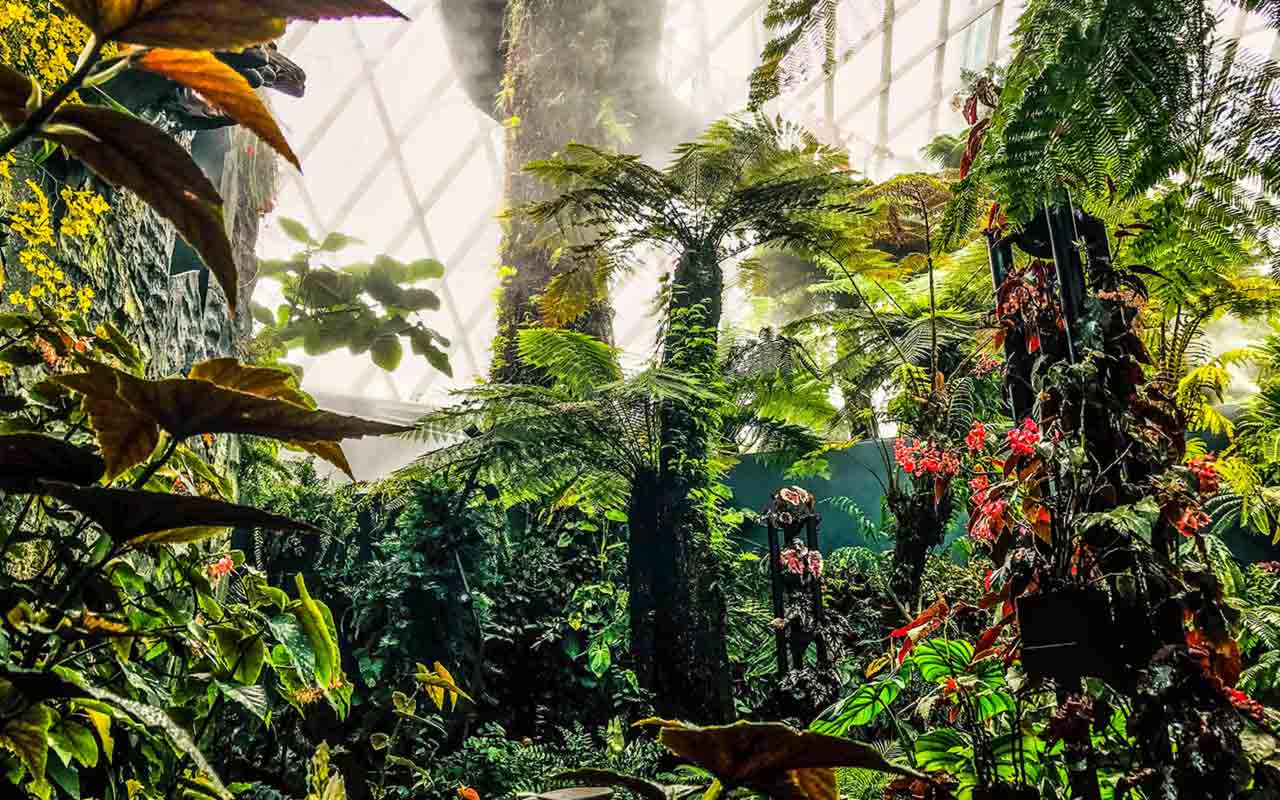 If you ask us, what's the highlight of the Cloud Forest? Without any doubt, it's a waterfall that flows from the top of the vertical forest to the foot of the greenhouse.
The conservatory called The Flower Dome covers 1.28 hectares and won the Guinness World Record in 2012 as the largest glass greenhouse in the world!
Here it is easy to lose track of time and stroll around it for a couple of hours, discovering plants and flowers of all climate zones and coming from every continent.
If you love urban gardens you can easily find olive and lemon trees here, and, at a distance of a few meters, African baobabs and gigantic cacti.
During your visit to the Flower Dome, you'll find out about new species of plants growing in the most remote places of the world!
ℹ️ Useful Information:
Ticket cost: $12 adults, $8 children aged between 3 and 12. It can be combined with a visit to another greenhouse, with $28 for adults and $15 for children.
Opening times: daily from 9am to 9pm.
Walk on top of the OCBC Skyway
After visiting these greenhouses, it's time to get back to the outside gardens. Among the 10 things to do in Singapore, you can't miss the walk on top of the OCBC Skyway.
The OCBC Skyway is a walk that winds through the Supertrees Grove, and from here you can enjoy an incredible view over Gardens by the Bay.
The skywalk is at the height of 128 meters. By strolling around the Supertrees, you get the chance to take a closer look at them.
It's an unmissable experience and that we would recommend to anyone!
ℹ️ Useful Information:
Cost: $8 adults, $5 children aged between 3 and 12.
Opening times: daily from 9am to 9pm.
Have lunch in the colourful Little India (Komala Vilas)
If you are an Indian cuisine lover and want to get a taste of real India whilst in Singapore, don't miss out on a visit to colorful Little India.
Little India is one of the most vibrant districts in Singapore. The first settlement of Indians was directly connected to the cow trade that was taking place in this part of the city.
In 1840, the first Europeans settled down there, who started to mix up with the community of Indian residents.
Little India is a real taste of India in Singapore: buzzing roads with market and food stalls, Hindu temples and mosques, restaurants, and shops all around.
Little India's street art and its colorful houses are some of the most Instagrammable spots in the city!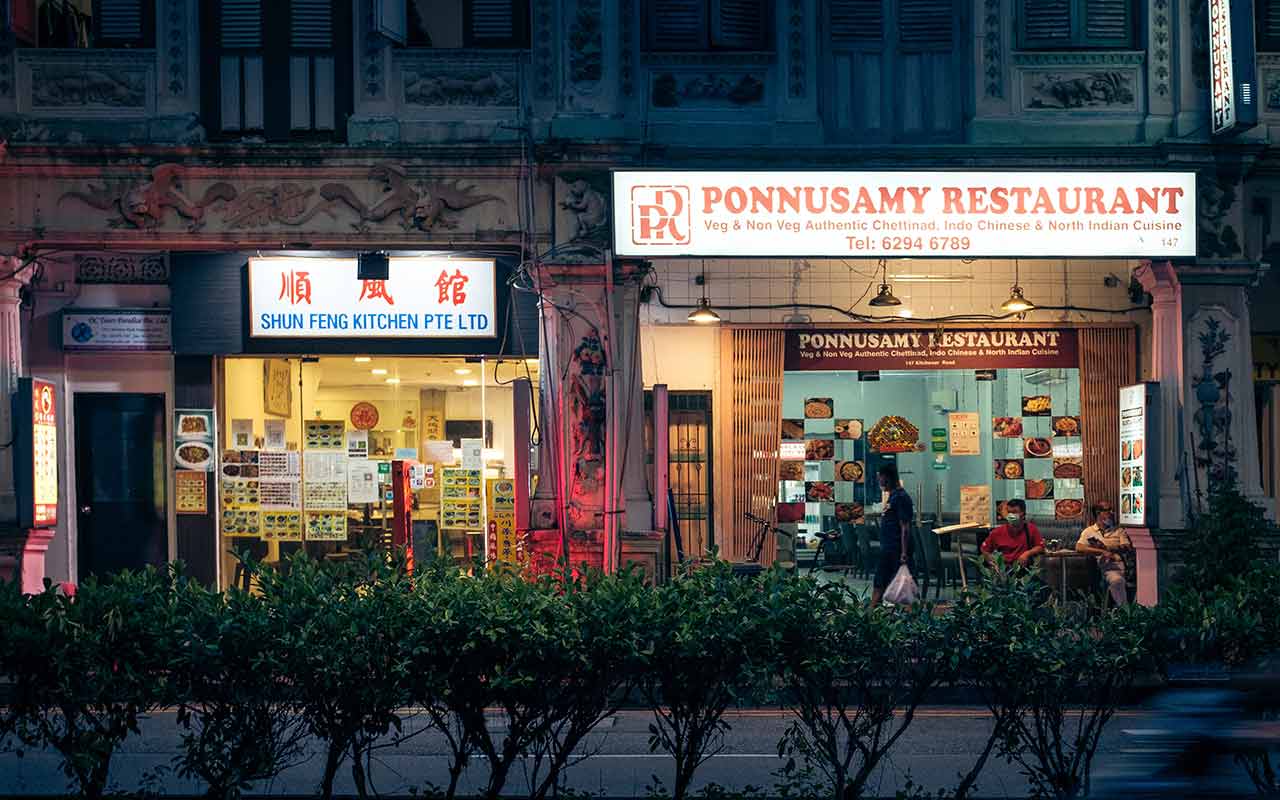 One of the 10 things to do in Singapore is to have lunch (or dinner) in one of the traditional Indian restaurants in Little India. We suggest one called Komala Vilas.
It's a vegetarian restaurant that opened its doors to the public in 1947. This is one of the oldest Indian restaurants in Singapore and here you can choose among a selection of dishes from the culinary tradition of North and South India.
ℹ️ Useful Information:
Address: Komala Vilas, 76 – 78 Serangoon Road, Singapore 217981
Relax at the Singapore Botanic Gardens
The Singapore Botanic Gardens have been recognized UNESCO World Heritage Site in 2015. This is a vast green space that houses the National Orchid Garden, a beautiful lake populated by swans and surrounded by tropical trees.
At the moment, there are only two other botanic gardens inscribed in the UNESCO World Heritage List: Orto Botanico in Padua (Italy) and the Royal Botanic Gardens in Kew (UK).
The Singapore Botanic Gardens are the first example in Asia to enter the list.
These gardens are some of the oldest gardens in Singapore. It's a great space to spend time with family and friends for Singaporeans. A place to disconnect from city life and rediscover contact with nature.
There's no entrance fee to access the gardens, open to visitors from 5 am to 12 midnight daily.
Explore the indoor waterfall at Jewel Changi Airport
Changi Airport is the most important airport in Singapore, but it's far more than this. It's now considered one of the most innovative sustainable tourism attractions in the world.
Inside it, you get to see a real forest with a canopy bridge and the Rain Vortex: the tallest indoor waterfall in the world!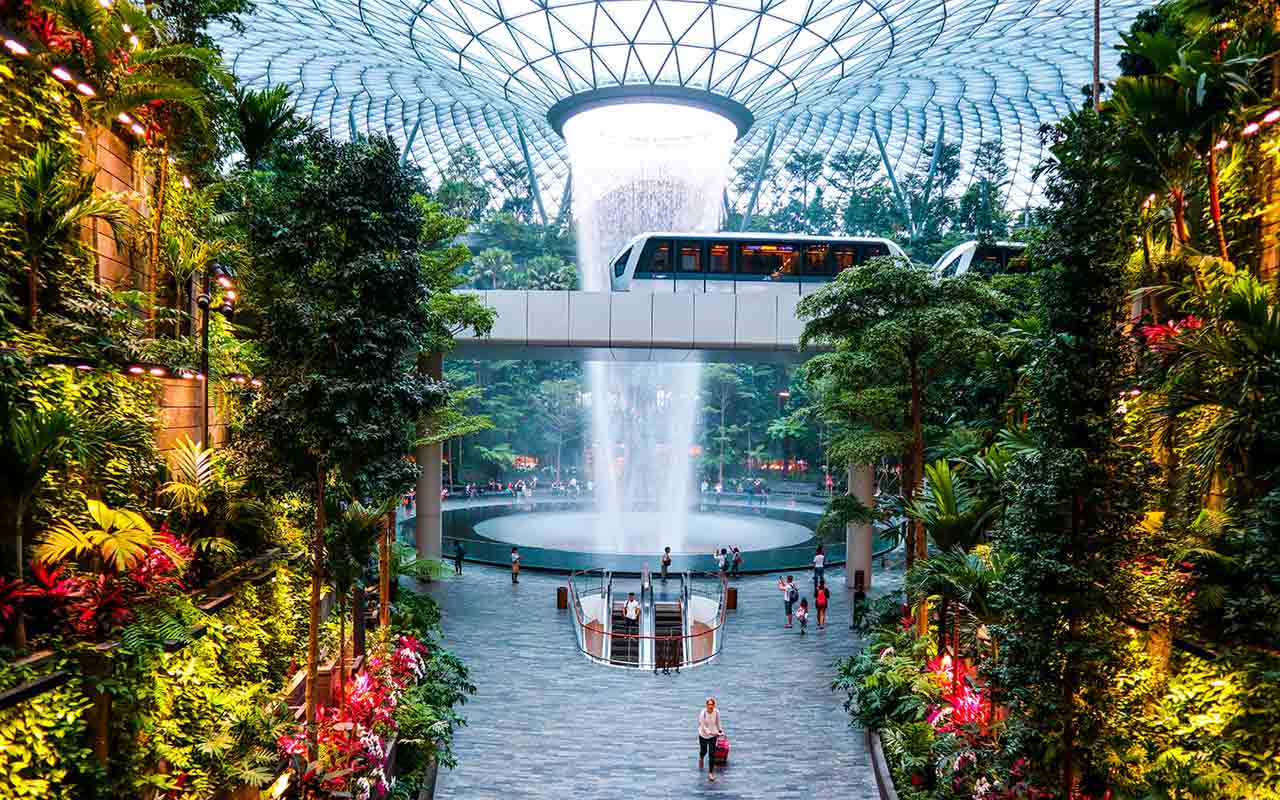 This part of the airport is relatively new and made of Changi, the most exclusive and important aviation hub in Asia. You can also visit Canopy park with an admission ticket.
The waterfall is 40 meters high and the 2,000-tree forest around it's called the Forest Valley. You can spend some more time inside the airport, having lunch or going shopping before taking your next flight.
Visit and dine in Chinatown
Is there a better place to start your night out in Singapore than Chinatown? The answer is no, and that's the reason why.
First, Chinatown is the perfect place to understand more about Singapore's history. Chinese people were the first ones to settle down and to leave their mark in the city.
In Chinatown, there are some of the most important Buddhist temples of the city, for example, the Buddha Tooth Relic Temple & Museum.
You cannot miss a walk in Sago Lane also called in the past, the 'death houses' lane. The street is now dotted with ancient Chinese pharmacies, households shops, and traditional Cantonese restaurants.
There is a long street with food stalls called Chinatown Food Street and this is the right place where to try some signature and traditional dishes.
You can even explore this place at night with a night tour with trishaw and boat ride to cap a fun-filled day in the city.
There are a couple of must-try dishes you can get here such as the Hokkien braised duck with rice, fried kway teow mee and the popular satay!
Stroll around Boat Quay and Clarke Quay
Singapore's history couldn't be the same without this river, from the commercial hub in the colonial area to tourist spots and nightlife center, this river keeps playing an important role in the city.
Walking along the Singapore River is an unmissable experience and one of the 10 things to do in Singapore.
Enjoy the evening breeze and a romantic view from one of the many bars and restaurants on Boat Quay that during 5-7 pm offer discounts on drinks.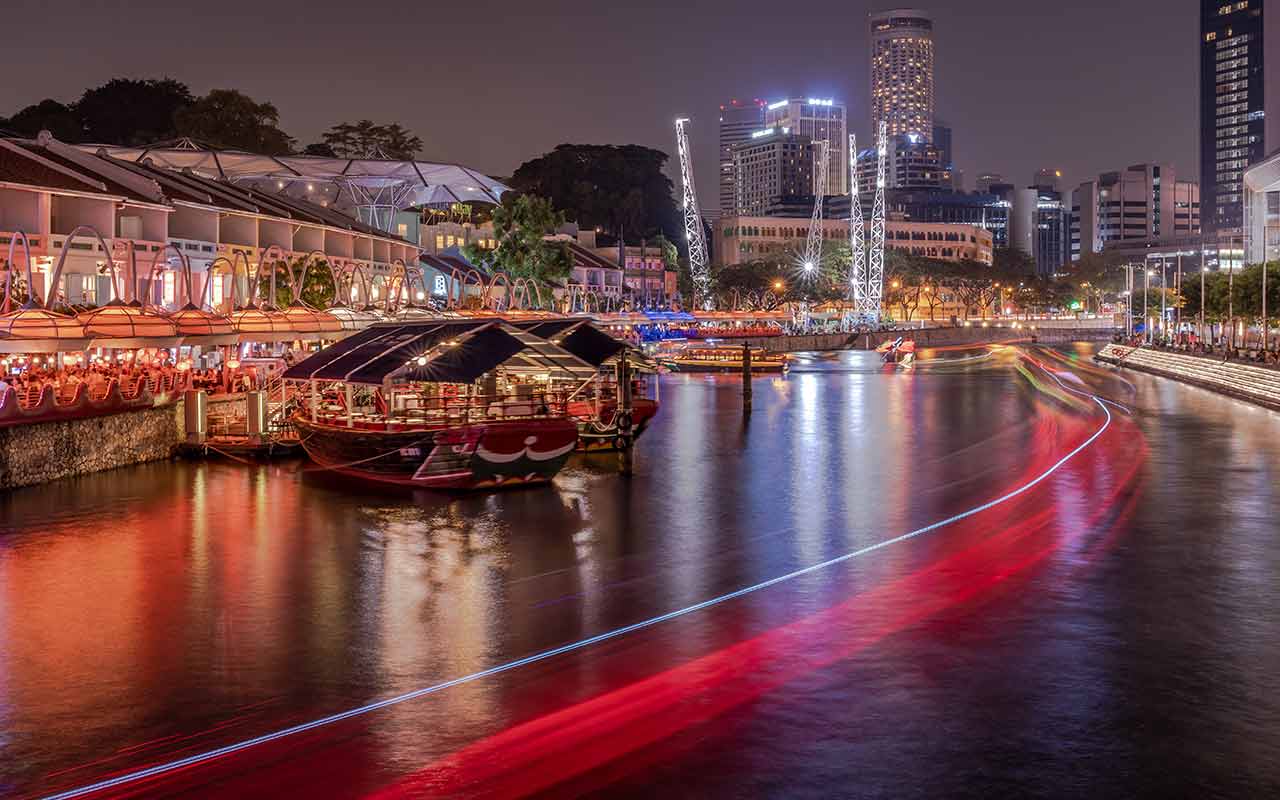 It is worth knowing that alcohol is quite expensive in Singapore.
Start your walk from Boat Quay until when you get to Clarke Quay. Clarke Quay is the main nightlife spot in town for whoever is looking for the ultimate dance club or live music venue in Singapore.
Usually, there's an entrance fee that may or may not include a cocktail.
Spending a night at Clarke Quay is the perfect way to end your Singaporean experience!
Singapore Travel Tips
Take your time to admire the incredibly tall sci-fi Supertrees Grove, winner of numerous prizes and awards over the years.
Remember to get your FREE travel insurance quote from SafetyWing to receive fully comprehensive support when it comes to unforeseen travel complications.
The NYE celebratations in Singapore are very popualar and you can find exhuberant fireworks shows and parties here. If you want to get in on the wild foam parties head over to Sentosa island beach
Think about booking one of the many top rated hostels in the city if you want to save money on accomataion. Not only are they affordable and clean, many are designed to a very high standard.
Be kind to the local enviromment and carry some biodegradable toiletries if you can. Mininzming your waste in an overcrowded city like Singapore can and will make a difference.
Singapore is very rich and diverse in languages, religions and culture so keep an open mind if arriving here for the first time.
Things to do in Singapore
Be sure to plan your trip to Singapore today and follow some of our sustainable travel tips to ensure that your trip has a positive impact on the local environment.