Welcome to this 3 days in Budapest itinerary.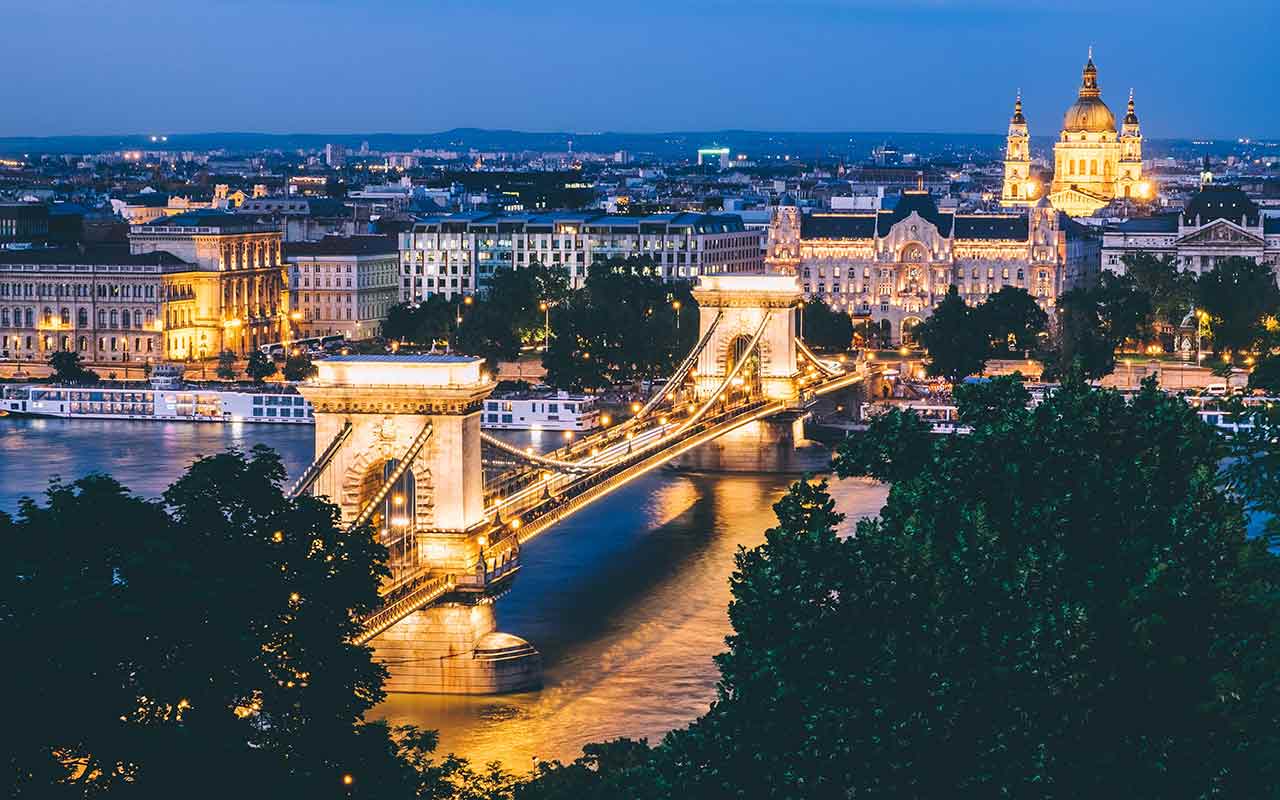 Surprisingly, over the last few decades, Budapest has become one of the top city breaks in Europe.
With its unique culture and a range of interesting things to do and see, you may find that you'll need more time to properly explore Budapest.
3 Days in Budapest
In this guide, we'll explore a three-day itinerary, which will look at some of the best destinations within the Hungarian capital, as well as some day trips that are must-visits.
Before arriving, aim to make the most out of your 3 days with the Budapest Card – the city's official pass which allows you transport and access at a discounted price on museums and other attractions.
Best Time to Visit Budapest
The weather in Budapest can best be described as seasonal and follows a similar annual pattern as most other destinations in Central Europe.
The Summer months are the best time to visit Budapest. Average temperatures range from 66-70°F, with around 40-70mm of rainfall for each month.
The hottest month of the year is July, with averages of 70°F and highs of up to 80°F.
The months of April and October are also a great time to visit, as they have less rainfall than the summer months and are comfortably warm.
The contrasting winter months can get quite cold. From December until February, average temperatures hover between 30-34°F, with lows sometimes dropping to 27°F.
Rainfall, or more likely snowfall, ranges between 30-40mm for each month.
3 Days in Budapest
Below is our Budapest 3 day itinerary which we feel gives you chance to explore the highlights of this magnificent city in a short space of time.
This particular itinerary isn't strict on-time efficiency, meaning there will be a few hours free here and there.
Day 1:
We arrive in Budapest on Day One, and our first stop on this busy day is to St. Stephens Basilica.
Located in the busy District V, here we can marvel at one of the tallest churches in Hungary, and walk around the lively area where there are lots of restaurants to have lunch.
Next, we will head to the Széchenyi Thermal Baths where we can relax for the next few hours. They're open year-round, and the hot springs can be enjoyed regardless of the season.
After soaking up, we will then hop on a ferry along the Danube River, where we will get the best views of the Hungarian Parliament Building.
It's even better during the night, where it lights up and creates a beautiful panoramic setting.
Day 2:
After our first busy day, we will now head south to Lake Balaton. The train departs from the Budapest-Deli Station and takes just under two hours to arrive.
Today we will relax by the lake, and if heading during summer, we can sunbathe and enjoy the multiple water-sports activities on offer.
The best towns to explore here are Siófok, Keszthely, and Balatonfüred, and if you have more time then you could spend numerous days here exploring the different destinations.
After relaxing, we then head back to Budapest for the evening, where the night is yours to enjoy as you wish. Why not try a cruise with a candlelit dinner and live music – as a perfect way to relax the night away?
Day 3:
On our last day in the Capital, we'll wake up early and head to the Budapest Kacsóh Pongrác Út Bus station, where we'll catch the bus to Eger.
One of the most stunning cities to visit in Hungary, Eger is also a very popular place to try wine, with the city home to arguably the best vineyards in the country.
One can spend a full day in Eger with a full-day tour that explores the countryside and lets you experience the culture and wine in it.
Head to the Valley of Beautiful Women, which is one of the best winery routes with over 200 producers to try from. Here you can also climb the medieval Eger Castle, which has some of the best views over the city.
After we will catch the bus back to Budapest, and collect our luggage from the accommodation before departing.
Day Trips From Budapest
Like with many European cities, day trips from Budapest give you a chance to see more than you usually would within a shorter time frame.
Lake Balaton
The largest lake in Central Europe, Lake Balaton is located roughly 135km South of Budapest and is one of the most popular destinations to visit in Hungary.
First famous for being a major production center of wine, Lake Balaton is more recently better-known for hosting Balaton Sound, which is one of the most popular Electronic festivals in Europe.
Another experience in Lake Balaton is the paddleboard tour in Tihany National Park, an activity that allows you to see nature's beauty.
With many man-made beaches and entertainment options on offer, it's a great place to kick back and relax.
Eger
A small city located in the North of Hungary, Eger is renowned for being one of the best wine destinations in Central Europe, and the best overall in the country.

With a mix of Turkish, Christian, Baroque, and Classicist architecture, Eger is full of winding streets and photo-worthy locations.
One of the best to visit is Eger Castle, which is perched on a hill, gives some of the best views over the city.
Things to do in Budapest
With a host of things to do in Budapest let's start by taking a look at the most popular activities, you wouldn't want to miss out on during your time in the city.
Széchenyi Thermal Bath
Built in 1913, these warm baths are a great way to wind down after a busy day and are also one of the most popular attractions to visit in Budapest.
With around 18 natural hot spring pools, as well as 10 saunas, steam cabins, and more, it's the perfect place in Budapest to treat yourself!
Hungarian Parliament Building
Located on the banks of the Danube River, this destination is by far the most popular to visit in Budapest.
It's situated on the Pest side of the city, and has many neo-gothic features, as well as being constructed using many precious gems and gold.

Over 268 meters long, as well as 96 meters high, the Parliament Building is the tallest building in Budapest and contains 691 rooms.
St. Stephen's Basilica
Named after the first king of Hungary, this church is the third tallest in Hungary.
By climbing the winding 364 steps, or using the more convenient elevator, visitors can reach one of the highest vantage points of the city, where the dome on top allows for a 360° view of Budapest.
The church is home to two imposing bell towers, and also, more bizarrely, the right hand of Stephen which is housed within the reliquary.
Bless your ears by listening to a classical music concert at St. Stephen's Basilica with this entry ticket – you can select from three different concerts and desired seating class too!
Budapest Itinerary Map
Below we'll share a map for this 3 days in Budapest itinerary:
Budapest Travel Tips
The travel tips below will help you make the most out of your trip.
The best months to visit Budapest are April, May, and October, where the weather is warm but not over-bearing. You'll find there is less rainfall than most other months of the year.
The best areas to stay in Budapest are The Castle District and Óbuda Island.
Be sure to try some of Hungary's best and most authentic cuisines including Gulyás and Lángos. If you have any dietary requirements, there are some fantastic vegan food options in Budapest.
Whilst there is lots of nightlife in Budapest, we recommend visiting the authentic Ruin Bars, which are situated in old Jewish buildings (with some still showing damage from the War).
Lastly, we recommend joining a walking tour, as they cover lots of interesting and lesser-known gems. These usually leave in the morning, and you can find more information from your accommodation.
During your 3 days in Budapest, you'll want to make sure you avoid the possibility of being a victim of common travel scams and petty crimes.

3 Days in Budapest

Taking into account all the activities and travel tips in this list, you should now have plenty of ideas on how to spend a few days in Budapest.

---

This post contains affiliate links, meaning, if you click through and make a purchase or sign up for a program, we may earn a commission. This is at no additional cost to you.