Are you visiting the Lake District and wondering what to do in Keswick?
What to do in Keswick
If it is your first time in the Lake District it is highly likely that you will head for the lovely local village of Keswick.
Although Keswick is not the most secluded village you can visit in the Lake District it definitely gives you a taste of what to expect.
Go Shopping
It's no secret that a large portion of the shops you'll find the Keswick are outdoor brands and mountaineering gear shops which are strategically placed for visitors. But there is much more than that.
It makes total sense to see these shops because if you are in the region for more than a few days and are missing anything you can get it without any issue. But, what other kinds of shops in Keswick can you find?
Our favorite was the vintage shops, not only the ones that sold furniture and quirky ornaments but also the cute shops that specialize in very British style treats. Such as fudge, Fish and Chips, or Cornish Pasties.
However, here in Keswick, you'll find everything from decor, clothes, to vinyl, homeware, jewelry, and much more.
Walk down to the Lake
What we loved about Keswick was that in just a short two minutes you could be surrounded by the lake. Which for those who are arriving in Keswick for the first time get a sample of how surrounding landscape looks.
This place gets busy! The idea is to find yourself a spot and position yourself well-enough to enjoy the views.
You can marvel at the famous Catbells and Skiddaw whilst feeding the ducks and even carry a picnic here with no pressure to move.
Old Friars Keswick
Ye Olde Friars in Keswick is of those places that are almost impossible to walk past and not be drawn inside by what they have on offer.
Established back in 1927 as a family business this traditional sweet shop remains the same as it did when it first opened.
Kids love it here too, as they sell all types of chocolate. Everything from novelty items through to some of the most exquisite Belgian style chocolates. This is a great chance for you to spoil yourself and make one of your most prized purchases of the day.
Whinlatter Forest Park
Fancy a spot of cycling or even taking a segway for a spin (for those with tired legs). We drove just 10 mins from Keswick to get Whinlatter Forest Park where we found many great walking and mountain biking trails.
At over 1000 feet above sea level, we did the How Summit trail which around covers 3.5 miles. There are some breathtaking views and scenery and photo op to be enjoyed whilst you are exploring the trials.
The famous Go Ape also has one of its famous courses if you really want to have a go at pushing your physical boundaries.
Play Crazy Golf
On your way down towards the lake you'll see groups of people congregating around the holes as they conquer their latest putt.
You probably didn't imagine getting challenged to a game of crazy golf in Keswick put why not? Crazy Golf is fun and with the surrounding view, you can enjoy it even more.
Local Market
This market marks yet another landmark in the town which you can't miss on a stroll through Keswick. It is well laid out and offers a selection of unique items that include local food produce, clothing, artist crafts, and everyday items.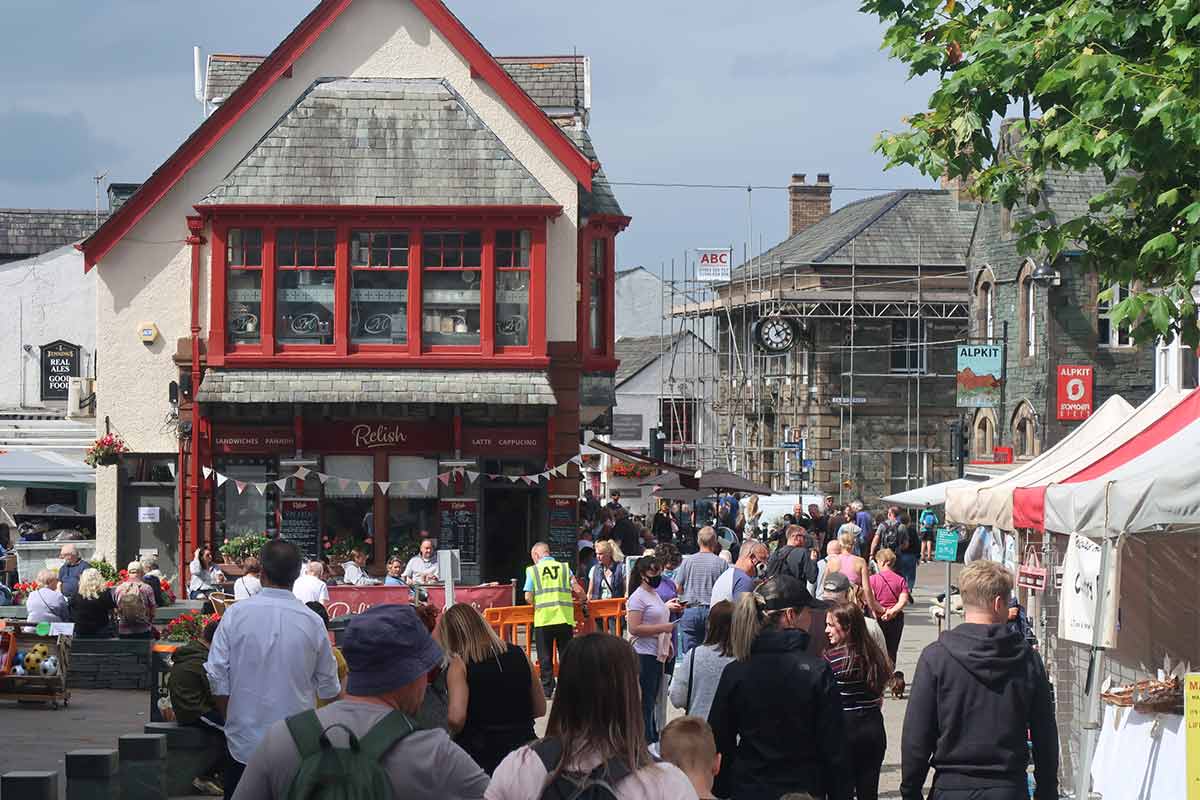 With the rise in supermarket giants, decent street markets like this one are becoming harder to find in the UK. It was a nice surprise to see a flourishing local market in Keswick.
It reminded me of the markets in Sheffield that I saw last year whilst in the city. We visited on a Friday and people were welcoming and didn't mind people 'browsing'  their lovely products.
Go For A Pint
Visiting traditional English pubs should be at the top of anybody's list of things to do in the Lake District. For many, it is seen as a reward after a long day or weekend of hiking.
As it happens, walking isn't the only reason the Lakes get added as an epic UK bucket list destination for a vast majority of it's visitors.
In fact, British country pubs in the Lake District are a HUGE reason. They are unique purely because of how well they have been preserved. Expect properly pored pints using only the finest beers and local ales.
They provide you with traditional pub meals (the smell will entice you in) and the right atmosphere to relax. If you find yourself visiting Keswick on a sunny day, just sit back and watch the world go by.
What to do in Keswick
For many Keswick is one of the best things to do in the Lake District.  It combines the old village experience with the tranquility of the lake, a well-pruned park, and some of the most beautiful mountain views.
Whether you're based here or doing a pit stop you won't be disappointed by what you can find.
📌 Like this article? Pin it…
---
This post contains affiliate links, meaning, if you click through and make a purchase or sign up for a program, we may earn a commission. This is at no additional cost to you.