Since plants can help improve mood, air quality and provide both beauty and sustenance. Having an urban garden is becoming extremely popular.
However many people find choosing exactly what and how to garden can be tricky, depending on where you live.
Even if you live in the heart of a big city, it is still possible to grow a garden. That even includes those who live in apartments.
All it takes is a windowsill for some plants. Others can handle less sunlight… or even no sunlight.
What is an Urban Garden?
In this post, not only are we going to define what an Urban Garden is, we are going to look at some of the elements including the many benefits.
First of all, let's look at the meaning of the word Urban Garden in case you were wondering what one consists of.
What is the meaning of an urban garden?
That can be defined by you, your needs, and the space available. An urban garden is anywhere you grow plants.
It may be on a rooftop, such as many found in big cities. New York has some and so do several other cities such as London.
It could be a window garden. Even if you don't have a greenhouse window, plants can be placed on the sill, counter or even a table near the window. These hanging plant baskets are perfect for small spaces.
The biggest problem with totally indoor gardens is that they will have to be hand-pollinated. Many cities also have community gardens.
Each gardener gets a plot of land to plant as they desire. Some plant trees, others plant veggies and there may even be a flower garden or two.
Many modern family gardens today that have ample space will utilize container gardening with a few in-ground plants.
Why is urban gardening important?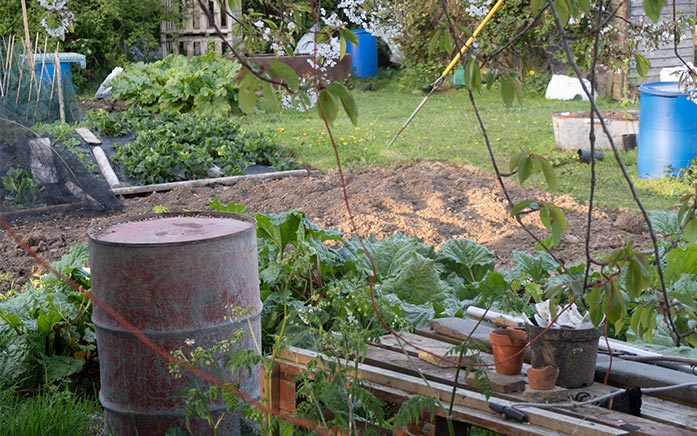 There are a lot of reasons urban gardening is important.
They range from food security to saving the environment, with many other issues in between.
Here are a few reasons why is urban gardening important:
Encouraging honeybees: Most of our food supply requires the help of bees in order to thrive. If you like avocados, thank bees. The same goes for corn, citrus fruits and just about everything else we eat. These bees are in trouble, in part because of habitat loss. Urban gardens provide them with the missing habitat.
Food security: Most cities are food deserts. Sure, there are restaurants galore, but not everyone can afford them. Those that don't have easy access to supermarkets are dependent on fast food, food banks and convenience stores… which seldom have fresh stuff. Community gardens provide a place for residents to grow the food they would otherwise have to go without.
Exercise: Planting and maintaining a garden takes a lot of work. Even containers need to be weeded from time to time, and the in-ground plants definitely need it. If you don't get much rain, plants will need watering, especially in the summer (See these vegetable garden tips for more). Harvesting the food that comes from them is also exercise and when there's enough of it, preserving it takes a lot of work.
Mental health: Studies show, working with plants can help reduce stress and ease depression. There's something about getting your hands dirty and seeing what you've planted grow that seems to help those problems. It's not a cure, but anything that helps is beneficial.
Peace: There is something about sitting outside surrounded by our urban garden that helps to bring peace of mind. It's like a mini-vacation in our own yard. There's a fountain in the garden, and the sound of the water is also helpful.
Idea forming: When our hands are occupied, our brain is free to think, plan and come up with creative ideas. Some of the best have come from this occupation and its relative, cooking. It's a good idea to keep writing material handy to jot down what you come up with.
People bonding: You might be bonding with your family or in a community garden you may be bonding with neighbors. Being outdoors together helps to bring people together. Shared tasks and shared enjoyment of the fruits of your labors are both good.
Good food: Even if all you grow is cooking herbs, having it fresh from your garden improves the quality of what you eat. You may also hear some of the things we have… like "I didn't know potatoes had a taste."
What are the types of urban garden?
The reality is, when it comes to urban gardens, there can be as many types as there are ways to think of putting plants in.
Some that you practice may be unique to your specific living situation.
Which then may be completely different from what your neighbor practices, and of course, there are many others that can be done.
Container gardening: For the most part, that is what we do. There can be several benefits to using containers. They may be heavy, but they can be moved to create different settings. Some plants spread too much and need to be, well, contained. For some, there isn't enough soil to plant in-ground, so containers make use of available space.
Green walls: This is something our neighbors have done. It gives both families more privacy, but it isn't as spiteful as raising the current cinder block wall. Using fruit or nut trees is extremely beneficial, as it provides food for those on both side of the fence.
Greenhouses: This may seem like something that is impossible, but unless you live in an apartment, it can be done. We use a greenhouse window, which is very effective for starting plants or growing cold-sensitive plants. Plastic and PVC pipe can be used to make a backyard greenhouse, or you can buy kits.
Community gardening: Our community, like many urban or suburban areas, has a community garden. It's fun to watch the people as they work the land, share crops and even have picnics and BBQs.
Vertical gardening: For those who lack space, using a vertical wall for the garden is quite helpful. There are a couple of ways of doing so. We have a baker's rack for ours, and it can be quite beautiful. For larger gardening opportunities there are a lot of websites and quite a few books on how to use PVC pipe to make the garden.
Rooftop gardens: Due to the problems that bees are facing, many apartment buildings in larger cities are being used both for urban gardens and for beekeeping. This can be the best of both worlds; there are bees on hand to pollinate and plants on hand for the bees.
Forest gardens: This may be harder to do in an urban setting, but by no means impossible. While it sounds like you need a forest for it, the fact is that you will be creating a forest-like area using perineal plants, trees and shrubs that provide food for humans and for animals.
Street landscaping: Some areas will allow this, others won't. Some cities won't allow food plants to be grown in your driveway, although some people may have an avocado tree in their front garden. This could provide plenty of avocados to go around the neighborhood.
Guerilla gardening: This used to be done in secret, but many areas are becoming more open to it. The idea is to plant gardens in abandoned lots and other stretches of unused soil that don't belong to the gardener.
Why is it important to grow food in urban areas?
There are a lot of reasons that make growing food in an urban area important. Food deserts do more harm than simply making it harder for people to get fresh produce.
These areas can lead to deficiency disorders, obesity and other health problems that end up killing the urban poor.
Growing food in an urban setting helps to build oases in the food desert.
It's more than that, though. It can help teach our youngsters about the cycle of plants while they are helping in the garden.
It provides physical therapy for those who need to work on manual dexterity, and it has many great health benefits.
Eating the food that you've grown is another factor. It tastes better when you've been the one who planted it, tended it, harvested it and then eat it.
It also has a lot more flavor. Most grocery store produce was picked green and gassed to look like it was ripe.
What problems do urban gardens solve?
Urban gardening helps the environment. It's not just the bees; it's all of the other animals that are trapped in said environment.
We have a family of raccoons and another of opossums that enjoy some of the fruits we plant.
Plants help oxygen levels because they "breathe" carbon dioxide and "exhale" oxygen. Cities are known for having carbon dioxide problems, and this helps clean up the air.
Urban gardening helps the wildlife that can still be found in cities. Crows and other birds eat seeds and insects. In some areas, there are foxes in the city, usually in larger parks. They also need access to food.
While I wish the previously mentioned wildlife in our backyard would be more willing to share the goodies, they also need food… and feeding them pet food is a bad plan.
What is an Urban Garden?
An urban garden is what you (the gardener) make it.
Within the limits of space and weather zones, it can be a lot of small pots, a mix of small and large, or in the ground.
It can climb up walls or become them. It can be a forest area or a plot on someone else's property.
The good news about urban gardens is that they will help you and your family to thrive. Gardening is healthy, promotes mental health, and provides healthy food. It's good fun for all ages.
Read our Urban gardening resources on this site to help you get started.
---
This post contains affiliate links, meaning, if you click through and make a purchase or sign up for a program, we may earn a commission. This is at no additional cost to you.