Let's take a look below at famous things Germany is known for.
Germany is one of the largest countries in Europe, so there are many reasons to choose it as your next destination.
There are many things Germany is known for, such as wonderful inventions that have changed the world, lovely Christmas traditions, architecture, history, culture, tourist destinations, and so much more.
What is Germany Known For?
Whatever you're looking for, whether that's breathtaking scenery, exciting festivals, amazing architecture, delicious food, or any other kind of experience, Germany is the right place to be.
Today, we will show you a few of the many things Germany is known for to give you an idea of what you can expect from your visit to this country.
Berlin
As you may well know Berlin is the capital city and it's one of the most popular tourist destinations in Germany. It attracts people from all over the world and it's known for its many bridges, among other things.
You can walk around the city for days and never be bored because you'll find some of the best must sees in Germany, including the Brandenburg Gate, the Holocaust Memorial, and so much more.
Beer
It's impossible to talk about Germany without talking about beer. Beer is one of the most popular things Germany is known for and they have been brewing it since 800 BC.
It has never lost popularity and Germans are the second largest consumers of beer on earth. You can enjoy a beer in public places and there are over 7,000 types of beer to try.
Free University
Back in 2014, all the states in Germany abolished tuition fees for undergraduate students at public universities.
That means that university is free not only for domestic undergraduates but also for international ones.
You can study for free in any public university and you only have to take care of small administration fees and other costs per semester.
Cars
Cars are one of the most famous things in Germany and the country is known for producing high-quality, reliable, and long-lasting cars.
The country gave birth to the industry of motor vehicles because the very first one was designed by Carl Benz and the rest is history.
The automobile industry in Germany is the most innovative and competitive in the world and everyone knows that German cars are outstanding.
Oktoberfest
Oktoberfest is one of the must sees in Germany and though many countries try to emulate this event, there's nothing like the real deal at Munich.
It starts in September until the first Sunday of October and this fall celebration is all about drinking beer, having fun, and tradition.
It's estimated that 2 million gallons of beer are consumed during the festival, which is incredible.
Christmas Markets
Christmas markets are a huge part of German Christmas traditions. If you enjoy Christmas, you will happy to celebrate it in Germany because it's the home of many of the traditions we enjoy about the holiday, such as Christmas trees, mulled wine, and Christmas carols.
Christmas markets are a must, especially the ones set up in large cities, such as Hamburg, Cologne, and Dresden, so make time to visit them if you're in the country during that time of year.
The Autobahn
The Autobahn is another one of the things Germany is known for and you've probably heard about it. It's a highway that stretches for 8,073 miles and it connects all the major cities in the country.
This highway is a driver's dream and it makes it very easy to get from point A to point B, so if you enjoy driving and you plan on exploring Germany's largest cities, you can't miss the Autobahn.
Adidas & Puma
Adidas & Puma were actually founded by two quarreling brothers and the history of both brands is defined by their rivalry, not to mention it has shaped the town of Herzogenaurach, dividing it in two.
Rudolf Dassler created Puma and a year later his brother Adolf Dassler created Adidas. Both brands changed the industry of sporting goods forever and they are a few of the things Germany is known for.
Sausages
Sausages are one of the first things that come to mind when we think of this country, so it's no wonder they are one of the most famous things in Germany.
There are roughly 1,500 types of sausages, so there's plenty of variety to discover. You can enjoy this food in many different ways and three categories will help you navigate the vast sea of options.
Namely, Kochwurst, which are cooked sausages, Brühwurst which are scalded sausages, and Rohwurst, which are raw sausages.
Bavaria
The Bavarian region is one of the many things Germany is known for thanks to its rich culture and amazing scenery.
If you are a nature lover, you will be happy to know that you can find the best hikes and lakes in this part of Germany, so it's definitely worth a visit.
If you want to experience the German Alps, head to Tegernsee so you can climb Wallberg or just enjoy the view.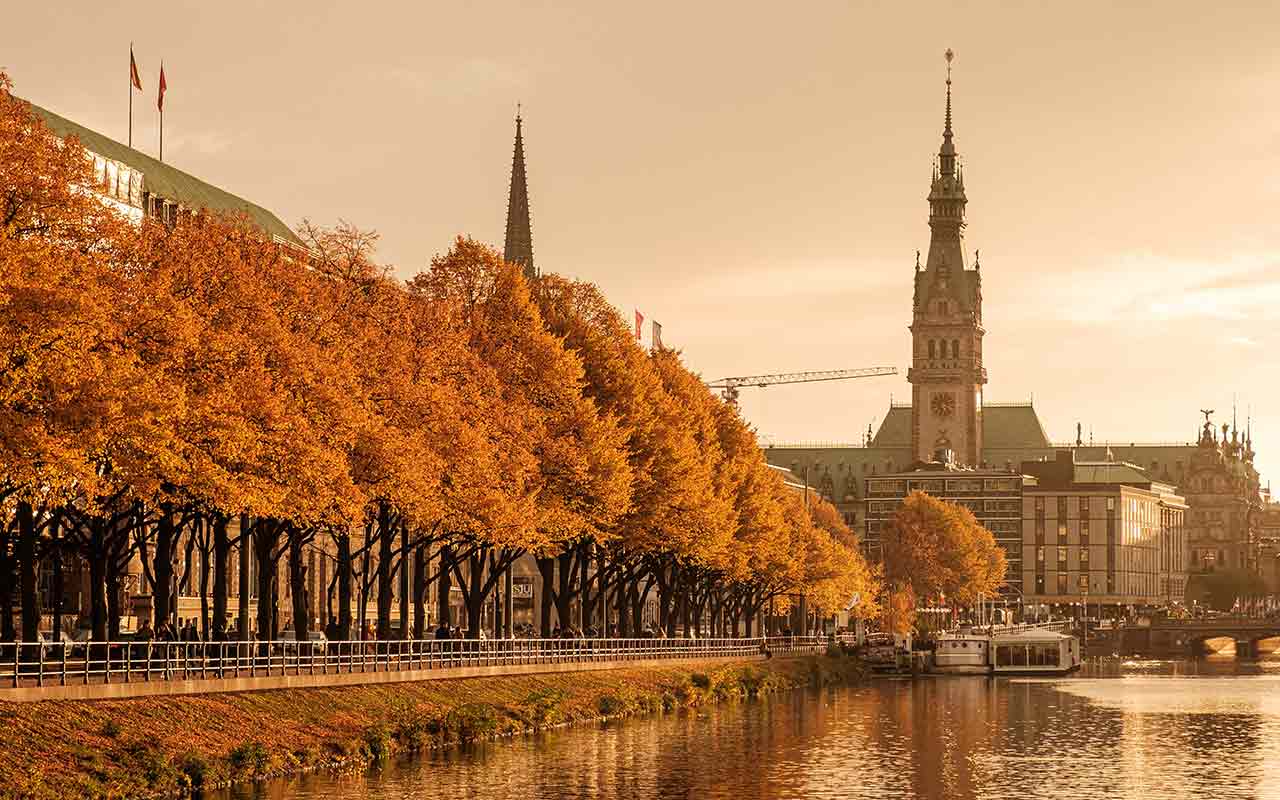 Hamburg
Hamburg is the second-largest city, so it's one of the best tourist destinations in Germany. This beautiful city has more canals than Venice and Amsterdam put together and it's also the city with the most bridges in the entire world.
There are many places to explore in Hamburg and it's a culturally rich place that will be well worth your time. Not to mention it's the birthplace of hamburger patties!
Poets and Thinkers
Germany is the Land of Poets and Thinkers, a well-deserved title.
Many of the brilliant minds to come out of this country are responsible for hundreds of scientific, literary, and philosophical theories, not to mention many incredible inventions that have changed our lives forever.
Among those great poets and thinkers, we can mention Albert Einstein, Rainer Maria Rilke, philosophers like Engels, Kant, Nietzsche, Marx, and Tolle, and so many more.
What is Germany Known For?
These are only some of the things Germany is known for and there is a lot more to discover about this incredible country.
If you're thinking of traveling to Europe, visiting Germany should be at the top of the list.
You will have a lot of fun exploring all the tourist destinations and learning more about the country's history, culture, and traditions.
---
This post contains affiliate links, meaning, if you click through and make a purchase or sign up for a program, we may earn a commission. This is at no additional cost to you.