"For everyone to value biodiversity, which is an essential underpinning for its conservation, the closest we can get is to feel nature and to love it"
-Samways 2007
How can we design and plan urban spaces that incorporate living ecosystems into multiple facets of life in the city?
Can you imagine a future where every available space in big cities is used as a new green space?
A space which dwellers can design themselves and use to produce healthy fresh food.
The positive impact could be huge. The result would be improved air quality, living conditions and increased biodiversity. It would have a direct impact on the population, climate change, and infrastructure.
Community gardens are here to stay as this new trend is spreading rapidly all over the world.
Urban agriculture can help to fulfill the changing needs and demands of those who live in the new growing metropolitan areas worldwide.
These are the places where a new style of urban living can emerge by increasing community bonds, exchanging knowledge, and helping people lead more sustainable lives in cities.
Urban gardens make a valuable contribution to the improvement of the urban climate and living conditions.
They reduce noise and reduce fine particulate matter from the air.
Additionally, the openness of the garden promotes social contact with adjacent residential areas and between people of different nations.
In regions with above-average unemployment rates, open garden areas can help to combat the social isolation of unemployed people.
Gardens are open for anyone at all times, collectively managed by various interest groups in civil society.
Such community gardens share many similarities with allotment gardens, which is a common arrangement for collective urban gardening in Europe.
The biggest difference between them is that when joining an allotment garden, an applicant often needs to formally apply, queue for years and pay a fair sum of money.
Instead, community gardens are open to the public and involve wider sets of people into their activities.
People learn from each other in ways that can benefit wider social-ecological systems.
You learn through practice. Community gardens fiction as learning arenas exposed to the ongoing experimental environmental learning related to their green space management, people more broadly experience nature in cities.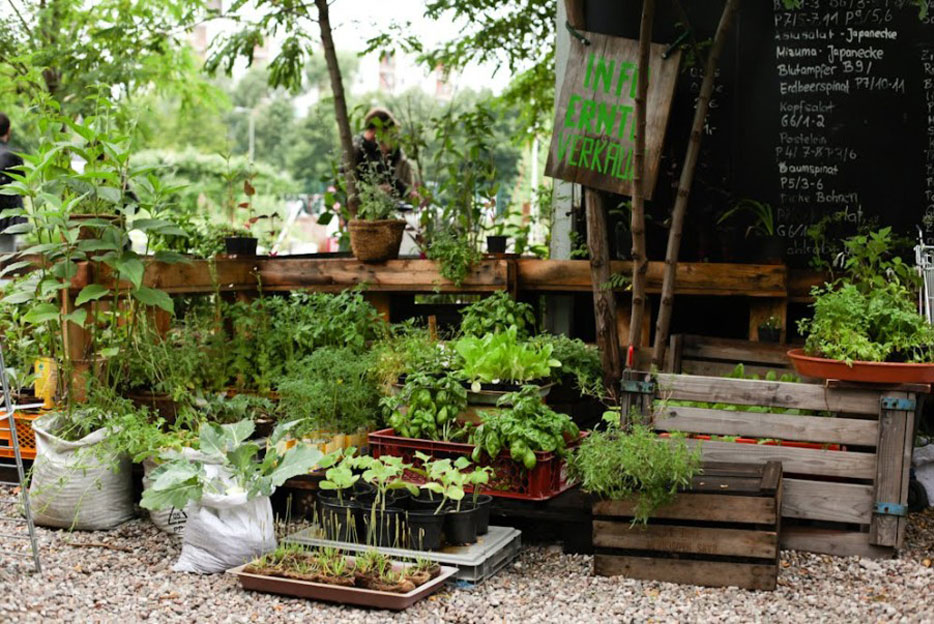 Gardens contribute to the well-being of the population by providing free space for recreation.
They offer an alternative use of land for more biodiversity, food security, a healthy environment, job opportunities, new activities, communication bonds, and therapeutic opportunities for people among diverse generations.
It has become more than just a way to get food, but also a way to connect communities and help people become who they want to be.
In the near future, even more people will be living in cities rather than in rural areas. The city will, therefore, become the decisive place for the development of more sustainable ways of eating, living, and moving.
The city of the future should be a climate-friendly, pleasant place to live, where every action is taken to conserve our natural resources.
Today, the use of land is currently undergoing compression and selling processes in most cities.
Especially highly compacted centers of dense development, using new green urban design techniques can play an important role in ecological and coal balance.
The identification of ecological, economic, and social effects in mega-urban areas with increasing populations is today essential for a sustainable landscape design.
The rethinking of urban living, followed by political decision processes can be an important step to improve the quality of life, especially in large cities.
There is an interrelation between ecological, political, social, cultural, and economic benefits which are significant environmental factors and influence urban life in cities dramatically.