When comparing Sorrento vs Positano which do you visit?
Sorrento and Positano are two coastal towns facing the blue waters of the Tyrrhenian Sea, more or less an hour away from Naples.
The question is: which one is better?
If you have never visited this part of Italy, it can be difficult to know where to stay, what the vibe is like and what things to do in Sorrento and Positano.
Sorrento vs Positano: Which is better?
Before we start, let's clarify where both destinations are positioned on the map.
Sorrento which is a costal town perched over huge cliffs is located on the Sorrentine peninsula and overlooks the gulf of Naples (aka The Bay of Naples).
Positano is a village of the Amalfi Coast overlooking the Tyrrhenian Sea, perched on the Lattari Mountains and surrounded by lush lemon groves.
Check out the map below to help you understand their exact position.
Let's now find out more about Sorrento and Positano and which one is better for you, based on your travel style, budget and interests.
Accessibility of Sorrento vs Positano
When compared to the Amalfi Coast, Sorrento is more accessible than Positano. If travelling by public transport, you can get there by Circumvesuviana train from Naples (Porta Garibaldi or Porta Nolana stations).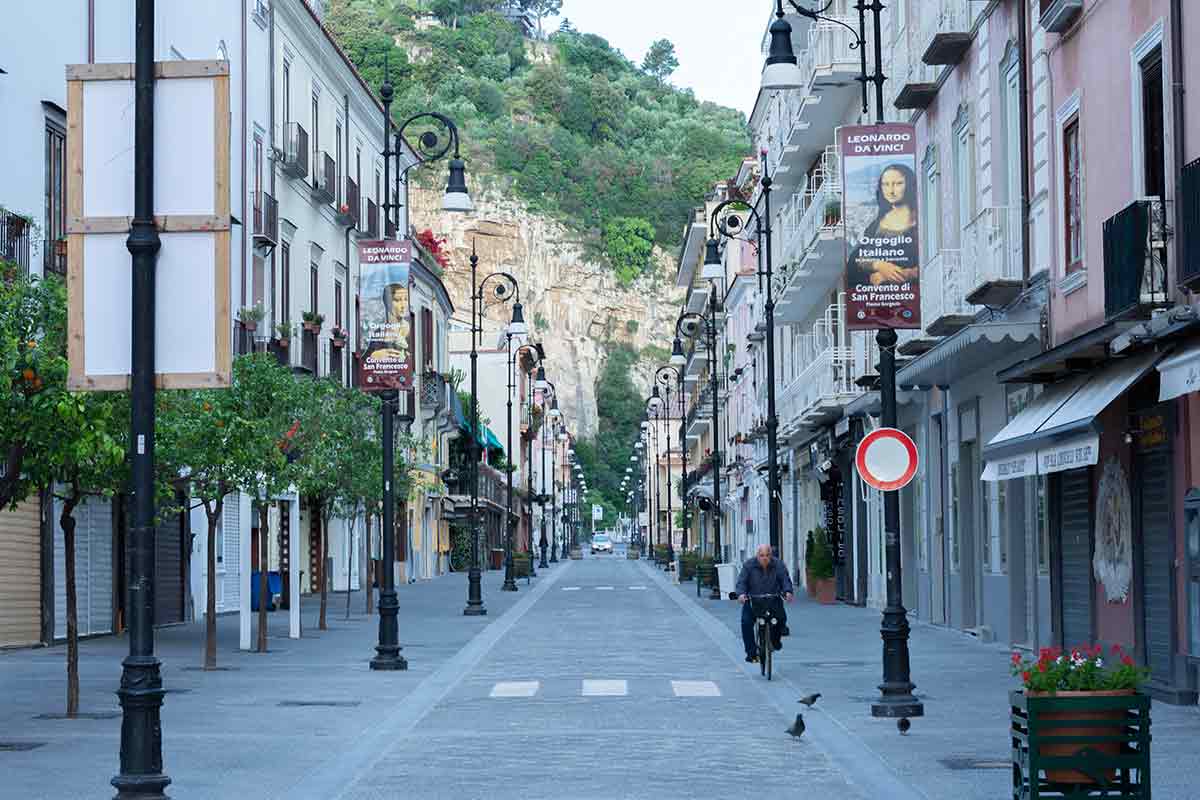 It's a direct train that stops in Pompeii with the last station being Sorrento. In the Amalfi Coast there are no railway stations, so the only way to get to Positano is taking the bus once you get to Sorrento.
If you are thinking of hiring a car, it is also easier (and faster) to get to Sorrento instead of Positano, even though they're not that far one from the other. In Positano is more difficult to find parking space than Sorrento. Those available are extremely busy making basically impossible to find parking space in Positano.
These hotels with parking spaces are perfect if you're traveling to Positano by car, just bear in mind that a charge may be applicable. In Sorrento there's no free parking spaces but it's easier to find them compared to Positano. It's clear that the winner between Sorrento vs Positano in terms of accessibility is Sorrento.
🏆 Winner: Sorrento
The Vibes in Sorrento vs Positano
When it comes to 'the vibe', we believe that the unique geographical position of Positano plays an unbeatable role when comparing this factor with Sorrento.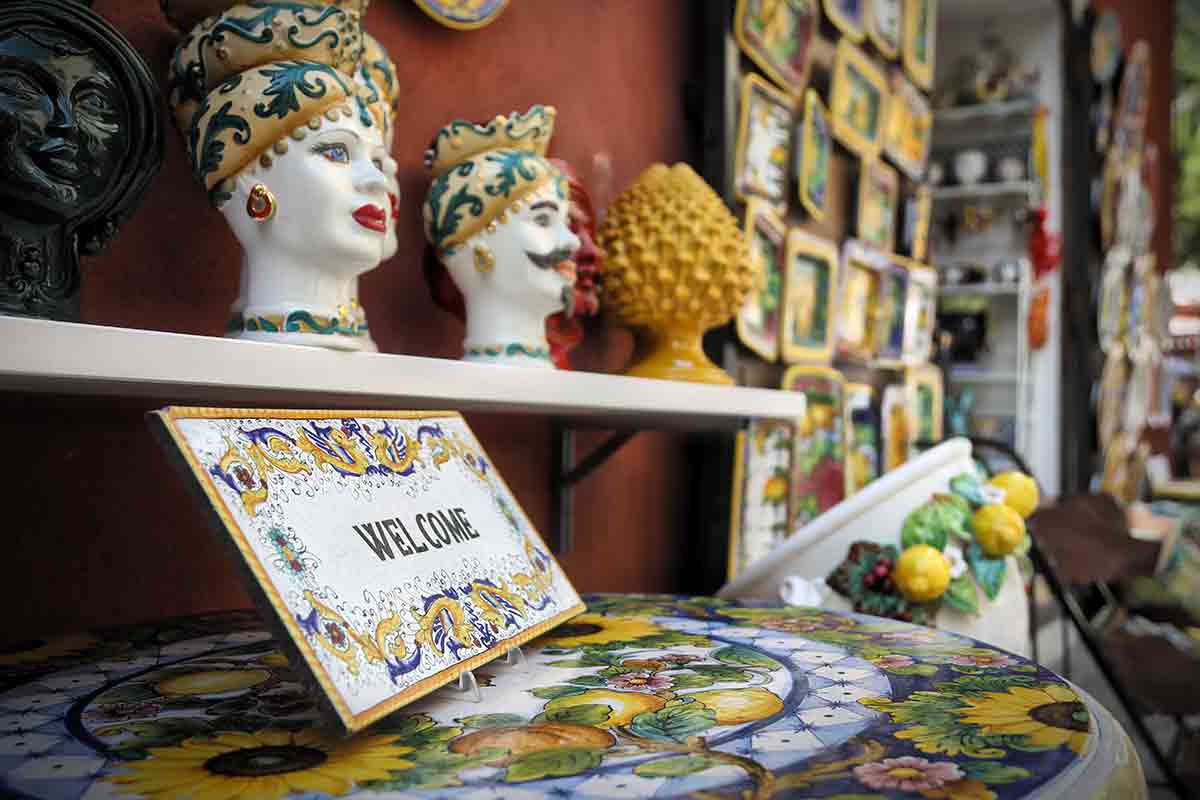 We can't forget that The Amalfi Coast is in fact a UNESCO World Heritage Site, attracting visitors for the beauty of this stretch of coastal land dotted by picturesque fishing villages, medieval churches and lemon groves.
Even if Sorrento offers lovely panoramic views over the Gulf of Naples and the city centre is full of artisanal shops and sights to explore, the experience they offer is quite different. Positano is quite touristic, and you will find that the streets get particularly busy during the summer period.
For this reason, to really enjoy a pleasant and relaxed atmosphere, avoid that time of the year and travel off-season, ideally from late autumn to early spring.
Walking down the narrow streets and stopping at the small piazzas, drinking a coffee at a bar admiring the sea and have a romantic meal on a terrace in the evening is something you can only experience here.
The nightlife scene is more interesting in Sorrento whilst in Positano is nice and peaceful after all day trippers and most tourists left town.
🏆 Winner: Positano
Food in Sorrento vs Positano
Even though Sorrento and Positano have very similar cuisines to offer, there are small differences between the two.
The Sorrento cuisine counts on a larger amount of cheese products like the smoked provola, the treccia of Sorrento, the provolone del monaco and cacciocavallo 'bebe' from Sorrento, where the Positano cuisine is more about seafood and fish-based dishes.
Learn more about Sorrento cuisine by joining this local cooking class. If you're in Positano you should try the mussel soup, seafood salad with lemon juice and the 'totano imbottito' (stuffed squid).
Most of the fresh ingredients from both cuisines use are the same, but you'll find slightly variations in the way food is cooked. The flagship produce used in many different ways, from the appetizers to the dessert is the lemon.
Do you know how to properly end a delicious meal in Sorrento or Positano? By sipping a nice glass of limoncello! Whether you end up spending your stay in Sorrento or Positano, you'll find great restaurants in both locations.
🏆 Winner: Draw
Cost of Travel in Sorrento vs Positano
When comparing the cost of travel between Sorrento vs Positano, it appears that Sorrento is cheaper than Positano. The reality is that Positano and towns on the Amalfi Coast such as Amalfi and Ravello are very touristic, but they have a limited number of luxury hotels and a huge amount of people who want to stay in them.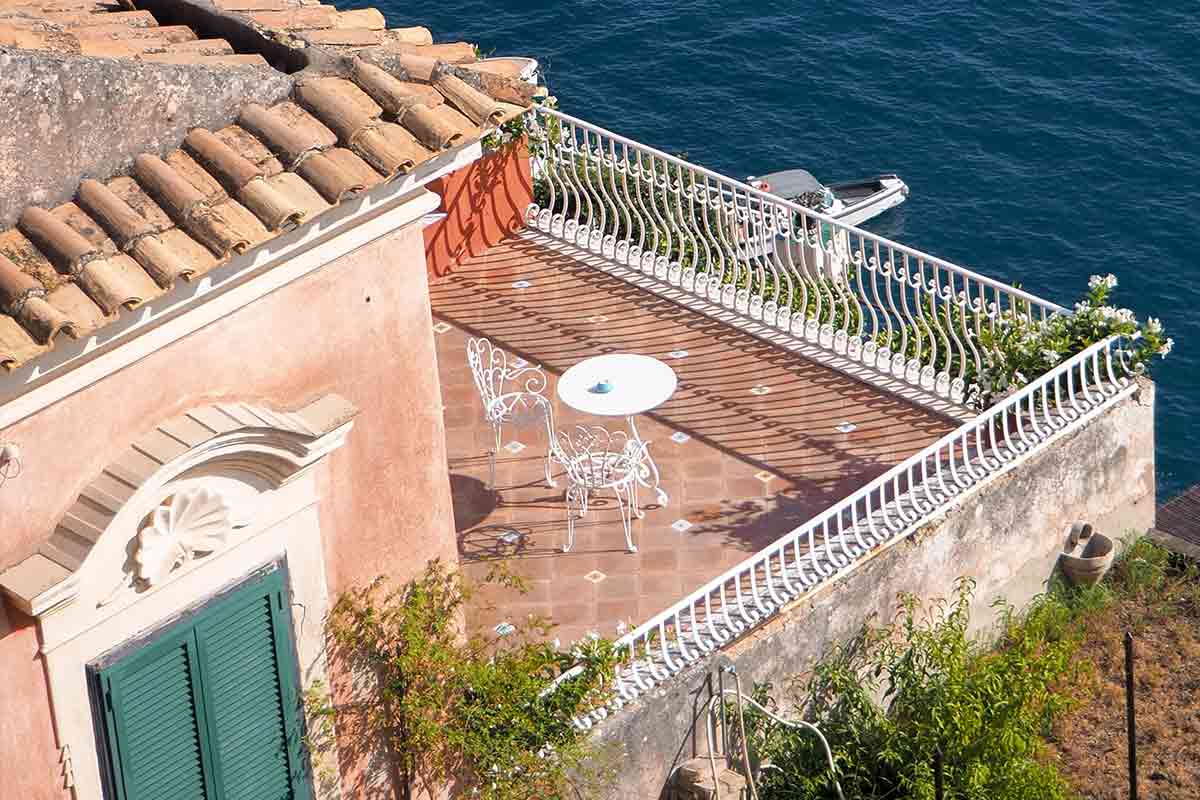 For this reason, prices tend to be higher. In Sorrento, you can find affordable prices and a wide range of accommodation based on your budget and travelling style. There are even hostels in Sorrento for those on a modest budget.
It's also a bit cheaper to get to Sorrento as you'd only pay for the train ticket, whereas if you want to reach Positano, you'll pay for a train ticket and then the bus ticket to get from Sorrento to Positano as well.
Remember to also take into account the cost to park, if you end up hiring a car here, that again it is slightly cheaper in Sorrento. When eating out, you'll soon find out that Positano in some cases has higher prices compared to Sorrento.
If you're traveling on a budget, then we recommend staying in Sorrento and traveling to Positano and the rest of the Amalfi Coast as a day trip.
🏆 Winner: Sorrento
Things to do in Sorrento vs Positano
From both locations, there are many things you can see and do. In Sorrento, you'll want visit Piazza Tasso, which is considered the heart of the coastal town, walk around the artisanal shops and watch the sunset from a terrace.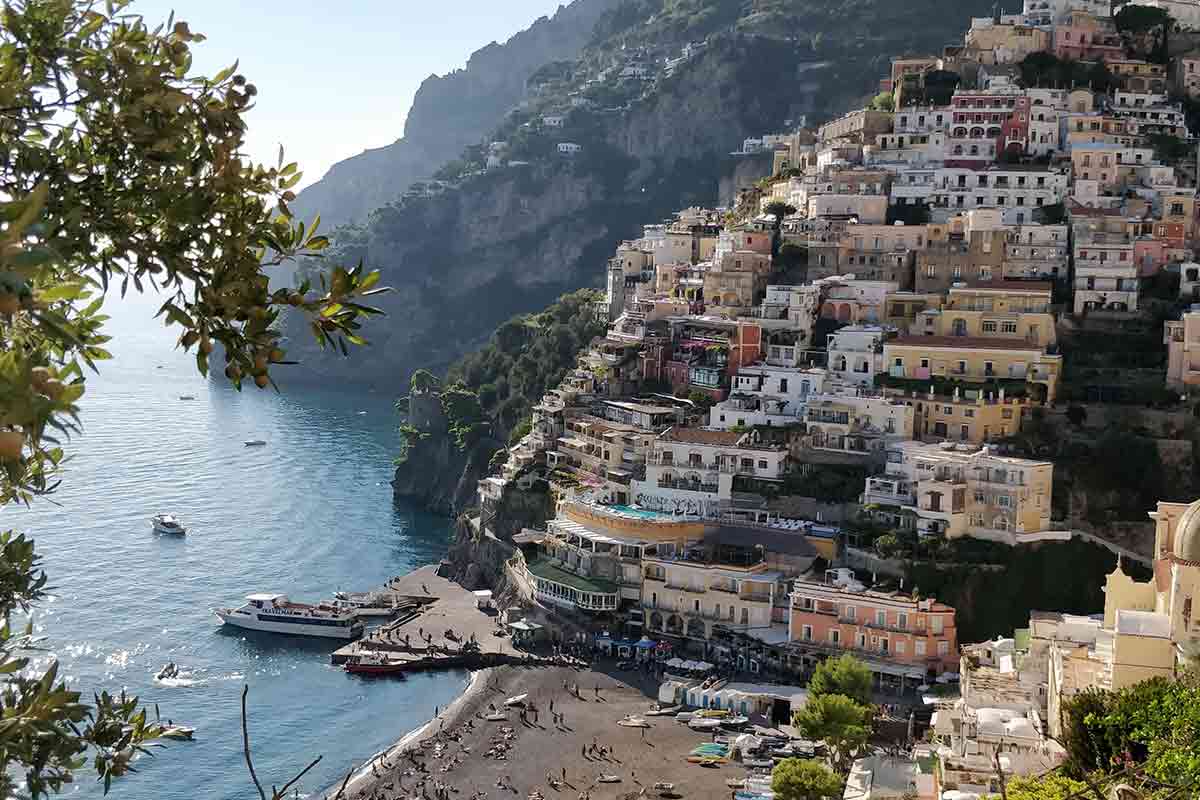 You can also spend a morning or the day at the free access beach Marina Piccola. There are also nearby town with larger beaches than the town beach. We recommend going to Piano di Sorrento or Vico Equense.
From Sorrento, you can easily get to Naples and Pompeii. Why not spend a day in Naples and visit the main attractions of the city and eat a good pizza, and half day in Pompeii exploring the famous archaeological site, for example?
Finally, from here you can get to the Amalfi Coast and visit in one day both Positano and Amalfi or go on a boat trip to Capri and visit the Blue Grotto.
In Positano, spend a day at the beach (Spiaggia Grande) or visit nearby beaches like Fornillo Beach. Then get on a bus and visit other towns on the Amalfi Coast or spend a day on a boat trip visiting the Sorrento Coast and Capri.
If you like hiking, then there is a fantastic footpath leaving from Positano towards Agerola called 'Sentiero Degli Dei' with spectacular views of the Amalfi Coast.
🏆 Winner: Positano
Tourist attractions in Sorrento vs Positano
Both Sorrento and Positano count on a rich artistic and historical heritage worth discovering. You'll have plenty to see in both town centres.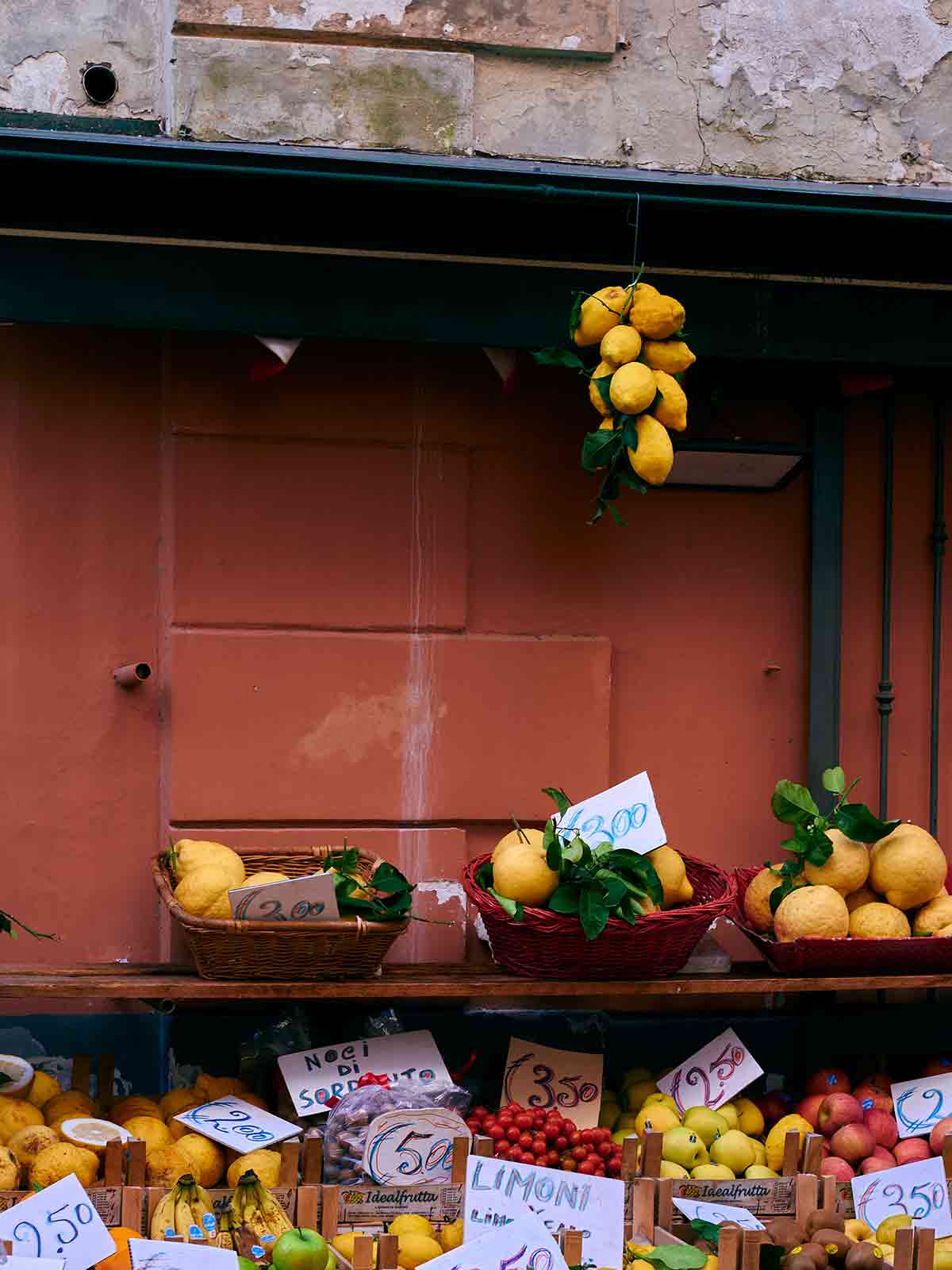 In Sorrento, we highly recommend you visit:
Villa Comunale that stands on the Franciscan friars' garden and offers an incredible view of the Bay of Naples.
The cloister of Saint Francis dating back to the 14th century.
The ancient Sorrento's Cathedral dating back to the 1st century.
Piazza Tasso and Corso Italia, the heart of town perfect for shopping.
The town's beach Marina Piccola.
In Positano, we highly recommend you visit:
The Santa Maria Assunta church dating back to the 10th century.
The Roman Archaeological Museum where it's possible to see the remains of an ancient Roman villa.
Positano's beaches: Spiaggia Grande, Fornillo Beach and Laurito Beach.
The Path of Gods, if you like hiking and panoramic views.
The Torri Saracene, built to defend the Amalfi Coast from the Saracen and Turkish people from the 13th century.
The Grotta Smeraldo that you can visit by joining a boat trip from Positano. Ask about it at local tour operators.
🏆 Winner: Positano
Getting Around Sorrento vs Positano
There is no need to hop on public transport to visit Sorrento and Positano as they're small towns. You can literally walk from one part of town to the other in less than an hour, making it easy to explore both of them in only 24 hours.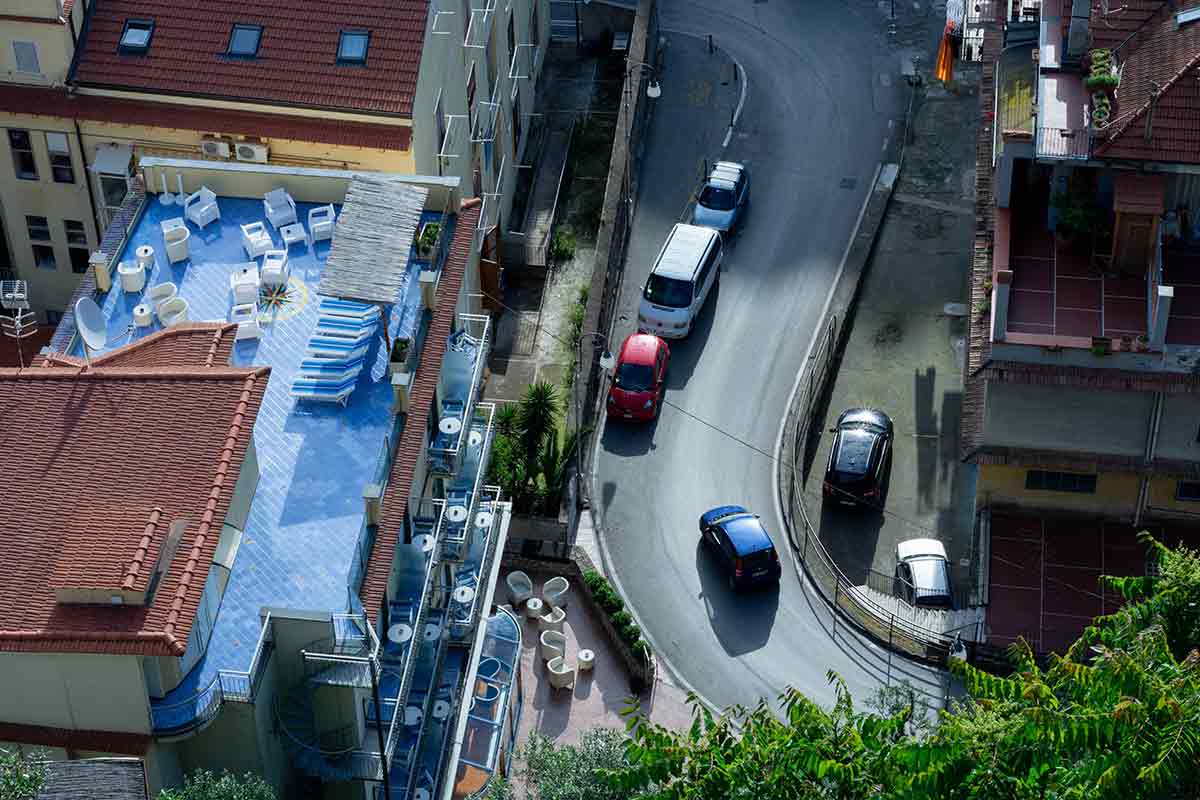 If you want to see more of the city centres, or get to other places around Sorrento and Positano then Sorrento has more public transport options, with more buses line and trains. Outside Positano, you can only get around by bus.
Considering that Positano is located on the side of a cliff, you can expect to feel more physically challenged than in Sorrento. That said, you don't need to be particularly fit to move around it, just be aware of your own limits.
🏆 Winner: Sorrento
Now you have a better idea of both Sorrento and Positano, how accessible they are, things to do, tourist attractions you can include in your itinerary and the differences in travel costs.
Sorrento vs Positano: Over to you…
It's hard to compare Sorrento vs Positano as both towns are worth visiting.
So, it doesn't really matter where you end up staying because we can almost guarantee that you'll have a fantastic stay in both places while you're here.
Just remember that if you stay in Sorrento, you can very easily get over to Positano and vice versa, so you won't really miss out anything staying at either.
We suggest including both in any Sorrento and Amalfi Coast itinerary you plan.
---
Dear responsible traveler: This post may contain affiliate links, which means, if you click through and make a purchase, book a tour or a hotel, we may earn a small commission. This is at no additional cost to you. Your support means a lot and helps us to maintain the quality of this site.