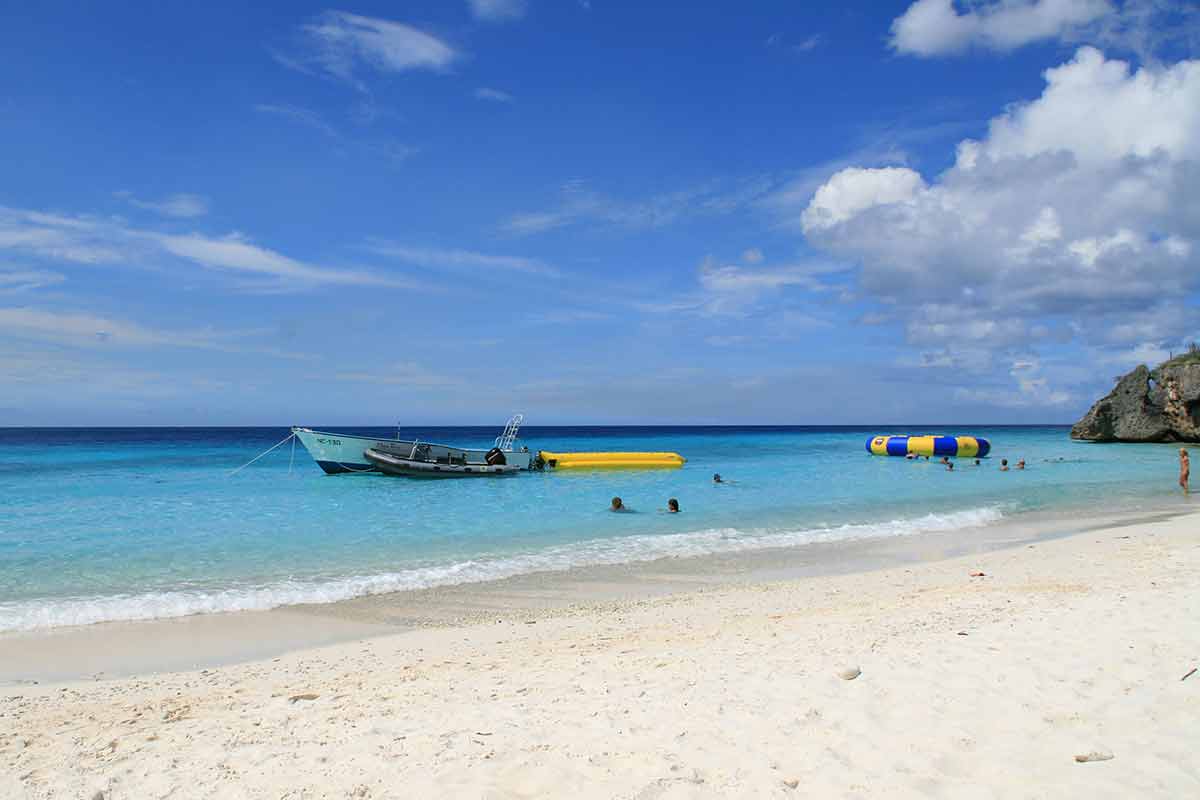 Which are the safest Caribbean islands that you can visit?
A vacation in the Caribbean is a dream that many wish to turn into a reality.
The Caribbean islands contain all the ingredients to make an unforgettable vacation and there are untold reasons why people visit time after time again!
Turquoise waters, long stretches of white sand, unspoiled nature, breathtaking sunset panoramas and the most delicious cuisine with a sprinkle of adventure.
Choosing the right tropical paradise to visit around this part of the world is one thing, but we also understand that staying safe is a top priority for all travelers.
Safest Caribbean islands
So which exactly are the safest Caribbean islands to visit? Keep reading this post to find out the best and safest islands in the Caribbean to add to your bucket list!
We've wrote about visiting Jamaica before and unfortunately, the island of reggae did not make this list, but we'll continue to share our experiences from there.
Is the Caribbean worth visiting?
The Caribbean islands are one of the most loved places on the planet. They not only have beautiful beaches, but each island has its own history and culture.
See some of our reasons why the Caribbean is worth visiting:
The Caribbean islands are suitable for every type of traveler. From young people, newlyweds, singles and families, every island has something to offer. You just need to choose the right one for you based on your budget, things to do and see and weather conditions.
The Caribbean offers an escape from the cold European and North American winters. There's nothing better than arriving and finding blue skies, the sun shining and 25 °C+. Be sure to travel to the right islands at the right time. The worst thing is getting there during the hurricane season.
The Caribbean islands are perfect to partake in many activities while enjoying your well-deserved beach vacation. You can play golf in the Dominican Republic, go fishing in the Bahamas, spend time diving in Turks and Caicos, snorkel in Antigua, hike in Saint Lucia and much more.
As you can see, there are many reasons to visit the Caribbean. But we also know how important safety is, so let's begin to look at the safest Caribbean islands.
What is the Safest Caribbean island to visit?
The safest Caribbean island to visit is Montserrat which is part of the Lesser Antilles chain. On this island, crime levels are low, however, visitors have still been advised to take some precautions when traveling to this island.
For example, if your hotel in Montserrat (there aren't that many) doesn't provide a safety box always keep your valuables with you. In Montserrat, there's only a high risk of natural disasters due to the active volcano Soufriere Hills.
The area around the volcano is vulnerable to volcanic hazards and it's a no-go area. The island is also affected by hurricanes and the season starts on the 1st of June to end on the 30th of November.
Safest Caribbean islands
Which all the options, there are actually more than 700 islands, reefs, and cays: let's look closer at some of the safest Caribbean islands that you can visit.
In fact, we are almost 100% sure that after reading this informative post, you'll feel confident enough to book your next trip to the Caribbean.
Turks and Caicos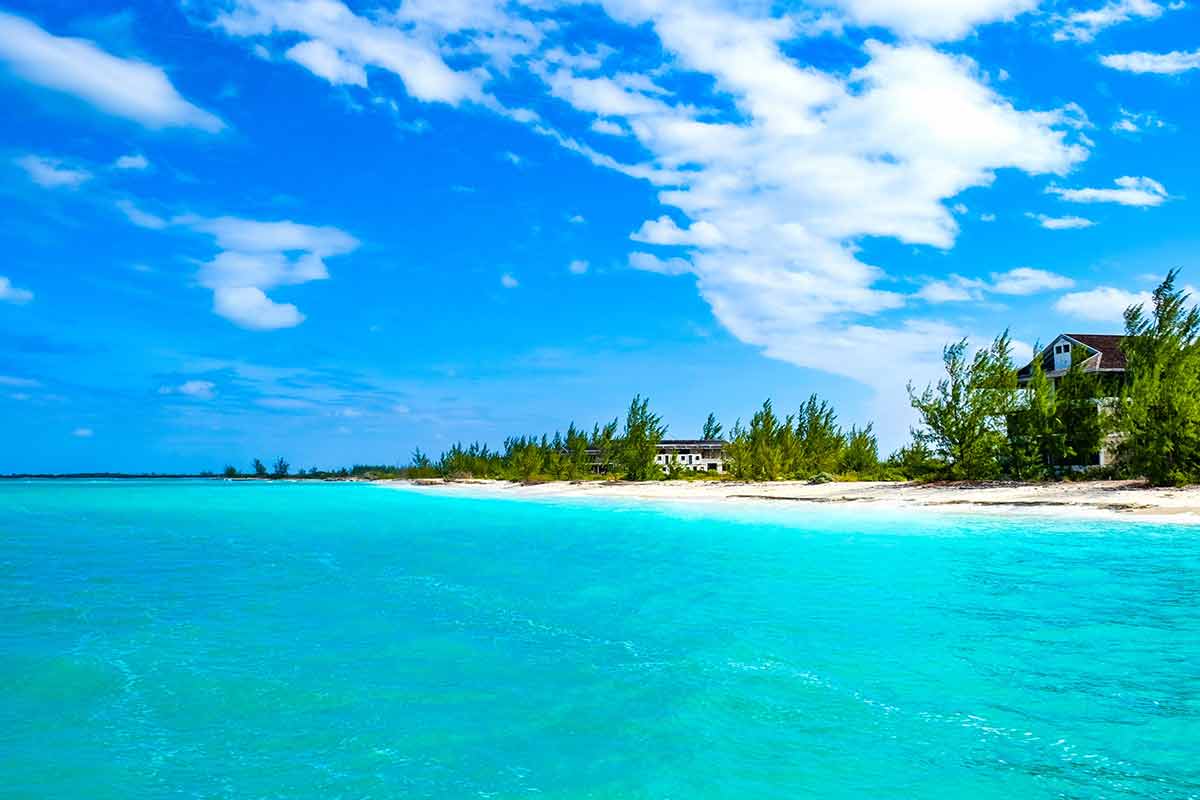 Turks and Caicos are an archipelago located in the Atlantic Ocean. The archipelago is made up of two macro groups of islands: Grand Turk Island and Salt Cay Island; the Caicos includes 28 dreamy islands and atolls.
Depending on which island you're on, the level of crime changes but in general Turks and Caicos are some of the safest Caribbean islands for tourists.
According to Numbeo.com, in the Providenciales the crime rate is moderate, and in September 2022 reported a higher number of gun crimes, even if far from the touristy areas.
The UK and Canadian travel advisories state that other common crimes are burglary and theft. For this reason, it's extremely important to keep your personal belongings safe at all times and be extremely prudent when withdrawing cash from ATMs, especially during the nighttime hours.
Some of the safest areas in Turks and Caicos where you'll want to book your stay are Grace Bay, Long Bay Hills and Grand Turk so be sure to book in advance.
Barbados
Barbados is an independent island nation, part of the Lesser Antilles, located on the border between the Caribbean Sea and the Atlantic Ocean.
Depending on which part of Barbados you are in, the level of crime can change. In tourist areas and resorts, the level of crime is low but always be vigilant with your possessions and be careful at nighttime by avoiding isolated areas.
The capital city Bridgetown registers a higher level of crime, and more specifically robbery, sexual assaults and gang-related shootings. As friendly as people may seem, keep a lookout for possible thieves that might hang around you when withdrawing money and get a ride only from licensed taxis.
Never carry large amounts of cash or jewelry with you so you don't attract unwanted attention. Ideally, leave valuables and travel documents at your hotel, but only after making sure it provides a safety box. The best areas of the island to stay are Saint Philip and Christ Church to name of couple of the most popular.
Martinique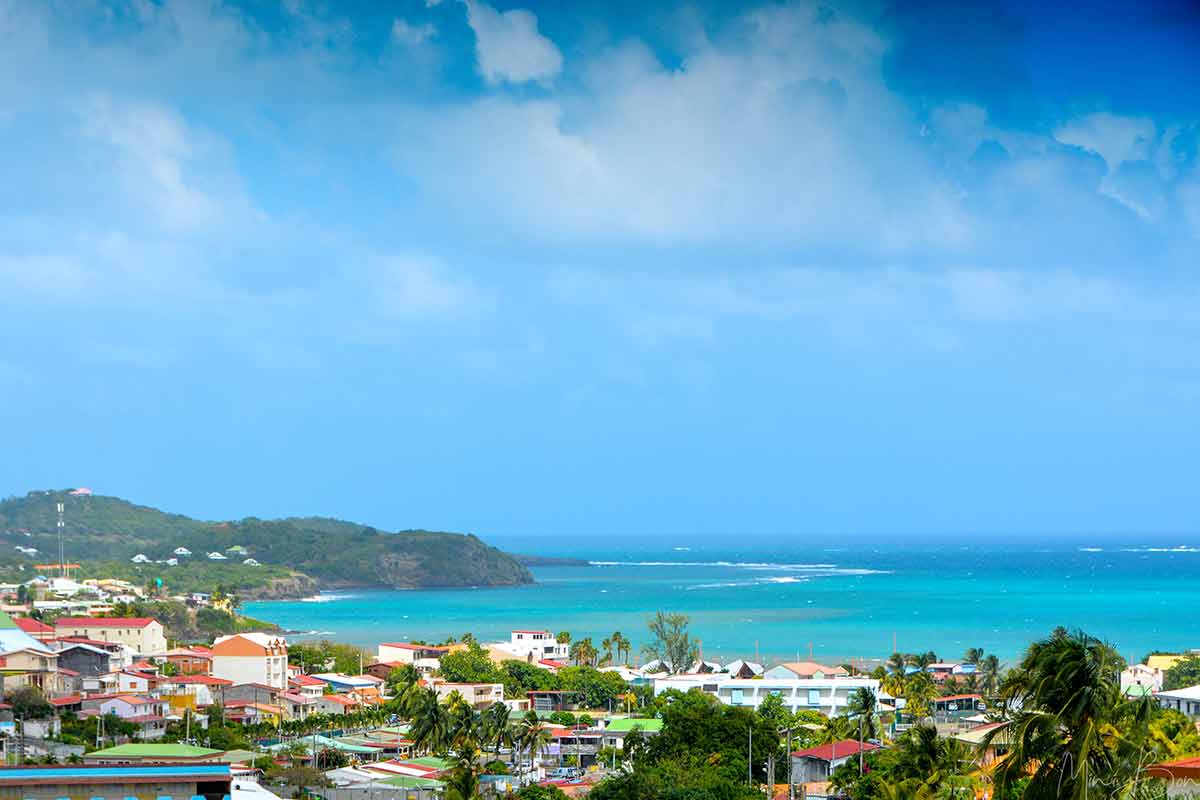 Did you know that Martinique belongs to the French Lesser Antilles? It is a volcanic island that counts on wonderful waterfalls, mountains and endless stretches of white sand bathed by a turquoise sea.
According to the Canadian travel advisory, the crime rate in Martinique is very low making of this destination one of the safest Caribbean islands.
Petty thieves, pickpocketing and bag-snatching have only been reported in the capital city Fort-de-France, around the port area. We recommend avoiding the beach at night and walking alone when it's dark, also don't carry large amounts of cash with you and never leave valuables unattended.
Guadeloupe
Guadeloupe is an archipelago of volcanic origin belonging to the Lesser Antilles and is made up of two main islands separated by a channel 5 kilometers long.
The island of Guadeloupe is safe for tourists, but there are some precautions you need to take. The most common crimes affecting tourists are pickpocketing and bag-snatching which can happen in the most trivial places.
It's better to avoid isolated and dark areas, especially when in the city centre of Pointe-à-Pitre (the capital city). If you're a solo traveler, it's best to avoid moving around by yourself at nighttime. Then, for all travelers, make sure that your belongings and travel documents are left inside a safe deposit box.
We don't recommend moving around with too much cash on you in person, but if you do, instead of putting money and documents (such as passports) inside a backpack or small bag, use a travel money belt like this one.
Montserrat
Montserrat is also known as 'the emerald jewel of the Caribbean' and belongs to the Lesser Antilles archipelago. According to Numbeo.com, the crime levels are very low in Montserrat.
This is also considered one of the safest Caribbean islands, so if you're planning a trip here you can count on being safe. Just remember to use common sense and the precautions you'd use anywhere else in the world whilst traveling.
Like with the other islands, never leave unattended your valuables in the hotel room, unless there's a safety box where you can put them. The island has an active volcano called Soufrière Hills, and 60% of the island territory is affected by its activity, you find that some areas are prohibited to enter on the island.
The rest of the unaffected island territory is still subject to ashfalls and volcanic gases that can sometimes lead to flight cancellations.
Aruba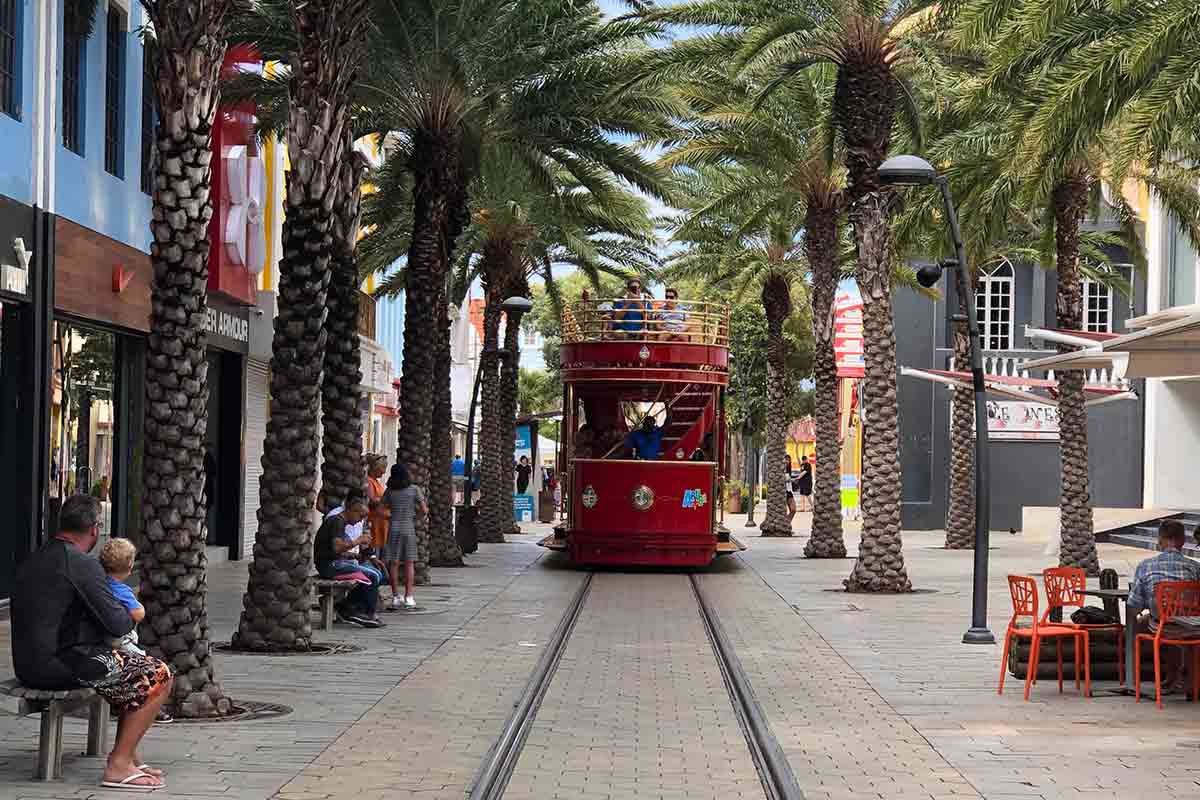 Aruba is located north of Venezuela and belongs to the Netherlands. The island has one of the highest standards of living in the Caribbean region, with low poverty and unemployment (which is one reason why the wealthy love it here).
These are also make up some of the reasons why Aruba is one of the safest Caribbean islands with a very low crime rate, according to Numbeo.com.
Rest assured that your visit to Aruba will be completely trouble-free, but you should always be vigilant as petty theft and street crime happen.
Don't travel to isolated or remote areas, in particular at nighttime and be aware of possible bag-snatchers. We suggest protecting your belongings inside an anti theft travel backpack or this day backpack instead if you prefer something smaller.
If you decide to explore the island, make sure that you're taking a licensed taxi and negotiate the rate. Solo female travelers should be aware that there have been reported episodes of harassment and verbal abuse.
Curacao
Curaçao is a constituent nation and belongs to the Netherlands Antilles and it's considered one of the safest Caribbean islands that you could possibly visit.
Tourists shouldn't be concerned about this aspect when visiting, but as with other Caribbean islands, even Curaçao is affected by petty theft and street crime.
Tourist areas are normally safe, but it's better to avoid going to remote or deserted areas at night. It's also better to not hang around with travel documents or too much cash and leave them in your accommodation or in a safety deposit box.
One of the best areas to book a hotel in Curaçao is Willemstad. Unfortunately, Curaçao is affected by smuggling of illegal drugs, traveling from South America to North America or Europe. For this reason, never leave bags unattended where smugglers might place drugs and/or use you are their unsuspecting mule.
Saint Barts
Saint-Barthélemy or Saint Barts is an island in the Antilles which, since February 22, 2007, has become part of the Overseas Collectivity of France.
Crime rates are low in Saint Barts, but travelers are advised to take the usual precautions they should take when traveling around this part of the world.
Our safety tips include avoiding dark isolated areas and streets at night, not carrying large amounts of cash and avoiding wearing flashy jewelry while here too.
Remember to leave travel documents in a safe deposit box at your hotel. It might be dangerous to practice some water activities if the sea conditions are not the best, so respect the flag warnings.
Anguilla
The state of Anguilla is located in the Eastern Caribbean area and belongs to the United Kingdom. According to Numbeo.com, crime levels are very low.
Previous visitors had a moderate worry of having things from the car stolen and had some problems with people dealing drugs. Solo travelers should also avoid visiting dark isolated areas by themselves.
It's also recommended to make sure that doors and windows are properly locked before leaving your accommodation and don't carry large amounts of cash and travel documents. It's unusual to get robbed, but travelers have been advised to not resist when threatened by robbers or people attempting to extort money.
The Cayman Islands
The Cayman Islands are some of the safest Caribbean islands with a very low crime rate. The Cayman Islands archipelago consists of three islands that are located northwest of Kingston in Jamaica and south of Havana in Cuba.
All three islands (Grand Cayman, seat of the capital George Town, Little Cayman and Cayman Brac) are included in the United Nations list of non-autonomous territories, and they fall under the jurisdiction of the United Kingdom.
Visitors shouldn't be concerned about safety but they have to take a few precautions. Never leave valuables unattended and put them in a hotel safe box, especially passports and documents that can't be replaced in these islands.
In the Cayman Islands, female travelers have been subject to harassment and it is very important to report it to the local authorities. Don't let anyone offer you a free drink or food that might have been spiked and contain drugs.
St. Lucia
Saint Lucia is a Commonwealth island in Central America. It is located in the Lesser Antilles, between the eastern Caribbean Sea and the Atlantic Ocean, north of Saint Vincent and the Grenadines and south of Martinique.
St Lucia is generally safe but pickpocketing and bag-snatching episodes have occurred with tourists in the past. There's a higher chance of getting robbed during Carnival and other festivals, so make sure to leave them in a safe place.
Don't hang around with a large amount of cash and travel documents. In the past, homicide episodes in public areas occurred, so all visitors should be aware of their surroundings at all times and avoid walking around alone during the night.
If you're thinking about renting a car, you should know that the roads are narrow and steep in any part of the island so be extremely vigilant when driving.
Safest Caribbean islands
Now you should have a better idea of which are the safest islands in the Caribbean to visit, and how important it's to take precautions like you would do in in every other popular tourist destination around the world.
Petty crimes like pickpocketing and bag-snatching occur even the in safest Caribbean islands and some of the islands in the Caribbean are also the front stage of violent crimes connected to drug smuggling from South America.
As a tourist, stay safe by moving around with just a bit of cash, leaving your documents in a safe deposit box and avoiding being out too much at night.
Apart from using your common sense wherever you go, there's no reason to be worried about safety on your next trip to the beautiful Caribbean region.
Book a trip to any of these friendly Caribbean islands today and be sure to see our sustainable travel tips to ensure your visit has a positive environmental impact.
---
Dear responsible traveler: This post may contain affiliate links, which means, if you click through and make a purchase, book a tour or a hotel, we may earn a small commission. This is at no additional cost to you. Your support means a lot and helps us to maintain the quality of this site.