Are you wondering what is the best way to get from Rome to Naples?
Whether it's for a sudden pizza craving, crunchy sfogliatelle, a juicy parmigiana, or a pit stop on your itinerary, traveling from Rome to Naples is a no-brainer!
Rome has it all! From its ancient Roman archaeological sites, museums where you can admire Michelangelo's masterpieces and fountains considered proper architectural masterpieces, they say that a lifetime is not enough to visit Rome.
But, when you are visiting Italy, how can you skip a visit to Naples, especially when you're in Rome, which is so close to the modern birthplace of Pizza?
Rome to Naples
Now you're here, keep reading this informative post to learn exactly how you can get from Rome to Naples by train, car, bus and private transfer.
First, though, we'd like to remind you why Naples is worth a visit and some of the things that you can expect to find while visiting this historic southern Italian city.
Is Naples worth visiting?
Yes, Naples is certainly worth a visit and despite what many people say Naples is a safe city for tourists and we know this because we have spent time in this city.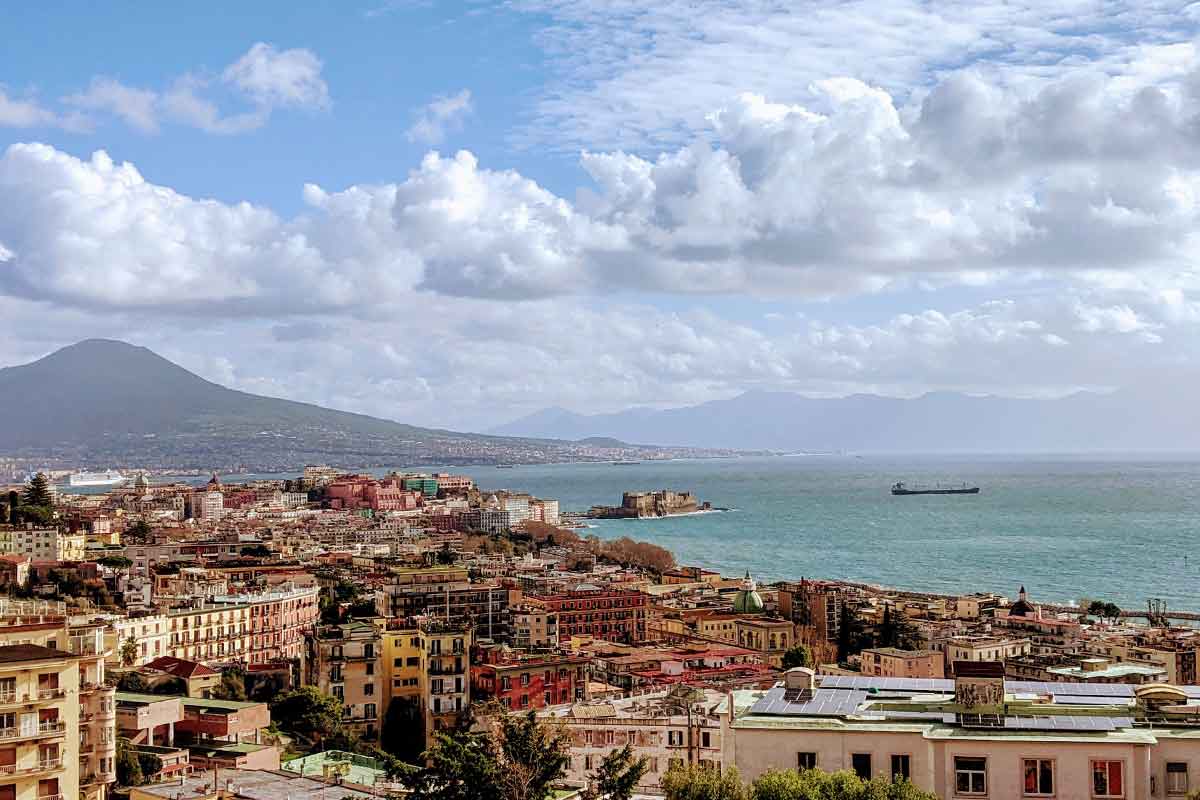 With its rich artistic and architectural heritage, mouthwatering cuisine and millenary culture we invite you to read our 3 reasons why we believe you should travel from Rome to Naples, if you have the chance.
The historical city centre of Naples is a UNESCO World Heritage Site. Walking around the city is like crossing 20 centuries of history from the ancient Greeks to the contemporary era. With its 17 kilometers extension, this is not only the largest UNESCO Site in Italy but even in Europe!
Tasting the best dishes of Neapolitan cuisine is definitely another good reason why you should visit this city. Whether it's for a day or even more, a culinary journey in Naples includes sampling the best pizza in the world (try Antica Pizzeria da Michele!), the lesser-known but absolutely incredible pasta alla genovese, the tempting rum babà, crunchy and creamy sfogliatelle, and much, much more.
It's well-connected by public transport or by car to the rest of the country. Getting from Rome to Naples is really straightforward and it'll only take one hour and 13 minutes by high-speed train. Naples is easy to reach from the north of Italy by driving along the A1 motorway, which is connecting cities like Rome, Florence, Bologna and Milan. Not far from the city center, there's the international airport of Napoli Capodichino where flights from all over Europe arrive every single day.
Having said that, there are even more reasons why Naples is worth visiting, and you can read them all on our dedicated post if you're still not convinced!
Let's now get to the bottom of all your options for getting from Rome to Naples.
How far is Naples from Rome?
Naples is 226 kilometers away from Rome and it can take 2 hours and a half to get there by car when driving along the A1 motorway.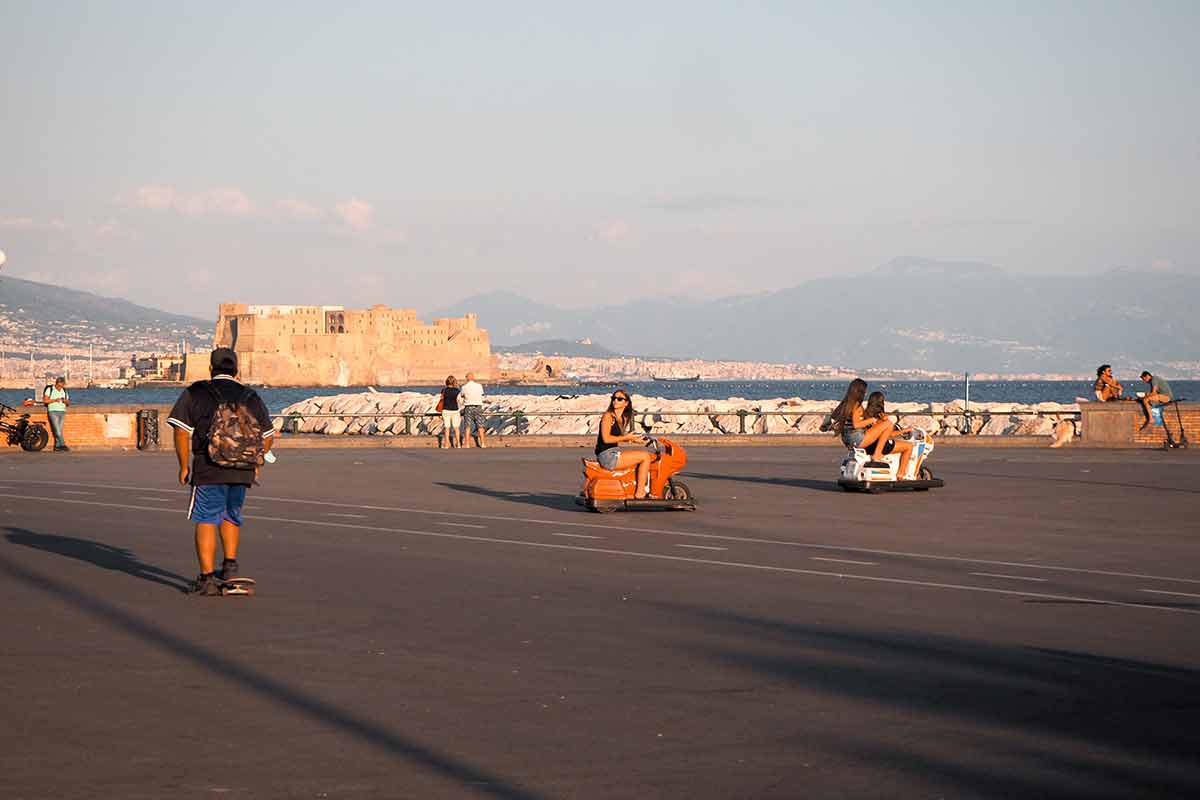 If you decide to travel by high-speed train (Frecciarossa or Italo) you can get to Naples in 1 hour and 10 minutes! This can make of Naples a great day trip from Rome, if you only have a day available to spend there.
If you're traveling on a budget, then it's worth knowing that there are also buses connecting the two cities. Travel with Flixbus or Itabus and you can get to Naples for less than 10 euros in 2 hours and a half!
Where to Stay in Naples?
Thinking about spending a couple of nights before heading back to Rome or to the next stop of your Italian itinerary?
See our 3 accommodation options for low, medium and high-budget travelers.
Budget: NAP Hostel – the trendy hostel is located in the Pignasecca neighborhood, in the heart of Naples. You can choose between dormitories and private rooms as well as ensuite and shared bathrooms. NAP Hostel has free Wi-Fi, air-conditioning and common areas that all guests can use.
Medium: Vicoli di Napoli B&B – only a few minutes walk from the Galleria Borbonica and Piazza Plebiscito, this B&B is the perfect place to stay in Naples to explore its historical city centre. Every room has a private bathroom, free Wi-Fi, air conditioning and a fridge.
Luxury: Relais della Porta – which is based in via Toledo and just 10 minutes walk from the Maschio Angioino. This 4-star hotel was a 16th-century palace where you'll find the unique combination of a contemporary look to the ancient breathtaking frescoed or exposed beam ceilings.
How to get from Rome to Naples
Now that you have a clear idea of why it's worth traveling from Rome to Naples for a day or more and where you should spend your stay, check out all your options and understand what's the best solution for you.
Train from Rome to Naples
Getting a train from Rome to Naples is the best way to get to your destination. The station from where you'll get the train is called Roma Termini and the arrival station is Napoli Centrale.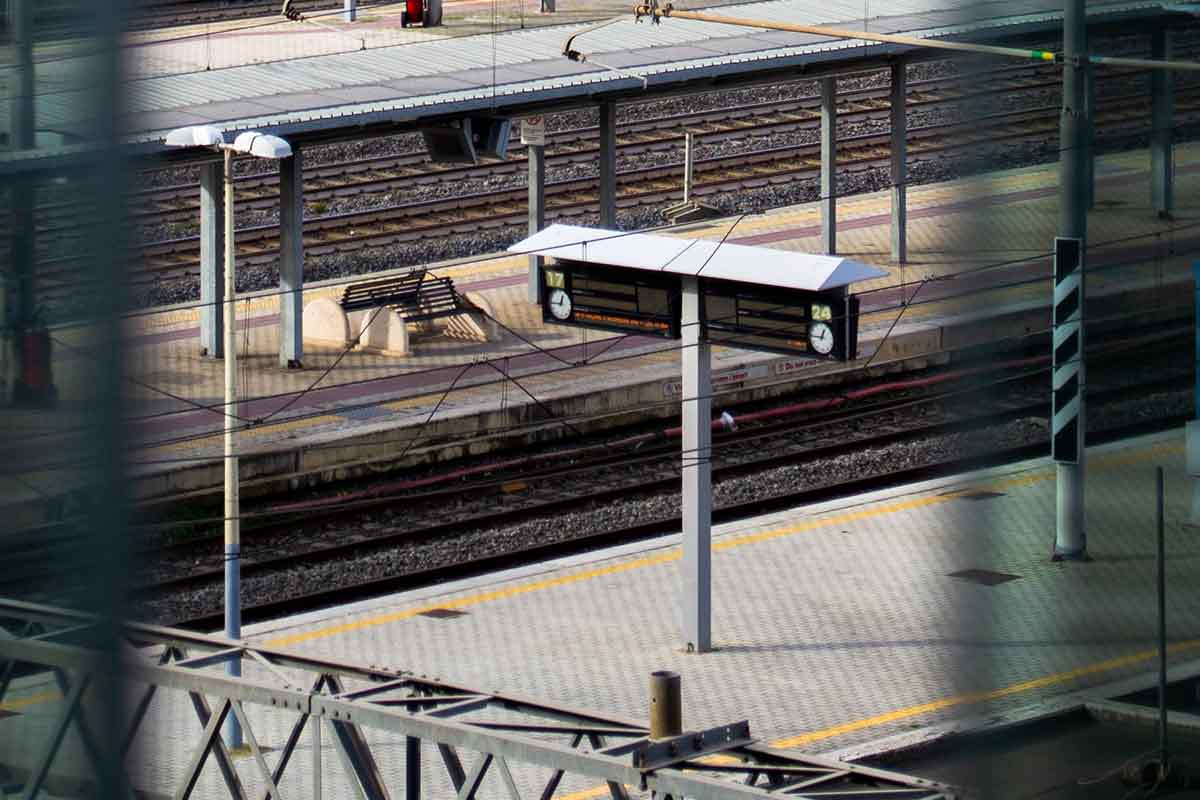 There are 3 train services you can get from Rome to Naples:
High-speed you can either choose to travel with a Frecciarossa train or Italo, it takes 1 hour and 10 minutes to arrive with this train from Rome to Naples. Also, this is the quickest out of all the options.
Regional it takes 3 hours as it stops in 17 stations in the Lazio and Campania regions before getting to Naples;
Intercity which stops at fewer stations than a regional train and takes 2 hours.
The ticket price is more or less the same for all these options, so make sure to book the fast train, unless you want to visit the towns where the regional or Intercity train stops.
There are some high-speed trains that stop in Napoli Afragola, but make sure to get off in Napoli Centrale. Remember to check both Trenitalia and Italo websites to see which train company offers the best deal.
There are frequent promotions going during the year that will allow you to save some money, like the YOU&ME, valid if you're traveling in two and Super Economy tickets sold at a discounted price of the Economy fare. Book your ticket as soon as possible as prices can increase any time.
Driving from Rome to Naples
If you're planning to travel in Italy and to get from Rome to Naples, then make sure to hire a car as soon as possible and get a good deal.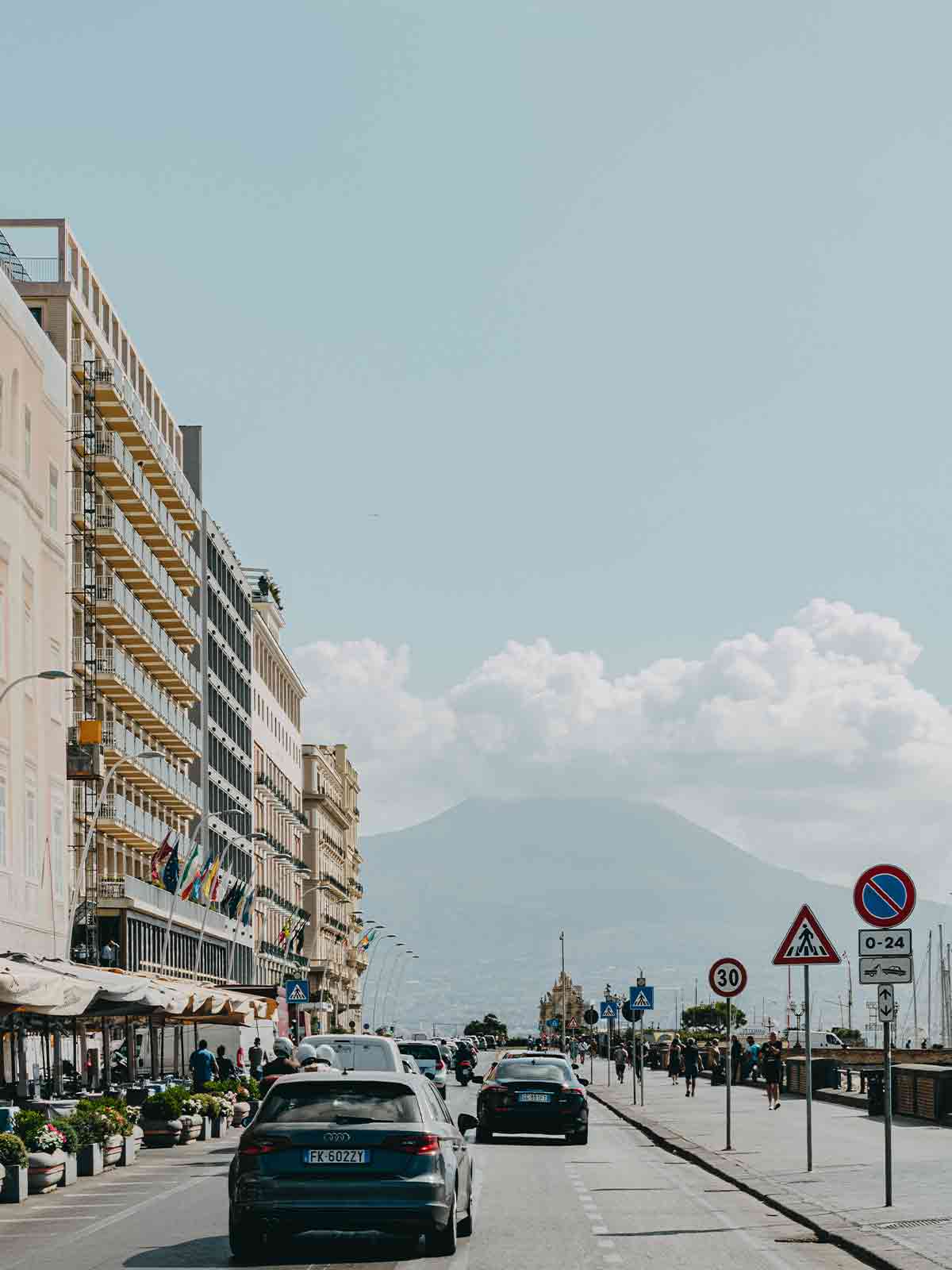 If you decide to rent a car in Italy you'll find that driving can give you more freedom to stop along the way and get there at your own pace.
From Rome, take the A1 motorway to get to Naples. This is the most important motorway in the country connecting the north of Italy to the south and vice versa.
It takes 2 hours and a half to get there, but this is if you're lucky and there are no traffic or car accidents on the way.
The car option is more expensive as not only do you have to pay to hire the car and fuel but also pay a toll to access the motorway. You can visit the Autostrade.it website to check how much this journey can cost.
Bus from Rome to Naples
If you're traveling on a budget and don't mind spending a bit more time on the road to get from Rome to Naples, then the bus is the best option for you! You have a choice of two coach companies: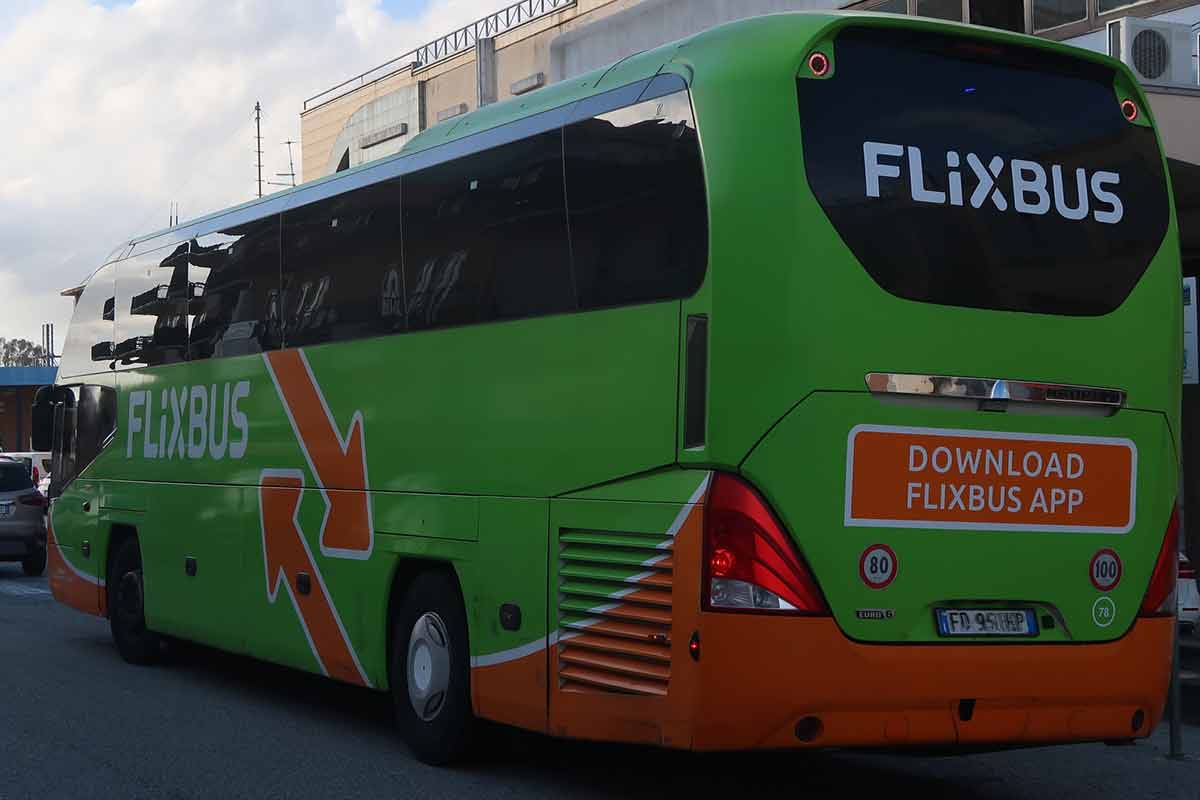 Flixbus: the cheapest option as you can get to Naples for less than 3 euros (one way)! There are several buses leaving at different times of the day and the bus takes 2 hours and a half to get there. It leaves from Largo Guido Mazzoni in Rome (near the Tiburtina station) and arrives in Corso Arnaldo Lucci 156 in Naples (near Napoli Garibaldi station). Socket and free Wi-Fi available on board.
Itabus: the price is slightly more than 3 euros (one way), but some buses can take even longer than 2 hours and a half. You leave from the Tiburtina Terminal and arrive at the Metropark in Naples (Corso Arnaldo Lucci 156).
There's another company called Marinobus, but there's only one bus leaving very early in the morning and the price is around 12 euros (one way).
Rome Fiumicino airport to Naples
If you're looking for an express transfer from Rome Fiumicino airport to Naples, then you should definitely book this bus transfer.
The coach service is called Fiumicino Express and it's a good option to take into consideration if you need to get fast to Naples from this airport in Rome and save money on expensive taxis.
The bus takes 2 hours and a half and you're allowed to carry two pieces of luggage and a hand luggage. Air-conditioning and free Wi-Fi is available on board.
The pickup point is at Rome Fiumicino airport (Terminal 3) and it arrives at the Metropark in Corso Arnaldo Lucci in Naples, close to the central train station in Piazza Garibaldi.
This coach option is much more expensive than the normal bus you can get from the city center but still much more affordable than a private transfer.
Private Transfer
If you have no expense spared, then the private transfer between Rome and Naples is a fantastic solution! You won't have to think about getting to the right pickup point at the airport or in the city center and arrive at your accommodation address.
This is the most comfortable option, but it comes at a high price! This service includes air-conditioned minivan transfer, fuel, driver, all taxes and hotel drop-off.
The private driver will meet you at your hotel in Rome, at the airport or at a central station and will a hold sign to help you recognize him/her. At this point, you don't need to think about anything else but just enjoy the ride.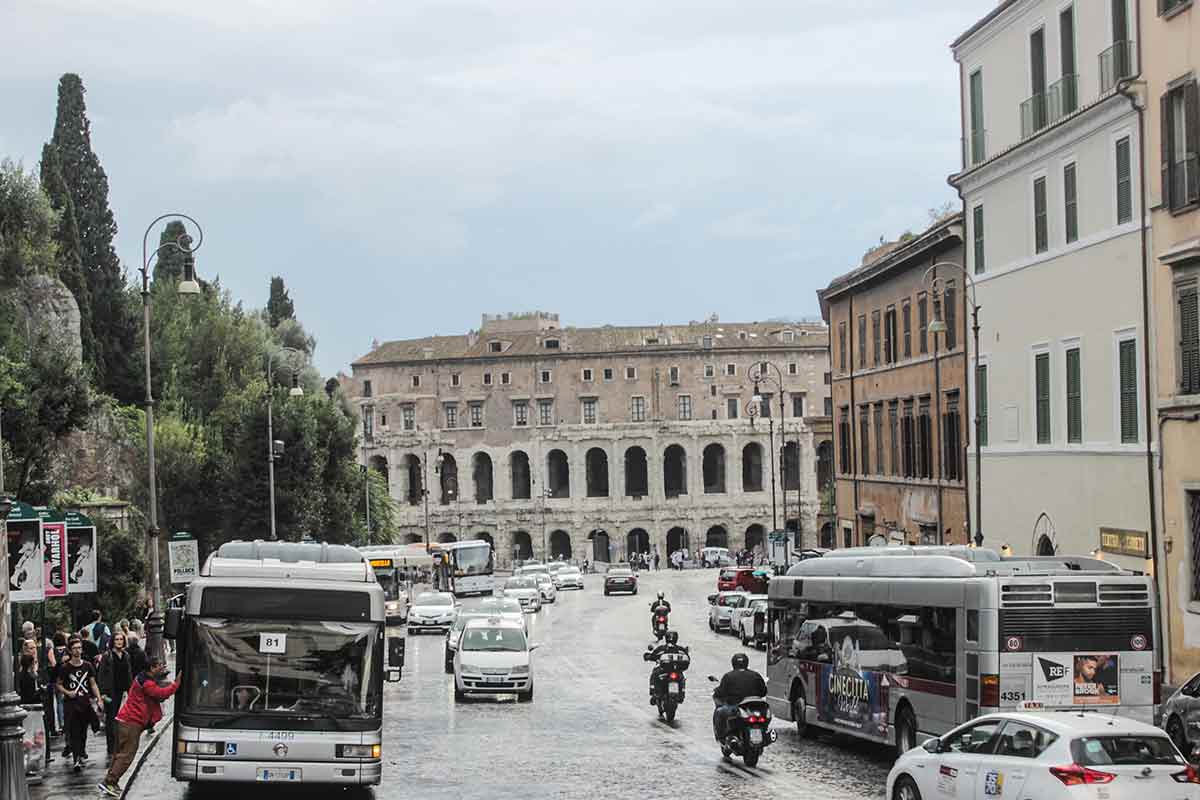 Day trip from Rome to Naples
This is a great option to visit Naples from Rome if you have just a day available. The day trip from Rome to Naples includes round-trip transportation and an expert guide that will show you around the beautiful city of Naples.
During your time in Naples, you'll visit some top landmarks like Piazza del Plebiscito and Via San Gregorio Armeno and included in the price of your tour, there's the skip-the-line ticket to the Chapel of San Severo where you can admire the iconic 'Veiled Christ'.
Your day trip will finish in beauty with a pizza tasting in the heart of Naples. The meeting point in Rome is in Largo Guido Mazzoni, just outside the café's entrance where the guide will hold the sign Naples tour.
Getting from Naples to Rome
Now you should have a better idea of how you can get from Rome to Naples by train, car, bus, private transfer and organized tour.
Based on your available time, budget and style of traveling, you can now make an informed decision on which option works best for you. While you're here, why not also read our 2 days in Naples itinerary if you're still planning your time in Naples?
---
Dear responsible traveler: This post may contain affiliate links, which means, if you click through and make a purchase, book a tour or a hotel, we may earn a small commission. This is at no additional cost to you. Your support means a lot and helps us to maintain the quality of this site.