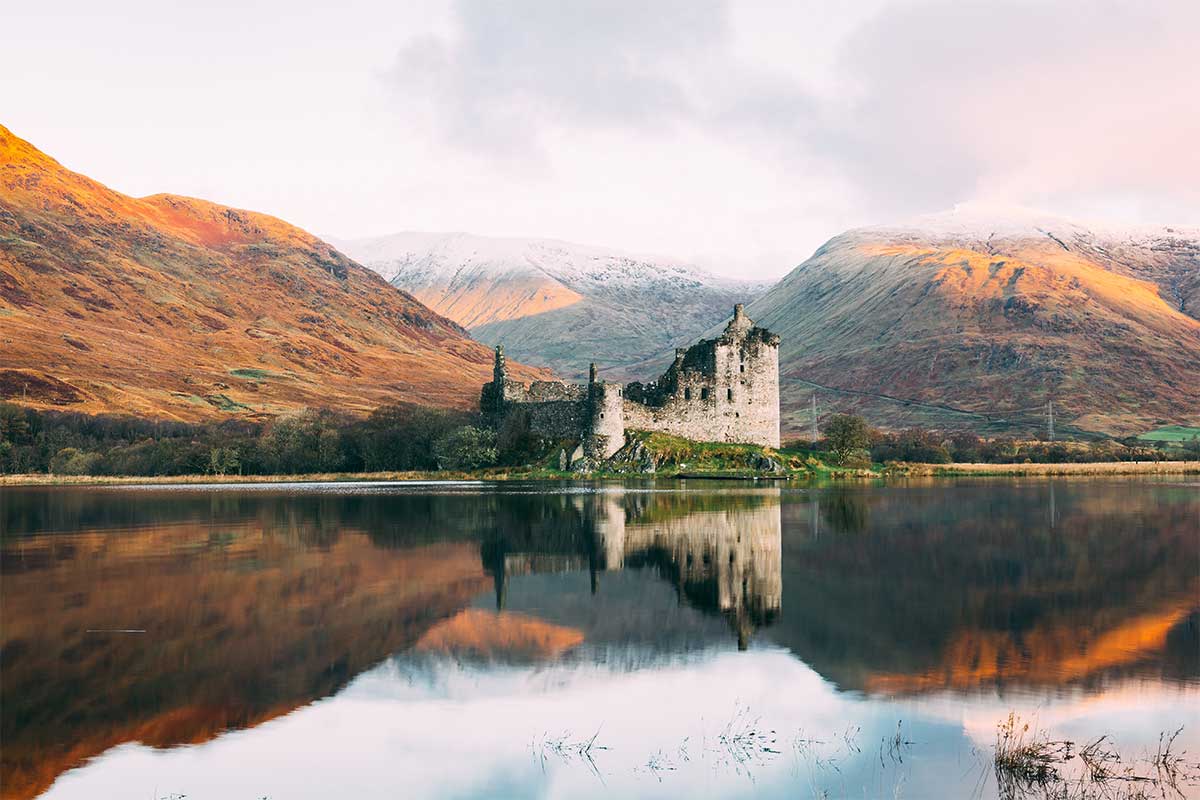 Are you on the lookout for some off the beaten path places to visit in Scotland?
Or, even better, some of the best secret places to visit in Scotland?
Scotland is a truly beautiful nation; a real gem of European life. It's become one of the most satisfying places in the world to come and visit.
Off The Beaten Path Scotland
Those fond of the UK who have explored the beautiful cities in northern England may well be inclined to take a trip into scenic Scotland and wander off the beaten path to see the magnificent Scottish highlands wildlife.
Cities like Glasgow and Edinburgh bring revelers, historians, football fans, and everything in-between.
What exists outside of the big cities, though? Is it easy to get off the beaten path in Scotland? How can you explore the Scottish highlands wildlife?
Scotland is famous for its hills and mountains, its valleys, and its stunning lochs.
We have written about some of the best places to visit in Scotland but what might you be missing out on if you only focus on the 'big' attractions in this amazing wee country?
Let's take a look and see what off the beaten track in Scotland can offer you!
If you are intending to come to Scotland, then it would be remiss not to go and visit Loch Ness.
It's a special venue to go and visit, and one that should give you a true appreciation of the geography of Scotland. Make time for Loch Lomond, too – another classic of this very popular genre.
But have you thought about when is the best time to visit Scotland and Loch Ness? It is said that between May and September where you will get the best weather and the most daylight.
If you are intending to visit all of the best lochs in Scotland, then you should definitely make time for this masterpiece.
This is a beautiful little bothy and is it of a secret for many mainstream travelers.
You'll get some amazing views here, making it great for photographers and those with a love of artistic detail.
Eas a' Chual Aluinn
Near the noted loch above, this is the tallest waterfall in the United Kingdom. It's an amazing viewing spot and one that you should definitely make time to come see by kayak or by boat.
Cluanie
This is another hidden gem of Scottish life – a tremendous location that you should make time to see.
The Lock Cluanie is special, with ample wildlife running around to help you get some great snaps. Also visit the Cape Wrath Trail if you fancy a nice, hearty hillside walk.
If you are looking to see some proper classic coastal Scottish life, then making a trip to Berwick might make a lot of sense.
It's got that quaint style that is easy to fall in love with, while the amazing architecture and friendly locals make nights-out here feel special.
If you like the water, then a few better parts of Scotland exist.
This small island is amazing for you to head over to; simply get a ferry from Largs and you can enjoy the day on a very special island.
Ideal for watersports, walking, cycling, and many other engaging activities.
The most obvious tourist attraction, though, would be to take the time to come and see Edinburgh Castle.
Even ahead of special castles like Inverness, Stirling, and Dunnottar, this provides a truly special viewing experience you'll never forget.
The Wallace Monument is a special experience, based nearby Stirling. Just be prepared for a sizeable trek up the small stairs all the way to the top, helping you to enjoy a magnificent view from the top.
Be sure to bring a camera, too, for you'll want some snaps.
If you find yourself up in the Highlands, though, it would be remiss not to take the time to come and visit Dunrobin Castle.
This is one of the many satisfying that you should absolutely look to tap into for photographs, tours, and the sheer history of this Highland highlight. If you are looking for castle hotels in Scoland then see some of the popular ones we have suggested with visitors.
St. Ninian's Tombolo
Although not exactly known for its beaches, this beach over in Shetland is one of the many beautiful parts of this side of the world.
Come here and you'll see a truly beautiful part of nature; it really does not feel like Scotland with its warm, sandy beach!
Sandwood Bay
Another good beach to come visit would be Sandwood Bay in the Northern Highlands. Maybe make the trip to Dunrobin and here at once?
This is a stunning hiking experience and one that allows you to see some beautiful and untouched sand all around you when visiting.
While we won't mention Stonehenge as it should be a must-see for everyone. Sueno's Stone is a truly impressive object as well.
Head over to Moray and you can see this beautiful wee piece of history come to life; a beautifully carved stone depicting 10th Century battles.
This amazing little heritage sight up in Orkney is a must-see for many people.
The area is enriched by the old-school buildings that remain, while the sheer ingenuity of the area ensures you get to spend some time down by the beach taking in views that only Scotland can offer.
If your aim is to see some off the beaten path Scotland landmarks from the beauty of its clear waters, then take the Union Canal trip.
This 30-mile trip will take you from Edinburgh to places like the Falkirk Wheel and the Fork & Clyde Canal. A special trip for water-lovers.
If history is more your thing, then come and visit this special location. It's got a tremendous link to the past of Scottish society and should provide you with some excellent insight into the living and working conditions of people in the Highlands earlier on in history.
Isle of May
If you would like to see some classic Scottish wildlife, then go to the Isle of May via Fife (which makes the perfect Scottish staycation spot if you have time).
You'll see everything from puffins to its amazing seabird observatories. A tremendous place to spend time that brings you right back into the heart and soul of Scottish life and general culture.
Places to Eat in Scotland
The quality of food found in Scotland is said to be some on the best in the UK. See these establishments for ideas on where to eat:
If you find yourself in the classic town of Stirling, then be sure to look out Brea. It's a fun little vegan restaurant with classical options to pick from, as well as more creative culinary choices.
A tremendous starting point up in Cupar. A quality restaurant with upmarket style and a whole host of outstanding foods to pick from, both traditional Scottish and from elsewhere.
If you are in Edinburgh then be sure to look at The Kitchin. A top quality eatery in the capital that has some of the best food you will find anywhere in the city or beyond.
This is a tremendous place to start if you are looking for something a bit different. Top quality food with amazing surroundings, with seaside views of the northwest Isle of Skye.
Another classic in the capital, this Castlehill restaurant is one of the best places to start with when you are looking for some outstanding quality food. Nearby Edinburgh Castle too!
This little gem up in Portpatrick, Stranraer, is a must-see for anyone who is looking for some top quality food to enjoy. a charming, satisfying place with a 120-variety Whisky Bar.
Come for the food, come for the Anatolian rugs. This is a tremendous spot down in Hawick and definitely something you should look to find out more about today.
Livingston's (Permanatly Closed)
This amazing wee Linlithgow restaurant is a must-try for anyone in the area. It's in the middle of town and is a popular haunt locally, but is criminally under-appreciated nationally.
This is one of the true gems to be found in Connel, a small town just outside of Oban. Amazing seafood and rich quality variety from succulent lamb to juicy steaks.
Things to do in Scotland at night
Here is a list of venues to visit at night that we recommend you check out depending on where you go:
Blair Athol Distillery
A hugely popular distillery that attracts people from all over the world. A great wee place to hit up near Pitlochry, full of life and character.
Glenkinchie Distillery
Based over in Tranent, this is a fine place to visit if you are a fan of classic malt whiskey and want to get a wee taster for yourself to enjoy.
The Old Forge
A classic pub over in Inverie, this is a hidden gem that is known as the 'most remote pub in Britani'. A fine place to visit, though it's a long walk or a boat ride from Mallaig!
The Drover's Inn
If you find yourself up at Loch Lomond, be sure to check out this old-school pub that was founded as early as 1705. Once used by cattle drovers, now it's a classic pub.
The Clachaig Inn
The Clachaig is a popular choice up in Glencoe that is teeming with classic style. Set in the Glencoe mountains, too, your pint will go down well with such amazing views.
Escape Rooms Scotland
Found in major cities like Glasgow and Dundee, these offer tremendous fun and problem-solving entertainment that will require ample teamwork to overcome.
Where to Stay in Scotland
No trip to Scotland would be complete without having a place to stay, see these recommend lodgings:
This stunning palace is one of the most popular places off the beaten track in Scotland to go and visit. It's a top-quality venue; one that offers everything to do from indoor pools to spa for the utmost relaxation.
Want a bit of privacy? Then book up with some of the various Loch Tay Lodges that you will find near this amazing bit of rural Scotland. Perfect for travellers.
A tremendous wee camping spot, you should have no problem at all in enjoying yourself here. A truly relaxing and enjoyable place to stay, and very affordable too!
Based to the west of Fort William and north of Oban, Resipole Farm is a tremendous stopping place for so many people. A top-quality venue that maximizes your ability to get out and see some amazing nearby sights.
A tremendous camping spot again, this is a fine place to stay if you want to heat up towards more northern areas such as Brora.
A very popular hotel for many people, this takes you up into the Highland areas of Scotland. A wee bit wet if you are looking for sun, but it's got all of the potential in the world for you to have some great fun when you come here.
A stunning Victorian country house turned into a classic public stay, this is a tremendous place to add to your collection of places to think about staying and visiting. Should offer you all of the glitz and glamour that you would have hoped for when you first enquired.
A tremendous place to hit up if you are looking to enjoy life near the waters of Scotland. A great place for hillwalkers and travelers, offering ample rural enjoyment for you to go away and take part in. Great fun for just about anyone looking for unicity.
The Rosemount is the ideal place to start if you are going to be staying near Pitlochry. A top-quality Edwardian hotel that offers a tremendous living experience and one of the best places to visit if you are on the lookout for a stay in a tourist hotspot.
Of course, if you want to have some proper privacy then you might wish to look closer at Killin Log Cabins. These offer excellent privacy and the chance to enjoy some time away from the hustle and bustle of city life, all the while offering an excellent view and good pricing.
Of course, if you want to take things to the next level, then you should look at staying at The White Tower at Taymouth Castle. It's a tremendous place to stay if you are looking for a classic experience; one you won't be forgetting anytime soon.
When is the best time to visit Scotland?
Scotland is known for its extreme weather and it's always advised to plan your trip cautiously around this.
The winter in Scotland is much colder the rest of the UK but can also make Scotland a magical place to visit in winter.
When is the best time to visit Scotland? Well, that depends on your plans. If you're looking for things to do in Scotland in December then the skiing season starts and runs through to early April.
This obviously varies depending on the snowfall.
If you're looking for the best time to visit Scotland for walking and getting off the beaten track you should aim for mid May through to September.
Off The Beaten Path Scotland
So, where to then?
Now that you can see that Scotland has a wee bit more to it than the average tourist guide might show, it might be time to come along and see what you can get for your time and money.
This is an amazing place to visit, and hopefully, the guide above should give you some ideas on where to go, what to see, what to do, and where to stay.
It's a hard place, to sum up in just one article, but off the beaten track Scotland offers a fantastical, engaging experience that you'll instantly enjoy.
---
This post contains affiliate links, meaning, if you click through and make a purchase or sign up for a program, we may earn a commission. This is at no additional cost to you.