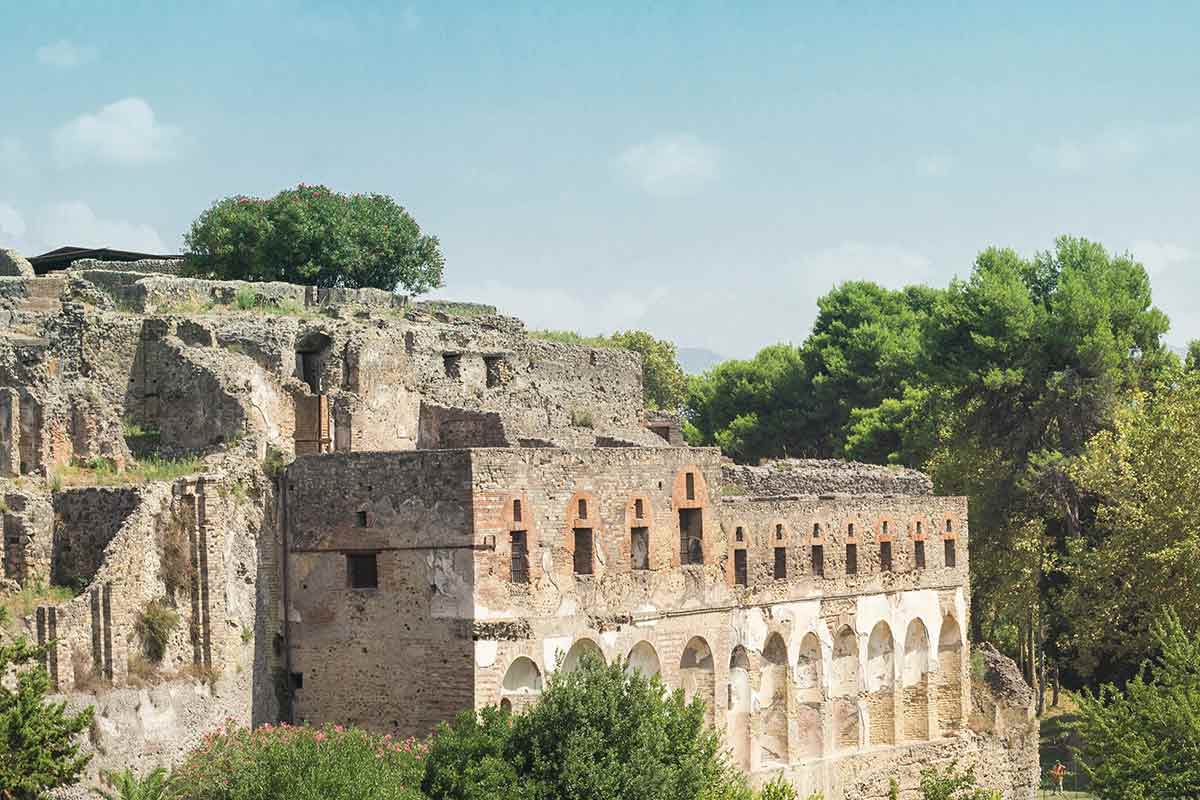 Pompeii is one of Italy's top tourist destinations, and what attracts people from all over the world is the story behind its ancient Romain ruins.
It was buried under a blanket of ashes and lapilli during the eruption of Vesuvius in 79 a.D., together with Herculaneum, Stabia, and Oplonti.
As one of the most significant archaeological sites of all time, Pompeii is a must-see if you're traveling around Italy or on a day trip from Naples.
Naples to Pompeii
Pompeii is a real step back in time and a once-in-a-lifetime experience.
So, if you are already in Naples you will likely have already read our Naples 2 day itinerary and be ready to take the road to Pompeii.
What is Pompeii?
The ancient city along with the close Herculaneum and other nearby villas was buried under 6 meters by ash and lava during one of the worst Vesuvius eruptions of history.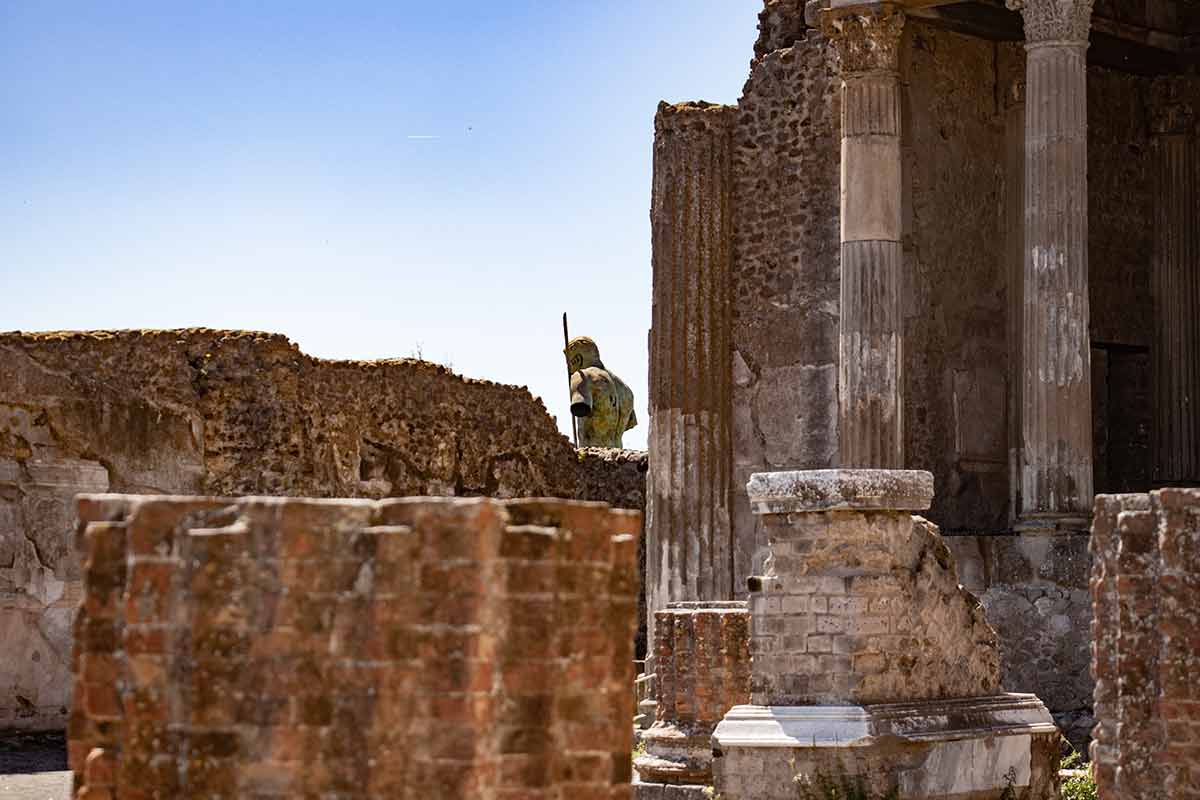 The site gives you a glance at the organization of life during the Roman Empire. You can walk the streets, inside private houses, and spot exquisite works of art all around.
Pompeii's inhabitant bodies were found in the same position as when the lava took over the whole town.
Is Pompeii worth visiting?
Let's look at some reasons why Pompeii is a true gem to visit:
Visiting Pompeii is a real step back in time. The volcanic eruption that happened in 79 a.D. was catastrophic and what remained of the Roman city was just layers of ashes and rocks. Behind these layers, archaeologists found Roman cities exactly how they appeared 2000 years ago. The site provides unique information about social, economic, political, and religious life during the Roman Empire.
The archaeological park of Pompeii extends for 66 hectares, 50 of which are excavated (including suburban areas). The site is divided into different areas, and there's quite a lot to explore. For some visitors, one day is not enough to explore it properly! For this reason, we recommend spending at least one night in Pompeii (at the Hotel Pompei Be Green) to keep exploring the site the day after. You'll walk through civil and private buildings, monuments, and sculptures and see paintings and mosaics of invaluable historical importance. Pompeii is also a recognized World Heritage Site by UNESCO.
Getting to Pompeii is really easy. If you're spending your time in Naples, you just need to take the train, as Pompeii is 35 minutes away from Naples. If you are thinking of renting a car in Italy, it's only 25 minutes drive. This makes Pompeii and nearby archaeological sites such as Herculaneum are perfect day trips from Naples.
If you're still not convinced by this worldly attraction that lies 25km from Naples, why not take a look at our Italy itinerary to get more inspiration and see where else you could go during your time in Italy?
With all these points to consider before traveling, how far is the journey exactly and what are the best ways to get to Pompeii from Naples?
How far is Pompeii from Naples?
As mentioned above, Pompeii is just 25 kilometers away from Naples and you can either get there by car or by public transport.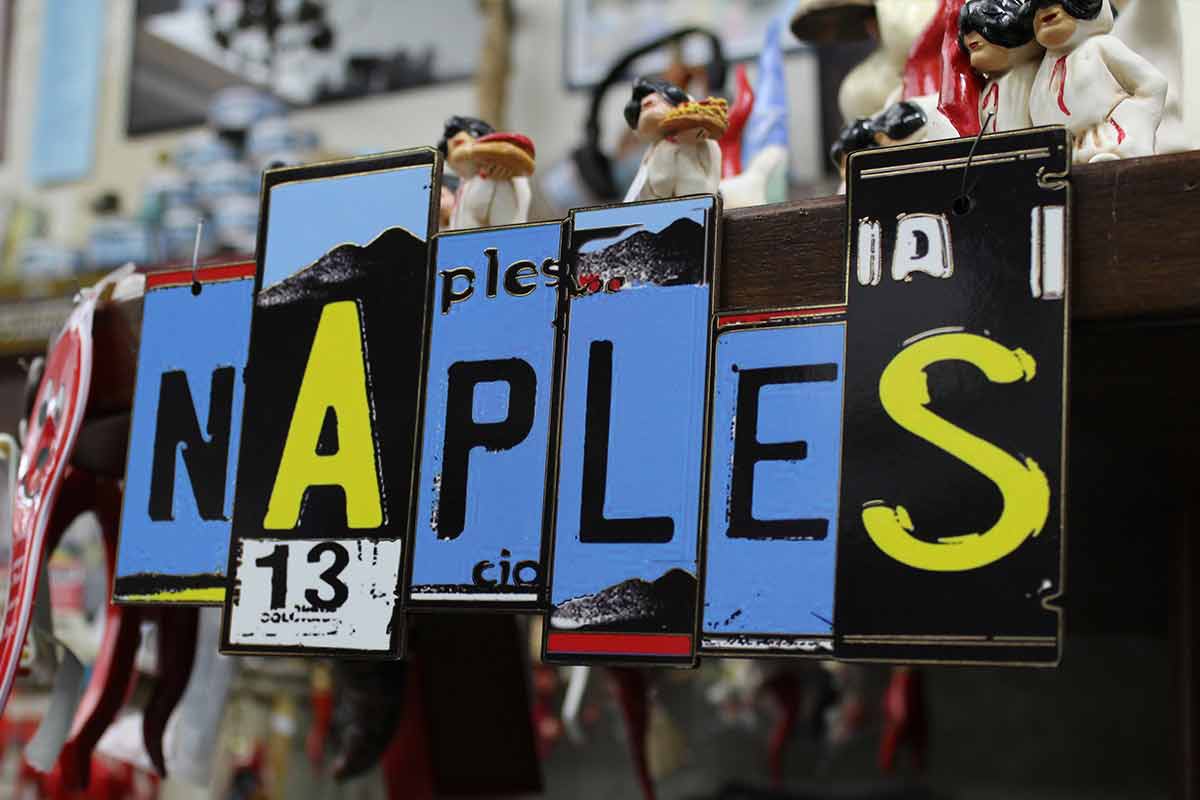 The best option is to take the train from Piazza Garibaldi railway station.
You either choose to travel by Circumvesuviana train which takes 42 minutes or the metropolitan/regional line (Napoli-Salerno) for a shorter trip of 24 minutes.
If you prefer the last option, just bear in mind that the train stop is 10-minute walk from the entrance of the site.
You can also get there by bus, which is a valid option to take into consideration if your accommodation is located in the docks' area.
The travel time is between 35-45 minutes depending on the traffic.
How to get to Pompeii from Naples
Below we will share the best way to from Naples to Pompeii so you can take the best mode of transport that suits you:
Train from Naples to Pompeii
If traveling by train from Naples there are two preferred options.
The most popular train is the Circumvesuviana line leaving from Porto Nolana or Piazza Garibaldi railway station.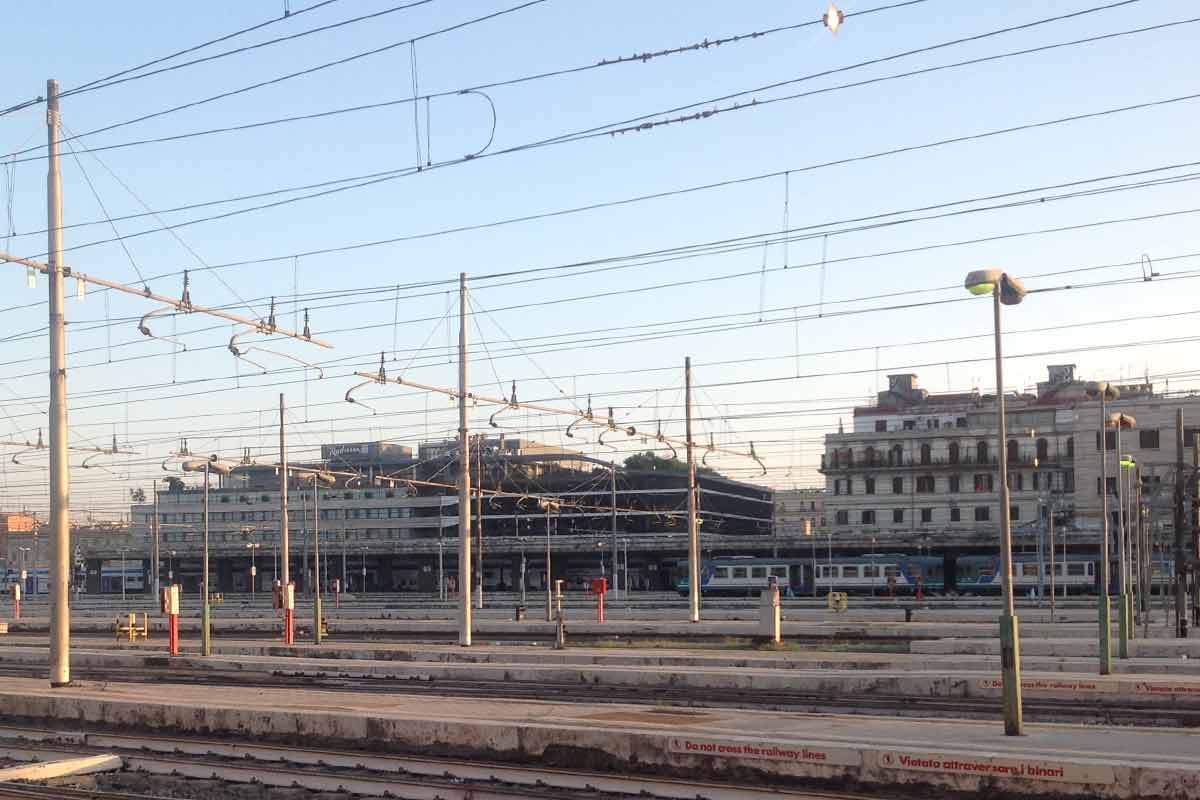 If you're new to Naples, we suggest taking the train from Piazza Garibaldi located only 5 minutes walk from Napoli Centrale railway station.
For your comfort, we highly recommend you stay at the Starhotels Terminus, situated in front of the Napoli Centrale station.
The line is the blue one called Napoli-Sorrento, when purchasing your ticket ask for 'Pompei Scavi'.
The train stops are announced and yours is going to be 'Pompei Scavi – Villa Dei Misteri'.
If you forget to get off at this stop, the next stop is fine. It's called 'Pompei' and it's just a 10-minute walk from the archaeological site entrance.
The second option is the metropolitan (MET) or regional (REG) train Napoli-Salerno.
This departs from Napoli Centrale station but doesn't stop at 'Pompei Scavi' like the Circumvesuviana one. In this case, you can only get down at the stop 'Pompei' and walk 10 minutes to get to the entrance.
Driving from Naples to Pompeii
If you decide to rent a car and travel from the north (Naples), take the A3 Naples-Salerno motorway towards Salerno and exit at 'Pompei Ovest'.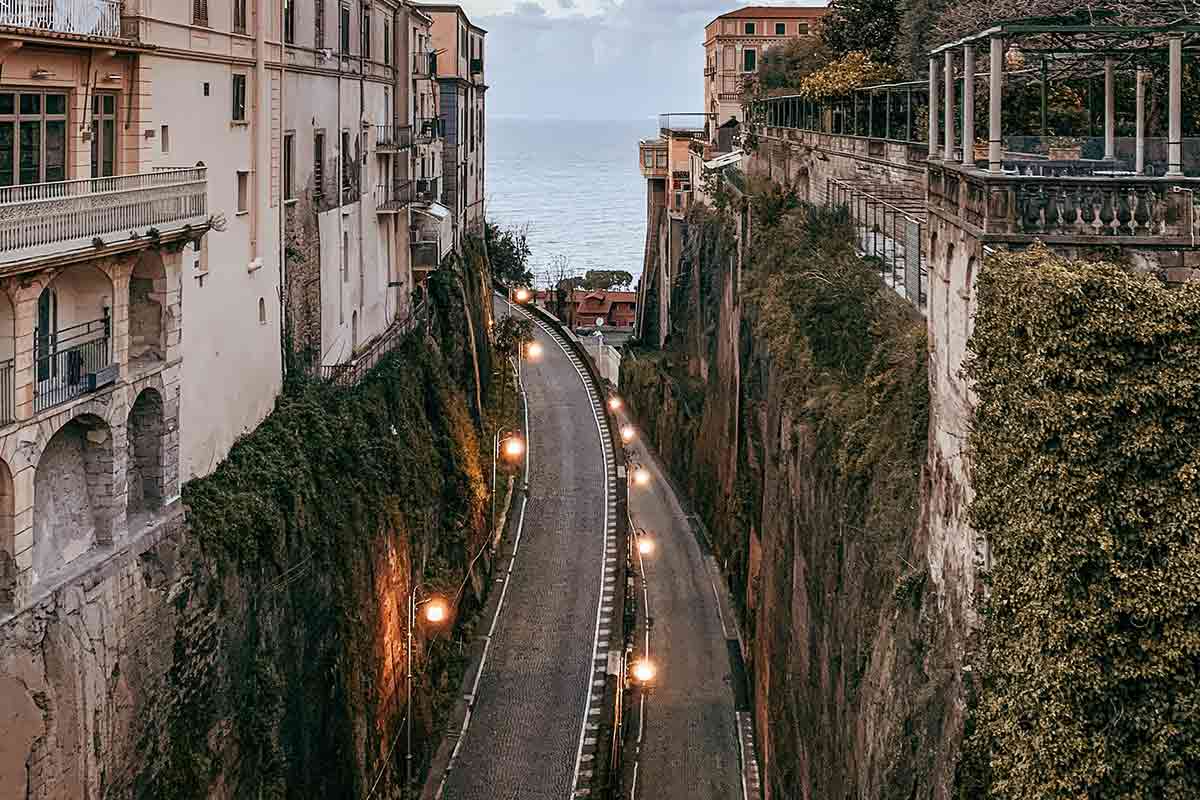 From here, continue on the SS18, turn into 'via Villa Dei Misteri' and after a few meters, you'll reach your destination.
The distance is 25 kilometers and depending on traffic it can take up to 35 minutes. There's quite a lot of parking space near the site's entrances.
If you're coming from the south, always take the A3 motorway, but your exit is called 'Pompei Est'.
From here, proceed along 'via Antonio Morese' towards 'via S. Giovanni Battista Della Salle', take 'via Sacra' and continue on the SS18 up to via 'Villa Dei Misteri'.
Getting from Naples to Pompeii
Now you know how to get from Naples to Pompeii by train or by car.
As you can see, the options are many, and it's pretty straightforward to plan a day trip to the famous archaeological site from Naples.
If you don't want to plan it by yourself, then you can always join a guided tour leaving from Naples like the Naples or Sorrento: Full-Day Pompeii and Mount Vesuvius Tour one.
---
This post contains affiliate links, meaning, if you click through and make a purchase or sign up for a program, we may earn a commission. This is at no additional cost to you.