When comparing Lisbon vs Porto which do you choose?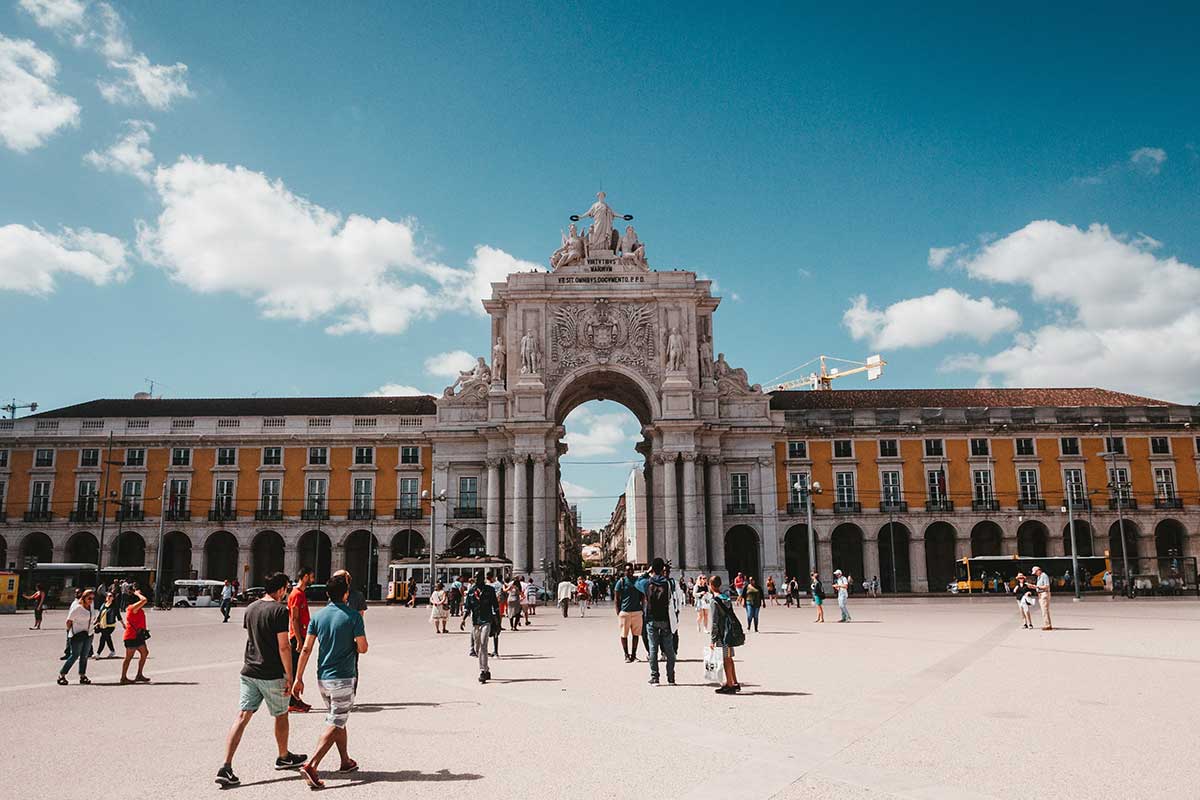 So, you've finally decided that Portugal is your next holiday destination.
Lisbon is a gorgeous city, with pastel-colored buildings, steep cobblestone streets, and boat-loads of history (if you'll pardon the Columbus pun).
Whereas Porto has all the makings of a relaxing resort spot with similar architecture and vibe as Lisbon, but without all the city-break-ness.
Porto is the sort of place you could spend a week in rather than a weekend and there are ways to make your sustainable travel plans work.
Porto is known for its stately bridges and port wine production.
Apart from the opposing football teams in the Portuguese football leagues (Porto and Benfica), not a lot of people know the differences between these two spots.
We're here to give you the run down and our opinion of which Portuguese city is the best one to visit.
Lisbon
Lisbon is a city you can get lost in. Everything is photogenic; from the palaces to the churches and of course, the castle.
The seafood is great, the people are friendly and the Fado is incredibly touching. Fado, or 'destiny' in Portuguese, is the traditional Portuguese music form that precedes the American Blues.
Lisbon is famous for its Fado, so much so that it has a museum for it.
If you've read Rick Steves's book on Portugal you may already be familiar with some top sights and hidden gems to explore here.
Why visit Lisbon?
There is a little slice of heaven in Lisbon.
There's something for everyone: world-class museums, gorgeous architecture, and picturesque neighborhoods and hotels such as TURIM Boulevard will offer it's guest nothing less than superb quality.
Some of the most popular daytime activities include aimlessly strolling through old neighborhoods or sitting in one of the city's old trams.
How about browsing street art and galleries, taking in the beauty of historic buildings like the Belem Tower, the Jerónimos Monastery, and St. George's Castle.
See our 3 days in Lisbon itinerary for ideas on what to do here. Lisbon is also well-regarded in Europe for its world-class nightlife and bar scene.
Be sure to save some energy to visit the city's best nightclubs and Fado venues on weekends.
If you're looking to catch some Fado music concerts or public displays, be sure to find out where you want to go as these venues are often small and can get crowded early.
Lisbon is just brimming with culture and cuisine, so you only have yourself to blame if you stuck your nose up to it at first!
Will you be traveling soon? Get yourself a Lisbon card to ensure you get free admission to top attractions and discounts at various landmarks.
Cost of Living Lisbon
According to expatistan.com, the cost of living in Lisbon is 9% more expensive than in Porto.
For the most part, it's easy to assume that the larger city is more expensive, especially if it's the capital city.
In Portugal's case, however, it's a bit of a mixed bag.
According to numbeo.com:
Consumer Prices in Lisbon are 1.51% higher than in Porto (without rent).
Rent Prices in Lisbon are 25.72% higher than in Porto.
Restaurant Prices in Lisbon are 7.89% higher than in Porto.
Groceries Prices in Lisbon are 3.62% lower than in Porto.
Local Purchasing Power in Lisbon is 17.05% higher than in Porto.

Best time to visit Lisbon

Portugal has a Mediterranean-like climate that can vary according to the region.

This generally means that there are hot, dry, and warm summers and cool, wet winters.

The northern regions with the likes of Porto tend to get colder and even see snow on the mountain tops, whereas the temperatures inland can reach high 30˚.

Lisbon is in the prime position for having the best climate and weather in the Summer months, as the heat balances with the coastal breeze.

Almost every village in Portugal has its own festival (festa) or traditional pilgrimage (Romaria), usually to celebrate the local saint's day or the reaps of the harvest.

Some are little more than an excuse for the villagers to barbecue and dance, while others have become serious celebrations lasting several days and attracting tourists from all over the world.

It's for this reason that some visitors may want to check up where they are staying to see if there are any festas in the place they're staying.

While in Lisbon, be sure to checkout the Estrela neighborhood for a peaceful place which offers a perfect blend of classic and modern.

Is Lisbon Safe?

Lisbon is pretty much a safe city, with a very low crime rate and instances of violent crimes being very rare.

Like most European capitals, some precautions should be taken, especially regarding pickpockets and belongings left unattended in restaurants or cafés.

During the daytime, most areas in Lisbon are safe, but when it hits dusk, tourists should avoid the quieter areas.

There are some aspects to being in Lisbon that some may class as "scams", but some are just inherent to the Lisbon culture.

These include:

Petition scam: If someone approaches you with a petition to sign, you're best off ignoring them.
Taxis with "broken" meters": Although transportation in Portugal is safe, be cautious about taking taxis. If the driver says the meter is broken, you'll likely end up paying more than normal.
Appetizers at restaurants: This is not a scam, but keep in mind that if a waiter places bread on your table you'll have to pay for it.

Learn these interesting facts about Lisbon before you travel to get more knowledge about the city and make your trip a touch more memorable.

Porto

Situated at the mouth of the Rio Douro, Porto is an atmospheric port city that's well worth a visit. See this Douro Valley Tour for more information.

The atmospheric Porto

In recent years, the city has seen a massive tourism boom and this is reflected in the many hotels now on offer, many of which are boutique spots with niche followings.

In terms of eating and going out, you'll be spoilt for choice. Whole areas have been gentrified with new restaurants and bars opening up.

Is Porto Worth Visiting?

If you're looking to tick off all the major tourist boxes in Porto, make sure to visit the beautiful Clerigos Church and its nearby tower.

See the stunning Livraria Lello (which is said to be J.K. Rowling's inspiration for Hogwarts).

Exploring the streets of Porto

Drink your way through the port wine caves in Vila Nova de Gaia, walk across the Pont Louis I Bridge (don't be alarmed if you catch kids jumping into the river), and walk through the shopping street of Santa Catarina. 

You'll find a lot of seafood, particularly shellfish such as beautiful clams.

Grilled sardines are also a local delicacy here, but if you want to taste a real stunner, hunt down a Porto original: the Francesinha sandwich.

Made with heated up ham, melted cheese, and a tomato-beer sauce, it tastes like the best-grilled cheese sandwich you've ever tasted.

Why would you not want to visit Porto? See our popular 3 days in Porto itinerary for even more ideas on what you can get up to.

Best time to visit Porto

The best time to visit Porto is from May to September when the weather is often clear skies and lovely sunshine.

Enjoy summertime temperatures in Porto?

Overall, Porto experiences a moderate climate, since summertime temperatures are high but bearable, and the breezes and nearby beaches will help you stay cool.

Autumn brings lower temperatures and occasional drizzle, while in the winter you'll certainly encounter some rain which can be a relief.

Spring also sees showers (though fewer than in the winter) and more moderate temperatures.

May to September is, however, the most popular time to visit Porto thanks to the beautiful weather and popular festivals during these months.

Hotel prices can be expensive during the May to September run!

Its best avoid booking near the touristy Avenida dos Aliados and look for budget accommodation in areas near the Mercado da Bolhão or Avenida da Boavista.

Porto is very tourist friendly

You should book well in advance if you want to get the best prices, especially if your trip overlaps with one of the region's popular festivals.

Below are some key events:

Burning of the Ribbons (May)
Nos Primavera Sound (May or June)
Serralves em Festa (June)
Festa de São João (late June)
Regata dos Barcos Rabelos (June)
Festival Mares Vivas (July)
Porto Wine Fest (July)

We recommend you get a Porto card (with Transportation) to make the most of your time here. With that, you will also receive over 150 discounts, including free access to some of the museums in Porto.

How Far is Porto from Lisbon?

Porto is 310km north of Lisbon. This means that the journey takes about 3 hours by public transport depending on traffic.

Driving is the quicker option compared to if you desire flying or taking a boat, but these options are also available to you if you so wish.

We would recommend making the most out of these cities and visit both on the same trip. Don't fly, float, or drive however, just take a coach/bus trip.

porto bridge

This will save you from the overly complicated and frustrating toll system set in place, which exploits the huge amount of traffic that goes between the two most popular cities in the country.

Book a coach today, so you can see both of these incredible cities on the same trip! We recommend Comboios de Portugal and Rede Expressos.

If you or your party is not too keen on the idea of public transport you can always get a private transfer from Lisbon but it is entirely up to you.

Lisbon vs Porto: Conclusion

The issue is, we can't pick one.

Both cities are safe, with Porto seeing a renaissance and gentrification to cater for a major influx in tourism it has seen in recent months.

We would suggest visiting both cities and not just picking one, as they aren't too far from each other and offer unique experiences in every aspect.

Both have an incredible history and picturesque views. Why just pick one? See our list of sustainable travel tips before booking your trip!

---

Dear responsible traveler: This post may contain affiliate links, which means, if you click through and make a purchase, book a tour, or a hotel, we may earn a small commission. This is at no additional cost to you. Your support means a lot and helps us to maintain the quality of this site.