When deciding to visit Lake Como or Lake Garda which do you choose?
As you will probably already know, there are many lakes in Italy but Lake Garda and Lake Como are certainly on the top list of many travelers.
The two lakes offer not only beach and sun, but also the opportunity to go on exciting excursions by boat, walk through nature reserves and picturesque villages, taste excellent food and wines, and practice water sports.
Stuck between Lake Garda and Lake Como? On one side there's Lake Como, an elite holiday destination, famous for its villas facing the shimmering lake waters.
On the other side, Lake Garda with a plethora of things to do and see to keep you busy for weeks, if you like. So when comparing the two, which one is better?
Lake Como or Lake Garda: Which Italian Lake to Visit?
It's not easy to decide which Italian lake to visit when looking at Lake Como and Lake Garda but there are some definite factors that you can take into account.
In this comparison guide, we'll outline some differences between the two lakes to help you understand what they offer and what to expect from both destinations.
Best time to visit Lake Como vs Lake Garda
Weather conditions and temperatures are some of the most researched terms when it comes to booking a vacation or short break in Lake Como or Lake Garda.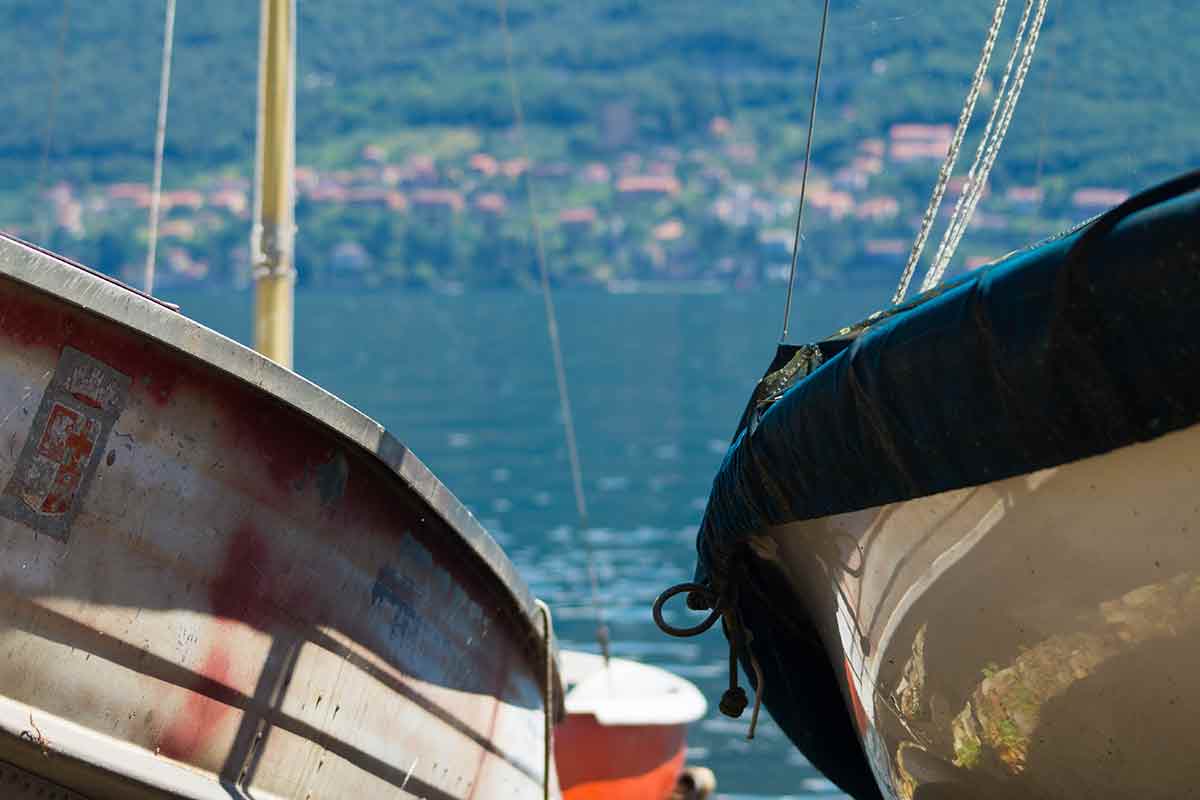 Let's start with Lake Garda! Here the climate is mitigated by the lake waters, and temperatures are ideal to grow vines, olive trees and citrus fruits. The temperatures can get up to 30 °C during summer and hardly ever reach 0 °C.
Usually, Italy in April is pleasant but here the winters are quite cold, while the summers are hot and sunny, but this area is no stranger to thunderstorms.
Due to the thermal contrasts between the mountains and the plain, plus the high humidity rate caused by the lake, thunderstorms break out often around Lake Garda in summer, sometimes strong and associated with hail and gusts of wind.
Overall, the best time to visit the largest Italian lake is late spring and summer. However, during spring you may want to carry a travel Umbrella just in case.
Lake Como on the other hand, despite being very close to the mountains, can count on a temperate climate. Winters are milder and summers are cooler than the surrounding areas not bathed by the lake waters.
The average temperature ranges from 7 °C in December to 28 °C in July. The climate in Lake Como is perfect for practicing sports such as Kayking, but also ideal for those who wish to switch off from their daily routine and relax.
The best time to visit Lake Como is between March and November when temperatures are warm and the sun shines for longer. Both lakes can be visited all year long, but spring and summer are the best seasons to be around here.
🏆 Our winner: Draw
Getting to Lake Como vs Lake Garda
Lake Garda is slightly easier to reach compared to Lake Como. The most convenient and closest airports to Lake Garda are Valerio Catullo airport in Verona and Orio al Serio airport in Bergamo.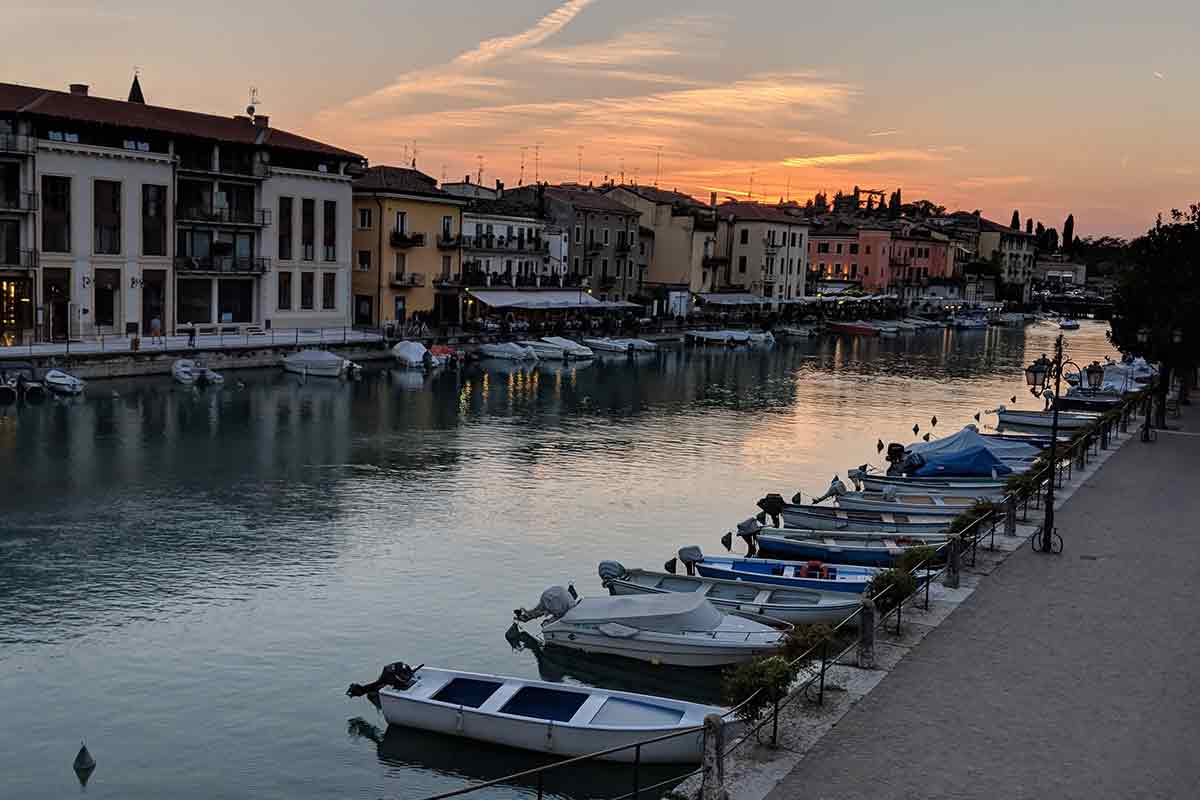 Valerio Catullo is about 20 kilometers from Peschiera del Garda while Orio al Serio is about 90 kilometers away from the lakeside resort. From Verona airport, there is a shuttle bus service that allows you to reach Lake Garda by bus.
This bus stops in every town on both the Veneto and Trentino Alto Adige's lakesides. If you want to get to a town on the other side of the lake, you can always hop on a ferry!
If like many other visitors you have decided to hire a car while in Italy, it is also very easy to get to Lake Garda by car as it is well-connected to the two important motorways, the A22 Brennero-Modena and A4 Milan-Venice.
Finally, you can stop in Peschiera del Garda and Desenzano del Garda-Sirmione if you're traveling by train from Milan, Verona or from Venice to Lake Garda which are two other popular routes that visitors exploring Italy like to take.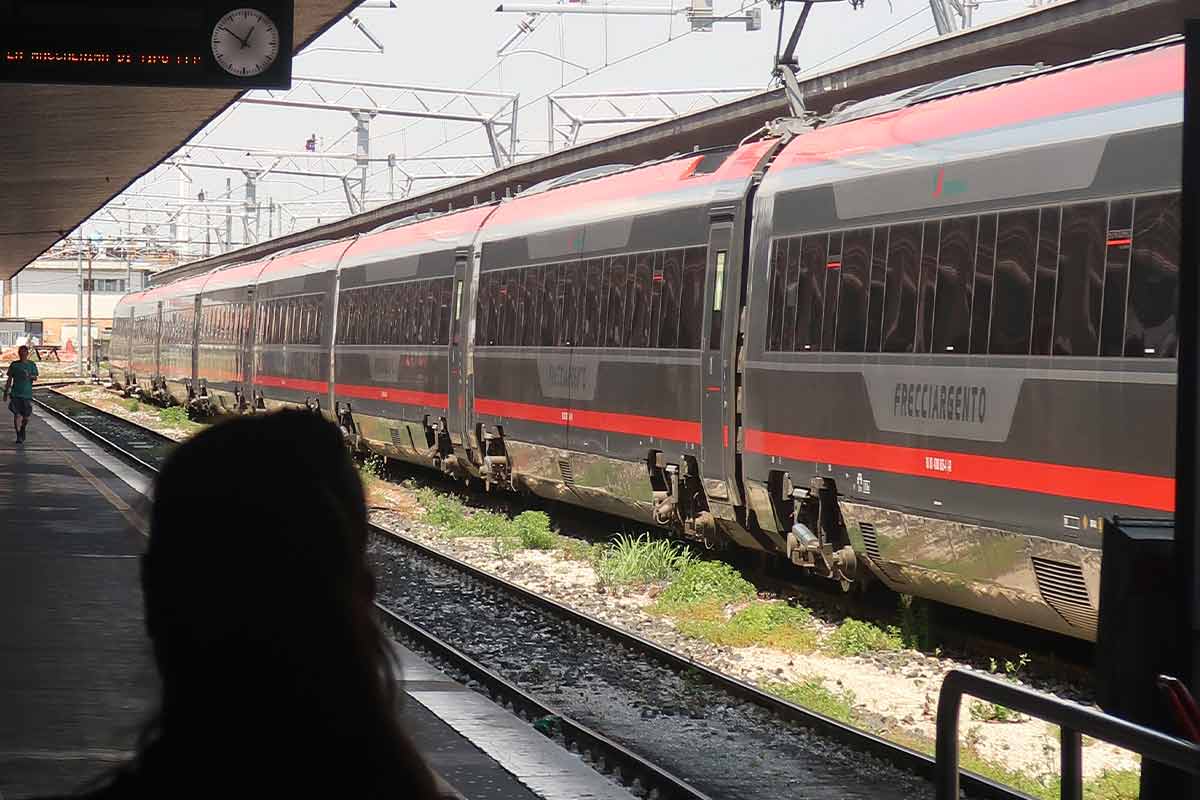 You will find that Lake Como is well-connected to Milan but not so well-connected to other important cities such as Rome as it is quite far from them.
For this reason, when choosing between Lake Garda and Lake Como, for many, Lake Garda is seen to be better connected by public transport.
The main airports are:
Milan Malpensa
Milan Linate
Orio al Serio airport (Bergamo)
If you're visiting Como from Milan, you can hop on a Trenord train (Lombardy regional train) that leaves every hour.
In case you'll be driving, from Milan go towards Como/Varese/Autostrada dei Laghi and then take the motorway A9 Lainate-Como-Chiasso.
Let's say you prefer not to use public transport and don't want to hire a car, why not join this popular day trip from Milan to Bellagio, Varenna and Como instead?
🏆 Our winner: Lake Garda
Things to do in Lake Como vs Lake Garda
Lake Como is the third largest Italian lake and winds along 170 km of coastline among sandy beaches, promontories and woods.
In the central area of ​​the lake you can find beautiful villages such as Bellagio, Menaggio and Varenna among fantastic views, prestigious historic villas, Italian gardens and the breathtaking panorama of the Alps in the background.
The things to see in Como are the majestic Cathedral of Santa Maria Assunta, the Basilica of San Fedele, Villa Olmo, the Volta Temple and the imperious Baradello Castle.
We suggest taking the funicular to Brunate and climbing up into the mountainous areas to enjoy the incredible panorama of Lake Como.
It is also worth mentioning Cernobbio, a town on the southern shores of Lake Como, right at the foot of Monte Bisbino. It's famous all over the world for Villa d'Este, which is know as one of the most famous luxurious hotels in Italy.
Lake Garda offers activities for different types of travelers, from couples to families, unlike Lake Como, which is seen as an exclusive lakeside destination. Be sure to visit Peschiera del Garda and its Roman ruins and two UNESCO sites.
If traveling with children, spend a fun day in Gardaland, the largest theme park in the country or CanevaPark, the aquatic park which is perfect for all families.
Other lakeside villages worth visiting are Desenzano del Garda, Sirmione with its beautiful castle facing the lake, Bardolino to try the local wines and visit the vineyards and the off-the-beaten-path Limone sul Garda.
Let's also not forget the amazing hiking trails around both lakes, anyone interested in outdoor activities should carry some comfy shoes with them then there's water sports facilities if you want to try windsurfing or canoeing.
🏆 Our winner: Lake Garda
Food in Lake Como vs Lake Garda
When it comes to food, Lake Como and Lake Garda both have rich and delicious regional cuisines with typical products from the lake.
There's also a strong connection with the classic alpine cuisine, in fact one of the most common dishes to try around Lake Como is polenta, which is cornmeal often accompanied by local cheeses, meats, fish or potatoes.
The shad is a typical fish that lives in this lake's waters. Fishermen dry shads under the sun and store them in layers, with bay leaves. They can be cooked on the grill or seasoned with oil and vinegar. Delicious when done right!
Risotto with perch is also a must-try food in Como and as a dessert don't leave without trying the miascia, a sweet bread cake. See this local food tour for more.
Lake Garda is also famous for its cuisine, depending on which side of the lake you're currently based (Lake Garda is part of Veneto, Trentino Alto Adige and Lombardy regions) can change a lot!
There are many fish based dishes like the grilled pollen (Coregone Lavarello), grilled sardines and tench risotto. All dishes must be accompanied by local Garda wines such as the world-famous Bardolino, the Bianco di Custoza and Lugana. Why not try out this food and wine tour to learn more about the crusine?
🏆 Our winner: Draw
Places to stay in Lake Como vs Lake Garda
Lake Garda attracts million of tourists every single year for its picturesque villages overlooking the lake and the vast number of activities you can do.
There are different places to stay all around the lake, with a wide choice of camping sites if you're traveling on a budget or old palaces in the city centers.
When comparing Lake Como vs Lake Garda, the latter is perfect for couples, families and retirees alike, places such as Gardalake hostel offer solo travelers a cheap stay too. Whilst Lake Como is for travelers with a medium to high budget.
It's no coincidence that Lake Como is a popular location for luxury weddings with couples arriving all the way from the US to get married here.
You can expect to pay much more to stay in Lake Como than Lake Garda, but that can be justified by the exclusivity of some hotels and villa locations many of which offer stunning lake and mountain views and unique facilities.
For example, check out the unique features and attention to detail in some of our favorite hotels in and around Lake Como: Grand Hotel Tremezzo, the Grand Hotel Victoria concept & spa near Varenna and Hotel Belvedere in Bellagio.
Some of the best places to stay in the Lake Garda region are Sirmione, Bardolino and Desenzano sul Garda. There's a wide range of hotels, apartments and camping sites able to please any type of traveler (and budget).
See the 4 star Hotel Eden only 100 meters away from the Sirmione castle and the Park Hotel in Desenzano del Garda, only a few meters walk away from the beach.
🏆 Our winner: Lake Como
Cost of Travel to Lake Como vs Lake Garda
Now the most asked question: is Lake Como more affordable than Lake Garda? With its opulent villas, it's no secret that Lake Como is an elegant destination which often translates into higher prices to eat out and for accommodation.
Prices go particularly up during the high season for both destinations. That's why we always recommend avoiding summer and traveling instead of early spring or autumn when the prices are considerably lower.
In Lake Garda's most popular towns, you can expect to pay on average 170 euros per night, whilst in the Lake Como region at least 250 euros per night (prices for the end of October 2023).
It's also important to understand that even if both lakes are not the cheapest places to visit in Italy, it's possible to visit them on a budget.
If on a budget, we recommend that you avoid the major city centers and most popular touristic spots and you'll find affordable places to spend your stay. Also, there are some great hostels in Lake Como that will save you a ton of cash.
🏆 Our winner: Lake Garda
After comparing Lake Como vs Lake Garda we can safely say that Lake Garda is generally more accessible by car and public transport, with a wider range of places to stay, suitable for more types of travelers.
As you will know, there might be even more factors to take into consideration, but these are the main ones which we have chosen to highlight in this guide.
Lake Como vs Lake Garda: Which will you visit?
Even though we believe that Lake Garda is the final winner for various reasons, in particular affordability and accessibility, Lake Como is absolutely worth visiting.
If budget is not your concern and you want to enjoy the wonderful views that only Lake Como and its lovely lakeside towns offer, make sure to book in advance.
No matter whether you end up choosing Lake Garda to Lake Como or vice versa, you can be reassured that you'll have a fantastic stay in both places.
Both of these Italian lakes offer many things to see and do that will allow you to connect with these incredible Italian gems.
Be sure to read some of our sustainable travel tips to ensure that your trip has the most positive impact on the local environment while spending time here in Italy.
---
Dear responsible traveler: This post may contain affiliate links, which means, if you click through and make a purchase, or book a tour or a hotel, we may earn a small commission. This is at no additional cost to you. Your support means a lot and helps us to maintain the quality of this site.