Are you thinking of visiting Italy in May?
May is the perfect month to visit Italy because Spring is the ideal season for a well-deserved vacation in the Bel Paese, even if we also like it in early autumn.
Think about it, you can visit Italy in May and stay for a short weekend or, if you have more time you can go on day trips and soak up that Italian sunshine!
May is perfect not only to explore European art capitals such as Venice, Florence and Rome, but to also go hiking in the mountains, walk around the city parks and relax by the shores of shimmering lakes. What more could you want?
No matter whether you decide to explore the country by car or train you can admire the most diverse landscapes that can shift in a matter of kilometers.
Italy in May
This guide is designed to give you a locals' insight into the weather in Italy in May so you can begin to make a decision on where to spend your precious time.
Not only that, we will show you some of the best places to visit in Italy in May by sharing some of the most popular Italian cities that travelers like to go to below!
We can talk about the differences between the north and south of Italy all day. But first, if you're not quite sure if Italy in May is right for you, then it's important to understand exactly why the Spring season (overall) is the best time to visit Italy.
Is Italy worth visiting in May?
Here are 3 reasons that will (easily) convince you to book that flight to Italy ASAP!
The weather is pleasant and quite warm, wherever you decide to go in Italy in May. You can expect some rainy and windy days so you may want to carry portable Umbrella just in case, but generally temperatures don't go below 15 °C. In Southern Italy they go considerably high, around 25 °C or over. A dive in Puglia's or Sicily's waters? Only for the bravest! Seawater's temperature is only around 18 °C in May, so swimming is not advised.
If you spend at least 4 days in Italy, then spring and the month of May is the perfect for doing day trips and excursions from the city you're in. Since weather is mostly sunny and pleasant, there's no better way to make the most out of it than to spend as much time as possible outside.
In May there are plenty of events going on all around the country. The most important to remember are: the 1st of May (Primo Maggio), during which workplaces and schools are closed and 2nd of May, Mother's Day (Festa della Mamma), a day to celebrate all mums and mother figures.
Now that you know that Italy is a great place to visit in May, let's take a look at what you can do in some of the most important city destinations for new visitors.
We understand that the weather is a dealbreaker for many travelers who wish to gravitate towards warmer climates, but there really is much more going on here.
For those obsessed with checking the weather, here is what you can expect:
Italy in May weather
Out of all the months and seasons of the year, the weather in Italy in May is very enjoyable and we believe it is actually the best month to visit the country.
The minimum temperature in the north of Italy, where it's usually slightly colder, don't tend to go below 15 °C and the maximum can reach 25 °C nationwide.
Rainy days can be expected even in May, even though the chance of rainfall is considerably low compared to when visiting Italy in April. The number of daylight hours increases which means even more time to spend outdoors, relax while sunbathing and go for long walks in your chosen city destination.
Finally, the cold days are gone in Italy and if you're travelling in May you can carry on your luggage dresses, t-shirts, tops and shorts.
Beware that if you want to visit religious places, you should respect the dress code established. We recommend carrying a foulard and cardigan to cover your shoulders when visiting air-conditioned locations. Men can wear shorts as well, linen shirts and a merino wool jumper for those windy days and the evenings.
Take a jacket with you for the evenings and some comfy sneakers or sandals to walk around. Remember to protect your eyes from the sun by wearing a good pair of sunglasses and to carry a sunscreen like this one to protect your skin.
Things to do in Italy in May
Below we have compiled a list of some of the places to visit in Italy in May so you can learn about the best things to see and do during your stay.
Let's start in the north of Italy with the city of canals and bridges: Venice!
Venice in May
Built on more than 100 small islands in the middle of the Venetian lagoon and known as 'the most serene' (how it was called in the past) place to visit in Italy in May is Venice. Here there are no roads just canals, proper waterways to navigate to enjoy the best views in the city with the nice spring weather.
The most famous attraction is the Grand Canal which is flanked by Renaissance and Gothic palaces that you can cross during a gondola ride any day of the week.
In Piazza San Marco stands the Basilica of San Marco enriched by golden Byzantine mosaics narrating the story of Venice patron saint St. Mark, and the bell tower, from which you can enjoy panoramic views from the city's rooftops.
Also, the Doge's Palace and the Bridge of Sighs are not to be missed since you can cross the bridge during your tour of the palace. Also, with plenty of sunshine during this time of year you take Instagram-worhty pictures from some of the most famous bridges of Venice: Ponte di Rialto and Ponte dell'Accademia.
May is also the ideal time to visit markets, get lost around the campi (public piazzas) and visit other Venetian islands such as Murano, Burano and Torcello.
Rome in May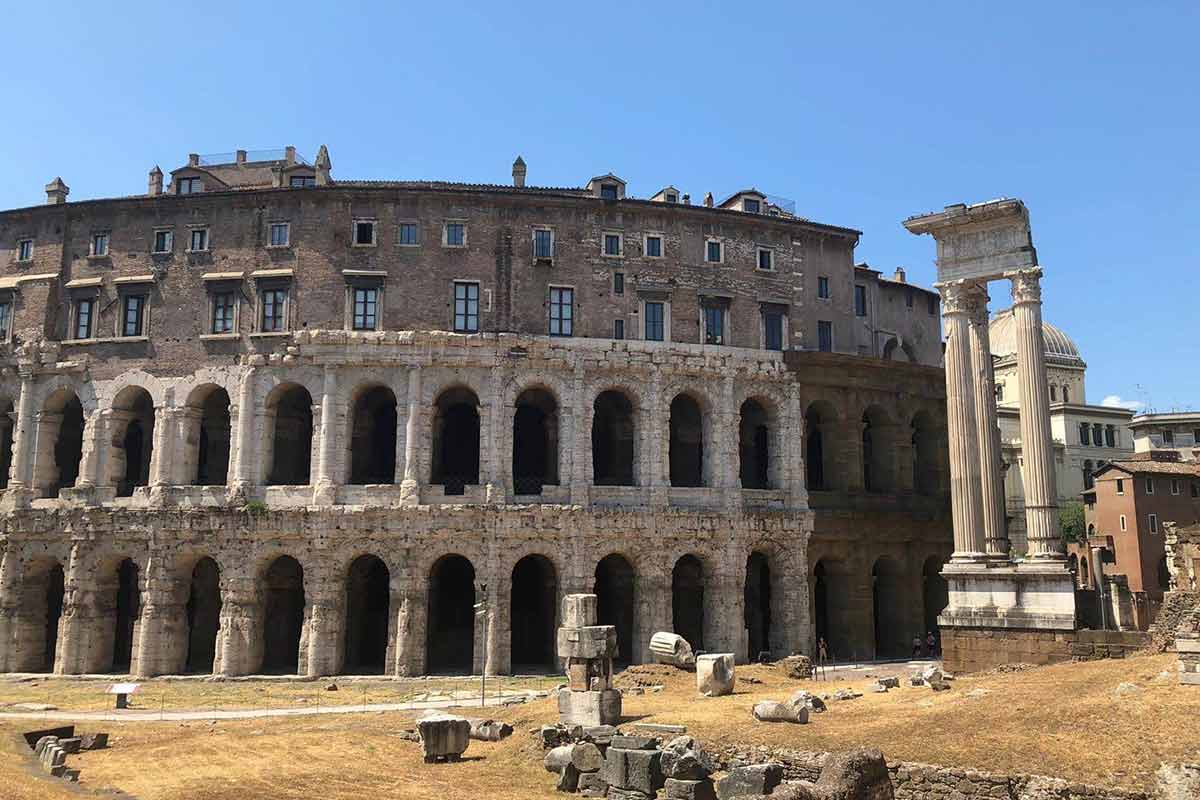 It is no secret that each and every year Rome attracts millions of tourists, all excited by the idea of walking through the Roman ruins of the Colosseum and Roman Forums. The Eternal City is a concentration of art, history and architecture, that you literally will not find in any other city in the world.
Over the years, Rome's cultural offering has improved and there's almost always something going on in the way of exhibitions. You can spend hours exploring the most beautiful piazzas in Italy's capital city, such as Piazza Navona and Piazza di Spagna just staring at the beauty of fountains like the iconic Trevi fountain.
Since temperatures can easily go over 20 °C in Rome in May, be sure to go for a long stroll around Villa Borghese and aim to visit this attraction with this guided tour. If you're spending more than 3 days, there will be time to visit other places outside Rome such as the beautiful Villa D'Este and Hadrian's Villa in Tivoli.
An important, an unforgettable event here is the May Day Concert (Concerto del Primo Maggio), basically a huge concert which, since 1990, has been organized annually on the occasion of Labor Day in Piazza San Giovanni in Laterano.
Amalfi Coast in May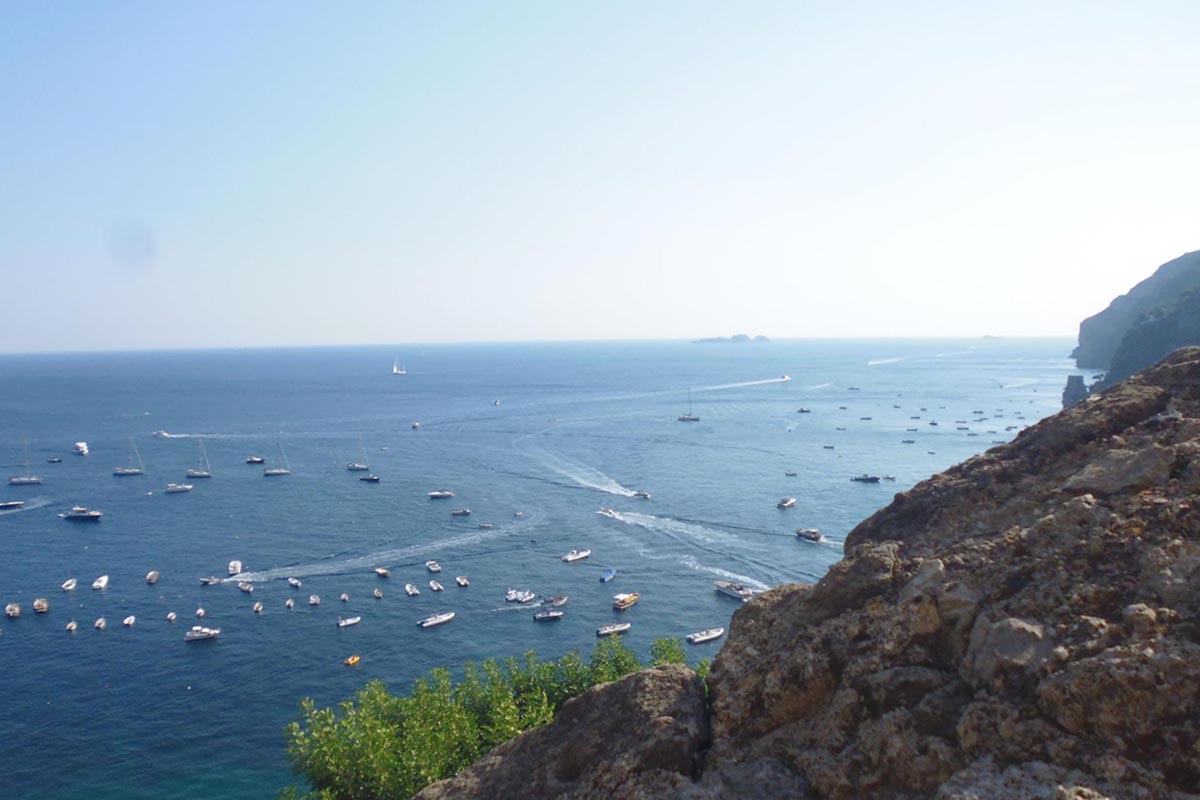 May is probably the best month to visit the Amalfi Coast. One of the most popular beach destinations in Italy which counts on mild temperatures, long days and nature is in full display with its Bougainvillea flowers in bloom.
At the same time, more tourists arrive in the Amalfi Coast, invading the narrow streets and steep stairways of Positano and Amalfi. The afternoons are ideal for exploring (slowly) this fascinating stretch of coast and its picturesque villages.
May is the perfect time of the year to go hiking along the Path of the Gods, spend time sunbathing by the Marina Grande in Positano (or from the oyster bar of Le Sirenuse hotel), visit the archaeological sites of Pompeii and Ercolano for a day and even go on a boat excursion along the coast of Sorrento and Capri.
Florence in May
Florence, which also know as the 'cradle of the Renaissance', is an open-air museum. A day in Florence must include a visit to the Basilica of Santa Maria Novella with its beautiful facade and Santa Maria del Fiore, the Duomo of Florence, one of the greatest architecture masterpiece in Italy, with the Brunelleschi's dome and Giotto's bell tower.
Just so you know, this is by far one of the most visited attractions in Florence, so be prepared for long queues, unless you get access via the private entrance with this skip-the-line ticket that is highly recommended if you're short on time!
Visiting Florence in May is the perfect time to be able to go for a stroll along the Arno river and take pictures from the Ponte Vecchio, a city icon. Another extraordinary panoramic view can be enjoyed from the Michelangelo Terrace, which can be reached on foot from the Ponte Vecchio (1.5 km).
When it comes to open air museums, some of the most beautiful gardens in Italy are right here in Florence and called Giardini dei Boboli. You can get your reserved ticket in advance which will allow you to visit them at your own pace.
Whilst you'll be spending your holiday in this Italian city, don't forget to have lunch with the most loved street food from locals: the schiacciata with porchetta is a must try here, and for dinner, why not try the ribollita and the fiorentina steak?
Naples in May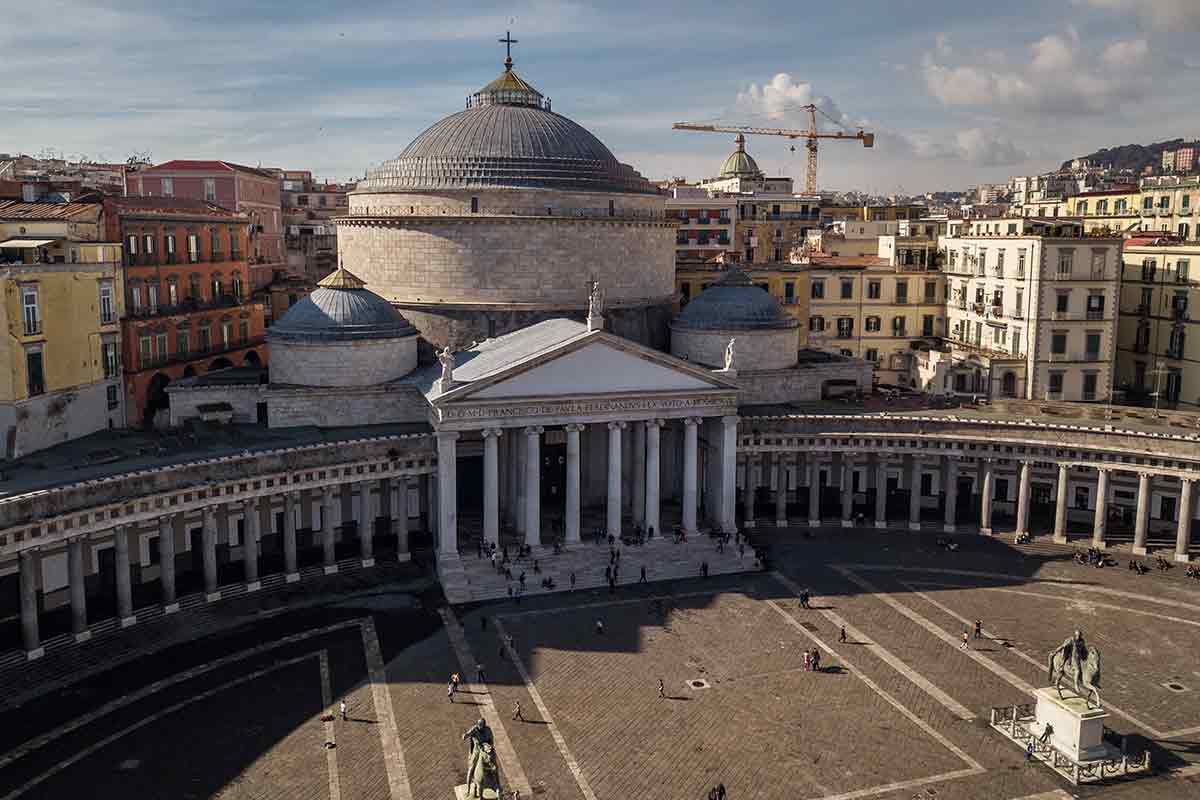 Naples is one of the must-see places in Italy in May. Its cultural and gastronomic offer is by far what attracts thousands of tourists who arrive (with empty stomachs) to this beautiful city full of pizzas, parmigiana and sfogliatelle.
On a sunny day in May, we suggest going on a stroll around the historical city centre and explore Via dei Tribunali and around the Spanish Quarters. If it's your first time, go to Piazza Plebiscito first and walk down Galleria Umberto I.
In the old town you can't skip a visit to the Santa Chiara cloister, the sculptural masterpiece of the Veiled Christ inside the Cappella Sansevero and join a guided tour of the Underground Naples to be taken through 2,400 years of history.
May is the perfect month to walk along Via Caracciolo, the promenade from where you can admire the lovely views of the Gulf of Naples.
Make sure you stop by Castel dell'Ovo to take pictures and from the Posillippo, for fantastic views over Naples and volcano Vesuvius. Since temperatures can go over 25 °C, the weather conditions are ideal to visit Pompeii and the Vesuvius mountain and go on a boat tour to Capri or Sorrento, Positano and Amalfi.
Naples is a food paradise destination, there's no better way to make the most of a day out in Naples than learning more about its cuisine through a local! During this street food tour with a local guide you'll taste some of the best limoncello, gelato, pizza a portafoglio and pizza fritta, frittate di pasta and crunchy sfogliatelle!
Milan in May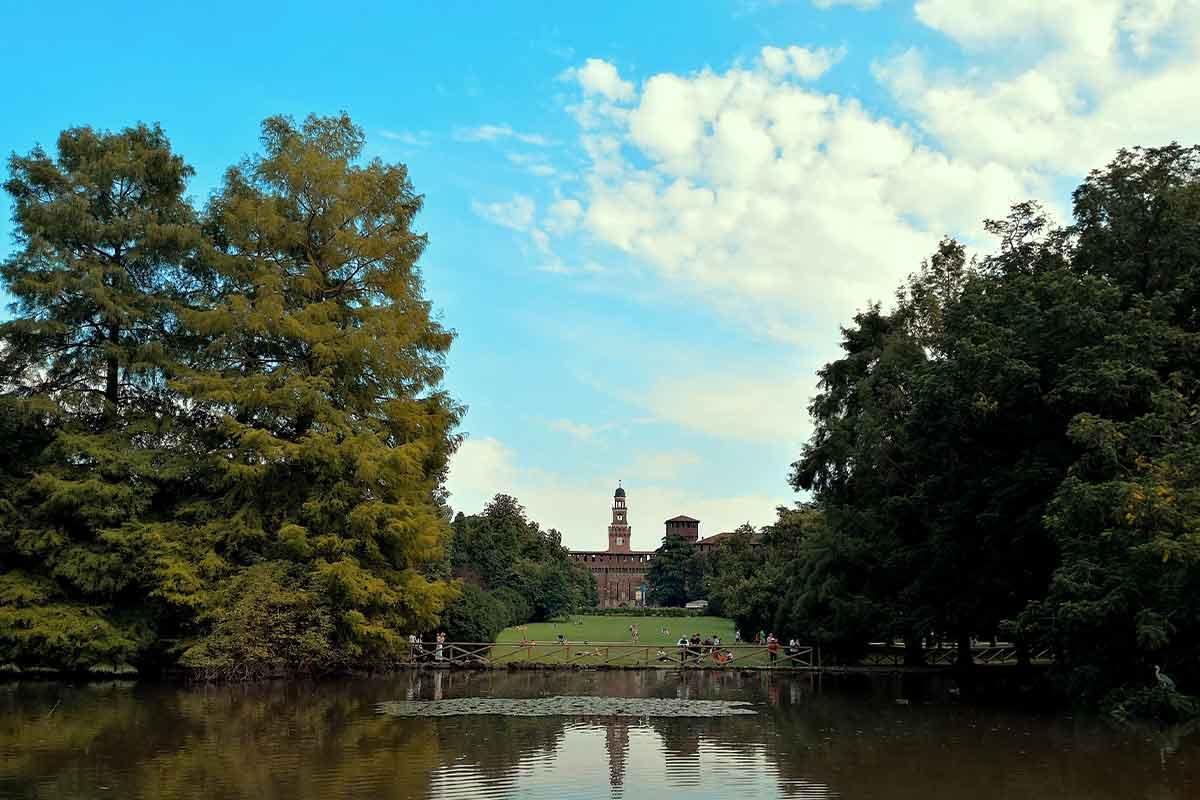 In Milan in May you can enjoy the open-air restaurants, take part in the city events or concerts, visit art exhibitions and much more. Warmer temperatures also allow you to organize day trips to the close by mountains and lakes.
Some of the best things you can do in Italy in May is aperitivo on bar terrace, and in Milan, the best place to do it is along the Navigli from 6pm onwards.
You can also join this aperitivo tour with street food and find your feet in this area of the city with a local guide that will share precious tips about traditional foods.
On a nice spring day, go for a walk in the Sempione park, and why not, have a picnic? Head to a supermarket and get fresh bread, Parma ham and gorgonzola cheese, both originally from the Lombardy region and you're good to go.
On a cloudy or rainy day, you can go shopping in the Quadrilatero neighbourhood, visit the majestic Duomo and its terraces and join a guided tour of the Pinacoteca di Brera there is plenty to do no matter what the weather is like.
Finally, if you're spending more than 3 days in Milan, we highly recommend visiting the Lake Como. You can either get a train and get to Como city in less than an hour or take part on this Lake Como and Bellagio day trip.
Palermo in May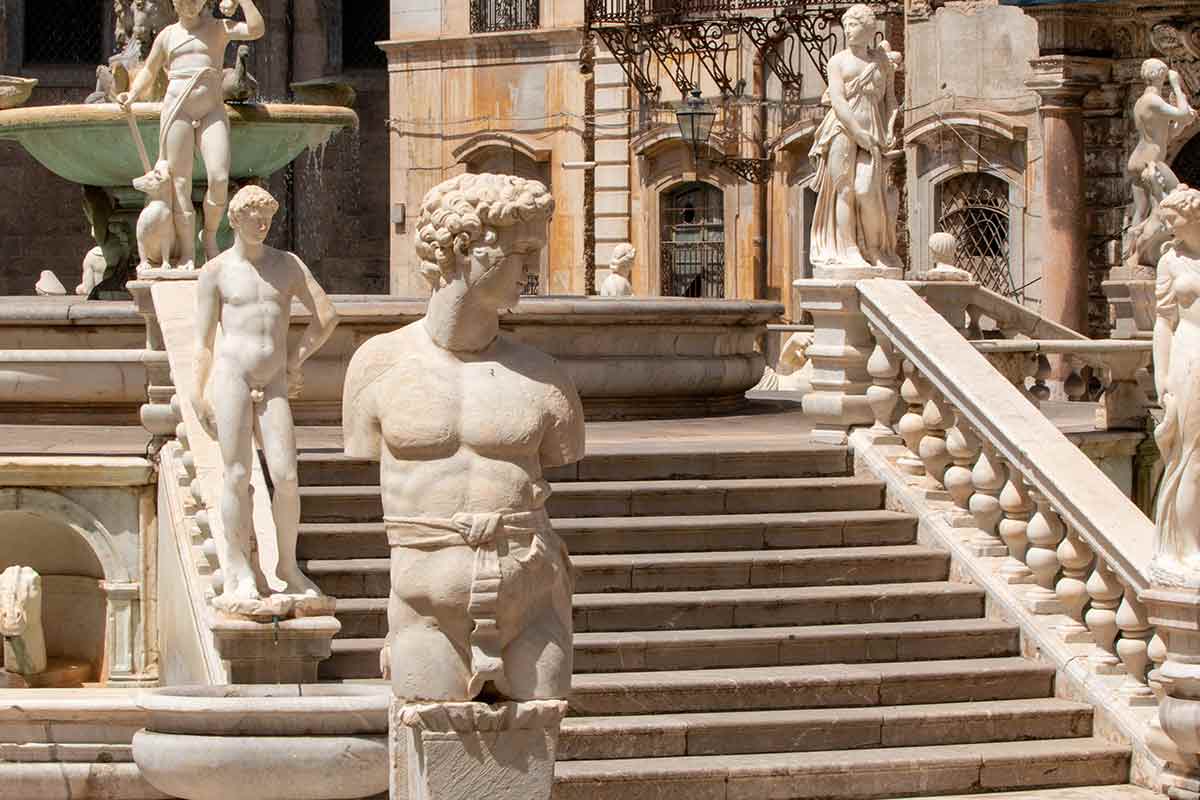 Going into the deep south, there's Sicily, the largest island in the Mediterranean Sea which we believe is one of the best places to visit in Italy in May.
Its capital city is Palermo, known for its Baroque churches, the local markets, the city beaches and the mouthwatering cuisine.
Spending a long weekend in Palermo is the best way to have time to slowly explore its streets and main attractions. Hop on the bus tour and for 24 hours stop at any time you want to visit Palermo's most iconic locations and landmarks.
Spend a day in Mondello, with its white soft sand facing the turquoise waters of the Mediterranean Sea. This beach is loved by locals that usually go there to relax and spend time with friends, sunbathe and have picnics by the seaside.
Stay at Villa Malandrino for incredible sea views and a relaxing stay by the beach. Sicily was ruled by many conquerors, but the ancient Greeks left their mark.
This excursion to Segesta, Erice and Pans Salts is the perfect mix of archaeology, city sightseeing and nature as you'll visit a Greek temple, the medieval town of Erice and see the famous Salt Pans of Trapani, a one-in-a-kind natural reserve.
Finally, if you really enjoy getting to know a place through its local cuisine, this street food and history walking tour will hit the spot! You'll explore the city, see and smell the produce in its markets and try traditional food like arancini and cannoli.
Italy in May
So, now you know what to expect! No matter where you end up going while in Italy in May, you can be assured that the weather will be on your side.
May is the perfect month to visit cultural cities like Venice and Rome, but also to plan some day trips and excursions to make the most of the long days.
Temperatures are pleasant, there's less chance of rain than in April but crowds start to increase as more tourists choose to travel, especially on the 1st of May (and weekends). Book your stay at least 2 months in advance to get better deals.
For more ideas, why not check out our 2 weeks in Italy itinerary, which is ideal for the month of May? On this road trip you'll stop in Venice, Bologna, Florence, Rome and Naples, and even stay on the beautiful Amalfi Coast to name a few.
---
Dear responsible traveler: This post may contain affiliate links, which means, if you click through and make a purchase, book a tour or a hotel, we may earn a small commission. This is at no additional cost to you. Your support means a lot and helps us to maintain the quality of this site.