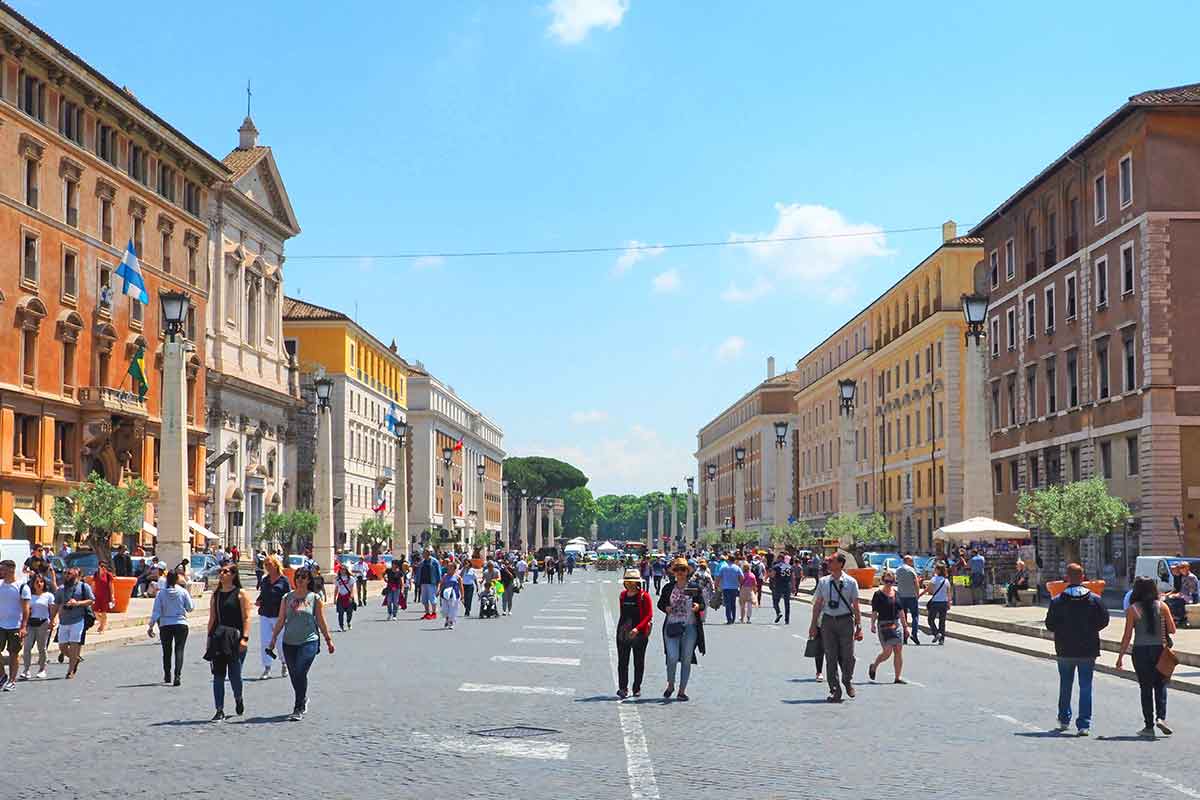 Are you wondering whether it is worth visiting Italy in April or not?
After spending many years in this country, we can absolutely say that it is worth your time as in April the days get longer and the temperatures become milder.
In Italy you'll often get days that are over 20 °C and with the start of spring, nature begins to come to a new life and everything seems to shine under a different light.
For most people on vacation in Italy, when the weather conditions are favorable, it makes sense to want to spend as much time as possible out in the open air.
Italy in April
This guide is designed to give you a locals' insight into the weather in Italy in April so you can begin to make a decision on where to spend your precious time.
In April, there are two essential events very heartfelt by Italians, therefore celebrated all around the country: Easter and Liberation Day, on the 25th.
But which are some of the best places to visit in April in Italy? Let's start to discover some of the most popular places that many travelers like to go to below!
Is Italy worth visiting in April?
Yes, Italy is worth visiting in April and since Spring is one of the best times to visit Italy, from north to south or vice versa you can be sure to enjoy your time.
Spend time going to museums and visiting monuments, and do outdoor activities knowing that the weather conditions are considerably better compared to the previous month. We've already spoken about Italy in March so read our verdict.
However, let's start this insightful travel guide by looking the why because you'll find that visiting Itay in April is a good idea for more reasons that one.
Here are some of our reasons why you should visit in Italy in April:
Weather conditions are pleasant, with fewer rainy days compared to March and temperatures can go over 20 °C. If you're traveling in the southern regions, you can also expect higher temperatures than the north. But you can just stay reassured that you can go anywhere in Italy and enjoy mild or warm temperatures with plenty of sunny days.
In April, there are fewer crowds compared to the summer months, when most of the tourists spend their holidays in Italy, mainly going to the beach. This is a great opportunity to visit slowly the country, don't queue in front of the top attractions and enjoy a meal at a restaurant in the quiet.
April in Italy is still considered low season, and this means affordable flight and accommodation prices. If you're traveling on a budget, avoid traveling around Easter and the long weekend of the 25th of April.
With this in mind, plus knowing that there are many local festivals taking place all over Italy, there's really no better month than April to travel to the Bel Paese.
Italy in April weather
Spending a vacation in Italy in April is a great idea, because you'll be avoiding the summer crowds (which can be a nightmare) and it is also quite easy to find good deals when it comes to booking your hotel accommodation and flights.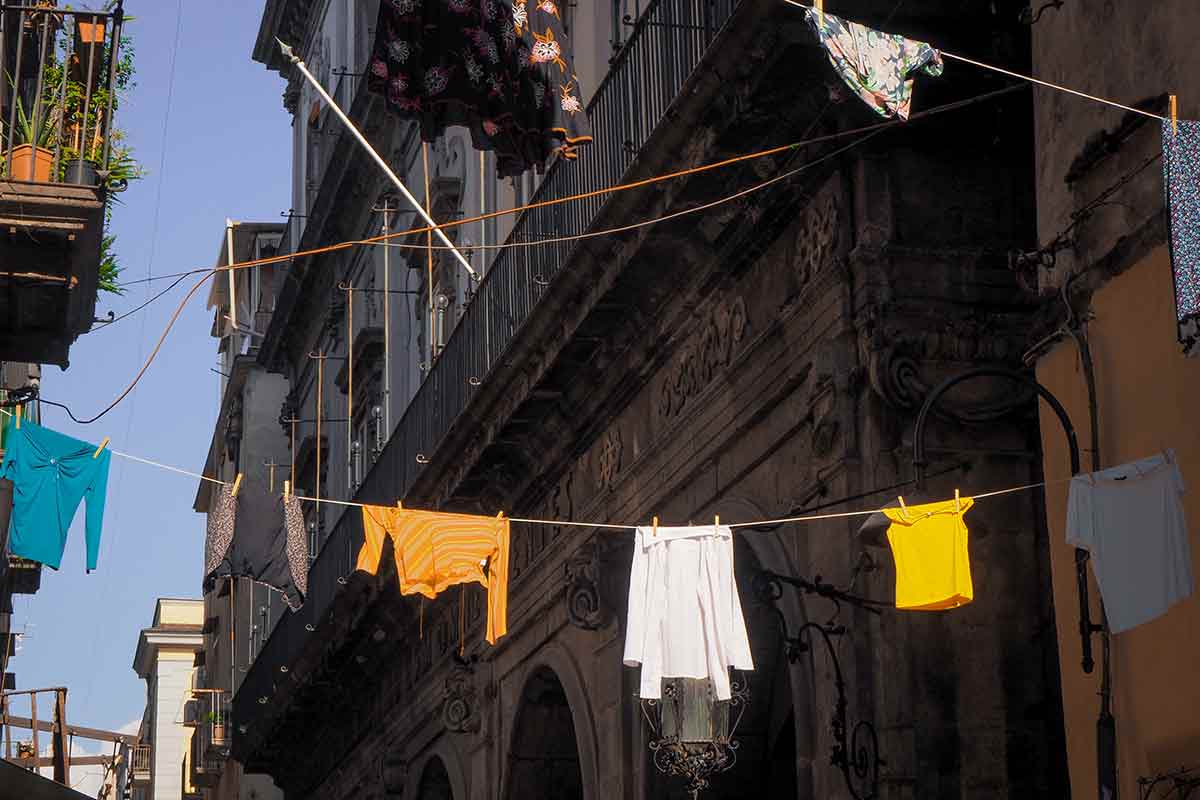 Remember to check the Trenitalia and Italo websites if you like the idea of traveling by train to more than one city, and check their latest promotions.
We've got you covered with our 2 weeks in Italy itinerary, all you need to do is to pick and choose your favorite places! Just keep in mind that in April, temperatures in Italy range between 14 and 25 °C, depending on where you are, the north is normally colder and the further south you go, the warmer it gets.
With a sharp increase in the amount of sunny days and pleasant temperatures, you can spend time visiting museums and art galleries as well as outdoor, exploring cities by foot and even go on day trips.
While in Italy in April wear cotton clothes like t-shirts and jumpers, get dressed in layers so you can easily shed some layers when it starts getting hot.
If you'll be exploring the landmarks you'll likley do a lot of walking, aim to wear some comfortable shoes or boots and carry a small umbrella, in case it rains.
Things to do in Italy in April
Now, the best part, let's begin to take a look at a handful of things to do in Italy in April, by starting with the world's most beautiful city on the water!
Venice in April
With the start of spring, the month of April makes the city even more enchanting. It's the ideal time to be in the open air, wander around the narrow streets called 'calli', cross bridges and watch gondolas seemlessly navigating the canals.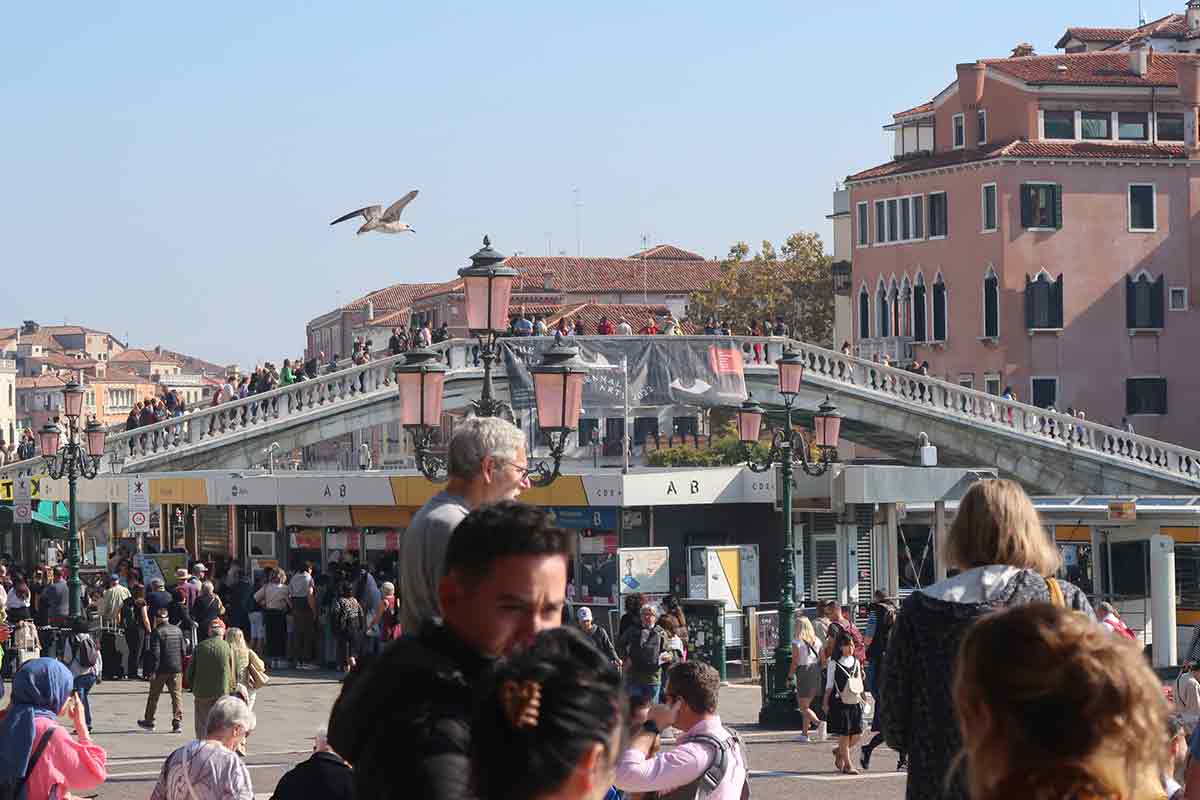 In Venice in April temperatures range between 13 and 18 °C, making of this month one of the best to explore the city. You can join this popular street food tour and discover more about the Venetian's food scene and also book your own private gondola ride to be able to see the city from a different perspective.
Often Easter is celebrated in April and this is the perfect occasion to have a traditional meal with family or friends. The 25th of April is Liberation Day celebrated all over Italy, and day dedicated to Venice's patron saint, Saint Mark.
This festivity is also called 'Festa del Bocolo' and it's symbol of the celebration is the red rose bud (the bocolo in Italian), a sign of love that knows no bounds.
On this day, don't miss, the procession to St. Mark's Basilica. If you spend more than a couple of days in Venice, find some time to visit other islands in the lagoon such as Murano, Burano and Torcello for the ultimate Venetian exerience.
Rome in April
April is one of the most awaited months in Rome, Italy's city capital which counts on a plethora of things to see and do. The average temperatures range between 14 and 19 °C and even if possible, during spring all over Italy, rain is common, and there's a decreasing risk compared to the previous month.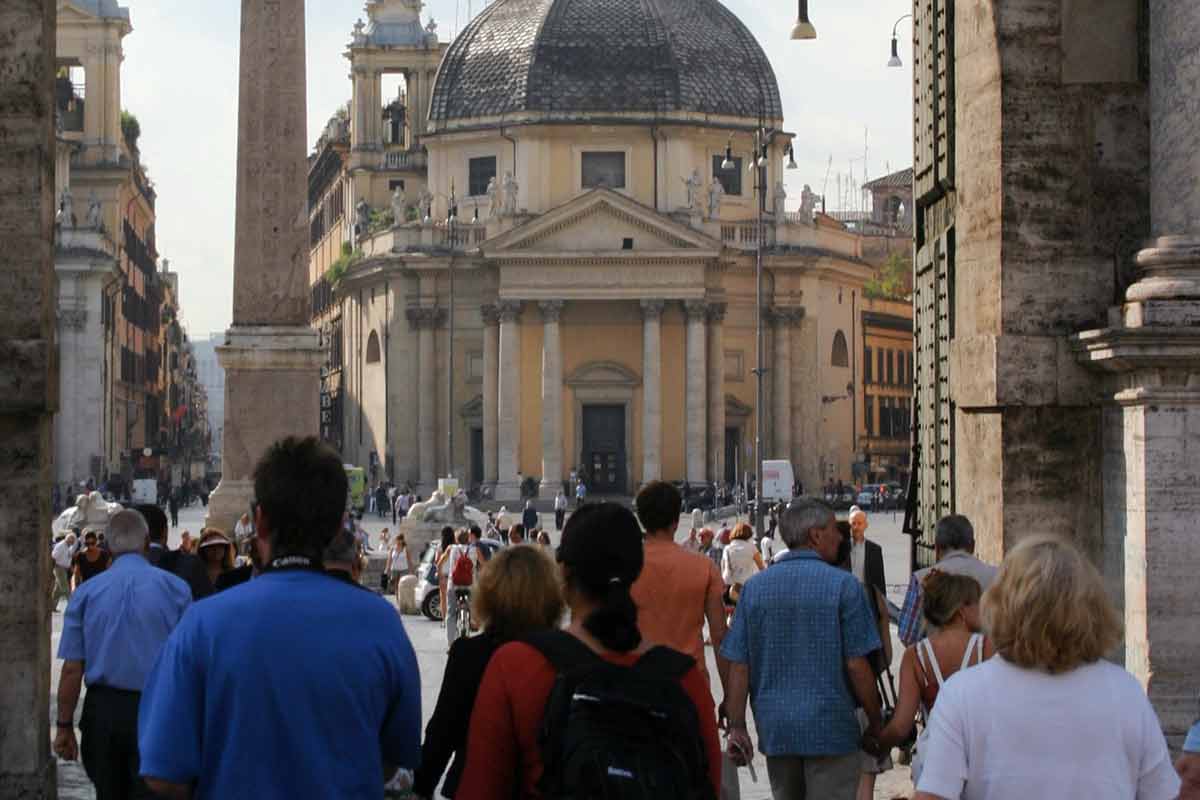 Visiting Rome in April is a great time to celebrate Holy Week, when Easter falls on this month. If you're traveling later on, it's worth knowing that the 21st of April the Roman Christmas is celebrated, this is the day when Rome was founded.
For this event, there is a parade of thousands of men wearing spears and shields and women wearing elegant tunics like they did during the Roman Empire era.
While here you have the chance to slowly discover the hidden corners of the city and try Roman cuisine.
This guided walking tour (with entry ticket to the Colosseum) is perfect if you're a first time visitor and want to know more about Rome's history. Wake up early and make the most of the Roman sunny days by going for a stroll around the Borghese Villa gardens and in the end visit the stunning Borghese Gallery.
Amalfi Coast in April
If you're planning to travel to Italy in April, then the Amalfi Coast is perfect to visit during this month. As finally, hotels and shops reopen their doors to the public.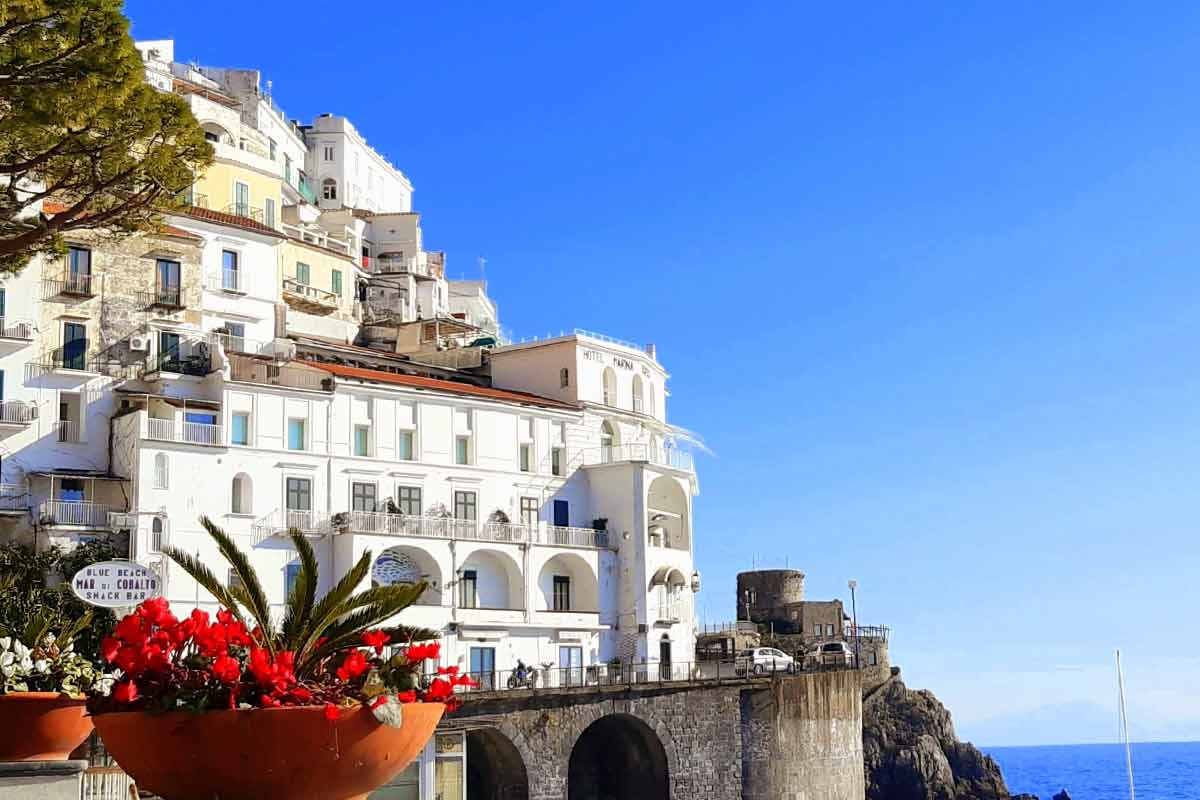 Since it's the first month after reopening for business, you should be able to find affordable accommodation prices, they're usually sky-high during the summer.
Spring is a great time to explore the outdoors of this stunning part of the country: hike the Path of the Gods or book a boat tour and visit Capri for a day.
You can rent a car or get a bus to the picturesque villages on the coast, nestled between the mountains and facing the blue Tyrrhenian Sea. Make sure you get a taste of the local cuisine and sip limoncello, the famous lemon liqueur.
The temperatures on the Amalfi Coast in April range between 13 and 20 °C, so make sure to get dressed in layers and wear a comfy jacket in the evenings.
Florence in April
The beauty of Florence in April is not only in its outstanding historical-artistic monuments and landmarks, but also in its spectacular monumental gardens, including the Boboli Gardens and the Bardini Gardens.
During this month, a real nature show takes place: the flowering of the wisteria at the Bardini Gardens. In Florence, the weather conditions are pleasant with temperatures usually not exceeding 20 °C and rarely going below 10 °C.
These are the perfect conditions to stroll even in the middle of the day which you wouldn't normally do during the summer. April is the perfect time to take a walk along the Arno river or perhaps enjoy the view of the city from above, by climbing the Brunelleschi's Dome or the Giotto's Bell Tower.
Check out B&B La Casa dei Tintori if you're looking for a great place to stay close to the main attractions. Spending more than 3 days in Florence? Then while you are here, you can easily plan a day trip to the Chianti wine region and enjoy some time in the countryside while sipping local delicious food and wines.
Naples in April
It is no secret that Naples in April offers warm temperatures and many sunny days, making this month the ideal for strolling around its streets and piazzas. Get dressed with cotton clothes, but always carry a jacket as the evenings are cool.
During spring, the whole city is buzzing, and you should take advantage of this season where there are still not too many crowds to visit the attractions.
On top of the most famous landmarks, join a guided tour of underground Naples, to fall in love with the ancient history of this city with Greek and Roman origins.
Since you'll be in pizza heaven, make sure to try the best pizza in the world at the Antica Pizzeria da Michele, but also learn about other must-try food in Naples. Why not join this highly-rated street food tour which is lead by a local guide?
To learn about the dark side of Naples, go to the ossuary of the Campusanto d'e Funtanelle and the church of Santa Maria of the Souls in Purgatory in Arco.
Making the most of the lovely mild days in Naples is a must, so be sure to visit Capodimonte park and go for a stroll on the Caracciolo promenade, as it is from there you can get spectaular views of the Gulf of Naples.
If you decide to spend a long weekend here, get the train and join this small group tour of Pompeii, the most famous archaeological site on the planet, or head over Sorrento or the Amalfi Coast for a chance to meet with the Tyrrhenian Sea.
Milan in April
Italy in April blooms and Milan is one of those cities that must be be added to your Italian itinerary. Even though the weather is unstable, from mid-April to the end of May, you can expect to see more sunny days, and mild temperatures.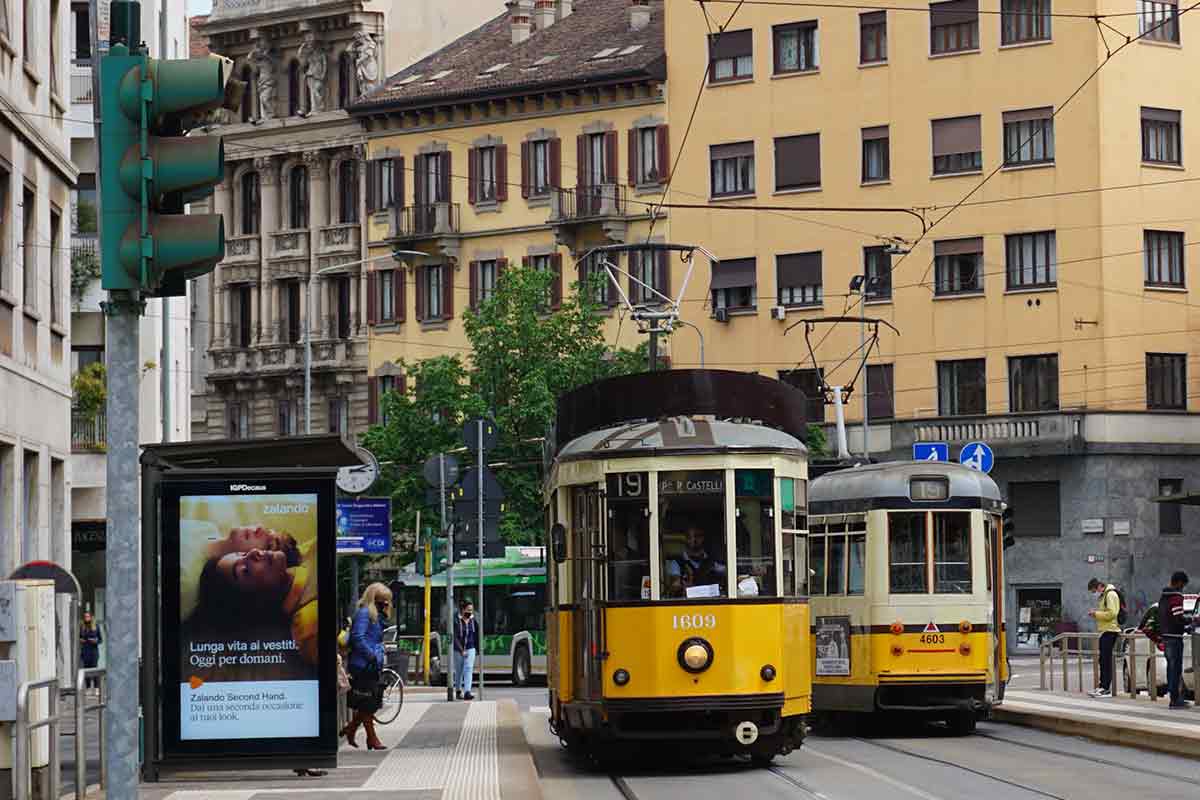 However, it is not uncommon to come across rains and downpours, so make sure to carry a small umbrella or a decent rain jacket with you.
Take advantage of the favorable weather conditions, and visit Duomo and the terraces or to discover the city's trendy neighborhoods like Brera for art galleries and the Quadrilatero for shopping lovers.
You can also go for a long walk in Sempione park or Guastalla gardens. Also take advantage of the spring bloom and to go and admire the tulips flowering in Cornaredo, just outside Milan.
If you have enough time, join this day tour to Lake Como, Bellagio and Varenna and get to spend some relaxing time exploring the lakeside towns here.
Palermo in April
Palermo is the southernmost capital city in Italy and a place many travelers visit in Sicily. Here in April you can expect to find quite warm and sunny days with an average temperature of 19 °C.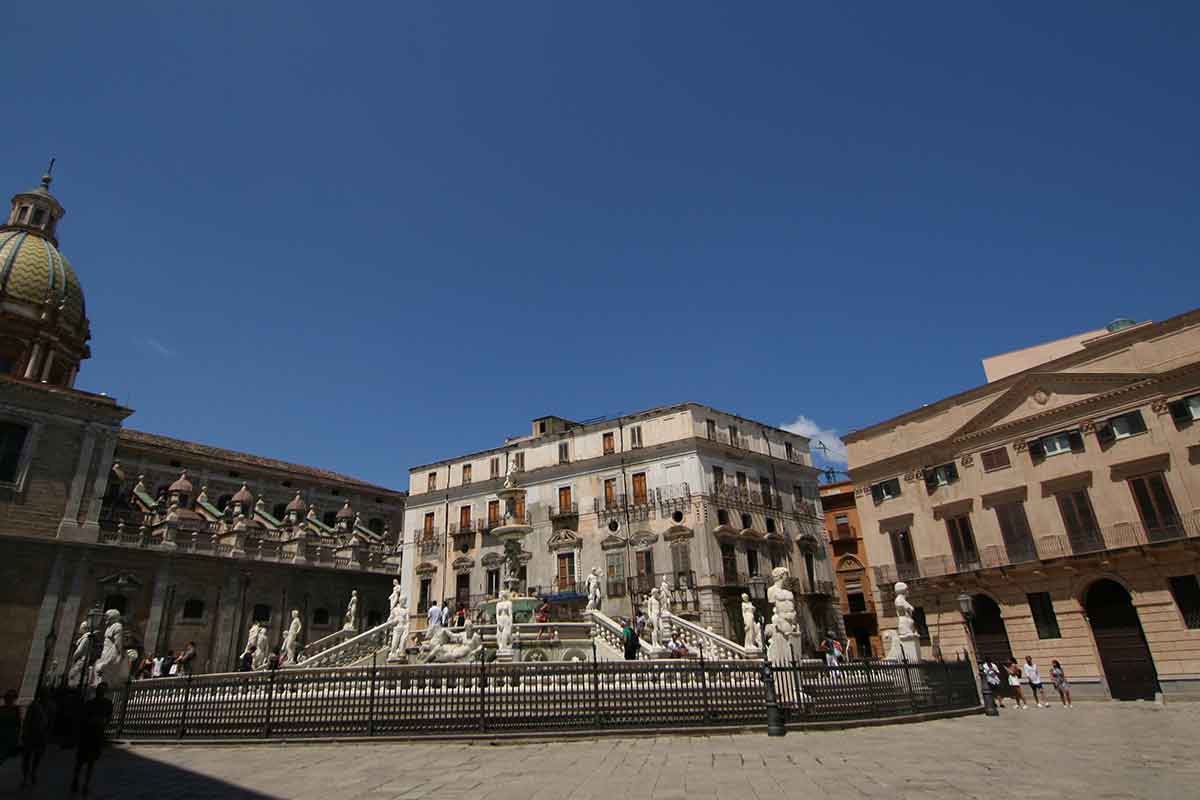 There are many things you can do in Palermo in April, starting with the markets (the most famous is undoubtedly the Ballarò market) where you can taste the typical specialties from the city.
Then continue exploring the narrow streets and feel like a real Palermitan. The alternative would be to join this street food and history tour and let a local show you around the city so you can get to know its history through it's traditional food.
Make sure you include Palermo Cathedral, the Quattro Canti square, the Norman Palace and the Royal Palace and Palatine Chapel in you itinerary too.
Take advantage of the enjoyable temperatures and go for a walk in the English Garden, plus an excursion to Monreale and Cefalù, with its majestic Cathedral, or even a visit to Bagheria and its villas.
Italy in April
Whether you decide to visit cities in the north like Venice or Milan, or head towards the south to Naples or Palermo, visiting Italy in April will not disappoint you!
Temperatures are enjoyable and much higher than March, less chance of rainy days and fewer crowds than in the summer. We suggest you book your stay at least 2 months in advance for a chance of finding better priced deals.
Spring is a good time to plan road trips or travel by train so you get to see as many landscapes and cities of this amazing country as you can.
We have itineraries for various Italian cities that you can read before your trip. See this 1 day in Venice, 3 days in Rome and this 2 days in Naples itinerary.
---
Dear responsible traveler: This post may contain affiliate links, which means, if you click through and make a purchase, book a tour or a hotel, we may earn a small commission. This is at no additional cost to you. Your support means a lot and helps us to maintain the quality of this site.