Is New York City safe for new travelers?
The U.S.A is one of the best countries in the world (though there are those that make a great case for other countries).
Whether you're visiting as a tourist or for living in New York like a local you'll find that your experience could be a world apart from others.
However, both LA and NYC are extremely adaptable for immigrants, as they tend to cater to nationalities by way of cuisine and culture.
America can be considered similar to other English-speaking countries such as Australia in terms of culture, so visitors know what to expect.
Is NYC Safe?
The big question though, that most American people will bring up, is the fact that New York used to be the proverbial murder capital north of Mexico. It was a real hell-hole in the 70s, notoriously so.
But is it still the same today? Let's find out!
How Safe is New York?
New York is a largely safe city to visit. It may have a reputation for crime – of all kinds – but New York is about as safe as any other megalopolis city in the Western world.
It has gentrified in the main visiting areas, especially Manhattan. That means maybe sketchy areas at night can mean assaults; it also means pickpockets and petty thieves in the touristy areas.
That's how these big cities work and there are certain things to have in mind when traveling in them.
New York Crime Rate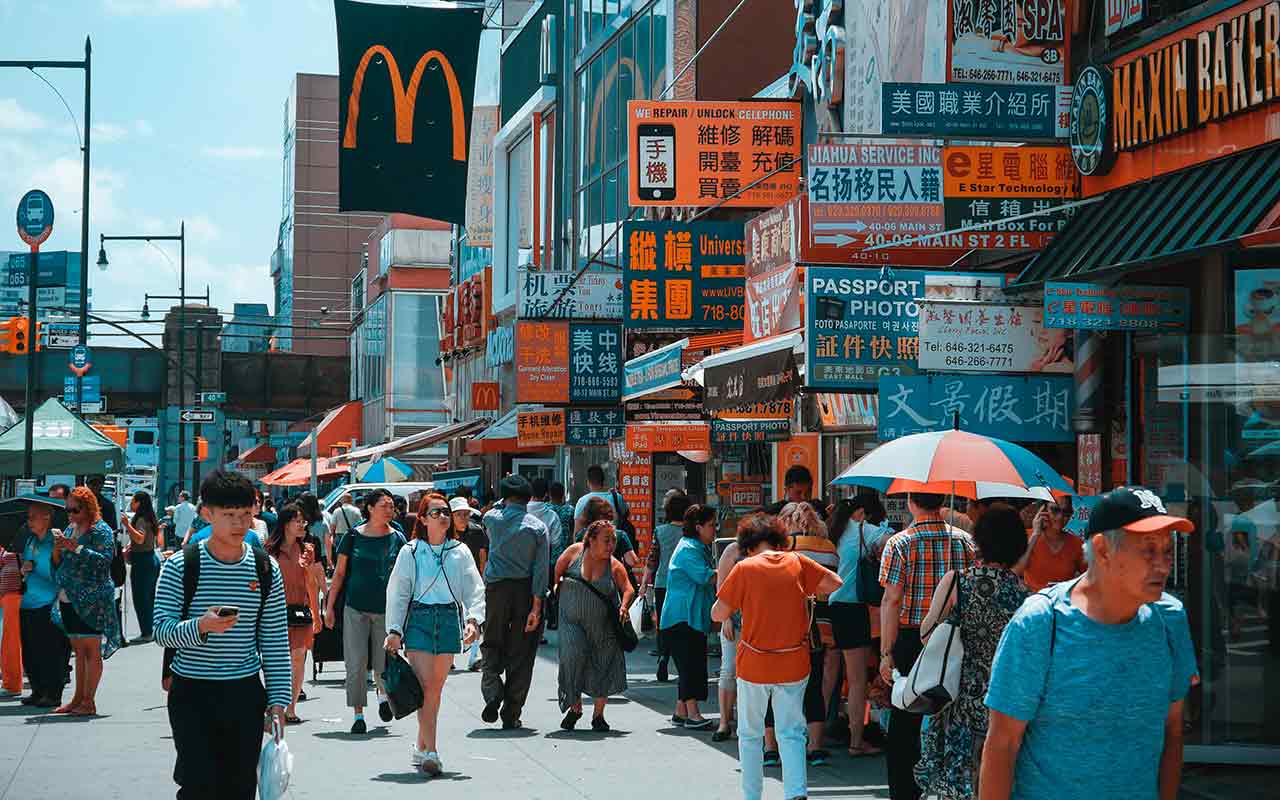 Let's look at some useful statistics on New York City:
There were 2,245 murders in New York City in 1990, and only 311 in 2019.
There were a total of 430,460 recorded crimes in New York City back in 1993, which dropped every year down to a little over 1,000 in 2015.
Although crime went up during the pandemic, the lifting of masks and seating bans mean that crime is dropping again.
Hate crimes towards Asian-Americans rose in 2021 by 400%, due to the pandemic.
The worst periods for crime in New York's history were during the great depression and in the early 1990s.

Get a FREE travel insurance quote from WorldNomads to get the right (and timely) support when it comes to protecting yourself in New York.

Is NYC For Tourists?

The Big Apple is one of the most expensive places to live in the world.

However, there are affordable housing options in nearby states such as New Jersey, or even spots in the boroughs such as Staten Island and the Bronx.

A New Yorker waits by New York commuter train

There's an extensive underground system as well as commuter trains, meaning you could work in Manhattan offices whilst technically living across the river.

The possibilities are endless, but we'll be tackling the city itself.

Where to Stay in New York

Considering New York's exorbitant real estate prices, it's no wonder that budget hotels are so scarce.

If you want to spend as little as possible on your accommodation in New York and you don't mind the commute, then we would suggest staying in New Jersey.

For example, why not try Red Roof Inn for a night or two? It's very popular with those who want to be close to New York and restaurants.

Just across the Hudson River, towns such as Secaucus, NJ have affordable rooms for those with tight budgets.

New York and the Hudson River as seen from New Jersey

For those looking at their first trip to New York City, we suggest finding a decently priced hotel in Midtown such as the Executive Hotel Le Soleil (around the corner from Bryant Park and the Empire State Building).

According to 22Places;

"The Upper East Side is the right area to stay for you if you like things a little quieter, you want to go for a run in Central Park in the morning, and you plan to explore the museums of New York. Although the Upper East Side has changed a bit over the years, people still think of it as the neighbourhood of the rich and beautiful, with expensive clothes and tiny dogs in handbags. Chelsea and Greenwich Village are the right places to stay for you if you've been to New York before, have already checked out the main sights, and now want to immerse yourself deeper into New York life. But they're also great as an alternative if you don't want to stay in tourist areas, but would rather experience an authentic slice of New York life."

New York: Travel Safety Tips

If you find yourself in a situation where you feel unsafe, always remember to dial 9-1-1.

A tourist walking around the streets of New York

The emergency services in New York are incredible, always helpful, and never ignore calls.

Make sure you only use the number when it's an emergency situation and stay safe.

Carry cash and valuables in a front or inside pocket and consider if you need to carry a purse or bag.
When carrying expensive equipment such as cameras or smartphones in person you can use a PacSafe backpack to store your things away.
Do not carry a weapon for self-defense, as introducing a weapon can increase the severity of an attack.
If you're considering doing one of the many hikes near NYC or traveling outside the city, be sure to carry the necessary provisions.
Never let your drink out of your sight and don't sample drinks from anyone – even friends or acquaintances.
Alcohol and "date rape" drugs are used in many sexual assaults – if you are going to drink, do so responsibly and be with trusted friends so you can look out for each other.
See more safety tips on preventing drug-facilitated sexual assaults.
Remember to get your FREE travel insurance quote from WorldNomads to receive fully comprehensive support when it comes to unforeseen travel complications.
When driving, keep all the doors locked, even when you are inside the car, and park in well-lit areas.
If you are traveling solo to NYC and/or on a budget, be sure to consider one of the many Top Rated Hostels for a discounted stay.
Always have a cell phone along with you, if you have one.
Stay alert, stand tall and be confident, if an attacker targets someone, they're most likely scared.

Overall, you won't need to abide by any rules or advice for safety.

New York has hardly any crime towards tourists, so imagine yourself at your own place of personal safety at home.

Don't do anything you wouldn't do at home, and don't put yourself in harm's way.

Best Time to Visit New York

The best time to visit New York City in terms of climate is from April to June when the weather is warm and pleasant but the tourist crowds are not overwhelming.

The Cherry Blossoms in Brooklyn Botanical Garden are a must-see during spring season in New York

The cheapest time to visit New York is on weekends from mid-January to the end of February. This is because the climate ain't as good, but the holiday rush is over.

We visited during the holidays and it was a winter wonderland, it actually snowed! It felt like Home Alone 2.

Check out this awe-inspiring list of the most Instagrammable places in NYC to capture some of the city's best views for your photo album.

Here are some key events to sway your opinion:

St. Patrick's Day Parade (March)
Easter Parade (April)
Burt's Bees Earth Day (April)
Washington Square Outdoor Art Exhibit (May)
Haunted Halloween Carnival (October)
New York City Marathon (November)
Macy's Thanksgiving Day Parade (November)
Lighting at Rockefeller Center (November)

Be sure to pick up your New York City Pass to get access to a selection of the city's best tourist attractions during your stay.

Is New York Safe? Final Words

Overall, there is nothing to worry about when traveling to The Big Apple.

It's a very safe city with the infrastructure to hold a community together instead of ripping it apart.

New York is a champion that should be heralded as award-winningly safe.

What do you think? Don't hesitate to book a trip to New York today and see our sustainable travel tips to ensure your trip has a positive environmental impact.

---

This post contains affiliate links, meaning, if you click through and make a purchase or sign up for a program, we may earn a commission. This is at no additional cost to you.