Is Miami safe for new and unsophisticated travelers?
The U.S.A is one of the best countries in the world for tourism. Whether you're visiting like a first-timer or you're living like a local.
Both LA and NYC are extremely adaptable for immigrants, as they tend to cater to nationalities by way of cuisine and culture.
Is Miami safe?
America can be considered quite similar to other English-speaking countries such as Australia or New Zealand in terms of culture, so many English-speaking visitors can know more or less what to expect.
The big question though, is whether this is the same for a city like Miami?
Right on the southern tip of Florida, the people are wary of alligators! But should a tourist take precautions? We're here to give you the scoop!
How safe is Miami?
Just like the city of New York on the east coast, Miami is a largely safe city to visit. It may have a reputation for crime – of all kinds – but it is about as safe as any other megalopolis city in the Western world.
It has gentrified in the main visiting areas, especially the far north side. That means maybe sketchy areas at night can result in assaults.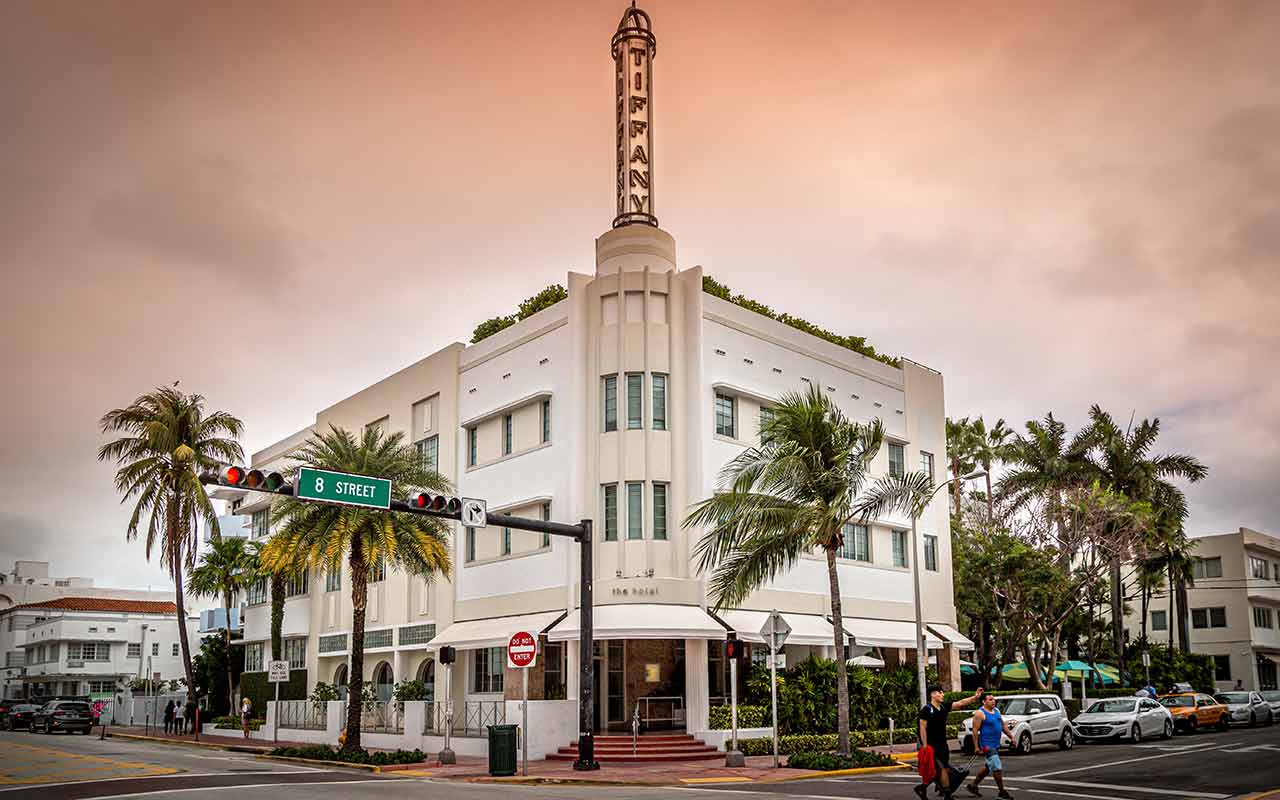 The most common type of petty crime in Miami is pick-pocketing and purse-snatching on Miami beaches and in the crowded Downtown streets.
Apply common sense and precautionary measures such as holding your purses tightly and being wise when carrying them. A sturdy and reliable Anti-Theft backpack like this one is a great investment for concealing valuables.
Other than this kind of crime, there is a legitimate case to be made for visitors to learn about how to deal with an alligator should you come across one.
Also, hurricanes are an issue in Miami. They've been coming earlier and earlier each year, so we would say to keep a close eye on the meteorologist's reports.
Miami crime rate
Crimes such as homicide, rape, and aggravated assault are similar to that of neighboring cities Tampa and Orlando.
Although crime went up during the pandemic, the lifting of masks and seating bans means that crime is dropping again.
According to the Miami Herald, the once 'murder capital' of Miami now has record lows when it comes to crime rates such as homicide.
The crime rate in 2015 was 1,021.31 per 100,000 and dropped to 629.54 per 100,000 in 2018. That's a 39% drop in just three years!
The worst period for crime in Miami's history was during the 1980s, when there were so many drug-related murders that the city morgue was full to capacity, so they had to send bodies to other states.
We highly suggest booking a sustainable stay at the 1 Hotel South Beach if you want super easy access from the airport (and to the beach) all from your room.
Is Miami safe for tourists?
Miami is the seventh-largest city in the United States and is a popular destination for US travelers more than the international types.
It's a cultural hub of the Caribbean Sea, as it is often seen as the destination for Spanish-speaking migrants due to the history of Puerto Ricans and Cubans making it here. It's always a good idea to practice some Spanish before arriving.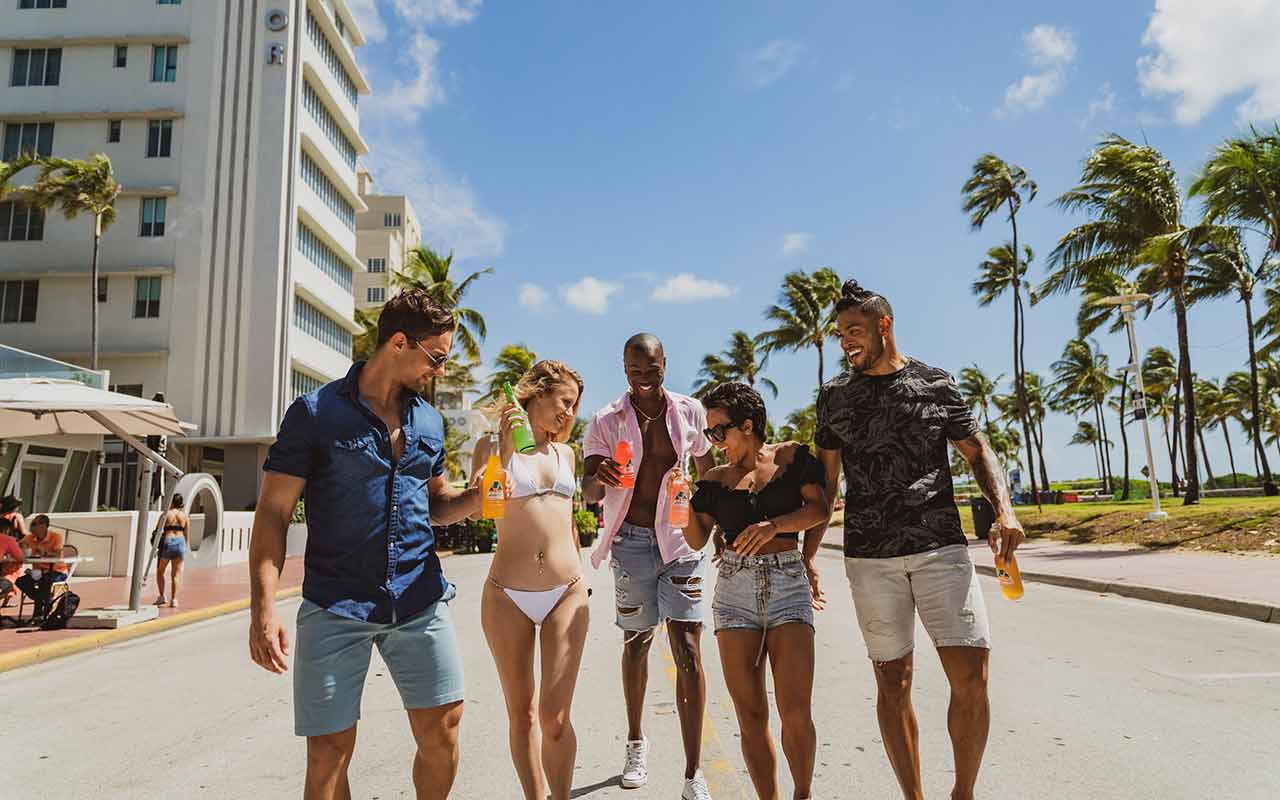 Just for the record, it is safe to visit Miami right now. You probably learned from movies and TV series such as Scarface and Dexter that Miami is synonymous with drugs and homicide.
However, it isn't as bad as it's made out to be. There are still issues in the day-to-day life of Miami such as gun crime, but unlike the TV depiction, this violence isn't always gang-related.
Despite dropping crime rates, violent crime in Miami is one of the highest in the country. There are many neighborhoods that you shouldn't be walking around.
Especially at night. Overtown and Liberty City both have the highest violent crime rate in Miami and should be avoided at all times. Make sure you also know what the weather is like when you visit.
Is Miami safe for solo travelers?
Yes, Miami is safe for solo travelers. It's really important to be cautious when visiting the city at all times.
Avoid walking around alone in unfamiliar places and at the beach, instead, try always to stick to touristic places where you can see other people.
Be aware of pickpockets that frequently target solo tourists, so make sure to keep the bulk of your money and valuables in a safe place (such as a hotel safe).
Try to also avoid walking any overhead passes and some neighborhoods in and around the city such as Overtown and Liberty City.
Is Miami safe at night?
Yes, Miami is generally safe at night but it's important to stick to tourist areas and popular districts of the city centre. Avoid beaches, overhead passes and unfamiliar places after dark.
Be extra cautious if you're a solo traveler. Avoid the outskirts of Miami and walk around places where you can see others. Avoid visiting Little Haiti alone at night and solo female travelers are advised to not walk alone at night too.
Is Miami safe for families?
Yes, Miami is a safe destination to visit with the family. There are many educational activities for children and access to the beaches in Miami which is a great place to spend some quality time with family.
Miami is no stranger to crime. Stick to the most touristic districts of the city like Bricknell, Little Havana, Wynwood and the design district.
We can't stress this enough, be aware of pickpockets as the risk of robbery has increased in the last couple of years. To keep your family safe, avoid hanging around at night when the risk of getting robbed is higher.
Where to stay in Miami, Florida
When it comes to the best neighborhoods in Miami during a city break, we love:
South beach: because it's all about beaches and elegance via its nightlife and quirky restaurants/eateries. Places like Ocean Drive are hubs for a thriving art scene. See this list of hotels in South beach for the best deals.
When it comes to fashion you can find some of the most popular chain stores and fashion lines.
Miami Beach: is another great choice and home to the most sought-after hotels and restaurants. It is guaranteed to leave a hole in your pocket if you're on a budget. See these budget hostels to save some $$$ (especially on weekends)!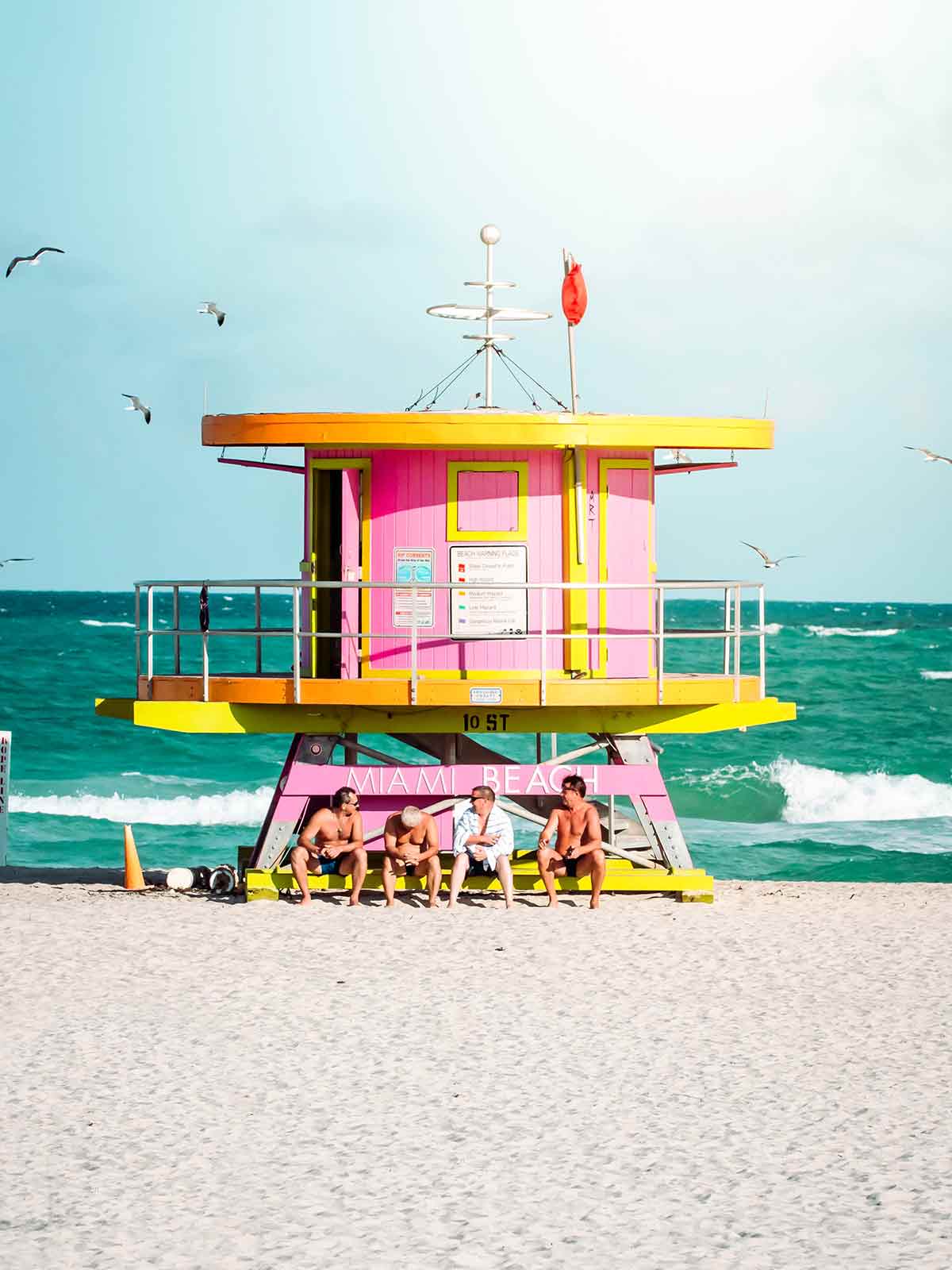 Think streets lined with palm trees and pastel-colored buildings, this is home to the hottest parties so get your camera ready for some celebrity sightings.
If you're still undecided, see this guide on where to stay in Miami if you want even more ideas on where the best areas and neighborhoods are.
Areas to avoid in Miami
Overtown: for gang activity, heavy drug use and violent crimes.
Liberty City: infamous for the high homicide rate, in particular around the most ghetto areas. Females should avoid walking around this neighborhood as rape episodes have happened in the past.
Little Haiti: for violent crime and gang activity.
Opa-Locka: for the high property and violent crime rates, even though the situation is improving.
Downtown Miami: for one of the highest crime rate in the US with robbery, rape, assault and murder as common crimes.
Miami travel safety tips
Here are some tips to help you when you walk the streets of Miami.
We would recommend that you do the following:
If you find yourself in a situation where you feel unsafe, always remember to dial 9-1-1. Make sure you only use the number when it's an emergency situation and stay safe.
The emergency services in Miami are incredible, always helpful, and never ignore calls. However, don't expect quick responses during Spring Break.
If you decide to go to the Everglades National Park get on this Educational Tour which is perfect if you have your own transport.
Never let your drink out of your sight and don't sample drinks from anyone – even friends or acquaintances.
Do not carry a weapon for self-defense, as introducing a weapon can increase the severity of an attack.
Carry cash and valuables in a front or inside pocket and consider if you need to carry a purse or bag. You'll find Pacsafe make some great bags/backpacks for this specific purpose.
Alcohol and "date rape" drugs are used in many sexual assaults – if you are going to drink, do so responsibly and be with trusted friends so you can look out for each other.
See more safety tips on preventing drug-facilitated sexual assaults.
When driving, keep all the doors locked, even when you are inside the car, and park in well-lit areas.
Remember to get your FREE travel insurance quote from SafetyWing to receive fully comprehensive support when it comes to unforeseen travel complications.
Always have a cell phone along with you, if you have one.
Stay alert, stand tall and be confident, if an attacker targets someone, they're most likely scared.
Overall, you won't need to abide by any rules or advice for safety. Miami has hardly any crime towards tourists, so imagine yourself at your own place of personal safety at home.
Don't do anything you wouldn't do at home, and don't put yourself in harm's way.
Got travel insurance for Miami?
World Nomads offers simple and flexible travel insurance. Buy at home or while traveling and claim online from anywhere in the world.
Best time to visit Miami
When taking time out of your busy schedule to go on vacation you want to ensure the odds of the weather been on your side are in your favor.
As with many of the travel safety guides on this site, we decided to consult our trusted source with all things climate, Travel US News.
"The best time to visit Miami is between March and May. During these months, you'll be able to enjoy daily temperatures in the 70s for non-peak rates, while the rest of the country is still defrosting.

The year-round tropical climate and partying ways of nearby Miami Beach means tourists – lots of tourists – from northern states, South America, Europe, Asia, anywhere and everywhere year-round.

And when there are special events, the city sees even more visitors and higher hotel rates. For the best chance of scoring deals, book around the city-wide events or during the sweltering summer months."
Here are some key events for this time frame:
American Black Film Festival (June)
Florida Supercon (July)
Coconut Grove Food & Wine Festival (August)

Pick up a Miami All-Inclusive City Pass for access to more than 25 attractions and sightseeing cruises for the best possible experience.

Is Miami safe?

Overall, there is nothing to worry about if you're looking for a sunny trip to Miami.

It's a very safe city with the infrastructure to hold a community together instead of ripping it apart.

You may have a perception of danger due to fictional entertainment, but this went away like the dodo back in the 1990s!

Book your trip today! Also, follow our best sustainable travel tips if you're not familiar with them to ensure your trip has a positive impact on the environment.

---

Dear responsible traveler: This post may contain affiliate links, which means, if you click through and make a purchase, book a tour or a hotel, we may earn a small commission. This is at no additional cost to you. Your support means a lot and helps us to maintain the quality of this site.