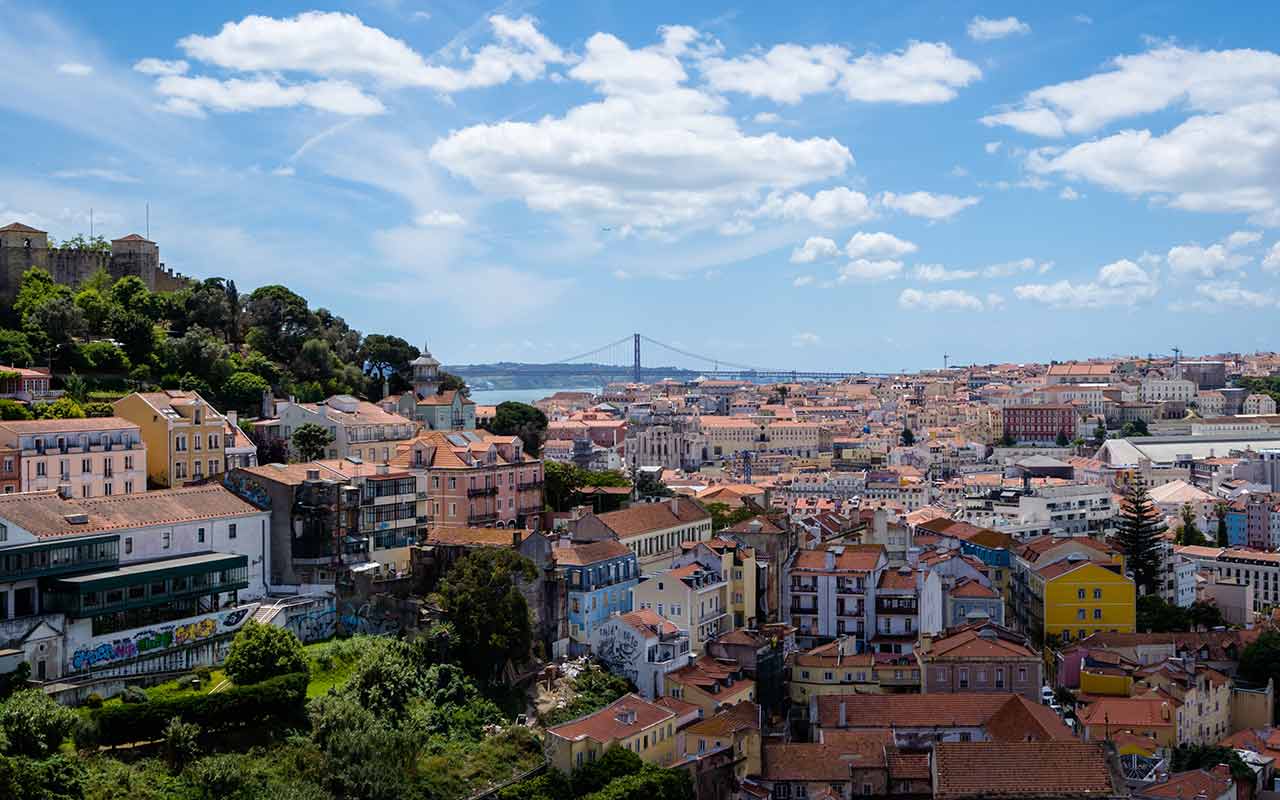 Is Lisbon safe for new or first-time travelers?
For many, Lisbon is not only Portugal's capital city but it is also one of the most beautiful European destinations to visit for a short break or romantic escapade.
Whether it's a weekend away or a pit stop on your Portuguese road trip, Lisbon, with its old palaces covered in azulejos, the panoramic views of its miradouros and its lively neighborhoods, is a historic city that is absolutely worth visiting.
But is Lisbon safe? Read this guide to learn more about the crime rate and how safe it is to move around the city as a new tourist and as a solo female traveler.
Is Lisbon Safe?
It is no secret that the Portuguese capital city is a cultural and historical gem that attracts people from all over the globe. Therefore, knowing if Lisbon is safe or not is imperative for those planning a visit to the city, now, or at any time in the future.
Depending on how many days in Lisbon you have, you may want to visit areas that are outside of the historical center or even do one of the many day trips.
Let's begin to look at the safety situation in Lisbon right now.
How Safe is Lisbon?
Lisbon is one of the safest cities in Europe and there's no reason to be concerned about this aspect of your personal well-being when visiting this city.
However, although Lisbon is a safe place to visit, it is no stranger to crime, as with any other big city in Europe, or the world for that matter. Using your common sense and taking the right precautions will help you avoid unpleasant situations such as having to deal with scammers, petty thieves and drug dealers.
Avoiding some of the bad neighborhoods in Lisbon (we'll note some below) is one way to stay safe and have a pleasant time in this city. It's also worth knowing that Lisbon is the entry point into Europe for all soft drugs from Morocco.
Lisbon Crime Rate
According to Numbeo.com, Lisbon's crime index is 29.63 which can be considered low, and the safety index is 70.37 out of 100.
Based on the survey from visitors and travelers to the capital, Lisbon is one of the safest cities in Europe and that you can readily visit on a modest budget.
In Lisbon, there's a low risk of being mugged or robbed, having to deal with drugs or drug dealers and having problems with violence and theft crimes.
On top of that, visitors say they do not feel worried about being attacked, insulted, or experience racism. Solo travelers need not to worry about walking around the city during nighttime as it's absolutely safe to do so in most areas.
Is Lisbon Safe for tourists?
Yes, Lisbon is safe for tourists and they don't have to worry about safety at all when exploring the beautiful streets and districts of Lisbon.
If you stick to the main attractions, whether you're traveling with friends or family, as a couple or solo, in Lisbon you'll be safe wherever you go in general.
However, there are some precautions you'll need to take as unpleasant situations with petty thieves and scammers can and do happen here.
For this reason, be on your guard, never leave your valuables unattended and keep en eye on them in the most touristic areas and public transport.
If you prefer to travel alone, or are actively looking to meet new people in Lisbon, we highly suggest checking out some of these top-rated hostels as they can be a great way to meet like-minded people while exploring the city.
Is Lisbon safe for solo female travelers?
Yes, Lisbon is safe for solo female travelers too. The main piece of advice we would give is to avoid some neighborhoods at nighttime and stick to the places where there are more locals and tourists hanging around.
Stay away from the Baixa neighborhood during the evening if possible as petty thieves and unsavoury characters lurk around the dark and isolated streets. Also remember to keep your personal items out of sight from the pickpockets that loiter in and around the touristic districts and on public transport.
If you're young and out having a good time, be aware of drug dealers that might approach you, but generally, they're not insisting and are usually quite friendly.
It's a good idea to guard items such as your credit cards and phone in a waist pack like this one to keep them secure and close to your body at all times.
Is Lisbon safe at night?
Yes, Lisbon is safe at night. According to Numbeo.com, travelers that visited Lisbon recently, feel that it is safe to walk around the city during the night.
It's always recommended to avoid unlit areas and back streets or deserted or unfamiliar places. That's also because, if you need any help at any moment in time and there's nobody around, you won't be able to rely on anyone.
Some of the districts and neighborhood to avoid in Lisbon at night are the Baixa, street Martin Moniz, Avenida Reis e Praca da Alegria (around Rossio), the Monsanto Park as well the Barrio Alto where weed and hashish dealers are.
Where to stay in Lisbon
Most of the central areas of Lisbon are very safe for tourists but are not free from the phenomenon of pickpockets and scammers.
Some of the best places to stay in Lisbon are:
Many first time visitors choose to stay in the most touristic areas of the city. We found Baixa one of the most intriguing and convenient places to stay in Lisbon.
Travel Safety Tips for Lisbon
We've put together a list of travel safety tips to help you stay safe in Lisbon.
Follow our advice and refer to this guide before or during your trip.
Avoid the Bairro Portugal Novo, an abandoned part of the city that is not that safe to hang around. It's also recommended to not get accommodation in Lisbon's outskirts.
During the nighttime hours avoid: the Monsanto and Eduardo VII parks, Martin Moniz and Cais do Sodré.
Lisbon gets hot and humid during summer and it's not unusual for tourists to get bitten by mosquitos which can be very irritating. Carry some mosquito repellent when traveling during the summer months.
Always keep an eye on your belongings and protect them from pickpockets in the most crowded areas of the city and main attractions.
Avoid carrying your documents, large amounts of cash and all your credit cards out on the street with you if you don't need them.
If you're planning to visit other places in the country and wondering where else in Portugal is safe to travel to, be sure to check out the guide.
Don't ever put your wallet or phone in the back pocket of your pants/jeans and always close your bag as tightly as possible.
Don't leave your phone or wallet unattended or on top of the table at the bar or restaurant, in particular, if it's outdoors.
Aim to stay away from isolated, run-down roads or where you don't see other people (especially at night or early in the morning).
If you can, try to avoid street peddlers, they are usually very good at distracting and 'confusing' tourists as a strategy to rob them.
Carry an Anti-Theft backpack or this stylish bag (designed for women) if you'll be moving around with valuables such as cash and mobile devices.
Before going out to explore the city, leave a photocopy of your ID in your hotel room: you may need it in case of loss or theft.
For any emergency you can call the number 112 to talk with Police, the Fire Brigade or the Emergency Department.
As we've said numerous times, Lisbon is safe and there's no need to be concerned about this when exploring the city, but these practical tips are a good reminder on how to behave to be 99.9% sure that your trip will go smoothly.
Best Time to Visit Lisbon
Lisbon's climate is both Mediterranean and subtropical. Winters are short and mild, summers not too hot, and autumn can be very rainy. The climate is influenced both by the Atlantic Ocean and the influence of the Azores anticyclone. The best time to visit Lisbon is spring and early autumn.
The months of April, May, June, September and October are preferable for travelers. In this period, weather is sunny and enjoyable, there are fewer tourists compared to summer, and accommodation prices are acceptable.
Temperatures are between 18 and 25 °C which are just ideal to visit the city's attractions and spend time outdoors in the sun enjoying the views from the miradouros. You can carry this umbrella for protection during the rainy months.
Anytime between May and September is also a good time to visit Lisbon if you want to visit some of the nearby beaches (such as Praia de Carcavelos and Costa da Caparica) for a spot of sunbathing or swimming.
Is Lisbon Safe? Final Words
If you were previously concerned about safety, you can now be reassured that Lisbon is absolutely safe to visit as a tourist.
It's also much safer than other big cities in Europe like London, Rome and Paris.
There are some precautions that we have recommended taking in this guide, but overall, always use your common sense to avoid danger in a big city like Lisbon.
Now you have an idea on what to look out for in terms of safety, why not check out this 3 days in Lisbon itinerary which covers all the most important attractions?
---
Dear responsible traveler: This post may contain affiliate links, which means, if you click through and make a purchase, book a tour or a hotel, we may earn a small commission. This is at no additional cost to you. Your support means a lot and helps us to maintain the quality of this site.