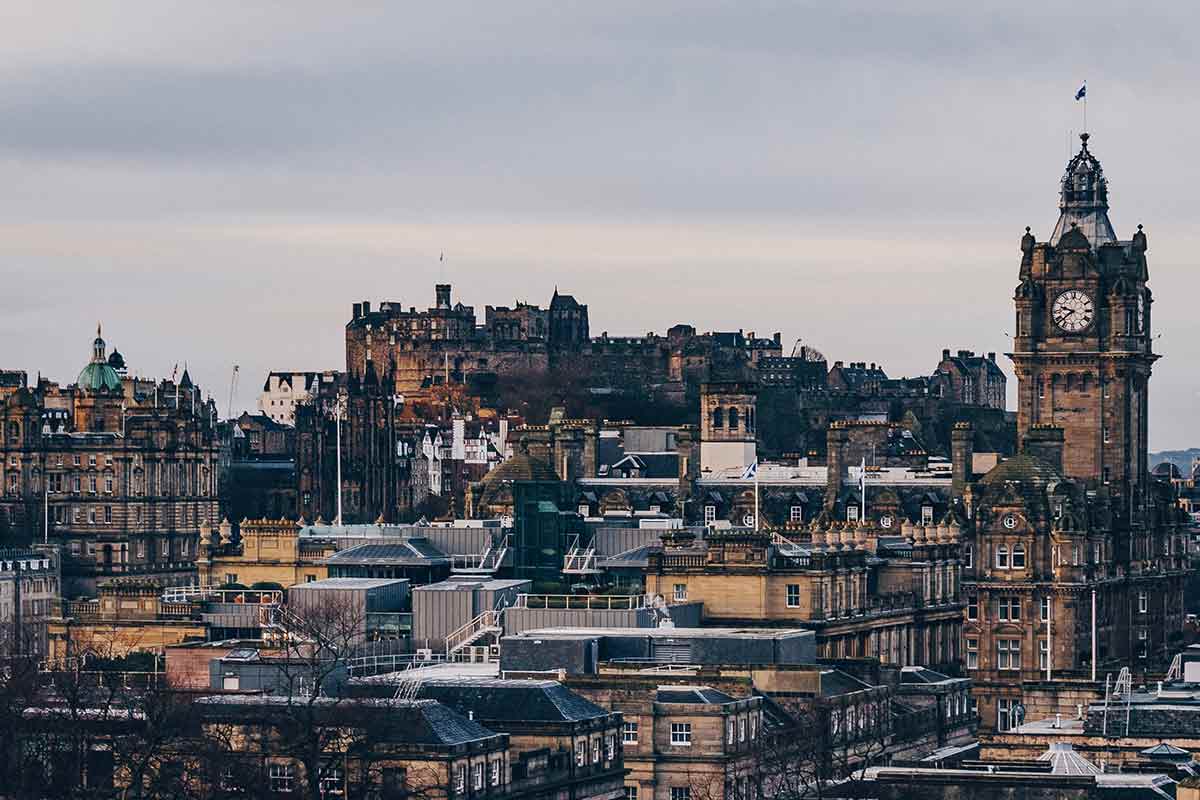 Is Edinburgh safe for new or first time travelers?
It's well known that Edinburgh attracts many tourists from all over the world for its character and beauty and it's also quite popular as a university city in the UK and thousands of students move here for both short or long periods of time.
However, as a visitor, how safe is Edinburgh and what are some of the most common risks to be aware of when it comes to spending time in this city?
Is Edinburgh Safe?
It is no secret that the Scottish capital city is a highly sought-after cultural and historical tourist destination, therefore, knowing if Edinburgh is safe is imperative for students, tourists, residents and expats or people planning a visit.
When comparing to other places to visit in Scotland you will find that Edinburgh has a unique edge that attracts millions of people from all over the globe.
Spending time in Edinburgh is generally an experience that does not expose you to particular dangers but it is good to use your common sense and always be aware of possible scams that can cross your path.
How Safe is Edinburgh?
Edinburgh is one of the safest cities in Europe and there is no reason why you should be concerned about this aspect when traveling here.
Considering that it's a big city though there are some precautions we recommend taking that you'd take every time you're in touristic places.
For example, it's common sense to keep an eye on your personal belongings, stay away from potential scammers and avoid some of the city's neighborhoods.
We recommend carrying a travel waistpack like this one to help you conceal your most valuable belongings such as cash and credit cards, and if anything, to reduce the chance of those dropping out of your pocket while walking around.
Edinburgh Crime Rate
According to Numbeo.com crime levels in Edinburgh are low. In 2021, the Edinburgh News magazine stated that Edinburgh has been named as the safest place to live in the UK based on a recent survey.
Most locals interviewed feel safe living in the Scottish capital. Everything from walking around in the day or night to getting things stolen, being robbed or getting assaulted, there's practically zero risk of these crimes in Edinburgh.
There might be a remote risk of having problems with people using or dealing drugs or with vandalism and theft but it's only moderate.
Is Edinburgh Safe for tourists?
Yes, Edinburgh is safe for tourists and as a visitor you shouldn't feel concerned about safety at all. It's worth being aware of possible risks you might encounter when visiting the city and which we thought of specified below.
You can fall victim to pickpockets which is something that happens frequently in any big city. Use your common sense in these occasions and in particularly when you're in crowded places and on public transport.
Try not to drink too much if you don't want to attract petty thieves who hang around the city at night. If you have a few drinks, call a taxi to get back to your hotel to avoid risk. The night buses are safe but we suggest traveling in the front seats. Walking in isolated and unlighted areas is not advisable in any city.
Bring a credit card and just a small amount of cash with you and it's better to leave your passport and important documents in the safe at your hotel/hostel.
Keep an eye on your personal belongings when you're in touristic places and using public transport.
For many visitors, doing a guided walking tour in Edinburgh is the best way to learn about the city in a short space of time. If you happen to be walking around as part of a tour, don't let your guard down when it comes to securing valuables.
Where to stay in Edinburgh
Depending on how many day in Edinburgh you plan on staying, getting your accommodation booked is key since the best rooms get booked up in advance.
Here's a selection of some hotels we think are great if you want to be close to the city center or main attractions or in some of the best districts of Edinburgh:
Luxury – 21212: located behind Calton Hill and not far from The Royal Mile, this 5-star hotel is the perfect mix between new and old. What we love about it, it's the attention to detail, the spacious and bright rooms, and the on-site restaurant and bar.
Budget – Apex Waterloo Place Hotel: if you're looking for a hotel where you can spend some time in the gym and relaxing by the swimming pool, then this is a great option and close to the city center and its main attractions.
Cheap – CoDE Pod – The CoURT: this central hostel in Edinburgh features Asian-inspired stylish pods. It's the place to stay if traveling on a budget and happy to share the bathroom and spaces with other travelers.
There are not many areas of the city to avoid, but we always suggest staying in the city center if you're visiting Edinburgh for a couple of days.
Just so you know the areas to avoid (but not particularly dangerous) are:
Lothian Road
Leith of Walk
Rose Street
Dalry Road
Eastern part of Princes St
Cowgate
Calton Hill and The Meadows at nighttime
Coburg Street
The best and safest areas to stay in Edinburgh are:
Old Town/Royal Mile
New Town
Stockbridge
Dean Village
Leith
You will find that the aforementioned areas are not only the safest neighborhoods in Edinburgh but some of the most affluent parts of the city.
Since the city of Edinburgh is one of Scotland's six World Heritage sites, these streets are highly photographable so have your best camera ready with you.
Edinburgh: Travel Safety Tips
Below is a complete travel safety list of tips designed to help you and that should come in handy while spending time exploring Edinburgh:
Keep your personal belongings close and safe in crowded places and on public transport, avoiding areas most at risk.
If you're on a budget be sure to check out this list of top-rated hostels in Edinburgh to get a private room while the best prices are available.
Walking around poorly lightened streets and where there are not many people around is not recommended.
Leave a copy of your identity document at the hotel (it could be useful in case of loss or theft).
Ask the hotel to keep your passport, valuables, and unnecessary credit cards in the safe, making sure they give you a deposit receipt.
Did you know you an get a fast-track ticket to Edinburgh Castle which can save you heaps of time if you only have one day in Edinburgh?
Show as little cash as possible when you are around the city, and if possible withdraw cash from ATMs located inside banks or supermarkets, to avoid thieves.
Don't leave backpacks, bags, telephones, or wallets unattended on the counter of a bar or on a table.
Avoid the areas of the city mentioned above, even though they're considered particularly dangerous.
Be aware of scammers, some common scams in Edinburgh are fake tickets, fake tour operators, fake police and pickpockets.
Get a FREE insurance quote from SafetyWing to get the right (and timely) support when it comes to protecting yourself when in Edinburgh.
Avoid drunk people when spending time at the pub or club that might cause you trouble.
Call the number 999 for immediate emergencies.
These are just some tips to keep yourself and the people you're traveling with safe in Edinburgh. By following them, you can stay reassured that you'll have a great time here.
Best Time to Visit Edinburgh
The best time to go to Edinburgh is late spring and summer. From May to August, temperatures are pleasant and range from a minimum of 8°C in May to a maximum of 19°C in August.
As a consequence, January is the month when the price of a hotel room is usually the cheapest and it's a great time to go if you want to save money!
August is the busiest and most expensive month of the year, not just because it's summer but because it's when the famous Fringe Festival takes place attracting visitors from all over the country and Europe.
In Edinburgh, it's impossible to avoid rainy days here so that you know it's always the case to carry with you a small umbrella and raincoat or K-Way jacket.
The best compromise if you're looking to save some money and enjoy decent temperatures are the months of May and October.
Is Edinburgh Safe? Final Words
Now you should have a better idea how safe Edinburgh is and some travel safety tips that you can aim to follow to ensure you have a pleasant stay here.
By using your common sense, keeping an eye on your valuables when spending time in crowded places and avoiding some areas of the city, you can only have a fantastic time in this city.
So, no matter whether you are going to be traveling alone, with your friends or with family follow these tips for added security in Edinburgh. Also, see our guide to off-the-beaten-path places in Scotland if you'll be going further out of the city.
---
Dear responsible traveler: This post may contain affiliate links, which means, if you click through and make a purchase, book a tour or a hotel, we may earn a small commission. This is at no additional cost to you. Your support means a lot and helps us to maintain the quality of this site.