Welcome to this guide that talks all about how many days in Positano to spend.
Most first time travelers to Italy want to visit here and Positano is the first town on the Amalfi Coast that you will meet arriving from Naples or Sorrento.
This is also the most famous and picturesque coastal village to visit on this popular stretch of coast, that keeps attracting every year thousands of tourists.
Its pastel-colored houses, the steep stairways adorned with plants and flowers and the views over the shimmering waters of the Tyrrhenian Sea capture hearts of visitors from all over the world! But how many days in Positano is enough?
How many days in Positano?
Whether you're heading to the south of Italy or already in Naples, keep reading this post to understand how long you should spend in Positano, Amalfi Coast.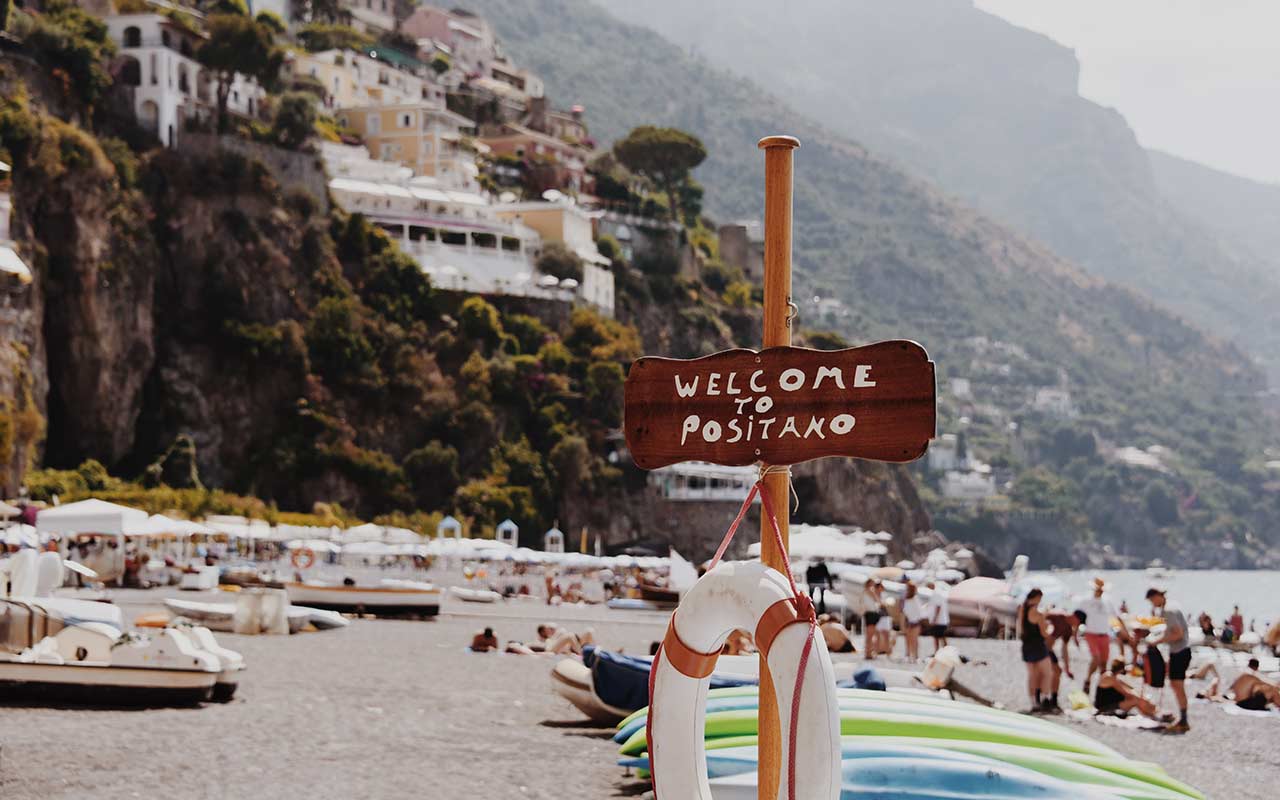 It is no secret that Positano is a popular tourist town to visit and for this reason, there are some things worth considering, especially if you're on a modest budget.
We suggest you take a look at some of the main differences between Positano and Amalfi (town) to make sure you have the most rewarding stay in this region.
However, if you've already been to Amalfi and you are 100% sure that Positano is worth your time, the question is: how many days in Positano should you spend?
Is Positano worth visiting?
Let's start with by looking at these 3 reasons why we believe Positano is worth visiting, that we're pretty sure are going to convince you to visit while in Italy!
For its unique location offering spectacular postcard views. Positano is perched between the high cliffs of the Lattari mountains facing the blue waters of the Thyrrenian Sea. Here you can go on the Path of Gods hike and admire both the typical Mediterranean scrub and lemon groves, from where lemons are collected to produce the famous limoncello liqueur.
A vacation in the Amalfi Coast wouldn't be complete without spending time at the beach. In Positano you can relax and sunbathe in some of the most famous beaches of the coast such as Spiaggia Grande, the very busy town's beach, Fornillo and Laurito beach, which are perfect if you're seeking some tranquillity. Be sure to carry sunscreen like this one during the summer months (June to August) and apply it during the day.
Positano is a proper shopping destination. Via dei Mulini is the main shopping street where you can indulge yourself and buy some Made in Italy products. Positano is the coastal town is the land of limoncello and fashion, so you will find many locally-owned shops where you can buy the fragrant liqueur and colorful handcrafted clothes.
How Many days in Positano is Enough?
Now that you have a better idea of why Positano is worth visiting, let's understand what's the ideal length of time you should spend here.
Let's dive into this guide to find out how many days in Positano is enough.
Is one day enough for Positano?
Positano is a small town so in one day you can actually visit its main attractions. We don't think that one day in Positano is enough simply because there are many things to see and do beyond its historical centre, that you can't cover in 24 hours.
If you have one day only to spend here, then make sure to visit the historical city center, in particular the Church of Santa Maria Assunta (whose dome can be seen from every point of the town) and the remains of the Roman Villa of Positano, known as 'the little Pompeii of the Amalfi Coast'.
Spend time at the Spiaggia Grande, the town's beach, located in a convenient location, for a refreshing dip in the deep blue waters or sunbathing. Then go shopping in the artisan workshops and characteristic shops in town.
Some of the traditional local products include:
Handmade leather sandals
The Vietri majolica
Also, the Positano style clothes which are recognizable for their colors and patterns. Aside from linen or light cotton, lemon-patterned swimwear is popular.
While in Italy, we usually suggest speaking with locals to learn more about the local life and to carry this handy Phrase book to help you learn some basic Italian.
Just remember, with one day in Positano, especially if you want to take your time, you won't be able to go on a boat excursion and visit the rest of the Amalfi Coast or Capri. It is, for this reason, more days are recommended to enjoy it fully.
Is 2 days in Positano enough?
To really appreciate what Positano and the Amalfi Coast have to offer, you should spend at least 2 days in Positano, even though we think is not enough to fully experience the beauty of this place.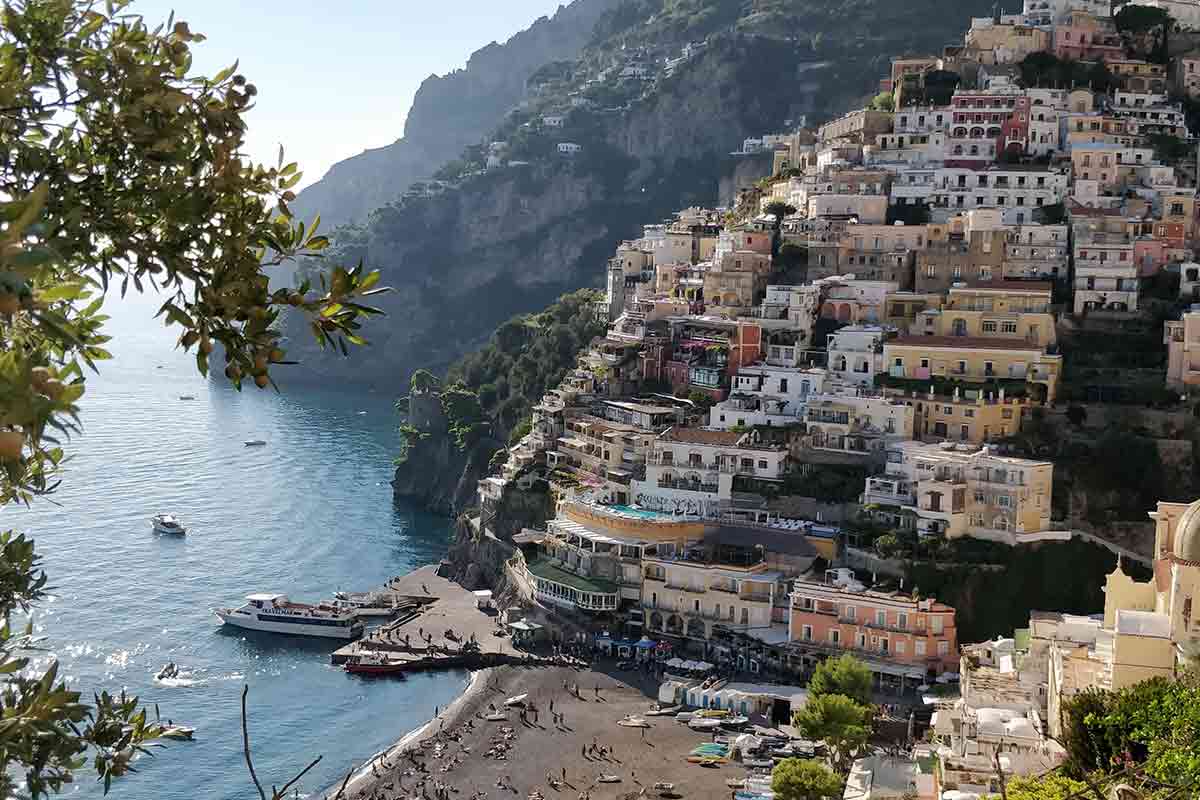 In a couple of hours you can definetely visit the historical city centre of Positano, and take your time to stop by the picturesque square in front of the Church of Santa Maria Assunta, the small artisanal shops and to enjoy the unique views from the steep stairways.
Visit the church and admire the colorful tiles of its dome, head over to Spiaggia Grande, the popular city's beach, take pictures of the views from different panoramic points around Positano and try local foods.
There are many restaurants in Positano and among the traditional foods you can find there are a couple of dishes that you must this while in this region.
We recommend trying two pasta dishes:
Spaghetti al limone
Vermicelli of Positano.
On your first day, you can then join this boat trip to the Sorrento coast and Capri and visit two of the most popular locations in the area.
If you're not up for a boat excursion, then this Vespa tour of the Amalfi Coast starting from Positano and stopping Ravello, Amalfi and Atrani is an experience we really recommend living.
Is a week in Positano too long?
A week is too long to spend in Positano, unless you fill your days with excursions and day trips or want to visit lots of beaches on the Amalfi Coast.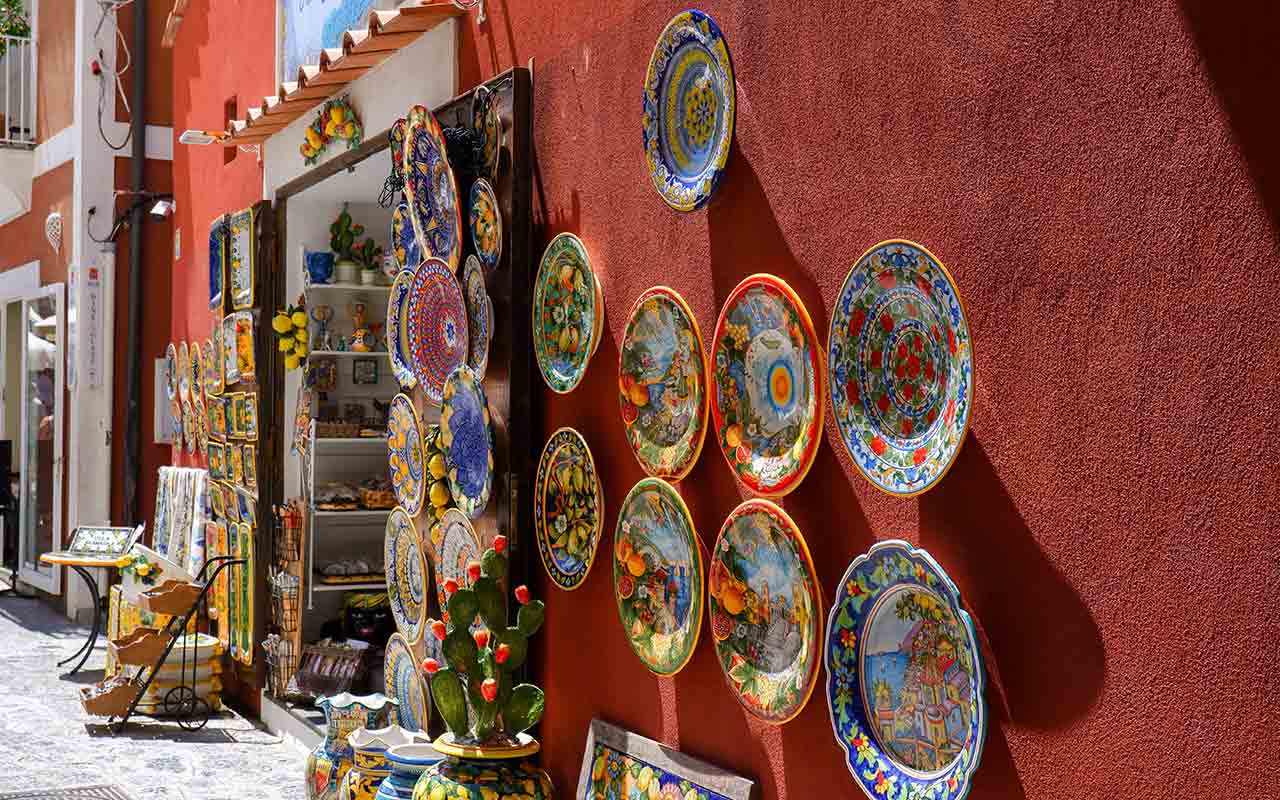 If you have a week to spend here, we recommend taking it a bit easier and after visiting the historical city centre and attractions mentioned above, explore the surrounding area of Positano.
You can spend a day in the Fornillo and Laurito beach, go hiking on the Path of the Gods and enjoy spectacular views from the Lattari mountains overlooking the sea and head over to other villages of the popular stretch of coast.
We recommend visiting Amalfi, Ravello and its enchanting villas such as Villa Rufolo and Villa Cimbrone as well as the most off-the-beaten-path towns like Atrani, Vietri sul Mare and Maiori.
During your week in Positano you can then go for a boat trip to visit the beautiful island of Capri and its Blue Grotto, accompanied by a local guide.
You can also leave the Amalfi Coast and head towards Sorrento, visit the archeological site of Pompeii and spend a day in Naples, pizza's motherland.
Our recommended amount of days in Positano
We recommend spending 3 days in Positano, with at least one full day spent exploring the historical centre and then from there spend the rest of the days to visiting other famous villages along the Amalfi Coast from Positano.
On your list you should add Praiano, Amalfi, Atrani and Ravello, on top of that you can spend a few hours at the beach or walking along the Path of the Gods.
With this amount of the days to spend in Positano, you can get to know the local culture, try traditional food in different restaurants, enjoy its nightlife and visit the surrounding beaches.
If you like the idea of exploring nearby islands and coastal towns, apart from the other villages on the Amalfi Coast, you should absolutely visit Sorrento that you can get to by bus or book a boat tour to Capri.
An alternative to spending time at the beach is getting a bus to Sorrento and then a train to explore Pompeii or go to Naples, to visit its beautiful city centre.
If you're at all unsure whether Naples is worth your time or not, read our guide and learn why we believe Naples is worth visiting and things you can get up to.
Where to stay in Positano?
Spending more than one day in Positano is the only way to explore better the rest of the Amalfi Coast and go on day trips.
We suggest staying in one of these 3 hotels for an unforgettable experience:
Luxury – Hotel Marincanto is a one of the most beautiful hotels in Positano. Just a few meters away from the beach and in the heart of Positano.
What guests love about are its panoramic terraces from where you can enjoy some of the best views of the entire Amalfi Coast. You can't skip breakfast in the morning, served at the hotel's garden and terrace.
Mid-range – Marilù Vacation Home is in a very strategic position, not far from the beach and Positano's city centre. From here, you can easily reach the Roman Archaeological Museum, the Positano Port and Fornillo beach.
Budget – La Mammola for a budget stay in Positano, check out this property. The house is only a few meters away from the beach and in the morning is served a lovely Italian breakfast.
Best Guided Tours in Positano
Positano is just a coastal town and it doesn't take long to visit it, but to visit the rest of the Amalfi Coast it definitely takes more than 24 hours.
So if you're wondering how many days in Positano are enough, a weekend is perfect to cover its main attractions and add a few excursions or day trips.
To make the most of your limited time here, be accompanied by a local guide is a great way to experience Positano and the rest of the Amalfi Coast.
Doing tours in Positano
Positano and the other towns in the Amalfi Coast are places rich in history, traditions and natural beauty and the best way to get the true essence of the famous Italian Costiera is being accompanied by a local guide.
Normally guides share insightful information with you, recommend authentic places to stop for a meal, tell you how to move around and much more.
You can also take advantage of your guide to answer all your burning questions about attractions visited and get a deeper learning of the place.
Whether Positano is a stop on a larger Amalfi Coast itinerary or the only town you're planning to visit, join a guided tour to get to know this beautiful part of the country through the eyes of an expert local.
Full-Day Boat Trip to Capri
Capri is one of the most famous islands in Italy and we know being on the bucket list of travellers from all over the world!
The small Mediterranean paradise island is the perfect escape with its rugged landscape, tiny beaches and amazing sea caves to explore.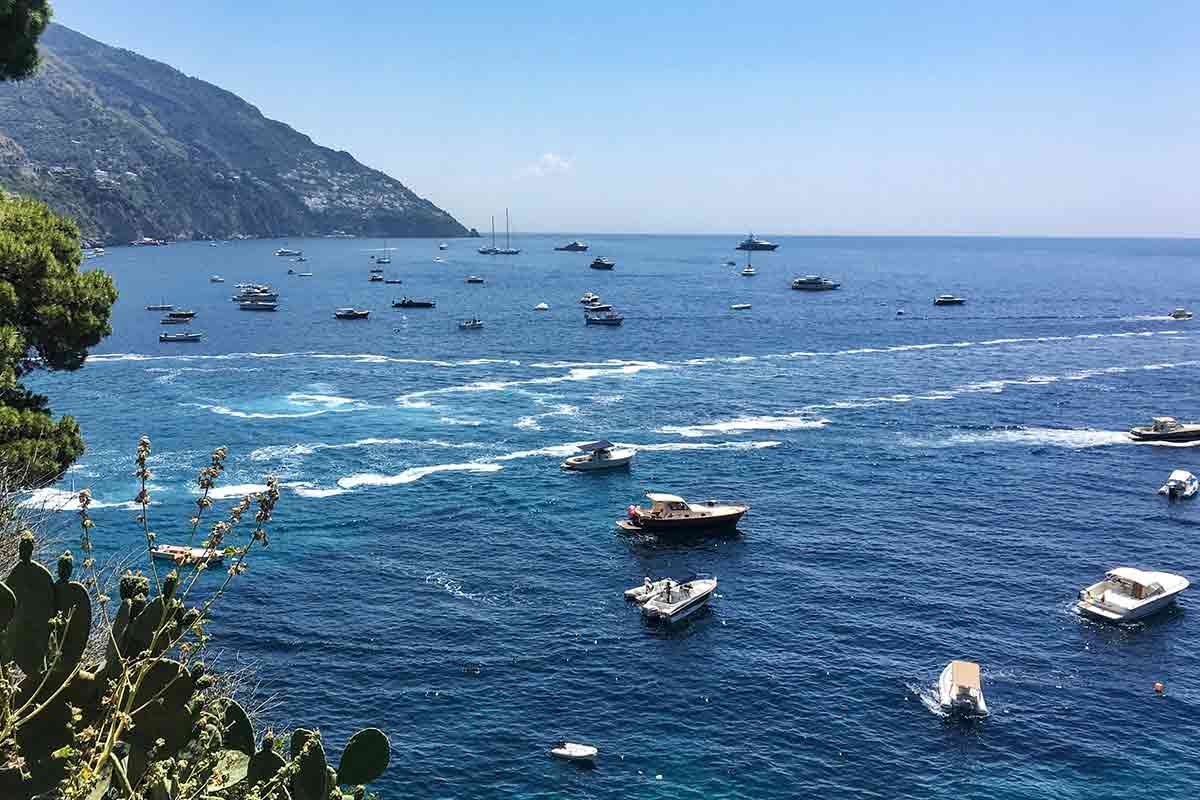 During this full day boat trip to Capri, you'll have the chance to spend a whole day exploring this island, and be accompanied by an expert guide.
You'll snorkel in the blue waters of Capri, see the fascinating sea grottoes, sail through the famous Faraglioni rocks and visit the island on foot.
Amalfi Coast Boat Tour
This Amalfi Coast private boat tour is the ultimate boat excursion you can join during which you'll see places that only the locals know. During the tour, your guide takes you to Li Galli, a VIP private island only accessible if accompanied.
You can snorkel around its waters before heading towards the lovely village of Atrani, Minori and Maiori, lesser touristic towns on the Amalfi Coast. Along the way, you'll see historic sights, get restaurants recommendations by your captain and explore stunning sea caves.
Private Transfer to the Path of the Gods
If you're planning to go hiking on the Path of Gods, instead of getting the bus as most tourists do, reach the starting point in Bomerano by private transfer.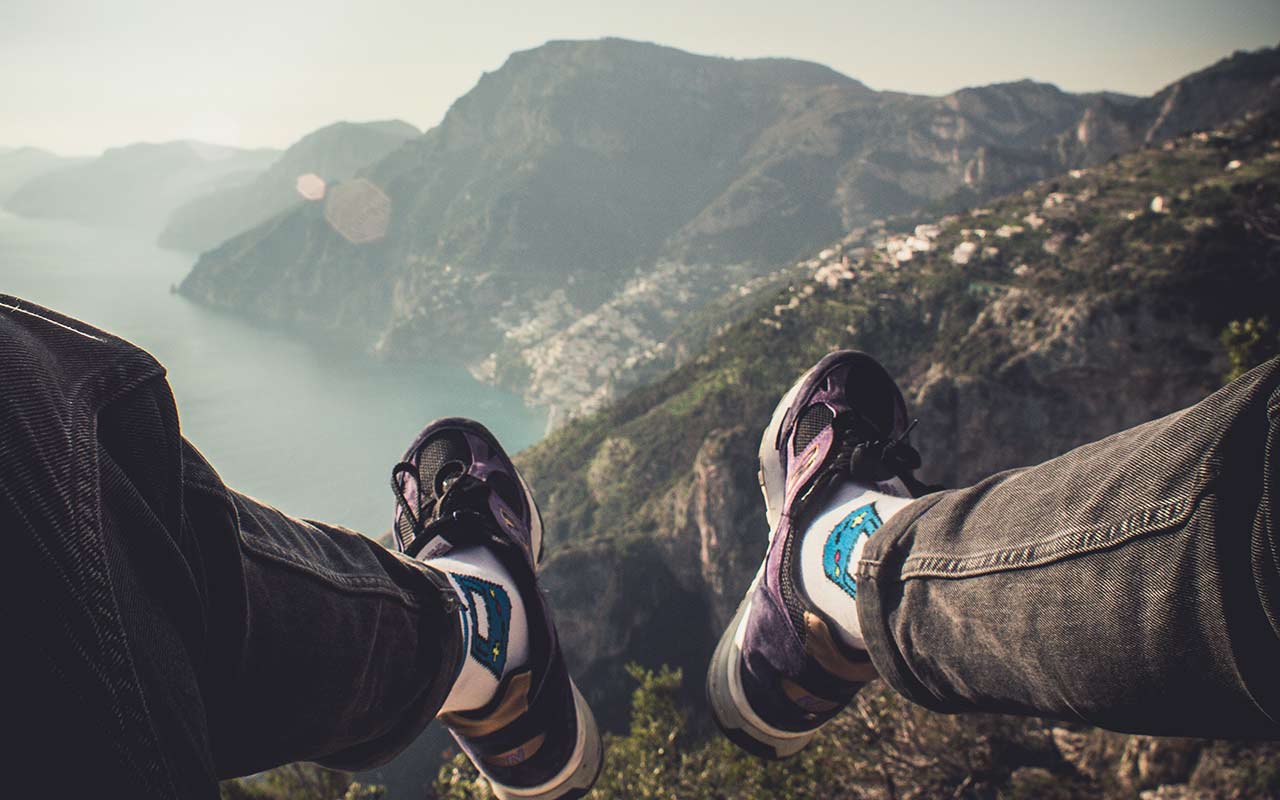 The English-speaking driver will pick you up at your accommodation in Positano at your preferred time and drive you to your final destination. Enjoy the drive and scenary and ask your expert driver questions about the area.
Amalfi Coast Sunset Cruise from Positano
Have you ever dreamt about watching the sunset from a boat in the Amalfi Coast? Then this sunset cruise from Positano is exactly what you were looking for!
During this boat tour, you'll be welcomed with a Prosecco glass on board and some light snacks. You can also go snorkeling, go for a swim or simply enjoy the spectacular views that only the Amalfi Coast can offer during sunset.
How Many days in Positano
Now you should know how many days in Positano are enough for you.
We recommend spending 3 days here to have enough time to visit as many places as possible along the Amalfi Coast without rushing too much.
Spending more than a day will also give you the chance to learn about Positano's history, traditions and culture and include some off-the-beaten-path sights or coastal towns to your itinerary.
As an alternative, just like we mentioned earlier, you can go for day trips around the area like to places such as Sorrento, or towards Pompeii and Naples.
Take time to read our best sustainable travel tips and get some ideas on how you can make your trip to Positano and the Amalfi Coast more eco-friendly.
---
Dear responsible traveler: This post may contain affiliate links, which means, if you click through and make a purchase, book a tour or a hotel, we may earn a small commission. This is at no additional cost to you. Your support means a lot and helps us to maintain the quality of this site.