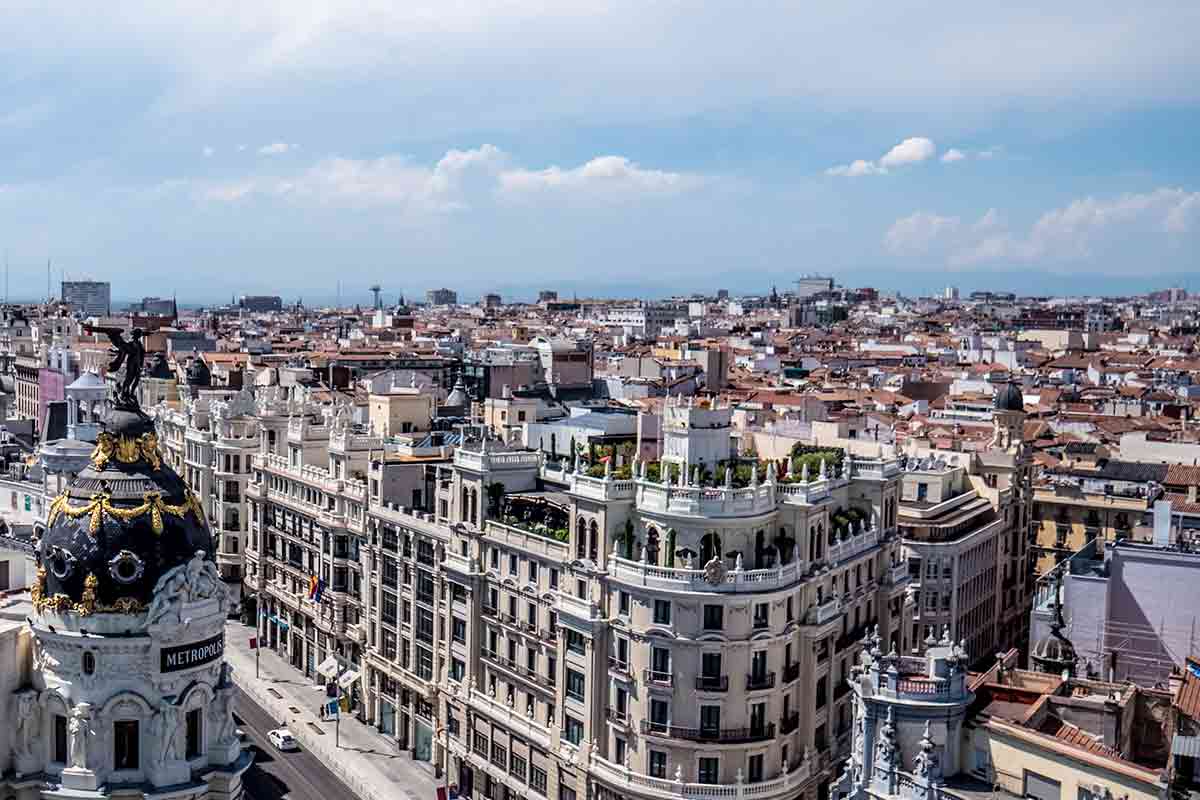 This guide on how many days to spend in Madrid is for you if you have a couple of few for a city break and are deciding where to go next.
As for many other European capitals, even for Madrid is not easy to understand how much time to spend in the city is enough.
Is it 2 or 3 days enough, or it's better to spend a bit longer, in particular, if you're a first-time visitor?
Let's find out how many days to spend in Madrid to make the most of your time in this fascinating city!
How many days in Madrid?
Madrid is a charming European destination that captures visitors' hearts and minds at first glance.
The capital of Spain is a perfect destination for those who love culture and art, thanks to a large number of museums and art galleries, but it is also a metropolis with many green spaces and amazing food to sample.
Is Madrid Worth Visiting?
Let's find out at least three main reasons why you should visit Madrid.
Madrid is a city full of museums and art hubs. First on the line is the Museo Nacional del Prado one of the planet's most prestigious art museums. Around its galleries, you'll find works by Caravaggio, Goya, Raphael, Velasquez and other illustrious artists who have marked the history of art between the 12th to the 20th century in Europe.
It's also worth visiting the Reina Sofia, with an art collection from the 20th century to the present day. Here you can find works of the famous artists Dalì, Mirò and Picasso. One of the most famous art pieces is the Guernica.
Finding great food in Madrid will never be a problem. Tapas, tortillas and paellas are the typical specialties that can be tasted in traditional restaurants and taverns of the Spanish capital. One of the traditional dishes is the cocido madrileño, prepared with potatoes, vegetables, meat, pork lard and chickpeas.
Have you ever heard about the movida madrileña? The Spanish city is said to be one that never sleeps. In fact, you can find discos open every day of the week, you can eat late in the evening and find people around any hours of the night.
Impacts of tourism in Madrid
Spain is one of the most visited countries in the world and tourism keeps playing the main role in the economic growth of the country.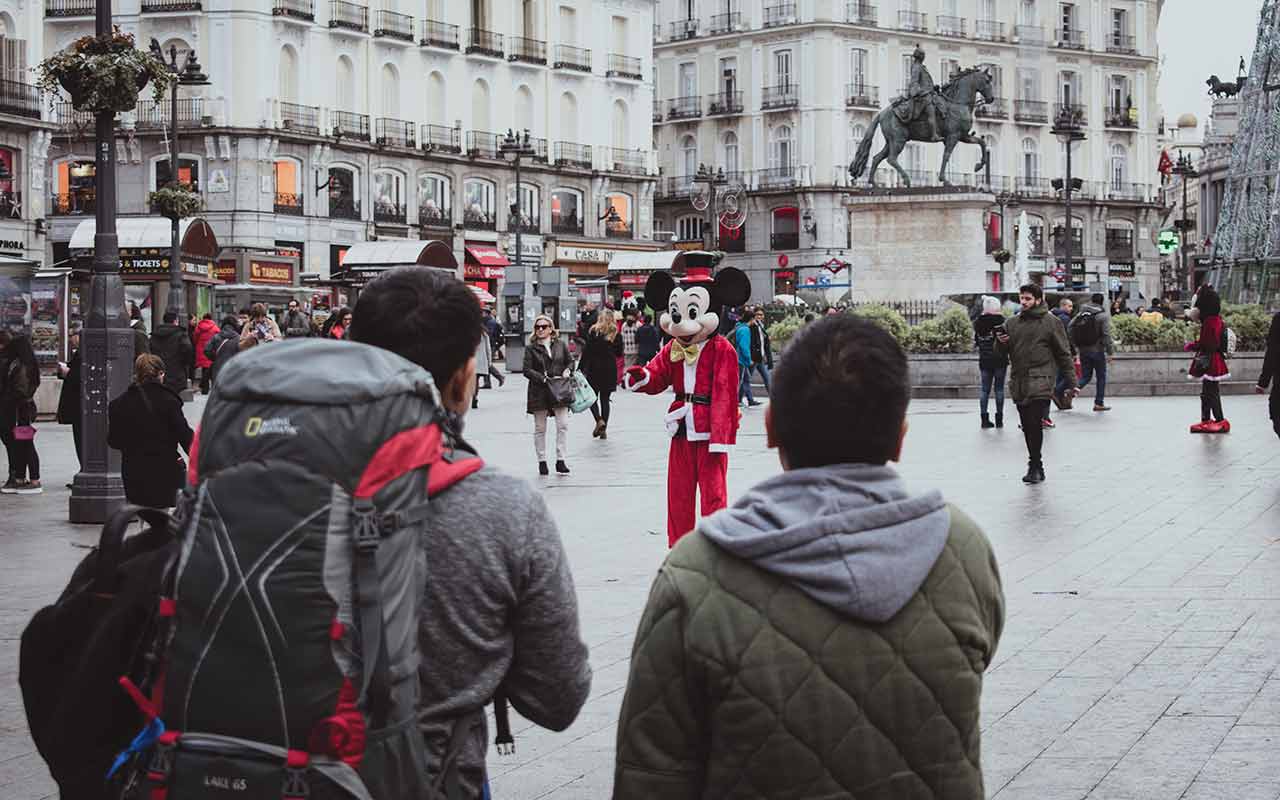 There are positive sides to this industry, for example, it creates jobs for locals and helps massively preserve Spanish history and culture, but at the same time mass tourism raised some serious problems.
In Madrid, neighborhoods such as Malasaña or the Gothic Quarter were mainly residential in the past.
Tourism has caused an increase in the rent costs and locals are forced to abandon the central areas of the city for the less expensive outskirts.
Another negative consequence of tourism is the increase of shop chains and restaurants as well as the disappearance of locally owned businesses.
This means that most of the money doesn't go back to the local economy.
Finally, certain areas of Madrid can be particularly overcrowded, like around the main landmarks and attractions, which might affect the daily life of locals and pollute the environment.
Traveling for just a day or two to Madrid then won't help spread the impact that each of us has on the city.
But traveling in the low or shoulder seasons, staying for longer, and having a meal or buying souvenirs from locally-owned businesses will make a difference!
Why not give our list of sustainable travel tips a read to ensure that your trip has a positive impact on the local environment?
Where to Stay in Madrid?
Room Mate Alba – the 4-star hotel is located in a central position, near the Atocha train station. From here, you can easily reach Puerta del Sol and the famous museum Reina Sofia. The 24-hour front desk and concierge services are provided to guests. Don't forget to visit the sun terrace for a lovely view over the city!
7 Islas Hotel – only 700 meters away from the Gran Via, this boutique hotel is all about minimalism and attention to detail. You can not fall in love with its marble bathrooms with amenities and the small on-site café.
Gran Versalles – in the heart of Madrid, not far from the El Retiro Park, the hotel Gran Versalles offers 24-hour reception and free Wi-Fi. All rooms have satellite TV and private bathroom. Don't leave before having a taste of tapas and drinks from the on-site Cafè Luxemburgo.
How Many days in Madrid is Enough?
Now that you know a bit more about why Madrid is worth visiting and the impacts of tourism in this European destination, let's find out more about how many days in Madrid is enough.
Is one day enough for Madrid?
One day in Madrid is not enough. The Spanish capital is a big city with so many sights and attractions to visit.
Each is worth your time and energy, so having only one day means missing important ones and not having the time to enjoy the ones you're visiting, as you'll be in a rush and thinking about the next one to see.
In one day in Madrid you should be able to visit the following:
Puerta del Sol
Plaza Mayor
the Palacio Real

Not to mention one of the most important museums El Prado or Reina Sofia and stop at the El Retiro park for a walk.

You'll have to do speedy visits and not spend the time each one deserves.

Plus, you'll miss the visit to some hidden gems and you won't have time to observe the local lifestyle by exploring some of its neighborhoods.

Is 2 Days in Madrid enough?

If you one day in Madrid is definitely not enough, 2 days is better but not the ideal length of time we recommend spending in this city.

Barrio de las Letras

Considering the time you spend traveling from the airport to your accommodation, you're won't spend the full 48 hours in the city.

With the huge amount of things to see and do, it is worth adding an extra day to make the most of your time and visit a few more attractions.

We understand that some people might have included Madrid as part of an itinerary or have just a Saturday and Sunday available to visit it.

With 2 days in Madrid, you can still visit some of the most important attractions you cover in just one day but add another museum like the El Prado if you have visited the Reina Sofia on day one or vice versa.

Spending a night here means having the chance to explore some neighborhoods, some of them popular for their nightlife and others for their incredible selection of traditional restaurants.

Why not check out Room Mate Alba for a good central place to stay?

Is a week in Madrid too long?

Spending a week in Madrid can be quite long. But this doesn't mean in one week you'll be able to visit all of it!

Madrid has an endless list of things you can do and see and cultural experiences you can live. Even a month isn't enough if you ask a local!

After a couple of days of visiting the main points of interest, you'll most certainly start exploring off-the-beaten-path places.

Maybe by that point, you'll find out how much this destination has to offer beyond the touristic itineraries.

We also understand that you might feel a bit bored of spending your whole time visiting museums, art galleries and parks.

If spending a week in Madrid, we suggest renting a car or traveling by train to get to know other towns, only a few kilometers from the capital.

For example, visit the nearby Ávila and stare at its Gothic churches and medieval walls, or Segovia to see a historic Roman Aqueduct and Alcázar.

Another town easily reachable from Madrid is Toledo. It's famous for the Alcázar, the Toledo Cathedral, and the ancient walls.

Our recommended amount of days in Madrid

In our opinion, the right amount of days to spend in Madrid is 4 days.

This will be enough time to visit the main museums and landmarks, try traditional delicacies made in Madrid and visit the best neighborhoods.

By spending more days here, you'll not only have a better social and economic impact on the city but time to relax and not rush into visiting the next place and get back home, more tired than when you left.

If it's your first time in Madrid, then use the 4 days to visit the historical center, if it's your second here, then it's a good opportunity to hire a vehicle or get a train and visit nearby towns during your stay.

When visiting such a big city like Madrid is essential to plan your time wisely and have a balance between visiting and relaxing.

For this reason, we advise purchasing the tourist travel pass that can be used in any type of transport in the Madrid region.

When you get your tourist pass, you can take unlimited trips around the city based on the total amount of days you selected.

The tickets are valid for 1, 2, 3, 4, 5, and 7 days and for two zones A and T.

The Best Guided Tours in Madrid

A really good way you should take into consideration when visiting the city and learn a lot about its history and culture, it's joining a guided tour.

A guided tour is also a good option if you want to save time and learn about the city with a local expert.

Doing tours in Madrid

A great way to experience the city of Madrid is by joining guided tours.

One positive aspect of tours is that you'll be guided around the city by locals with extensive knowledge about the city and all its hidden sights.

El Retiro Park

Also, when paying for your tour you'll be supporting a local guide as well as receive advice on how to spend money for food and shopping and keep supporting locally owned businesses.

The tours can last a couple of hours or last half, it's up to you to decide how much of your time you want to dedicate to yours.

This is a great opportunity not only to learn more about Madrid's history and culture and get to know interesting facts about the city.

The things you can't find in a guidebook. But also to discover the best places to go for a night out. or for dinner based on a local's experience.

You can ask as many questions as you want to your guide and get to know the authentic side of the city through their connection with Madrid.

Places such as The Hat Madrid will even help you to arrange local tours.

There are different types of tours you can join:

Culinary
Cultural
Walking or biking and much more!

You can choose one that's more in line with your interests and needs.

You can either join the El Prado museum-guided tour, the mysteries and Spanish legends walking tour, or a wine and tapas tour and learn everything there is to know about the food scene in Madrid.

Madrid City Tour (Hop-On Hop-Off Bus Tour)

For examples this Madrid: Hop-On Hop-Off Sightseeing Bus Tour is a great way to see Madrid, if you have only one or two days available.

What you have to do is hop on board an open-top double-decker bus and discover the best bits of the city from the deck!

You can also choose between two routes and stop at places like the Royal Palace, the El Prado museum and go for a stroll in Plaza Cibeles.

Skip-the-Line Prado Museum Guided Tour

El Prado museum is one of the most visited art museums of the world.

Goya statue at the entrance of The Prado Museum

If you have got time, why not take part in this Prado Museum guided tour to learn more about this world famous museum?

You'll skip the queues in front of the popular museum and see art masterpieces of artists such as Rubens, Velazquez and Titian accompanied by a professional certified guide.

At the end of your tour, you could even decide to join a tapas tasting experience in one of the most important bars in Madrid.

Royal Palace Skip-the-Line Guided Tour

If it is your first time in Madrid, maybe you'll not yet have had the chance to visit the Royal Palace?

With this Royal Palace Tour you have the chance to learn everything about the palace, enjoy an escorted walk from Plaza de Isabel II, visit the Private Royal Apartments and the Royal Gardens on your own.

The tour lasts 2 hours and you'll be led by a professional guide.

Wine and Tapas in Madrid: 2.5 Hour Tour

After wandering around the city, you might start getting hungry but you also want to find out more about the authentic Madrid food scene.

San Miguel Market

Then the 2.5 Hour Wine and tapas tour is the tour you should join.

This is an all-inclusive experience, during which you'll visit 4 tapas bar with food and drinks included.

During the tour your local guide will share with you some information about Spanish gastronomy, explore hidden parts of the city with you and taste delicious tapas and wines.

How Many days in Madrid

Now you should how many days in Madrid is enough and why spending a day or two is not a good option.

Madrid is a huge city and considering the huge amount of attractions to visit, we recommend taking extra time to visit them but also to get more into the way of living and eating here, by spending 4 days at least.

Why not check out our 3 days in Madrid itinerary if you're looking for further inspiration for your upcoming Madrid trip to Spain's capital.

---

This post contains affiliate links, meaning, if you click through and make a purchase or sign up for a program, we may earn a commission. This is at no additional cost to you.