Welcome to this guide that talks all about how many days in Florence to spend.
There are places in the world that are on the bucket list of many and one of these we can safely say is Florence in Italy.
The city called the 'cradle of Reinassance' will make you fall in love with its cobblestoned streets, the piazzas, the Ponte Vecchio views and famous artists' masterpieces you can admire in its museums.
Visited by millions of tourists, it might feel overwhelming to decide how many days to spend in Florence! Therefore we've put together this practical guide to help you make up your mind, and learn what to see and do while visiting this city.
How many days in Florence
In this post, we'll suggest how long to stay in Florence and exactly what to do during that time so you can maximize your stay in the home of Renaissance.
Is Florence worth visiting?
Before getting to know, how many days in Florence is enough, I bet you asked yourself, is Florence worth visiting? Well, we think it definitely is!
Below are just some of our reasons why:
Florence is the cradle of our civilization and the place where a revolutionary artistic advancement took place from the 16th century onwards. It's impossible to overlook what the role of Florence has been for Italy over the centuries. The city is also the homeland of the creator of the Italian language: Dante Alighieri and one of the most important artists in the world: Michelangelo.
Florence is a city full of attractions and things you can do. In fact, it's where you can find the Uffizi Gallery, the Accademia Gallery and the splendid Duomo and Basilica of Santa Croce.
The rustic local Tuscan cuisine is just one of the best in Italy! The city center is full of traditional trattorias, where it's possible to taste the classic dishes of Tuscan cuisine. Whether it's a ribollita, a Florentine steak, or a simple sandwich with lamprey, it doesn't matter: it will be very difficult to feel disappointed by its treats.
How Many days in Florence is Enough?
Even though every traveler has different expectations and ways of traveling, let's see how many days in Florence is enough for you to get a taste of the best bits.
Is one day enough for Florence?
One day in Florence is not enough. The city has many attractions (they say that there are more than 100 museums!) and wonderful sights you should not miss.
But if you don't have a choice then one day in Florence it's always better than zero! The good news is that you can walk around Florence's historic city center easily without the need to get on public transport.
We absolutely recommend including two of the most famous art museums in the world: the Uffizi Gallery and the Accademia Gallery in your itinerary. The museums are huge, so in one day, most likely you will only get to visit one!
Since both museums are busy at all times, it's vital to skip the line with just 24 hours here, and you can actually do that with this admission ticket to the Uffizi.
Then walk around the Signoria Square, visit the San Lorenzo Market and the wonderful Basilica di Santa Maria Novella. During your visit you'll get the chance to see Brunelleschi's dome and Giotto's Campanile.
Conclude the day with a lovely walk along the Arno River and by crossing the iconic Ponte Vecchio.
Is 2 Days in Florence enough?
If you have 2 days to spend in Florence, then it means you could squeeze in a couple more attractions and have more time to walk around the city.
We don't think it's enough time for a place like Florence, but definitely better!
On top of the popular Piazza del Duomo and Piazza della Signoria, you could visit another museum left out from day one, go to an art exhibition in Palazzo Strozzi and visit Palazzo Pitti.
We get that time is precious, so we have created a 2 days in Florence itinerary for you to get a better idea of what to see and do during your short stay.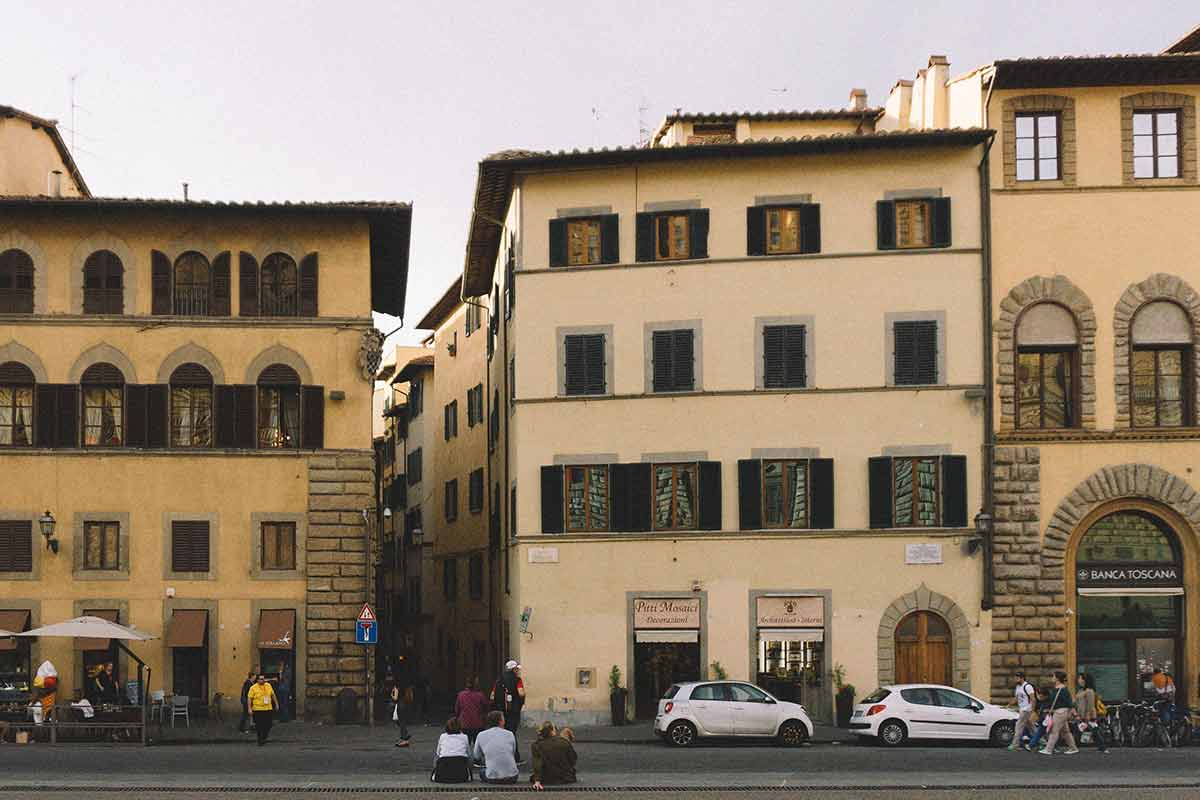 To save time get your Pitti Palace admission ticket in advance. On day 2 in Florence, you can also go to the Boboli Gardens, just behind the Pitti Palace and visit one of the first examples of Italian gardens that belonged to the Medici family.
Rememeber to have dinner in a trattoria in the city centre so you get the to taste some of the most traditional dishes such as the Florentine steak and ribollita soup.
From Piazzale Michelangelo you can admire lovely views of the city during the sunset, so don't forget to get there by that time (we like to call it: the golden hour).
Is a week in Florence too long?
A week in Florence is not too long as the city offers a kaleidoscope of amazing things to see and do so you'll literally never feel bored!
On your first couple of days in Florence we suggest spending time in the centre exploring its top attractions and getting lost around its streets and small squares.
It's a good time to take it easy and slowly discover small artisanal shops and authentic eateries. The Santo Spirito church is another landmark you can add to a week's itinerary as well as the Museo del Novecento.
If you're into mediaeval and Renaissance art, check out the Bargello Museum and if you are fascinated by the great artist Michelangelo, visit the Casa Buonarroti, a palace museum all about him and his genius art.
If you feel like you are running out of things to do in Florence during your stay, then why not explore some of the other parts of Tuscany?
The region is absolutely beautiful and from here, you can visit the Chianti wine region or plan days trips to nearby towns like San Gimignano, Siena and Pisa.
Our suggested amount of days in Florence
So, how many days in Florence is enough? If it's your first time in Florence, we believe you should spend at least 3 days getting to know the city.
During this time, you should aim to include all the main attractions such as the Uffizi and Accademia Gallery, the Duomo, Piazza Della Signoria and Pitti Palace.
It's enough time to also explore the local markets and take time to discover some hidden gems. If you're eager to see what else this region offers, then on day 2 you can add a day trip to the vineyards or to visit mediaeval walled towns scattered all around the stunning Tuscan countryside and its hills.
While looking for places to stay in Florence, check out Hotel Pitti Palace al Ponte Vecchio for a chance to get view of Ponte Vecchio from your room.
We strongly believe that the longer you stay in one place, the better as it will allow you to have enough time to connect with its local culture and people.
Try traditional restaurants (check out Trattoria La Casalinga) and speak with locals, maybe learn some basic Italian with this handy phrase book, and you'll definitely have an unforgettable experience in the beautiful Florence.
Best Guided Tours in Florence
Make the most of your time in Florence by joining our selection of guided tours. Tours allow you to save time and get to know the city through a local's eyes.
Doing tours in Florence
Booking a guided tour in Florence, means supporting a local guide that will show you around and talk you through its history and culture. It's even a way to wisely use your limited time in the city.
Maybe you don't like the idea of reading what to do and see in a guidebook or on the web, or didn't have time to get ready before your trip.
That's where a guided tour turns into a life (or better – trip) saver! During a guided tour a local guide will take you around the city or just a single attraction and tell you everything they know about it.
They can also share precious information on how to move around, where to eat and off-the-beaten path sights worth seeing.
These are some guided tours and experiences in Florence that we want to recommend.
Entrance Ticket to Michelangelo's David
By booking in advance your ticket to the Accademia Gallery, you'll save time at the entrance and you can stay as long as you wish inside the museum.
The booking fee is already included so you can admire the iconic Michelangelo's David and other important masterpieces of this artist during your tour.
Skip-the-Line Guided Accademia Tour
Get skip-the-line access to Italy's second most visited museum: the Accademia Gallery! Here you can see the stunning David by Michelangelo and more.
Get your guided Accademia tour ticket in advance and make sure you'll get the unique opportunity to visit this museum. You'll get priority access and spend an hour with an English-speaking guide, so you can ask all the questions you desire.
Skip-The-Line Uffizi Gallery + Entrance Ticket
You can't leave Florence before visiting the world-famous Uffizi Gallery, a museum collection of ancient sculptures and paintings from the Middle Ages to the modern period.
With this skip-the-line ticket to the Uffizi Gallery, you can book your entrance in advance, avoid the long queues and get an audio guide. You'll have access to the Museum Opificio Delle Pietre Dure and the National Archaeological Museum of Florence too.
Small Group Wine Tasting Tour to Tuscany
Are you partial to a glass of wine and want to see more of what Tuscany has to offer? This small group wine tasting tour might be just what you were looking for!
During this day trip from Florence, visit 2 renowned wineries, taste its wines and delicious olive oil locally produced paired with some small bites of cured hams and cheeses. Admire the gentle Chianti hills and Tuscan countryside on the minibus accompanied by a local driver that will show you around the region.
How Many days in Florence
Now you should have a better idea on how many days in Florence is enough and what you can do every single day. This city and the Tuscany region are wonderful lands worth discovering slowly.
We highly recommend a minimum of 2 days, but ideally 3 to make the most of this city and include a day trip to the Tuscan countryside .
If you want to learn how to travel in a more sustainable way while exploring Italy, check out our post with insightful sustainable travel tips that you can easily adopt.
---
Dear responsible traveler: This post may contain affiliate links, which means, if you click through and make a purchase, book a tour or a hotel, we may earn a small commission. This is at no additional cost to you. Your support means a lot and helps us to maintain the quality of this site.